Video Management details on VdoCipher dashboard
VdoCipher is dedicated to providing secure, smooth and affordable video hosting, streaming and management solutions for business enterprises and individual customers. For our customers ease-of-use and minimizing time between video upload and video release are highly critical. Appreciating their needs and requirements we have developed several features:
Easy to use dashboard GUI features
Ready to use WordPress plugins
Well-documented APIs
In this blog post, I am listing out the details of Video management, encoding, customization through Dashboard.
1. Upload
2. Encode
3. Testing for Secure Streaming
4. Integration with Site or App
5. Usage details
6. Searching and tagging
7. Video detail management
The green upload button can be used to directly upload videos from your device. There are further options to import videos from your server , FTP, direct video URL (link to direct video file like such as .com/mp4 , .com/flv but not YouTube video link), your already existing account on Wistia or Vimeo Pro. The direct upload of videos from third party location saves your device's bandwidth usage and allows video file transfers to happen at the backend. There is a progress bar which shows the relative completeness of upload process. Once the video is uploaded, it shows in dashboard with a particular symbol which has the following meaning.
| | |
| --- | --- |
| Video Status | Meaning |
| Queued | Video uploaded successfull, soon to start encoding |
| Processing | Video being converted to encrypted formats for dekstop & mobile |
| Ready | Video is ready to be embedded onto site |
| ? | If uploading from device video uploaded but not started processing. If importing from 3rd party , video might have not been fully imported but you can leave the page as the upload has been initiated at the backend |
If the video you uploaded is in '?' or 'Queued' status for long, drop us a message at site chat or info@vdocipher.com, Generally a 15 min video should be encoded in 20 minutes time and be ready for release. However if you have uploaded multiple videos at once – say 50 or more then video upload may take more time.
For upload through APIs , visit
https://www.vdocipher.com/page/api.curl
https://www.vdocipher.com/blog/2016/02/video-upload-using-api/
Many of our enterprise customers have their customers or partners actually providing videos to them. In such cases, it becomes quite useful if the video transferred by them to your website or app directly reaches your account on Vdocipher. VdoCipher enables this functionality through upload APIs.
Note- Video upload is a slow process as the upload speed in most of internet connections is quite less as compared to the download speed. We now use AWS acceleration & IBM Aspera to quicken and reduce errors in uploads.
Encode 
For new accounts, by default the videos are converted to the same quality as the quality for desktop secure video streaming. This is not the case when the uploaded video is very high in size, such as the case of videos directly recorded by HD cameras. HD Videos can be encoded to much lower size with minimal loss, keeping the same quality and ensuring smooth video streaming. We have also configured the bitrates for iOS and Android devices by default, keeping the file size generally lesser than size of desktop formats.
Settings for converting into multiple bitrates
By default for new accounts, the videos uploaded into VdoCipher are converted into one desktop, one iOS and one Android format for secure playback. Secure video hosting through desktop and iOS browser happens through a simple embedded player.  However secure encrypted video streaming on Android devices requires a one time app to be installed.
For most of our customers , the conversion default settings are sufficient for releasing videos. But If you wish to configure multiple bitrates or low bitrate settings for all the videos in your account, then you can drop us a mail at info@vdocipher.com. Our support team is also available on the site chat service. You may also configure the bitrates manually.
Click on the config section.
In config, there is one encoding section. Visit that to see the settings. It will have various formats. The video streaming use case of the formats is given
| | |
| --- | --- |
| Format | Meaning & Use |
| VdoCipher Desktop Playback | Desktop Encrypted video streaming |
| VdoCipher Adaptive Desktop | Not launched yet, Please dont use |
| VdoCipher Mobile Playback | Android encrypted video playback |
| HTML5 Video | Non secure, simple playback for IOS & android |
| IOS native video | Secure IOS playback |
| Distributable video | Enabled only for Special accounts paying for general video encoding services |
The formats in yellow are the default encoded formats. If you are changing the config section yourself, then you can override the default settings. Most common customization would be to edit the VdoCipher Desktop Playback format:
1. VdoCipher Desktop Playback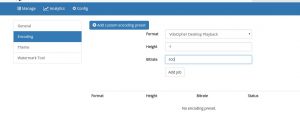 To keep default height keep the value equal to -1. The aspect ratio is kept constant, and therefore through this the video width is also kept at the default value. It is recommended that you keep the height default for most cases, however if you wish to customize further you may change the number here. For more on optimizing height/width feel free to connect at info@vdocipher.com
Bitrate should be set to the desired number. 300kbps to 1500kbps is the conventional bitrate range that we offer. 300kbps is slightly on the lower side (good enough for screen cast videos), whereas 1500kbps is high quality. After setting the height and bitrate click on 'Add Job'. Using this you can set more than one bitrates for the desktop format.
2. VdoCipher Mobile formats – It is recommended to set the height -1 & bitrate anywhere from 300-600 for mobile formats. It is better to ask the support team on site chat or info@vdocipher.com for any queries regarding setting custom height and bitrates outside the recommended range.
These config settings when changed will not apply to videos that have already been uploaded, but will be effective for any new videos uploaded since then.
If you want to change the settings of only one particular video, then this can be done by clicking on the circular toggle button at the right top corner of the video.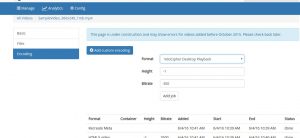 Testing for Secure Streaming

Once the video is shown ready in dashboard or checked through API (https://www.vdocipher.com/page/api.curl), then to check secure video streaming, just click on the video in whatever device you want to check its playback. If you find that the streaming is poor with lot of buffering, it can be because of two primary reasons.
– The video bitrate is high as compared to the internet connection speed of your device.  A lower bitrate might work better for your area.
– For the first time of playback, the video is not cached in nearest CDN servers, and the streaming is therefore a little slow. Once video is cached to the server, after second playback video quality and streaming improves quite a lot. But, if you still see poor streaming after multiple playbacks, please drop us the detailed complaint with video id at info@vdocipher.com. VdoCipher has done a lot of optimization to ensure smooth video hosting & streaming, because of which we have been able to serve our customers from many parts of India and Africa satisfactorily.
Integration into site or app
For API based integrations (embed , watermark, upload) see the following links.
https://www.vdocipher.com/page/api.curl
https://www.vdocipher.com/blog/2014/12/php-implementation-vdocipher-api/
https://www.vdocipher.com/blog/2015/01/asp-net-implementation-vdocipher-api/
https://www.vdocipher.com/blog/2014/12/add-text-to-videos-with-watermark/
For plugins on wordpress, joomla, visit
https://www.vdocipher.com/blog/2014/12/protect-videos-on-wordpress/
https://www.vdocipher.com/blog/2015/02/variables-on-wordpress-videos/
https://wordpress.org/plugins/vdocipher/
https://www.vdocipher.com/blog/2015/02/joomla-plugin-secure-videos-vdocipher/
http://extensions.joomla.org/extension/vdocipher-protect-video
For public embed code, click on the circular toggle at the top right of video. In basic sections, there is a 'Generate Public Embed code' option. Click on it and then click on 'Save'. If you want the video to be restricted to a particular site or site page, enter the URL in the whitelist option & click 'Save'.
Note that public embed code & URL whitelisting are less secure than APIs or plugins at backend, and also watermarking is not possible then. However even then the stream is fully encrypted and therefore piracy is still prevented from downloaders. Overall our security offerings are much more complete than our competition.
Please make sure that you only embed videos after you have edited all the required settings. Here is a related screen shot. We highly recommend that you opt for security through plugin or API, but if not possible we have simplified the process of Public embed code and URL whitelisting option.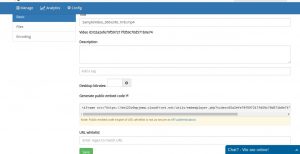 Analytics
Usage details
The bandwidth and storage on daily basis can be seen in the accounts section.
https://www.vdocipher.com/account/usage
The data is updated daily. For exporting bandwidth data of each video on daily basis as a .csv file, please select the date range in the above link and download the file.
Searching & Tagging
Specific videos can be searched using ID or Title using the search option available in the dashboard. The complete details (id, title, status) of all videos can be downloaded at one go by clicking on the csv option in dashboard. In basic section of each video, after clicking on the circular toggle at right top, there is an option to add tags. Currently tagging of each video is possible. We will soon offer search based on these tags, to better classify videos.
API based tagging –
https://www.vdocipher.com/blog/2015/01/video-upload-api-with-tags/
Video detail management
Here I am listing some more important basic features for video management through dashboard.
– Basic settings of each video – Title modification, video deletion, description and tag addition can be done through this. To reach here click on the circular toggle at the right top corner of each video.
– Thumbnail – In basic settings, there is an option to set poster image. By default, the first frame is set as thumbnail. To set any other image, upload the image in this section.
– Blogs & Site chat – There is lot of documentation on how to use, and what are the benefits and standards for various technologies at our blog. (vdocipher.com/blog), Search the blog for your required keyword to see related articles.
We ensure availability of our support team at the live site chat (bottom right of the vdocipher site). Please feel free to ping us to have a detailed conversation. Our support team would help you through most of your queries and problems.
For a full version 5 GB free trial of vdocipher secure video hosting & streaming , register at www.vdocipher.com