Lately, there's been a surge in the number of OTT and e-learning platforms available. With the rise in video platforms, the piracy associated with it has also skyrocketed. Businesses are now moving on to private video hosting services that make sure that their content is safe.  After all, why would you want all your hard effort to be just shared for free? 
There are various free video hosting platforms such as YouTube and Vimeo. They're perfect if you want to share your content publicly. But if you want to host private content behind a paywall or for just internal circulation you'd want to stick to a private video hosting service. This would not only provide you with much-needed security, plus also some crucial features such as analytics, CDN, dashboard, etc.
To put it in simpler terms, If you are someone who wants to make sure that their content remains private you'd need to opt for a private streaming platform. In this blog, I'm going to further explore private video hosting services for businesses and why would you need one, and what are solutions available. 
What Is Private Video Hosting?
A private video hosting service enables businesses to upload and stream videos in the most secure and smooth way possible. You can ensure that your premium content is not easily downloadable and shared among your users. 
Video piracy has been a major concern for video platforms for quite some time now. It is quite often that eLearning or OTT platforms would find their content being leaked and shared on pirated websites. Pirates would often download a video using a plugin or at times by recording their screens. This gives them complete access to the premium content and this can be shared further multiple times. Ultimately hurting the revenue of the content creator. 
Private video hosting platforms cater to this problem by providing DRM encryption which makes it difficult to download the video. On top of this, several other security features such as dynamic watermarking, password protecting videos, and screen recording prevention on certain devices, act as a further safety net that reduces content piracy. Ultimately, giving a much-needed boost to your revenue.
Private Video Hosting Vs Free Video Hosting
Apart from security and privacy concerns, there are a few other reasons why opting for a private video hosting service can be better.
Free video hosting such as Youtube generates revenue through advertising and is full of it. If someone is watching content on Youtube or embedded video in your platform, they'd often be disrupted with ads and promotional video. This can distract your users and can be poor for user experience, especially when you want to create an optimal experience for them.
Free video hosting services offer almost no option for branding and customization. With Vimeo and YouTube, you got only a few options for branding your player and even channel.
You don't get enough data. Their platform does give you video analytics, but often you'd find that the data is anonymous and doesn't offer you many insights into your users.
Who Needs Private Video Hosting?
You might want to consider a private video hosting service if you are looking to generate revenues through your videos. Or in certain cases, private content intended to be consumed by a select audience. These can be for internal corporate training, seminars, etc. 
One of the bigger use cases for business video hosting services is the e-learning and OTT platforms. These businesses rely on their videos to generate revenue and need robust and secure video hosting to ensure that the videos are protected and run smoothly.
These platforms are also prone to video piracy, this is why it becomes quintessential for them to invest in added security along with providing their users with an optimal viewer experience.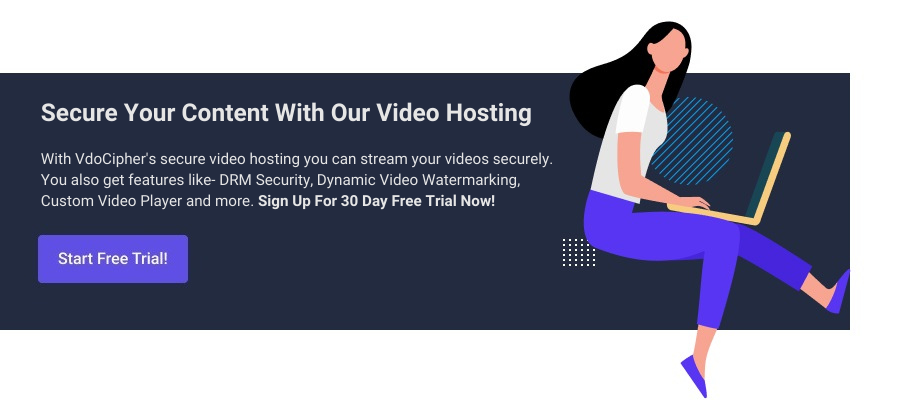 Need for Private Video Hosting Platforms
Private video hosting platforms are becoming increasingly popular as they offer a level of control and customization not found on mainstream platforms like YouTube. These platforms provide users with the ability to maintain their brand's integrity by ensuring there are no unwanted ads, offering tailored branding options, and providing advanced analytics. Moreover, they prioritize security, often featuring password protection and encryption to keep content safe. With the added benefits of potential monetization and superior storage options for higher quality content, private hosting platforms are an excellent choice for businesses and individuals looking for a more personalized video-sharing experience.
Private video hosting platforms offer unique advantages that public platforms like YouTube might not provide. Here's a look at why you might need one:
Full Control – Private platforms give you control over your content. You decide who sees your videos and when.
No Ads – Unlike many public platforms, private ones usually have no unwanted ads. This means no interruptions for your viewers.
Branding – Get a tailored look. Customize the player, the landing page, and even the URL to match your brand.
Analytics – Detailed insights are a boon. Understand your audience better with in-depth analytics that many private platforms offer.
Security – Keep your videos secure. Many platforms offer password protection, domain restriction, and encryption.
Better Storage – More storage options and formats are often available, allowing for higher quality uploads.
Monetization – Some platforms allow you to sell or rent your videos, giving you a direct revenue stream.
What Makes A Great Private Video Hosting Service?
To ensure that the videos are being streamed in the most secure and smooth manner. There are certain features that need to be there in the platform, to not only safeguard the content but also ensure a good user experience. 
Security
First and foremost would be the Security, if you are looking to generate revenue from your videos, getting them pirate would be almost anti-climatic. Your best bet against it would be to make sure that the private video hosting solution you opt for protecting you from such scenarios. The most ideal solution would be a service that provides DRM encryption. A multi DRM approach consisting of Google Widevine DRM and Apple Fairplay DRM can help you prevent any unauthorized use and leakage of your content. 
Encoding and Transcoding: 
A private video hosting solution that supports encoding and transcoding into a variety of formats will ensure broadcasters can distribute their video content to viewers.
It's important that you are not limited by the format of your video files you can upload on your video hosting service. It can be quite cumbersome to have only a few limited options and then manually convert files into the required format. This is why it is important to have good video encoding and transcoding capabilities in the private video hosting service you opt for. 
The video encoding process of converting RAW video files into the ones which can be streamed online. While in video encoding the file is converted into other formats. 
Video API
Video APIs can make a lot of tasks such as uploading and embedding videos much easier by automating the whole process. Using server APIs you can manage your video and enable automatic video upload through APIs easily. Also, player APIs can help you to embed videos, change the player design, and add interactive features.
CDN
CDN or Content Delivery Network is a geographically distributed network of servers that ensures speedy content delivery regardless of the user's location. In our case, videos uploaded are copied in real-time and stored in the relevant servers. Whenever a user requests a video, locations that are best for serving the user are chosen, ensuring good quality of your videos across the globe. Using a CDN you'll ensure that your platforms scale with the viewers while ensuring that video streams seamlessly with minimum buffering.
Opting for a private video hosting platform will help you serve better-quality videos to your users globally.
Video Analytics
Analytics give you deeper insights into how your user interacts with your video content. You can figure out what content performs the best. You'll be able to track who's watching your content, how long did they watch the videos as well as their engagement.
You can tailor your content to your users' needs depending on the insights you get. Thereby helping you make a better impact on your audience. 
In order to know more about must-have video hosting features, you can check out the blog linked. 
Best Private Video Hosting Services
Here are the best private video hosting services you can opt for to ensure secure video streaming. 
VdoCipher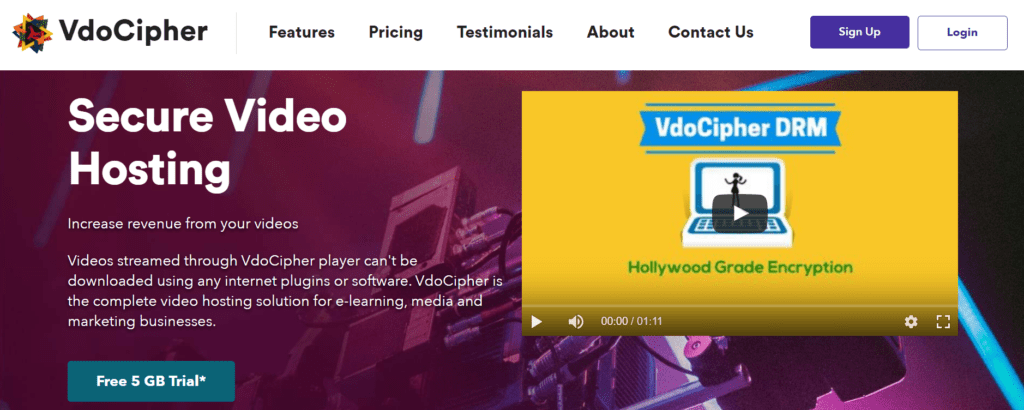 Vdocipher is a secure video platform that helps businesses to protect their content and ensure a seamless streaming experience. If security is a major concern for you, then Vdocipher is the platform you need to go for. They provide Hollywood Grade DRM encryption which is used by the likes of Netflix along with other security features such as dynamic watermarking, screen recording prevention on android and iOS. Also, you get other standard security features such as domain restriction, geo-restriction, and dynamic URLs. Together all these security features contribute a vital role in boosting your revenue, which you would have otherwise lost to video piracy. 
Other crucial video hosting features are:
multi CDN, 

Video Transcoding,  

Video APIs to upload and embed content

Customizable Video Player, 
VdoCipher currently caters to e-learning and media platforms across 40+ countries.
Kaltura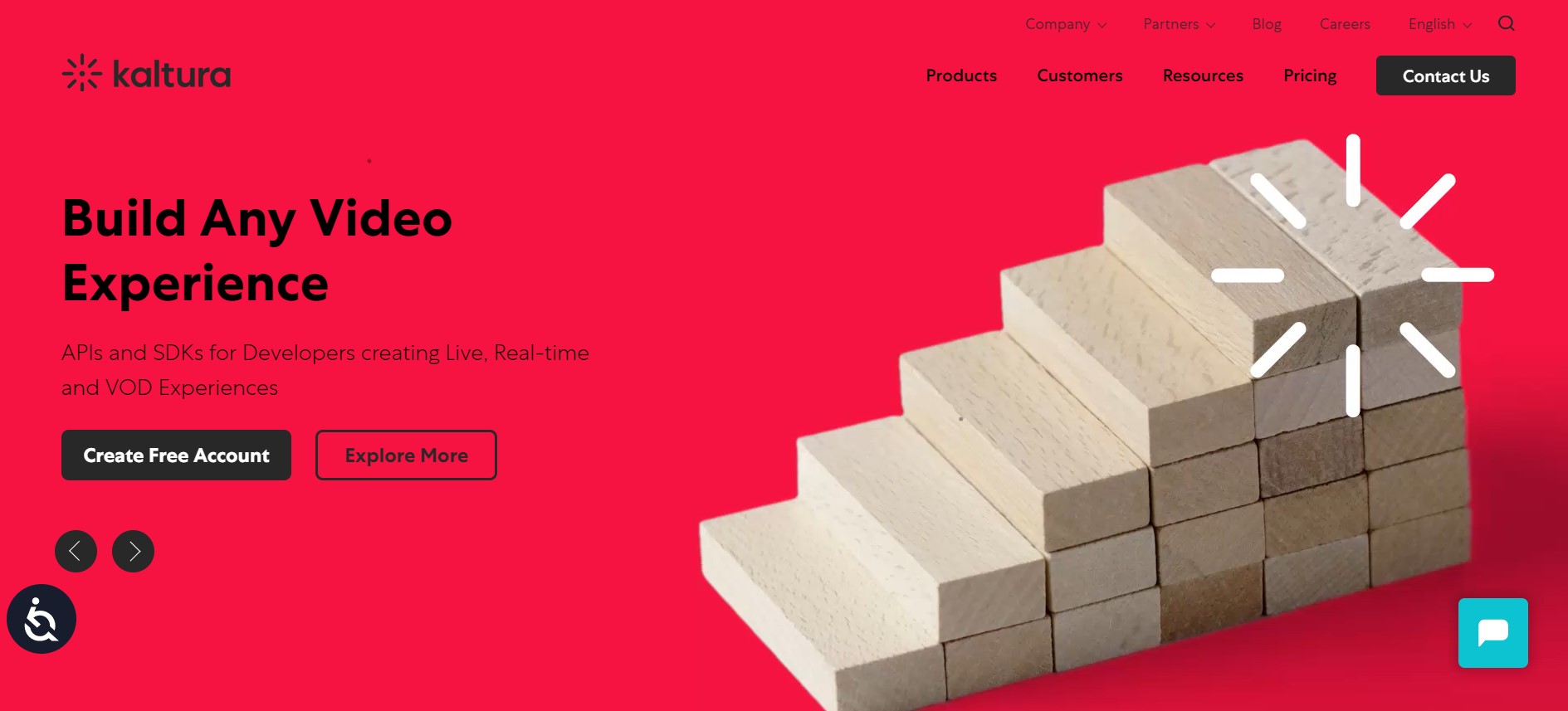 As a video hosting platform, Kaltura enables you to brand your videos, and add annotations, CTAs, chapters, and forms that can appear on your video; all to increase lead generation and engagement with your audience. Although, Kaltura is best for Marketers, publishers, sales, and education personnel looking at higher levels of engagement and brand awareness. It can also be used to host private videos.    
Kaltura's security features include domain lock, right-click protection, password protection, Email gate, or paygate.
Panopto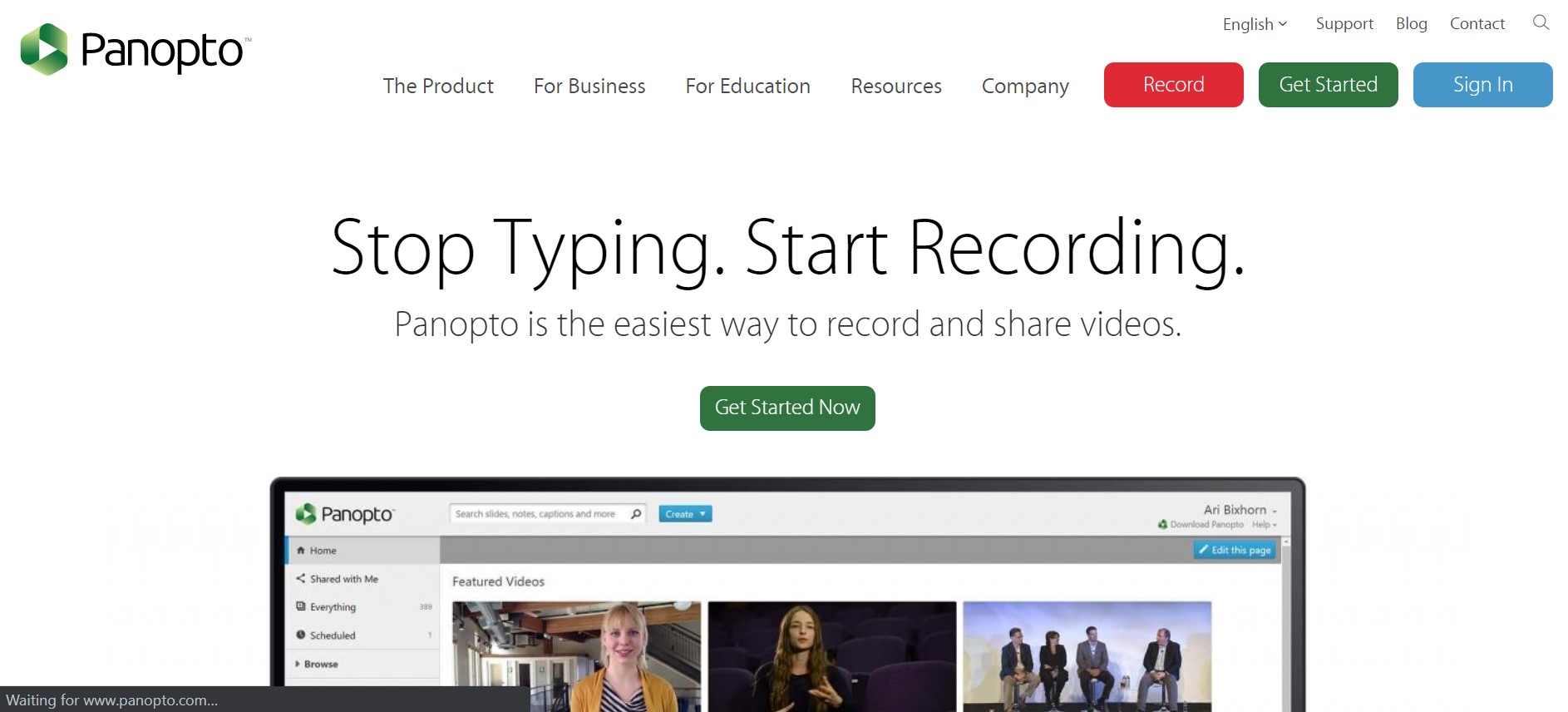 Panopto is another private video hosting service widely used by businesses. Their solution also includes video creation, management, and sharing. Vidyard's features include video analytics, security features, and integrations with other tools
Panopto is used by businesses for video marketing to generate more leads and engage the audience before closing the deal.
Their security features include password protection, IP protection, and SSO login.
Brightcove
Brightcove is one of the video platforms available for hosting private videos since 2004. The platform has thousands of customers across 70 countries and aims to help in the marketing aspect of videos online.
Brightcove Media platforms offer solutions for broadcasting, publishing, marketing, or enterprise communications.
Some of their main feature includes
Video Library Management

Content Management

Ingest and Transcoding

Live Events Streaming

Advertising
Vimeo
Vimeo was launched in 2004 as a Video sharing platform that enables creative professionals, and businesses to host private videos, record, edit, customize, and market videos with features like text and calls to action. 
Vimeo has more than 200 million users, 1.5 million paid subscribers. The Platform also provides workflow features, privacy settings, and detailed analytics
Here are some of the features that Vimeo has to offer for content creators
Video Analytics – Metrics like average viewing time, live stats,  video engagement graphs are available.

Video Editing – It enables the users to adjust colors, record videos, add text.

Video Reward – This feature allows content creators to accept cash payments from viewers who appreciate the content.

Video Security – Privacy feature includes password protection, viewer permissions
Wistia
Wistia is a business video hosting service founded in 2006. It helps businesses to leverage their video content to help brand marketing. It serves more than a half-million businesses across 50 countries.
Wistia offer numerous benefits such as 
Wistia has a built in SEO solution for videos offering the users to add metadata like Title, Description, Tags, Etc It makes it simpler for google bot to find your videos for indexing.

The video platform is adfree. Videos can be watched hassle free without videos being interrupted by ads

Wistia provides an option to integrate CTAs into your videos. It's a great way to earn more conversions by embedding CTA in to sales page or informational page

Wistia comes with a heatmap feature that allows you to understand how audience interacts with your video
Vidyard
Vidyard is one of the private video hosting services founded in 2011 which connects users with personalized video experiences. It assists businesses to transform their way of communication and helps to drive more revenue through online videos.
Key Benefits of Vidyard
Availability of custom playlists and video hubs to showcase your video library which helps the internal team

In-depth viewer analytics like Streaming quality reports, viewer tracking

Video security features like access controls, SSO support, Password protection, Embed restrictions

Integration to various platforms
IBM Video Cloud
IBM Watson Media is an enterprise video streaming solution. Businesses can host private videos, manage and broadcast live and recorded videos. IBM Cloud Video offers a comprehensive solution for all businesses to enhance video capabilities.
IBM has three primary types of OTT video: subscription video-on-demand, ad-supported video-on-demand, and live-streaming.
Main Features of IBM Cloud Video
Video engagement features like Audience polling, Audience Q&A, and comments

Video Player features include Player customization, Mobile compatibility, Video Editing

Additional features like Enterprise Content Delivery Network (eCDN), Cloud-based Transcoding, Integrated Content Management
VIDIZMO
Vidizmo started in 2009 offers private video hosting services to organizations across various industries. This platform simplifies the process of managing digital media with the support of artificial intelligence capabilities.
Integration with various industry-leading applications

SCORM Compatible

Video scheduler to publish video content

In-video quizzes and interactivity

Automated video content via uploading tools
Wowza
Wowza was started in 2007 recognized as a global leader in video live streaming technology. Wowza comes with two options Wowza Streaming cloud and Wowza Streaming engine. 
A streaming engine is a server-based package utilized to deliver audio/video content.
Support for a wide variety of protocols, security options, including CDN, geoblocking, and codecs
The platform provides developer tools including a REST API, Java and Ruby SDKs

4K streaming support across a wide range of devices

Support multi-bitrate type live to stream

They provide a streaming engine option for those who want to enjoy self-hosted streaming services
Muvi
Muvi is another video hosting service that is focused on White Label OTT Multi-Screen Video & Audio Streaming Platform. A cost-effective solution for content creators and it provides them with monetization options.
It provides Robust APIs

Offers white label multi-screen OTT TV everywhere

Geo security and rights management

Movie studio approved DRM
StreamShark
StreamShark was founded in 2011 as a video platform for hosting and streaming live videos. They have developed a secure and private video streaming service with viewers having an exceptional experience. It offers a consumer-grade (B2C) platform and an enterprise platform for streaming.
Key features include
It offers global video CDN services with over 100 locations

Support for Domain and IP restriction

Detailed Analytics report

It provides Single Sign-On support
Summing It Up!
If you are looking for a solution that protects your content from being viewed by unauthorized users, private video sharing and hosting services are the right choice for you. The right video hosting solution for your business can be chosen on the basis of how secure you want your content to be and what is the purpose. If the content is for internal circulation, then a solution  with password protection, Domain restriction might be enough 
But if you are looking to generate revenue from your video content, it is best that you opt a solution that provides DRM-based encryption so that any video downloads can be prevented entirely. Other important features you need to consider are CDN for speedy content delivery and Video APIs to automate your workflows.
FAQs
Why should I choose private hosting over platforms like YouTube?
Private platforms offer more control, enhanced security, no unwanted ads, better branding opportunities, and often provide detailed analytics. It's ideal for those wanting a more personalized and professional experience.
Are private video hosting platforms expensive?
Pricing varies. Some platforms have a one-time fee, while others operate on a subscription basis. It's essential to compare options based on your budget and needs.
How secure are my videos on a private platform?
Most private platforms prioritize security, offering features like password protection, encryption, and domain restriction. Always review the platform's security features before choosing. Platforms like VdoCipher offer robust security with Hollywood Grade Multi DRM Encryption along with dynamic watermarking, secure offline downloads, and more.
Secure Your Videos from Download & Piracy
At VdoCipher we maintain the strongest content protection for videos. We also work extremely hard to deliver the best viewer experience. We'd love to hear from you, and help boost your video streaming business.
Free 30 Day Trial
Head of Digital Marketing at Vdocipher. I love the art of connecting the right product to their users. When i'm not doing that i love getting lost in books.