The creator economy is now a multibillion-dollar industry, building the careers of some of the biggest celebrities. This generation of micro-entrepreneurs is estimated to reach $104.2 billion in 2022. Today creators have become increasingly professionalized in their approach to producing content and managing their careers. Global brands and corporations have learned to use this new media environment as an advertising and sales channel. Successful content creators are often compared with film stars and celebrities because of the fame and admiration they earn among their fans and followers. The viewers have a more personal connection to the creators than previous era stars.
What is Content Creator Economy?
The creator economy is a term to describe the growing trend of content creators, curators and community builders making a living off of their online creations. It can include everything from YouTube videos and podcasts, creating and selling online courses, social media influencer marketing, and blogging. It also includes other businesses supporting the creators, such as analytic platforms, video hosting services, and advertising firms. There has been a big rise in the number of tools to create, share, monetize and gain an audience. Creators are rising, and anyone can now create and contribute to the creator economy.
The major components of a creator economy are
Creators

Consumers or Target Audience

Platforms (to create, distribute, consume and monetize content)

Prospective Businesses and Brands

Tools & Services to assist in content creation
According to the payment company Stripe, "the number of creators went up by 48% in 2021, compared to 2020 on its 50 most popular creator platforms. If this exponential growth continues, these 50 platforms in themselves will contribute to 15.5 million creators in five years".
Who is a content creator?
A content creator produces and shares written, visual and entertaining content, usually digital. Content creators is a broad term covering different works and mediums to disperse the work. In this blog, the term "content creator" refers to someone focused on creating content to target an interested specific audience and connect with them.
The content produced is mostly original and commonly includes YouTube videos, blogs, social media posts, and much more. The content distribution is via social channels like Instagram, YouTube, personal websites, and more.
Content is the soul of creators, and the focus is on creating fresh content or adding value that interests, informs, and educates their audience. Each content field requires creators to have the proficiency to thrive and earn, including good communication, proper knowledge, and engaging content delivery.

Historical Evolution of the Creator Economy
Early 2000s – Birth of Blogging
People began sharing content online.
Platforms like Blogger provided tools.
Monetization mainly through ads and sponsors.
Mid-2000s – Rise of YouTube
YouTube launched in 2005.
Video creators could monetize through AdSense.
The partnership program helped creators earn.
Late 2000s – Social Media Growth
Platforms like Facebook, Twitter expanded.
Influencers began to emerge.
Brand partnerships and sponsored content became popular.
Early 2010s – Emergence of New Platforms
Instagram, Snapchat, TikTok launched.
Diverse content formats evolved.
Influencer marketing industry grew significantly.
Mid-2010s – Subscription Models
Patreon, OnlyFans allowed subscriptions.
Creators earned directly from fans.
A new, more sustainable revenue stream developed.
Late 2010s – Expansion of Tools & Platforms
More platforms provided monetization tools.
Live streaming, eCommerce integration flourished.
Creator-focused startups emerged.
2020s – Mainstreaming and Growth:
Pandemic increased online content consumption.
New platforms and features continued to launch.
Creator economy valued at approximately $104 billion by 2021.
| | |
| --- | --- |
| Period Milestones | Key Platforms |
| Early 2000s Birth of Blogging | |
| Mid-2000s Rise of YouTube | |
| Late 2000s Social Media Growth | YouTube |
| Early 2010s Emergence of New Platforms | Facebook, Twitter |
| Mid-2010s Subscription Models | Instagram, Snapchat, TikTok |
| Late 2010s Expansion of Tools & Platforms | Patreon, OnlyFans |
| 2020s Mainstreaming and Growth | Twitch, Shopify |
Factors contributing to the rise of the creator economy
There are several factors that contribute to the rapid growth in creator space and boost the creator economy. Some of these common factors include
The rise in internet usage and the globalization of content consumption
According to datareportal insights, by the start of April 2021, over 300 million people worldwide started using the internet in the past 12 months. The annual change in the number of global internet users is more than 7.6%. The demand for creative content will likely grow with the world becoming more digitized.
With wider internet access, the market gap between the supply and demand side of the creator economy narrows. Wireless infrastructure and last mile internet reach are surely giving an economic boost to localized content to reach a global audience. In the next few years, we will likely see high volume growth in the creator economy.
"Number of creators on the 50 most popular creator platforms stands at 668,000."
Disruption in formal employment opportunities
Ever since the pandemic outbreak, there have been massive job losses and an increase in countless job-seekers. Fresh graduates had to sit idle at home. Some of them jobless and creative artists became overnight sensations. In 2021 itself, the 50 million creator economy escalated to $14 billion. Creators now look for additional revenue sources and flexible job culture empowered by remote work technologies.
Many small businesses collaborate with influencers and online creators to boost brand visibility and attention. By leveraging these influencers' voices and reach, many could ensure business continuity and increase their sales. In fact, boosting the creator economy is the dire need to compensate for the lack of formal job opportunities.
YouTube is considered the birthplace of the creator economy, and a report outlined its contribution to the YouTube Partner Program (YPP).

Oxford Research found that YouTube's creative ecosystem supported 394K equivalent jobs in the United States in 2020, paying over $30 billion to creators, artists, and media companies.
The popularity of short-form video content
Video is now the most popular form of content on the internet, and people are continuously looking for new and interesting videos to watch. People love short-form video content as it is easy to consume and can be watched on any device. People watch short-form videos while on the go and are also more likely to share them with their friends. You can learn or get a good laugh within minutes by watching reels or short videos.
"53% of content creators' fans say that their ideal length for a video is under 5 minutes."
According to a HubSpot report, 85% of marketers consider short videos as the most effective video format on social media.  In 2022, brands will focus more on short-form educational videos focused on how-to's, DIYs, and explainer videos.

People are increasingly turning to short online videos for entertainment, news, and even education. More and more students and teachers are using short-form educational videos to supplement traditional classroom instruction.
An increasing number of creator economy platforms and tools
A lot of content creators look for different ways to monetize their work. Now there are many monetization platforms helping creators earn a decent income from their work.
One of the most popular monetization platforms is YouTube. You can create videos and then monetize them through ads. You can even join the YouTube Partner Program, which gives you a share of the revenue from the ads shown on your videos.

Educators now possess multiple no-code and easy solutions like LMS to create, integrate and monetize their educational content.

Video security mechanisms like DRM, which used to be available only for Google and Apple, are now available to everyone through Authorized license partners like VdoCipher. Earlier the creators had no option to tackle their video piracy problem and eventually had to face revenue loss.

Another popular monetization platform is Patreon. With Patreon, you can create content and ask your fans to support you by becoming patrons. It may be a good earning source if you have a large audience base.

Several platforms also specialize in selling digital products, such as ebooks, courses, and other types of content. These platforms can be a great way to monetize your work if you have something of value to sell. Find the right platform for your content, experiment with free templates, and see what works best for your specific situation.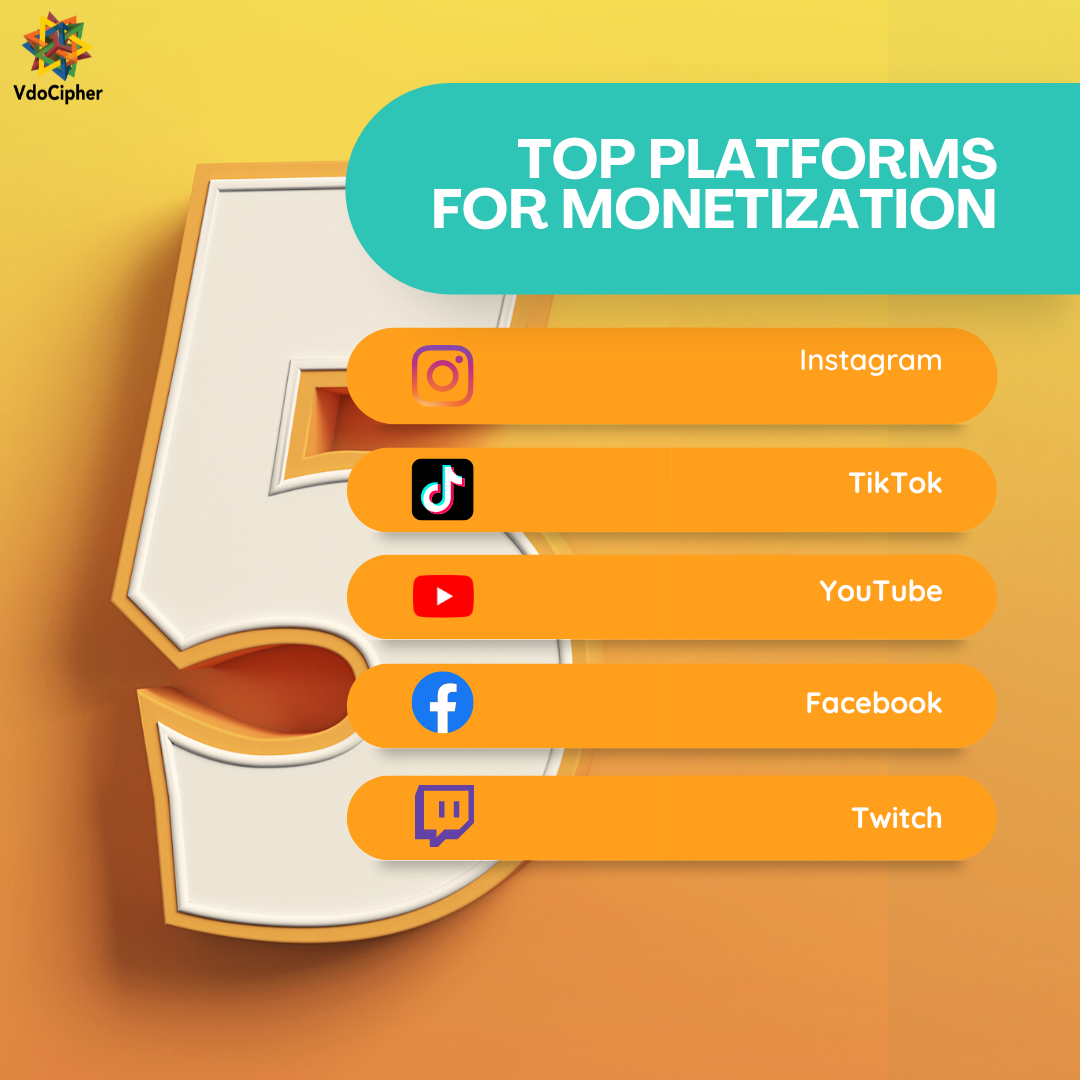 "Nearly 41% of creators make a liveable wage from their content at $50k in annual income or higher."
Many creators are moving beyond popular earning models like sponsorships and Patreon towards new and innovative monetization methods. Be it NFTs or workshops or developing own brand into a full-scale business. Not all models seem to prove successful, but some certainly will.
Bond of trust between Creators and Audience
Creators have become the key players for brands to reach targeted audiences. Many creators build their audience on social media by promoting their knowledge and talents. Their admiration or reputation roots in their creativity and unique individuality. Multinational companies engage with the mass audience with unique campaigns involving famous creators instead of big celebrities. Creators now have the power to connect with unrepresented groups and nations, which is a big opportunity for creators and companies.
Communicating with creators can take many forms, including leaving comments, sending messages, or following their social media handles. When fans take the time to communicate with creators, it shows that they are invested in what they are doing and that they are willing to support them. This can go a long way in building trust between fans and creators.
In some cases, the close relationship and bond of trust between fans and creators allow for the wrong transmission of inaccurate and misleading information. Some creators even take undue advantage of the trust fans put in their favourite creators. There have been plenty of examples of content creators propagating wrong and conspiracy theories. 
"44% of fans feel they know their favourite creators, as well as they know their real-world friends."
Investment in creative content
Investing in high-quality creative content is wise for businesses of all sizes regardless of whether your business is about SEO link building software or eCommerce. After all, compelling content is one of the most effective ways to reach and engage your target audience. It helps build trust and credibility, drive your website or business traffic, and generate leads and sales. Creators and businesses (especially after announcing ChatGPT), sometimes rely on AI content tools. Our advice will be to use also AI Detector tools to ensure that your content looks human-like and will be perceived positively by your audience. Since 2020, venture capital has invested $850 million into the creator economy.
The growing number of unicorns in the creator economy shows the huge potential for venture capital investors, startup founders, and creators. This type of investment into the creator space sends a strong message that the creator economy is a big force to be reckoned with. According to Crunchbase data, funding for startups focused on creative content in 2021 was $939 million.
"The actual rate an advertiser pays per view on YouTube is between $0.003 to $0.005, which means a YouTuber receives nearly $3 to $5 per 1000 views"
Creators are doing what they like to do and are best at what they do while delegating out the things they are not good at. There is a need for other tools to help creators run their work, such as hosting videos, managing revenue, contacting brands and businesses, hiring resources and more.
LinkedIn announced a $25 million fund via its Creator Accelerator program

Pinterest built monetization tools and launched a $500,000 creator fund

YouTube added a $100 million fund just for Shorts, its TikTok-like feature

In 2020, TikTok, after a $200 million fund, launched new monetization features
eLearning Creator economy
In the last two years after the pandemic, there's been a growing trend of people making a living off by creating and selling eLearning courses. This is often referred to as the "elearning creator economy." There has been a growing demand for online learning platforms, which makes it easy for educational creators to sell and monetize their content. More people now look for affordable and non-traditional ways to learn new skills online. They can study at their own pace and in their own time. They can also access learning materials from anywhere in the world. Year over year, creators are succeeding in generating revenue through online education.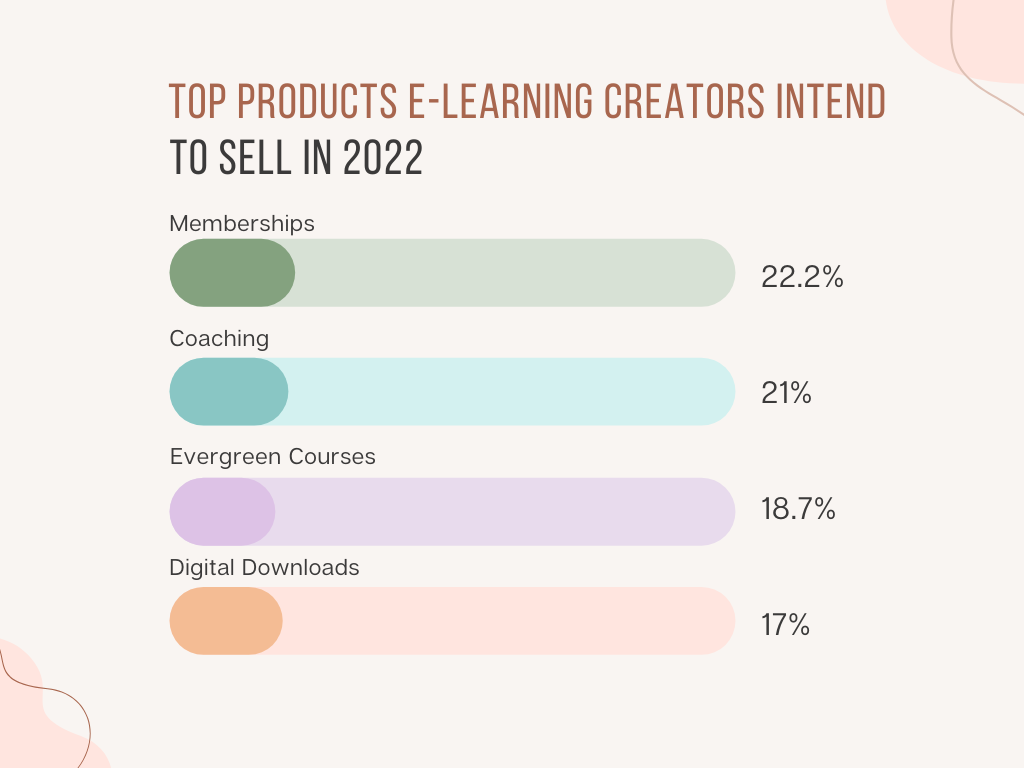 Top creators are broadening their revenue streams, moving from online courses to selling other products and services. Around 83% of the top educational creators already offer multiple services and products. Instead of a single course, creators provide a complete learning package for students, including memberships, interactive sessions, ebooks, physical products, and other complimentary services. Creators use live and scheduled lessons to build a sense of community among students. These small interactions, in turn, build engagement with each other. The end purpose is to create a learning environment to achieve success.
OTT Creator Economy
Most YouTube creators look for different ways to monetize their content. Even when their channel has built a fan following, there is a constant fight to retain the audience. To achieve a sustainable income, creators must navigate their followers from the platform their audience is built on to a place with diversified monetization options. Many creators have perfected the transition to subtly divert a loyal audience towards more financially supported content creation platforms. An OTT platform matches the portfolio of these creators and offers a valuable extension to their earning mediums. 
"By 2026, media OTT revenue is expected to surpass $200 billion"
OTT platforms have proven to be a boon for content creators. The OTT space is where talent is respected and rewarded, irrespective of who you are or where you come from. OTT platforms offer a more direct path to audiences than traditional television or movie platforms. This means that creators can build a more direct relationship with their fans and can more easily connect with viewers who are interested in their work.  OTT gives content creators a more stable revenue source and chances to reach a larger audience.
Creator Economy Market Size & Statistics
By 2022, the global digital video content market is expected to reach $204 billion USD

The total investments in creator economy startups was $1.7 billion in Q2, 2021

12% of full-time creators earn more than $50K 

9% niche creators earn more than $100K in a year

68% creators consider themselves part-time creators

Short-form video is the most engaging content on Instagram

Online learning market expected to surpass $305 billion by 2025

17% of consumers subscribe to a creator's membership website

67% consumers learned about a new product through creator videos

YouTube paid creators more than $15 billion throughout 2021

During the pandemic, ad-revenue for creators declined by 31%

Over 21K YouTube creators have more than 1 million subscribers

425% increase in enrollments to online learning courses 

Twitch has over 300K professional streamers
Why do Creators need secure video hosting and video protection?
Video hosting platforms allow users to upload, share, or view videos. Popular video hosting platforms include YouTube and Dailymotion. There are several reasons why video content creators need secure video hosting. One reason is that secure video hosting helps ensure the confidentiality of sensitive information from being accessed by unauthorized individuals. Additionally, secure videos protect learners' privacy by protecting their personal information from sharing with third-party organizations.
"As per Digital TV Research, by 2022, the total loss from stream piracy will reach $52 billion"
To discourage video piracy and protect your videos from unauthorized access and usage, creators need a secure video hosting platform with additional security and features. The moment someone has access to their premium content, the very next minutes, the content is freely available on the web. Everyone must keep their videos secure, whether they're vloggers, gamers, individual creators, Ed-tech or media enterprises.
VdoCipher's Hollywood Grade Video DRM encryption allows you to protect a wide range of video file formats. The videos streamed via VdoCipher cannot be downloaded by any internet plugin or software. DRM technology uses encryption to protect content from unauthorized copying and playback. The user needs a valid DRM license to play the video content with access on only authorized devices. Only people with the appropriate key can decrypt and access the video.
DRM Encrypted Streaming
DRM encrypted streaming uses digital rights management technology to prevent unauthorized copying and playback of digital video content. DRM-protected content is typically streamed over the internet from a content provider to a user's computer or other devices. The user's device decrypted the video using a DRM key that the content provider provides. The user's device then plays the content using a DRM-compliant media player. We offer the highest security from video piracy using Google Widevine and Apple FairPlay DRM.
Dynamic watermarking
Watermarking your videos is yet another great way to protect your videos from being duplicated and let others know who the original owner or creator is. Content creators can add watermarks to their videos to give the branding and restrict others from claiming it as their own. Our dynamic watermark features let you add User name, User IP, and User email to the video. The watermark can be easily customized for movement, colour, size, and transparency.
Smart HTML5 Video Player
Our smart HTML5 video player comes with dynamic controls, Multi-Language Subtitles support, adaptive bitrate streaming, and more.  In the Adaptive Multi-bitrate Playback, the media player automatically adjusts the quality of the video stream according to the bandwidth availability. It ensures smooth video playback without any buffering or interruptions. You can easily embed using iFrame, plugins and API.
Easy to integrate Plugins For WordPress/LMS and other CMS
VdoCipher provides easy integration support for many platforms like WordPress, Moodle, Joomla and many others. These plugin let you easy embed your videos and even place customization as per your requirements. For more advanced usage APIs and SDKs are also available.
Content Creators and Social Media Platforms
The relationship between creators and social platforms is simple. The platforms offer the creators a space to reach a broader audience, and in turn, creators supply almost free content for users to engage. This engagement drives the monetization options (advertising) on the platform. Creators use the platform to build fandoms and monetize on the platform. Content creators get a share of the ad revenue, which is nearly 5% of the overall generated revenue on the platform.
In short, social media provides creators with both top-of-funnel and middle-of-the-funnel marketing reach. Creators can choose to publish general content creating awareness about a broad topic. Also, they can target a niche audience by creating content only for that niche. In general, what we see is a combination of both generic and niche content combined with the final product knowledge using the text description in captions, bio, etc.
Tagging a product, retargeting, and other such platform-dependent features have now evolved into social media. Creators and companies that used to publish on social media to create awareness are now directly targeting it for sales. Also, these features are expected to become ubiquitous and enhanced, leading to more sales and commissions.
Types of content produced by creators
Popular Content Produced by Creators
Writing
Video & Audio
Social Media
📃 Blogs
Vlogs
Testimonials
✍ White Papers
User-Generated Content
Infographics
✏ eBooks & Guides
Live Streams
Contests
✉ Email Newsletter
Reels
Announcements
📑 Product Content
Tutorials & courses
Social Posts
📁 Case Studies
Interviews
Reviews
Common Revenue Models for Content Creators
Membership
In the membership program, the creators offer exclusive perks and benefits upon joining. The common benefits members receive include
Exclusive Content (member-only articles, podcast episodes, newsletters, etc.)

Member-Only Events (in-person or online events, meetups, both online and offline)

Contents and Challenges

Coupons and discounts
Subscriptions
A subscription is a recurring payment customers pay to access a service, content or product. The subscription pricing model can be either Flat-rate, Tiered or usage-based.
Flat-Rate Subscription – A fixed subscription fee billed weekly, monthly or annually

Tiered Subscription – Subscribers choose a subscription pricing model based on features and additional benefits they wish to avail of. There are usually basic and premium subscriptions.
Earlier this year, Instagram introduced "Subscriptions" with a handful of creators to set a monthly subscription price and give benefits to their subscribers. The features include Subscriber Lives, Badges, Stories and more.
Selling Merchandise
Creators and businesses may choose to sell their products and exclusive merchandise to their fans and followers through social media, websites or other mediums. About 43% of consumers are likely to make a purchase after knowing about it on social media. With these kinds of stats, creators cannot miss-selling their merchandise then and there. Many social sites even include product search features, wishlists and make a purchase.
Brand Sponsorship
In a brand sponsorship campaign, businesses and brands partner with creators to promote their products, services or content. The creators distribute and promote the sponsored content on various social platforms like YouTube, TikTok, Instagram and more. Even micro (<25K followers) and nano influencers (<10K followers) contribute a large part of brand sponsorships.
Donations
Nowadays, several creators earn money through donations from fans and supporters. It is usually done through websites like Patreon, where fans sign up and donate a specific amount to their favourite creators each month. Many social media platforms and websites have donation buttons. Moreover, different organisations can also get nonprofit donations thanks to technology and online platforms available.Sometimes creators hold crowdfunding campaigns to raise money for their work or project.
Google Adsense and other ad networks
Ad revenue sharing is the most common way creators earn. Ad revenue sharing is when a creator agrees to allow an ad network to place ads on their content in exchange for a share of the revenue generated from those ads.
Google AdSense is the most popular way creators earn money from their online content. AdSense works by displaying relevant ads on your site based on your content and visitors. To promote products and services, advertisers create and pay for ads. These advertisers pay different prices for different ads. Based on ad clicks and impressions, Google pays a share of revenue with the publishers.
"For displaying ads with AdSense for content, publishers earn 68% of the ad revenue while for AdSense for search, the revenue share is 51%"
The other ad monetization methods are cost-per-click (CPC) and cost-per-impression (CPM) advertising. In CPC advertising, the creators are paid based on the number of times users click on their content and the amount earned depends on the ad network. On the other hand, in CPM advertisements, creators earn based on the number of times their content is viewed. 
Endorse or sell NFTs
NFTs are non-fungible tokens. They are unique digital assets that cannot be interchanged with other assets of the same type. NFTs are bought and sold online, commonly with cryptocurrency, and are generally encoded with the same underlying software as many cryptos. NFTs can be anything, from video clips, GIFs, and digital paintings to music like some paintings sold in auctions in previous decades.
Some NFT marketplaces pay creators a percentage every time their NFT is sold. By buying NFTs, supporters and fans can financially support their favourite creators. Earlier this year, Jack Dorsey sold his first tweet for $2.9 Million.
Selling digital products
Creators can sell digital products like courses, webinars, video games, and digital downloads. They can sell these through online marketplaces like Etsy, Podia, their own website, or social media platforms.
Challenges and Criticisms of the Creator Economy
Market Saturation and Competitiveness
As the creator economy continues to grow, it faces challenges related to market saturation and increased competitiveness. With millions of creators producing content across various platforms, standing out and gaining traction becomes more difficult. This heightened competition can lead to oversaturation in certain niches and make it harder for new creators to establish themselves. While this challenge reflects the vibrant and dynamic nature of the creator economy, it also raises questions about sustainability and the need for differentiation.
Criticisms Regarding Inclusivity and Accessibility
The creator economy has also faced criticisms concerning inclusivity and accessibility. While the internet has democratized content creation to some extent, disparities still exist. Not all creators have equal access to tools, resources, and opportunities. Barriers related to technology, education, and capital can hinder participation for some individuals. Moreover, algorithms and platform policies may inadvertently favor certain types of content or creators. Addressing these issues is crucial for ensuring that the creator economy remains an inclusive and equitable space for all.
Future of the Creator Economy
The creator economy seems to only grow in the future. With increasing monetization platforms and access to tools, creators can make a living off of their content. And as more people become creators, the economy will only grow.
In the future, we may see new monetization mediums and even creators with their own platforms. This will lead to more and more brands and companies partnering with creators to promote their products and services. The future of the creator economy looks promising and full of opportunity.
Creators who can adapt and evolve will be able to thrive in this ever-changing landscape. In the coming times, creators must come up with fresh, engaging and interesting ideas.
Community-based platforms will grow

Influencer marketing will become more important

Demand for content creation tools will increase

Creator-led brands will gain popularity

NFTs are likely to play a key role in the creator economy

Web3 technologies will open new avenues for content creation
FAQs
Name of some of the famous creator economy startups.
Beacons, Buy me a Coffee, OnlyFans, and Patreon are some of the creator economy startup examples.
What are some of the editing creator tools for YouTubers?
The most common tools used for editing are iMovie, Final Cut Pro and Adobe Premiere Rush.
Why do creator videos require DRM encryption?
Video creators need DRM encryption to protect their content from online video piracy. DRM encryption ensures that only authorized users access and view the content and that unauthorized users cannot copy or distribute the content. It secures the video against unauthorized access and copyright infringement. When the video is properly secured from hackers, there is boost in generated revenue.
What are the challenges of the creator economy?
The creator economy challenges include the need for creators to constantly create unique content to hold the audience and more platforms to support a wide range of content types with monetization methods that work for both creators and platforms. To have uniformity across the sector, there needs to be standard and well-established practices.
Which is the biggest platform for creators?
According to Statista, Instagram has the most creators ( more than 30 million), followed by YouTube with over 12 million creators.
How many creators earn more than $1 million?
Roughly 0.5% of creators make over  $1 million annually, while those earning between $500K-1M are nearly 1.7% of the creator economy.
References:
https://influencermarketinghub.com/state-of-the-creator-economy/

https://linktr.ee/creator-report/
https://www.springboard.com/blog/business-and-marketing/creator-economy/
https://stripe.com/blog/creator-economy
https://www.forbes.com/sites/forbesbusinessdevelopmentcouncil/2021/08/30/the-continuous-growth-and-future-of-the-creator-economy/
https://www.thinkific.com/wp-content/uploads/2022/04/online-learning-trends.pdf
Supercharge Your Business with Videos
At VdoCipher we maintain the strongest content protection for videos. We also work extremely hard to deliver the best viewer experience. We'd love to hear from you, and help boost your video streaming business.
Free 30-day trial →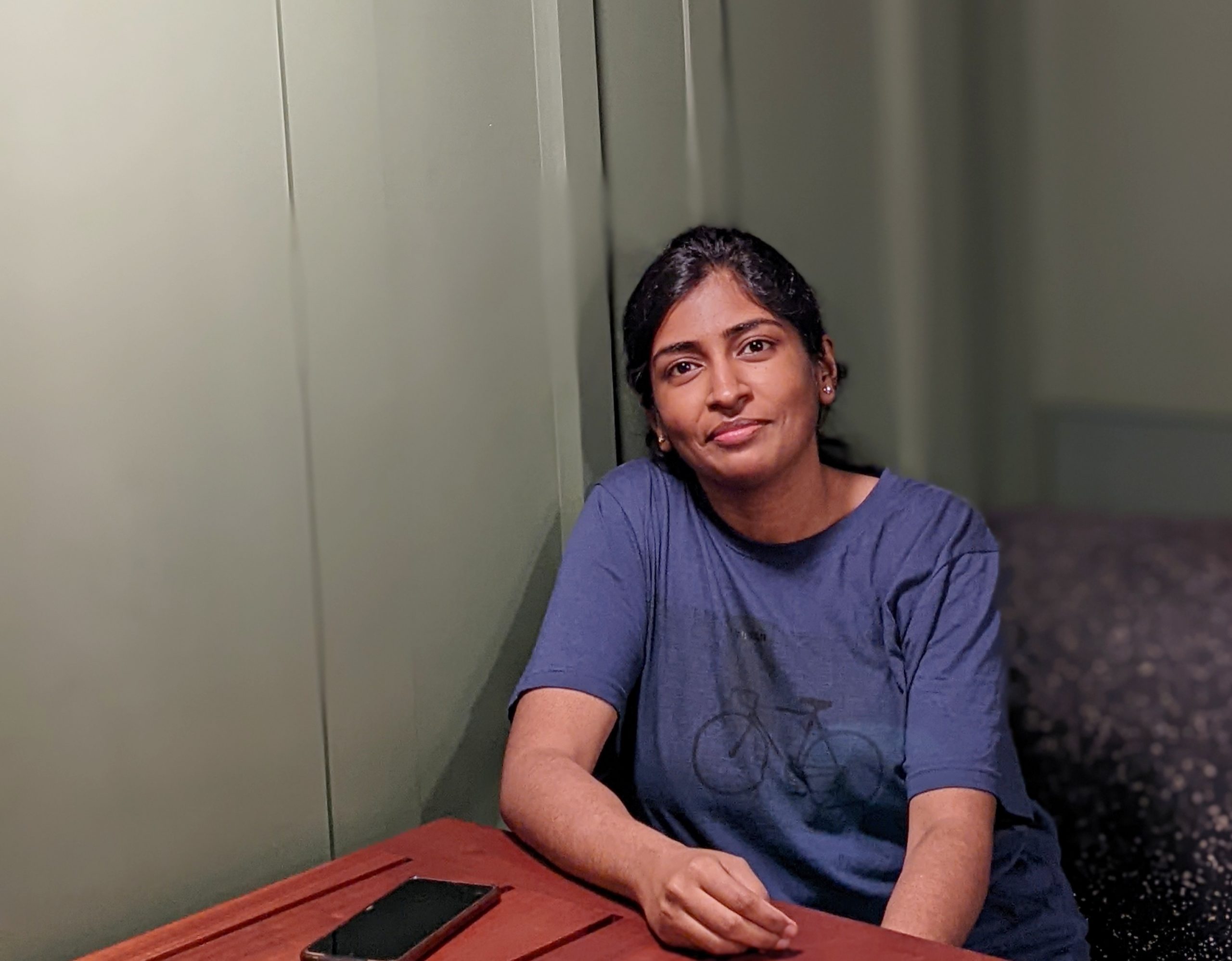 Jyoti began her career as a software engineer in HCL with UNHCR as a client. She started evolving her technical and documentation writing skills to become a full-time Content Marketer at VdoCipher.