Video on Demand (VOD) has become one of the most popular ways to consume video content nowadays. Movies and Education sites are bombarding users with massive online content on their websites and apps. With the rising popularity of platforms like Netflix, Amazon Prime, Disney Plus, Crunchyroll, the consumption of VOD content has skyrocketed. Such VOD platforms use multiple revenue models to monetize content. The top of these are TVOD, SVOD & AVOD. In this article we'll have a look at TVOD, AVOD, and SVOD and brings out a comparison and implementation module for these.
What is TVOD (Transactional Video on Demand) ?
As the name suggests for TVOD, the user makes a payment for a particular choice of video or a small combination of videos. This can be in form of making payments for a movie or Series combination. Sometimes paying for a movie to watch in one go is usually known as "pay-per-view". A famous example of a VOD platform with TVOD as the major model is Youtube paid videos. There is a cost for each movie. After looking into definitions, pros, and cons of these aspects, we also present some key stats and estimates on SVOD & TVOD implemented with Netflix, Youtube, Hotstar, and some of the VdoCipher customers. (Infographics are below)
Most customers are familiar with TVOD as pay-per-view when they buy access to a piece of content. Examples include movies, television programs, and sports events. TVOD transactions can occur as either a short-term rental or a long-term license. However, in most cases, the consumer does not own the content they purchase. It simply does not expire unless the consumer violates the terms and conditions of the service.
Vudu, Google Play, iTunes, and Redbox are examples of TVOD service suppliers.
What is SVOD (Subscription Video on Demand) ?
Prominent famous VOD sites like Netflix, Hulu, Hotstar, Amazon Prime , Byjus etc have Thousands of hours of content.  They provide such unlimited stuff in an affordable price per month or year. This idea of providing an offering of bundled video content in one to all pricing is SVOD. The basic practical assumption for SVOD is that the user will only watch a certain amount of content (say 20 to 100 hours per month).  If the user is able to somehow watch all the content offered to him, the bandwidth costs for the business will lead to overall losses.
Now we enlist all the advantages and flaws in the two models. Thus, the reader can make an informed choice amongst the two. We also then look at some numbers using famous and medium sized companies operating on these two models. It will help you better understand and implement the economies for your business. Before that lets look at a stats full infographic on SVOD with Netflix.
SVOD employs a subscription-based model of monetization in which the customer is paid a fixed monthly or annual cost. SVOD often binds the user to a short-term contract or none like standard cable packages. It allows them the freedom to cancel whenever they like.
Netflix, Disney+, Hulu, Apple TV+, and HBO Max are a few instances of SVOD service providers.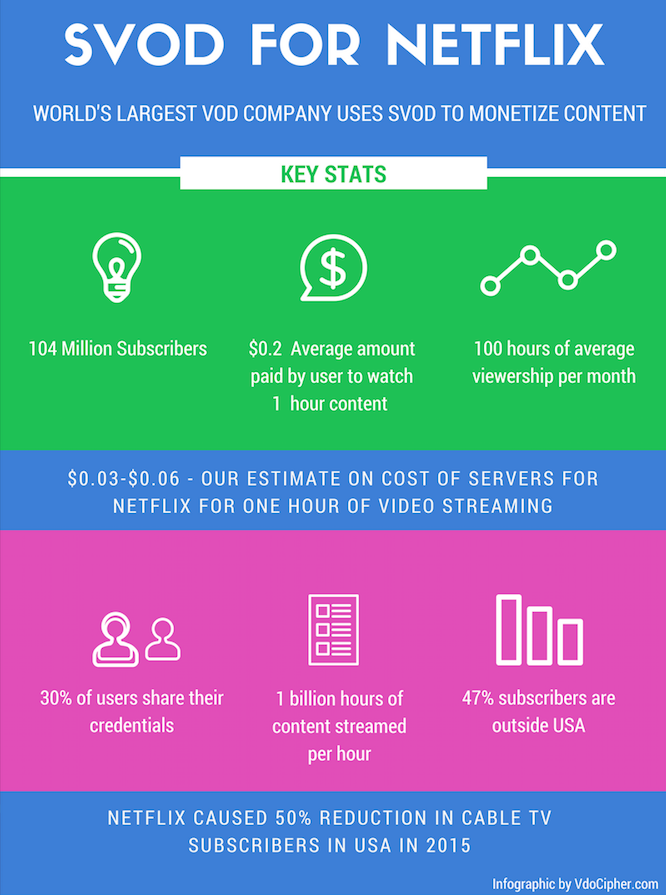 SVOD for Netflix: Key Stats, User Engagement, Monetisation
What is AVOD?
Video on demand allows users to select and watch videos as per their choice on any screen. In simple language, AVOD or advertising video on demand is the monetization of video services where users can watch videos intermixed with commercial advertisements without buying subscriptions. The primary concept of this model is that the users must watch ads to view the content. Although there are many more, Hulu and  YouTube are the most well-known AVOD platforms.
AVOD is prevalent on television channel applications and user-generated video platforms. This sort of VOD service provides viewers with free content interrupted by commercials. Using the AVOD business model, the firm relies on this income stream to maintain the platform and fund new content.
YouTube, Facebook Watch, Peacock, IMDb TV, and Pluto TV are a few examples of AVOD providers.
How is SVOD, TVOD and AVOD are Different from other Models(SVOD vs. AVOD vs. TVOD)
Technological improvements cause content distribution systems to change so businesses may use various monetization tactics. Before launching a product, it is essential to explore all choices. This is because some existing VOD providers have a more extensive, more committed user base than others.
SVOD vs TVOD vs AVOD
Technological improvements cause content distribution systems to change so businesses may use various monetization tactics. Before launching a product, it is essential to explore all choices. This is because some existing VOD providers have a more extensive, more committed user base than others.
Before comparing SVOD, AVOD, and TVOD, let's define each word separately.
As conventional methods of seeing and engaging with content alter, media businesses must be innovative in their platform monetization strategies. How do they decide between SVOD vs AVOD vs TVOD? Generally, it relies on the platform and the content collection accessible to clients. Here are some instances of when to employ each sort of VOD service monetization approach.
SVOD is an appealing alternative for media firms since it provides a consistent cash stream. Media firms like recurring income, and SVOD was a popular model for cord-cutters in the early days. However, compared to AVOD vs TVOD vs SVOD models might suffer client retention since providers must continually attract users with content or price discounts to renew – for instance, many will offer a lower yearly charge to keep customers subscribing. 
Customers, who are more inclined than ever to exercise choice in a digital economy, are suspicious of recurring fees and efforts by media corporations to restrict access to multiple users or devices. To be successful with an SVOD strategy, media businesses must provide an extensive and constantly updated library of content to keep users engaged. SVOD may also be a viable alternative for organizations that cannot or do not want to collect ad income to maintain their platform regularly.
AVOD ensures a revenue stream for content that may not generate direct or recurrent client money. The AVOD business model is often used by companies that develop or gather a vast content library. However, free content sometimes comes with a catch. It may be difficult for media firms who employ the AVOD model to retain subscribers, either because the perceived quality of the content is poorer than that of SVOD or TVOD providers or because users get annoyed with the ad interruptions. Additionally, AVOD may provide significant technical obstacles to ensuring that advertisements are shown correctly and are interactive and personalized for the viewer.
Compared to SVOD vs AVOD, TVOD provides the most transparent expectations for providers and consumers. When you offer a rental or license, you know the specific operating costs and overhead for each piece of content, allowing for more precise pricing and profitability. Similarly, buyers know precisely what they are purchasing. Even if you give free content, there is no assurance that a client will utilize a TVOD platform more than once. TVOD providers must often match or beat competitors' pricing to encourage client loyalty. 
Because a TVOD client may be occasional, it is difficult for the platform to accumulate sufficient data to provide content suggestions that would tempt them to return. TVOD providers must also be able to promptly and precisely identify the user's location to process payment and serve content in the correct language.
SVOD, AVOD, and TVOD have advantages and disadvantages; hence, many media businesses use various techniques. Larger companies may even offer product-specific VOD service variations. For instance, YouTube offers free user-generated content (AVOD), as well as premium content for rent or buy (TVOD), and particular subscription-based entertainment services, including live TV (SVOD) (SVOD). Similarly, Hulu takes a hybrid approach with their platform, offering four price levels that include a mix of SVOD and AVOD, as well as the option to bundle with Disney+ and ESPN+. Apple and Disney+ both use mixed methods for VOD monetization. Amazon Prime Video allows users to add free trials of other streaming services, such as AMC+, as an additional means of attracting consumers.
Why Choose AVOD?
Increase Audience Engagement: 
Use advertisements to attract viewers' attention and pique their interest in the content. It also encourages consumers to examine previews or short snippets before purchasing premium content.
Enhance Audience Reach:
AVOD services are versatile in terms of geography. Thus marketers may choose their intended audiences. Using AVOD, the targeted audience may see your advertisement and browse your website or shop while waiting for their subscription-based content.
Verified Users:
The ad-supported video streaming technology AVOD provides marketers with a more targeted approach. They may measure the ROI of their campaigns using data acquired from adverts on videos from verified users. In addition, marketers better understand where to put their advertisements to reach the most significant number of people.
Monetize With AVOD
Google will seek out advertisers or negotiate directly with businesses seeking to spend money on advertising. In most cases, AVOD is coupled with paid or free broadcast content to produce additional cash that enhances your company compared to competitors. For instance, PPC, or being paid per click, is an excellent method for monetizing a blog.
Except for fresh content, renowned blockbuster movies, and popular content featuring a celebrity, advertising-supported AVOD is an excellent alternative as a revenue source for anything else.
The AVOD business model is well suited for content producers or operators with a wide selection of youth-appealing content, such as TV content, catch-up content, and influencer content such as celebrity vlogs.
AVOD is advantageous for content aggregators that get a large volume of content from several sources and broadcasters with fresh and archived content.
AVOD is excellent for free-to-air television networks that can generate optimal income. Some types of content are more suited for AVOD, such as extended content and classic movies, since there is sufficient time to display advertisements as part of the package to make the price reasonable.
Why Choose TVOD?
One of its primary advantages is that TVOD caters to customers who simply wish to pay for the content they see.
This implies that with TVOD, you can: 
Quickly provide more excellent value since each piece of content would have its pricing, enabling consumers to get precisely what they're paying for;

Provide cheaper content to set lower pricing, rather than charging a higher membership cost and losing prospective clients.

Have more price flexibility and make content accessible for a short period or allow clients to retain it permanently.
Additionally, conducting one-time paid events, such as concerts or gaming matches, is an excellent option.
PROS
Accurate estimation of operational TVOD costs and lower risks:

As the estimates for operational margins is being done quite accurately before the start of business; you never run into the risk of a single user or group of user exploiting the bandwidth. Operational costs in TVOD business are the costs of server + CDN to stream the video of a particular size + cost to acquire the single customer.

Easy revenue distribution model to video content creators:

Unlike SVOD there is no confusion in what the user paid for. Thus the revenue share distribution for TVOD content is usually straightforward.

Better revenue opportunities for fresh release VOD content

Generally the audience worldwide has an affinity for newly released movie and serial content. Thus charging a small amount for such piece of content leads to immediate payment from users and can reach a considerable scale.

TVOD can work on smaller scale then SVOD, Good option to launch business

Since operational margins are fixed and revenue can be linked directly to content owner , it is a good option to start. SVOD generally kicks at a considerable scale.
CONS
  User retention is a problem in TVOD

Since user has the tendency to pay for a particular content and then go off the platform, there is no motivation or push for him to buy new content. SVOD can just push to user to try some new unexperienced content.

 Content visibility controls content revenues: Challenge of recommendation

Since the user is going to pay for the exact content and watch, whatever is presented to him in homepage or as a priority attracts his attention. There are greater chances that he will pay for it. There might be better compatible content for him in the inside pages, which by the time he discovers has no budget left to spend on it. Thus personal recommendations and presentation are a key aspect of the monetisation in TVOD platform.

Limited Trial Opportunities, Restrictive for large content size. (E.g 2000+ hours)

It is bad to expect the user to have an idea of all the content you have and be already decisive about the video to make payment for. He cant try without paying which limits the explorative nature of the platform.

We will go to SVOD's pros and cons after this infographic.


TVOD for Youtube Movies, SVOD for Hotstar
Why Choose SVOD?
Numerous streaming services currently use the SVOD monetization model due to its multiple advantages for both the benefits and its subscribers.
This is because subscription services provide users with dependability, particularly when comparing SVOD to AVOD.
AVOD might provide uncertain income due to its reliance on advertisements alone. With SVOD, you know exactly how much you will get at the end of the month, and you may set the pricing of your content as you see fit.
Using SVOD, you can:
Have a dependable source of revenue since your audience pays a monthly membership fee.

Give clients greater flexibility by allowing them to decide when to terminate service.

Cultivate a more exclusive and devoted client base that feels like a community; after all, they are paying for your content.
PROS
User Retention is high: New content trial is easy

Since the user has paid for the whole platform in SVOD, though he has some favorite content there is also a lot of additional content he can try. Mail campaigns, ads, and homepage prompts can motivate the user to try additional content. Yes, it will lead to higher costs, but it also leads to higher retention, more content ingestion and thus better performance of the overall platform. Iterations over recommendations and costing are done for better monetization strategies.

SVOD allows recurring revenue streams: Better Predictability

SVOD supports recurring charging models. Users can put in their credit card which renews the contract on monthly basis. This allows for the VOD platforms to better predict their upcoming revenues and thus grow their business.

 Best for large content portfolio

SVOD works best if you have a large content portfolio, provides better retention, time per user, and trust to content providers that their content reaches the maximum audience. More details on how to make it work are here.
CONS
SVOD Only works at scale, Risky at a low user base

Since SVOD does not inherently directly link operational costs of bandwidth to revenues, it works generally at a larger scale. The cost of delivery reduces at scale.  High pricing or Limitation on content hours can make it work at a lower audience number.

 Revenue distribution agreements are tricky in SVOD

It is difficult to determine which movie or series actually prompted the user to buy the subscription. Though video views and engagement data are at the backend, the overall revenue distribution model becomes tricky. It is a combination of pre-paid license fees for content, revenue share on basis of the number of views, and retention rates, etc.

 Recommendations and Visibility for large content is a challenge

Since VOD platforms with SVOD as a major revenue channel have 1000s of hours of content, which movies/serials to present at the front, to recommend is a challenge. Though at the same time, it is an opportunity to charge money from new content producers for advertisements and promotions on the platform.
Now we present some key stats and estimates on SVOD & TVOD  implemented with some of VdoCipher customers.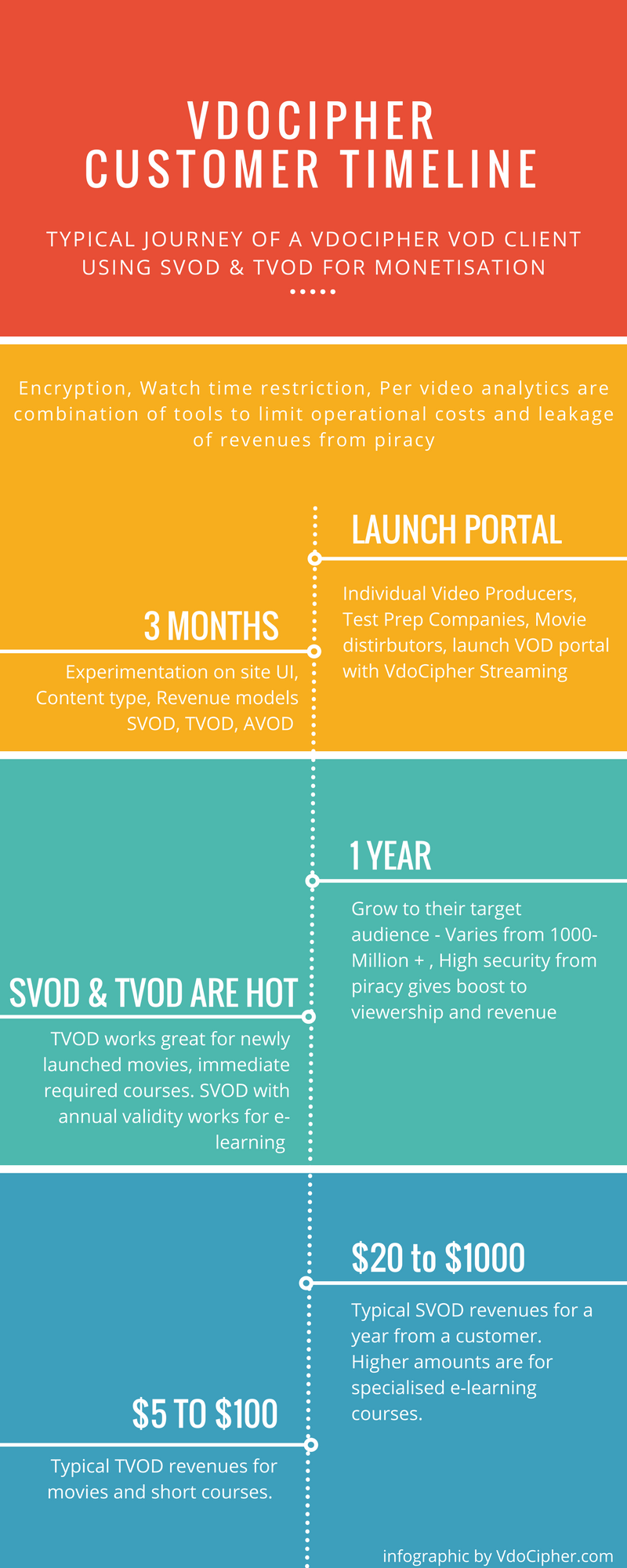 How To Find the Best VOD Model To Use as a Content Creator
AVOD business models rely on advertisements to generate money. Advertisers pay to have their ads or promos shown on a specific program or channel, while consumers may watch content for free. These three categories compose the conventional AVOD Business Model:
Content Creators/ Publishers:
Content developers produce high-quality works that entice viewers and marketers to pay for advertisements. When the content gets a large audience, the viewers become a source of money for the publishers via ad revenue. Similarly, marketers have grown increasingly interested in paying publishers for advertisements.
Advertisers:
In the AVOD business model, advertisers pay publishers to promote their goods or services in content to attract more viewers' attention. Advertisers rely on content providers to ensure that they reach the appropriate audience. In addition, marketers pay for specific time slots or channels to reach their target audience and assess the return on investment of their campaign (ROI).
Audience/ Viewers:
Audiences are the primary consumers in the AVOD business model since they come to see content, and advertisers pay for their attention when they view advertisements. The audience is the link between publications and advertising.
AVOD Market Size and Its Growth
Advertisers and content providers or publishers want to capitalize on the vast scale of the AVOD industry. The market is anticipated to expand due to the technological advances that will let this business model evolve further. Listed below are the reasons why the AVOD market is increasing.
Innovations in streaming technologies
Boost the number of smartphone users
Increase in the generation of internet content.
The business model for AVOD is anticipated to expand even further because of its enormous market size and exponential growth potential. Over the next decade, the AVOD market is projected to grow by 144 percent, hitting $66 billion in sales across 138 countries.
Since the introduction of cryptocurrencies, there has been a surge in online content production. Streaming technology will get more sophisticated, making streaming quicker and films crisper for users. This implies kids will watch videos for longer and more often. The number of smartphone users will rise as more individuals can now afford to own one. These reasons will result in a substantial AVOD market that will benefit all stakeholders.
To launch a VOD platform with the highest security from piracy + seamless experience, Start a free trial at VdoCipher.com
This short video here explains how to upload, embed, and securely stream videos through VdoCipher.
Supercharge Your Business with Videos
At VdoCipher we maintain the strongest content protection for videos. We also work extremely hard to deliver the best viewer experience. We'd love to hear from you, and help boost your video streaming business.
Free 30-day trial →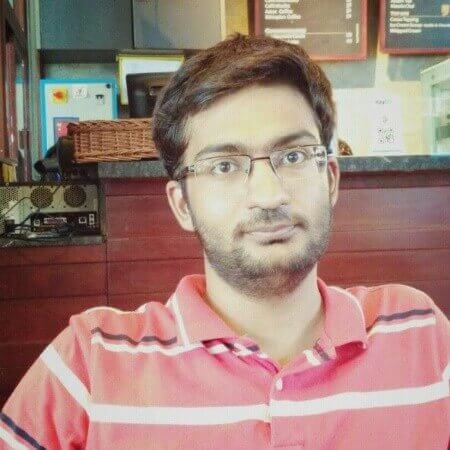 CEO, VdoCipher. Writes about video tech, ed tech and media tech.