We present a comparison on TVOD & SVOD with pros & cons. Video on Demand (VOD) is a hot word today. Movies and Education sites are bombarding users with massive online content on their websites and apps. Such VOD platforms use multiple revenue models to monetise content. The top of these are TVOD, SVOD & AVOD. This article takes a look at TVOD and SVOD, brings out a comparison and implementation module for these.
What is TVOD (Transactional Video on Demand) ?
As the name suggests for TVOD, user makes a payment for particular choice of video or small combination of videos. This can be in form of making payments for a movie or Series combination. Sometimes paying for a movie to watch in one go is usually known as "pay-per-view". A famous example of VOD platform with TVOD as major model is Youtube paid videos. There is a cost for each movie. After looking into definitions, pros and cons of these aspects, we also present some key stats and estimates on SVOD & TVOD implemented with Netflix, Youtube, Hotstar, and some of VdoCipher customers. (Infographics are below)
What is SVOD (Subscription Video on Demand) ?
Prominent famous VOD sites like Netflix, Hulu, Hotstar, Amazon Prime , Byjus etc have Thousands of hours of content.  They provide such unlimited stuff in an affordable price per month or year. This idea of providing an offering of bundled video content in one to all pricing is SVOD. The basic practical assumption for SVOD is that the user will only watch a certain amount of content (say 20 to 100 hours per month).  If the user is able to somehow watch all the content offered to him, the bandwidth costs for the business will lead to overall losses.
Now we enlist all the advantages and flaws in the two models. Thus, the reader can make an informed choice amongst the two. We also then look at some numbers using famous and medium sized companies operating on these two models. It will help you better understand and implement the economies for your business. Before that lets look at a stats full infographic on SVOD with Netflix.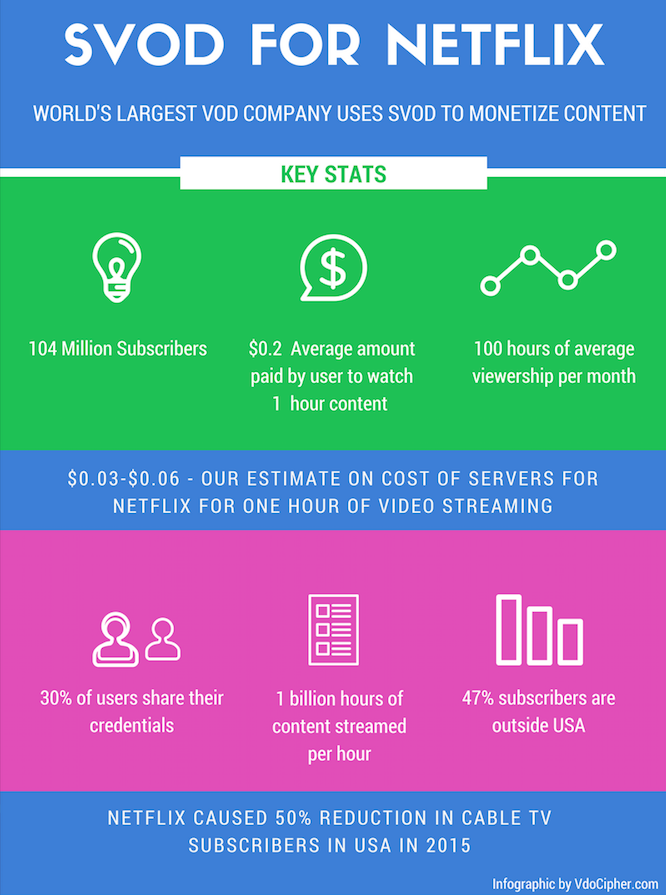 SVOD for Netflix: Key Stats, User Engagement, Monetisation
TVOD – Pro & Cons
PROS
Accurate estimation of operational TVOD costs and lower risks:

As the estimates for operational margins is being done quite accurately before the start of business; you never run into the risk of a single user or group of user exploiting the bandwidth. Operational costs in TVOD business are the costs of server + CDN to stream the video of a particular size + cost to acquire the single customer.

Easy revenue distribution model to video content creators:

Unlike SVOD there is no confusion in what the user paid for. Thus the revenue share distribution for TVOD content is usually straightforward.

Better revenue opportunities for fresh release VOD content

Generally the audience worldwide has an affinity for newly released movie and serial content. Thus charging a small amount for such piece of content leads to immediate payment from users and can reach a considerable scale.

TVOD can work on smaller scale then SVOD, Good option to launch business

Since operational margins are fixed and revenue can be linked directly to content owner , it is a good option to start. SVOD generally kicks at a considerable scale.
CONS
  User retention is a problem in TVOD

Since user has the tendency to pay for a particular content and then go off the platform, there is no motivation or push for him to buy new content. SVOD can just push to user to try some new unexperienced content.

 Content visibility controls content revenues: Challenge of recommendation

Since the user is going to pay for the exact content and watch, whatever is presented to him in homepage or as a priority attracts his attention. There are greater chances that he will pay for it. There might be better compatible content for him in the inside pages, which by the time he discovers has no budget left to spend on it. Thus personal recommendations and presentation are a key aspect of the monetisation in TVOD platform.

Limited Trial Opportunities, Restrictive for large content size. (E.g 2000+ hours)

It is bad to expect the user to have an idea of all the content you have and being already decisive about the video to make payment for. He cant try without paying, and limits the explorative nature of the platform.

We will go to SVOD pros and cons after this infographic.


TVOD for Youtube Movies, SVOD for Hotstar
SVOD – Pros & Cons
PROS
User Retention is high: New content trial is easy

Since user has paid for the whole platform in SVOD, though he has some favourite content but there is also lot of additional content he can try. Mail campaigns, ads , homepage prompts can motivate the user to try additional content. Yes, it will lead to higher costs, but it also leads to higher retention, more content ingestion and thus better performance of the overall platform. Iterations over recommendations and costing are done for better monetisation strategies.

SVOD allows recurring revenue streams: Better Predictability

SVOD supports recurring charging models. Users can put in their credit card which renews the contract on monthly basis. This allows for the VOD platforms to better predict their upcoming revenues and thus grow their business.

 Best for large content portfolio

SVOD works best if you have a large content portfolio, provides better retention, time per user , and trust to content providers that their content reaches maximum of audience. More details on how to make it work are here.
CONS
SVOD Only works at scale, Risky at low user base

Since SVOD doesnot inherently directly link operational costs of bandwidth to revenues, it works generally at larger scale. The cost of delivery reduces at scale.  High pricing or Limitation on content hours can make it work at lower audience number.

 Revenue distribution agreements are tricky in SVOD

It is difficult to determine that which movie or serial actually prompted the user to buy the subscription. Though video views and engagement data are at backend, the overall revenue distribution model becomes tricky. It is a combination of pre-paid license fees for content, revenue share on basis of number of views, and retention rates etc .

 Recommendations and Visibility for large content is a challenge

Since VOD platforms with SVOD as major revenue channel have 1000s of hours of content , which movies/serials to present at front, which to recommend is a challenge. Though at same time , it is an opportunity to charge money from new content producers for advertisement and promotions on the platform.
Now we present some key stats and estimates on SVOD & TVOD  implemented with some of VdoCipher customers.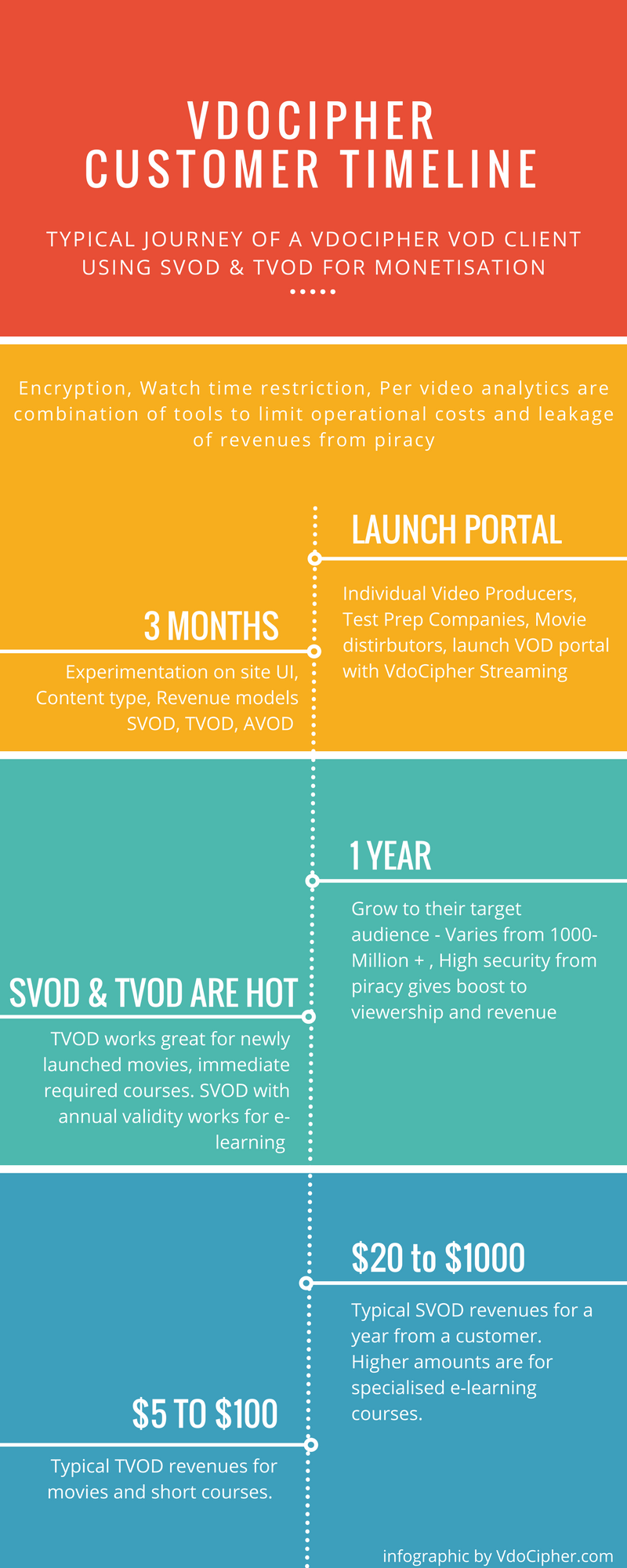 To launch a VOD platform with highest security from piracy + seamless experience, Start free trial at VdoCipher.com
This short video here explains how to upload, embed and securely stream videos through VdoCipher.
Supercharge Your Business with Videos
At VdoCipher we maintain the strongest content protection for videos. We also work extremely hard to deliver the best viewer experience. We'd love to hear from you, and help boost your video streaming business.
Free 30-day trial →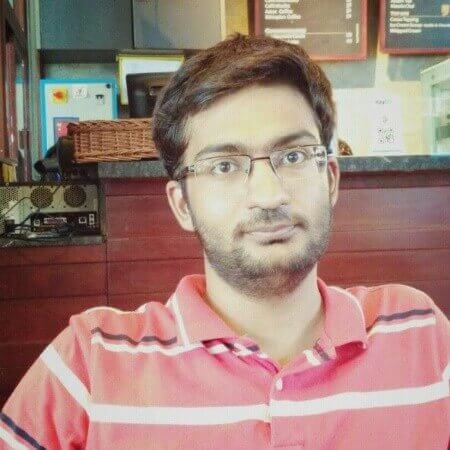 CEO, VdoCipher. Writes about video tech, ed tech and media tech.