Looking for an e-learning video platform to host and sell your online courses? Confused about where to start from? Let a video hosting platform do all the hard work for you. Online course platforms have become the backbone of the e-learning industry for businesses of all sizes. If you are planning to start an online coaching, and want to own everything right from branding, pricing and user data, then, an online course platform is what you are looking for.
Now, how to find a video hosting platform to satisfy all your needs? Searching 'video hosting platforms' in a Google search gives you 5,41,00,000 search results. Also consisting of paid ads and content around the best online video hosting platforms.
Here we bring to you 12 video learning platforms & LMS video platform that you can consider for fulfilling your requirements. But, before you go on, you can check out the best video hosting platform, VdoCipher, with a 30-day trial by clicking here.
The list is segmented into 3 different types of educational video platforms-
Video hosting platforms that can be integrated with any website/LMS.

Online Course  platforms that provide ready to launch branded website
WordPress based LMS course platforms
What is an elearning video platform and its importance?
An elearning video platform is where educators and course creators create, upload, host, and share educational videos digitally. These video elearning platforms have a bunch of features like video hosting, editing, content creation tools, analytics and secure content delivery.
There are significant benefits of video elearning platforms including:
Accessibility – E-learning video platforms offer on-demand access to courses which can be accessed anytime and anywhere. This makes the whole learning experience much more accessible, flexible, and self-paced.
Visual & engaging content – Studies have shown that humans have a better understanding and retention rate of a concept in visual format rather than text-based. Videos present an engaging way to present information and keep the audience motivated and engaged.
Cost-effective – Online elearning video platforms are cost-effective as compared to traditional learning. Students from even the remote places can learn just with basic internet connectivity and smartphones. These platforms reduce the costing of infrastructure setup, travel and meal costs, and other maintenance.
Features to look for in an elearning video platform
Video hosting – The platform must allow video hosting and streaming at the best possible video quality along with customizations for video size, format, and resolution.
Adaptive streaming – Adaptive bitrate streaming allows automatic adjustment of video quality as per the viewer's internet connectivity. It's very useful when viewers are based in tier 2 and tier 3 cities with limited bandwidth.
Analytics – Analytics keeps track of progress and learning. It includes several video performance metrics like views, demographic, heatmaps, bounce rate, and more.
Customization – Customization options like adding branding, custom themes, templates give a personalized feel and authority.
Multi-device compatibility – The elearning video platform must be compatible with a range of devices and browser types to have content accessibility on-the-go.
Security – Security measures like Digital Rights Management as offered by VdoCipher prevent video piracy, unauthorized access and illegal downloads.
Easy integration – The platform must have easy integrations with popular LMSs and other third-party platforms to enhance the functionalities.
Platforms to host videos for Online Courses
VdoCipher.com provides video hosting for all kind and size of online course businesses/organizations. It allows you to stream e-learning videos on your course site/app in a most secure and smooth manner. Few of the key features include – highest level of security from video piracy through Hollywood Grade DRM encryption & watermarking technologies; and smoothest streaming at slow connections due to optimized encoding at lower sizes. VdoCipher partners with Google to provide Netflix like DRM encryption security and packages AWS cloud infrastructure to ensure security and scale for customers across 40+ countries.  This enables users to earn maximum revenues from their content and ensure the best user experience.
Vdocipher provides you a video player with complete video hosting services that you can integrate with your own website or app portal hassle-free. You can integrate the player with your website, app, or multiple LMSes.
If security from piracy is your priority then VdoCipher is the way to go.
VdoCipher is the perfect video LMS solution for anyone looking to secure their video content.
Plans start from $149 and a Free 30 Day trial is available.
Vimeo
Vimeo offers robust video hosting but generally focuses on creatives, rather than on the educational or eLearning market. You get a good looking interface for distributing your online video courses. It is one of the fewest video streaming platforms that offer both- streaming and video hosting services. You also get analytics, a video management platform, privacy controls, and more.
You need to purchase a premium plan if you're looking to access basic live streaming functionality. It also offers a wide range of proprietary hardware and software for live streaming. It doesn't contain ads and its customizable video embeds make it a good choice for those looking to embed a video on the landing page of their website.
Panopto
Panopto is a video hosting platform for online courses that serves businesses and colleges across the world. You get a dedicated video platform for education and focuses on streaming video courses for business & universities. Panopto describes itself as a single platform for managing, live streaming, recording, and sharing video content online.
It is preferred by organizations and colleges who are looking for a simple, dependable solution for overseeing, streaming and video recordings. The platform can be used by any representative, educator, and student without any prior knowledge on video hosting and going through their knowledge base.
Kaltura
Kaltura have a  customizable video hosting platform for e-learning course creators & educators. Functionalities include you  include the ability to create videos and publish them directly to your post, centrally manage, and track your video content. The platform offers some key features like – , video management, social sharing, monetization, mobile and tablet delivery, and more.
It is enterprise focussed ( not small-medium business-friendly) but offers a variety of solutions for media, marketing and education businesses looking to monetize online videos.
You can easily do video upload, import rich-media directly to your blog post. The platform provides good viewing experience anywhere, anytime, on any device: automatic transcoding of uploaded videos, adaptive streaming, and delivery via leading CDNs.
Standalone Online Course Platforms
Thinkific
Thinkific is a course platform that lets you sell your e-learning video courses online. You get everything one can ask for – creating an online education business with an easy-to-use interface to build courses. It offers a full-featured software solution to help you create, deliver, and market and sell courses online. You get to choose from predefined templates such as a flagship course, mini-course, digital download, webinar replay, etc. Use simple and readymade templates to create and launch your video course in two parts: creating the course material, and building the landing page.
If you are still wondering about the structure and content of your online course, Thinkific lets you create and sell a video course right from scratch. Though, It can be a bit challenging for a first-time video course creator to decide a plan and strategy to build and sell the course.
Thinkific video course platform is free for unlimited courses and students, payment gateway integrations with a 10% transaction fee. Whereas, it charges from $49/month for other features such as course bundles, marketing, email integrations, coupons, and promotions.
Teachable
Teachable is an online teaching platform to serve the everyday instructors & educators. It offers an easy and simple solution for uploading content, customizing your online school management software, and interacting with your students very effectively. It is one of the best online learning platforms available for marketing of your course.
The online platform lets you customize the look and feel of your online course for best user experience. The best part being their course builder accepts documents from Dropbox, Google Drive, OneDrive, etc. You can choose to sell courses as a standalone product or in bundles. There are various modes of accepting payments as well, you can – establish a payment plan, charge a one-time fee, or allow your audience to subscribe to the course.
Teachable also offers multi-language support in case you are planning to launch your course world-wide. The platform also comes with other additional solutions such as international payments, affiliate programs, email marketing, and more to maximize your outreach.
Teachable is priced from $29 a month to $299 a month.
Kajabi
Kajabi is an online platform that provides tools for selling digital products, including online courses. It specializes in building landing pages, high-converting sales pages, webinar pages, and launching your advertising campaigns for your online business.
It is described as "the one system you need to market, sell, and deliver your knowledge online." Along with courses, you can also sell memberships, training portals, file downloads, and any other digital product you can come up with.
Kajabi is one of the best course creation platform to automate the marketing of an online video course. If you are a busy course creator you can get marketing automation done by Kajabi. It helps you connect landing pages for exclusive offers, course launches, and more to checkout pages within a few clicks.
Kajabi charges from $119-$319/month for the Basic plan to Pro plan.
Proctur
Proctur is an Ed-tech company that is a pioneer in digitization of educational institutes. It provides end to end digitization solutions to enable education institutes to sell e-learning videos online, , conduct online exams and manage the coaching institutes.
It offers key features like inquiry management, fees management, admission management, tools to conduct online tests, etc. Many premium coaching institutes use proctur at their institutes to manage multiple branches across India.
Proctur is featured amongst the top 10 most promising education apps. Proctur offers its portfolio of digital solutions to over 2,500 coaching institutes in more than 125 cities across India. Over 1 Million students and 15,000 tutors use Proctur apps and tools.
Proctur offers its basic plan at just $12/month for 100 students to $28/month for unlimited students.
WordPress LMS Plugins to host e-learning videos
If you have a wordpress-based website and want to start creating and selling courses, a WordPress LMS plugin is a must need for you.
If you are interested in creating your own video courses online, feel free to check out these elearning video software to fulfill all your basic requirements to create courses.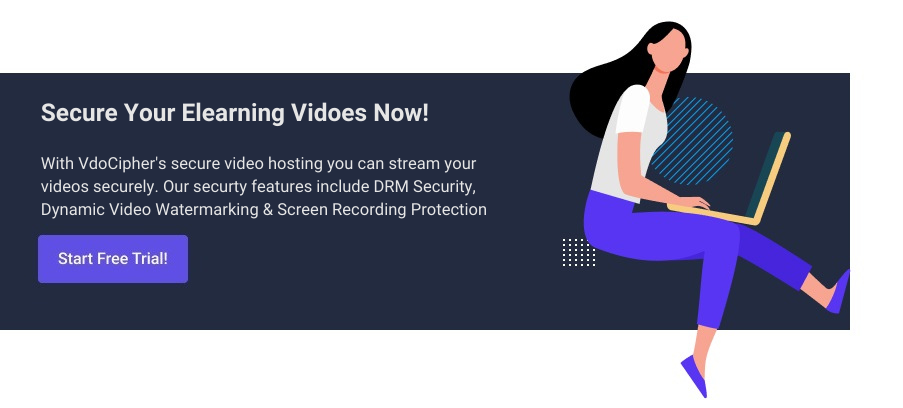 Top Global Ed-Tech & Online course Websites, Companies & Brands for Language Learning, Creativity & Other Digital skills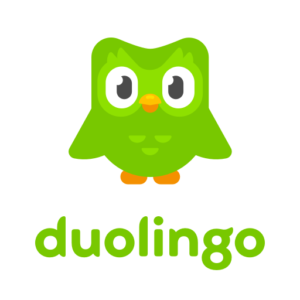 Following are few of the LMS plugins which are  recommended which are easy to use and doesn't require much efforts during their setup:
LifterLMS
LifterLMS is a powerful WordPress plugin that makes it easy to create, sell, and protect engaging online courses and training based membership websites. LifterLMS helps you build online courses from one screen with the intuitive multi-tier drag and drop course builder. You can also create dynamic multimedia quizzes to reinforce learning.
LifterLMS is the leading free open source WordPress LMS solution. It comes with content management tools that can help you offer individual courses, training based membership websites, and MOOCs (Massive Open Online Courses). LifterLMS allows you to build an LMS that can be enriched with add-ons that meet the unique needs of individuals, small groups, and niche markets.
Besides trial for 30 days at $1, the starting price for LifterLMS is $99 for one year.
LearnPress
LearnPress is one of the most popular WordPress LMS plugins. It offers a free version with all the essential features and you can get further add-ons at an additional cost depending upon your selection and its use on your website. It is easy to use with a friendly interface and requires minimal efforts for its setup.
This free LMS plugin lets you create courses, lessons and pages directly. You can first separately create the course, lesson and quizzes, and to then assign quizzes to lessons and lessons to courses. This is because at last all of them are brought together in the main course page. This will consume less time with more clarity.
LearnPress does not allow the support of question banks – you can only use a question once in a quiz, and the quiz only once in a course.
WPLMS
WPLMS is one of the best social learning management systems for WordPress. It makes it easy to create and sell online courses, allows you to coordinate & work with other instructors within a community and earn commissions. It offers some key features like activity tracking, course directories, course management and a front-end course creator.
LearnDash
LearnDash is one of the premium WordPress LMS plugins in the store. It allows you to design, promote, and sell online courses. Currently, it is in use by Fortune 500 companies and prestigious universities. Out of its best features is its speed and its drag-and-drop course builder that makes the process of course creation both easy and enjoyable.
Learndash have developed a complete marketing and product solution i.e. they have their own membership solution and have an integrated payment processing setup. The flip side of being an all-in-one solution is that this does not allow much scope for customization. On the other hand they have an active community support forum.
Learndash is optimal for developing detailed and academic-level E-Learning solutions, where little customization is required. Pricing starts at $159 for the basic version and tops out at $329 for the Pro version.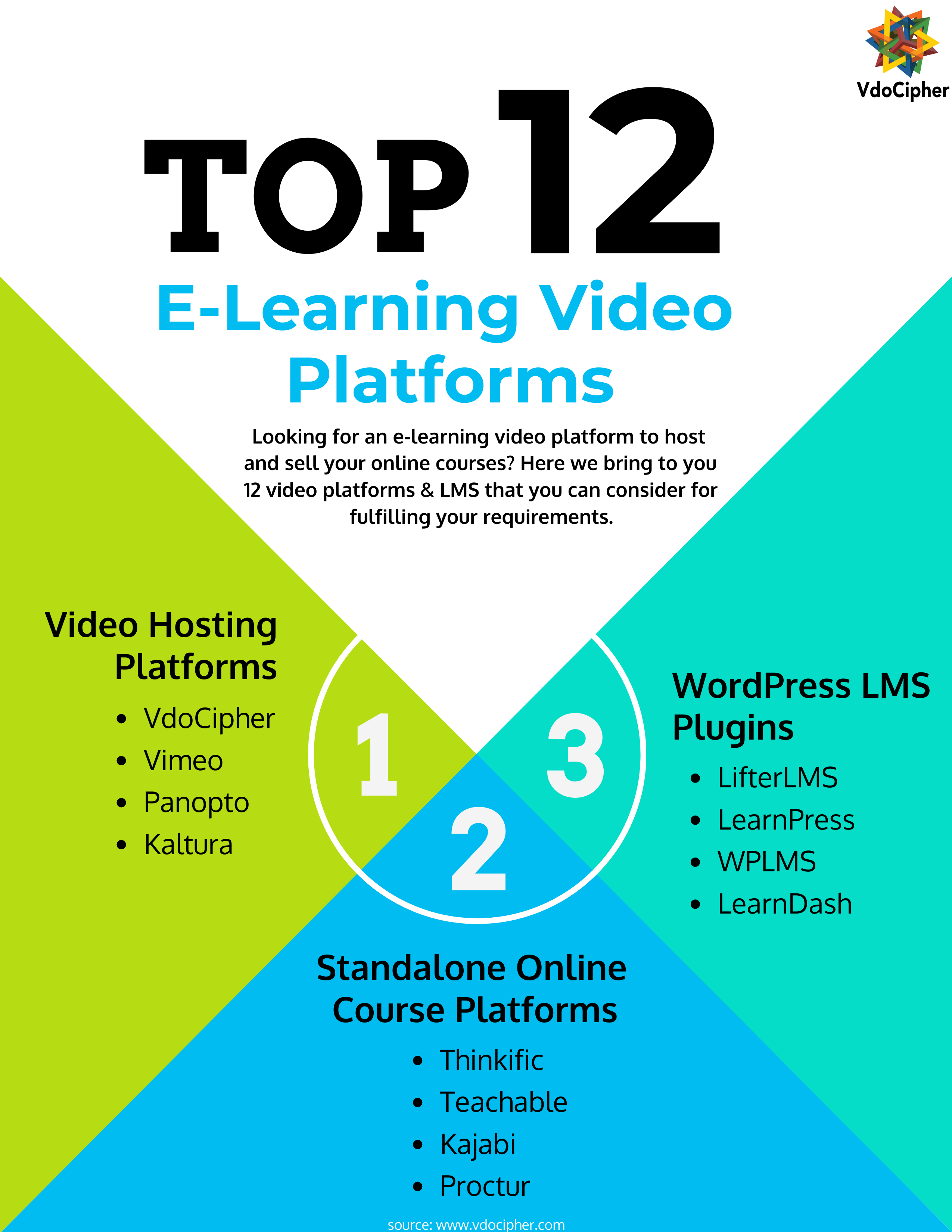 We've written several other blogs on LMS, feel free to check them out if it piques your interest
FAQs
Can I integrate VdoCipher with my existing LMS?
Yes, integrations on VdoCipher are pretty easy. We have seamless integrations with popular LMS like LearnDash, LearnPress, Sensei, WP CourseWare, and LifterLMS.
What is the pricing model of an elearning video platform?
The pricing depends on the number of videos, required storage space and bandwidth. Some charge a flat monthly fee while others charge on the amount of bandwidth and storage occupied.
Secure E-learning Video Platform
At VdoCipher we maintain the strongest content protection for course videos via Hollwyood grade video encryption. You can embed videos hosted via VdoCipher on your website/app/LMS. We also work extremely hard to deliver the best viewer experience for our customers across 6 continents. We'd love to hear from you, and help boost your course revenues.
Free 30-day trial →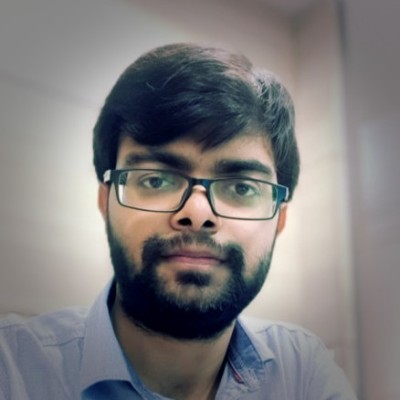 Product Marketing Specialist, VdoCipher.