What's the first thing you do when you wake up?
If you're anything like me, the answer would probably be scrolling through your phone. Checking messages, and emails and going through the Instagram feed and whatnot!
Our devices have almost taken over our days, we consume more content in a day than our ancestors did the whole of their life! This content can be anything from images on Instagram, a blog article on the blockchain, a funny GIF, or even educational videos.

Amongst these videos is one of the widely used forms of content. Be it an ad on youtube, your favorite show on Netflix, or the product management course you've been following on Lynda. 
Video for sales works wonders in engaging with your audience, building a relationship, and even teaching or learning something new. They are one of the simplest ways to get your message across. 
In recent times, we've seen a proliferation in the choice of video platforms. Almost every niche has several video platforms dedicated to it. But content creators still strive to enter this market and generate some hard-earned revenue.
But the question remains, can selling videos online still be your source of income?
Yes, it can be. Let's walk through how!
Sell your video online!
Why is Youtube not a good platform for generating revenue through video? 
As an aspiring content creator, you might think that YouTube is the best platform for your needs. But, this might not be the case if you want to generate revenue from your videos. 
The answer to this question lies in the subscription model of youtube. YouTube operates on AVOD, ad-based video-on-demand mode. 
Youtube is not a good platform to sell videos online, especially if you are planning on a subscription-based model? Being one of the most used and common video streaming platforms, youtube provides videos for free. This increases its user base, and creators, therefore, prefer youtube for covering major audiences.  
Due to the AVOD model, YouTubers or video creators on youtube get less share of video subscriptions. The youtube itself monetizes the ad-placement, thereby restricting YouTubers from choosing high paying ad-clients. This, as a result, lowers YouTubers' incomes. 
Even after getting various sales through or on their videos on youtube, creators get less share. Recently, even after millions of video views, most of the YouTuber's pay remains bordered.
Youtube provides low advertising rates. This implies that even after getting ad-placements on videos and hundreds, thousands of views, their pay doesn't elevate much. However, this is done by finding high-paid sponsors for their videos and promoting several brands.
Recently, in the COVID era, this was brought to notice by various video creators of youtube. Content creators reported that they were getting low CPM (cost per 1000 impressions). It was due to reduced ad-costing even though the video views jumped.
How can a premium video hosting platform help sell videos?
Just as in the real world, a shop's physical appearance matters for the sales. Having a compatible video hosting solution can decide video for sales. Video monetization over different platforms can make a huge difference. Such a trend is best if you sell drawings of pictures or provide other creative services. One might get a prospect and convert an audience over one platform and not even get reasonable reach over another. 
A premium video hosting platform can help you with:
Encrypted video streaming

to secure videos from piracy

Improved privacy controls  offering a better video sharing experience

Real-time tracking and analysis of the user base of your audience

Offer pre-determined bandwidth plans

Reduces the video hosting expenses

Allows you to publish and broadcast HD videos

Increased conversion rate with improved audience engagement
Always keep in mind, the only monetization on the right video hosting platform can help you generate some revenue!  
7 Steps To Sell Videos Online 
To start, let's quickly understand the steps to follow for video selling online-
Finding your Niche

Choosing the Right Video Platform

Build your Content Flow Strategy

Create Quality Videos

Selecting a Subscription Model

Promote your videos: Increasing traffic

Audience engagement
Let's get started:
Finding your niche
Finalizing your niche can decide the outcomes. Carefully list down the topics or video categories that interest you and come under your video creativity umbrella. 
Your selected niche can and cannot have an audience on the platform. So, before making a firm decision on video niche, consider the following points-
The customer base for that niche on various platforms. 

Audience engagement and behavior

Fellow video creator's content style and ideas

Profit margins on a selected niche
Do intense market research about your niche and track audience engagement for the same niche's fellow video creators. Study their content posting patterns, understand their videos, and explore. This way, you can serve users a feast of unique and innovative content that people feel worth paying for.  
A comprehensive market understanding can forecast your audience retention rate as well. And if the market behaves as per the expectations, this can even give you an idea of content flow.  
2. Choosing the right video hosting platform
Selling an ice-cream at a fashion store! 
Sounds absurd, isn't it!
Choosing the right type of business video hosting platform can bring catastrophic turns to your video-creating journey. There are immense options out there, waiting for video creators and offering attractive profit margins. But you need to curb your excitement and act pragmatically.
Always go through the user base of the platform thoroughly to understand and predict your target audience volume. This would save you tons of time and can also increase the probability of your success.
If your video ideas need certain functionality and features, consider them before actually starting delivering content. A test run of the short video might sometimes help to anticipate stats and market behavior. 
Money! Money! 
Selling videos online is for money (we all know this, honestly). Go through the paying members of video platforms. It would give you an idea about how many prospects paying customers your content can get. Also, how much you can earn in real figures. 
Another important thing you need to consider is protection from video piracy. A lot of businesses lose revenue due to this. The best way to safeguard yourself from this is to opt for a secure video hosting service with a multi DRM set up along with other important security features such as screen recording protection, domain whitelisting, etc. 
3. Build your content flow strategy
As soon as you finalize a niche and are ready with rough notes on market behavior, plan a content calendar. 
Yes, don't follow an impromptu approach. As you plan to get paid for your videos, a keen and efficient content strategy is needed. Plan your content around a selected platform and niche. 
Study audience content-consuming patterns, shortlist your most engaging hours and try to strategize accordingly. Consistently deliver value in your content. 
No doubt that your content can be of any type. It can be one long video. A series of videos can be a web course or a video followed by an e-book purchase. Deliver something your competitor has missed.
Deliver what your target audience would most connect with. And if necessary, plan discounts, coupons, and special gifts for your audience for increasing retention and participation. Make sure to check out platforms such as Karma to keep up with pricing drops and coupons.
If you want to know more about this topic, you can refer to our article in elearning video production
They have paid for your video content, and they should get real benefits. 
4. Create Quality Videos
No matter how well you investigate your target audience, platform, and niche, the final deciding factor for your video's success will be your "content."
Always test and check videos for three factors; uniqueness, quality, and value. 
Take these three factors parallel and equally important. For a beginner, there might be a case that you lag on these factors but learn from observing. Observe other creators, watch content and implement and improvise your content strategy. And if you want to sell your eCommerce product, prioritize design as well, and use Shopify Themes to give your brand a great image. 
One might not feel confident in editing videos. Hence, collaborate with some professional video editors to deliver interesting and engaging videos in the starting for user retention. 
The uniqueness and value also depend on the type of content and niche. For instance, If you provide educational content, adding an animation can attract eyeballs.  Delivering culinary or recipe videos, live streaming, and real videos would also help.  Here is a few eLearning video software to help you create quality videos.
Always remember, observe, learn and implement.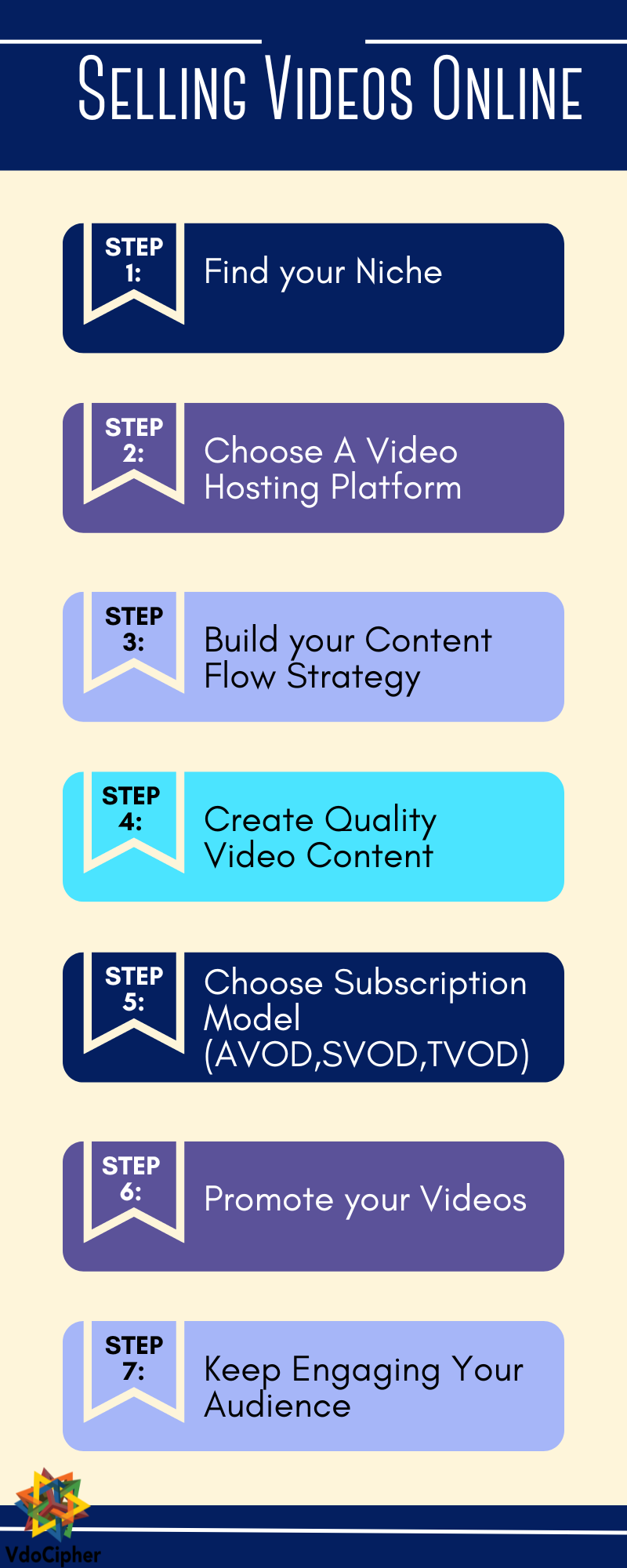 5. Selecting a subscription model
You finalized a niche, selected a video hosting platform, prepared content, and uploaded it. Now what?
How would your customers access your content? Will it be on a pre-payment basis? Or would you like to provide the first few videos for free and then introduce a subscription model?
There are models available on video platforms to handle payment modes:
SVOD- Subscription video on demand. 
SVOD model works on a subscription basis, and users can watch videos until their subscription is valid and active. However, once the subscription ends, the content becomes unavailable.
This presents a challenge for content creators to keep the audience's interest continuous before their subscription ends. It would make users renew their plan, and boom, you get a continuous audience for your content.   
This model is ideal for businesses with a dedicated audience who are willing to pay for excellent content.
The market potential for Subscription video on demand model is global in scale. It is a highly competitive landscape where one should be able to adapt with new technologies and content.
SVoD businesses can leverage OTT platforms like Apple TV, Amazon Fire TV eliminating the need for a set-top payment box providing more flexibility to the users. It provides a way for consumers to pay for the content they would love to see.
Popular Platforms of the SVOD model are Netflix, Disney+ and Amazon Prime Video.
TVOD- Transactional video on demand
TVOD mode presents users with a one-time payment for continuous access to the content. This generally also includes DTR, download to rent mode granting access for the specific time for specified fees. 
Subcategories of TVoD are: 
Electronic Sell-Through (EST) – One time payment for permanent access to a content

Download to Rent (DTR) – Access to a content for a limited period time with a smaller fee
The TVOD model is perfect for businesses looking to sell specific niche videos. Example: An Educational company selling online courses . 
Popular Platforms of the TVOD model are Google Play, Udemy and iTunes.
AVOD- Ad-based video on demand
The popular video streaming platform; youtube runs on the AVOD model.  It gives platforms control over video monetization and pays creators based on ad-placement, whereas the content stays free for users. 
This model yields less revenue for creators and is often not preferred by video creators. 
Publishers will be paid based on the 1000 ad impressions. It is necessary to attract a lot of people to this platform to make revenue. This model suits the platforms like YouTube, Vimeo where they generate revenue through advertising.
This model is applicable on mobile devices, websites, apps.There are two types of AVOD model to choose from: Programmatic and direct-sold advertising.
This model can go wrong if too many ads are served to the audience causing the user experience. This model yields less revenue for creators and is often not preferred by video creators.
Popular Platforms of the AVOD model are YouTube and DailyMotion. Read out detailed blog on SVOD vs TVOD vs AVOD
6. Promote your videos: Increasing traffic
Make your content reach the right audience. 
Marketing your content is important and a deciding feature for your videos' success. An overnight reach and engagement of 100,000 is a myth. One needs constant promotion, marketing with the content. 
Your marketing strategy can design around the residence of your target market. In that matter, it's a great idea to start working with a digital agency that can help you successfully promote your videos on social media channels.
One can also promote content with other video creators and social media influencers for creating a starting demand. So, if you are not sure how to do it, you can always reach out to a social media influencer agency to get some aid. If you are looking for an official and more professional audience, use e-mail marketing and plan email content cautiously. Because the user's spam box should not be your destination. In this process, a good SPF checker can help authenticate your emails and send message in a more secure way.
We are talking about video content marketing. Private video hosting platforms can surely help. One can also collaborate with famous YouTubers with a hefty number of subscribers to get enough word of mouth word.
But there is no thumb rule of marketing here. Use diverse channels to market and promote your content actively.
7. Audience engagement
Establish a real relationship with your audience instead of just interacting on-screen. Word-of-mouth can be your best branding. 
Interact and engage with your customers regularly. Host virtual events, virtual meet-ups with a bunch of users, take feedback. Feel them attended and entertained. Provide customized plans if possible. 
Despite only having a screen and virtual connection with an audience, engage with them. One can also create polls for their channels. This can also be used to create buzz for upcoming content videos.  
A real user always trusts fellow users. Publish testimonials and customer reviews; some negative reviews would also not harm anyone. Just show your real side to the users. 
Be a part of your clan, create a community.
How To Sell Videos Online and Not Lose Any Revenue To Piracy
Media publishers trying to sell videos online have often heard " Once you have put your videos online, it is free . There can be no DRM on the internet".  How practical is this argument and are there ways to prevent video download on the web?
The first infographic is an excellent illustration of the means through which paid content reaches the end viewers. It includes both legal methods as well as the path adopted by pirates.
It is shocking to see how premium content is able to reach all over the world for free. The circle of warez , torrent and linkers is the primary culprit for this online piracy.
As we move away from the center, the number of branches distributing the content for free increases exponentially. SOPA (Stop Online Piracy Act) has been proposed as a solution to the problem . Instead of trying to prevent stealing of premium content from initial release points, SOPA tries to disarm the websites which have the ability to redistribute this release. 
It targets subsequent circles of seeders, uploaders and downloaders which comprise the general internet users. This circle is the nerve of the internet. Trying to restrict it would mean to undo the openness, which the worldwide web has brought into the world.
Another infographic discusses the numbers relating to the online video market and piracy. Let's reflect upon how much a video DRM can affect this scenario. There are encryption & authentication technologies adopted by the video hosting companies that are evolving over time.
The videos hosted through these technologies can't be downloaded on the web. Their idea is to make downloading so difficult that users would find the effort of downloading to be much exhausting, and ultimately pay for the video.
Leakages that can be prevented by technologies and not legislation to Sell Videos Online
As seen in the first picture, the loss of video content from the release groups and paying users has to be targeted. Let's consider the movie and e-learning industries which are looking to sell videos online. 
The paid users are the starting point of piracy. One subscriber pays for the video. He downloads it using one of the freely available downloaders. Then, he shares it among his circles or puts it online. 
This allows everyone to enjoy premium quality content at no costs. Most of the CDNs and online video hosting companies with DRM  try to plug these holes.
How effective can DRM technology be in Selling Videos Online?
Looking at the second picture, one can see that in the USA 70% of the pirates are of age 18-29. The number of copy-right infringement notices given to colleges is a clear indication of how students are able to access and enjoy free content.
Most premium content is available at affordable costs, but it is so easy to get it free that no one even pays the actual amount. This has led to a great loss to online TVs , tutorial teachers and movie sellers.   
The security-based on encrypted video streaming and authentication is an effective solution to this problem. These DRM technologies prevent download from any such downloader on the web. This restricts online and offline sharing of content. 
Another means to prevent video piracy is dynamic watermarking. Watermarking the videos with information of the subscribed user is an effective means to restrict uncontrolled distribution of videos. To know more about video piracy and how to stop it, you can refer to the blog linked.
What are the costs of the solutions in terms of technology, usability, and money to Sell Videos Online?
There are no overhead costs of these technologies in terms of bandwidth or other network resources. The underlying innovation itself is the prized commodity. 
The quality of streaming can be easily maintained at par with any regular streaming. End-users can access the content without installing any software on their desktops. Apps are available to ensure mobile compatibility along with security. 
With more and more companies coming up with innovative DRM systems customized for markets like media and e-learning, there is a hope that premium video content creators would be able to monetize their potential.
Wrapping Up
The best way to sell videos online is to strategize every aspect of video creation to promotion. You need to make sure that there are no bottlenecks that stop you from selling videos online. 
Make sure to study your competitors and learn from both their strengths and weaknesses. Understand your audiences and how they interact with the content. Also, you need to identify your USP, that is what separates you from your competitors and why exactly should someone pay for your content. Generally, content marketing is taking over new heights and well-formed content marketing service for SaaS companies, e-commerce, tech, and others now has high significance.
Another important point to be noted down is the protection from video piracy. You don't want to put so much effort into video creation and promotion only the video to end up on piracy channels. Investing in secure video hosting would be the right thing to do. Just pick any with a multi DRM system and you should be good. 
That's all from my end, feel free to give a shoutout to this blog on your favorite social media platform! 
Secure Your Videos from Download & Piracy
At VdoCipher we maintain the strongest content protection for videos. We also work extremely hard to deliver the best viewer experience. We'd love to hear from you, and help boost your video streaming business.
Free 30 Day Trial
Head of Digital Marketing at Vdocipher. I love the art of connecting the right product to their users. When i'm not doing that i love getting lost in books.