Major Video on Demand (VOD) sites, whether be in  Movies and Education rely on SVOD (Subscription Video on Demand ) or AVOD  (Advertisement Video on Demand ) models to make revenues. We will discuss today the key aspects of each of theses and the subsequent pros and cons.
What is AVOD (Advertisement Video on Demand) ?
As in name AVOD, user is not asked for any payments and revenue comes from in video advertising in form of pre roll, mid roll, post roll , text ads etc.  Some famous examples of VOD platform with AVOD as major model are Youtube, Hotstar, Dailymotion. The revenue model relies on revenue distribution amongst the platform + ad agency, while the brand owner spending the money. Some platforms decide to play the role of ad agency themselves by directly catering to brands, thus opening up more opportunities for revenue.
What is SVOD (Subscription Video on Demand) ?
Prominent famous VOD sites like Netflix, Hulu, Hotstar, Amazon Prime , Byjus etc have Thousands of hours of content.  They provide such unlimited stuff in an affordable price per month or year. This idea of providing an offering of bundled video content in one to all pricing is SVOD. The basic practical assumption for SVOD is that the user will only watch a certain amount of content (say 20 to 100 hours per month).  If the user is able to somehow watch all the content offered to him, the bandwidth costs for the business will lead to overall losses.
Now we enlist all the advantages and flaws in the two models. Thus, the reader can make an informed choice amongst the two.  Before that lets look at a stats full infographic on SVOD with Netflix.
Infographic on AVOD for Dailymotion & SVOD for Hotstar is included below.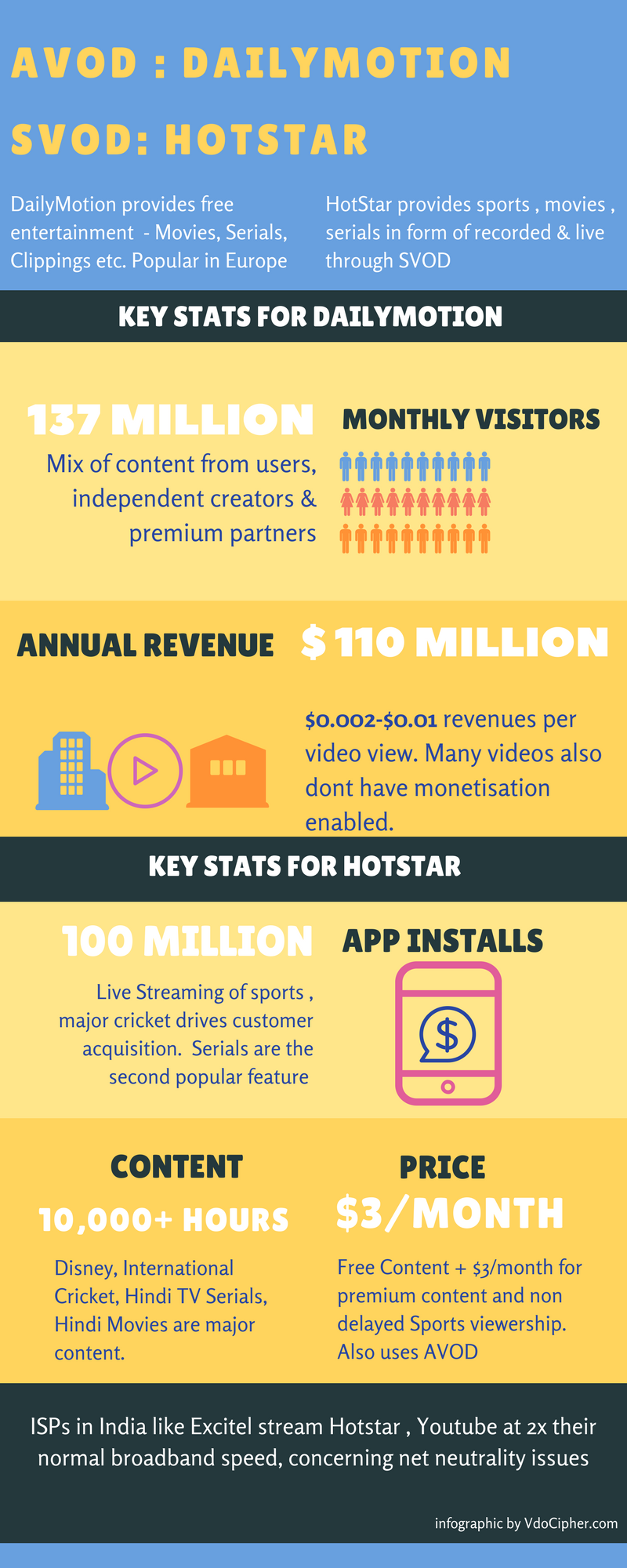 AVOD – Pro & Cons
PROS
User Acquisition is easy

Since user does not have to pay for any video in AVOD, he can freely signup and start watching content. Relevant recommendations can lead to higher user time spend on the platform, thus enhancing revenue generation possibilities.

Easy revenue distribution model to video content creators & ad partners

A direct revenue split like 60:40 with number of ads viewed by user , leads to no confusion in revenue distribution model. Though internalising the ad bids and increasing/decreasing costs is a challenge for large platforms.

Variety of Models available – Pre roll, Midroll video ads, In video ads, Text overlay ads

The video ads can vary in length, can be forced/skippable. The video advertisements can come before the main video, during or post the video. Small text overlays over the video are also now quite popular.

Personalised Ad recommendations for Brands

AVOD allows the platform to engage the audience and make the brands happy by serving ads to only relevant population. Like tech savy youth can be catered to different types of ads then other population. Youtube is a prime example of this.
CONS
  AVOD works only on large scale

Video is a bandwidth expensive business. While TVOD or SVOD allows the content owner to directly recover the cost of bandwidth at small scale, AVOD requires large usage to have cheap per unit streaming rates.

 Profitability takes time to kick in

Due to bandwidth costs, right optimisation of ad parameters and content type; overall it takes some years generally for AVOD to become profitable.

Requires sound technology to integrate ad networks , custom ads , personalisation for viewers

The technology is bit extensive to work upon as compared to other models. Personalising ads to increase revenues, multiple device compatibilities are a key challenge. You might have heard of Netflix not able to play at all or play HD in some devices due to DRM issues. AVOD platforms have free users and dont have the freedom to restrict usage on any device/browser.
SVOD – Pros & Cons
PROS
User Retention is high: New content trial is easy

Since user has paid for the whole platform in SVOD, though he has some favourite content but there is also lot of additional content he can try. Mail campaigns, ads , homepage prompts can motivate the user to try additional content. Yes, it will lead to higher costs, but it also leads to higher retention, more content ingestion and thus better performance of the overall platform. Iterations over recommendations and costing are done for better monetisation strategies.

SVOD allows recurring revenue streams: Better Predictability

SVOD supports recurring charging models. Users can put in their credit card which renews the contract on monthly basis. This allows for the VOD platforms to better predict their upcoming revenues and thus grow their business.

 Best for large content portfolio

SVOD works best if you have a large content portfolio, provides better retention, time per user , and trust to content providers that their content reaches maximum of audience. More details on how to make it work are here.
CONS
SVOD Only works at scale, Risky at low user base

Since SVOD doesnot inherently directly link operational costs of bandwidth to revenues, it works generally at larger scale. The cost of delivery reduces at scale.  High pricing or Limitation on content hours can make it work at lower audience number.

 Revenue distribution agreements are tricky in SVOD

It is difficult to determine that which movie or serial actually prompted the user to buy the subscription. Though video views and engagement data are at backend, the overall revenue distribution model becomes tricky. It is a combination of pre-paid license fees for content, revenue share on basis of number of views, and retention rates etc .

 Recommendations and Visibility for large content is a challenge

Since VOD platforms with SVOD as major revenue channel have 1000s of hours of content , which movies/serials to present at front, which to recommend is a challenge. Though at same time , it is an opportunity to charge money from new content producers for advertisement and promotions on the platform.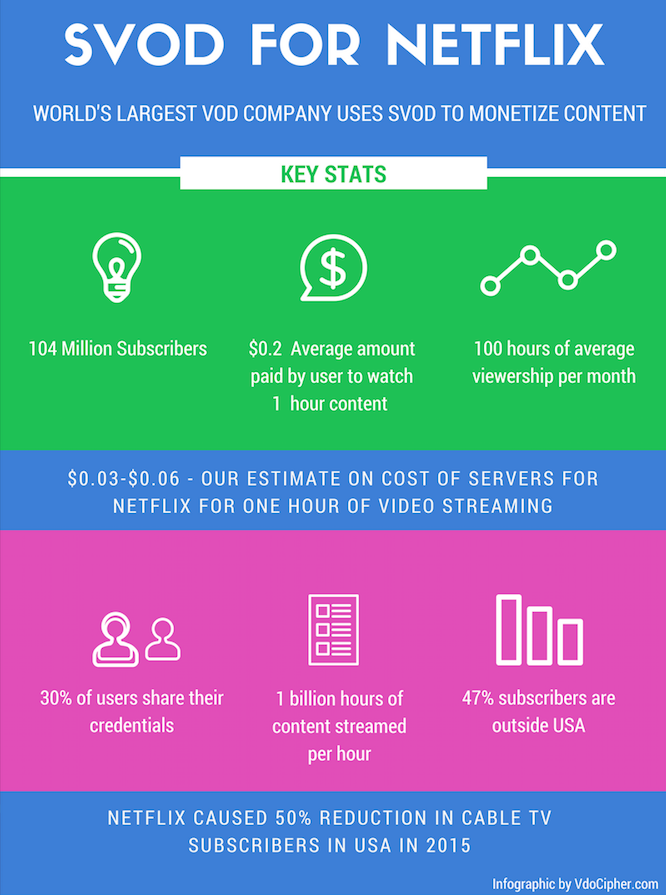 SVOD for Netflix: Key Stats, User Engagement, Monetisation
To launch a VOD platform with highest security from piracy + seamless experience, Start free trial at VdoCipher.com
This short video here explains how to upload, embed and securely stream videos through VdoCipher.
Supercharge Your Business with Videos
At VdoCipher we maintain the strongest content protection for videos. We also work extremely hard to deliver the best viewer experience. We'd love to hear from you, and help boost your video streaming business.
Free 30-day trial →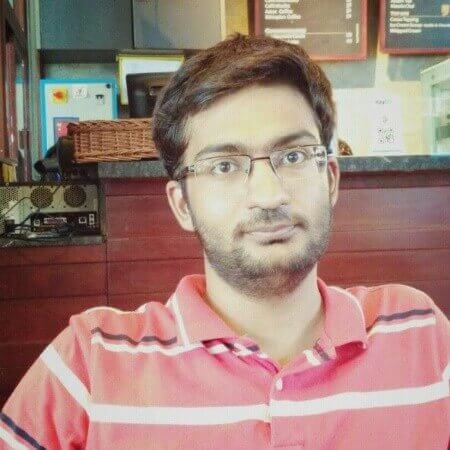 CEO, VdoCipher. Writes about video tech, ed tech and media tech.