If you are a business owner that deals in video content, Chances are that your videos are being pirated and you might be facing a substantial loss of revenue. The movie industry alone incurs a loss of around 40 and $97.1 billion due to digital video piracy. That's a substantial amount, isn't it? If you talk about global bandwidth, video piracy and other forms of piracy account for about 24% of global bandwidth.
Content creators spend a substantial amount of time creating their content. A lot of TV series you might see on Netflix take months to produce and a lot of money too. It is a bummer to put in all this effort and then your content gets downloaded for free. In some cases, users share their credentials with others and a single account is used for multiple access.
How Does Video Piracy Happen?
In essence, video piracy happens in two ways. That is through credential sharing and video downloading. Piracy of any kind, whether it is movie piracy or piracy of eLearning content hurts revenue. Don't you think users would rather access the content for free if they had that option?
Here are a few ways by which you might be losing new potential customers and revenues.
Credentials Sharing
Given a choice, anyone would choose not to pay for something which they get for free. But as a content creator, it's your bread and butter. You might as well take extra effort to curb with this.
Credential sharing happens with streaming services like Netflix, Amazon Prime, Disney Hotstar. Users often buy a single account, share it with friends and family without paying for extra bandwidth or users.  Also, at times with strangers to swap the different subscribed services.
There are different other ways video content is pirated by getting access to the credentials.
Password Theft – When account credentials are hacked and stolen from the users. These accounts can be further sold by Pirates.
Endless trials – This one is quite popular among users, as they'd often create fake accounts. Even using different credit cards, to access the content for free and even resold at times
Bypass of concurrency controls – Pirates hack in the video platform server to tinker with the restriction of the number of devices. This way a single account can be used by multiple users without any restrictions.
Token theft – Streaming apps or web browsers use tokens to identify the user. Pirates can copy these tokens to other devices and use them again to access the content.
Video Downloading
There are several tools available online, which makes it easy for users to download a video.  By just entering the URL in the tool, they can easily download your video. And from there on it can easily get into all the popular pirate resources.
Video streaming platforms use encryption to protect their videos, but a lot of times they don't focus too much on key protection. Pirates take advantage of this fact, they put in efforts to find the encryption key. With the key, pirates can easily convert encrypted file back to raw file. Pirates at times also target the storage platform used by the platform to get access to the content before it is even released.
| | | |
| --- | --- | --- |
| Video Download Tool Name | No. of downloads/Annual Unique Visits | Source |
| Savefrom | 40,000,000 | Alexa |
| Keepvid | 25,000,000 | Alexa |
| Video Download Helper | 4,100,000 | Sites |
| Internet Download Manager | 3,500,000 | Alexa |
| Video Downloader Professional | 3,200,000 | Site |
| Audials | 800,000 | Alexa |
| Video Downloader Pro | 370,000 | Site |
| All mytube wondershare | 25,000,000 | Site |
| ANT video downloader | 2,000,000 | Alexa |
| Clip Grab | 1,500,000 | Alexa |
| Total Users from 10 tools- | 110 Million Pirates | |
| | | |
Simulcast Of Live Streaming & TV channels
Capturing and redistribution of live streaming and tv channels has been one of the major forms of video piracy. Live sports are one of the live events which have been pirated massively. According to a study done by sportspromedia, about 51% of sports fans opt for watching pirated video streams.
Pirates use various methods to capture live streaming
Tampering with video playback software or Android OS
Recording screens during playback or capturing during a screen-share session
Using credential stuffing attacks to access and use legitimate viewer details
Tampering with video to defeat watermarking, such as re-quantization
Using VPN to access content not available in the geographical region,
The Extent of the problem
You might find a lot of studies on the internet regarding video piracy, but the truth is it's still difficult to predict the real extent of piracy around the globe. And the sole reason for the same is we haven't been able to stick with a consistent method to track this problem.
There are many datasets provided by huge commercial companies but they aren't completely useful and can often be at odds with one another based on methodology.
A study was conducted by "The European Intellectual Property Office(EUIPO)" regarding the impact of piracy across member states. The numbers showed that approx 13.7 million users are accessing illegal pirate services around the European countries.
The study also showed that the Netherlands, Sweden, and Spain constituted the highest percentages of offending viewers within their populations, with 8.9%, 8.5%, and 6.9% respectively(the EU average is 3.6%).
The United Kingdom(2.4 million), France(2.3 million), and Spain(2.2 million) have the largest populations when it comes to using illegal services on a regular basis.
The picture is yet to be clear in North America. A study by Sandvine showed that around 6.5% of households were regularly communicating with pirate sites. Meanwhile, a report by  Park Associates identified that more than 14.1 million U.S. households accessed pirated videos in 2019, which is approximately 16% of the total pay TV market.
A study conducted by the University of Amsterdam in 2017 showed the piracy habits across Hong Kong, Indonesia, Japan, and Thailand. Both the Indonesian and Thai populations showed a very high usage of pirated content, with the study estimating between 65% and 54% of their internet populations. Hong Kong registered 27% of their internet population while Japan registered 12% of their internet population (11% of the total population).
The results were confirmed by the Asia Video Industry Association in 2019 based on the consumer survey report and it was identified that 24% of consumers in Hong kong use internet streaming devices for accessing pirated channels. This number increased to 28% of consumers in the Philippines, 34% in Taiwan, and 45% in Thailand.
From the above-mentioned studies and reports, it can be clearly seen and concluded that video piracy and in particular, TV or Movie piracy, still remains a serious issue globally.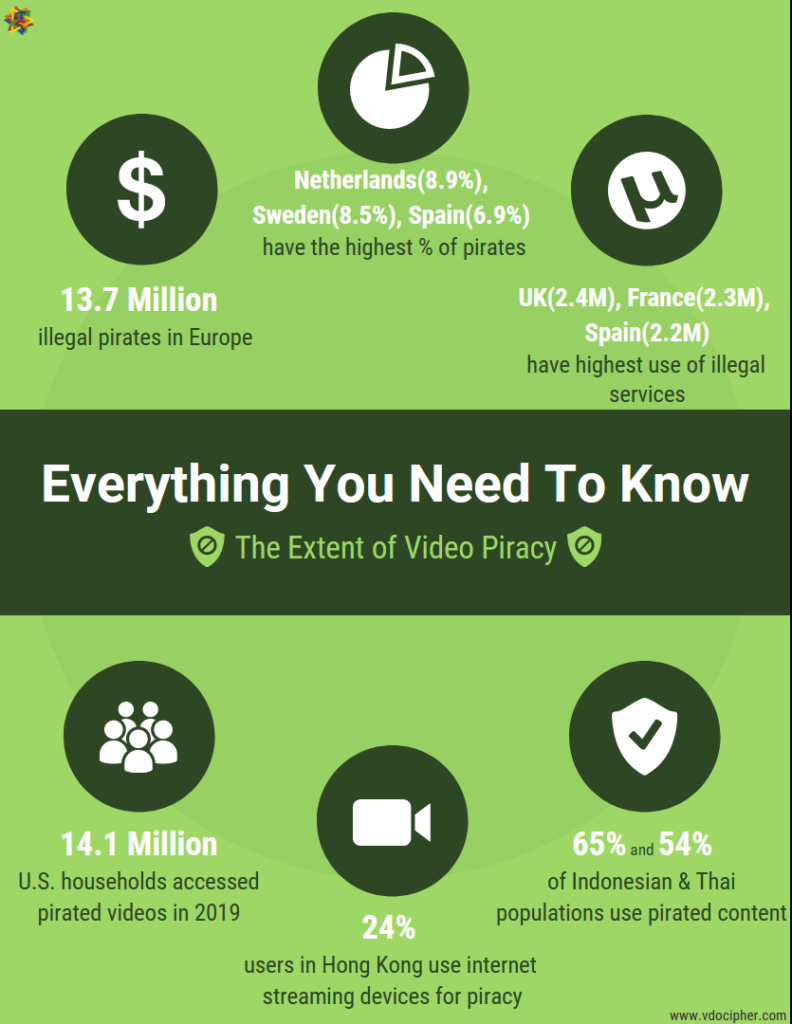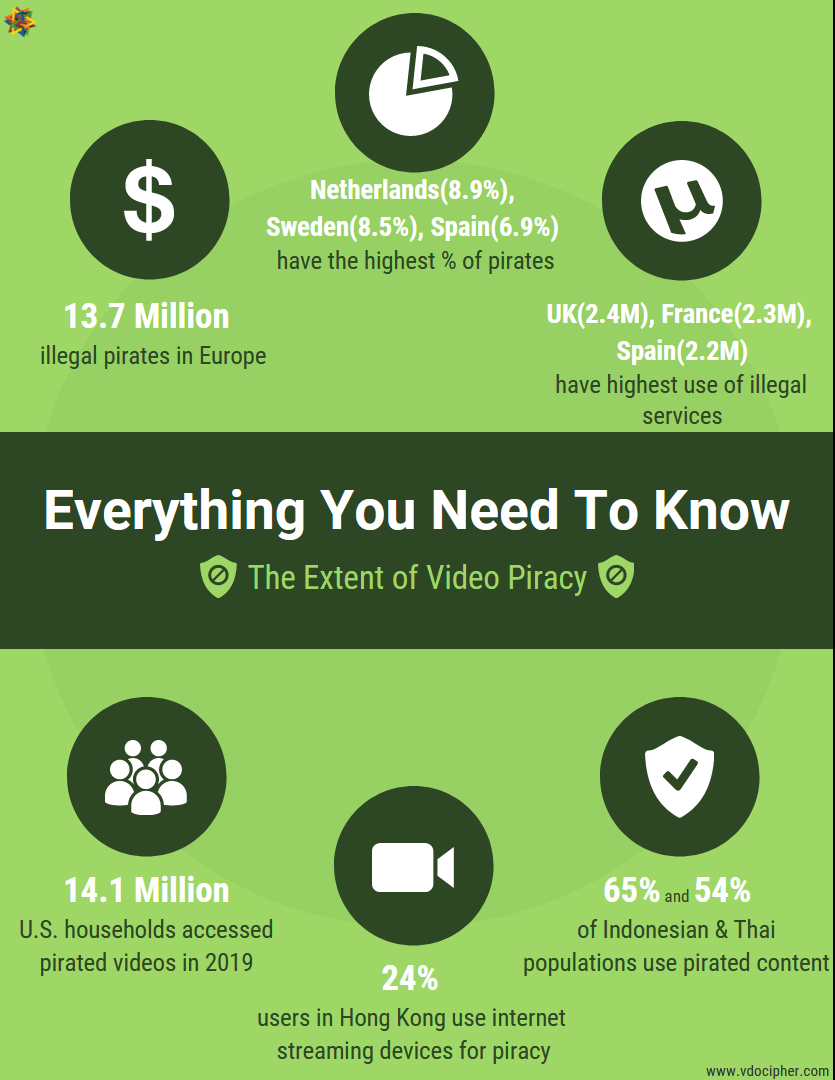 What is the Impact of piracy? 
Various studies have shown that by 2022 the estimated losses to the industry would be as high as $52 billion globally (Digital TV Research 2017) along with massive GDP losses. Talking about The United States only, the GDP losses due to piracy have been estimated between $47 billion and $115 billion (Blackburn et al, 2019).
With a lot of research and studies now available, we are getting to understand the wider impact of this video piracy problem. The American movie and TV production and distribution industry support over 2.6 million jobs, and in 2017 alone, it generated $229 billion in revenue. A report by Blackburn, Eisenach, and Harrison on the impact of movie piracy on the U.S. economy, estimated that in 2017 between 230,000 and 560,000 jobs were lost in the U.S. as a direct result of pirating activity.
Not only economy and employment, now we're beginning to see how video piracy has started impacting licensing too, which stands as the backbone of the digital industry, and is arguably a more damaging strategic issue than any other. Say simply, why would the potential distributors invest a high amount of money for rights when content is readily available for free on pirate sites? Why would rights owners sell to a distributor who has the potential of damaging their international sales?
A recent study from the US Chamber of Commerce's Global Innovation Policy Center identified that movie piracy costs the US TV and film industry at least an estimated $29.2 billion dollars and as much as $71 billion annually.
Pirated videos now get more than 230 billion views every year, with the majority coming outside from the US. The highest demand is for pirated TV episodes with over 12.8 billion views in the U.S. and 170.6 billion views outside. There are 26.6 billion illegal online viewings of U.S. produced movies and 126.7 billion viewings of American TV shows annually.
Torrent search engines like PirateBay have a wide portfolio of pirated content from Netflix and other streaming platforms and then serves it to approx 59 million pirates online. Similarly, there are numerous other illegal video streaming sites continuously contributing to OTT video piracy, every single day.
An "OTT streaming revenue insights"  estimated that video piracy is expected to hit $9.1 billion of revenue in 2019 with the loss set to grow by 38% to $12.5 billion by 2022.
Parks Associates estimated that revenue lost to video pirate operations could exceed $61 billion in 2020 and $67 billion worldwide by 2023. The report says that if 10% of paid TV subscribers canceled pay-TV services due to video delivered by pirates, the loss could reach up to $6 billion by 2023 for those operators. A Parks survey of U.S. broadband households also showed that 5% of people used someone else's credentials to get access to paid TV service, and 6% did so to access an online video service.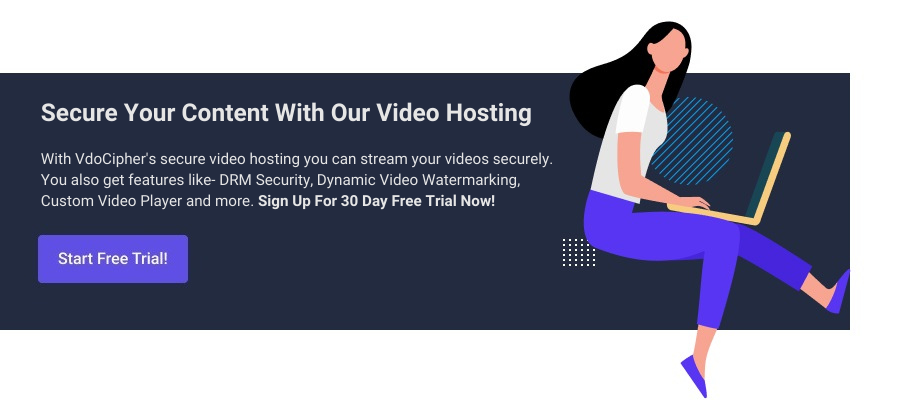 How To Stop Video Piracy?
Data has regularly shown that users who often pirate content are often the biggest buyer of legit content. There is a strong correlation between providing viewers with content that they want to watch (with a good streaming experience at a reasonable price) and a reduction in piracy.
Another way to curb video piracy is to make it much easier for users to access the content on their SVOD, TVOD, or AVOD platform.  A lot of users might opt for a better user experience even though they have to pay a premium price for it. Platforms like Netflix personalized content suggestions based on their choices and makes it simple for users to find shows they might like.
Let's just explore a few more action you can take in order to stop video piracy on your website:
Block Credential Sharing
As discussed before credential sharing is one of the major causes of video piracy, users often share passwords to their accounts with each other. This results in several simultaneous logins from an account, leading to consumption of the same premium content several times which leads to a loss in revenue that you could have gained from those views
-For CMS like WordPress Websites
If your website is based on WordPress you can easily stop credential sharing by using several plugins available. Using this you can restrict the number of users accessing an account at a time. You can use the word press plugin to block simultaneous logins.
By using this plugin, you can ensure that at a time users can only log in from a single device, ultimately stopping the account from being accessed by multiple users at the same time. Also, make sure you have best managed WordPress hosting to avoid any other obstacles in ensuring security.
-For Non-WordPress Websites
In case your website is not based on WordPress you can still restrict concurrent logins. This can be done by allocating a unique ID which is allocated every time a user logs in. Every time a unique ID is active for an account, no other ID is generated and the previous ID cannot be used to log in to the platform.
Using SSO for login
Using a Single sign-on for login to the user account has proven to be effective to stop credential sharing. A user can log in to the platform using social logins such as Google, Facebook, etc.
Even though a user might share their login for the video platform easily but a Facebook or Google password is more personal and the user would refrain from sharing it with their friends. Also, since its SSO is user-friendly and it saves trouble such as remembering passwords and login is much simpler with just a click it makes sense to promote this feature to the user.
Restrict Video Playback
Another way to make sure that the account is not shared by the users is to restrict total watch time for a user. Typically a user won't watch a lecture twice or thrice, depending on your user's behavior you can keep a total playback time for a video restricted.
This way you can ensure that your video is not being watched multiple times by several users. For a more technical explanation on this, you can refer to the video linked to restricting watch time, also, in case you need code for this you can get it here.
Using Video Encryption
Video encryption is used to secure your videos by encrypting or hiding them from anyone you haven't given access to. Basically, it stops anyone from viewing the video without your permission(the encryption key).
At present there are two major popular and easy to use encrypted video streaming protocols:
The flaw in common video encryption technologies – Even though these encryption by themselves are decently strong and cannot be cracked by brute force but they have a major flaw, that is the fact that their keys are exposed and can be accessed by any hacker or a tool/extension with some effort. Hackers can use the key to easily decrypt and download the video
Since the major flaw in the encryption technology is the open key exchange, it makes sense only to use a technology that can fix this. This is where DRM comes in.
Using DRM Encryption Technology
DRM(Digital Rights Management) works alongside the HLS, DASH, and RTMP encryption to make the video more secure by making it impossible to find the encryption key. DRM effectively removes any flaws in the video encryption to ensure that the video is not downloadable.
Major DRM being used in the market to stop video piracy are:
Google's Widevine DRM
Apple's Fairplay DRM
In order to ensure video protection, DRM is often used along with Watermarking to track any pirated content.
Using Watermarking
Watermarking involves embedding digital information in a video signal to identify its source of origin. It aims to identify the redistribution source of illegal streaming services. All content is marked, or tattooed, with a unique identifier that can be extracted in case of piracy in order to find the original source.
Domain Restrictions
Another way to ensure video protection is to make sure that your videos are domain restriction. This enables you to limit your video embed codes to play and load only on your domain. This prevents copying of embed code and its use by hackers to view the video on their domain
Choosing A Secure Video Hosting Service
In case you don't have much idea using the above-mentioned video protection technology, you can always fall back on a 3rd party secure video hosting service.
These hosting platforms take care of all the tech parts related to secure video and stream seamlessly on the client-side. All you need to do is upload the video on the platform, and use the embed code on your website.
A good video hosting platform has a few prerequisites that you need to check while choosing any such service.
Security– A DRM based encryption to protect your content
Video API– to manage videos, to enable automatic video upload, and get OTP for playback
CDN-to ensure speedy content delivery to the user regardless of their geographic location
Video Analytics – Insights into how your content is consumed by your users and also help you flag any unlikely events.
How VdoCipher Helps In Stopping Video Piracy?
At present, there are several platforms that provide video protection. But their offering is limited to video encryption without any video DRM technology. This exposes the key, which an informed user can easily identify and use to access the video. A lot of our current customers have faced such issues before finally sticking to our video security solution. This is where Vdocipher comes in, we ensure the highest security for our clients from video piracy. We do this by providing Hollywood grade DRM encryption and our dynamic watermarking technology. Find out more about on how to prevent video download on the blog linked.
Encrypted DRM Video Streaming – With Vdocipher's Hollywood grade DRM technology, no one can download your videos using a plugin or any hacks.
Dynamic Watermarking – You can watermark the Ip address, user id, email id, phone no, logo, text overlay to identify the source of the piracy. You can even customize the watermark in terms of its opacity, color, speed, and size as well.
Server To Player Package – With Vdocipher you not only get video protection but we also provide -Amazon AWS for Servers, CDN, Transcoding, Analytics, API, Dashboard, Plugins, Custom workflows. All these features further add to the security and make it easy to control your videos.
Smart Online Video Player – With our customizable online video player, you can give access to popular features such as subtitles, speed change, forward rewind options to your users. In case you provide an android app, you can also give an option to keep those videos for offline use without worrying about piracy.
Screen Capture Blocking in  Mobile Apps – VdoCipher mobile SDK integration default includes screen capture protection in both Android & IOS Apps. Screen capture protection in common browsers like Chrome, and Firefox on the desktop is not possible.
How Netflix is Tackling Piracy related to Account Sharing?
Last year, Netflix announced that they would start making users pay an extra fee to share their Netflix account with someone living outside the household. This account-sharing crackdown is supposed to be rolled out globally by the end of March. 
According to Netflix, about 100 million households use shared accounts. Cracking down on password sharing might prove to be a good opportunity for their revenue growth. 
How will Netflix stop you from sharing your password?
Going forward, Netfile will ask their users to verify their identity through a code sent to the account holder's email or text message, or by logging in with a recognized device. If a user is unable to verify their identity, they will have to either create a new sub-account by paying a small fee to add users. 
In order to use a device not part of the account owner's household a user will need to enter a verification code, sent to the primary email or phone number linked to the account. You'll have to enter the code within 15 minutes in order to gain access to the account. Netflix will use, the IP address, and device ID in order to determine if the device is part of the household.
Data sources:
https://www.akamai.com/us/en/multimedia/documents/white-paper/inside-the-world-of-video-pirates.pdf 
https://www.forbes.com/sites/niallmccarthy/2019/06/26/pirated-video-gets-viewed-over-200-billion-times-a-year-infographic/#75f4b25a2bcf
https://www.ncta.com/whats-new/how-much-is-digital-video-piracy-costing-the-us-economy
https://www.theglobalipcenter.com/wp-content/uploads/2019/06/Digital-Video-Piracy.pdf
Video Piracy Prevention using DRM Encryption & Dynamic Watermark
Video piracy prevention by provided DRM encrypted videos, screen capture block in apps, user-based watermarking. All in an easy to use the package combined with smart player and AWS Global CDN. Customers across 30+ countries.
Free 30 Day Trial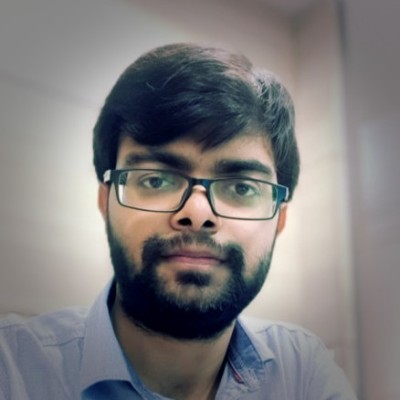 Product Marketing Specialist, VdoCipher.