"How to Prevent video download?" This has been a major concern for any video platform looking to generate revenue for them. 
Let's take a scenario which we recently faced with a customer. Andrew, a product head in a major eLearning video platform based in the USA reached out to us. Their platform allows individual teachers to create courses on their platform. These are pre recorded videos and contain the complete syllabus for the year. 
Their courses were really popular among students. But they saw a steep decline in the number of sign ups and views of their popular courses. After some digging up their team found out  some of their popular content got leaked and shared in popular forums and social media forums. 
Their videos were being downloaded by some users by using tools online and then shared with others. Being a popular course, it was in high demand and the video kept on getting further shared and downloaded by the users. This created a continuous cycle of video sharing as one user shares it with the other users and so on. This affected their future video views and sign up to these individual courses. Ultimately reaching to the extent that the traction of the course on the website reduced a lot. 
So when they reached out to us, this was their biggest concern. Even though some of their courses got pirated, they had a massive pool of courses. It was quite important for them to make sure that we can protect any further incident. 
We were ultimately able to solve their problem of video piracy, as their platform saw an increase in about 120% in revenue in the coming months. 
In this article, find out how Vdocipher helped them prevent piracy. Also, what other methods are their to prevent video download. 
So let's get started!
4 Simple Ways To Prevent Video Download 
Preventing video downloads is certainly a major concern for video platforms. For them the consumption of video content means more revenue. After all, why would you not want to rather earn revenue off your videos! So these are five different ways you can prevent video download:
Encrypting Your Videos To Prevent Video Download

Using Watermark On Your Videos To Curb And Identify Source Of Leak

Using DRM encryption Technology To Protect VIdeos

Opting For a DRM Service
Using Video Encryption
The currently most secure option is the combination of streaming the video files plus adding video encryption. 
A further higher level of preventing video download would be to use video encryption along with streaming protocols. As the name suggests, with video encryption, the video files are encrypted so that anyone without a video file can not access the file. Even if someone downloads the file, he will get a file containing gibberish. These files can only be accessed with the help of an encryption key. 
One of the most widely used encrypted streaming protocols is HLS-E ie. HLS with AES 128 encryption. HLS is widely used across desktop and mobile devices. Although developed by Apple, it is widely used beyond apple devices in devices such as Android, chrome browsers and more. It can be used for both live streaming and recorded videos. 
Using Video Watermarking
Although video watemarking doesn't practically stop anyone from downloading a video. But what it does is, it discourages anyone from downloading and sharing the video with someone else. 
With a video watermark, users' details such as email addresses, ip address, name and phone number can be inserted in the video as an overlay. In case of any video leak, you'd be able to identify the source of the piracy. 
Recently at Vdocipher, a similar incident occurred. One of our clients, a popular UPSC coaching institute, had been facing issues with their video leaks. The videos were being shared widely on various forums and social media. But, since the video had a watermark, the source of the leak was identified easily. It was one of the students, who had been screen recording their videos and sharing it with others. The organisation reached out to the student, they were giving warning regarding the incident and were told that in case of repeat of such activity a legal proceeding would be taken against them.\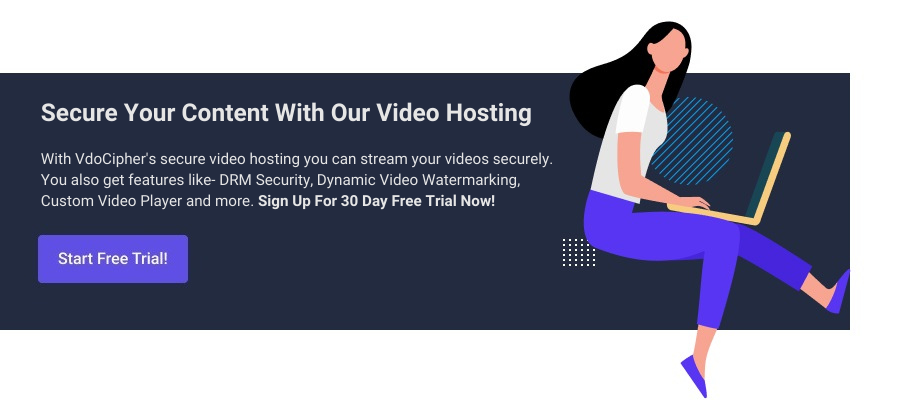 Using DRM Encryption ( Digital Rights Management)
Video encryption is a great way to prevent video download, but this method also has its own achilles heel. Although encryption itself can not be broken, the encryption key can be easily found by an informed user. This encryption key can then be used to access the video, thus defeating the purpose of encrypting the videos. 
To put it in simpler terms, you basically locked the door with a state of art lock, but then you kept the key under the welcome mat. Anyone who knows where to look for the key can easily walk into your house without making much effort. 
DRM encryption is a one solution that takes care of this weakness and practically makes it impossible for any unauthorised person to access the key. Making it impossible to download the video completely. With DRM the encryption key is hidden behind a blackbox or CDM( content decryption module), which itself can not be accessed by anyone. To access the key you would need a drm license request form the drm server. This safeguards your key as without proper authorization you can not access the encryption key and thus the video. 
Since different DRM supports different devices and browsers you need to make sure that you have them as part of your multi DRM setup if you want to prevent video download in those browsers. 
Currently there are two major DRM solutions you need to use in order to prevent video download on most browsers and devices. 
Google Widevine DRM-supports Desktop/Laptop (Windows, Mac, Linux) Chrome, Firefox, Edge. Android Chrome, Edge, Android TV, Android TV, Chromecast.
Apple Fairplay DRM– supports Mac Safari, IOS Safari, IOS App
These two DRM encryption are absolutely necessary for you to prevent video download and must have to protect your content from piracy. 
Opting for a DRM Video Hosting Solution Provider
Setting up your own DRM streaming setup can be really tricky. As you'd need to develop your complete video infrastructure, maintain it and make sure you keep on working on it to ensure a good user experience. On top of it, to use Widevine DRM and Fairplay DRM, you have to go through a process. You have to send in a request in order to use their DRM services. Also, in case of Widevine you'd have to get at least two members of your team to be certified by them to use Widevine. 
All of this takes up a considerable amount of time, resources and workforce. If you have a really big team with a lot of resources to spare, then you might go for setting up your own infrastructure. But if you are a small to medium business, your best option would be to opt for a DRM Solution provider. 
These DRM providers would take care of all your infrastructure needs plus help you in setting up your video DRM. This includes everything from encoding and encrypting your videos to all the different formats based on all the browsers and devices. Then you'd have to work on your video player, figure out a video hosting server, CDN, setting up video analytics and more. 
DRM providers make it simple for you. All you'd have to do is upload your videos to their platform, they'd provide you with embed code. You can easily use it on your website, by just pasting it in your page. That's all you need to do, in order to stream your videos. 
How To Prevent Video Download In WordPress?
A lot of websites nowadays are based on wordpress. With the recent pandemic, there has been a rise in the number of offline educators moving online. A lot of them offer their courses online with help of LMS. Although these LMS might provide basic protection such as restricting concurrent users, credential sharing, they do not prevent video download. 
The above mentioned five ways would be the best way to prevent video download in wordpress. WordPress users are usually not technically sound, the best way would be to opt for a secure video hosting solution with a wordpress plugin. Using their service, all you'd need to do is upload the video to their platform and embed it to your wordpress website. Everything from DRM, encryption, watermarking and players would be taken care of by them. 
At Vdocipher we provide secure video hosting for wordpress by offering them the following features. 
How To Disable Video Download in HTML5?
There are several ways to disable video download in the HTML5 player. Some of these ways can be to disable right click, hiding the download button, using URL signature to hide video URL. All these suggestions work up to an extent but they can't be a foolproof method to prevent video download in HTML5.
If you look for a solution online, most would suggest hiding video controls. But these methods can be easily overcome by an informed user.  By inspecting HTML5 source code, one can easily identify the link of the video and get access to it and then download it. The best bet to prevent video download in HTML5 would be to use a DRM solution. This would make it impossible to download the video.
Why To Protect Your Videos?
If you've come this far, chances are that you know why it is important for you to prevent video download. But I'd like to reiterate how important it is for any video platform to protect their videos. 
For a video platform looking to generate revenue from their video content, their videos are basically their currency. Their revenue depends on the number of signups to their platforms and also how much the video has been viewed. But if their content goes public for free, users would rather opt to watch it for free rather than paying for the same. 
We have experienced the same with our customers. Our customers usually face a similar problem before joining us. I wouldn't take names but, a popular CAT prep institute based in India was getting a lot of their content pirated. Being popular their content got promoted on every major social media group, and other popular forums. This had in turn hurt their revenue and signups. When they reached out to us, their major concern was preventing video download and any sort of piracy. After they opted for us, their revenue and views shot up by 110%. Even though their old content was out, users couldn't pirate their new content. Anyone with interest in their content had to opt for their services.   
Supercharge Your Business with Videos
At VdoCipher we maintain the strongest content protection for videos. We also work extremely hard to deliver the best viewer experience. We'd love to hear from you, and help boost your video streaming business.
Free 30-day trial →
Head of Digital Marketing at Vdocipher. I love the art of connecting the right product to their users. When i'm not doing that i love getting lost in books.