Video Watermarking has been an essential part of controlling video piracy to a considerable extent. Video piracy is the act of acquiring or copying someone else's content. And then selling or distributing a copyrighted video without the consent of the copyright owner. Over the past few years, it has become a major concern for e-learning content producers, broadcasters and movie producers. However, with the availability of high-speed internet and a pool of Internet streaming sites, a pirated copy is readily accessible to a global audience for viewing online and downloading within just days of its release to theatres.
Here in this space, we study one of the most commonly used methods for preventing video piracy i.e. Video Watermarking. By the end of this blog, you will learn all about video watermarking and how VdoCipher helps you with it. Here we go…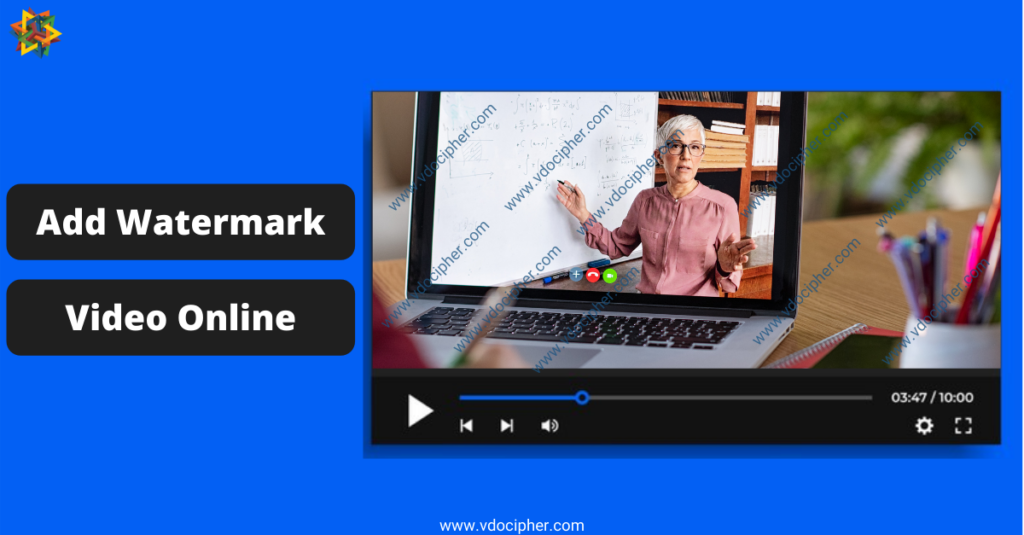 What is Video Watermarking?
Video watermarking is the process of adding an additional embedded overlay to a video. It can be in the form of a text, logo, a video copyright disclaimer or a viewer identifier like user id, IP, email id etc… The need for embedding this additional overlay is to identify the original work and prevent its illegal use. However, the addition of a disclaimer alone won't prevent the illegal use of the video, but, this makes it more difficult for those trying to steal others' work or for those claiming someone else's work as their own.
Video watermarking is now being used in several applications like digital television, broadcast monitoring, streaming videos and demands more requirements than normal static image watermarking. Video Watermarking involves embedding cryptographic information derived from frames of digital video into the video itself.
Ideally, a viewer won't be able to figure out the difference between the original, unmarked video and the marked video. In the case of visible watermarks, the content owners can embed a text, shape or logo mark such as the company's logo on top of the image or video. The mark is removed only with the application of an appropriate  "decryption key"  and watermark remover software.
Why are Watermarks Important?
The practice of watermarking is generally done to protect/save and to claim ownership of your work or content. Without watermarks, your valuable digital content gets prone to content theft or illegal use which can further deteriorate your brand, spread misinformation or even have legal implications. However, by doing watermarking, you can provide more clarity about the content when it's meant to be viewed, but not shared.
There are a couple of key reasons why you might need to watermark your videos, documents or even images:
1. Prevent Content Theft
When you upload your digital content publicly, all it takes is just a single right-click for someone to download and save your content. What they do after that is completely up to them as they own your content now. Without proper protection and planning, many businesses and organizations invest heavily along with time and resources to create original content. This not only puts their content at risk from being used by others but, potentially impacting their business opportunities and revenue as well. However, if done properly, video watermarking can entirely prevent or negate this content theft.
2. Protects Copyright
Watermarking also helps you protect the copyright of your work. It discourages the pirates from copying your work as it contains your branding or identity and also allows viewers to know the original owner of the content. And you can also take an action against the illegal use of this content by hackers/pirates.
3. Identifies Illegal Users
Our dynamic watermarking feature also allows you to identify the viewer watching or accessing your content. You can have dynamic parameters added to your videos as watermark such as name, email, IP address, etc. This helps you identify the user in case, someone, illegal access your content without your consent.
Interestingly, some businesses also use watermarking as a branding tactic. Digital watermarking is also one of the great ways to get your name out and highlight your brand awareness, so you stay aware any time your work is shared on video platforms, for example, on Instagram your name or brand is always attached to it.
Methods of Video Watermarking
The 3 most commonly used methods used for video watermarking are:-
Bitstream Modification
A/B Variant watermarking
Client-side watermarking
This involves modification of selected areas of a picture in a non-impactful way to identify the viewer and the session. The information along with the content is sent on the server-side in the form of a metadata file. Further, after processing and executing the changes a unique identifying watermark is provided. It is a robust method but suffers from computing overhead as the processing of the file adds latency into the system, thus making it vulnerable for live content.
A/B Variant watermarking –
It is a similar two-step process. However, this method aims at the OTT & VoD sectors. Two video streams are created which are completely identical except for the watermark and are then processed again to provide a unique identifying watermark. However, the processing might be slow sometimes especially in the cases where there are large subscribers and hence watermark extraction can be slow as well.
Client-side watermarking –
It is the simplest of the methods available. VdoCipher uses this watermarking method which is mainly used for dynamic watermarking purposes where you can insert dynamic parameters as a watermark like your name, email, IP address, etc… You can know more about how to integrate Dynamic and Static watermark into your videos here. The key areas of this method include – its cost-effectiveness, rapid watermark extraction, and compatibility with multiple platforms, even with the set-top boxes as well.
The working includes just the addition of an embedded overlay on the video in the client device. The overlay can be visible as you must have noticed some random numeric codes appearing at the corner of the pictures several times. And it can even be invisible as well which is considered to be more popular as the pirates have to re-stream many times to detect your mark. The Client-side watermarking needs to be deployed alongside a robust DRM making it the only weakness of this method.
Video Watermarking with VdoCipher (Client-Side Dynamic Watermarking)
VdoCipher uses the client-side watermarking method with the dynamic watermarking feature. Videos hosted with VdoCipher's video hosting platform cannot be downloaded. Screen Capture protection is also available for Mobile apps. However, there remains the risk of piracy from screen capture on websites. Our dynamic video watermarking feature secures our users premium content and even prevents piracy from screen capture. You can customise dynamic video watermarking for various parameters such as its movement, colour, size and transparency. You can try the watermark feature on your own website by signing up for a Free Trial on our home page.
Integration with WordPress & Customer Backend Websites
You can protect your videos on WordPress sites by using our WordPress plugin. Our WordPress plugin generates dynamic URLs which make it impossible for anybody to download the video content. If you have built your own video website from scripting languages such as Python, Ruby, PHP or .NET, you can refer to our API page on how to embed secure videos to your website.
Integration with Mobile Apps
To integrate videos to your Android & IOS app; you can use VdoCipher SDK for secure playback. Our video player also streams secure video in mobile browsers – Chrome, Firefox, Edge on Android; and Safari on IOS (Ipad, Iphone).
a.)  How watermarking works
By overlaying user identifiable information, such as name, IP and email address on top of the video, watermarking is an effective discouragement/deterrent against piracy originating from screen capture. Our users value the watermarking feature as it provides additional video and revenue security for them.
b.) Adding watermarks to Videos

You can generate and embed the watermarks in 3 ways i.e.
Watermarking with Iframe embed
– Below is a brief explanation of how to generate an iframe with a whitelist and watermark security with all the parameters defined. Here's a video explaining the video embed via iFrame in detail. Also, we have explained the key things to be taken care of while embedding your videos. Here we go then…
Dynamic Watermark –
Click on "Add watermark to video" text from the previous step for adding watermark which will then allow you to make the following settings: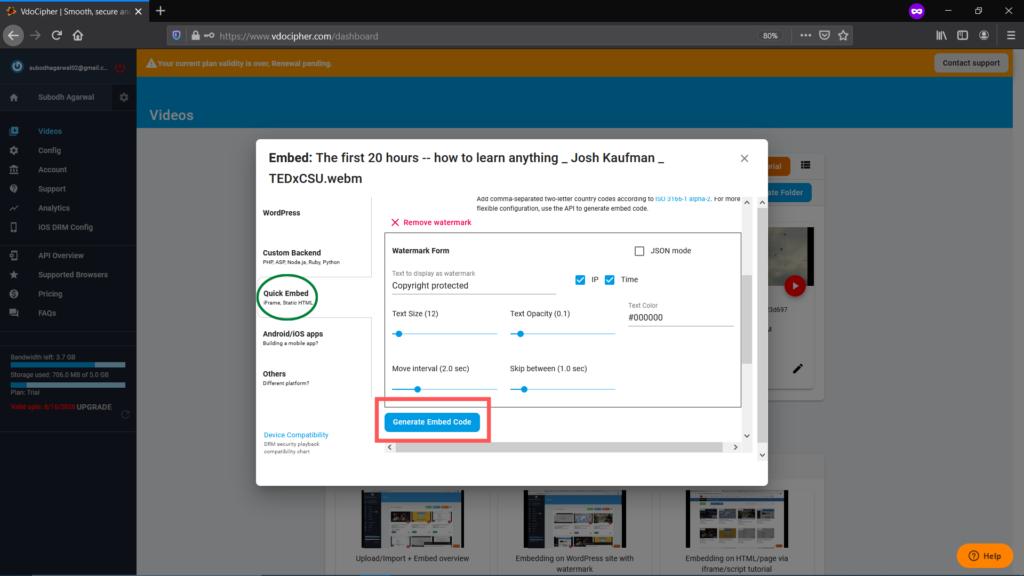 Fixed Text to Display as Watermark: Write any text here that you want to use as a watermark like "Copyright protected" or any text of your choice.
IP/Time: You'll see 2 checkboxes for IP & Time. Check the checkbox for whatever you want to be visible in the video. (Note: Time zone is GMT/UTC)
Text Size: Once you've set the display text, you can set the text size by making use of the seek bar provided.
Text Opacity: You can set the text opacity if you want. You can set it from 0 to 1. The lower value you choose the lighter it will be visible.
Text Color: For colour, you need to enter the 6-digit hex code of the specific colour you want to use in the video like #000000(for black) & #ffffff(for white).
Move Interval: If you want your watermark to keep moving or changing its positions you can use this setting. The lower the value, the faster will the watermark move. Set it as per your convenience by making use of seek bar.
Skip Between: Set the time frame where you want to skip the watermark between the video.
Click on the "Generate Embed Code" button once you've made all the settings. You will now have your embed code generated for you. Further, if you want more customization in the watermark, just mark the JSON mode checkbox and a JSON string will appear wherein you can make more customization.
JSON advantage of copy-pasting watermark settings
The added benefit with JSON – you can copy and paste the code into other video embed watermark settings. Thus, you need not configure the watermark code for every video again, you just copy this JSON code once set for one video and then paste it into any other video's watermark setting.
Here's a detailed blog on how to integrate Dynamic and Static watermark into your videos.
2. Watermarking via VdoCipher API
– However, if you're a techie and looking forward to creating your watermarks via API, we've got you covered as well. Here's a detailed video explaining how to integrate watermark with VdoCipher API and customize watermark parameters (colour, size, movement, transparency etc.). Email, IP address, Timestamp, User ID, Phone No. or any other login detail is possible as a watermark overlay.
3. Watermarking via VdoCipher WordPress Plugin
– If you have your website hosted with WordPress, you need not worry as we've got you covered there as well with our WordPress Plugin. Our WordPress plugin generates dynamic URLs which make it impossible for anybody to download the video content. You just need to create the watermark code and add the watermark to the video. This is done by adding watermark code to the WordPress plugin settings. Here's a step by step guide for helping you with the process of video watermarking via VdoCipher WordPress Plugin.
Here's a detailed blog explaining all parameters of video watermarking to help you protect your videos.
What to Look For From a Video Watermarking Solution
There are more than hundreds of video watermarking solutions available on the internet. However, it totally depends upon you with which watermarking solution you go for. More importantly, here are our recommendations for you as to what to look for from a video watermarking solution.
A client-side implementation, for some of the following reasons – the ideal solution will feature the following attributes:
You must include legacy devices for maximum security benefit. Because this feature will benefit you for keeping you future-ready i.e. the solution is also compatible and can be deployed on future generations of devices.
The processing and generation of unique identifying watermarks need to take place in seconds.
With picture quality becoming a deciding factor these days, an ideal watermark should be imperceptible and not affect picture quality i.e it should be very slightly noticeable. It should also not increase latency, either on the server or on the client-side.
An effective watermarking solution needs to be able to scale to millions of users and devices with no impact on the speed of detection.
A platform that meets all these factors is a no brainer for you to decide. As platforms like these can provide effective measures against pirate activities.
Conclusion
By now you must have got a fair idea about video watermarking and how you can tackle it through. In conclusion, Video piracy has become an exceptionally organized and agile activity. Above all, it's high time now to take action and bring down the pirated content, whether it is about premium video courses or movies.
Protect your videos with VdoCipher's Dynamic Watermarking Feature
Videos hosted through VdoCipher's hosting platform cannot be downloaded. Our dynamic video watermarking feature adds an extra layer of security for our user's premium content and discourages users from sharing screen-captured content. The dynamic video watermarking can be customized for various parameters such as its movement, colour, size and transparency. You can try the watermark feature on your own website by signing up for a Free Trial.
Protect my videos Now!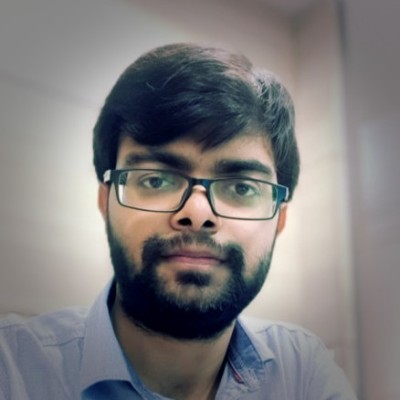 Product Marketing Specialist, VdoCipher.