Online video content is growing rapidly and becoming more popular day by day, and the use cases for online video in the professional field are endless. This market certainly has the potential to rise by billions of dollars in the upcoming few years. Especially at these pandemic times, broadcasters are hosting virtual gatherings and live streaming in-person events to generate revenues. Even the businesses of any size are using online video platforms for marketing, sales, and internal training.
Professional broadcasters have to rely on online video platforms to host their content and deliver it to their audiences. Video content is gaining more and more popularity through mobile devices such as smartphones and tablets due to its ability to play live or pre-uploaded video content anywhere, any time.
The global video streaming software market size is expected to grow from USD 6,144 million in 2020 to USD 15,092 million by 2025, at a Compound Annual Growth Rate (CAGR) of 19.7%. As per the industry forecasts, and the market trends as of now, video alone will make up over 82% of all internet traffic by 2021.
In this article, we are going to give an overview of various topics on Online video platforms like what they are? How do they work? Features and reasons why you should choose an online video platform? We will wrap things up by providing the options for the best video hosting platforms for businesses and help you find the right solution for your needs.
What is an online video platform?
An Online Video Platform(OVP) is a video solution allowing users to upload, convert, store and play video content on the internet. Users generally will upload video content via the hosting service's website, mobile or desktop application, or the APIs. Such platforms are used for various purposes like communication, teaching, or entertaining, and allow for the quick recording, control, and display of video content. Online Video Platforms (OVP) can be used for playing pre-recorded and live stream content on a website.
There are a variety of online video platforms for businesses depending upon the business needs. Some of them are more consumer-oriented, while others are developed for institutional use. The video content uploaded might be anything from short to full-length TV shows or movies, etc. The host stores the video on the server and provides users the functionality to enable different types of embed codes or links that allow others to view the video content.
OVP or Online Video Platforms can follow various models like – user-generated content (UGC) model, software as a service (SaaS) business model,  do it yourself (DIY) model. OVPs also provide customized video players allowing users to stream videos. Many OVPs provide third party video players which can further be embedded in a website too.
How does an online video platform work?
It has been observed that online businesses often require features over and beyond video security. VdoCipher fulfills all major requirements with their video hosting solution which covers all businesses needs. VdoCipher's online video platform follows the below 6-step Video Hosting, DRM based Video Encryption, and Streaming process that set us apart from the competition.
Upload – The video content is uploaded by the registered customer through various options like Desktop, FTP, DropBox, directly from the server, and direct from URL. It supports all typical video formats.
Transcoding for Protected Streaming – At VdoCipher, videos are encrypted with DRM encryption protocol & multiple bitrates. The videos are transcoded for optimization at multiple bitrates such that viewers on networks of any quality can conveniently stream videos.
Storage of Encrypted Content – The videos are securely stored on Amazon's AWS S3 servers using our own server-side video encryption technology, creating a double layer of protection ensuring complete security.
DRM Encrypted Video Transfer – Now the encrypted content has to be streamed to the final viewer interface, be it app or browser. The entire stream is encrypted using a non-public key whose exchange mechanism is hidden. And, the transfer of this encrypted content is not through direct access to the video file. A one time URL is generated and the content is transferred in chunks to optimize video streaming further.
Licensing & Authentication – VdoCipher provides One Time generated dynamic video URLs which are accessed only through custom video embed codes, allowing licensing duration for each single video stream. This prevents any URL based sharing.
Decryption & Playback – Finally, the encrypted stream content is decrypted inside the player with a dynamic key. Our DRM based key transfer protocol fundamentally differs from the public key transfer protocol. A private key transfer between the website and our API signifies that it is not possible for hackers to decrypt our streams making our video encryption hack-proof.
Here's a detailed description on how VdoCipher's Online Video Platform works. 
What Kind Of Businesses Need Online Video Platforms?
To grow your video marketing business, it is important to understand which business genre requires what kind of video content. Content creators can create all kinds of video content based on their viewers and target audiences. If you're just looking to host videos for everyone, you can choose from the platforms like Vimeo, YoutTube, etc..But at the same time, If you're looking to monetize your videos as well, you definitely need to consider a video hosting solution that provides good video hosting features and security. Here's a quick glimpse of what all kind of business need online video platforms:
Elearning businesses and companies are growing at a rapid pace. They create a large volume of video content either pre-recorded or live videos that are further processed and stored by the video hosting services. The types of video content used by education companies and businesses includes pre-recorded webinars, demo videos, and case-study videos, etc.
Educational Institutes and corporate training:
Colleges, Educational institutions, and organizations also create loads of lectures and other study materials. This material further needs to be uploaded on their respective servers. As a result, the server becomes heavy and the response time spikes up accordingly. Hence it is advised to host all the lectures or any material on third-party sites making it easier to manage and without causing any harm to their own server.
Entertainment Businesses:
Movies, web series content creators use promo videos like teasers & trailers as well as full-fledged content to earn big revenue from it. Short videos like trailers can do well on the platforms like YouTube, Dailymotion but the whole movie or the series has to be hosted via video hosting platform to eliminate the piracy risk as the major revenue revolves around it. But it is still recommended whether it is large video content or a trailer/teaser, video hosting solutions must be used.
Product Marketing Videos:
Few common types of product marketing video content include demo videos, explainer videos, and How-To videos to showcase the product. This allows the viewers with a better understanding of the product and hikes marketing possibilities. One of the most popular and widely accepted forms of the video content are the personal videos where the individuals use to express certain content or discuss a particular topic. YouTube is the most used third-party video hosting platform and video content delivery system for sharing personal video content in the form of channels.
Features of an online video platform?
No matter whatever business you're running you need your video hosting platform to have certain features & technologies to ensure your videos are captivating, and valuable for the viewers. Below are the 5 must have features for any video hosting platform & how they enhance the usefulness of the underlying video hosting platform.
One of the most key features of any video hosting platform is "The Security". To ensure protection of your videos you need to have a secure platform with confidentiality of content. To provide high level security, any video hosting platform must have following DRM encryptions:
Google Widevine DRM Encryption
Apple Fairplay DRM Encryption
A Content Delivery Network(CDN) is a distribution model that not only improves security but also allows scaling up of videos, handling up to a million concurrent viewers, minimize buffering and packet loss. It makes the delivery of multimedia content faster and reliable for a global audience.
A Dashboard lets you manage your video workflows from a single place. A video dashboard also offers functionalities like manage, segment videos and change settings(e.g thumbnail, subtitles, etc). If you are new into video industry or setting up a new business, it's recommended to have a dashboard which is easy to use and has a good user interface.
Every video platform offers basic video analytics. But it is good to have a platform which allows you to have deeper insights of your videos to target your audience specifically. Few of the success metrics include views, bounce rates, conversions, user engagement, and average view times. Based on these metrics you can modify your content towards audience interest and engage your viewers through targeted content.
Customer support is one of the strongest pillars for any business relationship. And after all the hard work you've put in, you just need supportive support at the end of the day. For a reliable video hosting platform, you want them to be proactive in assisting you whenever the situation arises. Hence choose wisely.
Here's a list of 57 Video Hosting Features for Video Platforms offered by VdoCipher.
Reasons to choose an online video platform?
While you may be wondering why do you need Video Hosting platforms instead of hosting videos by yourselves. Here we let you know the reasons you should consider an online video platform for your business. Let's start:
A secure online video platform is often protected by DRMs (Google Widevine & Apple FairPlay) ensures that both the content and the viewers are safe from prying eyes. It makes sure that your content isn't illegally downloaded or copied. And at the same time, personal details of users are kept safe from illegal breaches.
Most Online video platforms allow video playbacks on multiple devices that support the platform. For ex: A user can stream your content on smartphones, smart TVs, laptops and tablets, etc. This way, you get more views and viewers for your content as users can watch videos on multiple devices without having to depend on a single device.
Integrates with your existing Apps & Services
APIs (Application Programming Interface) allow you to easily connect various services and platforms used by your business. This further enables a business with more powerful automations and seamless workflows. Hence, most of the businesses these days are migrating to API-based workflows for online video integrations.
Online video platforms offer in-build high quality video players which have the ability to play video content in high definition to suit the viewer's bandwidth. This further lets viewers to stream content seamlessly and they don't have to depend on any other external video player as they traditionally would have had to.
Multiple monetization models
An online video platform allows multiple ways or models to earn revenue without ruining the viewing experience, thus, making it more worthwhile for content creators and distributors. Below mentioned are the various models to choose from for monetizing video content:
SVOD: After a flat monthly/annual fees, users consume as much content as they want
TVOD: Viewers purchase the plan on a pay-per-view basis that they choose to watch.
AVOD: VIewers watch free of charge, but they have to watch ads placed by the company to access said content

Audience insights
With online video platforms, you get to know your viewers even better. You can find the viewing patterns and metrics like what they watch, when they watch, where they drop, what device they use, and for how long they stay on the platform. These are the priceless metrics basis which you can find the gaps, modify content towards audience interest, segment & target audience on various parameters to keep them engaged.
The video content on an online video platform can be watched on multiple devices with nothing but an internet connection required, thus making it a lot more accessible. This plays equally in favour of both – the content creators or the platform owners and the viewers.
No Geographical boundaries
Not only online video platforms provide multi-devices access, but also viewers get to access content without geographical boundaries. You get to land into larger networks and successfully build an audience base.
Top online video platforms in 2021
Video streaming platforms have become a necessity nowadays when most of our audience is present online. If you want your user's attention then having the videos on your website is the best way to grab their attention. But how to know which option is most suitable for you when so many options are available nowadays.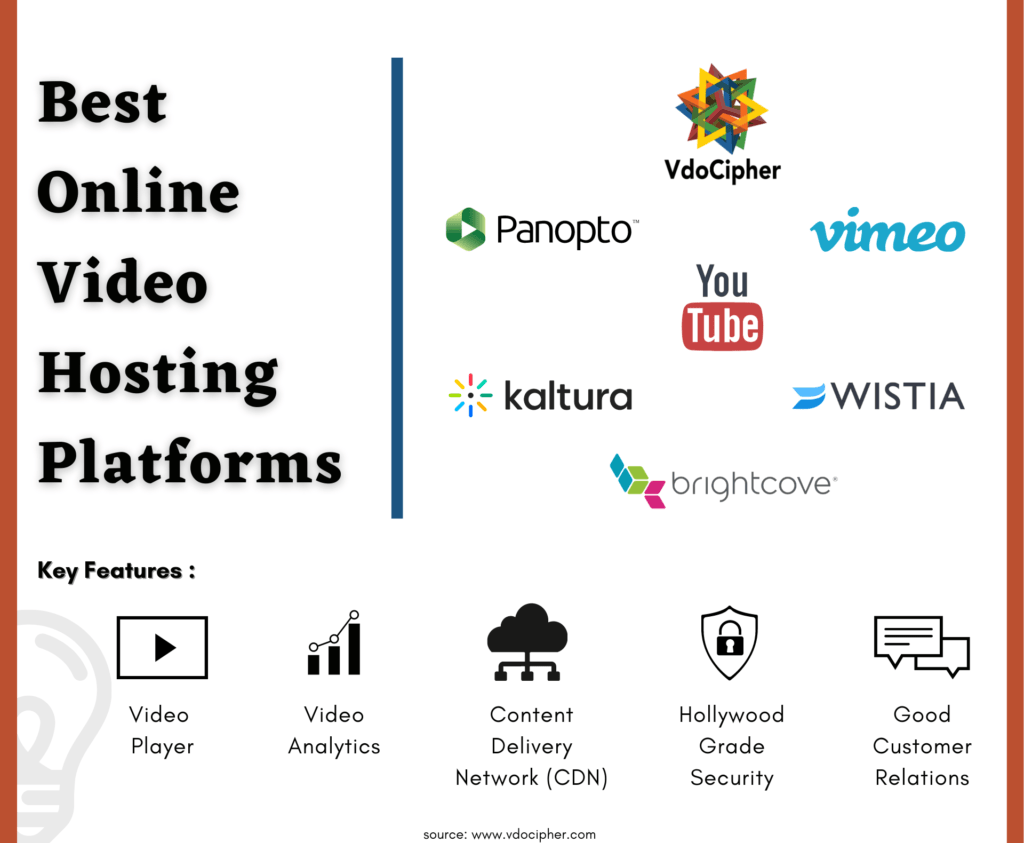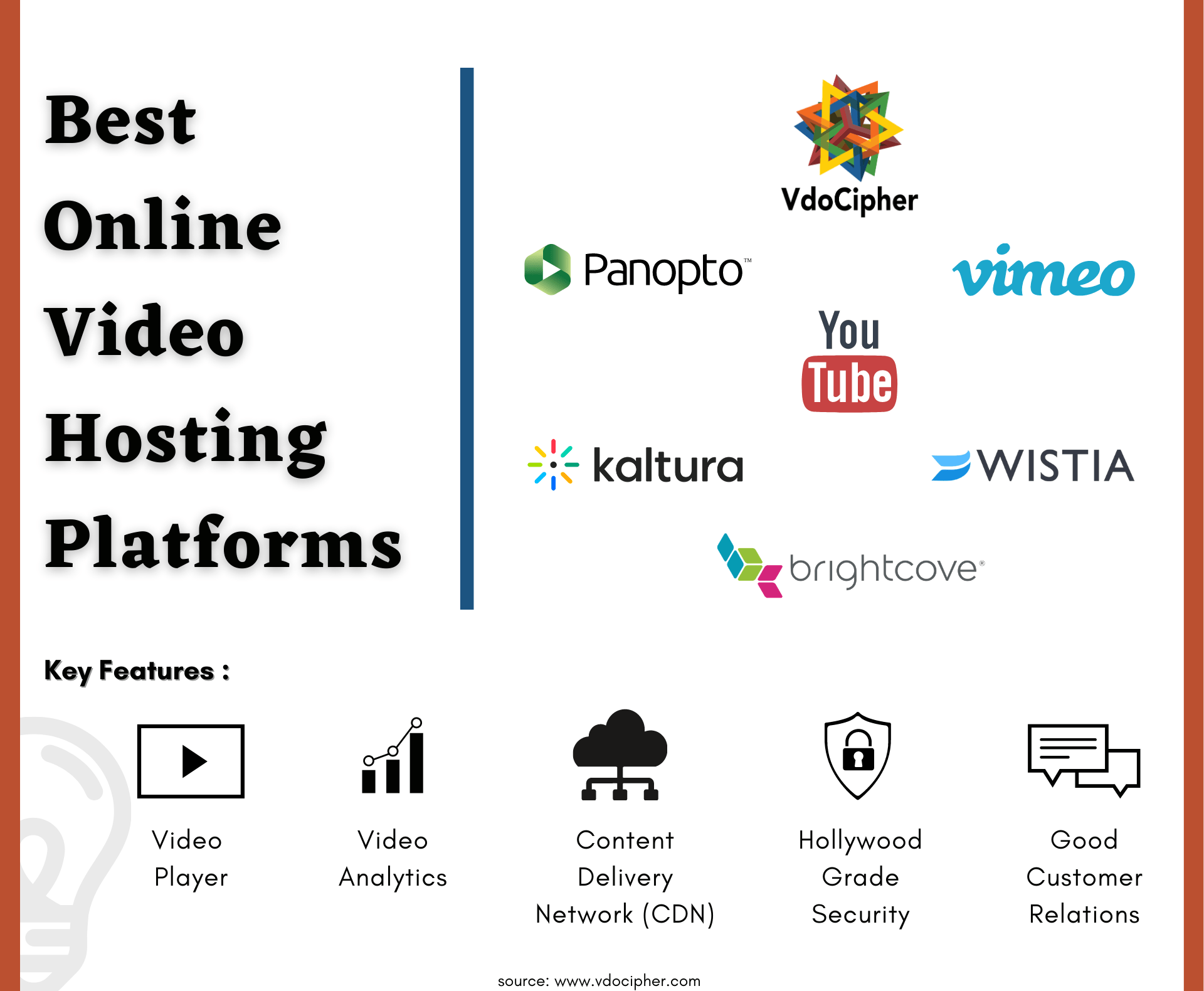 Basically, it depends on your needs, your content, and your audience. Let's check some options for top video streaming platforms-
If you are a business owner who is looking to sell premium videos on websites or apps, say online courses or movies or web series or tutorials at a subscription or pay-per-view price , then VdoCipher is the ideal video hosting solution for you. Key features include Hollywood grade DRM encryption security and user specific dynamic watermarking feature to prevent video download and screen-capture. Plans start from $99 and include Hollywood Grade DRM security from piracy. Free 30 Day trial is available.
Youtube is the most popular of all video hosting options.  Widely used for promotional videos and entertainment content, it is the foremost choice for new content creators. If piracy and earning direct revenues is not a major though for you, youtube is a free and scalable solution for a market outreach.
Dailymotion started as a video hosting platform parallel to youtube but eventually lagged behind owing to the massive google's scale and innovation in the video infrastructure. It is still one of the major platforms to promote your video content. Some of the content producers might find youtube content policies and restrictions too harsh, dailymotion is a good alternative for such video producers.
Whether you are a business looking to host videos on your own site or an individual looking to promote content on a global platform, vimeo provides options for both. Its main advantages are a decent level of customizability over youtube and affordable plans within reach of most businesses.
Wistia is one of the video streaming platforms that offers advanced tools to help marketers make the most of their videos. Its customizable player allows you to choose how your video player looks when users see it, and detailed analytics to help you make the most of your video marketing campaigns.
Kaltura includes every functionality you might need for video and rich-media, including the ability to create videos and publish them directly to your post, centrally manage, and track your video content. Leverage the full power of our Online Video Streaming Platform: superb playback, video management, social sharing, monetization, mobile and tablet delivery, and more.
Brightcove offers some modular products that includes Video Cloud hosting, the Lift video player, Once for server-side ad insertion, Live for streaming video, OTT flow for internet TV, Zencoder for cloud transcoding, and tools for monetization. Brightcove has very nice and detailed analytics and video marketing tools which are quite valuable for businesses that aim to capture leads and understand their audience.
Panopto is a video hosting platform for online courses from businesses and colleges across the world. They promote themselves as a one-stop search for overseeing, live streaming, recording, and sharing video content. Whenever organizations and colleges need a simple, dependable answer for overseeing, streaming, and video recordings, they go to Panopto.
Conclusion:
Gone are the days when the means of production and movie distribution and creative videos were in the hands of large and well-funded broadcasters. Today, with the boom of online video platforms, the power of video storytelling and sharing is freely available to any individual.
A secure video hosting platform is a timely way to connect with audiences and get your finger on the pulse of the OTT advancements that the world is seeing. The platforms are intuitive, affordable and highly globalized, so you can reap the benefits of your creative content in the best manner possible.
Online video platforms provide the best-in-class opportunity for content creators, owners, or distributors to showcase their original curated media in the line of OTT streaming. As a result, you can unleash the potential of most popular broadcasting media via exclusively-built online video streaming platform solutions, and keep discovering emerging new-age techies!
Which video platform have you chosen?
Meanwhile do check out our blog on short video platform.
Supercharge Your Business with Videos
At VdoCipher we maintain the strongest content protection for videos. We also work extremely hard to deliver the best viewer experience. We'd love to hear from you, and help boost your video streaming business.
Free 30-day trial →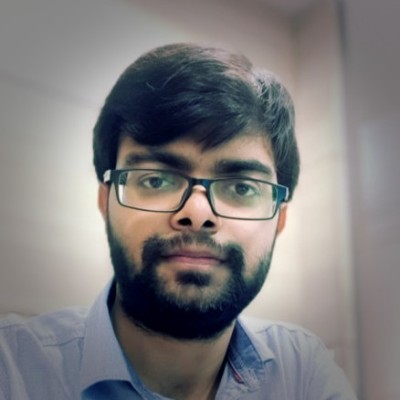 Product Marketing Specialist, VdoCipher.