Content is the heart and soul of the internet. Users thrive on consuming information that sparks their interest in the most interactive way. Speaking of which, since the onset of the digital era, videos have been making their way through the top content users view on a regular basis. In fact, YouTube, the second largest website across the globe is the largest video sharing platform.
According to WordStream, readers retain only 10% of a message while reading as compared to 95% while watching a video. Combine that with a dependable and fast internet connection and you have a plethora of content flowing in your direction! This gives content creators a golden opportunity to showcase their knowledge and creativity to viewers from all over the world.
Now we know that YouTube has got it all in terms of information and entertainment. But it's not the only video sharing platform worth mentioning. YouTube alternative sites are just as good!
I'm going to list the top 13 video sharing sites that offer impeccable streaming and uploading capabilities. They're beneficial for both viewers and creators. In other words, they're also great video upload sites. But before diving into the details, I'll highlight some key benefits a video sharing platform offers. Let's dig in.
What Benefits Does a Video Sharing Platform Offer?
The biggest benefit of video sharing websites for viewers is that they can gain access to broad categories of videos within seconds. On the other hand, content creators can unleash their creativity on various video upload sites.
Uploading a video to a video platform enables easy embedding on a website such as Wix, Squarespace, Hubspot or Elementor. Videos provide businesses with additional exposure, thus, boosting sales, conversions, and ROI. Video content is by far, the best way to engage with your audience and give a compelling message.
Top 14 Video Sharing Sites Other Than YouTube
1. Vimeo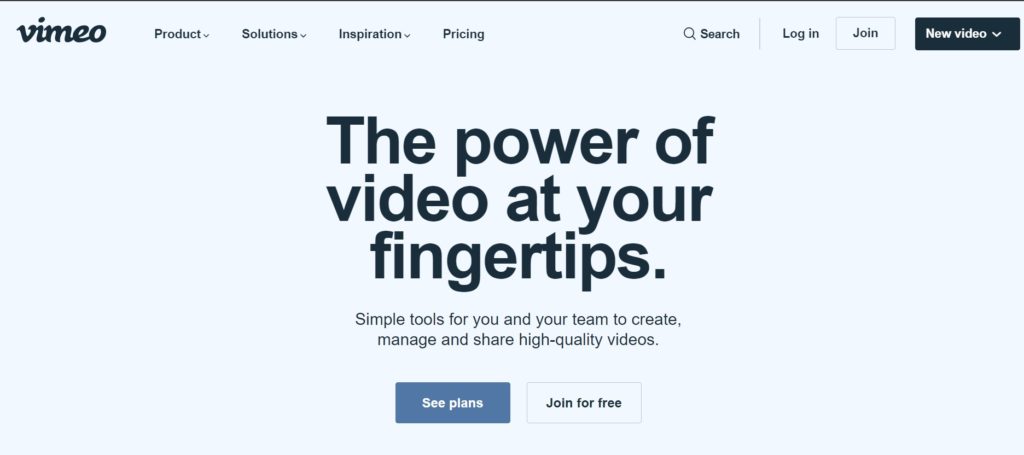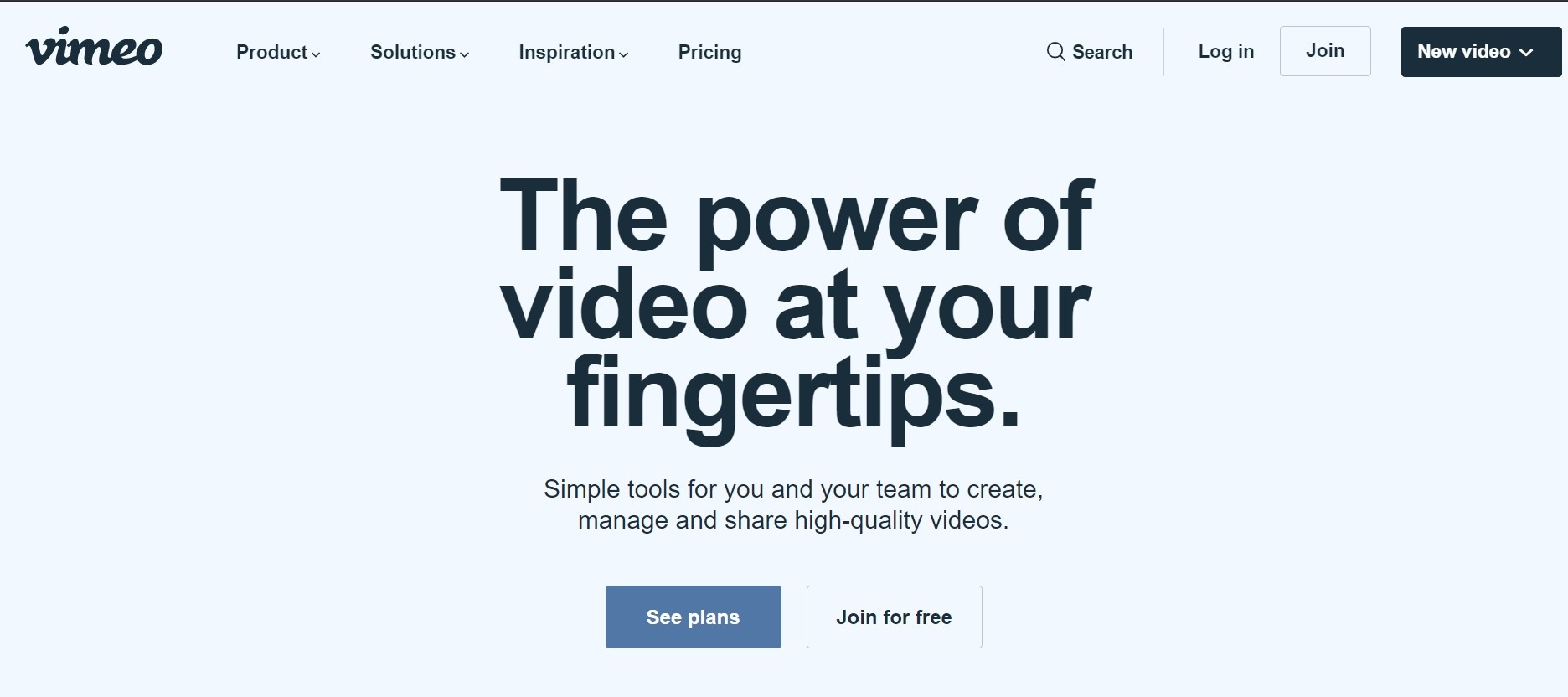 Vimeo is the most popular video sharing platform after YouTube. It is also the most common YouTube vs. Wistia alternative out there. Most viewers have been complaining about ads popping up at random times while they are watching a video on YouTube. This problem doesn't arise on Vimeo. This way, viewers can focus on the content as there are no distractions.
The video sharing platform has a free basic version that offers 500MB per week as the maximum upload limit. Premium users can easily upgrade the limit to 5 GB. Even though the free version has a restriction on the amount of data users can upload, it doesn't cap the video length.
Unlike YouTube, it doesn't offer any monetization to creators. However, the tip jar button shows that earnings are based on a model of video on demand. The supported video formats on this YouTube alternative include MOV, WebM, MP4, AVI, MPEG4, WMV, FLV, MPEG PS, and 3GPP. Doesn't that make Vimeo one of the best video upload sites? The best part is that users can browse for high video quality content for free!
2. Utreon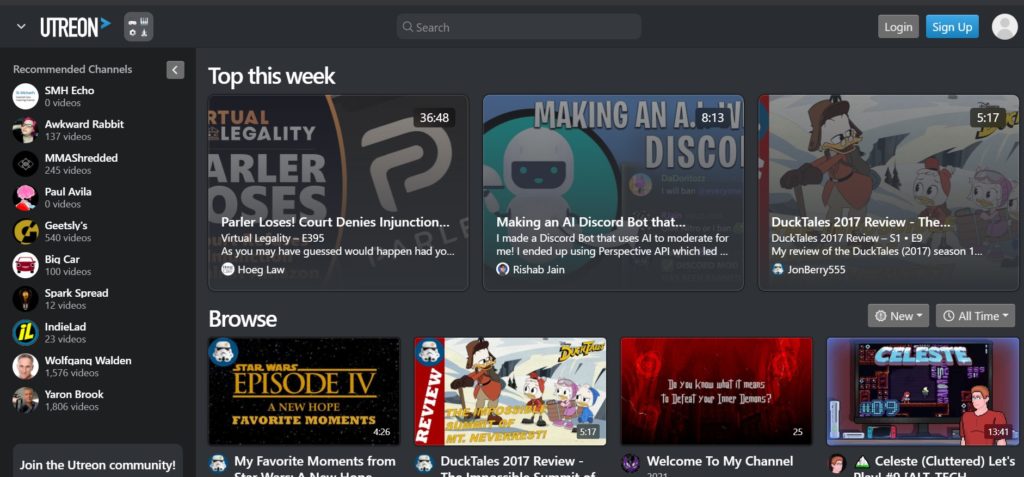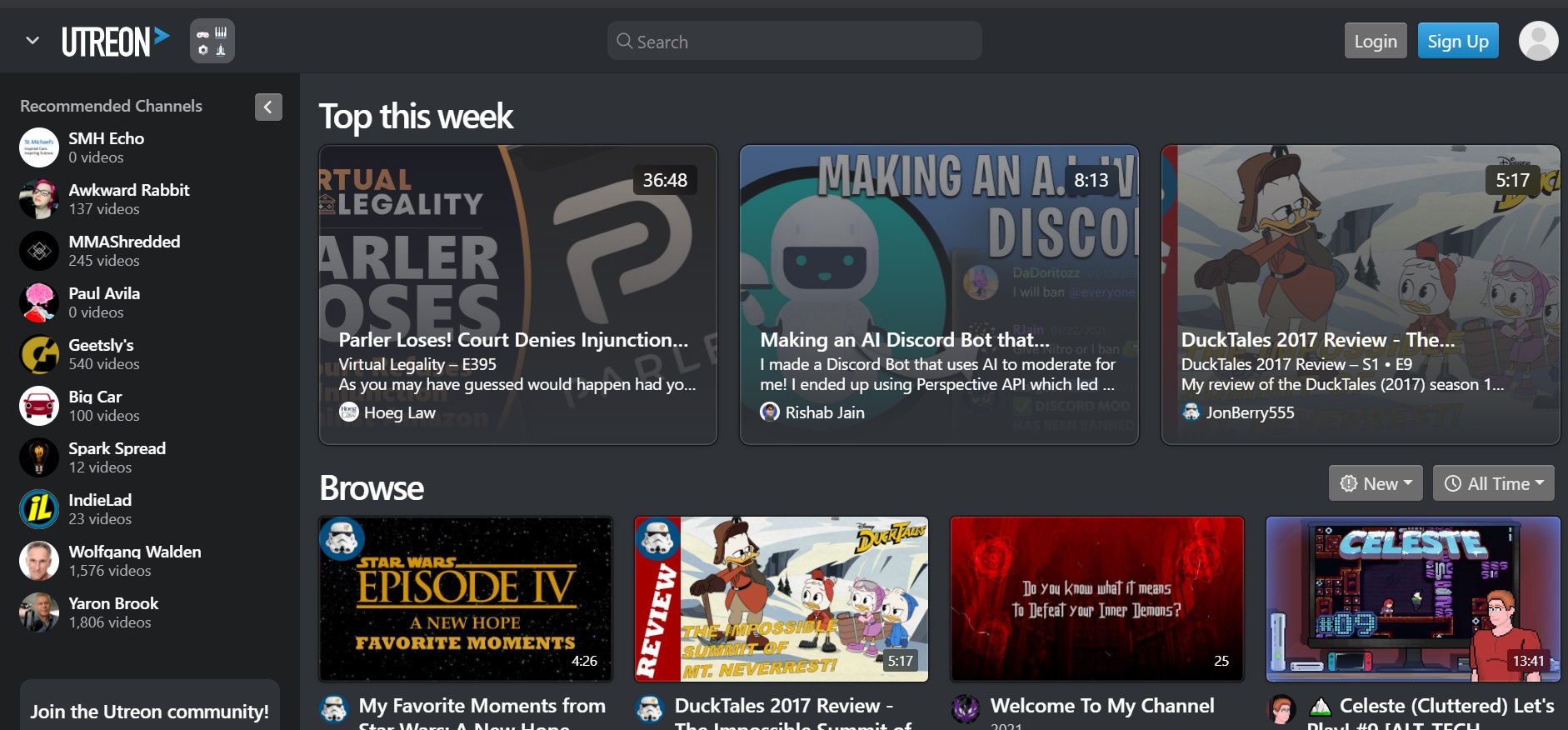 Utreon appeals to a wide array of users, thanks to the diverse content and easy navigation. Even though the video sharing platform is not as popular as YouTube, it's definitely less distracting. Another good reason why it's an effective YouTube alternative is that Utreon doesn't limit or promote channel discovery, thanks to transparent algorithms.
Currently, it's one of those video upload sites that offer a subscription system with the help of which users can support the creators whose content they like. Some other innovative features include the ability to create their own series or shows. That includes a table of contents, episodes season, cover art for every video.
3. Dailymotion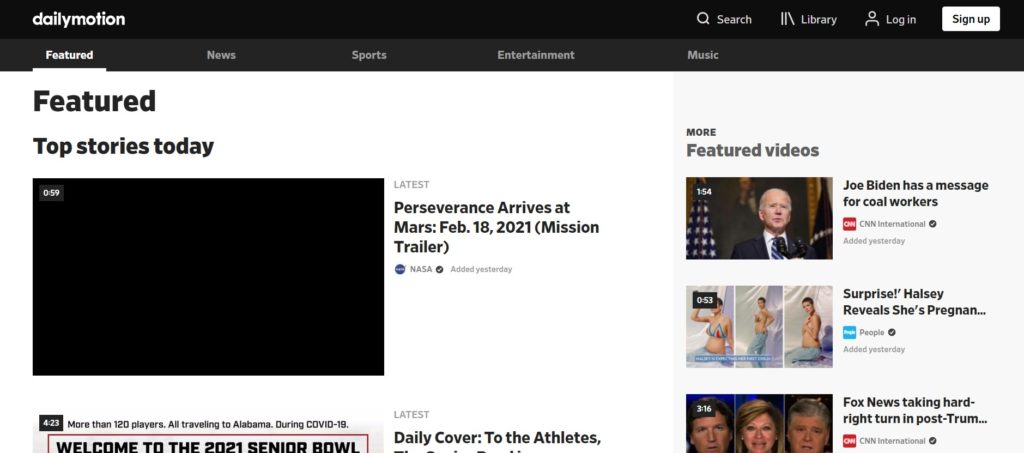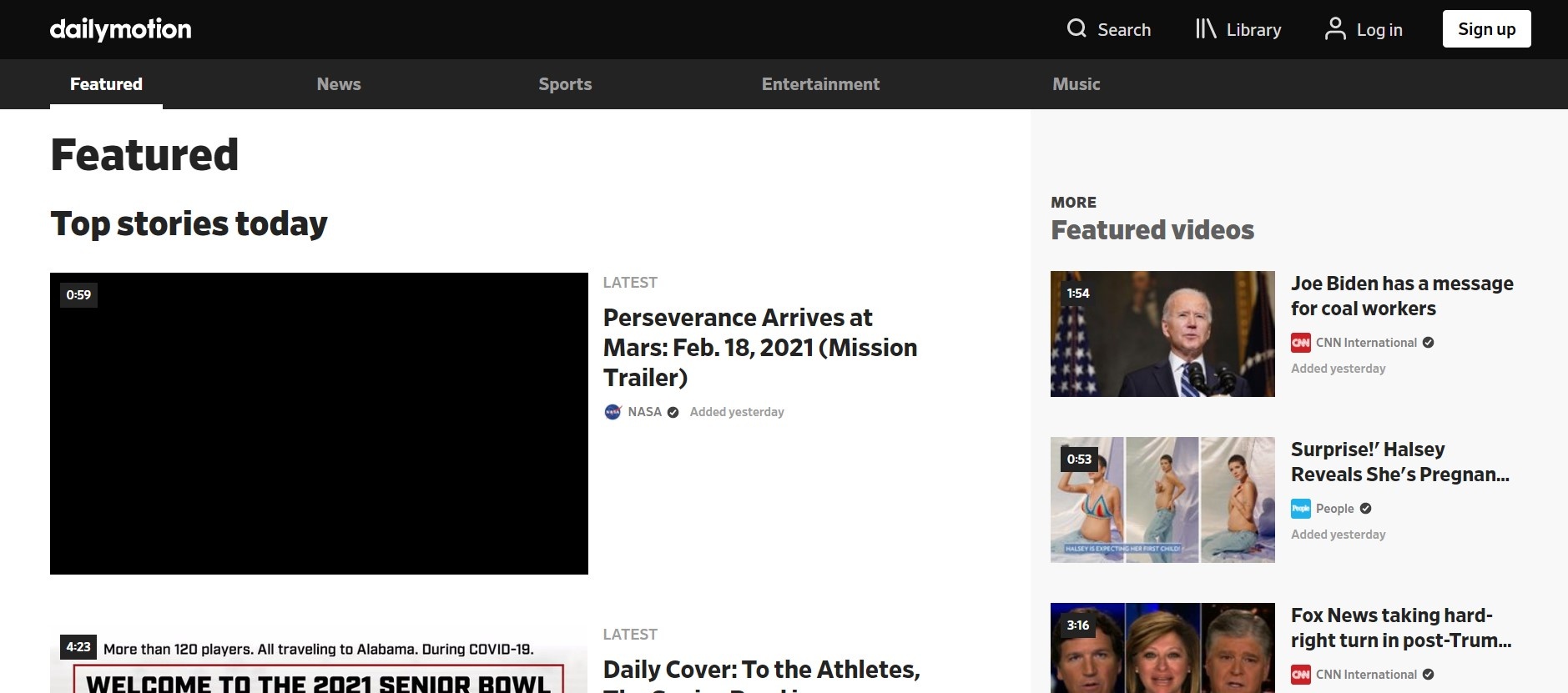 The primary reason behind the popularity of Dailymotion as a YouTube alternative is the flexibility in various revenue sharing models. However, the video sharing platform caps file size at 2GB and limits the length of each video to 60 minutes. Just like YouTube, it's also one of the best video upload sites where creators can upload videos and view can browse content.
The user base is approximately 300 million per month. Thanks to its easy monetization program, users can easily earn decent revenue on the basis of views on their videos. Creators can upload 2 hours of a video each day with a restriction of 10 videos. But on the upside, the platform doesn't charge content creators to upload.
If you are a pro user, you can easily upload high-quality videos with a 1080p resolution limit. As long as you follow the guidelines, there is no reason you can't add Dailymotion to your video upload sites list.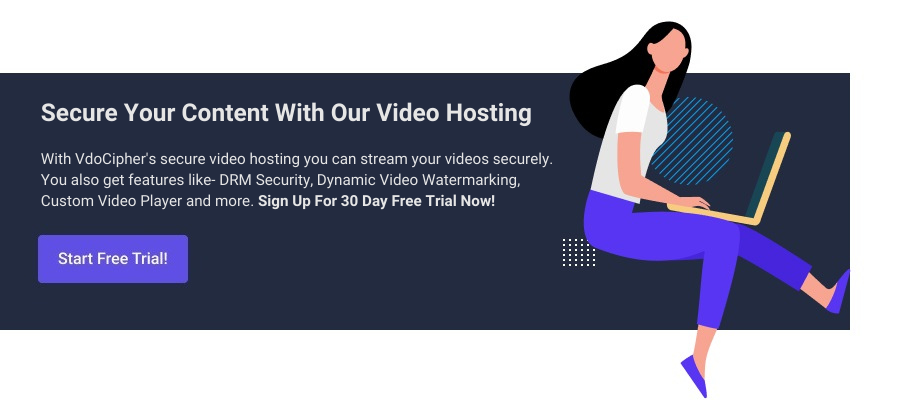 4. Metacafe
If short-form content is something that sparks your interest, this video sharing platform is a simple platform facilitating both the browsing and uploading of such content. It's absolutely free to join Metacafe. It's a small scale YouTube alternative in which the length of the videos is 90-180 seconds. With 100 MB of the file size limit, users can create short duration videos as long as they follow the guidelines of the platform.
A better explanation for the service type on Metacafe is that it's similar to Instagram Stories and Snapchat (you can add fun stickers, filters and icons). The only difference is that it's older and the videos don't disappear after 24 hours. The target audience for this video sharing platform is people looking for quick tutorials, product reviews, and funny videos.
Creators can't automatically add videos to Metacafe. After they have uploaded a video, a big community comprising around 80000 volunteers decides whether they should add it to the public channels.
5. TikTok
TikTok has been the hub for short-form content creators since it came out. This video sharing platform is not only popular among the common masses but among celebrities as well. The best part is that you don't have to be extraordinarily talented to use it as a YouTube alternative. As long as you can entertain, inform or lip-sync, you're good to go on video upload sites like this one!
Plenty of creators have been using TikTok for showcasing comedy, sports content, DIY videos, gaming stuff, and so on. Popular content creators often get to earn handsome amounts with brand endorsements, sponsorships, and influencer marketing. There are plenty of free sounds and music at the users' disposal. This offers the freedom of crafting clips according to your taste.
If you wish to add an X-factor to your videos, the real-time effects and attractive filters facilitate the same. The size limit for content is 72 MB for Android users and 280 7.6 MB for iOS. The app is easily available for download for smartphones and tablets. This makes it one of the most convenient video sharing sites ever!
Build Your Video Platform With Vdocipher
6.  Facebook Watch
The fact that Facebook has crossed the billion mark in its user base adds to its ever-increasing popularity. Creators, brand pages, and users can easily add their content to a diverse video content catalog.
The feature that makes Facebook watch a great YouTube alternative is the ability to watch videos with friends at the same time. The feed is highly personalized which allows users to easily scroll through their favorite uploads. Apart from the management of subscriptions, creators can access the Facebook creator studio for publishing and moderating video content.
The on-demand content feature is also active in some countries. Not only can the creators insert mid-roll ads in between videos, but they can also take an ad break in the middle of a live video and earn even more revenue. But to fulfill the monetization condition, it's important to have 1 minute each of 30,000 views in total and a minimum of 10,000 followers. Facebook keeps 45% of the cut for itself and offers creators 55% of the revenue.
7. Twitch
Twitch is the humble abode for all gaming freaks across the globe. It streams gaming videos on the web as players get 3500 as the maximum video bitrate. If you are an advanced gamer looking for an opportunity to cash in on its revenue-sharing model, you're in luck! While the payout isn't as high as YouTube, you can definitely extra bucks some extra bucks with previously recorded videos.
To be an affiliate for this video sharing platform, you should have a total of 500 minutes of live broadcast counted for the last 30 days. Other conditions include a minimum of three viewers and 7 unique broadcasts along with a minimum of 50 followers.
On the upside, it doesn't cost a dime to become a Twitch affiliate. This YouTube alternative has 11,000+ content creators partnering with the network. The video formats it supports include MP4, AVI, MOV, FLV, H.264 codec, and AAC audio.
8. TED
The sole objective of TED is to help people learn something new. It's a great YouTube alternative to educate the audience on any niche. From famous speakers to professionals and the common masses, this nonprofit organization features them all. The talks are usually in the form of podcasts or videos which Spark the audience's interest almost instantly!
9. IGTV by Instagram
Just take a stroll down the street and you won't be able to find many people not scrolling through their Instagram news feed. If I had a nickel for every time someone sent me an interesting IGTV video, I'd be Filthy rich! Targeted towards smartphone users, this video sharing platform offers entertaining and informative content within the Instagram app.
Moreover, in 2020 Instagram launched its first stage of IGTV monetization. That's when it also became a great YouTube alternative. Just like YouTube, video producers can easily track how their videos have been performing. Plus, sharing IGTV videos is completely free of cost! This video sharing platform is also a boon for businesses trying to build brand awareness.
Also, you can use tools such as AiGrow to convert Youtube videos to IGTV without download being required, repost Instagram stories that your NOT tagged in, and schedule all your Instagram posts including videos on your feed, carousels, Story and IGTV.
10. DTube
DTube is a video sharing platform that holds many similarities with Dailymotion and YouTube. It relies on blockchain technology for storing videos, unlike YouTube's centralized server. This makes the data safe from hackers. Thus, DTube is a great YouTube alternative. Instead of displaying ads, DTube is one of those video sharing websites that offer cryptocurrency revenue to the content creators.
11. PeerTube
Just like its name suggests, PeerTube is among those video sharing sites that offer a peer-to-peer video sharing platform. This means that it doesn't use a single server like most other video sharing websites. Users can easily host their own servers known as instance. You don't have to worry about censorship on this platform as creators are free to upload all kinds of videos. But the video library of this video sharing platform is a little scarce due to PeerTube being relatively new.
12. LiveLeak
Unlike video sharing websites, the mainstream news doesn't cover everything in an event. That's when video upload sites like LiveLeak come into the picture. In the past, many video creators have posted graphic or controversial content on this video sharing platform which provides complete insight on an incident. The restrictions on video sharing sites like LiveLeak are minimal.
13. 9GAG TV
This video sharing platform enables users to upload pictures, GIFs, and videos. The Hong Kong-based social media site also allows users to upload videos from other social media platforms. Launched in 2008, it has made its way through the top video sharing sites in the world. It offers engaging informational, and entertaining content without any limits which makes it a leading YouTube alternative.
14. Webdew
According to WordStream, readers retain only 10% of a message while reading as compared to 95% while watching a video. Combine that with a dependable and fast internet connection and you have a plethora of content flowing in your direction! This gives content creators a golden opportunity to showcase their knowledge and creativity to viewers from all over the world. To express ideas into visuals, organizations hire the best video production company that produces powerful animated videos. 
Now we know that YouTube has got it all in terms of information and entertainment. But it's not the only video sharing platform worth mentioning. YouTube alternative sites are just as good!
Showcase Your Creativity Across Video Upload Sites
Webinars, tutorials, product reviews, interviews, vlogs, movies, series, animations, explainers, and so on! According to Marketing Charts, the average user spends 100 minutes watching videos online in a day. Doesn't that automatically make video sharing websites evergreen?
It's understandable that rolling out unique and fresh video content can be daunting. That's the reason why despite so many video sharing sites, creators still sit on the sidelines. But once you are familiar with the wants of your audience, a good video sharing platform makes the process a breeze.
However, a major problem for creators sharing videos is piracy. Don't sweat it. All you need is secure video hosting that prevents unsolicited downloads and captures. It doesn't matter which software or internet plugins someone uses. So, what are you waiting for? Quench viewers' thirst for information and accomplish your video goals with the best video sharing sites.
Supercharge Your Business with Videos
At VdoCipher we maintain the strongest content protection for videos. We also work extremely hard to deliver the best viewer experience. We'd love to hear from you, and help boost your video streaming business.
Free 30-day trial →
Head of Digital Marketing at Vdocipher. I love the art of connecting the right product to their users. When i'm not doing that i love getting lost in books.