Enterprise Video Platforms are platforms that offer solutions to meet the unique needs of managing the video content and video communication of an organization.

These video platforms are used for meeting the video streaming demands of business environments (employees internal communications, external customer and client communications, employee training, corporate learning, Video content library, onboarding, All hands, town hall, Webinar, customer support, etc).

An enterprise video platform (EVP) provides an enterprise video software that can either be hosted in the cloud or deployed on-premises

Apart from offering these enterprise video solutions to an organization for daily business operations, An Enterprise Video Platform must also ensure data security and easy integration with the organization's existing IT infrastructure.
Apart from usage within the organizations, The video also provides a way to reach not only employees but prospects and existing customers
Seeing the market growth and current pandemic scenario, the enterprise video market is expected to grow from USD 16.4 billion in 2020 to USD 25.6 billion by 2025.
Major factors driving this growth are the growing organizational requirements to improve operational efficiency and employee productivity, the organization's requirements to connect more efficiently with the remote employees/clients/users/customers spread across the globe, and the rapid increase in adoption of video communication.
How Do They Differ From Free Video Platforms Such as Youtube?
Video platforms like youtube are generally used to sharing content globally, youtube provides a platform to its users to publish and distribute the videos to internet-connected devices across the world. These platforms are not created for solving a specific problem for businesses or for meeting the business requirements of an organization.

Also when a company/organization shares a video on these platforms, they lose the right to the content.

Platforms like youtube can be blocked in a certain region of the world eg. youtube is blocked in China. Also, many organization blocks these online platforms like youtube to increase the workforce productivity and make them stay away from distractions.
The technical Support from these platforms like youtube can be slow as the number of users is very very high and it is difficult to address all the issues timely and resolve them. 

To tackle these above issues and to get a complete solution for meeting business requirements, organizations use the services of an Enterprise Video Platform. An organization seeks the below features from an ideal Enterprise Video Platform.
Security- 
The content shared on platforms like youtube is mostly for making the content seamlessly easily visible across the globe. This is the reason the videos hosted on youtube and similar platforms are not secure. The public videos, as well as the private videos, can be easily downloaded using the popular hacks and tools

Unlike youtube and similar other platforms, the videos on Enterprise Video Platforms contain sensitive content of an organization and cannot be shared publicly on the internet.
Companies seek various features like Encrypted video streaming, Video DRM (Digital Rights Management), IP restrictions, dynamic watermarking, etc as part of the solution package to protect their video content. 
Branding & Customization Of Player-
The player offered by non-enterprise video platforms isn't exactly customizable. For example, the branding of youtube is always present on the player is always and it can not be removed/customized. Enterprise Video Platforms provide options for customization of the player, they also offer various themes and buttons to make the viewer's experience more interactive.

Ads and Suggestions Might Distract Users-
Youtube and other non-enterprise video platforms tend to have ads, and this can be really distracting as a user. Also, at the end of a video, the player often shows irrelevant suggestions. Users often tend to click it. Next thing you know that the viewer has left the video/website altogether. Enterprise Video Platforms eliminate this problem and provide a pure Ad-free viewing experience.
Better Analytics, per-user analytics-
Data and analytics are very useful in organizations, it helps in measuring the success of video content and evaluate and optimize the ROI on it. 
Video Analytics plays an important role in finding the trends and patterns related to viewer experience and engagement.
it also gives details if a user has watched the allocated content and performed the next action item.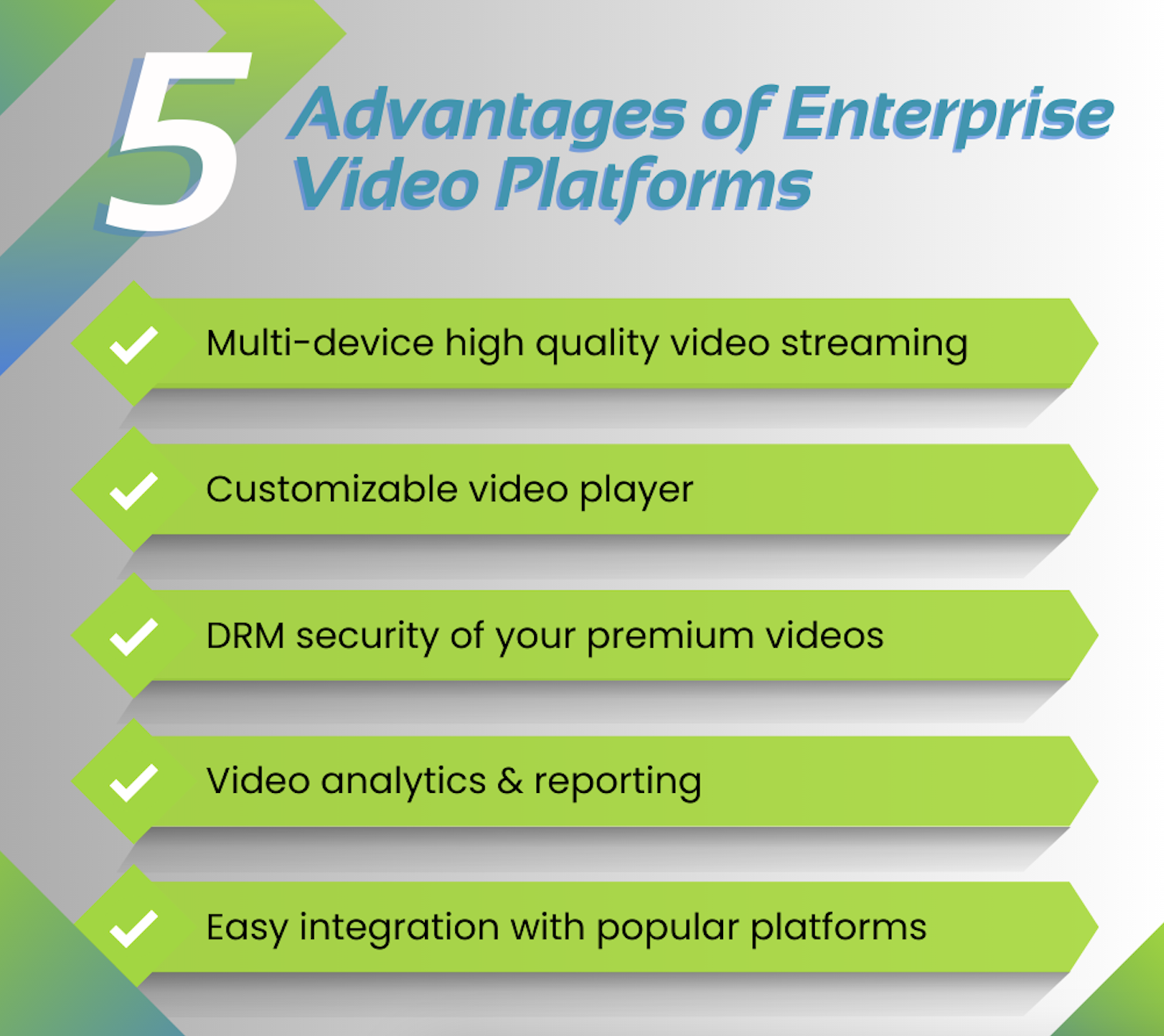 Using CTAs to drive user behavior (quiz, survey, form, etc.)-
CTA (Call to action) plays an important role in a good Enterprise Video Platform. It is used to direct the user to the next steps during and after the video. It allows the video creator to place questions, forms, surveys, etc at various positions in a video. They can also redirect the user to a specific page.
Video APIs to make your life easier-
API and SDK are an important feature that helps an organization to easily configure the Enterprise Video Platforms technology with its existing services (websites/apps) and for custom integrations.
Dashboard to manage videos-
These platforms offering enterprise video solution usually gives a dashboard to manage the videos and gives control to the user to manage the video contents as per the needs. They can arrange the videos in folders, create playlists, manage the video expiry and user's access to the videos.
Support
Just like a conference call service is an important part of an organization nowadays, video services are also an important part of the daily functioning of an organization. Therefore, good technical support plays a vital role when choosing an Enterprise Video Platform. Apart from this, companies sometimes integrate a contact center solution as well in case customers have additional questions left.
Top Enterprise Video Platforms 
Below is the list of Top 6 Enterprise Video Platforms present in the market
1- VdoCipher
VdoCipher provides enterprise video solutions for businesses to help them serve content on their site/app in the most secure and smooth manner.

A combination of Hollywood standard DRM encryption (Digital Rights Management), screen capture blocking in mobile apps, viewer-specific dynamic watermarking, and domain restriction features ensures that videos can't be downloaded or shared illegally from their platform.

VdoCipher allows organizations to Integrate their existing platforms with its services and helps them to play their video content on their website/app in the most secure and smooth manner. 
The complete packaged offering includes Global CDN server hosting, a Smart HTML5 video player, Detailed Analytics, Dashboard, and APIs to manage the videos. VdoCipher serves 2000+ businesses across 40+ countries.
2- IBM Cloud Video
IBM Cloud Video is an online video platform that provides enterprise video solutions for End-to-end streaming video services. It provides broadcast of pre-recorded content as well as broadcasting live content as well.

It provides Video hosting, transcoding, live streaming, automated speech to text, and analytics – in a cloud video platform. It provides a dashboard for administrators to manage the contents.

It also provides Multi-CDNs to provide an error-free smoother playback. 
3- Qumu
Qumu is another popular Enterprise Video Platform that offers a variety of cloud video platforms, on-premise, and hybrid solutions to organizations to create, manage, secure, distribute live and on-demand video content. 
The Qumu services can be easily integrated with existing video conferencing and collaboration tools including Zoom, Slack, Skype for Business, Sharepoint, Jive, Yammer, and Workplace by Facebook—as well as hardware from Polycom and Cisco.
It also offers features such as Automatic Live Captions, Translates, transcribes, edits and publish captions to their asynchronous video. It also gives Advanced Analytics feature that displays real-time network and usage data.
4- Haivision
Haivision provides enterprise video solutions through its SRT (Secure Reliable Transport) video streaming protocol. It is an open-source video streaming protocol developed by Haivision, it allows users to deliver high video quality, low-latency video streams across the public internet and to optimize video streaming performance across unpredictable networks.
The other main features offered by Qumu are Advanced Editing Tools, High-Capacity Video Recording, Multi-View Live Streaming Playback, Live Review Playback.

5- Brightcove
Brightcove's enterprise video suite provides services for internal video communication, employee video training and enterprise live video stream.

Brightcove's enterprise video suite allows you to create and deliver engaging video communications to inform and educate your employees.

Some other features include Multi-bitrate and adaptive streaming, responsive player, Player Management, etc. The security offered by Brightcove has IP restriction, URL tokenization, and single sign-on (SSO).
6- Microsoft Stream
Microsoft Stream is an enterprise video platform that allows video storage, sharing, and collaboration on its platform. Microsoft offers these enterprise video solutions by offering robust cloud-based applications for live communications as well as VOD content storage and management.

Only the users with valid Microsoft 365 credentials can get access to add, organize, share, and view video content in Stream.

In Microsoft, Stream Users have access to various channels and they can watch the videos and also use these videos across various apps/tools offered in Office 365.
FAQs
What are some of the key features of an enterprise video platform?
Video hosting and streaming, Content management, encoding and transcoding, Video analytics and user reporting, Security with access controls, and Integrations with other enterprise tools.
Does an enterprise video platform provide analytics?
Yes, enterprise video platforms like VdoCipher offer video analytics. Users can track their video performance, demographic factors, viewing time, and more.
Does VdoCipher offer a custom video player for enterprise requirements? If so, what features do they offer?
VdoCipher custom player comes with useful features such as DRM protection, Dynamic watermarking, Chapter, Auto resume, Picture in Picture, Video analytics, Gestures, and more. Also, the player is lightweight and additionally provides Adaptive streaming and speed control.
Supercharge Your Business with Videos
At VdoCipher we maintain the strongest content protection for videos. We also work extremely hard to deliver the best viewer experience. We'd love to hear from you, and help boost your video streaming business.
Free 30-day trial →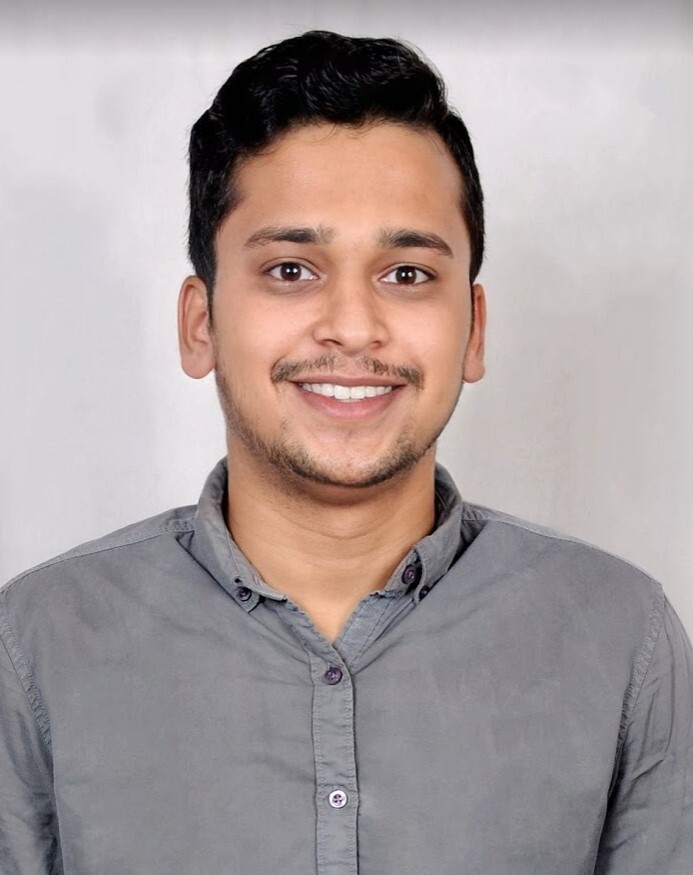 Tech enthusiast, Love sports and music.