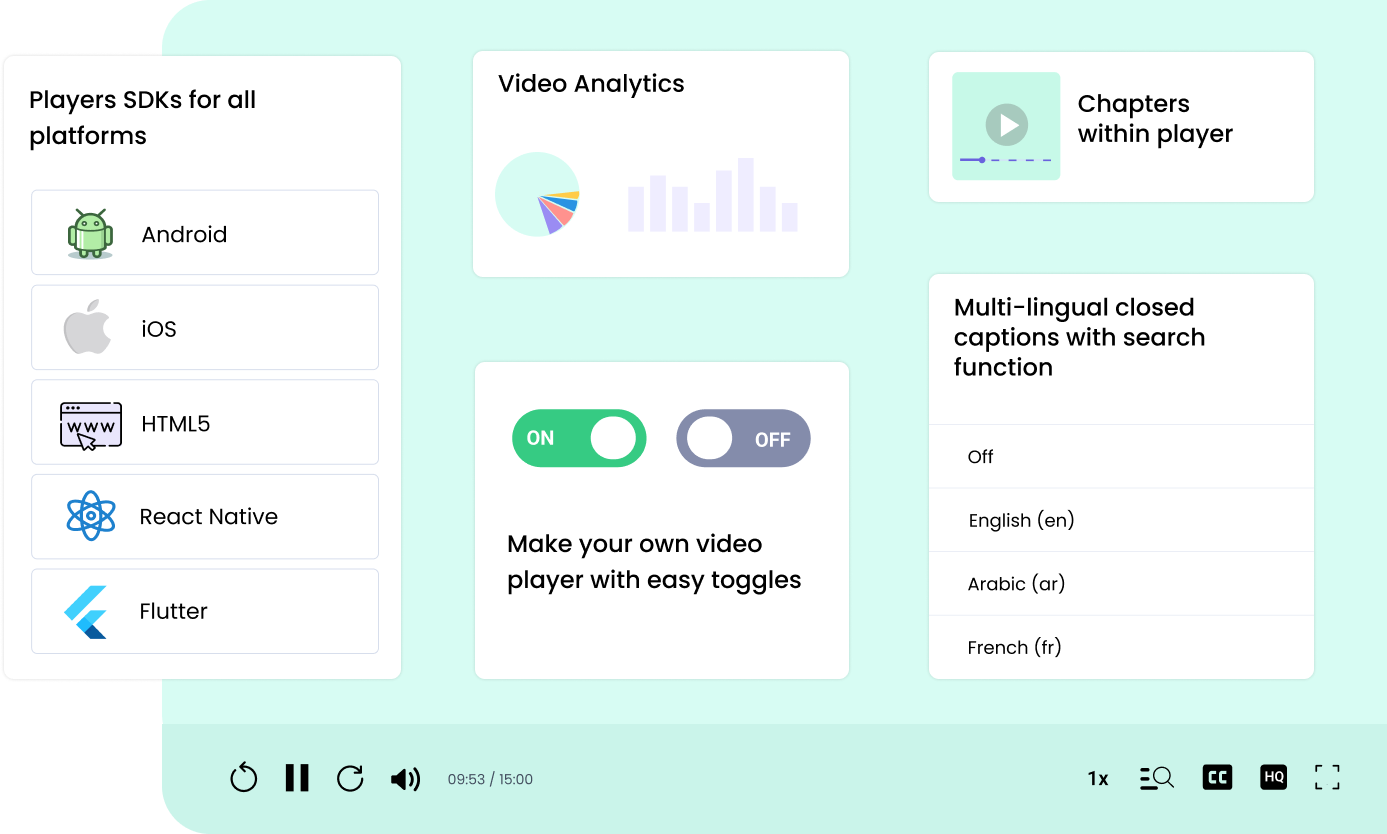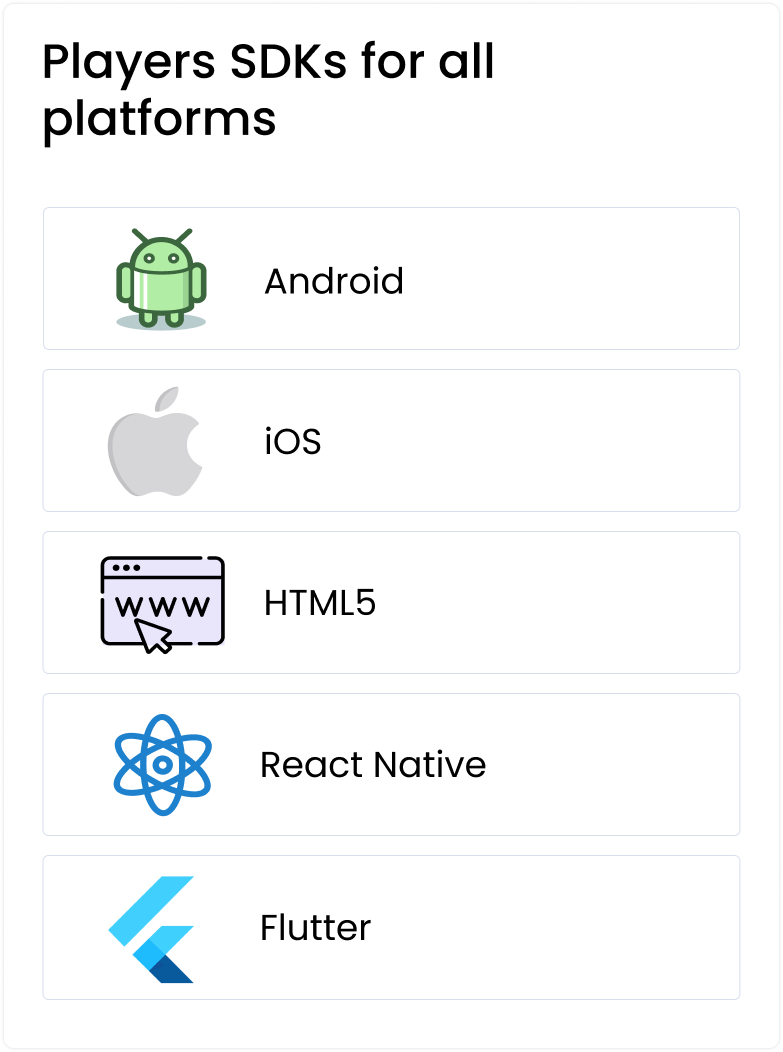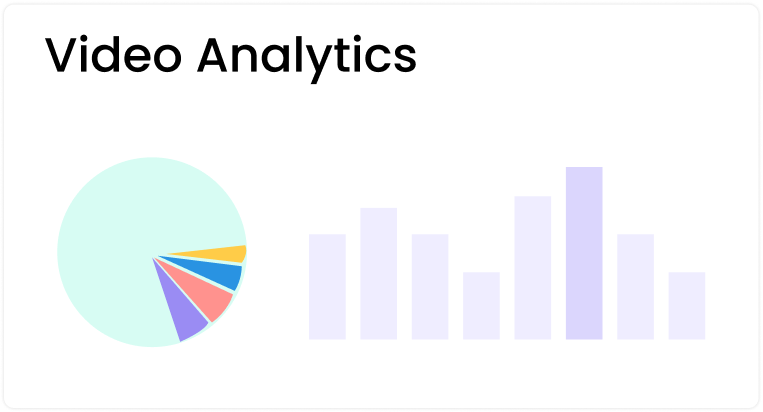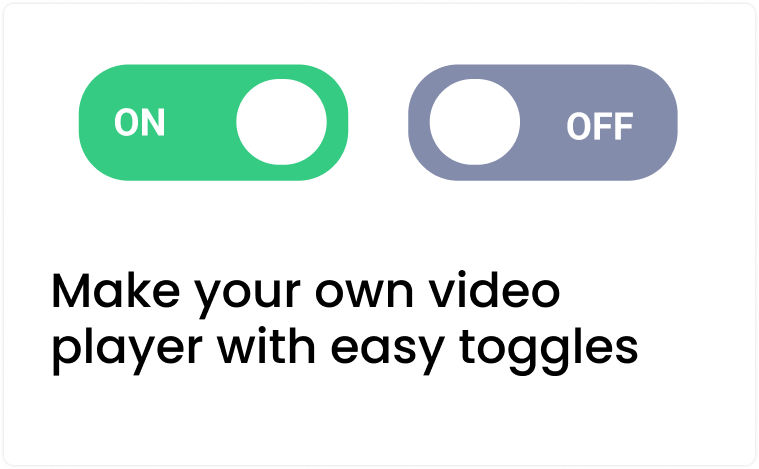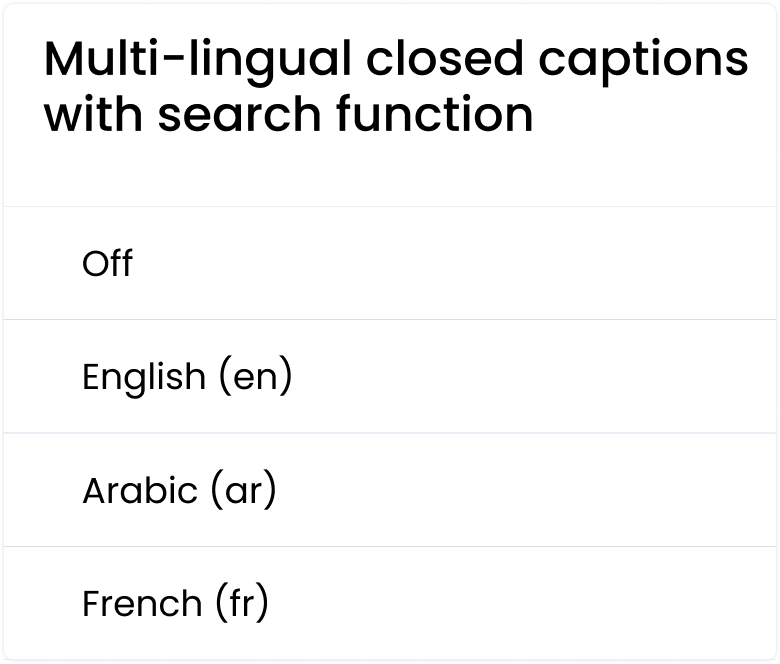 Business Customers across
Countries with VdoCipher customers
Content Views Every Month
VdoCipher is now integratable with your favorite LMS
Make Your Player Yours With these Smart Video Player Features
Chapters
Split your video in different sections, making it easier for users to jump to a specific part
Auto Resume
With auto resume, your videos resume playing from where you left off the playback last time.
Offline Download
Download videos on mobile devices to watch offline securely on the app video player.
Light-weight
VdoCipher's custom video player is super light and loads very fast.
Video Analytics
Keep track of how your users are engaging with your content with detailed analytics.
Picture In Picture
Watch your videos in a floating window while you access other applications.
Keyboard shortcuts
Use keyboard shortcuts with smart video player to pause, play and forward video.
Gestures
Use gestures like tap, double tap, and swipe on the mobile app video player.
Adaptive Streaming
Your video quality adjusts on the smart video player according to your network speed.
Speed Control
Adjust the speed of the video according on the secure video player to your requirements.
DRM Protection
Our custom video player HTML5 is DRM protected, No plugin or hack can download your video.
Dynamic Watermarking
Our app video player comes with Dynamic Watermarking to discourage any screen capture.
Learn What Our Customers Have To Say About Us!
We provide premium Hollywood & Bollywood movies for 100,000+ viewers. VdoCipher DRM security is an essential part of our infrastructure. Integration and compatibility are key aspects of DRM offering, supported well by VdoCipher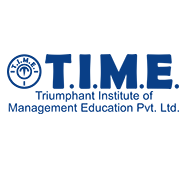 TIME Education Platform
Abhijeet Jagirdar
TIME is a Leading Test prep institute with 50,000+ enrolled students. Key feature requirements are scalable robust infrastructure with security from piracy. VdoCipher CDN + player was apt in meeting our security and stability needs.
Care and Health Law
Belinda Schwehr
I have used VdoCipher's services to protect my intellectual property in specialist legal framework webinars in UK. I have had help to whitelist videos for customer intranets, and found that the customer service is efficient. The package gives me peace of mind
FAQ
What is a Custom Video Player?
A custom video player is an online video player that you can personalize according to your own brand and can even change the color, design, and player controls according to your requirements. You can build your own custom html5 video player with VdoCipher. Features include custom video controls, change player appearance with toggle buttons,adaptive playback, video speed change, multi-language subtitles, and custom overlays and the watermark
What is Adaptive Bitrate Streaming?
Adaptive bitrate streaming is a video streaming technique where you offer various streams with different bitrate to your users by detecting any fluctuations in the network speed along with the device's processing to automatically chose the right bitrate for streaming in real-time..
How much can you customise video player?
You can pretty much customize the whole smart video plyaer, you can change the color and theme of the app video player, choose which custom html5 video controls you want to keep. You can even hide the custom video controls under a button.
Is video download and screen capture prevented on all devices?
illegal downloads are stopped on all major browsers and apps. Whereas, screen capture is prevented in mobile apps and safari browsers. Dynamic watermarking is available on all major browsers and android apps.
How can I integrate vdocipher with my site or app?
You can click on the 'Embed' button below any video on the dashboard to check all methods to integrate in your site/app with highest security.
Sign Up & Get Started Now!
* 30 Days Free | No Credit Card Required