DRM Encrypted Streaming for Videos
Hollywood Grade DRM Protected Video Streaming that protect your videos from hackers and downloaders
Widevine DRM default integrated, Integration option for Fairplay DRM. Security for Desktop, Android, IOS.
Highest security for native app playbacks via DRM Encryption. Offline security in Android App
Maintain exclusive control over user access to your videos
Start Your
30-day Free Trial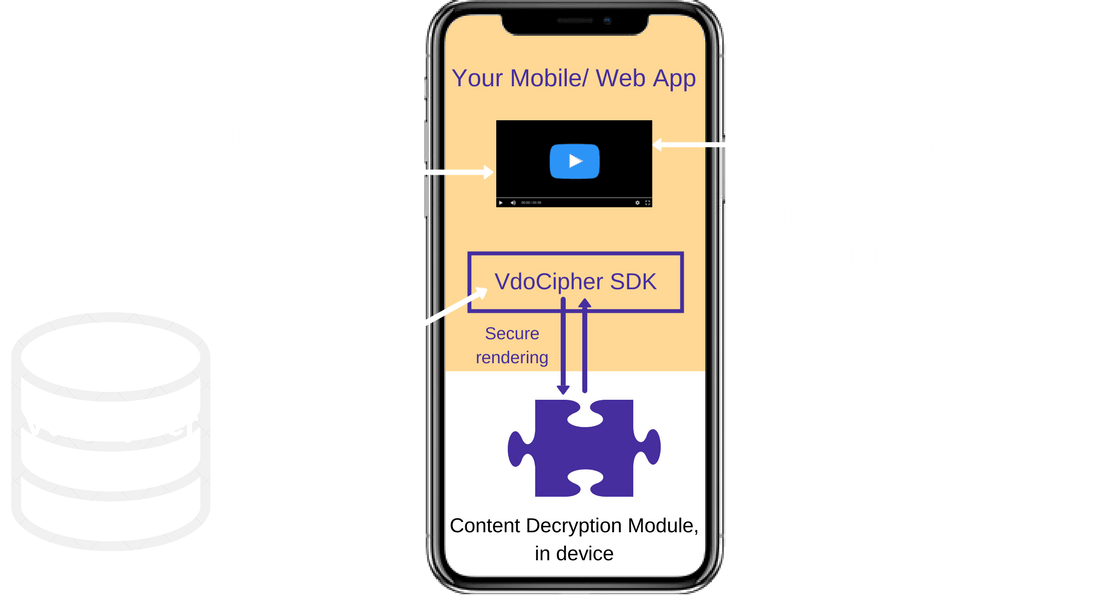 DRM Encryption & Other Security features to ensure DRM protected video streaming and help you boost revenues
Dynamic Watemarking
Add IP address, User-Id and Email-Id to deter screen capture. Identify point of origin of piracy.
Sample Watermark
Android SDK for Security on Mobile
Integration with Google's Widevine DRM to disable screen capture and ensure Hollywood-grade security on app.
Android SDK Integration Guide
'I have used VdoCipher's services to protect my intellectual property in specialist legal framework webinars in UK. I have had help to whitelist videos for customer intranets, and found that the customer service is efficient. The package gives me peace of mind'
Belinda Schwehr
Care and Health Law UK
What is DRM & Multi DRM ?
DRM (Digital Rights Management) as the word suggests relates to managing and securing the digital right of content. In particular to Video, DRM typically stands for the protocols built by Google, Apple & Microsoft to secure content in various devices & browsers. This includes high secure encryption and licensing technologies to prevent video download and prevent also screen capture in certain cases.
The video DRM protocols are essentially maintained by likes of Google & Apple but are implemented and provided as a final packaged solution by companies like VdoCipher. E.g VdoCipher is a direct partner with Google for Widevine DRM & integrates it as a default security component in its solution for customers.

DRM based encryption is better than standard open-source encryption because the key exchange mechanism is higher secure & black-boxed in case of DRM supported video playback.

Multi-DRM for videos - A single video DRM is not enough to secure content on all browsers and devices. At least 2 DRMs. Google Widevine DRM & Apple Fairplay DRM are required for a complete compatibility package.
-
Google Widevine video DRM secures content on Desktop/Laptop (Windows, Mac, Linux) - Chrome, Firefox, Edge browsers, Android App, Android Chrome, Edge browsers, Android TV & Chromecast.
Apple Fairplay video DRM secures content on Mac Safari, IOS Safari and IOS App.