According to Dataprot, around 24% of internet bandwidth is used to illegally download or upload copyrighted content online. This also includes lot of e-learning video content. Piracy continues to grow, as pirates find creative ways to download and illegally share content. Park Associates stated that revenue loss due to video piracy can exceed $61 billion in 2020. For 2023, this revenue loss is projected to be around $63 billion. It's high time you think about e-learning video protection!
We cover various methods, technologies & statistics on both video piracy and video protection in this blog.
Introduction to the e-learning video piracy problem
It can be a real downer, creating good quality content and only to realize that it's been distributed all over by the pirates just after a few days of launch. No content creator would ever choose to be in such a position. 
As the technology progresses so does the means to pirate your content. There are several tools such as  Video Download Helper, IDM which are used extensively to download premium content. These tools are easy to use, users just need to put in the URL of the video to download it or they work as an extension on the browser. So these make digital customer journey better. From here on it is quite easy for your content to pop up in the popular sharing platforms like Telegram or torrent or sometimes even Youtube.
But there are solutions to preventing this too. Major ed-tech companies have adopted technologies such as account restriction and DRM video encryption (DRM – Digital Rights Management) to protect their content. 
In case you are still wondering how to create online courses, feel free to check out these elearning video software to fulfill all your basic requirements to create courses.
So, before I take a deep dive into how you can stop your learning videos from getting pirated, I'll explore how pirates are getting access to your videos.
How Are Your Elearning Videos Being Pirated?
Edtech companies lose a lot of revenue and paid users due to content piracy. One paid user downloads the content, shares it with their friends or on some online platform. Thus many users often chose not to go for the premium course when the same content is available for free. This is a major issue, if by now you have not put much thought into it; you might want to take actions against it.
Passwords Sharing
A lot of times students share the password to their learning account to their friends. As a result, all of their friends or anyone with the password can view the premium account. You might not have restriction on total watch time and device usage. Using this loophole several students can use a single account to access content for free.
Piracy done by password or credential sharing can be done in a few forms, these are:
Casual – Shared among friends and family. 
Swapping/pooling – Where users(often strangers) share their passwords with each other to benefit from different services they are already subscribed to.
Commercial – When a user sublets an account in exchange of money.
Password Theft –When account credentials are hacked and stolen from the users. These accounts can be further sold by Pirates. In 2019, there were around 5 billion hacked accounts up for sale or use in both open or dark web combined.
Content Downloading
At present, there are several tools available to your users to download your premium content easily. All they have to do is just enter the URL of your video in the tool or use it as browser extension and voila, your premium content is easily downloadable.  Detailed statistical analysis on such popular video downloaders was done by us previously here.
Also, pirates often hack the key used to encrypt the video which allows the video to be decrypted and accessed directly from the CDN/Server. 
Copyright Violation
It is also quite possible that someone who has downloaded your course might edit it slightly, rename and then eventually sell it as their own. There have been several cases like these where someone sold someone else's copyright content on a different platform. 
Back in 2015, there was a huge outcry against Udemy regarding the selling of copyrighted content. In one such case, the content was taken from Troy Hunt's channel on plural sight and was uploaded to Udemy without their consent. You can read more about this in the Verge's article on the Udemy controversy.
Screen Recording 
Another way by which malicious users might pirate is your content is by performing screen recording from their mobile or computer. After that content can be spread all over the internet making it easy for anyone to access the content without paying for it. 
How To Ensure Elearning Video Protection?
Now that you know why and how your content is being pirated let's further explore what you can do to ensure elearning video protection. Torrent has been a long source for pirate to enjoy free content. Lately, this has changed to an extent. Even though torrent is still being used, modern-day pirates keep finding new ways to loot premium video content. Some of which was completely unheard of before. It's not just about illegal copying of files, but also unauthorized "access". 
Block Password Sharing
As discussed before password sharing is one of the major causes of piracy. Students often share passwords of their accounts with each other. This results in several simultaneous logins from an account. This leads to the consumption of the same premium content several times. Which ultimately leads to a loss in revenue that you could have gained from those views
-In WordPress
A simple solution to this is to block password sharing. If your website is based in WordPress, one simple way to do this is by using WordPress plugin to block simultaneous logins.
By using this plugin, you can ensure that at a time users can only login from a single device, ultimately stopping the account from being accessed by multiple users at the same time.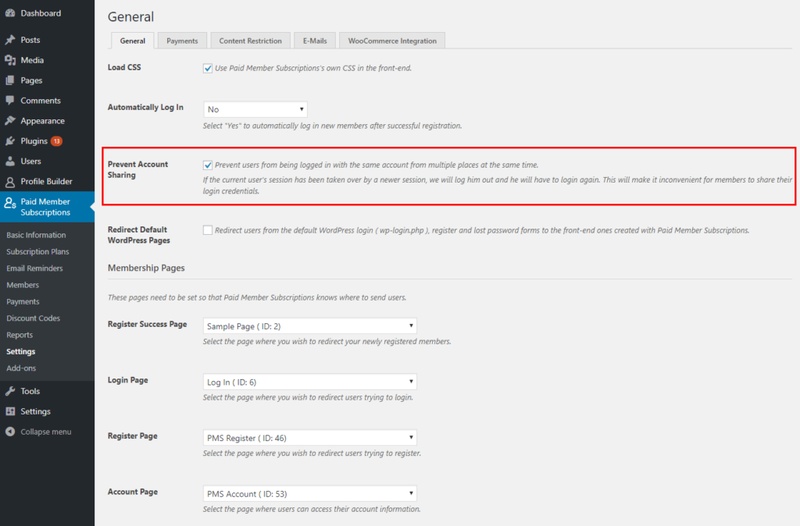 Another plugin you can use to block simultaneous login is WP bouncer
-For non-WordPress websites
If you're not a WordPress user, you need not worry about video protection, although for this you'd need to take the help of your developers for this. Without going into technical terms I'd simply explain it to you how you can achieve this. 
For this, you'll have to generate a unique ID  login and write that ID to the database for that user. Set that ID as a cookie for the user. When you receive traffic from that user, only consider them logged in if their cookie matches the value in the database.

When the user logs in to a new device, a new unique ID is generated and sent as a cookie to that new device. The new device's traffic has a cookie that matches the database and is therefore considered logged in. When the old device visits your application, the login cookie no longer matches the value in the database, so the user is considered logged out.

When the old device logs in again, a new unique ID is generated in the database and sent as a cookie to that device. They are now logged in, because of their cookie matches. The second device, having its cookie no longer match the database, is logged out.
Using SSO for login
Another way to curb password sharing can be by using Single sign-on for login to the user account. Using SSO a user can log in to the platform using social login such as Google, Facebook etc.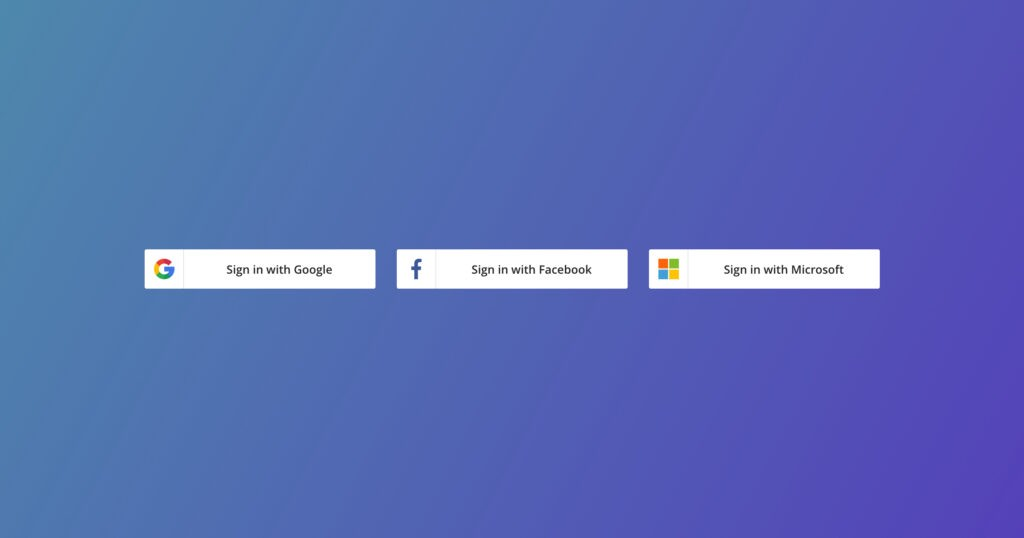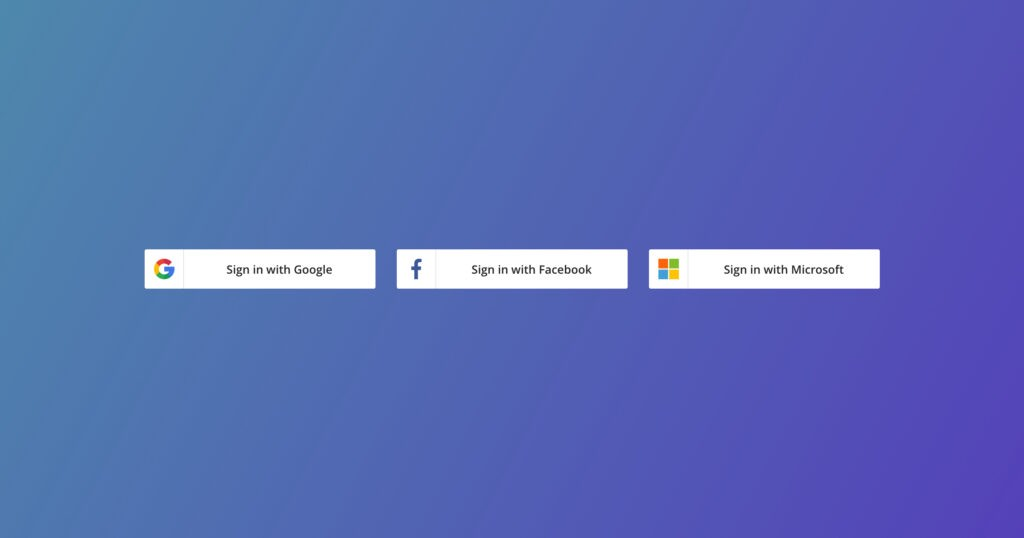 Even though a user might share their login for the e-learning video platform easily but a Facebook or google password is more personal and the user would refrain from sharing it with their friends. Also, since it's SSO is user friendly and it saves trouble such as remembering password and login is much simpler with just a click it makes sense to promote this feature to the user.
Restrict Video Watch time to Prevent Misuse or Overuse
Another way to make sure that the account is not shared by the users is to restrict the total watch time for a user. Typically a user won't watch a lecture twice or thrice, depending on your user's behavior you can keep a total playback time for a video restricted. 
This way you can ensure that your e-learning video is not being watched multiple times by several users. For a more technical explanation on this, you can refer to the video linked for restrict watch time by vdocipher, also, in case you need code for this you can get it here.
All the above-mentioned methods for e-learning video protection catered to access related piracy, another important way is to prevent video download.
Using Video Encryption
Video encryption technology is used to secure your videos by encrypting or hiding them from anyone you haven't been given access. Basically, it stops anyone from viewing the video without your permission(the encryption key).
At present there are two major popular and easy-to-use encrypted video streaming protocols:
AES 128 Video Encryption (Normal or Sample AES 128 protocol): It is the most common basic encryption technology used by developers to encrypt content and prevent raw video to be seen in the network.
HLS Encryption with AES-128: In HLS Encryption, video streaming is done with the help of HLS protocol and the videos are encrypted using the AES-128 algorithm. Here the key exchange is done via the secure HTTPS protocol and it
The flaw in common video encryption technologies – Even though these encryption by themselves are decent strong and cannot be cracked by brute force but they have a major flaw, that is the fact that their keys are exposed and can be accessed by any hacker or a tool/extension with some effort. Hackers can use the key to easily download the video without making an effort on the encryption itself. 
But you need not worry about this, there is a solution to every problem and there's certainly for this one too. Since the major flaw in common encryption technologies is an open key exchange, it makes sense only to use a technology that can fix this. This is where DRM comes in. 
Using video DRM encryption technology for highest security
DRM(Digital Rights Management) works alongside the DASH & HLS encryption to make the video more secure by making it impossible to find the encryption key. DRM effectively removes any flaws in the video encryption to ensure that the video is not downloadable. 
The two major DRM being used for e-learning video protection are:
Google Widevine DRM: Widevine is a DRM licensing and encryption solution by Google to help platforms to secure their premium content on Chrome, Firefox, Edge browsers on Desktop, Android Apps & Android TV. More details on Widevine DRM.
Apple Fairplay DRM: FairPlay is a DRM technology by Apple Inc. Until 2009 it was used to protect copyrighted content sold on iTunes. Using Fairplay DRM you can protect content on Safari browsers, iOS, and macOS. More details on Fairplay DRM.
In order to ensure e-learning video protection, DRM is often used along with user-specific Watermarking to track any pirated content.
Using Dynamic Watermarking: User Specific details on video
Watermarking involves embedding digital information in a video signal to identify its source of origin. It aims to identify the redistribution source of illegal streaming services. User ID, Email ID, IP address, timestamp are some common watermarking parameters. Many times, the watermark is kept moving in the video at regular intervals to prevent it from being removed easily using video editing tools. 
Screen Capture block where ever possible

DRM video protection with Mobile apps (Android, IOS Native Apps) also have additional security to completely block any screen capture tools from working. This allows pretty hard security in mobile apps.
Domain Restrictions
Another way to ensure e-learning video protection is to make sure that your videos are domain restriction. This enables you to limit your video embed codes to play and load only on your domain. This prevents copying of embed code and its use by hackers to view the video on their domain.
Choosing A Secure Video Hosting Service
In case you don't have much idea using the above-mentioned e-learning video protection technology, you can always fall back on a 3rd party secure video hosting service. 
These hosting platforms take care of all the tech parts related to making sure that your video is secure and streams seamlessly on the client-side. All you need to do is upload the video on the platform, and use the embed code on your website. 
But that's not all a good video hosting platform has a few prerequisites that you need to check while choosing any such service. 
First and foremost, is the

security

, if your video hosting platform does not provide DRM and video encryption, chances are that your premium content might be downloaded and pirated.  

Secondly, a good

video API

to manage videos, to enable automatic video upload and get OTP for playback. Also, to insert custom HTML in the video player, change the player design, and add interactive features using Player API.

Another important feature is

a top tier global server + CDN

to ensure speedy content delivery to the user regardless of their geographic location. Apart from this

video analytics, smart video player also comes in handy.
Top 7 Video Hosting Platforms for Online Courses
How VdoCipher Helps In Elearning Video Protection?
At VdoCipher, eLearning video protection is something that we take very seriously, and our constant endeavor is to ensure smooth and secure video hosting to our users. We ensure the highest security for our clients from video piracy by providing Hollywood-grade DRM encryption and our dynamic watermarking technology.
Vdocipher has the privilege of working with over 1500 eLearning companies from 30+ countries, which made us realize that one of the major concerns for them is video security. Organizations often come to us to ensure that their video is not downloadable and to provide video encryption to ensure it is not accessible. 
At present, there are several platforms that provide Elearning video protection, but their offering is limited to video encryption without any DRM technology. This exposes the key, which an informed user can easily identify and use to access the video. A lot of our current customers have faced such issues before finally sticking to our video security solution. 
Encrypted DRM Video Streaming: With Vdocipher's Hollywood-grade video DRM technology, no one can download your videos using a plugin or any hacks.
Dynamic Watermarking: You can watermark Ip address, user id, email id, phone no, logo, text overlay to identify the source of the piracy. You can even customize the watermark in terms of opacity, color, speed and size as well.
Screen Capture Blocking in Mobile Apps – VdoCipher mobile SDK integration default includes screen capture protection in both Android & IOS Apps. Screen capture protection in common browsers like Chrome, Firefox on desktop is not possible.
Server To Player Package:

 With Vdocipher you not only get video protection but we also provide Amazon AWS for Servers, CDN, Transcoding, Analytics, API, Dashboard, Plugins, and Custom workflows.

All these features further add to the security and make it easy to control your videos. 
Smart Online Video Player

: With our smart

online video player

, you can give access to popular features such as subtitles, speed changes, and forward rewind options to your users. In case you provide an android app, you can also give the option to keep those videos for offline use without worrying about piracy. 
Above mentioned eLearning, and video protection features are our core features, and we provide a wide range of small features to support them. You can check out all of our features on our blog- Vdocipher's video hosting features.
Also,
Read:57 Video Hosting Features By VdoCipher for Video Website & App
That's All For Now
Noticing how the demand for e-learning content is on the rise, it's high time that if you run an ed-tech company, e-learning video protection should be one of the top priorities.  After all, why wouldn't you since the major source of revenue for any ed-tech company is their content and without proper countermeasures, you might incur a heavy loss even though the quality of your content is of good quality.
You need to make sure that your accounts are protected against password or account sharing, where multiple users are using the same account to access your content. Also, make sure that the content is not easily downloadable with the help of video DRM and video encryption technology. To top it off in case any content might leak, screen capture block in apps and watermarking on the desktop can help you ensure enhanced security. Do leave any comment down below, in case you have any questions regarding video protection.
Video Protection Package for eLearning videos
At VdoCipher we maintain the strongest content protection for videos. We also work extremely hard to deliver the best viewer experience. We'd love to hear from you, and help boost your video streaming business.
Free 30 Day Trial
Head of Digital Marketing at Vdocipher. I love the art of connecting the right product to their users. When i'm not doing that i love getting lost in books.