E-Learning materials are highly flexible and available in multiple formats (audio, e-learning video, text notes, PDFs, spreadsheets, presentations, etc). They can also be accessed anytime, anywhere, over any device (desktop computers, tablets, smartphones). It can stand alone as digital online courses or can be integrated into corporate Learning Management Systems (LMS) as well.
Nowadays, e-Learning videos are becoming popular and highly used e-Learning formats, yet many users aren't sure from where to begin. Luckily, creating a video has never been easier than before!
Wondering how to begin with the creation of your first e-learning video and develop professional-quality videos in no time? Simple. Just go through this blog and by the end you will learn the best practices for creating/editing an e-learning video by making use of the available e-learning video editors & software.
How To Create Elearning Videos
e-Learning videos are fast becoming one of the most popular e-Learning formats courtesy of players like Byju's, Coursera, Unacademy, Lynda.com, etc.. Online learners, especially the beginners, demand modern, video-based courses not only which are attractive and easy to learn but also are compatible and works well across computers, tablets, and smartphones.
Below are some interesting facts on how popular video content is becoming in this evolution era:
According to Edudemic, 67% of teachers believe video lessons play a very critical role in educating students whereas 46% of teachers have themselves created at least one video lesson.
Skilljar says that 67% of online learners reported taking a video-based class.
Here are some of the finest e-Learning video creation/editing tools that can help anyone achieve their learning objectives. We have categorized them into (1) Online Browser based tools which is further categorized into Animation/Non-Animation Focused & (2) Software based offline tools. You can choose as per your convenience and get started: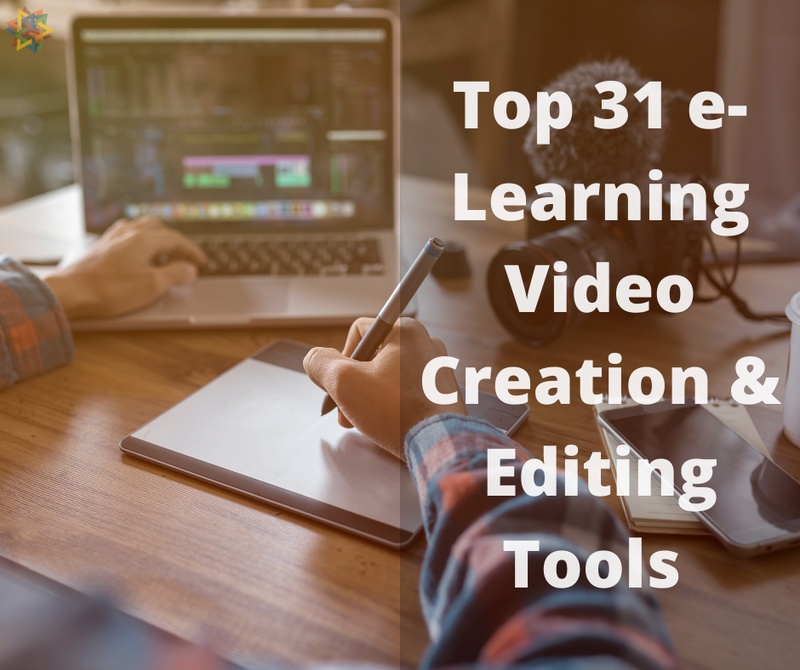 Online E-learning Video Creation Tools
We've compiled an exhaustive list of all the Video tools you'd need in order to make elearning videos.
Elearning Video Tools For Making Animated Videos
1. PowToon
PowToon is a cool online video maker that helps you to create animated videos and presentations and convert your presentations and slideshows into amazing animated videos. It can also be used for creating interactive and engaging online courses/lessons for e-Learning purposes. A user-friendly tool with ready-made, customizable templates, and drag & drop elements is surely not the tool you wouldn't like to miss upon.
2. GoAnimate
GoAnimate(Now known as Vyond) is one of the most common e-learning video makers that provides you with a very neat and professional output. It is an online tool for the companies willing to go for video marketing as well as for freelance video producers too. You get to create your own characters in no time; choose from various editable scenes from different industries, and give a voice to the character which will automatically lip-sync it.
3. Moovly
Moovly is an e-learning video maker which allows you to create videos for various purposes with its catchy styles and templates. Few of the available styles in Moovly are: Doodle Maker, infographics, colorful cartoons, paper cut-outs, etc. It can also be used to create beautiful presentation-like videos as well by making use of the various objects in its library. Moovly lets you easily edit, view, update, rename, describe, copy, delete, and restore your videos or presentations.
4. Animaker
Animaker is another online video maker used to create studio-like animated videos offering a wide range of features such as animation tools, effects, and assets. You can easily create different styles of videos like pros as it's so simple that you just gotta add text to the slides and the rest of the job will be done by the tool itself for you.

5. Wideo
Wideo is an e-learning video editor that helps you communicate your ideas through videos intuitively and you can easily create product demos, corporate presentations, and tutorials with this amazing tool. Along with this, you can also upload your own images and audios quite seamlessly and the built-in templates come in handy for creating business presentations, product promos, and showcases, etc..
6. Explee
Explee is an e-learning video creating tool and is not much advanced though as it offers only one blank template to create an animated video but you'll find it enough for a basic video presentation. If you are a beginner in online video making and not an admirer of high visuals, and want quick results, this tool is simply meant for you.
7. Animoto
Animoto allows you to convert photos and short video clips into full-fledged videos and slideshows. Animoto could well be used by online course creators to create ads, social posts, tutorials, and newsletters as you get to choose from a wide range of ready to use styles and add text or music to your material to convert it into a video.
SharpeyeAnimation is an e-learning video maker which provides custom animated video production for e-learning and marketing businesses on a service based model. Features like handmade videos and unlimited revision policy is what makes this tool differ from other common video makers.
 Non-Animation Focused E-learning Video Software Tools
Articulate 360 is a course creating platform for web and mobile with a simple and responsive User Interface. It makes use of some eye-catchy graphics and provides a high level of interactivity for the learner, thus, boosting the engagement. It includes some of the popular authoring services Storyline 360 and Rise 360, plus Content Library 360, Review 360, and Training 360.
10. Elucidat
With Elucidat, it is easy to create web-based instructional materials that run well on any online device be it a desktop computer, a tablet, or a smartphone. Supported with some great collections of asset libraries which further consists of images, templates, and themes to enhance user experiences and create consistent branding.
11. Flixpress
Flixpress is yet another online video maker that is making its own way towards a new era of video creation. You can create & customize videos in minutes anytime with Flixpress and its automated templates. The best part for using Flexipress is you need not to be a pro in video making and just with an average computer knowledge you can use this tool to produce high-end video content.
12. Voki
Voki is different from other e-learning video makers and is more of a unique tool which helps in creation of speaking characters for educational video and gives you a choice of 250+ customizable avatars to choose from. You can add voiceover in upto 25 languages in male and female voices and also lets you add sound effects to your message.
13. Flixtime
Flixtime is a free video making tool used for creating production-quality, custom e-Learning videos with text, images, and videos. You can create, download, and share a 1-minute video for free without any hassle. Its offering also includes few of the selected soundtracks and stock music to enhance video appeal.
14. Magisto
Magisto is an e-learning video editor used to turn photos and videos into edited movies. It can capture video from within the app or you can just upload one by yourself after which you can just select an editing style, soundtrack, and title for your video. The app itself takes care of the special effects and filters for your video.

15. Wirecast
Wirecast is a live video streaming production tool powered by Telestream. Use this tool to create live or on-demand broadcasts for the web or live video conferences, live tutoring, etc. It can also capture feeds from multiple devices, such as web feeds, microphones, and live camera feeds. 
16. InVideo
InVideo is an online video maker and editing tool with a focus on video marketing and lets you create professional videos from premium templates, Images, And music.It includes a large variety of stickers, images, and text boxes to create engaging video content and is highly used by the beginners.
Offline Elearning Video Creation Tools
17. Camtasia
Well, unlike other e-learning video making tools, Camtasia is a screencasting as well as an editing tool offering high flexibility to create long videos and add overlays. Offerings like powerful editing, video background remover, animations, and interactive features with special effects is what makes this tool special. You can even upload your videos straight to Vimeo, Facebook, YouTube, and Screencast.
18. Captivate
Powered by Adobe, Captivate is a course-authoring tool enduring practical capabilities to reinforce a legacy of design excellence. Not only for creating highly immersive e-Learning videos and interactive content, but, it can also be used to create some powerful software demos and can cross-convert different media formats such as HTML5, Small Web Formats (.swf), MP4, and Microsoft PowerPoint (.ppt)
19. ScreenFlow
ScreenFlow is a video editing & screen recording software available only for Mac OS, which allows you to screen-record iOS devices. It can capture audio as well as video from the device, edit the video, add highlights or annotation, and output a number of different file types such as AIFF, GIF, M4V, MOV, and MP4 and share with the world.
20. VideoScribe
VideoScribe is a video animation software for creating animated videos. It will animate anything you place on its canvas and you need not require any editing skills for using it. It consists of a wide range of selected graphics along with a drag & drop functionality and some cool features include voiceover recording, calls to action, soundtracks, and text-adding capabilities.
21. GoPlay
GoPlay is a Windows video recording software that lets you create quick HD videos and allows editing them. One of its most prime features is the picture-in-picture-option which lets you record both your PC screen and yourself via webcam at the same time. Some video editing options include trimming, filters, cropping, and captioning.
Powered by Adobe, this tool is highly popular amongst professional e-learning video editors and post-production professionals and is one of the Industry's leading video editing software for film, TV & web. It's stable, well-responsive, and has all professional features you might need in creating the online courses.
23. iMovie
Developed by Apple, iMovie is an iOS-based e-learning video editing software application for macOS, iOS, and iPadOS devices. Start editing on an iPhone and finish up on a Mac machine. Create Hollywood-style trailers and stunning 4K-resolution movies by using 160+ special effects and beautiful titles.
24. Filmora
Wondershare Filmora is an easy to use and a simple e-learning video editor which works on Mac, Windows, Android, and iOS. One of the fastest and affordable editors with 800+ stunning effects and provides upto 100 layers of media, YouTube and Vimeo export, precision speed control. 
25. Blender
Blender is an open-source e-learning video software available on Mac, Windows, and Linux and one of those softwares which can not only be used by the beginners, but professional video editors as well. It can be used for creating animated films, visual effects, art, 3D printed models, motion graphics, interactive 3D applications, virtual reality and computer games.
26. Lightworks
Lightworks is used for editing and mastering digital video and supported by Linux, Mac, and Windows. The free version offers multicam support, high-precision video trimming, a wide range of video formats, and exporting to 720p for YouTube uploading. 
27. Shotcut
Shotcut is another open-source software available on Mac, Windows, and Linux. It supports a variety of video formats and boasts a collection of tutorial videos. The most striking features include 4k HD resolution support and timeline editing.
28. Pinnacle Studio
Pinnacle Studio is an e-learning video software for beginners with some of the prime features and is accessible with simple drag-and-drop features. You can also capture or import from various sources and include unique effects such as stop-motion and 360-degree editing, etc..
29. Splice
Splice is also an e-learning video software for mobile and is free and fully featured for the iPhone and iPad. Some of the features include trimming, speed control, and custom audio narration.
30. FilmoraGo
FilmoraGo is a free mobile alternative of the Filmora, an e-learning video software, available on both Android and iOS. You can create videos without watermarks and time limits and share them directly across social media.
31. OpenShot
OpenShot is a cross-platform, open-source e-learning video editor for Windows, Linux, and Mac. Top features include title editor with templates, trimming and slicing, unlimited tracks and layers, background removal, Slow-mo, and 3D animations.
Aside from presentations, Canva also offers a video editor where you can start editing videos that look amazing and professional on any platform — whether on a widescreen, tablet, or mobile device. Their video editor has a vast library with thousands of beautifully designed templates and royalty-free music tracks which you can easily download and share with your family and friends.
Elearning Video Tool for Secure Video Hosting
33. VdoCipher
VdoCipher ensures that course videos hosted on your website and app are protected from illegal video piracy. VdoCipher provides Hollywood level security against video download piracy and helps increase video revenues. Other key features include smart video player, AWS Global CDN video hosting , dashboard and APIs to manage videos.
Best Practices for Recording and Editing Audio for Elearning videos
When it comes to creating e-learning video content, ensuring high-quality audio is just as important as the quality of video itself. Poor audio quality can negatively impact the learning experience and make it difficult for learners to follow along with the content. Therefore, it's crucial to follow best practices for recording and editing audio for e-learning videos.
The first step in recording high-quality audio is to choose the right microphone. A dedicated microphone, such as a condenser or dynamic microphone, can provide better sound quality than a built-in microphone on a camera or computer. It's also important to consider the environment in which you'll be recording. Choose a quiet, isolated space with minimal background noise to avoid any unwanted sounds in the recording.
Once you've recorded the audio, it's important to edit it to ensure it's clear and easy to understand. This includes removing any background noise, adjusting the volume levels, and removing any unwanted pauses or mistakes. It's also important to add appropriate music or sound effects where needed to enhance the learning experience.
Another important aspect of audio editing is ensuring consistency throughout the video. This includes ensuring that the volume levels and tone of the audio are consistent across all sections of the video. Additionally, adding closed captions or subtitles can provide additional support for learners who may struggle with the audio.
In summary, following best practices for recording and editing audio is crucial for creating high-quality e-learning videos.
Choose the right microphone,
Record in a quiet environment
Edit the audio to ensure clarity and consistency
Tips for creating interactive elements in e-learning videos
Interactive elements are a great way to engage learners in e-learning videos and enhance their learning experience. By incorporating interactive elements, such as quizzes, simulations, and branching scenarios, you can make the content more engaging and memorable. Here are some tips for creating interactive elements in e-learning videos:
Identify learning objectives: Before creating any interactive elements, it's important to identify the learning objectives of the video. This will help you determine what types of interactive elements will be most effective in achieving those objectives.
Keep it relevant: Interactive elements should be relevant to the content of the video and provide learners with opportunities to apply what they've learned. This could include quizzes, case studies, or simulations that allow learners to practice and reinforce their understanding of the content.
Incorporate feedback: Feedback is essential for effective learning, so be sure to incorporate it into your interactive elements. This could include providing immediate feedback on quiz questions or providing feedback on a simulation or scenario.
Use storytelling: Storytelling is a powerful way to engage learners and make the content more memorable. Consider incorporating interactive elements that allow learners to make decisions or solve problems within a narrative context.
Make it accessible: Interactive elements should be accessible to all learners, including those with disabilities. Be sure to include captions, transcripts, or other accessibility features where needed.
Comparison of Different types of Elearning videos:
When creating e-learning videos, it is important to consider the different types of videos available, such as animated, live-action, and screen capture videos. Each type of video has its own benefits and drawbacks, and e-learning creators should choose the type that best fits their content and learning objectives.
Animated videos are great for simplifying complex concepts and are often more visually appealing than live-action videos. Live-action videos can provide a more personal touch and are great for demonstrating real-world situations. Screen capture videos are great for hands-on teaching.
Best Practices for Incorporating Gamification into Elearning Videos:
Gamification is a great way to make e-learning videos more engaging and effective. When incorporating gamification into e-learning videos, it is important to consider the learning objectives of the content and how gamification can help achieve those objectives.
Some best practices for incorporating gamification into e-learning videos include:
Setting clear goals and objectives: Define clear goals and objectives for the gamification elements and ensure they align with the overall learning objectives.
Making it relevant: Ensure that the gamification elements are relevant to the content and the target audience.
Balancing challenge and reward: Create a balance between challenge and reward to keep learners engaged and motivated.
Providing feedback: Provide feedback to learners throughout the gamification process to help them improve and stay on track.
Encouraging competition: Incorporate elements of competition to encourage learners to engage with the content and each other.
We've written several other blogs on LMS, feel free to check them out if it piques your interest
Supercharge Your Business with Videos
At VdoCipher we maintain the strongest content protection for videos. We also work extremely hard to deliver the best viewer experience. We'd love to hear from you, and help boost your video streaming business.
Free 30-day trial →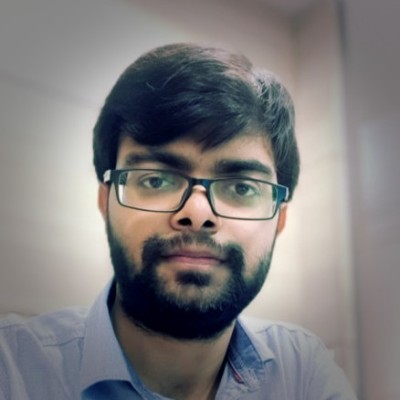 Product Marketing Specialist, VdoCipher.