The rise of digital media and modern technologies have vastly raised the copyright-owning concerns of organizations and individuals. In just a few clicks of a mouse, many copyright images, video and audio files get downloaded or shared without prior permission. In addition, modern techniques and tools have made it easy to convert media (mostly copyrighted) into various digital forms for easy portability and sharing. This is known as ripping, and the best possible solution to it is using DRM technology. This combines with the internet and hundreds of file-sharing tools (like Torrent) to make unauthorized large-scale distribution of copyright media copies (digital piracy) much easier.
As per a US Chamber of Commerce report, online piracy costs the US economy nearly $30 billion per year. This is where DRM technology comes into play to control and manage access to copyright materials. DRM technology combines a set of applications and technologies to protect digital media against copyright infringements. DRM aims to protect the original copyright holder rights and restrict the unauthorized copying, editing, or redistribution of digital files and proprietary software. Today DRM is playing a leading role in data security.
Importance of DRM Technology?
Stealing and copying someone else work and ideas has been long here. However, with technological advancements, digital piracy is sharply rising. Sensitive company documents, video footage, multimedia content every second gets remixed, reused and republished. Anyone having an internet connection can access these files. Consequently, these digital assets need proper protection. With DRM technology, access to these resources gets restricted, and no one can do whatever they want to the intellectual properties and media files.
What is DRM Technology & what does Digital Rights Management protected Video mean?
DRM Protected refers to a file that has applied DRM controls to restrict copying, editing or unauthorized content distribution. This includes encryption to prevent unauthorized access and license control for authorizing permissions and access. Here is an example for better understanding. The Apple iTunes Music Store uses DRM solution to restrict the number of devices on which songs are played. The downloaded music files contain the data about purchase and usage activity. Unauthorized devices cannot play the songs. Before installing Microsoft Windows or office software, users must agree to the user license and input the key. A wide range of businesses and professionals are using DRM technology to protect their documents, files, contracts to even employee data.
What DRM does?
DRM enables content owners and publishers to have control over not only who receives the content but also what they can do with it. Such controls include:
Only authorized users can access your content.
Authorized users get access to the content without any 3rd party apps or plug-ins.
Prevents editing, printing, saving, forwarding, sharing, screen grabbing and more.
Secure storage and distribution of content between collaborators during production.
Content limited to devices, IP addresses and country locations.
Watermarking to establish identity.
Access gets activated or revoked anytime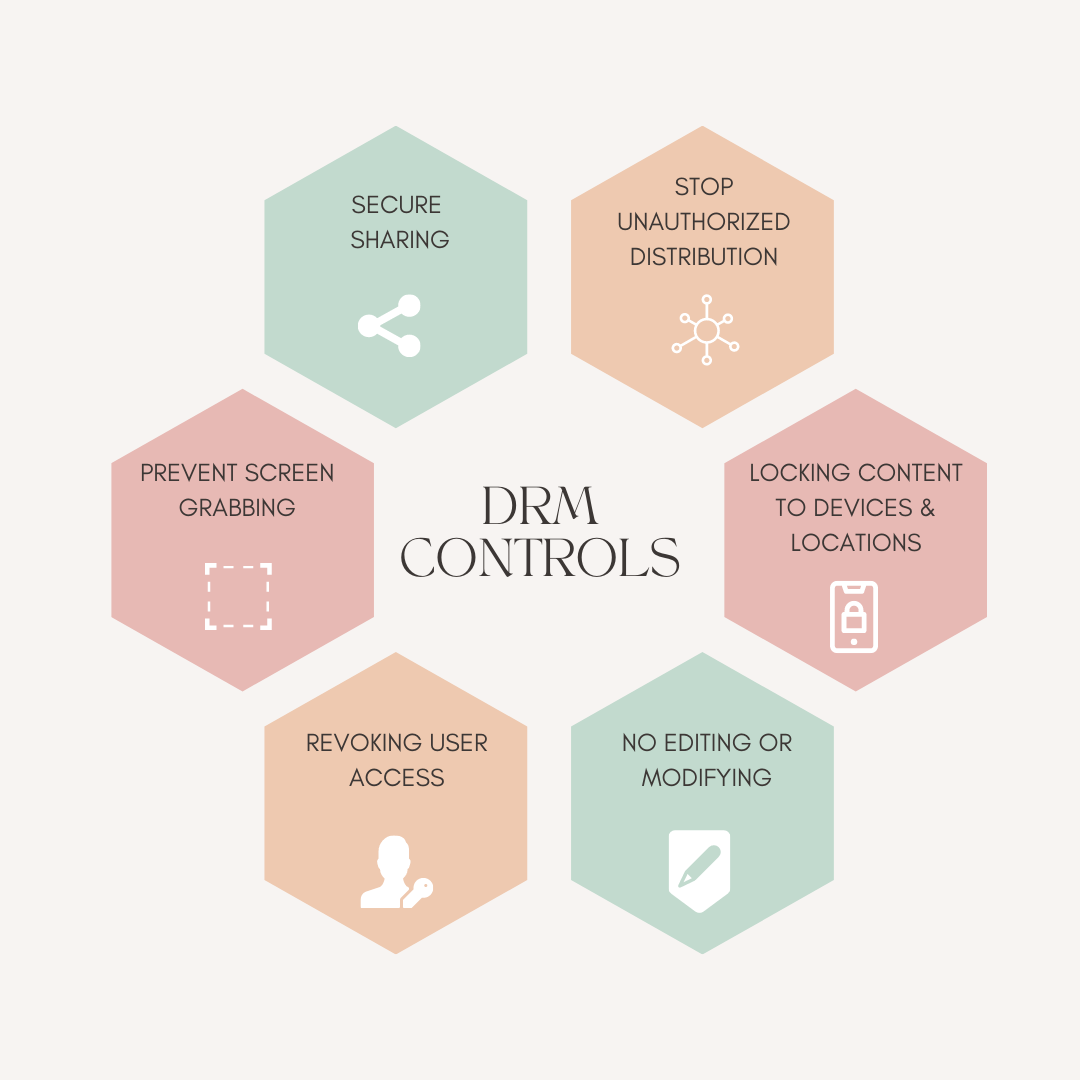 Meaning of DRM protected Video?
When you upload a video on a website for users, the main concern is whether the content is safe or not. There are probable chances of someone downloading or misusing the content if not secured. DRM technology in respect of video ensures encrypted transmission so that only authorized devices and users can watch it. For better device compatibility Multi DRM is used to encrypt and package the video content. When a user attempts to play a video, the online video player requests a key from the licensed server. Before issuing a decryption key, the DRM license server authorizes the user and the device. The player decrypts and the content is played back for the user after receiving the decryption key.
DRM Software
DRM Systems can get implemented as a hardware solution (hardware DRM) or software. Hardware DRM appliances include video game consoles, tablets, personal computers implementing secure boot. Digital Rights Management (DRM) software is an application tool combined with a set of policies and procedures for copyright protection and unauthorized content access. DRM software encodes the file with access control settings defined by the owner or copyright holder.
Types of DRM, its free & open-source providers
There are many DRM solutions to protect video content. The most popular DRM solutions/services supporting common web-browsers, devices and set-top boxes are:
Widevine DRM: Google's Widevine DRM is compatible with Chrome, Firefox and Edge browser, Android and Chromecast devices. Widevine DRM supports HLS, MPEG-DASH, MSS streaming with CENC and CMAF. There are two versions of Widevine, Classic and Modular.
FairPlay DRM: DRM solution from Apple, FairPlay DRM securely delivers streaming media using HLS (HTTP live streaming) protocol. It has native support on iOS, tvOS, iPadOS, watchOS 7, macOS AND Safari browsers.
Open Source: There are GitHub repositories on open-source DRM solution, but most of them don't get updated frequently. Also, there is a fundamental problem with open-source DRM solutions. Even though all of the algorithms & source code can be publicly available without harming the core security principles, client devices need to be trusted & verified by the rights issuer to do anything forbidden or restricted. This is incompatible with FOSS licensing guidelines, which elaborates that the user of a device should always have complete control over what the device does.
How does DRM encryption work?
Content Encryption: This license key contains licensee's or owners digital rights as rights objects. In an IP-based DRM system, the content gets encrypted using DRM OEM specifications. Most solutions use technologies designed around 128 bit AES encryption using CTR or CBC modes. Both of these modes are part of Common Encryption (CENC) and encrypt stream to deliver securely. The video player decrypts the encrypted streams using DRM licensing.
The most simplest method of packaging content is through the command line interface packager. CLI tools lack complexity, support hooks, error messaging and more. Next are the server-side tools to provide content encryption. These tools will provide the necessary chinking, fragmentation to prepare packaging of format like MP4 into adaptive bitrate streaming file. Server-side encryption offers greater scalability, security, advanced API calls, parallel packaging and more.
To encrypt content, the packager requests an encryption key from the DRM server. The DRM server provides an encryption key and links that key to the content ID. Using the encryption key, the packager encrypts and re-packages the content.
DRM Playback & two ways of DRM encryption
There are two ways to encrypt the content using streaming servers. One is Pre-Encryption and the other is Just-in-Time.
Pre-Encryption: In this model, the server encrypts the content at the time when it is ingested or uploaded. The content gets stored and streamed when requested. The server cues and encrypts the content when the server's systems are optimized i.e; during low demand periods. Servers implementing pre-encryption can handle more streaming connections and are more secure.
Just-in-time: In this model, the server stores the content in raw. When a user makes a request, the server instantly starts to encrypt it and feed out the streaming interface to the CDN and user. Such servers are susceptible to performance issues under significant load. In addition, the server storage is full of encrypted master files and requires a robust security system in place.
PlayBack: To enable DRM playback on the player side without plugins, decrypted playback uses HTML5 encrypted media extensions (EME). For MPEG-CENC Multi-DRM encrypted content, the player can auto choose the natively supported DRM.
The need for Multi DRM encryption?
Not all viewers watch content on the same platform and browser. Each platform and browser support a single DRM encryption. To ensure complete coverage across all screens, multiple DRM encryptions are required. MPEG Common Encryption (MPEG-CENC) standard makes DRM implementation effective. MPEG-CENC allows multiple DRM encryptions on a single video. It's up to the video player to decide which encryption must be activated based on the platform/browser. In fact, Apple browsers and devices are exceptions to the MPEG-CENC standard, which instead require HLS packaging.
How Industries are benefiting from DRM Software?
eLearning Organizations: They have a great need to apply Video DRM solutions as they are the most vulnerable. Making an educational video is itself a tedious task and protecting it from piracy is again a technical mechanism. This technical mechanism is hard to implement and most of the eLearning platforms use services from DRM enabled secure video hosting providers like VdoCipher.
Standard Organizations: National standard organizations or industry associations have the most pertinent information that professionals need. Companies and professionals pay subscriptions or membership fees to access these documents. Such organizations need to have their documents, audio, video files encrypted so that only authorized members access them. A DRM solution can be useful to secure these contents down for a certain audience.
Media & Publishing: For media and publishing houses, content is everything. Protecting the content is their bottom line. Unfortunately, the content gets shared with subscribers, and there arises leaks, piracy, unauthorized access and more. This holds the same for self-book publishers.
Financial Services: Financial institutions like insurance companies, equity firms, asset management companies need to protect the data of their clients and shareholders. Solutions like 'Dropbox' secure the portals where clients access the files but don't protect individual files once downloaded. A DRM solution protects the downloaded files, irrespective of where they get saved or stored.
Signs of DRM issues while using Netflix, Hotstar, Amazon Prime, Mac, etc
No sound, but the title plays
Background sound but no dialogue
Disc stucks on the title page or loading screen
The movie stops in the middle of playback, or scenes play out of order
The video freezes or skips
Pixelated or distorted picture
Troubleshooting DRM issues on Hotstar, DR-1100 Playback Error
This error generally occurs due to a downgraded Hotstar app or an unsupported device. To watch DRM protected videos, one needs to have a DRM supported device and a valid Disney+ Hotstar subscription.
Fix DR-1100 error on Android Phone & TV
Update or download the latest Disney+ Hotstar app
Install the DRM Info app from the Google play store and check the security level. DRM content will only play if the security level is L1, not L2 OR L3.
Try to replay the video title again in the Hotstar app and if it shows an error, then try using a different browser. Also, verify that the device isn't rooted.
On clearing Data/Cache followed by TV OS update and restart, the error is fixed on Android TV.
Netflix Error N8156 6013
Sometimes while playing videos on Netflix via a web browser, an error is thrown. "Whoops, something went wrong… Digital Rights Management (DRM) Error. We're sorry, but there is a problem playing protected (DRM) content. The date on your computer is 12/17/2012, which may be incorrect. Please correct the date on your computer and try again."
This error is related to the Silverlight plugin used by the browser to play Netflix. It requires using a browser supporting HTML5. (Edge, Safari, Chrome, Firefox, Opera)
Fix error on Mac computers
Quit all browser instances
Go to Library/Application Support/Microsoft/ folder
Under it, delete the PlayReady folder
Verify that you have the administrative rights on your OSX profile
Try to replay the video title again and if it shows an error then try using a different browser.
Fix error on Windows computer
Quit all browser instances
Search C drive for mspr.hds
Under search results, delete all the mspr.hds files
Verify that you have the administrative rights on your Windows user account
Try to replay the video title again and if it shows an error then try using a different browser.
Amazon Prime Video Error 7235 on Chrome
Make sure the Chrome web browser is up to date. Navigate to Settings > About Chrome for the available browser updates.
Type chrome://components in the chrome web browser and hit enter. Under Widevine Content Decryption Module, click 'Check for Update'. Install any available update.
FAQs:
What is TPM DRM?
Trusted Platform Module TPM (ISO/IEC 11889) is a dedicated microcontroller to provide security capabilities at the hardware level using integrated cryptographic keys. Generally speaking, the term refers to a chip conforming to the standard.DRM tools use TPM functionalities like device authentication. Windows Defender, software license enforcement, Windows Domain Logon and many more use TPM chips.
How to check if a video is DRM Protected in Windows 10?
Select the desired multi-media file
Right-click on the file and select 'Properties'
Select the 'Details' tab and scroll down to the 'Protected' selection.
The 'Protected' field will show 'Yes' or 'No'. 'Yes' indicates DRM protected file.
Why CENC standard allows two encryption modes, AES-CTR and AES-CBC?
We use both the standards for encrypting video content and are not compatible with one another. It is due to the encryption cipher supported by each DRM system. However, Apple FPS supports only AES-CBC, while Google Widevine supports both modes. Service providers deliver content to various devices using HLS or MPEG DASH streaming format, which vary in support of DRM systems. To cater to this fragmentation, CENC allows both modes.
DRM Vendors
Basically, DRM vendors are media tech companies like VdoCipher. They offer complete integrations including your video hosting and distribution over CDN with all advanced video security features. The complete package lets you safeguard your video on all devices supported by inbuilt Google Widevine or Apple Fairplay. These packages also include Adaptive bitrate streaming for various bandwidths and multi-device support.
Supercharge Your Business with Videos
At VdoCipher we maintain the strongest content protection for videos. We also work extremely hard to deliver the best viewer experience. We'd love to hear from you, and help boost your video streaming business.
Free 30-day trial →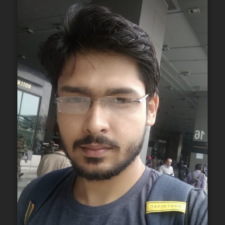 I love exploring the nexus between tech, marketing, culture, space, and politics by lying awake at night pondering over the myriad facets of life. In my spare time, I enjoy watching nature documentaries, sci-fi and drama series.