Earlier, the file object used to be shared on removable hardware devices like pen drives, HDD, or SSD. In 2006, Cloud file sharing infrastructure like AWS got developed to offer S3 services to businesses as web services. Before that, computers were able to access remote files using file system mounting, bulletin board systems, Usenet, and FTP servers. Sharing Private Video Securely was still very prone to leakage during the cloud storage and streaming process.
As a new way to share multimedia files, Napster, in 1999, released a peer-to-peer file-sharing system to share music files among community peers. This allowed users to share their owned music files with their friends and peers over the internet with no license cost. In December 1999, Napster got sued by several music recording companies and lost the case due to DMCA compliance ruling. This mode of file sharing didn't stop even after many such rulings against P2P file-sharing networks like The Pirate Bay and Kickass Torrents. Also, this mode of file sharing poses too many challenges for original content creators due to the scope of piracy. By 2020, messenger apps like Telegram have also become a huge network for sharing pirated content due to their sleazy compliance policies.
To control the revenue loss to video, music, and other digital content creators, DMCA, ​​or Digital Millennium Copyright Act, was enacted in 1998. This act criminalizes the production and dissemination of software, devices, technology, or services intended to circumvent measures that control access to copyrighted works. This law also criminalizes the act of circumventing access control, whether or not there is actual infringement of copyright itself. Also, with the enactment of DMCA, piracy protection technologies like DRM, which include licensing agreements and encryption of copyrighted content, came for the safeguard before a leak.
Types of Video Sharing
Cloud-based Video Sync and Sharing Services
Since the start of cloud-based file storing infrastructure, sync and share features were introduced for better communication between clients across the globe using the Internet as a medium to connect. These cloud-based services implement file transfers by updating files from a dedicated sharing directory over the cloud on each requesting user's networked devices. The current sharing mechanism also uses Content Distribution Networks like CloudFront to store copies of original content in various locations across the globe. This is done to improve the transfer speed and efficiency of the final distribution network. This way, the end user gets the copy from the nearest location server reducing the load over the main servers and also acts as a cached backup.
P2P Video Sharing Services
As already mentioned through the example of Napster, this kind of sharing is based on the peer-to-peer (P2P) application architecture. The shared files on the client computers are indexed on directory servers and get distributed using the uplink and downlink network of peers. These directory servers can often be found filled with an index of thousands of pirated videos from various media and eLearning providers. The most popular and current protocol for P2P sharing is BitTorrent.
What is Private Video Sharing?
As discussed with the need, any video content that the creator is likely to protect can be categorized as private video content, and the method to share the same securely is called private video sharing. Such a secure sharing mechanism is developed by implementing different layers of access control, encryption, and secure decryption during the playback. Uploading a multimedia file over an unsecured network or sharing the same with a known user cannot be considered private video sharing. Using an unsecured network automatically provides unauthorized access to the network provider for making an illegal copy of the same. Also, using basic encryption techniques fail due to the nature of their private key revealing hacks. Once the key is revealed through the network or system stats, making a copy of the stream is fairly easy.
For these vulnerabilities, the private video-sharing implementation allows a specific group of people or individuals to share videos in a private manner securely and make part(s) publicly available. It serves the security aspect and allows collaboration with a team on a project or sharing content with a select group of friends or family members. In order to share a video privately, the user must have the necessary permissions and must invite the specific individuals or groups they want to share the video with. Private video sharing is typically done through a platform or service that completely implements encryption, key management, and access control.
Need of Sharing Private Video
Since the inception of cloud-based and P2P file sharing, creators and distributors have always tried their best to secure private video content from any trespassers. Moreover, it is not always a case that people want to secure a video; it might be created to become just viral content getting freely distributed over social media. Not only video content (UGC) that mostly flourishes on social media, many businesses have a serious need for public distribution. There are many examples from the Edtech industry, like that of Unacademy, who started their educational video-providing services from social media platforms like YouTube. This move is generally utilized to get a wider reach among the target audience, and once a need is established, the set of users is forced to buy a subscription from their own platforms. Not only as a starting move but such tactics also get used as a parallel freemium. The likes of Netflix regularly release cut outs and other freemium content on YouTube, keeping the main purpose of acquiring wider reach among the target audience.
Keeping the above examples and marketing tactics in mind, the content that any creator is likely to protect can be categorized as Private Video Content. The reasons to protect can be argued but mostly falls under two heads of having monetary value or secrecy. In case of having monetary value, the leakage will eventually be a revenue loss, and in the case of secrecy, it could be a pretty complex one. It can be private moments of a family, a geometry learning technique, an online video course, a secret podcast, or any video content that needs authorization before access.
Why do eLearning and Media Platforms use Private Video Sharing?
In general, there are several reasons, like those listed below ones, why eLearning and media platforms may use private video sharing.
To protect the revenue or business – Most eLearning and Media Platforms produce premium content for their audience as a product having monetary value. This product has various modes of purchase, be it a subscription or pay-per-view basis, and the ultimate goal is the sale. A leaked video, in usual cases, eventually affects sales.
Protecting sensitive or proprietary information – eLearning platforms and media companies often have content that is sensitive or proprietary, and they may want to restrict access to this content to a specific group of people or individuals. Private video sharing allows them to do this in a secure and controlled way.
To ensure compliance with regulations – Some industries have strict regulations like SOC 2 Compliance regarding the sharing of certain types of information. Private video sharing can help eLearning and media platforms comply with these regulations by ensuring that only the appropriate people have access to the content.
Provide a more personalized learning experience – Private video sharing can allow eLearning platforms to tailor their content to specific groups of learners, such as students in a particular course or employees in a particular department. This can help to create a more personalized and effective learning experience.
To facilitate collaboration – Media companies and eLearning platforms may use private video sharing to facilitate collaboration between team members or partners in a secure and controlled environment.
Features required for Private Video Sharing
Private video sharing does not only means assigning roles to different users for accessing your video content, there are several other features that make up for private video sharing as,
Access control – Any platform having private sharing requirements should have controls in place to ensure that only the intended recipients have access to the video. This may include features such as user authentication, password protection, and role-based access controls. This comes basically integrated with the platform on which the video is getting served. IP and other access controls can also be placed to broaden the scope.
Security against Piracy – This may include features such as DRM licensing, encryption, secure data storage, dynamic key exchange management, hardware-level protection during playback, and compliance with data protection policies.
Dynamic Watermarking – There are many end users who try to violate their authority of playback by screen recording. To deter these attempts, a customizable watermark containing the dynamic information of request users like IP and email becomes a very useful feature.
Video management – Any hosting or private video sharing platform should have a dashboard and other UI components to upload, organize, and manage their private videos. This may include features such as video tagging, playlist creation, chapters and video editing tools.
Video playback – The platform should offer high-quality video playback, with options for adjusting the playback speed, adaptive bitrate streaming, adding multi language captions, and enabling/disabling other player controls and features.
Analytics and reporting – Private video sharing platforms should offer analytics and reporting tools to help video creators understand how their videos are getting played back. This can be helpful for tracking the effectiveness of training programs or marketing campaigns.
APIs, SDKs and Plugins – Integration is a major component due to different types of backend and front end structure. This requires easy availability of APIs, SDKs and Plugins for all major CMS, LMS and languages with proper documentation.
How to Upload a Private Video Securely
Earlier options to upload a private video for sharing purposes were made possible through the use of a secure file transfer protocol. You can use a secure file transfer protocol like SFTP (Secure File Transfer Protocol) or FTP over SSL (FTPS) to upload your video. These protocols encrypt the data being transferred, making it difficult for anyone to intercept the data. Coupling the secure protocol with the use of the virtual private network (VPN) for sharing creates a secure, encrypted connection between your device and the internet, which can help protect your data from being intercepted while it is being transferred. This is especially useful if you upload the video from a public WiFi network.
It is very important to start the protection mechanism with the storage of the media file itself. Be it local or cloud storage, a basic layer of security in the form of encryption must be applied. For non-commercial use, services like Google Drive and Dropbox offer end-to-end encryption, which means that your file is encrypted while it is being transferred and while it is stored on the server. This makes it difficult for anyone to access the contents of your file without the proper decryption key.
For commercial purposes, it is important to remember that using basic security protocols and encryption techniques fails due to the nature of their private key-revealing hacks. Once the key is revealed through the network or system stats, making a copy of the stream is fairly easy. This is why it is advised to use a secure file hosting service provider with multi-DRM licensing, encrypted storage, and hardware-supported secure key exchange for your video files. Also, it is fairly easy to avail the upload, embed, and secure playback features through,
Dashboard – using the web client
API – for automated or tech-savvy purposes
Plugin – for CMS and LMS
SDK – for easy integration
Setting up a video management system of your own with DRM licensing and encryption requires setting up transcoding, CDN, and various other technical processes. These processes are so complicated that it has been observed that only large companies like Netflix, Amazon Prime, Hulu, and similar are able to implement an in-house DRM setup for private video sharing on their platform.
Secure Video Streaming for end-to-end Privacy
As discussed earlier, it is not only the upload part that is important for maintaining the security of your private videos but also the playback or streaming part. If the private key of encrypted video gets leaked through the network or other vulnerabilities, it can be easily decrypted and made copies of. Secure video streaming is important for ensuring the privacy and security of video content. When the video is transmitted over the internet, it can potentially be intercepted by unauthorized parties. This can lead to unauthorized access and distribution of the video, which can have serious consequences depending on the nature of the content. For example, if the video contains sensitive information or is of monetizable value, such as personal, learning, or media data, its unauthorized release could result in identity theft or financial loss.
Secure video streaming helps to prevent these types of incidents by encrypting the video as it is transmitted from the sender to the recipient. This ensures that only the intended recipient can access and view the video, as the encryption makes it difficult for anyone else to intercept and decode the video. There are several technologies and protocols that can be used to secure video streaming, including DRM, Play Integrity, Dynamic watermarking, Secure Sockets Layer (SSL), and Transport Layer Security (TLS). These technologies and protocols provide a secure connection between the sender and recipient and can be used to protect the video as it is transmitted over the internet.
In addition to encryption, secure video streaming also includes other security measures, such as authentication, IP restrictions, and access control via video distribution platforms. This can help to prevent unauthorized access to the video, even if someone is able to intercept the transmission.
VdoCipher – Private Video Sharing Platform with Security
VdoCipher is a secure video hosting and streaming platform that provides a range of features and technologies to help with private video sharing. Some of the ways in which VdoCipher can help with private video sharing include:
Multi-DRM Encryption: VdoCipher uses advanced encryption technologies to secure video content as it is transmitted from the sender to the recipient. Google Widevine and Apple Fairplay are used as DRM license providers to provide hardware-level security. This helps to prevent unauthorized access and distribution of the video.
Dynamic Watermarking: VdoCipher offers the option to add a watermark to the video, which can help to deter unauthorized copying and distribution of the video as dynamic details like IP and email of the end user will get exposed.
Illegal App protection: As an added layer of protection, VdoCipher also protects unauthorized playback on rooted and illegal apps discarded via Play Store.
Stream protection: VdoCipher uses AWS CloudFront and other distribution infrastructure to protect against streaming attacks, such as DDoS attacks, which can help ensure the video's continued availability and security.
APIs, SDKs, and Plugins: You can integrate and automate your workflow for upload and embed via our APIs and SDKs. The video plugin by VdoCipher supports WordPress, Moodle, and other CMSs and LMSs.
Geo-Restrictions: For blacklisting or whitelisting specific countries
Smart HTML5 Video Player: dynamic controls with multi-lingual subtitle support, change playback speed, theme options, and many other customization options
FAQs
How can someone privately share a premium video?
It is always better to use a secure video hosting platform like VdoCipher, which has a multi-DRM licensing and encryption system integrated with a scalable video infrastructure.
Is private video hosting available on YouTube?
No, YouTube does not provide any private video hosting services. For basic video hosting without security, you can use Google Cloud Storage, and for personal purposes, Google Drive is available.
How do I share a large video file privately?
It is important to note that even large cloud infrastructure like AWS and Google has a limit of 5TB for single object storage. For larger files than this limit, a file needs to be broken into chunks before uploading. For private video sharing, using a secure video hosting service like VdoCipher with DRM and AWS infrastructure scalability is recommended.
Supercharge Your Business with Videos
At VdoCipher we maintain the strongest content protection for videos. We also work extremely hard to deliver the best viewer experience. We'd love to hear from you, and help boost your video streaming business.
Free 30-day trial →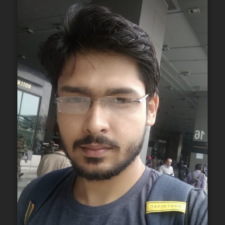 My expertise focuses on DRM encryption, CDN technologies, and streamlining marketing campaigns to drive engagement and growth. At VdoCipher, I've significantly enhanced digital experiences and contributed to in-depth technical discussions in the eLearning, Media, and Security sectors, showcasing a commitment to innovation and excellence in the digital landscape.