Reliable DRM Solution: As Used by Leaders like Netflix and Amazon.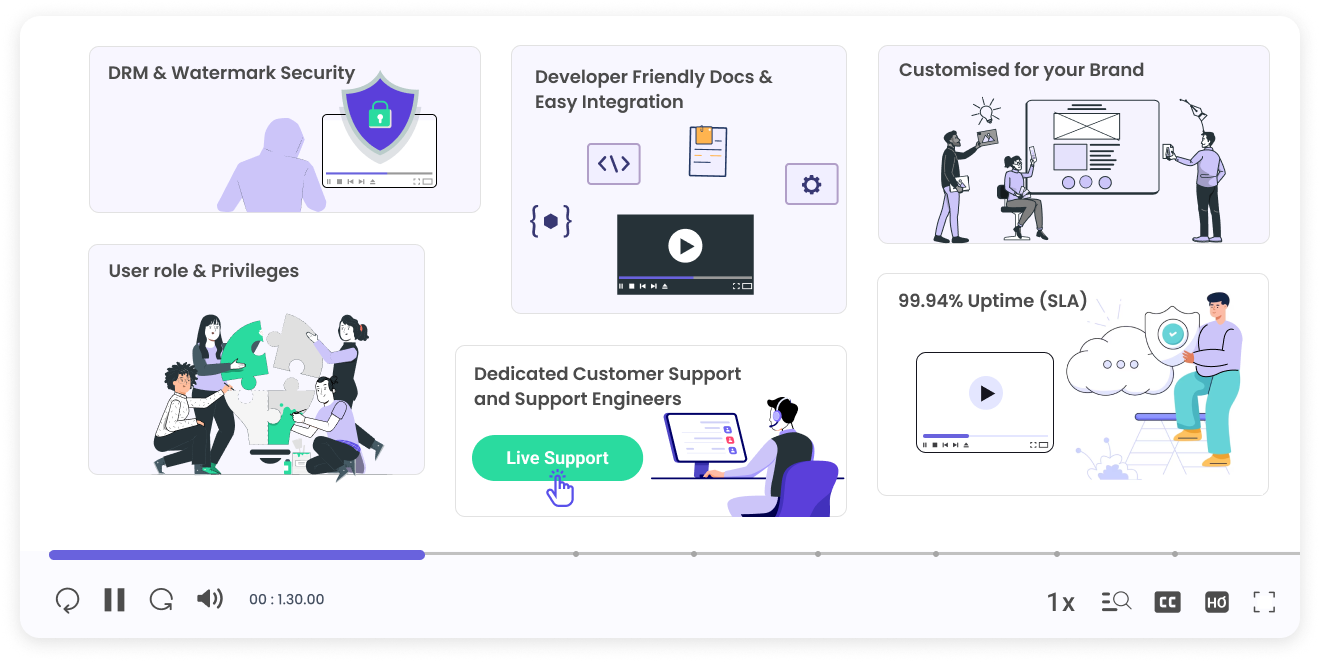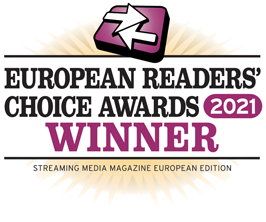 Best Video Security Company Award by Streaming Media Magazine, Europe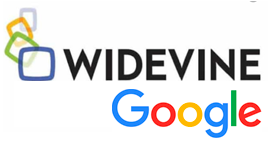 Direct Partner with Google for Widevine DRM

4.9 Rating on G2 Crowd Review
More than 3000+ Business across 120+ Countries trust VdoCipher






Specialised Features for Your Enterprise
At VdoCipher, we'd love to help you scale your video streaming efforts. Bring your team together and take your business to brave new heights with our suite of simple, effective feature .
We assure you 99.94% uptime(SLA)
Private APIs & User Based Security Analytics
Scale upto 10 Million Viewers
Customise your brand with our Custom Video Player
Developer friendly docs and easiest integration in market
Better Bandwidth unit pricing
Dedicated personal support, support engineer
Beta access to new features
Compliant with Google and Apple, Google Direct Partner,
AWS Technical Partner, Safe & Secure Cloud Storage
Our Leading Enterprise Customers Include
Major Elearning
Platform
With over 9000 employees, viewerships 10 Million +, uses VdoCipher to Stream their Elearning content
Public Renewable
Energy Company
Uses VdoCipher for Corporate Training of about 6000 employees
Global Movie Streaming Platform
Uses VdoCipher to Stream Holllywood/Bollywood movies to 100,000+ viewers globally.
User Based Security Analytics
Find out how your users are consuming your videos. With viewer based analytics you understand watch pattern of your videos. You can see individual usage of different courses and how they fare. Figure out if there is any sort of password sharing happening by looking at individual video consumption. Finding out account whose consumption is way higher than it ideally should be.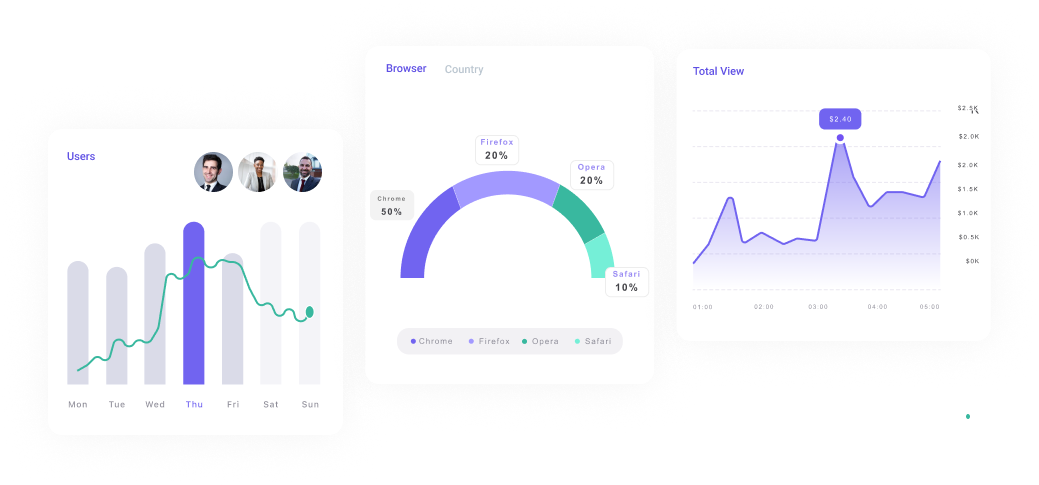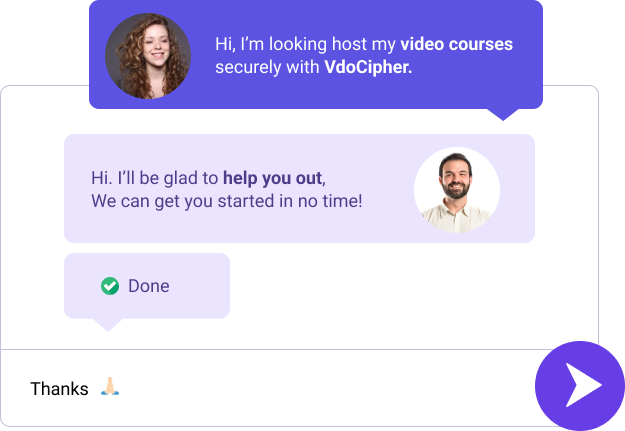 Unparalleled Customer Support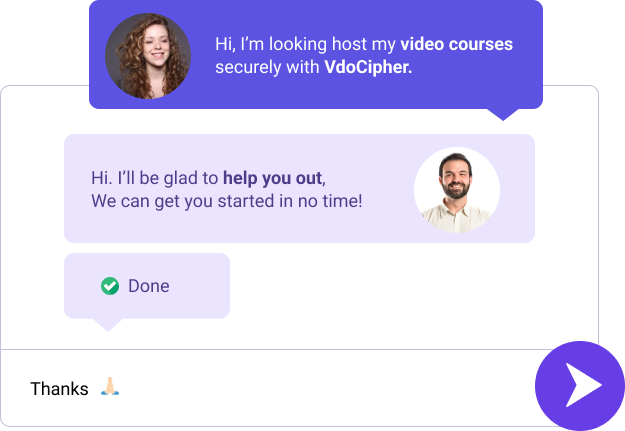 At VdoCipher, we're your dedicated partner in success. Benefit from personalized guidance with our account managers, enjoy fast support via WhatsApp and call. Our support engineers are just a text or call away. Get exclusive early access to our latest beta features. Together, we're committed to ensuring your video endeavors thrive.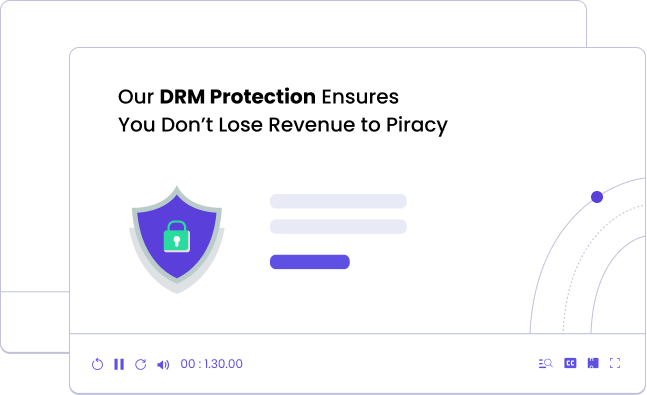 Learn What Our Customers Have To Say About Us!
BookMyShow
Sayak Rana
Global Viewership
100,000+ users
We provide premium Hollywood & Bollywood movies for 100,000+ viewers. VdoCipher DRM security is an essential part of our video infrastructure. Integration and compatibility are key aspects of DRM offering, supported well by VdoCipher. Their team was very helpful in the integration of the product.

Taki Academy
Hachem Charfi
MENA Region
400,000+ users
We have been VdoCipher customer for 8 years. VdoCipher's secure and smooth video playback has helped us to grow from 200 students to 400,000+ students and 450+ Teachers. VdoCipher has consistently improved and updated their product & integrations over time.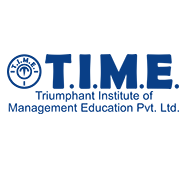 TIME Education Platform
Abhijeet Jagirdar
India
100,000+ users
TIME is a Leading Test prep institute with 100,000+ enrolled students. We required a scalable robust infrastructure with security from piracy. VdoCipher CDN + player was apt in meeting our security and stability needs. their technology and support has helped us to execute our online strategy to perfection.
Care and Health Law
Belinda Schwehr
United Kingdom
B500+ users
I used VdoCipher's secure video streaming service to protect my intellectual property in specialist legal framework webinars in the UK. I have had help whitelist videos for customer intranets and found that the customer service is efficient. The package gives me peace of mind.
FAQ
What is an Enterprise Video Platform?
An enterprise video platform is a comprehensive solution designed to manage, host, and embed videos securely and efficiently across an organization.
How does the platform ensure video protection
VdoCipher uses multi DRM technology which protects content from any illegal download, along with this you get dynamic watermarking, play integrity and user based viewer analytics. Which ensures you can track the source of video piracy, stop playback on any rooted devices. You can track if the content consumptionn is well within means to check if the credential sharing is not violated.
Is there any limit on bandwidth and storage?
All the plans have a validity of 1 year. Plan ends when bandwidth credit is consumed or 1 year whichever occurs earlier. There are no monthly limits. Having a large time period gives you the flexibility of usage.
Do you offer analytics and insights on video performance?
Yes, our platform provides detailed analytics on video views, engagement, and user behavior, helping you make informed decisions about your content strategy. Also, with user based security analytics you can check if the content is not being misused
What kind of support do you offer for enterprise customers?
Enterprise customers benefit from dedicated account managers, support engineers. Who can be reached via email, whatsapp and call. In case of any customisation requests, we offer the beta acess to the relevant features requests.
Sign Up & Get Started Now!
* 30 Days Free | No Credit Card Required