Direct Partner with Google for Widevine DRM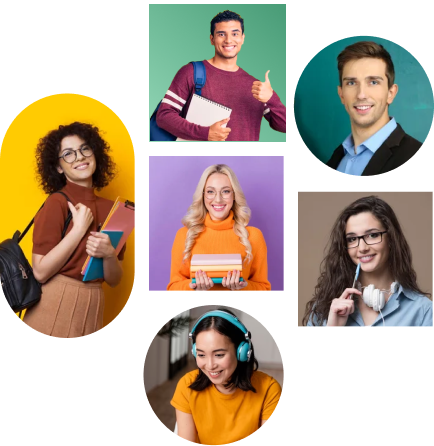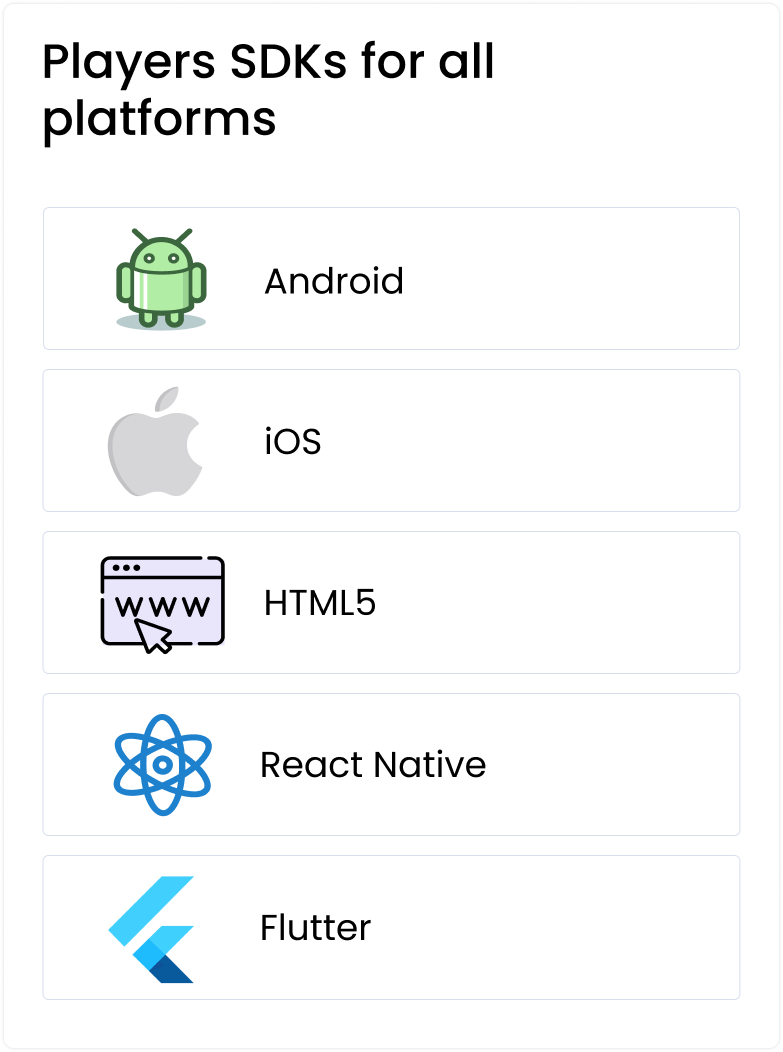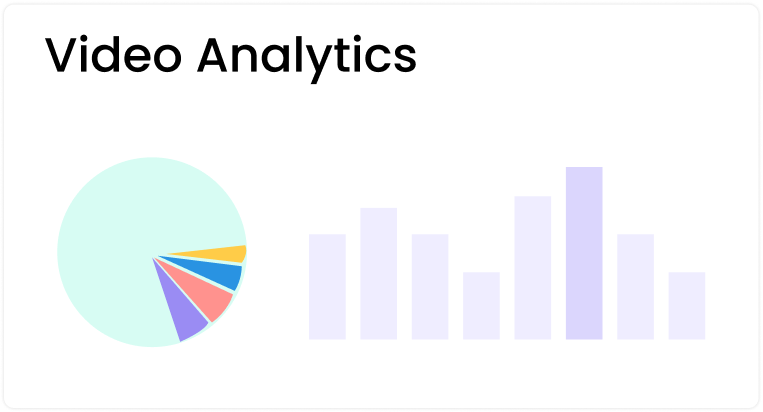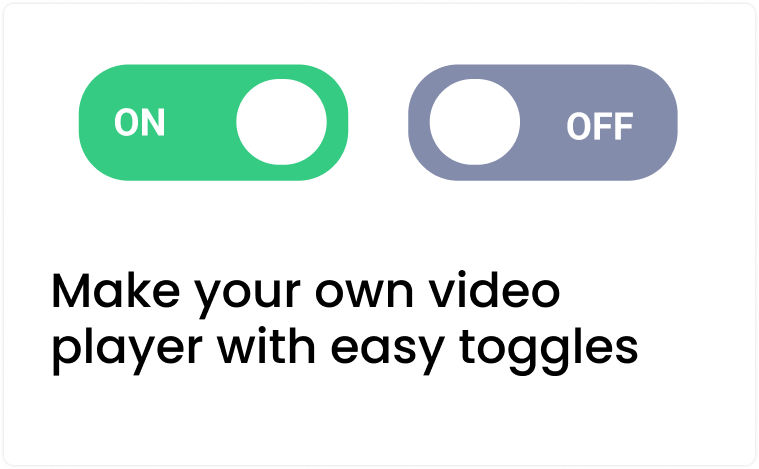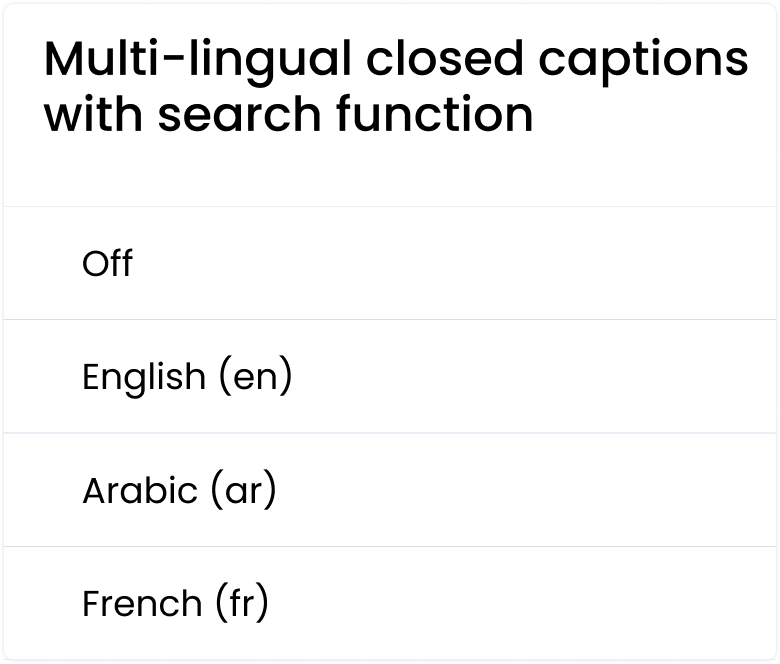 VdoCipher is now integrable with your favourite LMS
Sleep Easy Knowing That Your Hosted Videos Are Secure with VdoCipher.
Video DRM Encryption
Videos hosted through us can't be downloaded via any plugin, tool, or hack. Our Hollywood-grade DRM ensures protection from piracy
Custom HTML5 Player
Stream videos with our customized smart video player with subtitles, multiple qualities & speed change, compatible with all devices
Amazon AWS Server + CDN
Our Videos are hosted via Amazon AWS and we provide CDN to ensure your video can stream seamlessly across 6 continents.
Advanced Video Analytics
With our analytics dashboard, you can keep track of your user's total views, the number of videos finished average watch percent etc.
Android SDK for Security on Mobile
You get Integration with Google's Widevine DRM to disable screen capture and ensure Hollywood-grade security on app.
Video APIs to Manage Your Videos
You can manage your videos using API, enable automatic upload and even get OTP for playback. With the player API, you can inject custom HTML into the player.
Learn What Our Customers Have To Say About Us!
BookMyShow
Sayak Rana
Global Viewership
100,000+ users
We provide premium Hollywood & Bollywood movies for 100,000+ viewers. VdoCipher DRM security is an essential part of our video infrastructure. Integration and compatibility are key aspects of DRM offering, supported well by VdoCipher. Their team was very helpful in the integration of the product.

Taki Academy
Hachem Charfi
MENA Region
400,000+ users
We have been VdoCipher customer for 8 years. VdoCipher's secure and smooth video playback has helped us to grow from 200 students to 400,000+ students and 450+ Teachers. VdoCipher has consistently improved and updated their product & integrations over time.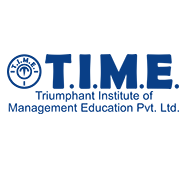 TIME Education Platform
Abhijeet Jagirdar
India
100,000+ users
TIME is a Leading Test prep institute with 100,000+ enrolled students. We required a scalable robust infrastructure with security from piracy. VdoCipher CDN + player was apt in meeting our security and stability needs. their technology and support has helped us to execute our online strategy to perfection.
Care and Health Law
Belinda Schwehr
United Kingdom
B500+ users
I used VdoCipher's secure video streaming service to protect my intellectual property in specialist legal framework webinars in the UK. I have had help whitelist videos for customer intranets and found that the customer service is efficient. The package gives me peace of mind.
More than 2,500+ Business across 120+ Countries trust VdoCipher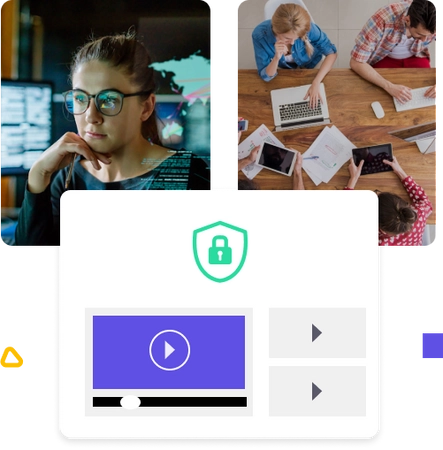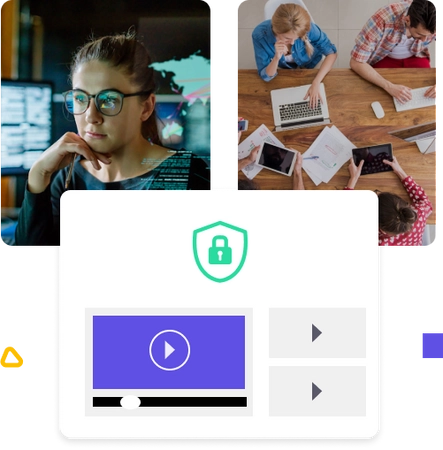 Secure Videos by Preventing illegal Video Downloads
Our DRM based secure video delivery is unmatched and ensures that your content is protected from any illegal video download. We further strengthen our security with screen recording protection and Dynamic Watermarking.
Seamlessly Manage Your Educational Courses with a
User-Friendly Dashboard
Upload / Import Your Course
Upload / Import your videos easily through Desktop, Cloud (Google Drive, AWS S3, DropBox), Vimeo, FTP, directly from the server.
Video Embedding
Easy integration methods for platforms like Wordpress, Moodle, 3rd party sites & LMS'es. APIs & SDKs available for mobile apps.
Security & Config
Enhance security by configuring URL whitelists and IP restrictions. Easily restrict video playback to specific sites & geographies.
User Management
Effortlessly manage team access & permissions for secure content management with their own login credentials.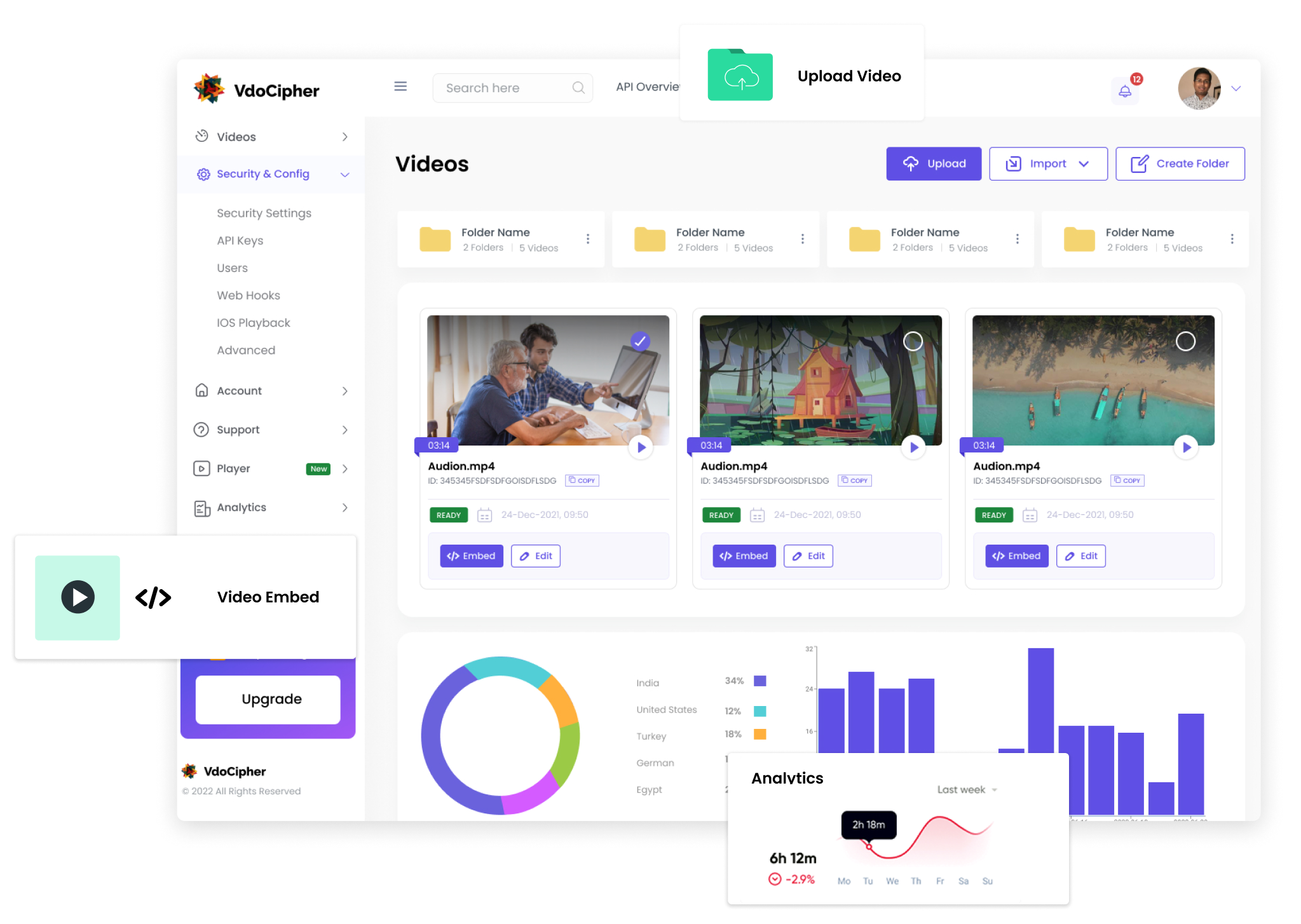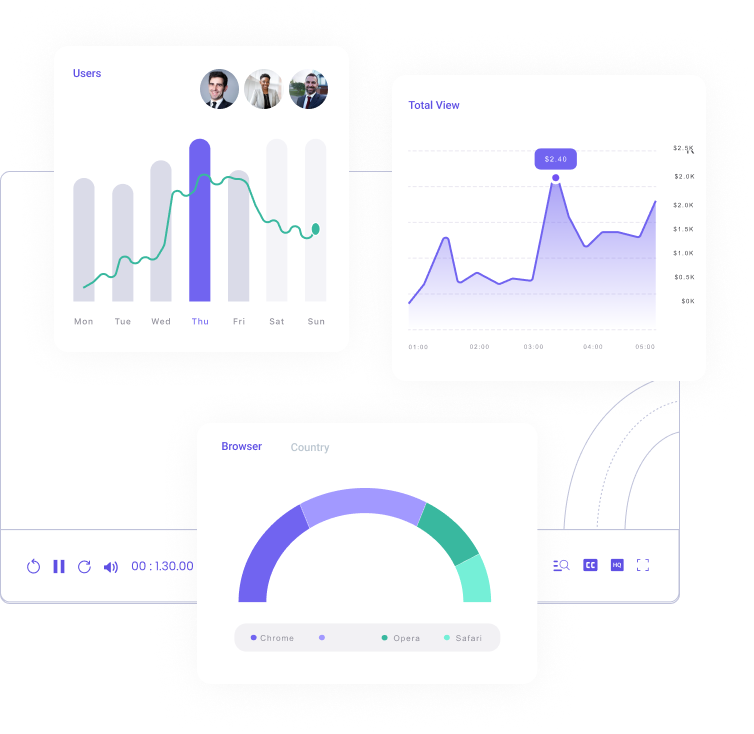 User Based Security Analytics
Find out how your users are consuming your videos. With viewer based analytics you understand watch pattern of your videos. You can see individual usage of different courses and how they fare. Figure out if there is any sort of password sharing happening by looking at individual video consumption. Finding out account whose consumption is way higher than it ideally should be.
Unparalleled Customer Support
At VdoCipher, we're your dedicated partner in success. Benefit from personalized guidance with our account managers, enjoy fast support via WhatsApp and call. Our support engineers are just a text or call away. Get exclusive early access to our latest beta features. Together, we're committed to ensuring your video endeavors thrive.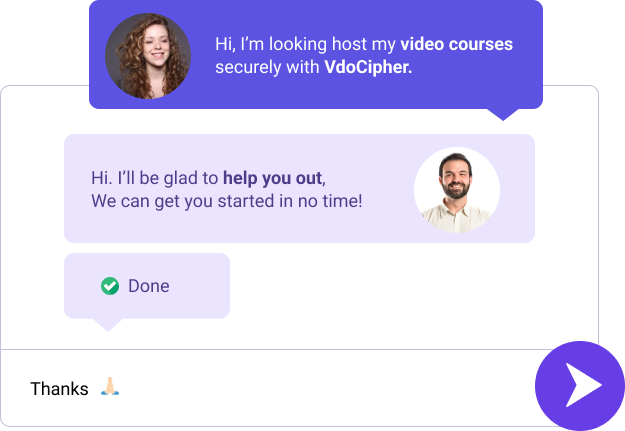 Smart Video Player
Hollywood Grade DRM Protected Video Streaming that protect your videos from hackers and downloaders
Make your own video player
Video Analytics
Offline Download in Android & iOS
FAQ
What is a Custom Video Player?
A custom video player is an online video player that you can personalize according to your own brand and can even change the color, design, and player controls according to your requirements. You can build your own custom html5 video player with VdoCipher. Features include custom video controls, change player appearance with toggle buttons,adaptive playback, video speed change, multi-language subtitles, and custom overlays and the watermark
What is Adaptive Bitrate Streaming?
Adaptive bitrate streaming is a video streaming technique where you offer various streams with different bitrate to your users by detecting any fluctuations in the network speed along with the device's processing to automatically chose the right bitrate for streaming in real-time..
How much can you customise video player?
You can pretty much customize the whole smart video plyaer, you can change the color and theme of the app video player, choose which custom html5 video controls you want to keep. You can even hide the custom video controls under a button.
Is video download and screen capture prevented on all devices?
illegal downloads are stopped on all major browsers and apps. Whereas, screen capture is prevented in mobile apps and safari browsers. Dynamic watermarking is available on all major browsers and android apps.
How can I integrate vdocipher with my site or app?
You can click on the 'Embed' button below any video on the dashboard to check all methods to integrate in your site/app with highest security.
Sign Up & Get Started Now!
* 30 Days Free | No Credit Card Required