Hollywood Grade DRM Protected Video Streaming that protect your videos from hackers and downloaders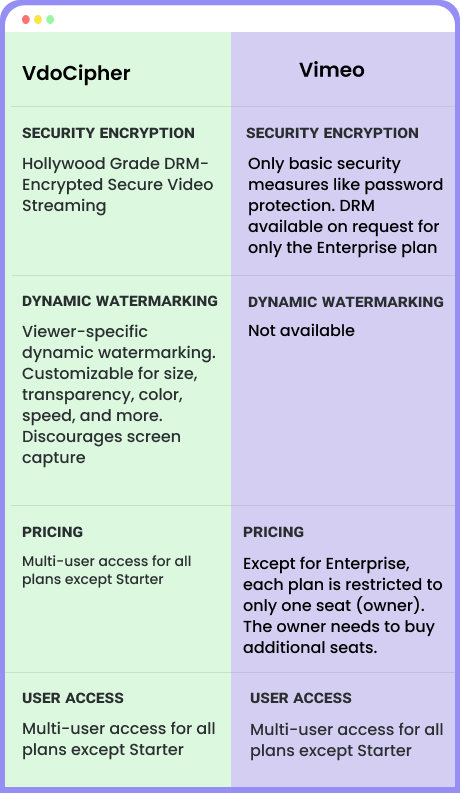 Security 
Encryption
Hollywood Grade DRM-Encrypted Secure Video Streaming
Only basic security measures like password protection.
Dynamic Watermarking
Viewer-specific dynamic watermarking. Customizable for size, transparency, color, speed, and more. Discourages screen capture
Not available
Pricing
Based on the bandwidth and storage utilized.Starting $99/year (70GB Storage & 500 GB Bandwidth).
Based on the number of videos. Starting at $9 per seat/month (billed annually) or $108/year. Limited to just 60 videos per year.
User Access
Multi-user access for all plans except Starter
Except for Enterprise, each plan is restricted to only one seat (owner). The owner needs to buy additional seats.
More than 3000+ Business across 120+ Countries trust VdoCipher






Important features to have
Recently Vimeo made a significant change in the pricing model and introduced new subscription plans, Free, Starter, Standard and Advanced. The free plan includes a limit of two video uploads per month.
Multi-DRM encryption and playback
Dynamic watermarking to discourage screen capture
Secure Offline Downloads in Apps
Google Play Integrity for App-Based Security
Smart and customizable HTML5 Video Player
APIs, SDKs and Plugins for easy and automated integrations
CDN Delivery
Video Analytics
Easy embed options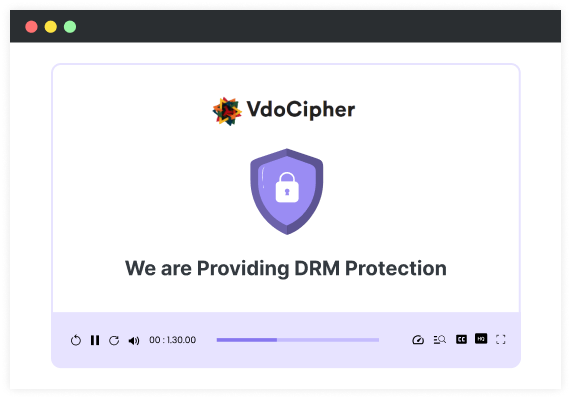 Missing video DRM 
protection in Vimeo?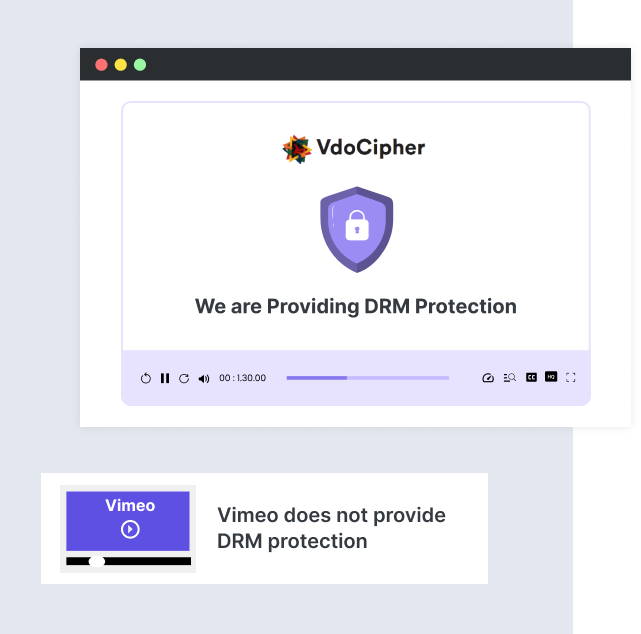 Vimeo does not provide DRM protection with their hosting plans and only allows enabling DRM to enterprise Vimeo OTT sellers. Some users have also raised support tickets to confirm the same and here is a copy of the reply vimeo support provided.
DRM protection is a necessity nowadays due to increasing cases of illegal downloads and distribution of media and eLearning content. It obviously has a cost of setup, licensing and usage but when you acquire the technical acumen of setting up a large scale, error free and efficient architecture, it obviously turns out to be highly affordable. For example, in our comparison section below, we have listed VdoCipher's multi-DRM video hosting on AWS infrastructure pricing and you can easily figure out at what cost you are missing DRM.
VdoCipher 
Comparing Top Alternative with better pricing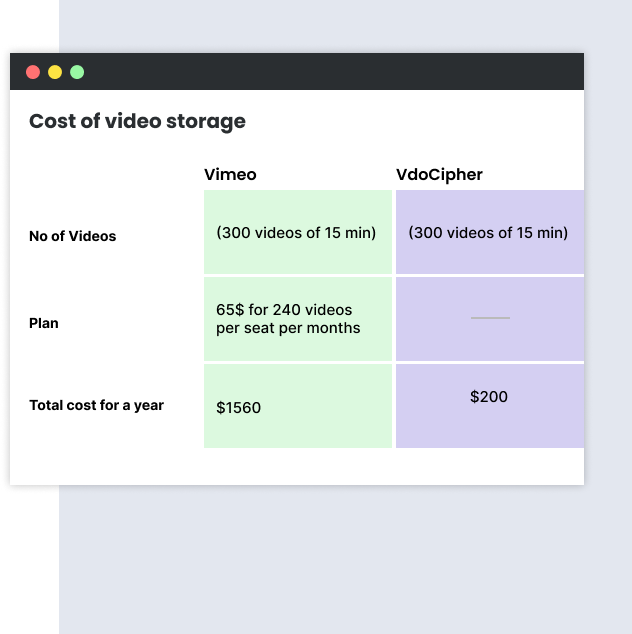 Although vimeo is a popular video platform, it lacks certain features and technological advancements. The recent increase in its pricing and change of the pricing model, which is now limited to the number of videos a user uploads, viewers are exploring vimeo alternatives.
One such alternative that offers complete video hosting and streaming infrastructure with Google Widevine + Apple FairPlay DRM Encryption at affordable pricing is VdoCipher. Trusted by over 3000 customers spread across 120+ countries, VdoCipher offers secure and streamlined video hosting services to major elearning and media businesses.
This makes it very clear that there are many features you are missing in vimeo and that is why it becomes more necessary to compare the best alternative with better pricing as discussed below. The least pricing plan a user can have from vimeo is $108/year and that from VdoCipher is just $99/year. This $99 spend is far better than vimeo's $108 spend as the affordable one comes with far advanced features like DRM, dynamic watermarking, etc.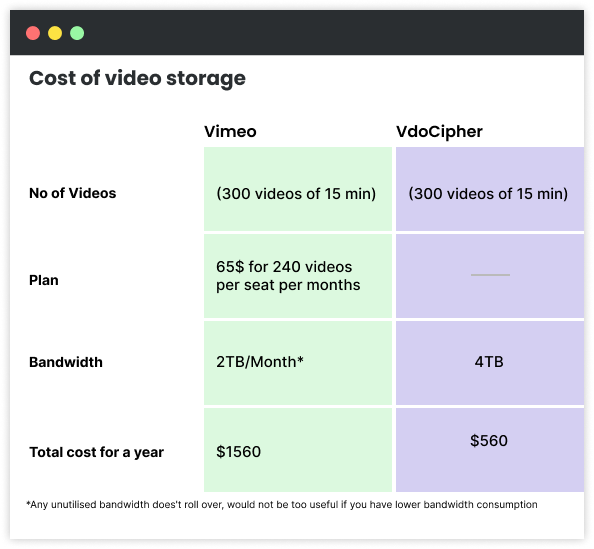 Learn What Our Customers Have To Say About Us!
We provide premium Hollywood & Bollywood movies for 100,000+ viewers. VdoCipher DRM security is an essential part of our infrastructure. Integration and compatibility are key aspects of DRM offering, supported well by VdoCipher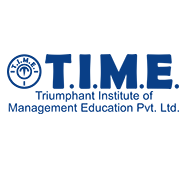 TIME Education Platform
Abhijeet Jagirdar
TIME is a Leading Test prep institute with 50,000+ enrolled students. Key feature requirements are scalable robust infrastructure with security from piracy. VdoCipher CDN + player was apt in meeting our security and stability needs.
Care and Health Law
Belinda Schwehr
I have used VdoCipher's services to protect my intellectual property in specialist legal framework webinars in UK. I have had help to whitelist videos for customer intranets, and found that the customer service is efficient. The package gives me peace of mind
What VdoCipher Customers Are Saying
VdoCipher ensures that your content remains protected and can't be downloaded.
Satish Kumar, Director at SkyChem Education
Skychem is a test prep institute focussing on Engineering Exams, helping students to rank under top 100 at national level. During Covid, they used VdoCipher to reach their students via online lectures. After lockdown, they moved to hybrid learning model; students watched videos in case of missed lectures. It also helped them reach students living far away in the country.
Sumit Mittal, CEO at TrendyTech Courses
Trendytech is an online platform that focuses on Big data & Analytics courses, serving 6000+ students from 18+ countries. Before coming to VdoCipher they struggled with piracy as they found their content leaking online on various online forums. Hear out from them on how they used VdoCipher to protect content & revenues.
FAQ
What is Multi DRM?
Multi DRM means when different Video DRM technologies like Widevine DRM and Fairplay DRM are used to secure content across different devices and browsers. VdoCipher ensures that all compatible DRM are present and provide a secure smooth experience in all major browsers and devices.
What is Widevine used for?
Widevine DRM is widely used to protect your videos from being downloaded illegally on browsers such as Chrome, Firefox, and Edge. It also protects content on devices such as Android devices, Android TV, and Chromecast.
Is there any limit on bandwidth and storage?
All the plans have a validity of 1 year. Plan ends when bandwidth credit is consumed or 1 year whichever occurs earlier. There are no monthly limits. Having a large time period gives you the flexibility of usage.
Is video download and screen capture prevented on all devices?
illegal downloads are stopped on all major browsers and apps. Whereas, screen capture is prevented in mobile apps and safari browsers. Dynamic watermarking is available on all major browsers and android apps.
How can I integrate vdocipher with my site or app?
You can click on the 'Embed' button below any video on the dashboard to check all methods to integrate in your site/app with highest security.
Sign Up & Get Started Now!
* 30 Days Free | No Credit Card Required