The article is to explain a few basic metrics on Netflix business model and how it has changed over the years. The media and entertainment industry is one of the leading growth sectors of recent times contributing to billions of US dollars every year. One of the main elements of this sector is the television industry. However, with the fast-paced nature of everyone's life, nowadays it has become almost impossible to watch one's favorite shows at a particular time on a daily basis. Netflix, an online streaming media services pave the way for all customers for easy access of their favorite shows and movies in as many devices as they want.
Brief History of Netflix Business
The history of Netflix dates back to 1997 when Reed Hastings of USA first incorporated the idea and later on in 1999, he officially started the movie rental business. Initially, it was a subscription-based DVD mailing service, where a customer would pay a certain amount for renting and videos on DVDs for a stipulated subscription period. In 2010, Netflix began its streaming services in Canada and within one year, these services were initiated in 43 countries worldwide. The mail services were prevalent in North America as it did originally. In 2011, Netflix announced that the DVD mail services and the video streaming services will have separate packages. This created a negative response among the current customers and Netflix's stock prices fell.  With time, the Netflix business model transformed into an on-demand internet streaming media available to the viewers in North America, South America, parts of Asia, Europe and Ocenia. In 2012, they had over 120000 titles for online streaming and over 23 million subscribers.
Initiation of Business Expansion
They are ever expanding with time and currently, with over 83 million subscribers in 190 countries, 125 million hours of movies and TV shows, it has more media for one lifetime. Today Netflix with its hosted and original content offers movies and media in 270 languages in over 190 countries and is the biggest online Internet Television service provider. Its revenue in 2013 was over 4.37 billion. In 2018, its total revenue amounted to around 15.79 billion U.S. dollars, has grown from 1.36 billion U.S. dollars a decade ago. The net income of the company in 2018 stood at 1.21 billion U.S. dollars, with a total of 7,100 employees working worldwide.
Netflix revenue model
Subscription video-on-demand
Netflix is one of the current pioneers of subscription-based content. It runs on a Subscription Video on Demand (SVOD) model. Subscribers pay for a monthly plan and are given access to a vast library of media—any time, anywhere. Thus, subscriptions are Netflix's main source of revenue.
But unlike apps like Spotify which also runs on premium subscription, there's no free option in Netflix. This means all members are paying for the content they want to watch. Users enjoy the convenience of ad-free entertainment, although ad trials have taken place recently. 
It also has a DVD rental on a subscription basis, but only the streaming side of the business will be discussed in this blog.
Pricing strategy of Netflix
Netflix offers different prices based on the quality of video required- Basic, Standard and Premium. Generally, it provides the first month of subscription for free. Basic with standard resolution is $7.99 a month, but it can only be used one device at a time. On the other hand, for $10.99 a month, one gets HD video on two devices, and shelling out $13.99 a month offers Ultra HD streaming on four devices. Additionally, opting in for Netflix's DVD service will be costly- with their Premium service, as it will be $30 a month when all is said and done. 
The diagram below shows the structure of Netflix pricing.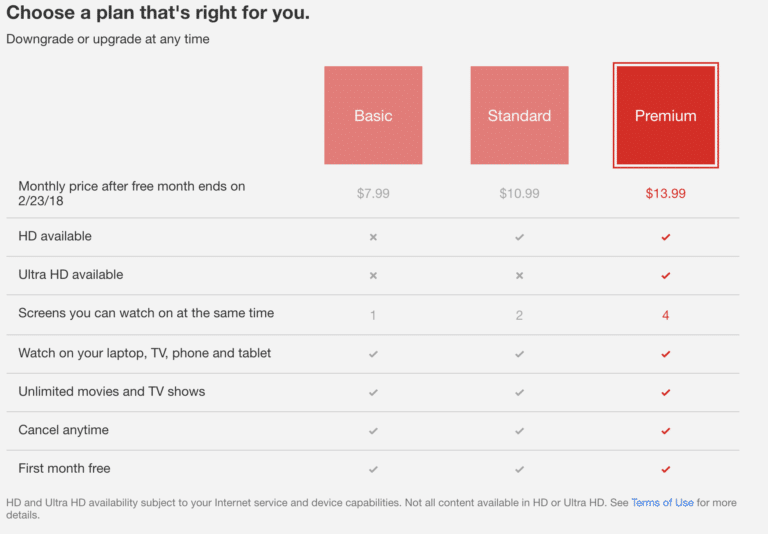 As Netflix opened up to around 190 countries all over the globe, the cost varies depending on the country as well. You can get a Basic subscription for as low as $5 in Mexico or as high as $11 in Switzerland and Denmark.
This "simultaneously local, personal, and global" approach, according to chief product officer Greg Peters, is the reason why international revenue is expected to surpass revenue generated from US consumers. But as of now, international audiences only account for 40% of Netflix's overall quarterly revenue.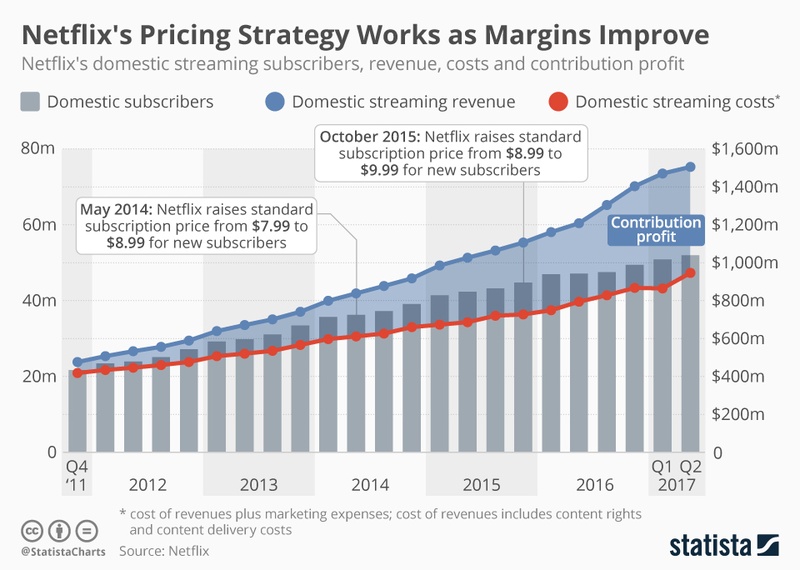 The graph below vouches the fact that there had been a steady increase in revenue for this American video streaming company over the years.
Content costs and content acquisition
Over the past year, Netflix spent more than $8.9 billion cash just for streaming content. It already spent $5.39 this year, expanding its vast library through acquiring and creating content.
One of the reasons why Netflix has a vast library is that they acquire content from distributors and studios. They do this using direct purchases, revenue sharing agreements, and license agreements. It pays back to the overall revenue, as 80% of Netflix's revenue comes from licensed content.
The company also puts a premium on those shows branded with the Netflix logo in their upper left corners—called Netflix Originals. In 2013, Netflix presented Netflix Originals as a way of filling up more content for the users to watch. They spent $2.7 billion in new content alone and will aim to have 1,000 original content by the end of 2018.
It is expected that investments for original content can increase up to 50% of the content budget, according to industry experts.
Video streaming server costs
Netflix uses its own content delivery network for USA- Namely Open Connect, the advanced technology infrastructure promises nothing less than 99.99% uptime. Though for delivery across the world, it relies on top-tier CDN like Akamai.
Data is stored Amazon Web Services (AWS), where terabytes of storage can be deployed to a thousand servers quickly. They also have backup data from Google Cloud Storage, along with Netflix using the platform for AI-supported applications.
Salary Costs
Netflix is still a tech company, even if it's different than the usual tech companies. After all, it is lumped together with technology giants Facebook, Amazon, Apple, and Alphabet's Google. Thus, it puts a premium on its employees, especially those working in tech. Average pay range varies from approximately 10.57 U.S.D per hour for Operations Associate to 17.10 U.S.D per hour for Customer Support representative. The diagram below shows the variation in the range of salaries for Netflix employees.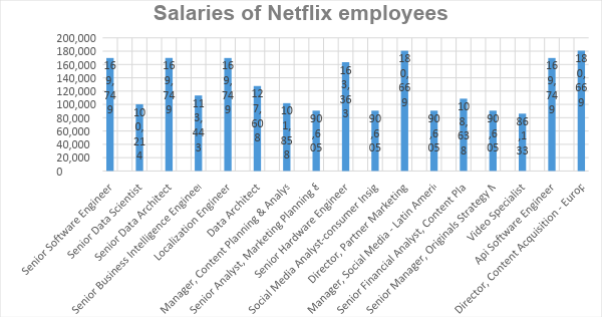 Source: www.salarylist.com
Competition faced by Netflix
At present Netflix is the largest online subscription service for streaming entertainment in the world. In the initial years, it gained popularity by providing its customers with unlimited DVD rentals at fixed rates with extended due dates. Hence, when it was first launched, this business model was the first one of its kind in the whole world. The only competition Netflix faced in the initial years was from Blockbuster, which was the largest home video service in the U.S. In 2004, when Netflix's revenue was around 500 million U.S.D, Blockbuster launched its own rent-by-mail service called Total Access to increase its revenue and hold on to the customers that Netflix had appealed to. In the first quarter of 2007, it is reported that Netflix's growth was slowed down due to the new program launched by Blockbuster. However, in 2010 Blockbuster became bankrupt and went out of the competition. Few other competitors of Netflix are Redbox, Hulu, Amazon Prime, HBO Go & HBO Now, Vudu, Turner, Spotify etc. When Netflix initially came into the Indian market, BIGFlix, a movie streaming service was re-launched by Reliance Entertainment. But it was ousted by Netflix as it only offered movies only in regional languages.
Major reasons for the success of Netflix business model
Netflix is expanding internationally. Within a span of 7 years, it has established its popularity in 190 countries across the world.

The strength of Netflix is its original contents. In 2018, Netflix has released over 1500 hours of movie, TV series and other productions. It also creates sequels to original ended TV series.

Netflix provides a variety of shows in several foreign languages, thus attracting a huge number of subscribers across the world. It has expanded from three languages- English, Spanish and Portuguese to more than 20 foreign languages.

Netflix does not show any commercial during video streaming. Anyone who has internet connection can be a potential Netflix subscriber. With its content both hosted and original, Netflix targets all age and income groups.

It provides reasonable pricing. 

However, Netflix will face tougher competitions in the future as more video streaming services are coming up. Netflix sets very high standard for its employees, therefore it may be difficult for selecting the top talents from the industry.

It is noteworthy to say that Netflix has constantly ventured to develop and introduce new services and improving its value propositions with never ending hosted data and great range of its own original content. If the company wants more subscribers to join their network they need to have a stronger e-commerce oriented business model and services along with innovative marketing strategies.
Summarising
In conclusion, Netflix's business model is trying to get as many users hooked as possible in spite of the costs. Will the number of subscribers outweigh the billions of costs invested? It's a question to ponder about, as we go along with binge-watching in our different screens.
Want to be the next Netflix? VdoCipher offers most secure video selling platform which includes a ready to launch video website, course builder, membership management, DRM security including encryption and watermarking, and payment integration.
You can read more about Netflix in these blogs:
Supercharge Your Business with Videos
At VdoCipher we maintain the strongest content protection for videos. We also work extremely hard to deliver the best viewer experience. We'd love to hear from you, and help boost your video streaming business.
Free 30-day trial →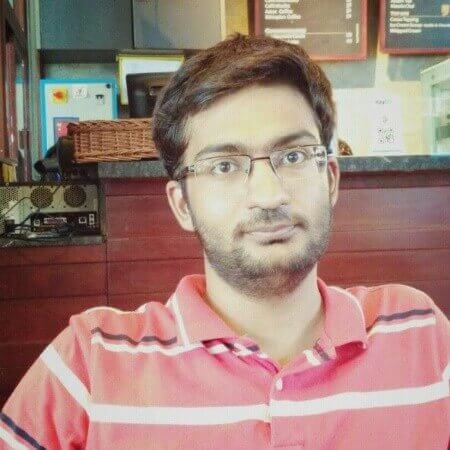 CEO, VdoCipher. Writes about video tech, ed tech and media tech.