Premium Video on Demand (PVOD) has reshaped the world of entertainment, redefining how we consume movies. Gone are the days when movie watchers had to wait patiently for a film's theatrical release before enjoying it in the comfort of their homes. With PVOD, the silver screen experience is now just a few clicks away, allowing viewers to savor the latest blockbusters from their own couches. This revolutionary concept not only provides instant access to cinematic treasures but also sparks debates about the future of movie theatres and the evolving landscape of film distribution.
Brief Overview of Video on Demand (VOD)
Video On Demand (VOD) is reshaping how consumers access and view content. It provides a convenient platform for audiences to select and watch video content whenever they want, removing the traditional broadcasting schedules' constraints.
VOD refers to digital systems that allow users to select and view video content on their devices at their convenience. Unlike live broadcast or scheduled television programming, VOD users can pause, rewind, fast forward, and stop the content as they please.
VdoCipher helps over 3000+ customers over 120+ countries to host their videos securely, helping them to boost their video revenues.
The concept of VOD dates back to the early 1990s. The boom of the internet and advancements in streaming technology in the 21st century have skyrocketed its popularity. Initially, VOD streaming services were offered through cable television providers. Subscribers could pick movies or shows from a limited catalog. The shift began with the rise of broadband internet, enabling services like Netflix and Hulu to emerge.
The global VOD service market was valued nearly $56 billion in 2019. It is projected to reach approximately $120 billion by 2025 with a CAGR growth of around 15%. Factors like increasing internet penetration, advancements in digital infrastructure, and the growing adoption of smart devices play a crucial role in this upswing.
Categories of VOD
Transactional VOD (TVOD) – Users pay for each piece of content. Examples include rental services or purchasing a digital copy of a movie.
Subscription VOD (SVOD) – Users pay a regular subscription fee to access a library of content. Netflix, Amazon Prime, and Disney+ are classic examples.
Ad-supported VOD (AVOD) – Users can watch content for free but are served with advertisements. Platforms like YouTube and Tubi operate on this model.
Premium VOD (PVOD) – Typically, newly released content that's made available for rental at a premium price before it's available elsewhere.
Understanding the Rise of Premium Video on Demand (PVOD)
In the past, we waited months for movies to move from theaters to our TVs. Then came the digital age, making everything faster and more accessible. PVOD, or Premium Video On Demand, is a product of this change.
Premium Video On Demand (PVOD) is a video service that lets you watch the newest movies shortly after they're released in theaters. It's similar to having early access to the latest films without going to the cinema. For many, PVOD means comfort, as they can enjoy these movies from their living rooms.
Now, with PVOD, movies are available to rent or buy at home shortly after theater release. The comfort of home and the allure of latest releases made PVOD popular. The COVID-19 pandemic further boosted its demand, with many choosing or forced to stay indoors. Studios saw this as a chance to maintain revenue without relying only on cinemas.
The growth of high-speed internet and smart devices also played a big part. People could easily stream high-quality videos without glitches.
To sum it up, the convenience of watching new movies at home, combined with technological advancements, has driven the rise of PVOD in the digital age.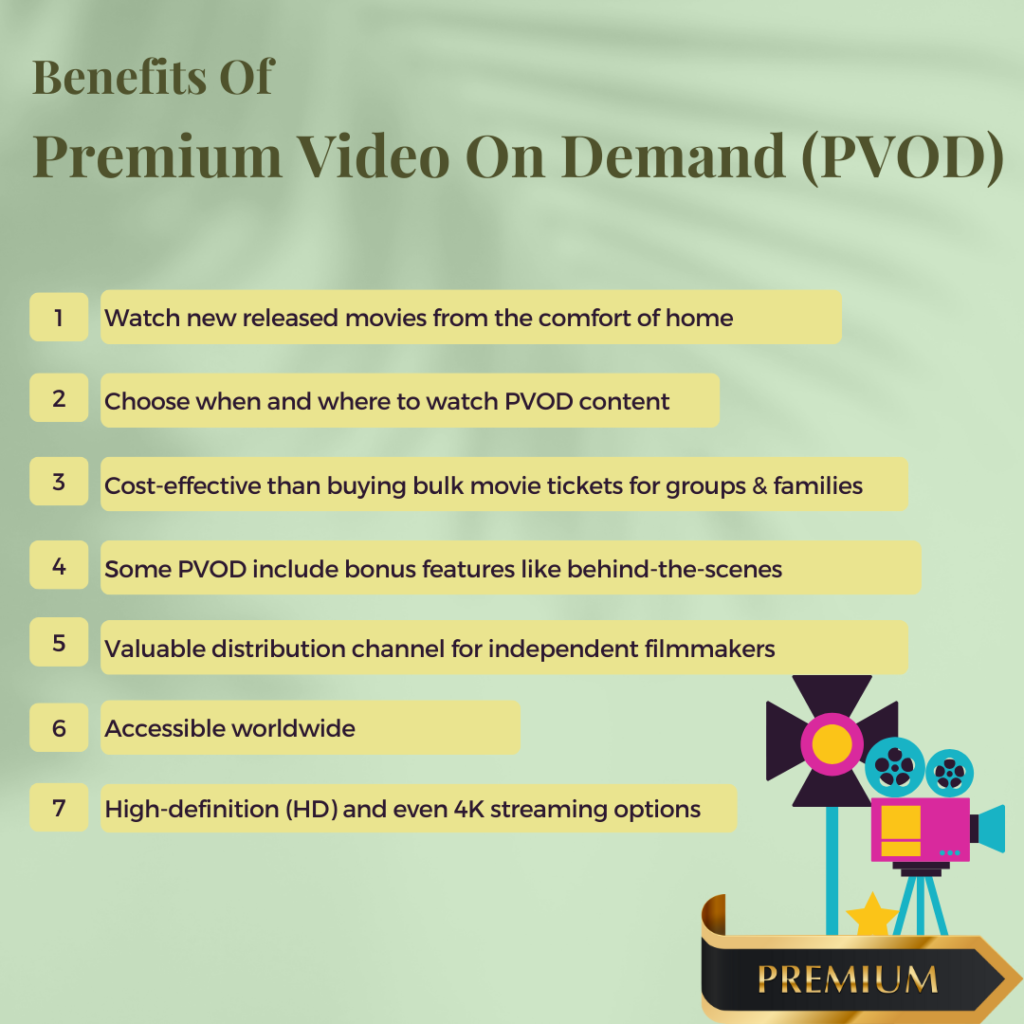 Benefits of PVOD Streaming
Immediate access to the latest movies
Before PVOD, audiences had to wait for weeks, if not months, after a film's theatrical release to rent or buy it for home viewing. With PVOD, this window has dramatically shrunk. This means that we don't need to mark calendars or wait for movies to arrive on traditional video-on-demand platforms. Instead, we can simply access some of the latest movies right after their theatrical release or sometimes even concurrently.
Comfort and convenience of home viewing
The age-old appeal of the silver screen is undeniable, but home viewing offers advantages that a cinema can't provide. Firstly, there's the sheer comfort of watching a movie in your pajamas, on your couch, under a cozy blanket. There's no need to find parking, sit next to a stranger, or be confined to a specific showtime. With the evolution of home entertainment systems, most households now have high-definition TVs and sound systems. This, combined with the ability to pause, rewind, or take breaks, grants viewers unparalleled control over their viewing experience.
Potential cost savings compared to going to the cinema
There are other associated costs that can make the outing quite pricey. Transportation, whether it's fuel for your car or public transit fares, adds to the bill. And then there's the cinema experience of popcorn, drinks, which can sometimes cost as much as the ticket itself, if not more. For families or groups, these costs multiply. By contrast, renting a movie on PVOD, even if priced at a premium, can offer significant savings. When you factor in the added value of convenience and comfort, the economic benefits of PVOD become even more apparent.
The Technology Behind Premium VoD
The tech behind PVOD is all about streaming. With fast internet connections and advanced servers, movies are sent to your device in real-time. Encryption is a key part of PVOD. This means movies are coded for security to prevent piracy. When you rent or buy a PVOD film, decryption happens, letting you watch the movie without hiccups. This blend of streaming and security ensures studios can release new films early, knowing they're safe from illegal sharing.
Here's a step-by-step breakdown of how PVOD works, along with the technology behind it:
Content Creation
Studios produce movies or content. This is the phase where directors, producers, actors, and crew come together to create a film.
Digital Conversion and Compression: Once the movie is produced, it's converted into a digital format suitable for online streaming. Modern video compression technologies, like the H.264 or H.265 codecs, reduce the file size while retaining quality.
Digital Rights Management (DRM)
To prevent unauthorized sharing and copying, PVOD content is encrypted using DRM. Popular DRM solutions include Widevine (by Google), FairPlay (by Apple), and PlayReady (by Microsoft). VdoCipher, a secure video hosting and streaming service provides easy integration of Apple FairPlay DRM and Google Widevine DRM. Videos streamed via VdoCipher cannot be illegally downloaded or pirated. Apart from Multi-DRM video encryption, VdoCipher offers Dynamic watermarking, custom video player, AWS powered hosting, video analytics, secure offline downloads and much more. The pricing is competitive without any hidden charges.
Content Hosting
The encrypted content is then hosted on Content Delivery Networks (CDNs) which are specialized, distributed servers that help in delivering content efficiently to users around the world.
Platform Interface
Platforms like Amazon Prime, Apple iTunes, or dedicated PVOD platforms provide users with a user-friendly interface to browse, rent, or purchase movies. These platforms also facilitate payment processing.
Content Streaming or Download
Once a user decides to rent or purchase a film,
Streaming – The film is streamed over the internet, requiring a stable internet connection. Adaptive bitrate streaming (ABS) technologies are often employed to dynamically adjust the quality of the video stream in real-time according to the viewer's network conditions.
Download – Some platforms may offer an option to download the content. This is useful for offline viewing and can provide consistent high quality regardless of internet speed.
Payment and Licensing
Users pay for the content, often with a set window to watch the film (e.g., 48 hours). The payment also determines the type of access (rent vs. purchase) and sometimes the quality (SD vs. HD vs. 4K). The licensing agreements with studios often determine the pricing and availability windows.
Viewing Restrictions
Due to DRM and platform limitations, there can be restrictions such as:
Limited time to start watching after renting.
Limited time to finish watching once started.
Restrictions on the number of devices or the type of devices where content can be viewed.
Analytics and Feedback Loop
Platforms often collect data on user viewing habits, purchase patterns, and feedback. This data can be used to improve user experience, refine content recommendations, or for studios to adjust their release strategies.
End of Viewing Window
After the viewing period expires (for rentals), the content becomes inaccessible until it's rented or purchased again. For purchased content, viewers can access it indefinitely, though sometimes there might be restrictions on device transfers or downloads.
Premium Video on Demand (PVOD) vs Traditional VOD
Release Windows – Traditional VOD waits for the typical movie release cycle: cinema, then maybe Blu-ray/DVD, and finally, streaming. PVOD disrupts this by offering movies shortly after their cinema debut.
Pricing Structure – PVOD often comes at a premium price. Since you're accessing a new release, you're likely to pay more than you would for a regular VOD title. Regular VOD, especially older titles, can be cheaper or even included in subscription packages.
User Experience – PVOD is all about freshness and immediacy. The excitement is similar to watching a new release in a theater but from the comfort of home. Traditional VOD is more like browsing a vast library of content, some old, some new, but not as fresh as PVOD.
| Feature/Aspect | PVOD | VOD |
| --- | --- | --- |
| Content Availability | Latest releases, shortly after theatrical debut. | Wide range of movies and shows, not necessarily the very latest releases. |
| Pricing Model | Pay-per-view (specific content pricing). | Often subscription-based, but can also be pay-per-view or ad-supported. |
| Primary Audience | Those eager to watch the latest movies at a premium price from home. | General audiences are looking for a range of content, not necessarily only new releases. |
| Release Window | Early access. | General availability after traditional release cycles. |
| User Experience | Focused on new releases. | Extensive library browsing and older content exploration. |
Premium Video on Demand (PVOD) vs SVOD
Content Availability – PVOD primarily focuses on fresh releases, allowing viewers to watch the latest movies shortly after their theatrical debut. On the other hand, Subscription-Based Streaming offers a broad library of content, ranging from old classics to recent hits, but might not have the very latest releases that PVOD offers.
Pricing Models – PVOD operates on a pay-per-view model. You pay for each movie you want to watch. In the SVOD model, charges are a monthly (or sometimes yearly) fee, giving subscribers unlimited access to their content library.
User Engagement and Retention Strategies – PVOD depends on the allure of new content. The promise of watching the latest releases can be a significant draw. The SVOD model engages users by constantly updating their library, offering original content, and using recommendation algorithms to suggest content tailored to individual user preferences.
| | | |
| --- | --- | --- |
| Feature/Aspect | PVOD | SVOD |
| Content Availability | Latest releases, shortly after theatrical debut. | Broad library of content, including originals and old classics, updated periodically. |
| Pricing Model | Pay-per-view (specific content pricing). | Monthly or yearly subscription fee for unlimited content access. |
| Primary Audience | Those eager to watch the latest movies at a premium price from home. | General audiences who value continuous access to a wide range of content. |
| Release Window | Early access. | Content added following various release windows, but often not as early as PVOD. |
| User Experience | Focused on immediate, new releases. | Continuous discovery of varied content, with personalized recommendations. |
Challenges faced by Premium Video on Demand Sector
Cinema Owners' Concerns About Increased Losses
The revenue of Cinema or movie theater owners heavily depend on the number of people visiting. With Premium Video On Demand (PVOD), viewers get the convenience of watching the latest movie releases at home. This poses a concern for theater owners, but why?
Immediate Availability – If a movie is available at home on its release day, many might skip the theater experience altogether.
Economic Consideration – Watching at home can be cheaper, especially for families. Instead of buying multiple tickets and spending on concessions, they might just pay once for PVOD.
Comfort Factor – Home environments can be more comfortable. No need to drive, find parking, or sit in a crowded hall.
Health and Safety – In a world mindful of health and safety (like post-pandemic scenarios), avoiding crowded places can be a priority for many.
This decline in footfalls impacts theaters' profit margins and may even lead to closures of some establishments.
Potential Impact on Movie Piracy
Piracy has always been a problem of the media industry . With PVOD in the picture, the dynamics change but not necessarily for the better.
Easier Access to Content – Once a movie is out on PVOD, pirates can more easily access high-quality versions of the film, leading to faster proliferation of pirated copies.
Quicker Piracy Turnaround – Instead of waiting for theatrical releases to end or for DVDs to launch, pirates can now get content almost immediately.
Potential Loss in Revenue – The easier availability of pirated versions might deter individuals from purchasing the PVOD version or visiting theaters.
Higher Stakes for Filmmakers – With PVOD, filmmakers have a tighter window to recoup investments before pirated versions flood the market.
Impact of PVOD's on Movie's Box Office Performance
Recently, the Kerala Film Chamber of Commerce made a decision regarding the duration of OTT and theatrical release. The OTT movies can only be released 42 days after the their theatre release.
The introduction of PVOD has stirred debates on how it impacts a movie's box office performance.
Shortened Theatrical Windows – Traditionally, movies would stay in theaters for a set period before moving to home video or streaming. PVOD might shorten or overlap this window, leading to debates on revenue cannibalization.
Dual Revenue Streams – Some argue that PVOD can act as an additional revenue stream without necessarily harming theater collections. It targets a different audience—those who prefer or need to stay at home.
Changing Metrics of Success – The yardstick of a movie's success may shift from just box office collections to a combination of theatrical and PVOD revenues. This shift can change how movies are marketed and perceived.
The rise of PVOD presents both opportunities and challenges for the film industry. Balancing the interests of theaters, content creators, and audiences will be crucial as the industry navigates this new terrain.
FAQs
What is Premium Video On Demand (PVOD)?
PVOD refers to newly released movies made available for rental or purchase on digital platforms prior to their typical home entertainment window.
How is PVOD different from regular VOD or streaming?
PVOD releases come out much sooner after a movie's theatrical debut, often within weeks, while regular VOD or streaming might wait several months. PVOD titles are also priced higher than standard rentals due to their newness.
Why are studios releasing movies on PVOD?
The rise of streaming platforms, changing viewer habits, and external events like global pandemics have disrupted traditional cinema attendance. Studios are exploring PVOD as a way to recoup losses and meet demand.
Will PVOD replace traditional cinemas?
While PVOD offers flexibility, many believe that the cinematic experience can't be replaced entirely. It's more likely that the two will coexist, with some movies getting exclusive theatrical runs and others opting for simultaneous or early PVOD release.
Can I watch a PVOD release on any streaming platform?
It depends on the studio's distribution strategy. Some movies may be exclusive to a particular platform, while others might be available across multiple services.
Are PVOD releases available worldwide?
Availability can vary. Some titles might be available in certain countries before others, depending on distribution agreements and regional release strategies.
Supercharge Your Business with Videos
At VdoCipher we maintain the strongest content protection for videos. We also work extremely hard to deliver the best viewer experience. We'd love to hear from you, and help boost your video streaming business.
Free 30-day trial →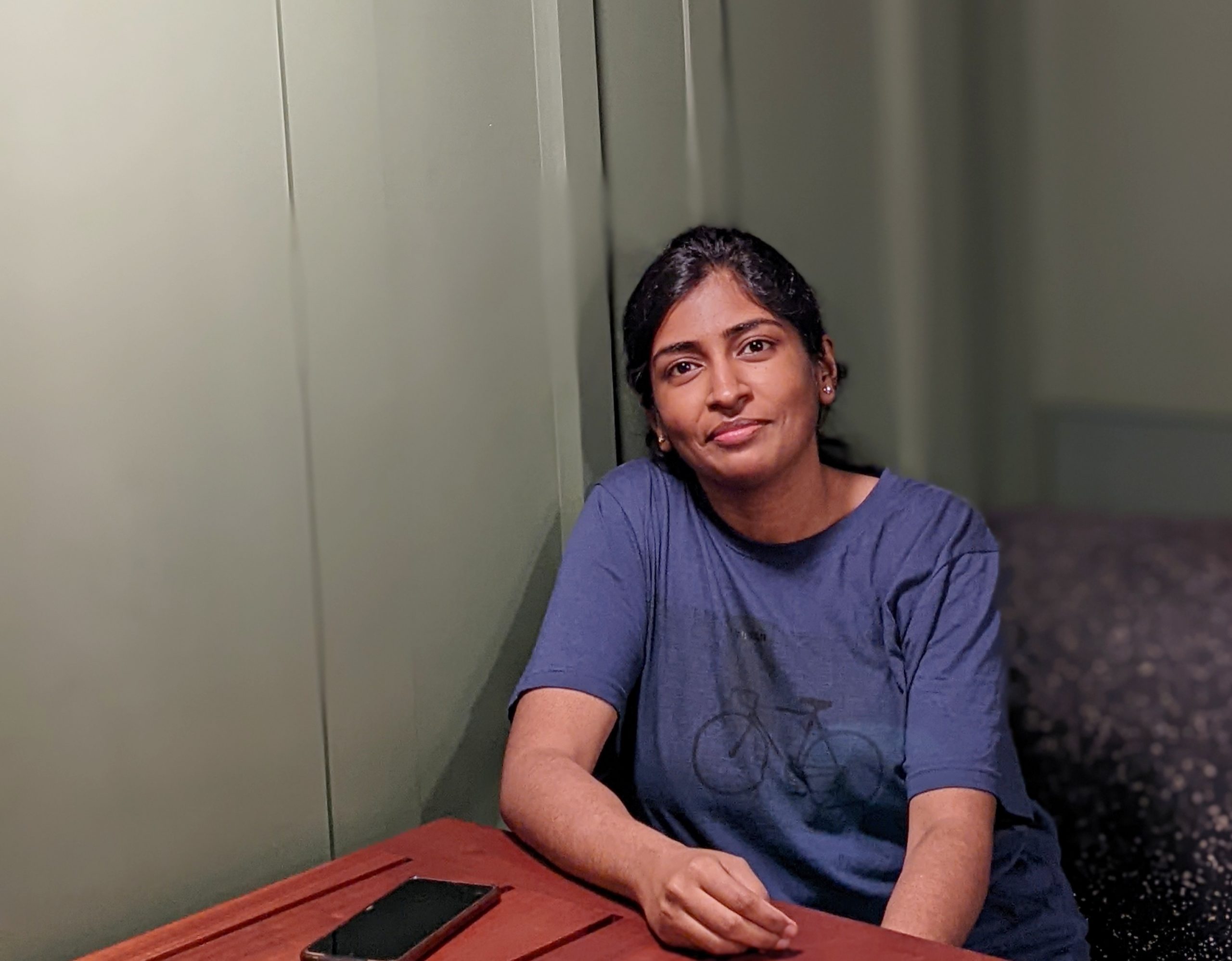 Jyoti began her career as a software engineer in HCL with UNHCR as a client. She started evolving her technical and documentation writing skills to become a full-time Content Marketer at VdoCipher.