The initial developments of video compression technologies in the 1980s and the growth and popularity of the Internet in the 1990s motivated the concept of streaming videos over the Internet to many potential clients. For much of the 1990s, research in academia and industry focused on designing and implementing new protocols to stream internet videos from dedicated streaming servers. VOD Streaming Services made their first appearance in the early 1990s. Video on demand is a technology that allows users to select and watch video content on their computers or mobile devices. It is a type of streaming media, meaning that the video is not downloaded to the user's device but is played back in real-time. The two significant technological advancements that made VOD possible were MPEG (motion-compensated DCT) video compression and asymmetric digital subscriber line (ADSL) data transmission.
According to Statista, by 2027, the revenue in the VOD segment is expected to have an annual growth rate (CAGR 2022-2027) of 10.72%, resulting in a projected market volume of US$157.90bn.
What is VOD or Video on Demand platform?
It's not that VOD is a new era term; it has been around for many years, but it has only become widely available in recent years. This is attributed to the advancements in broadband technology. In the early days of VOD, users had to wait for the entire video to download before they could watch it. Depending on the file size and the user's connection speed, this could take minutes or even hours. Now, with broadband speeds much faster than they used to be earlier, users can start watching a video immediately after selecting it. This has become possible through adaptive streaming, which allows the video to be played back at a quality matched to the user's internet connection speed.
Due to advancements in network speed, bandwidth availability and video compression standards and accelerating user demand, video streaming over the Internet (Video On Demand) has quickly risen to become a mainstream reality application over the past two decades. The markets where once "traditional" (free-to-air, cable, satellite) television was dominating, i.e. linear audiovisual media services, nowadays see strong growth of various video-on-demand (VoD) services, i.e. nonlinear audiovisual media services, including both Paid-for VoD like Netflix/Amazon Prime and Advertised-financed VoD like YouTube.
Note: Linear audiovisual media services are Television broadcasts delivered by a media service provider at a scheduled time and watched simultaneously by viewers. On the other side, nonlinear audiovisual media services include users' selected catalogue offered by the media service providers to watch at their convenience.
Types of VOD Streaming Services
There are three types of VOD Streaming Services, namely, by subscription system, also known as subscription video-on-demand (SVOD); by the per-watch system, or transactional video-on-demand (TVOD), and advertisement-based system, or commonly mentioned as ad-based video-on-demand (AVOD).
Subscription On Demand (SVOD) – For a recurring daily, weekly, or monthly rate., subscribers may have unlimited streaming to a licensed catalogue of content for the duration of their active subscription term. The subscription period may be as short as one month or as long as one year. SVOD is somewhat similar to traditional television packages. The users are free to consume any content they wish at the same monthly price. They also do not have any obligation to prolong the subscription. Netflix and Amazon Prime are some SVOD platforms.
Transactional video on demand (TVOD) – TVOD is just the reverse of SVOD, also known as the Pay-Per-View (PPV) model and offers two options in its pay-per-view scheme. Firstly, the audience can purchase the package to have permanent access to the content, known as Electronic Sell Through (EST). Secondly, the users can pay the fee and download the content for a limited time; download to Rent (DTR).
Advertising-based Video On Demand(AVOD) – AVOD is nearly free, but the users need to consume the advertisements as the cost of production fees and hosting. Businesses pay to have their ad played before a video is watched. This is a way for companies to generate revenue from advertising by reaching a large audience with their message and potentially generating leads or sales from viewers interested in what they have to offer. Examples are YouTube and Hulu.
In 2021, the Video Streaming (SVoD) segment in the Video-on-Demand market worldwide generated the highest number of users at a value of approximately 1.1 billion users. According to the Statista Digital Market Outlook estimates, the Video Downloads (EST) segment generated the least number of users at 705.9 million.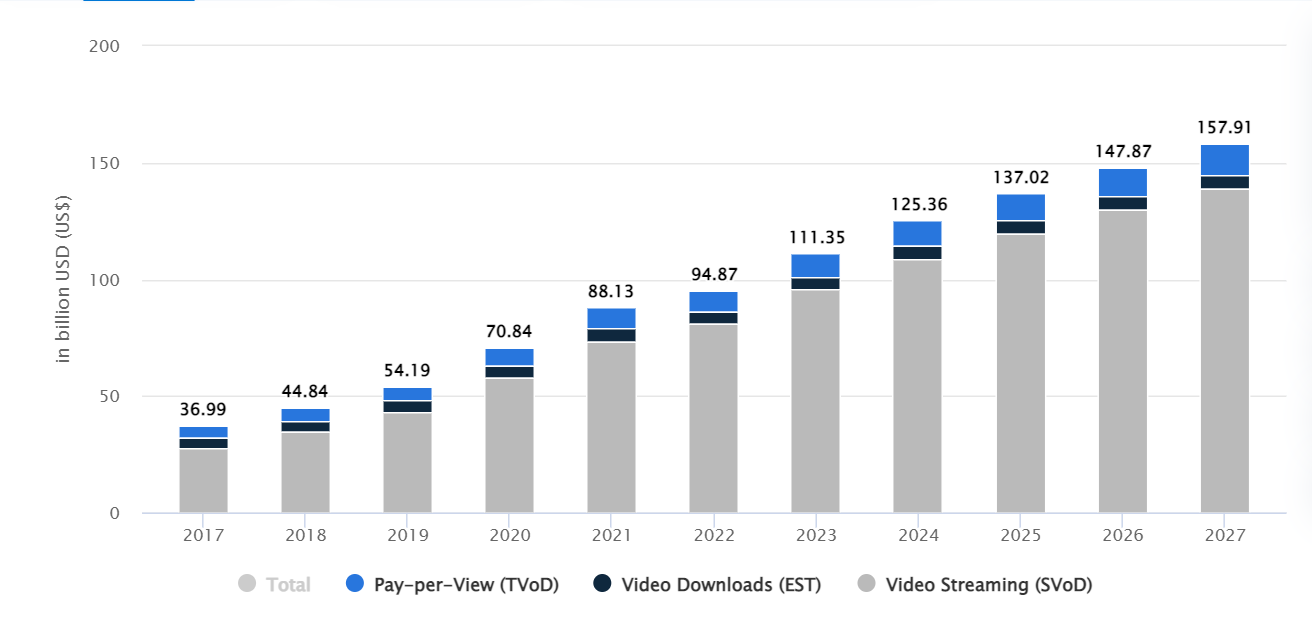 The need for security as VOD Streaming Services
Video streaming is currently ruling traditional multimedia through services like Netflix, Amazon Prime and Hulu, providing millions of users worldwide with paid subscriptions to watch VOD content. Also, we have seen a rise in the number of services illegally sharing premium video content on the web for free. This has given ground for the market of illegal downloads and content distribution regardless of ethical or legal involvements.
When people choose to watch pirated shows and movies rather than a VOD platform, the platform ultimately loses revenue, affecting the content creators and their production processes. According to Statista, the global online T.V. and movie industry expects to witness a 51.6 billion U.S. dollars loss due to video piracy in 2022. The same market sector suffered a revenue loss of nearly 37 billion U.S. dollars in 2018.
Video Piracy even leads to security threats. Pirated content may contain malware, trojans, and viruses. Here, piracy harms content creators and owners and risks the consumers benefitting from it. The various reasons contributing to video piracy are credentials sharing, using tools for content downloading, simulcasting, trial fraud and more.
Securing VOD platforms against piracy in the near future seems challenging owing to the widespread reach of pirated content and difficulty detecting video pirates. Despite this, using certain measures and adopting new technologies and strategies can discourage, prevent and minimize piracy.
Use of DRM encryption service for VOD platforms
Digital Rights Management (DRM) is used by content creators and distributors to restrict the way in which their content is used, transferred, and stored by users. DRM workflow begins with content encryption. When a user clicks play, the video player sends a key access request to the license server. The server determines whether the video player and device are authorized before giving a response containing a decryption key. After completing the authentication process, the player decrypts the video and starts video playback. This all happens instantaneously.
The main DRM technology systems used are Google Widevine and Apple Fairplay to support the most popular browsers.
Apple FairPlay – Apple's FairPlay DRM system protects music and other content purchased from the iTunes Store. FairPlay combines digital rights management (DRM) and encryption to prevent unauthorized copying and playback of iTunes Store content. FairPlay is built into the iTunes software and is used by the iTunes Store to encode music, videos, and other content.
When you purchase music, movies, or other content from the iTunes Store, the content is encoded using FairPlay. This encoded content is played on authorized devices like your iPad, Apple Watch, Apple T.V. and personal computers. To play FairPlay-protected content on your iPod, you must first authorize your iPod with your iTunes Store account. Once your iPod is authorized, you can sync your FairPlay-protected content to it.
Google Widevine DRM – Google's Widevine DRM is a leading platform for delivering protected premium video content at best possible quality to the most number of devices and browsers. It has two versions to secure video media: Widevine Modular and Classic.
Widevine Classic – The earlier version of Widevine to support old Android versions (up to Android 5.1), supporting .wmv format.
Widevine Modular – The latest current version of Widevine with support for MPEG-DASH, CMAF, HLS, and ABR video formats, including Common Encryption (CENC).
Other Security features apart from DRM used by VOD
Dynamic Watermarking – Similar to watermarking, viewer-based dynamic watermarks contain user information like user_id and I.P. When visible, it has been found to be a deterrent factor in video piracy. Such watermarks also act as a unique identifier for accessing users. They are also helpful in preventing screen capture or screen camera recording. Examples include visible string with text and numbers that keeps floating over the screen during Live sports telecast. VdoCipher provides a viewer-based dynamic visible form of a watermark.
Domain Restriction/Authentication – Many a time, VODs don't want their videos to be played on other specific domain names. For the same, they need to restrict any incoming request to your videos from that domain. VOD Streaming Services providers usually do provide mechanisms to restrict single or multiple domains.
Offline Encrypted Downloads – There are needs when VODs need to provide a way to download videos. This often happens on mobile devices like Android having a low bandwidth supply. Thus to provide a continuous and bandwidth-saving experience to the user, offline downloads are a viable option. However, this also brings the risk of illegal and unauthorized distribution of the video content. To prevent this, Vdocipher uses Encryption and time-expiration techniques. You can specify the time duration of validity for which the offline download license would be available for playback. Beyond the duration, the license would expire, and the downloaded file would be no longer accessible.
Geo Restriction – Geo restriction is another kind of restriction for video security. These restrictions are used to restrict playback on a particular set of I.P.s or Geo locations. Geo restriction ensures that all requests coming from a defined set are blocked.
How can VOD prevent Screen Recording?
If you are a VOD platform user, you may have encountered a situation when you try taking a screenshot or screen recording, and all you get is a black screen. You may still be able to see captions but not the content. Here, the screen capture prevention mechanism depends on the DRM security level for various devices and machines.
Platforms like Hulu and Netflix employ multiple DRM systems because users access video content through the app and many different browsers and operating systems. VOD platforms use DRM to prevent content piracy. Without these restrictions, there are chances of some users creating copies of copyrighted content for unauthorized redistribution, selling or pirating through other platforms.
VdoCipher secure video DRM encryption is similar to that of Netflix and protects your premium content from online piracy. For screen capture, the web browser communicates with the video players with EME invoking DRM. When a screenshot command is passed, it's overridden through DRM secure playback. It results in black recordings or screenshots. The capabilities of EME using HTML5 player invokes the underlying DRM encryption for secure video streaming.
How can a VOD platform implement Video DRM with ease?
Different video content is distributed over the OTT platforms, such as movies, T.V. series, anime, original content, etc. Distributing different audiovisual contents over VOD and other platforms is subject to copyright and related rights. The majority of OTT content is not at all encrypted. DRM enables content owners and creators to manage usage rights over their content. The usage rights are a set of privileges the consumers can practice on digital content. Examples include a copy permit, pay-per-view, a one-month rental, etc. Like VOD, e-learning platforms require their content to be distributed only among the authorized consumer. This is easily possible with a DRM encryption layer provided by DRM platforms like VdoCipher for secure video hosting.
VdoCipher offers Hollywood Grade DRM Encrypted video streaming and a secure hosting platform to protect premium video content for OTT and VOD platforms, Elearning platforms and more. VdoCipher also provides a whole set of features like,
Illegal Download Prevention and Screen Capture Blocking through multi-DRM support.
IP and Geo-based whitelisting and blacklisting with Widevine DRM
AWS Infrastructure for scalability and the best uptime
CDN for fast and across the globe delivery
Backend Licensing & Authentication
Multiple Quality Bitrates
Analytics & Usage Reports
CMS Plugins for WordPress etc
API and SDKs
FAQs
Who launched the first Video on Demand service?
Kingston Communications, in 1998, became the first UK company to launch a fully commercial VOD Streaming Services and integrate broadcast TV and Internet access via a single set-top box using IP delivery over ADSL.
What is ADSL (Asymmetric Digital Subscriber Line)?
It is a digital subscriber line technology for fast data transmission on existing copper wire telephone lines to homes and businesses at a high bandwidth. Unlike regular dial-up copper telephone line service, ADSL provides continuously available, always-on broadband connections. ADSL is asymmetric as it uses most channels to transmit downstream to the user and only a tiny part for uploading information from the user.
What are the benefits of using VOD Streaming Services?
VOD Streaming Services offer a convenient way to watch videos on demand. They also provide a variety of content that can be accessed from a variety of devices.
What are the benefits of SVOD?
SVOD services offer a convenient way to watch your favourite shows and movies without buying or renting individual titles. They also often include a wide variety of content, from classic films and T.V. shows to new releases and original programming.
Supercharge Your Business with Videos
At VdoCipher we maintain the strongest content protection for videos. We also work extremely hard to deliver the best viewer experience. We'd love to hear from you, and help boost your video streaming business.
Free 30-day trial →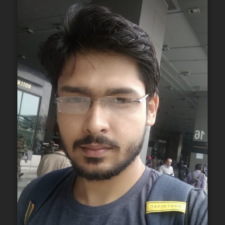 My expertise focuses on DRM encryption, CDN technologies, and streamlining marketing campaigns to drive engagement and growth. At VdoCipher, I've significantly enhanced digital experiences and contributed to in-depth technical discussions in the eLearning, Media, and Security sectors, showcasing a commitment to innovation and excellence in the digital landscape.