It's no secret that videos are the best form of attention-catching content in today's world. Of course, no one can underestimate the power of an enticing visual appeal whether it's infotainment or branding. With VOD streaming platforms boasting spiking viewing times, it's pretty clear that it has some everlasting benefits to offer.
In this post, we are going to take a detailed look at what VOD streaming really is. We will also check out some in-depth insights about video on demand and some top VOD platforms for businesses. Let's dig in.
What is VOD? (Video On Demand)
We all know how much hype video on demand has gained in the current scenario. But what is VOD? How does VOD streaming work? This burning question keeps ringing into the minds of businesses as well as the audience.
Just like its name suggests, video on demand allows your audience to watch video content at their own convenience or according to their own schedule. The media distribution system facilitates accessing videos even in the absence of a conventional playback device.
This means that users no longer have to restrict themselves by the limitations of a static broadcast schedule. The convenience to play, pause, rewind, fast forward, and rewatch as per their own schedules is one of the reasons why VOD streaming is gaining more and more popularity. If you want to make it organized use something like an auto-scheduling app for your content.
How does VOD streaming work?
A VOD streaming platform hosts content online and shares it with the help of an associated content delivery network. Some examples of VOD streaming solutions include Hulu, Disney+, and Netflix. If enterprise brands are looking forward to fulfilling security needs, support hosting, and monetization they need video hosting and VOD streaming solutions.
Earlier, over-the-air broadcasting what's the most common media distribution format. However, the audience had to mold their schedules according to the streaming of their content. But with VOD streaming, they don't have to wait around for their favorite video content. Now that we have an insight into what is VOD, let us move on to how it's different from live-streaming.
How is VOD Streaming Different From Live Streaming?
The 'what is VOD' section has already offered detailed information about how a video on demand platform works. Now, we'll take a look at how it's different from live streaming and why a combination of both is the ideal scenario for content broadcasting.
Live streaming helps customers relate to real-time experiences. On the other hand, VOD streaming has previously recorded content. Of course, for best results, these two strategies go hand in hand.
Live Streaming
In the case of live streaming, customers get a feeling of belonging and consider themselves a part of something active. Since the content is active, it leads to a reduction in expenses and provides a more personalized experience. Unlike VOD streaming, Brands can leverage the power of adding press releases, news events, and product demos according to the latest happenings.
For instance, live messaging and comments during a live video inculcate better interactiveness among the host and the audience. Since the content is delivered in bite-sized chunks, buffering is minimal.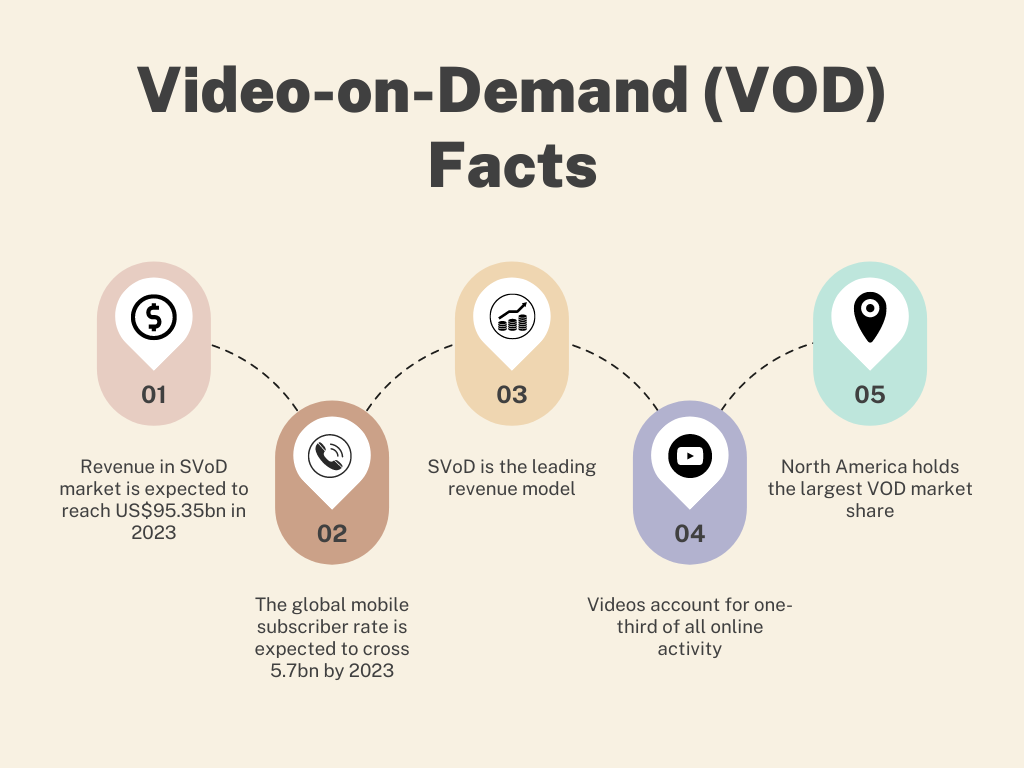 VOD Streaming
In the case of VOD streaming, users don't have to follow the schedule of the person or brand coming live. VOD streaming allows them to watch the content of their choice as long as they have a device connected to the internet.
The most common form of video content that is a part of video on demand libraries includes TV shows, movies, educational content, inspirational content, tutorials, and various other forms of entertainment.
Today, lifestyles are getting busier and people don't have the time to tune in according to someone else's convenience. This is the driving factor behind the soaring growth of VOD streaming platforms. Now, coming to what is VOD for video content creators, they have the time for recording, polishing, editing, and improving videos before they release them for video on demand.
The content blocks are longer the live streaming. As long as the video hosting solution is efficient, caching the required amount of data isn't a problem with VOD streaming. If the owner allows it, the audience can even download content files and save them to watch offline.
Advantages Of VOD Streaming
Multi Device Streaming: VOD Streaming provides the flexibility of viewing the content on different devices like Desktop, Smartphones, Smart TV,etc
Better Revenue: It acts as a platform for content distributors to enhance their ROI through VOD models
Video Player Controls: Users can play, pause, or rewind videos at their convenience
Low Cost: The cost and time required to set up a VOD platform are minimal as compared to other forms of video distribution
Better Content Lifecycle: The content would be available for months or years for people to access it. It helps to widen the reach of the audience
Monetization Models For VOD Streaming
1. Subscription Video On Demand (SVOD)
In SVOD, users can pay a fee based on a monthly, quarterly, or annual basis to get unlimited access to audio or video content till the subscription ends. SVOD model is ideal for those who have a large library of video content. A few of the popular SVOD platforms include Prime Video, Hotstar, Coursera, and Lynda.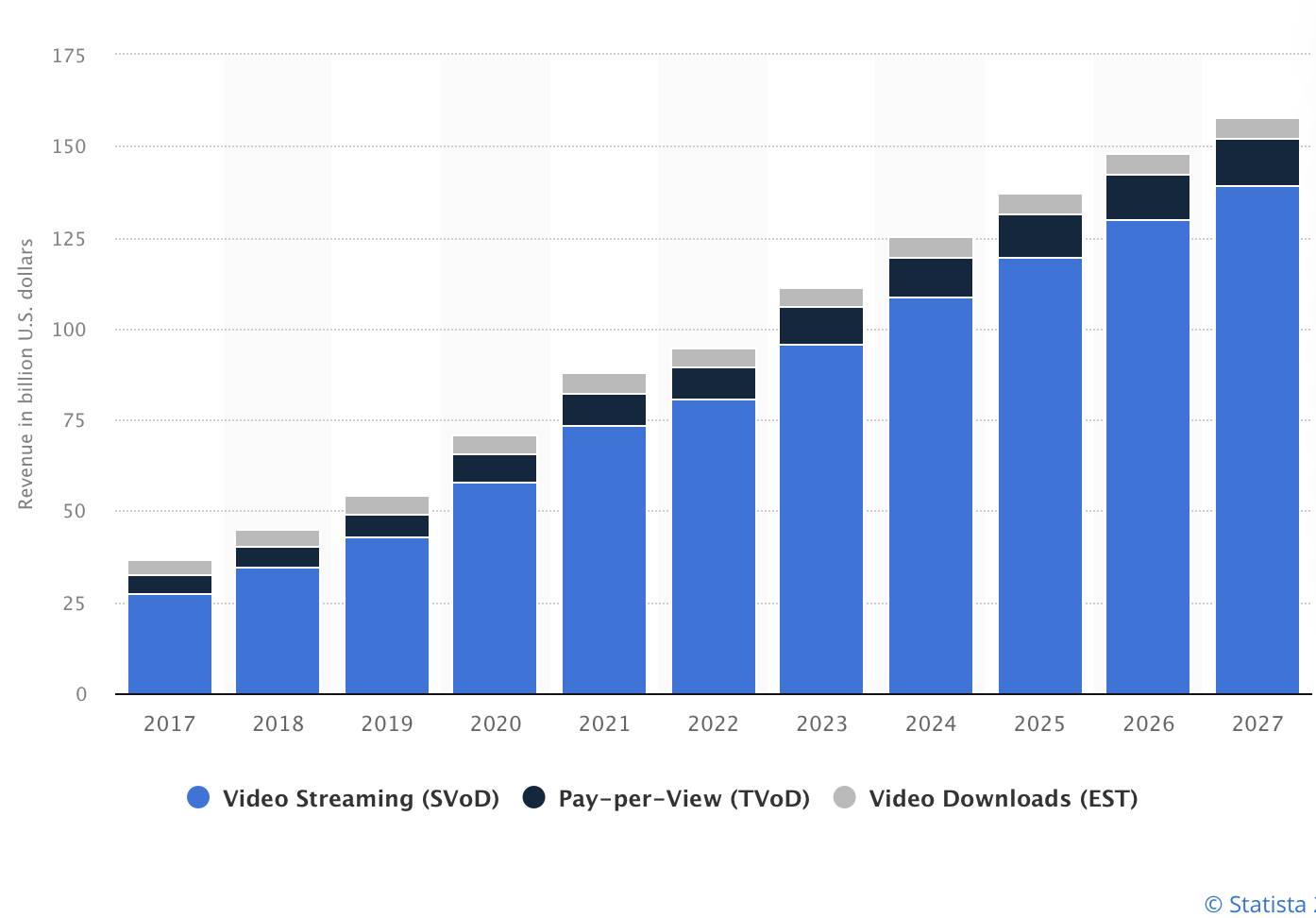 2. Ad-Based Video On Demand (AVOD)
With Ad-Video on Demand, the main revenue source for content creators is through advertisements that show up in their video. YouTube is a popular example AVOD model for content creators.
3. Transaction Video On Demand (TVOD)
Users are expected to pay for one-time access to video content in transactional video on demand. Users can get access to the video for a fixed period of time on the website/ app, but they may also be able to download the video for offline viewing. Examples of TVOD platforms include Apple iTunes, Sky Box Office, Google Play.
What is an OTT platform and How Does It Work?
The biggest disadvantage with telecom and conventional cable providers is the high charges of services. But if you are looking forward to adding value to your brand and offer content at a relatively inexpensive rate, it is a more than viable option. The abbreviation OTP stands for over-the-top.
It's usually a stand-alone product that applies to VoIP calling solutions, audio messaging, but mainly video content. The biggest advantage for brands is that OTT platforms help them create original content and exercise exclusive distribution rights.
When it comes to fulfilling technical requirements, it is fairly ubiquitous. Cable TV either needs a television, set-top box, or telecom set up to allow the audience to interface with video content. However, in the case of OTT, users can opt for a wide array of devices to stream media. Smart TVs, tablets, smartphones, gaming consoles, desktop computers laptops, and the list goes on! All they need is an internet connection and support from the device of their choice for displaying the type of content they want for VOD streaming.
Special events, trade shows, and conferences are some types of business content VOD streaming and OTT platforms can broadcast. Most universities and schools are opting for OTT to give students access to educational content online. Businesses and religious organizations are using them as a part of their outreach efforts.
Most OTT streaming services provide users the option to choose the type of content they wish to pay for. OTT and VOD streaming platforms make adjustments to the metrics of content delivery which minimizes destructions and enhances performance in real-time.
We've already discussed 'what is VOD' and related information in the above sections. Now, it's time to move on to video hosting platforms. Let's dig in.
What should you look for in a VOD Streaming Service?
Anyone in today's world can share videos, thanks to social media video hosting platforms. However, if you are a high-volume broadcaster or a business in need of video-on-demand solutions, these solutions won't necessarily meet your targeted requirements. The lack of monetization options, security controls, and increased focus on their own platform compromises their clients' experience.
Therefore, you need to choose a platform that it integrates essential video broadcasting features such as VOD streaming, live streaming, video hosting, and top-notch video protection. An all-in-one solution comprising of these four crucial functionalities is what elite organizations need.
Top VOD (Video On Demand) Services
Organizations are coming forward to offer B2B solutions to businesses wanting to utilize the power of video content. there is no shortage of video hosting solutions out there. In fact, there are so many of them, choosing the best can become a little daunting. So, we have listed out some top video on demand services which can make it easier for you to pick the best according to your requirements. Let's take a look.
1.VdoCipher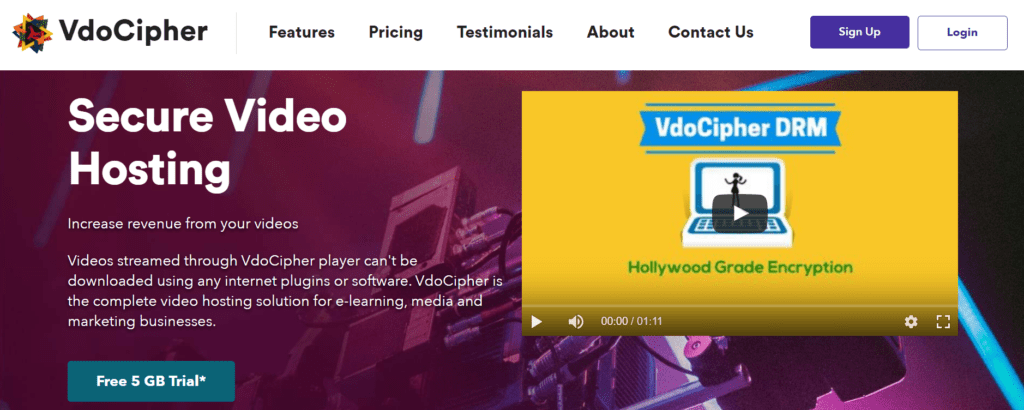 VdoCipher is one of the most secure video hosting platforms for LMS, e-learning, and media platforms. The speciality of this VOD streaming solution is that it comprises high-end encryption technology akin to a DRM Software that prevents screen captures and downloading of your videos without your permission.
The customizable video player offers the audience options for adding subtitles, forwarding videos, altering speed, and rewinding videos. The best part is that you can gain in-depth insights into how this VOD streaming platform works with its free 5GB trial. No credit card required!
2.IBM Cloud Video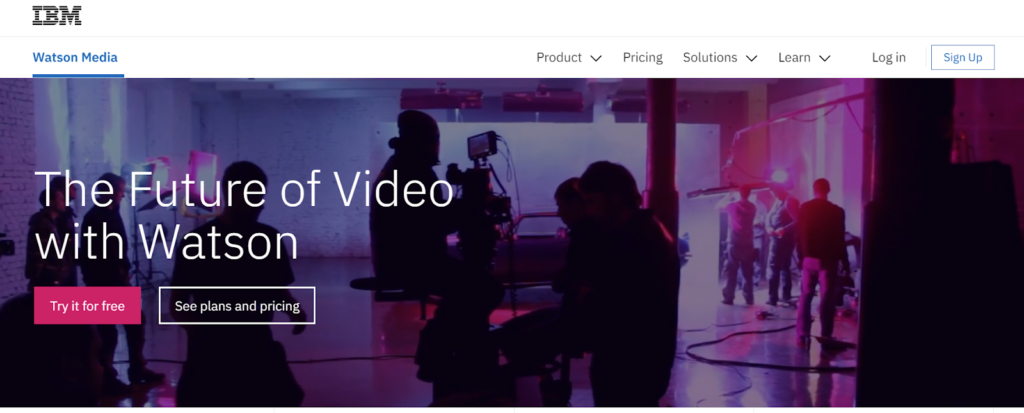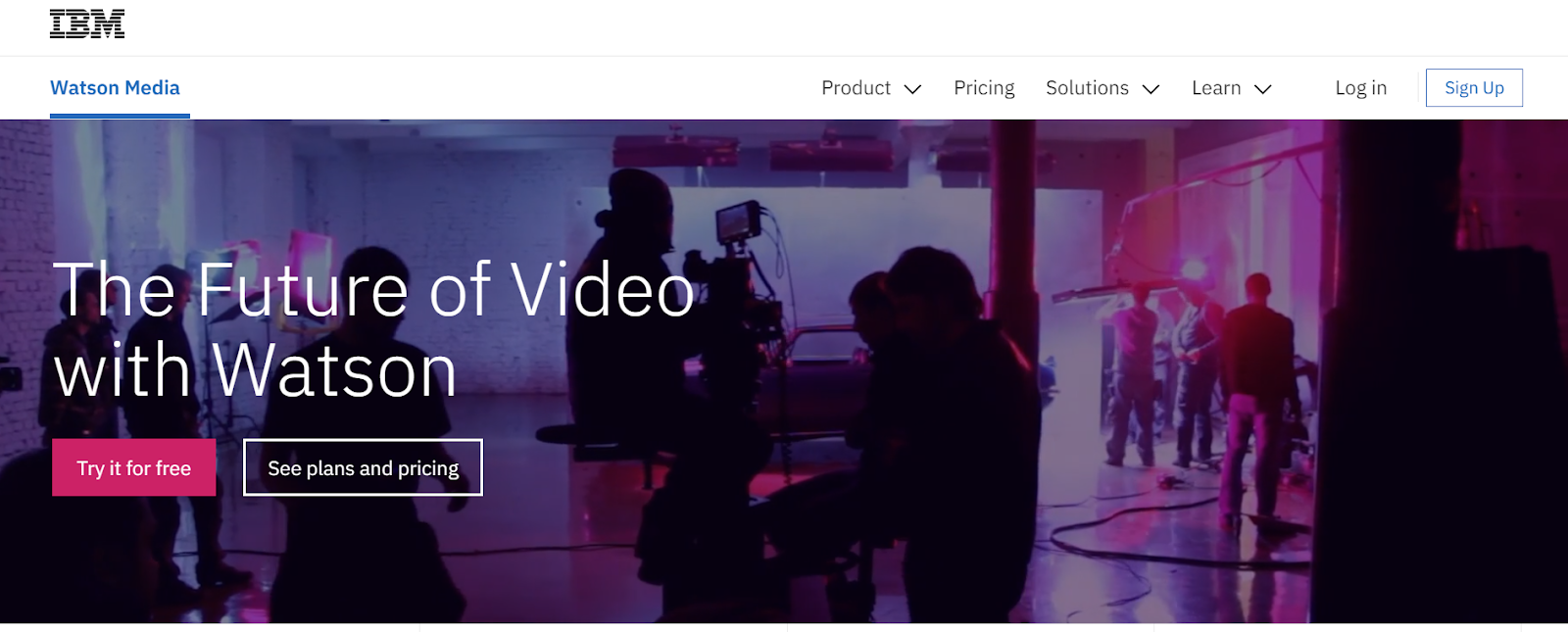 The IBM cloud video hosting solution offers basic services as well as customized pricing with optional add ons. The feature-packed expansive platform offers live streaming as well as VOD hosting with different categories for ease of organization of content. Some other features include custom metadata fields, cloud encoding, live transcoding, video library migration, and tools for subscriber management.
It has a total of four plans which include silver, gold, platinum, and custom. However, on the downside, it doesn't offer monetization features such as TVOD, SSL paywall, or AVOD.
3.Wistia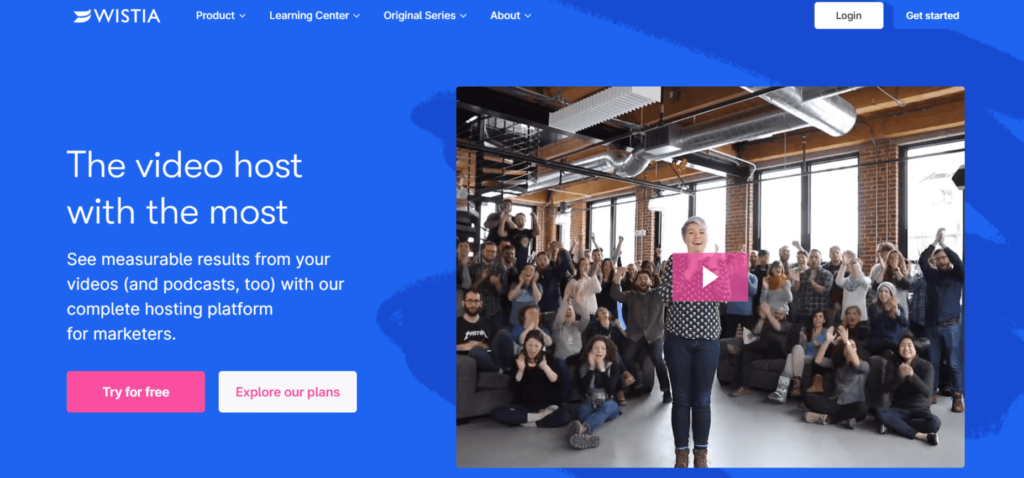 Wistia is a leading name in the VOD streaming category. Its adaptive video player supports multiple bitrates. Some other features include cloud encoding, tags for better organization, a tool for bulk uploading, Dropbox upload facility, and domain restrictions. However, some security and key API features such as SDKs as well as AES encryption are missing from this video on demand and video hosting platform.
Final Words
Due to varying consumer needs, VOD streaming platforms and OTT platforms have occupied the center stage in today's world. Repurposing recorded content gives more room for improvement and the end result is far better in terms of usefulness and quality.
In the present day's busy lifestyles, freedom is becoming more and more priceless. VOD streaming platforms provide customers access to all kinds of video content whenever they want and wherever they want, provided, they have a good internet connection.
As long as you are using a good video hosting solution, you can easily avail all the benefits VOD streaming has to offer for your business. Remember, this is the most important choice that can make or break your video content marketing efforts. I hope the above-mentioned features and video hosting suggestions help you in making an informed decision when it comes to a video hosting platform.
FAQs
---
1. What is the role of VOD?
VOD (Video on Demand) a technology that allows users to watch video content as per their convenience. VOD is the future and will emerge as a great source of revenue for the content creators. Video on demand services provide enhanced accessibility by providing the option to view video anywhere at any time.
2. What are the different types of VOD Models?
There are various types of video on demand (VOD) business models to choose from. It includes ad-supported on-demand videos (AVOD) subscription-based video on demand (SVOD), Transactional-based (TVOD) video on demand, and Premium video on demand (PVOD).
Secure Your Videos from Download & Piracy
At VdoCipher we maintain the strongest content protection for videos. We also work extremely hard to deliver the best viewer experience. We'd love to hear from you, and help boost your video streaming business.
Free 30 Day Trial
Head of Digital Marketing at Vdocipher. I love the art of connecting the right product to their users. When i'm not doing that i love getting lost in books.