Why Subscription Video on Demand ( VOD platform) is the big deal
I cannot get tired of quoting this stat – Netflix accounts for over 35% of peak internet traffic in North America. Any time roughly every third internet user is streaming on Netflix's video on demand platform. Subscription video on demand platforms are havens for internet users looking to spend their down-time on movies and television.
Netflix has built a fantastic library of popular and critically acclaimed TV shows and movies. The company has championed the subscription video on demand model, and helped pave the way for emerging VOD platforms. The potential for niche VOD platforms to grow in the subscription VOD market is immense. In this blog I detail why, and explain how you should get started with your VOD platform.
Will Video on Demand replace Television
Video on Demand platforms have grown exponentially in size over the last 10 years. VOD platforms now present an existential threat to cable broadcast television. A global Nielsen survey revealed the popularity of video on demand platforms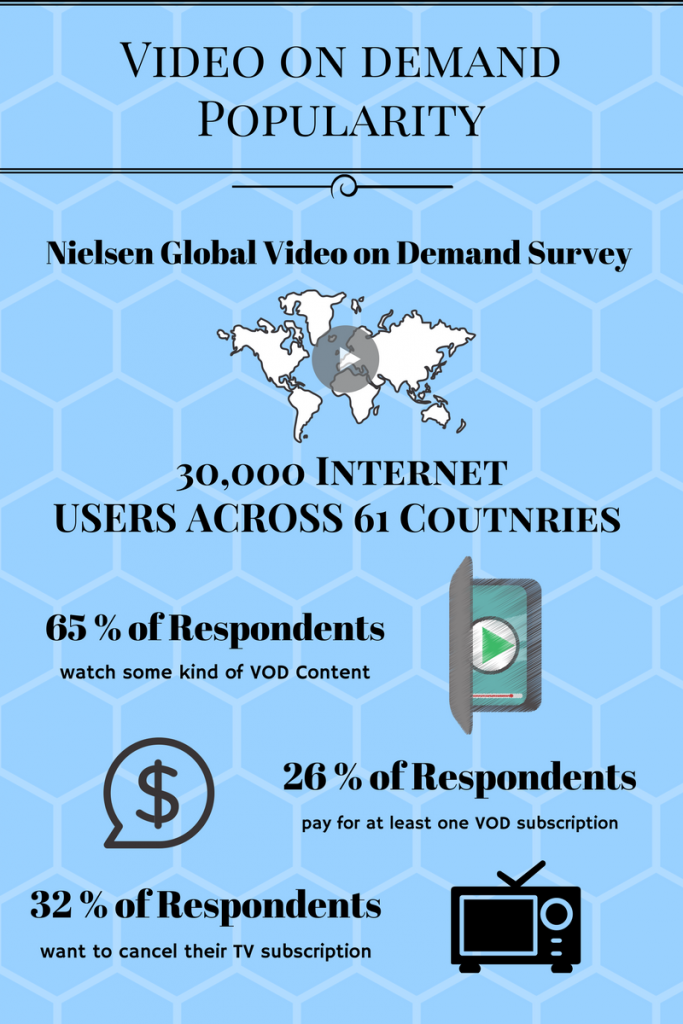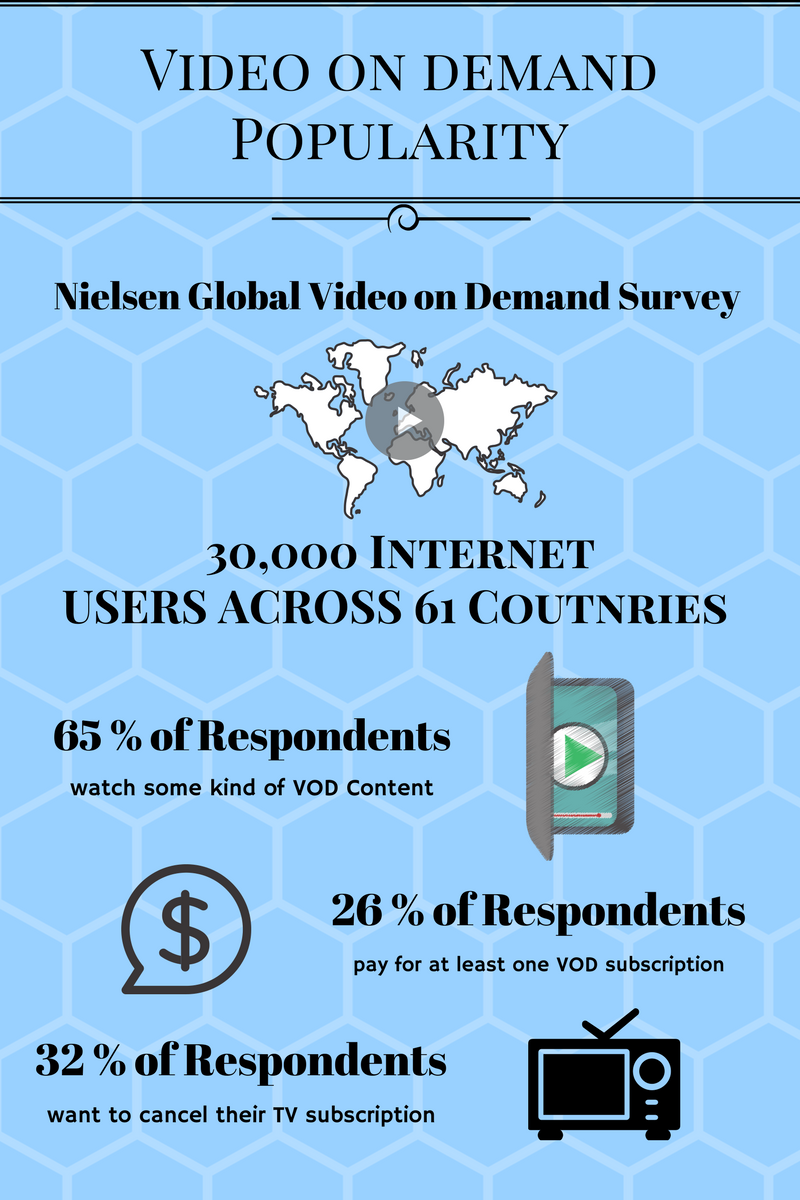 Nielsen's followup to the study however revealed an interesting insight. Even though users express the intent to cancel cable, they rarely go through with cutting the cord. The sheer variety of content that a Television connection offers – Movies & Series, News, Sports, Infotainment and Kids Entertainment – can barely be matched by a single Video on Demand platform. Netflix for example has ruled itself out of acquiring sports content. The company believes in focusing on its niche of feature-films and television. 
Potential for a vast ecosystem of VOD Platforms
Much needs to change for Video on Demand platforms to successfully replace television. An ecosystem of platforms, which would offer both general entertainment and niche content, needs to emerge.
YouTube is the biggest video on demand platform. Viewers on YouTube clock over 1 billion hours of videos viewed, every day. This, as YouTube is keen to point out, comes to to over 100,000 years worth of videos viewed, every single day.
YouTube's revenue model is Advertising video on demand (AVOD). The platform generated $9 billion revenue in 2015. Inspite of the huge audience and revenues that it generates revenues earned by artists is very low. YouTube's content-creator split means that YouTube takes 45% of ad-generated revenues from every channel. Video creators also have to sign up with Multi-channel Networks to handle the monetization aspect effectively. This in turn sees their split from video come even further down to 38 percent.
Besides this, per ad revenues are often very low – the high is at about $20 per 1000 views. And that is when users watch through a full ad.
As a result, revenues generated by many video creators are barely sufficient to recoup the investment in video. Many artists now opt to start their own video on demand platforms to better monetize their creative output. Case in point, Popular YouTube personality Casey Neistat took a break from vlogging on YouTube to start his own venture with CNN.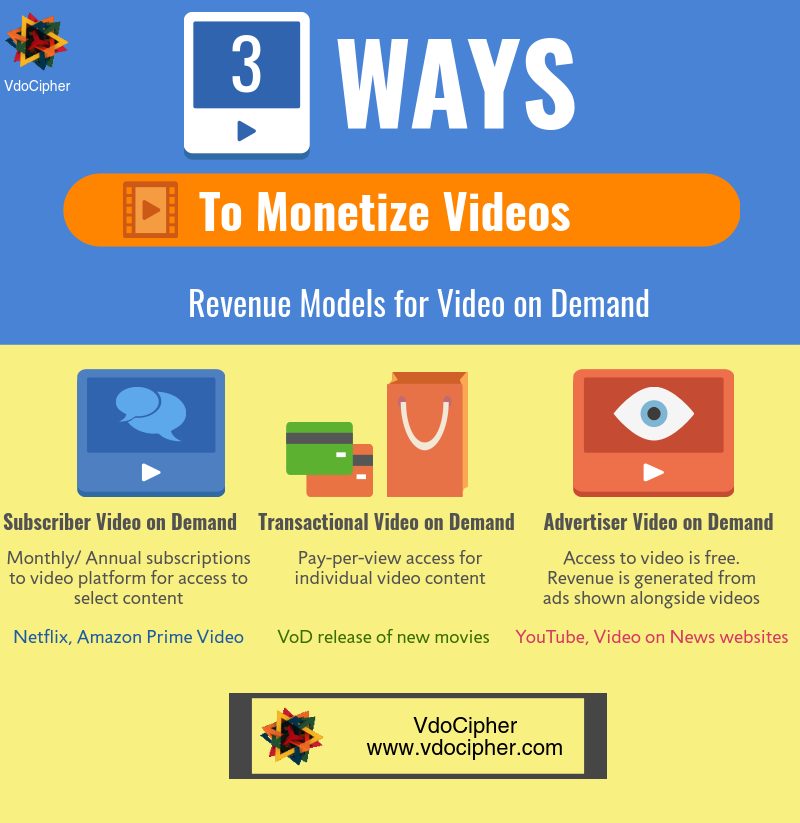 Opportunities for better monetization of content are now available for video creators. The true size of the video on demand ecosystem can probably be estimated by the number of YouTube channels with over a million subscribers (somewhere around 2000)
Subscription Video on Demand – The Whys and Hows
Why SVOD?
The time is perfect for you as a video creator to start your own Video on Demand Platform. Revenues per subscriber on your own video platform are much much higher than revenue per subscriber to your YouTube channel.
Subscription costs in SVOD tend to be quite low compared to the aggregated costs of cable membership. This means that users can easily opt for multiple subscriptions to VOD platforms, without burning a hole in their pocket. SVOD is a much more sustainable model for VOD platforms, from both customer's and video creator's perspective.
Subscription Video on Demand model is ideal when you:
Are confident about building a loyal audience, and

Have a sufficiently large library that users can watch when convenient.
Examples of niche video on demand platforms include:
Indieflix, which is a platform for independent short films
Noggin, Nickelodeon's video subscription app for preschoolers.
Panna Cooking – Video Recipes from master chefs
Costs of Content licensing in Subscription Video on Demand
If you are a content aggregator, you can choose to acquire different kinds of video content, and offer a combined subscription to your video package. A large library of content that would appeal to your subscribers is ideal for the SVOD model.
On the other hand you can offer a select range of premium content.  Transactional video on demand model, used among others by Apple iTunes, makes more sense for premium content. Examples of premium content would be movies being released through streaming video close to their theatre release. Hollywood studios are actively considering a Premium Video on Demand model, offering films to users at high price points within weeks of theatre release.
Determining the costs and potential revenue from adding video content is a key problem to solve. You would need to assess the value that it adds to your video library. Quantifying this value is the main challenge for video aggregators in the SVOD model.
User Management
User management is the most critical element to a subscription video on demand. It is at this stage you should ask yourself what features you wish to incorporate as part of the subscriber membership experience.
For example, do you want users to have access to all the content on your website at once? The answer depends on how you want your users to experience your SVOD platform.
You can implement Multi-tiered Memberships – Suppose you have somehow bagged the streaming rights to HBO's Game of Thrones. You can sell a subscription to users who want to watch the show as it is released, and another (pricier) subscription to users who wish to catch-up with episodes of previous seasons.
With your own subscription video on demand platform you can customize user's experience. You also have flexibility over pricing, meaning that you can effectively monetize from budget customers as well as from customers seeking a superior experience.
Netflix has a tiered pricing model, starting at $7.99 in the US. By upgrading to the $9.99 subscription users can simultaneously watch Netflix on two screens, and for $11.99 subscription can access it on 4 screens. Most new video on demand platforms implement a variant of a freemium model, with free content available to attract new users, and then tiered pricing options.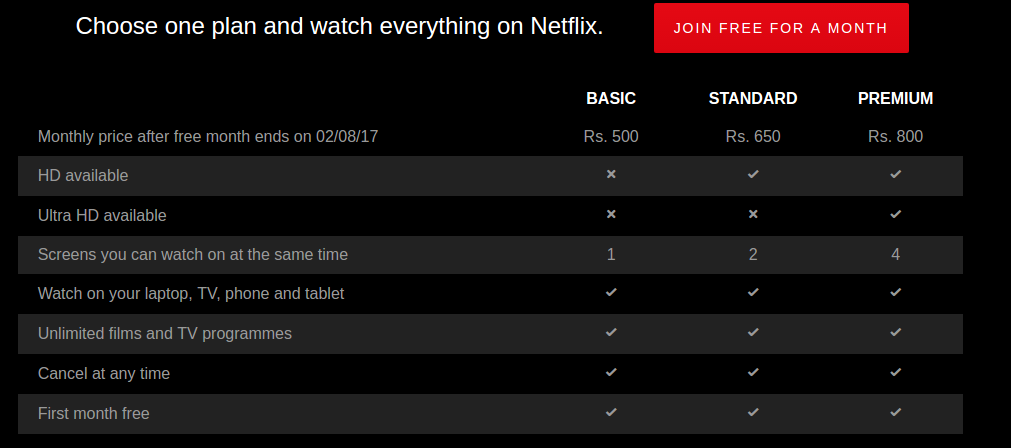 Sell Multiple Memberships
You can also sell multiple memberships for piecemeal video content. Suppose you've managed to wrest House of Cards away from Netflix, and want to sell separate subscriptions to both House of Cards and Game of Thrones. You can do so, if it makes sense to sell separate subscriptions. While there is likely to be considerable audience overlap for the two TV series, selling multiple subscriptions makes sense when you believe that different kinds of users require exclusively one kind of content. Online education platforms generally adopt multiple memberships, based on the subject that students wish to learn.
Managing User Access
Ultimately any good user management system succeeds on the basis of how well it manages user access. Adding user restrictions, such as the ability to download videos, watching simultaneously on different screens, and managing total user watch time can be highly important. You may also wish to implement a dripped content strategy, wherein your videos may become accessible to users only after a set period. You can for example release a new episode of a video series for new viewers. This makes eminent sense for online video courses and for newly released television shows.
Use WordPress for Subscription Video on Demand Platform
WordPress, with its fantastic ecosystem of plugins and themes offers a large variety of membership plugins. Popular WordPress membership plugins MemberPress, WooCommerce Memberships and Restrict Content Pro provide most of these user management features that you may wish to incorporate to your website. Each of these plugins has a unique feature set, and whether it is the best for your Subscription video on demand model depends on the feature set you are looking to incorporate to your website. WordPress guru Chris Lema has done a great analysis here of the features you should look for in a membership plugin.
Secure Video Hosting with VdoCipher
While TV is a major competitor to VOD platforms, video piracy poses a bigger, existential threat. Our statistical study shows that 1 in 5 of the internet population uses a video downloader tool. Your customers, who should help you bring in new customers through word-of-mouth, can just as well share their user password or download the content directly.
If your users share passwords among themselves, the number of people that they share it with would be the audience lost to your VOD platform. So if every 4th user shares it with 4 other friends, there is 1 lost subscriber to every paying subscriber. By combating piracy you can double your income from your SVOD platform. Losses from online sharing of videos are much higher. 
VdoCipher's secure video streaming offers a full-stack DRM, helping you battle piracy effectively. Security features include –
Server side encryption in Amazon S3 making sure your files are secure in the cloud
Encrypted video streaming ensures that files remain secure throughout the streaming process
Player authentication using OTP – User's video player is authenticated at the time of playback, meaning non-authenticated users cannot log in, and the video cannot be shared on any unauthorized website
Dynamic watermarking – Text/image overlay over the video, deterring pirates from using screen capture software