Transactional Video on Demand (TVOD) model can be used for elearning and entertainment videos. TVOD model enables you to make maximum money from videos.
There are many questions video creators have in mind when starting a video on demand website. The biggest one of them is:
What would be the best business model for my video website?
We have previously discussed the Subscription VOD model in detail. In this blog we'll be shining light on its complement, the Transactional Video on Demand model. In doing so, we answer the following questions related to TVOD:
In 2016, US Domestic consumers spent over $2 Billion purchasing films from Electronic Sell-Through platforms such as iTunes and Amazon Video. A large cut of this revenue figure goes to the original content creators. In live sports, Pay-Per-View buys generated $400+ mn revenue for the August 2017 megafight between Floyd Mayweather and Conor McGregor. Surely, TVOD works for entertainment content.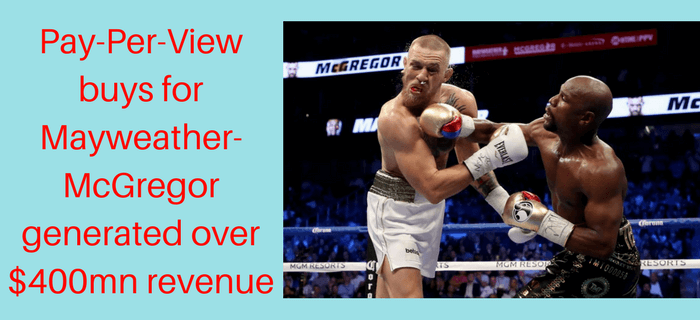 The TVOD model works well for elearning VOD platforms just as well. In 2016-17, the K12 and competitive exam prep startup Byju's generated $40 mn revenues. Byju's, which offers year-long courses along the TVOD model has received total funding of $244 mn. Coursera, valued at $800 million, has emerged as the top elearning VOD platform largely on the basis of their course specializations which until recently followed the TVOD model.
Surely, when done right, TVOD can bring immense riches for video creators.
TVOD is amazingly good for making money
The major business model for video creators are TVOD (Transaction VOD), SVOD (Subscription VOD) and Advertising VOD (AVOD). Of these the TVOD model has the potential to generate the most money from a given video.
Case in point the Fight of the Century boxing bout between Floyd Mayweather and Manny Pacquiao. The mega-fight had 4.6 million users buying Pay Per View rights at $89.95 ($99.95 for HD). The exhibition boxing fight between Mayweather and Conor McGregor had approximately 4.4 million PPV buys at the price of $99.95.
In the Electronic Sell-Through (EST) market iTunes is the largest TVOD platform. iTunes presents various options for users to catch their favorite film. Users can rent a film for $4.99, or purchase it for unlimited viewing at a higher price ($9.99 or more, which can vary for different titles). SVOD platform Netflix on the other hand charges users around $10 for full catalog access.  TVOD models ability to generate fantastic revenue becomes clear when you consider that iTunes generates the same revenue from a user renting 2 films in a month as Netflix does for monthly access to its entire catalog.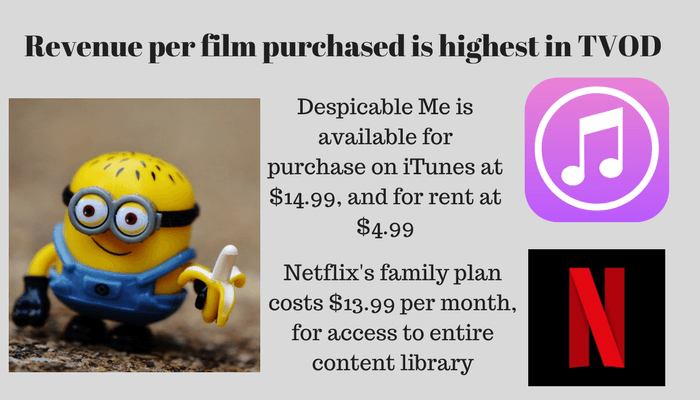 Amazon Video offers a hybrid TVOD-SVOD model. Amazon provides its SVOD service as part of its Prime membership. We'll discuss the reason why some titles are sold separately along TVOD model later in the blog.
Among education websites, Udemy is a TVOD platform. Built as a marketplace with little content moderation, Udemy offers lifetime access to courses at a fixed price. As of December 2016 the platform had over 14 million students, and the highest earning instructor had exceeded $2.8 mn in total earnings.
Defining Transactional Video on Demand (TVOD)
In Transactional Video on Demand users are expected to pay one-time for access to video content. The nature of this access can vary –
Users get access to the video for a fixed period of time on the website/ app
Users get access to the video indefinitely on the website/ app
Users may also be able to download the video for offline viewing (protected by DRM so that users can only access it through authorized apps)
The absence of a recurring payment is the key difference between Transaction Video on Demand and Subscription Video on Demand.


Even when purchasing films through Electronic Sell-Through platforms, users do not actually "own" the film. Instead they license the film from the platform, a license that can be revoked by the rights holders. This has caused controversy when iTunes and Amazon video users have found movies disappearing from their libraries.
TVOD business model can be implemented as:
Pay per view for live sports
Fixed-period access to education content
For electronic sell-through via iTunes, Google Play Movies or Amazon Video
When is Transactional Video on Demand the right model for you
TVOD model works best for highly differentiated and compelling content. This is because customers are willing to pay a premium for videos that offer unique value.
Consider the animation film Despicable Me. The $600mn+ grossing superhit film was released in 2010. The film spawned two sequels, 'Despicable Me 2' and 'Despicable Me 3', and a prequel named after the stars of the series, the 'Minions'.
Despicable Me 2 and Minions are available on Netflix's SVOD platform. Despicable Me 3, released in 2017, would likely makes it way to SVOD by 2018 as well. So why then is Despicable Me only available on TVOD?
A 7-year-old film occasionally broadcast on cable TV, Despicable Me has only a small potential audience that has not seen the film. The film has achieved a cult status in popular culture. There is likely to be a significant subset of fans who would like to own the film for repeat viewings. Universal Studios, the distributors of the film would have calculated that revenue from the title earned through the EST option would be higher than the licensing revenue from SVOD platforms.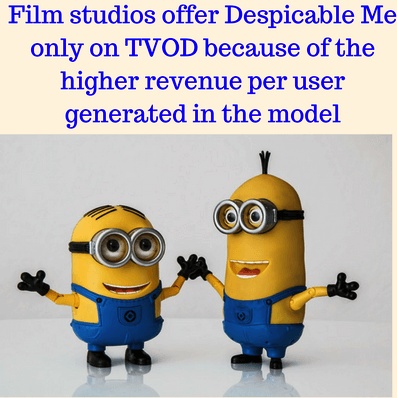 Transactional VOD business model is ideal when you have a small potential audience that are willing to pay a higher price for your videos.
Indeed, offering highly differentiated content is a pre-requisite for a successful TVOD platform. Prospective users should know the value that your video content will offer them. The marketing for your eLearning TVOD platform should be focused on how your platform uniquely enables learners to achieve their objectives.
Elearning TVOD
Education VOD platforms can succeed with TVOD model when they can demonstrate to potential learners the value addition to them. This value addition could be scoring higher in a competitive examination or learning new skills for a new job/ promotion.
TVOD is widely popular for skill-upgradation courses. Analytics Guru Jeff Saur for instance sells lifetime access to his Beginner to Advance Google Analytics course for $497. With his analytics course Jeff promises that learners can complete Google Analytics certification within a month of starting. A clear achievable target that your viewers can achieve should be the focus of your elearning TVOD platform.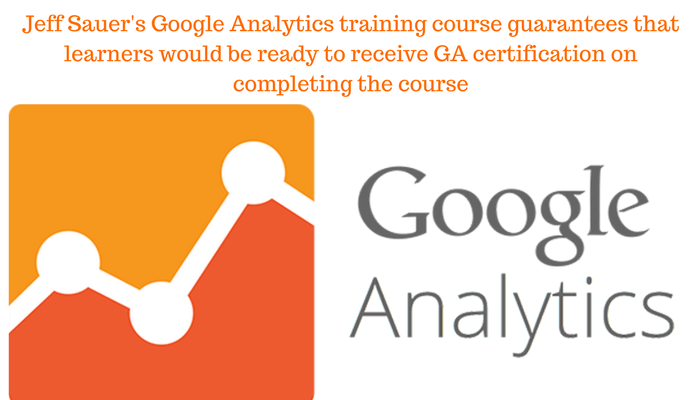 For elearning TVOD platforms, there is necessarily a timeline in which online content is accessed. You should create a structure that learners can follow to achieve their objectives.You should also incorporate additional elements beyond just the videos.Quizzes and Assignments are important so that learners are able to test themselves and ensure that they are absorbing their knowledge. On the SVOD platforms such as Great Courses and Lynda are essentially a buffet of video content with no evaluation element.
Entertainment TVOD
You can build an entertainment transactional video on demand platform by offering highly rated films not offered on SVOD platforms.
Hollywood Studios are also assessing a variant of TVOD, called the Premium Video on Demand. In this model, newly released films would be offered on Video on Demand within weeks of theatre release, at a higher price than when they are eventually released on Blu-Ray.
Whereas Google Play Movies and Apple iTunes are content aggregators, film distributors are also entering the VOD market through their own Transactional VOD platform. The UltraViolet Rights Management system enables users to purchase films from different platforms. This enables users to centrally store proof-of-purchase. In a highly fragmented VOD market, a centralized database for users to save the licenses of films they have purchased is very useful.

Implementing a Transaction Video on Demand model
Electronic Sell-Through – Download to Own vs Download to Rent
iTunes has both renting and buying options. There are restrictions involved in renting a film – you have 30 days in which you can start watching a film, and once started, you have 48 hours to finish watching the film. You can watch the film as often as you like, until it expires after 48 hours of starting. You cannot stream it simultaneously on different devices, or download it on more than one device at a time.
In the purchase option, users have license to download and stream the film on any owned device. Purchase options for films cost on average $9.99, with some variations depending on the title.
In TVOD your users license your content
Major TVOD platforms such as iTunes and Amazon Prime Video have faced controversy when they had to pull films from the libraries of users who had purchased the titles. Licenses for films can change hands between distributors, at which point the rights holder may pull it from the TVOD platform.
Users buying digital content – whether books, music or films, only buy a restricted license to that content. On the other hand when users purchase hard copies of books or Blu-Ray discs they own that content (subject to copyright restrictions).
When selling online content, a Digital Rights Management system is necessary to implement user licenses. DRMs enforce restrictions such as preventing users from making illegal copies and sharing and allowing access for a fixed period of time only.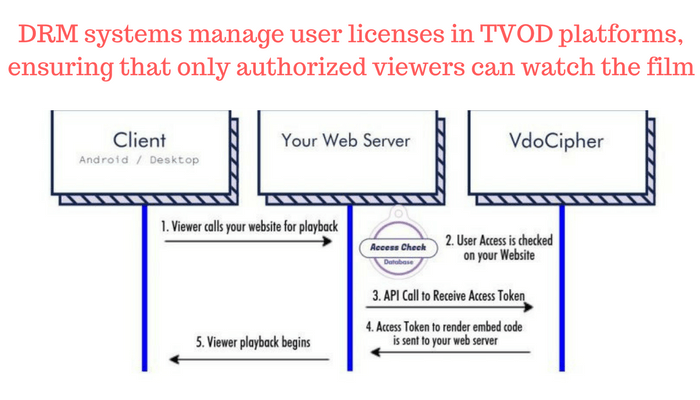 Implementing TVOD for eLearning videos
For eLearning videos you should offer fixed-period access access to students. For example, if you provide videos for IAS exams, the fixed period cycle for users could be 11 months over which learners prepare for the exam. You may alternatively offer lifetime access as well, in which case you would need to regularly update your content in line with changes in the field.
Distinctions between TVOD and SVOD model
Customer Perception of Value tends to be Higher for SVOD platforms
For SVOD platforms, users pay a low amount per month in return for unlimited access for a month. This seems a good deal on the surface, and users are likely to continue the recurring payments. In TVOD model on the other hand there is a usually high one-time fee for access to content.
Consider an online course that you would complete in 6 months. The online platform may charge you $10 per month subscription, or it may charge a one-time fee of $50. Assume that in either cases it would take you 6 months to complete the course. Users are more likely to opt for the subscription because of the lower upfront fees. However the net fees is actually higher for SVOD than for TVOD. This paradox is the reason why educational VOD platforms such as Udacity and Coursera, which have been looking to scale up, have transitioned towards the SVOD model.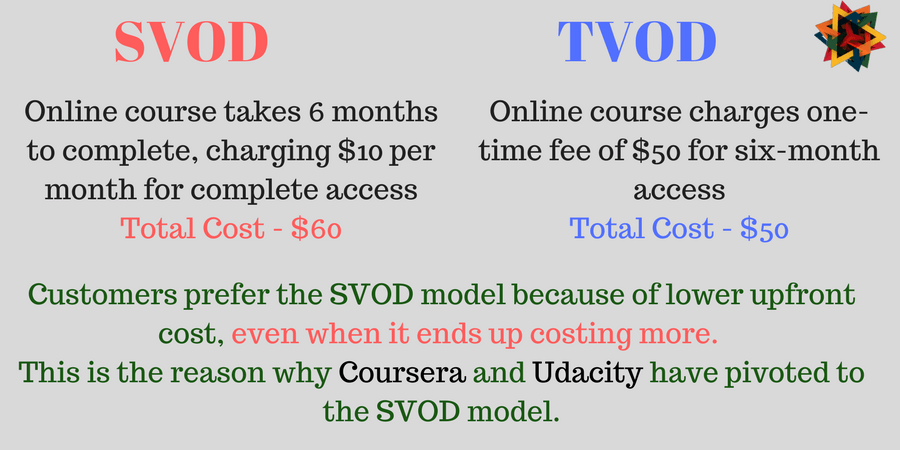 Customer Retention is a major challenge in TVOD
In SVOD business model you retain your customers over a period of time. Users get habituated to paying a fixed monthly fee in the SVOD model.
In the case of TVOD, users deliberate before every transaction. Customer retention is a major challenge in TVOD. TVOD platforms require a greater marketing effort, both to retain existing customers and to get newer ones.


TVOD is best suited for new VOD platforms
In TVOD the revenue generated per user is high, which makes up for the lack of scale when starting out. Coursera adopted the TVOD model in its growth stage.
Coursera evolve into a Subscription Video on Demand platform in 2016, as it chased better scale. Subscription VOD platforms are suited for large number of users. The lower ticket size in SVOD is compensated by the larger number of users.
Video content owners opt for TVOD largely when the expected audience size is low, but the audience are willing to pay a premium for the content.

Royalty calculations are straightforward for TVOD platforms
Most elearning SVOD platforms pay video course creators a a portion of their revenue proportionate to the number of viewers to their videos. This involves complex calculations, and the platform has to take into account different metrics such as number of learners who enroll into a course, number of learners who complete a course, and net number of viewers. Royalties paid to course creators tend to be quite low in comparison to the overall revenue of the SVOD platform.
Royalties are much higher in the TVOD model. The video creator gets a larger percentage of transaction revenue. In the case of Udemy, video creators and Udemy each receive 50% of every course purchased organically on the platform.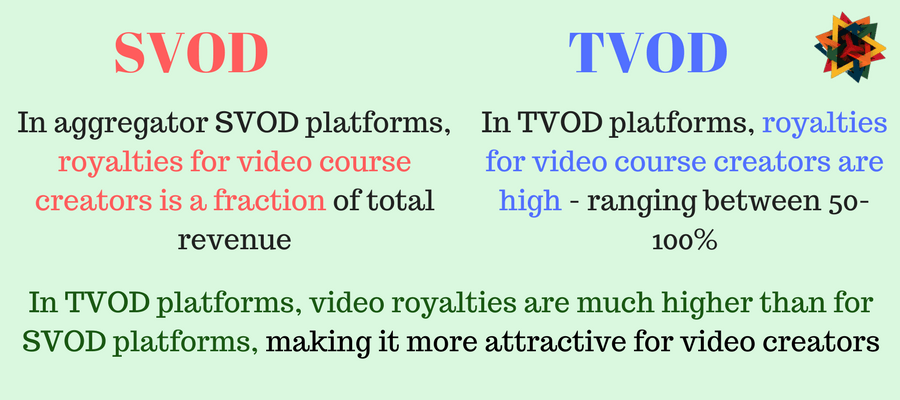 Marketing Your Transaction Video on Demand business
In SVOD payments are recurring, and offer a stable revenue base. However, that is not the case for TVOD platforms. You cannot take repeat transactions for your TVOD platform for granted. An elearning VOD platform has done its job when users complete the course. Students will be unlikely to pay a second time to complete the same course. For EST platforms, returning users do the same cost/benefit analysis at the point of each purchase.
As a result, TVOD platforms suffer from lower user retention and fewer repeat transactions. This translates to low revenue stability.
You should use the right marketing channels for continuous growth. Social Media and Email marketing are the best channels to attract new users to your TVOD platform. Social Media enables you to target audience on the basis of their interests. It also utilizes network effects, so you can easily multiply your reach across your potential audience.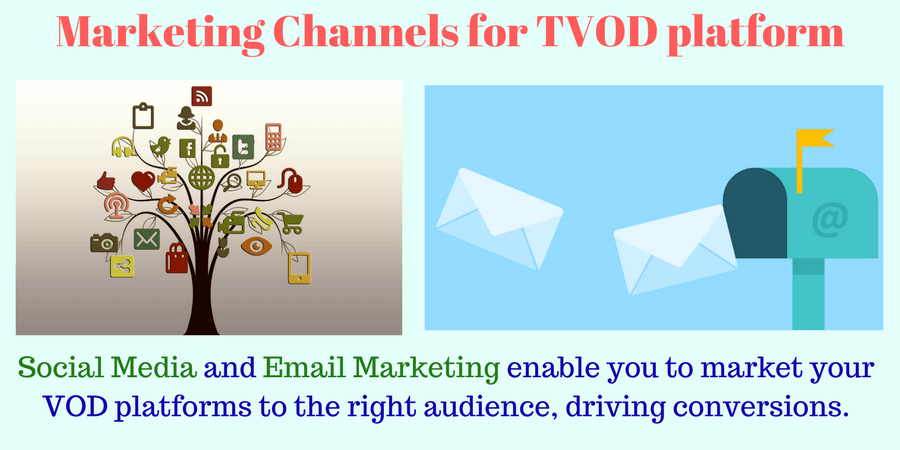 When you market an online video course you should highlight the measurable improvements that the course offers. This could include higher test scores or better chances of climbing up the career ladder. You can also include testimonials from successful learners to highlight the value of your course.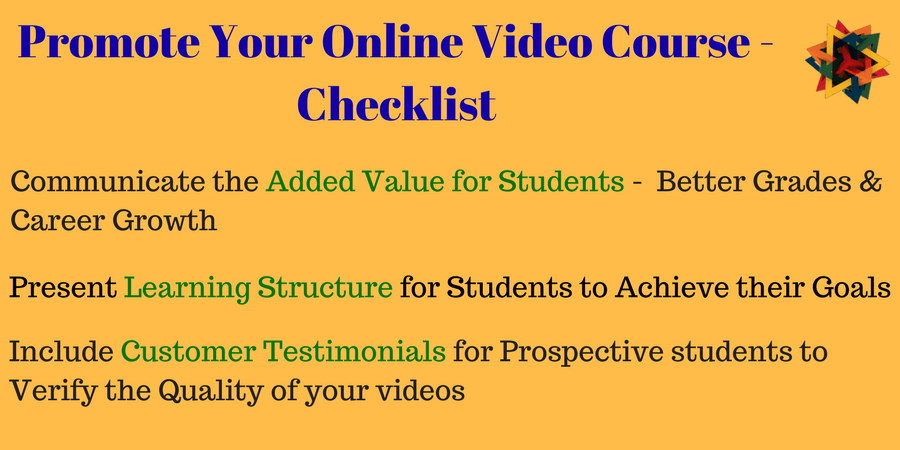 Effective Paywall is more important for Transaction Video on Demand
One-time costs are high for TVOD content. This makes potential users seek means to access the video content for free, thereby increasing likelihood of content piracy. It is much more likely that users will download video content, and share it with friends, either to help them save costs for the one-time access fee, or to split the one-time fees.
In subscription VOD there is an ongoing relationship between the user and the platform. Users are likely to continue on the platform out of loyalty. Indeed the rise of SVOD platforms has significantly contributed to decline of piracy of films.
Apple applies a DRM to movies downloaded via iTunes, preventing users from sharing the video content.
VdoCipher offers a DRM solution to implement a paywall for your TVOD content. VdoCipher's secure video hosting protects your video content from downloader plugins. You can use VdoCipher in combination with a membership plugin to allow access only to authorized users on your WordPress website.


Check out our full list of features to see how you can use VdoCipher for business.
Supercharge Your Business with Videos
At VdoCipher we maintain the strongest content protection for videos. We also work extremely hard to deliver the best viewer experience. We'd love to hear from you, and help boost your video streaming business.
Free 30-day trial →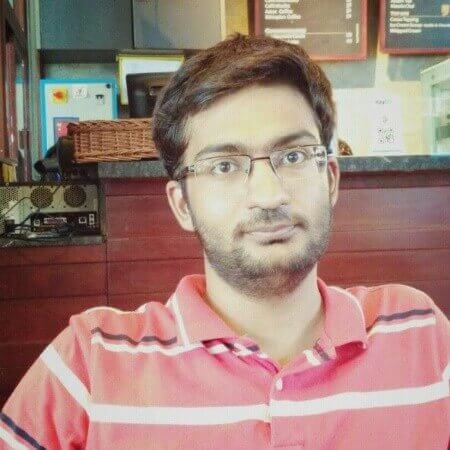 CEO, VdoCipher. Writes about video tech, ed tech and media tech.