As digital technology continues to evolve, we are increasingly able to transmit and store information about everything from the smallest particles to the largest objects. However, the expansion has also led to the rise of new vulnerabilities.
Nearly a quarter of the global Internet bandwidth is used for file-sharing or uploading or downloading copyrighted material illegally. "Piracy" is often referred to as a victimless crime. Not only is it bad for artists and creators, but also for publishers, and distributors.
Private Streaming Platforms are designed to protect your digital identity and provide peace of mind in today's digital landscape. In this article, we will review the best private streaming platforms that protect and secure video content.
What Is a Private Video Streaming Service?
A private video streaming service gives businesses a convenient way to securely store, share, and stream videos in the most secure way possible. Private streaming platforms offer encryption technologies, such as AES, SSL, and DRM which ensures that your videos cannot be accessed by outsiders and only those who are authorized can view them.
It's quite common for the companies that offer online learning to find their content being stolen and shared on pirated websites. When it comes to dealing with pirated content, platforms have been working hard to identify these offenders and take action against them. These online courses are leaked and shared in public which impacts the revenue of the businesses.
If you're selling videos online, you'll need to make sure that your videos are encrypted so that people can't download them. Private video streaming platforms such as Vdocioher provide an additional layer of DRM that makes it difficult for your viewers to download your videos.
Some of the security features include dynamic watermarking, password-protecting videos, and screen recording prevention. These features not only reduce the risk of piracy but also protect the brand by ensuring that it's difficult to steal the content.
Who Needs Video Streaming Service?
You should consider a private video streaming service if you are planning to earn revenue from your videos. There are many use cases for business video streaming. One of the biggest is for internal corporate training, seminars, and other similar events.
Video-hosting streaming services are integral to these businesses, which rely on them to generate revenue. These businesses need robust and secure video hosting to ensure that the videos are protected and run smoothly.
The platforms are also prone to video piracy. This is why it is quintessential for them to invest in added security along with providing their viewers with an optimal viewer experience
Private Streaming Platforms vs Free Streaming Sites
In addition to security and privacy concerns, there are a few other reasons why choosing private streaming sites may be better than public video streaming sites such as YouTube or Vimeo.
When you use private streaming platforms, you will have more control as a creator. It means you don't have to worry about someone else copying your video content.
Private Streaming Platforms like Vdocipher provide different privacy features to prevent access to your stream based on the location and IP address of your viewers, watermarking feature to Deter Screen Capture, and Smart HTML5 Player.
A video hosting service, such as Youtube, can be used to generate revenues through advertising. A great example of using video marketing to advertise on your website. This can distract your users and can be poor for user experience, especially when you want to create an optimal experience for them.
Free video hosting services do not offer options for branding and customization. With YouTube and other platforms, there are very few options for branding your player or channel. The data from their platform isn't comprehensive enough to help you optimize your content and your website for conversions.
Key Security Features of Private Streaming Platforms
To ensure videos are streamed in a secure way here are a few key features that need to be present in a Private Streaming Platform.
Security
The most important factor is the security of your video content. You could best combat it by making sure that the video private streaming sites you select will offer advanced protection.
The most ideal solution would be a service that provides DRM encryption. Multi-DRM approach to secure your video content from unauthorized use and leakage, using Google Widevine DRM and Apple FairPlay DRM.
Video API
If you're running a website with videos on it, then it's likely that there are APIs you could use for making the uploading and embedding. You can use server APIs to manage your video easily. By leveraging them you can also automatically upload video. Player APIs can help you to embed video, customize the design, and include interactive features.
Video Analytics
Video Analytics helps you learn more about your users' behavior, such as where they pause in your video, and how long they stay on your page. You can easily figure out what kind of content performs the best. You'll be able to track who is watching your content, how long they watched the videos, and their engagement. You can customize your content based on the insights you get. Helping you make a better impact on your audience.
CDN
CDN or Content Delivery Network is a geographically distributed network of servers that ensures quick content delivery to users regardless of their location. Every time a user requests a video, the system chooses the best locations where the video can be served, ensuring the good quality of your videos. Content Delivery Networks (CDNs) are one of the most important technologies for improving the performance of a website or an app.
Encoding and Transcoding
If you want to create videos, a private video streaming site that supports encoding and transcoding into a variety of formats will ensure you're able to make the video available to your viewers.
It's important that you're not limited by the format of the video files. you can upload it on your video hosting platform. It can be quite cumbersome to have only a few limited options, and then manually convert files into the required format.
This is why you need to choose a video streaming platform that has quality video encoding and transcoding capabilities if you are planning on having high-definition video streams available for your users.
Best Private Streaming Platforms
1. Vdocipher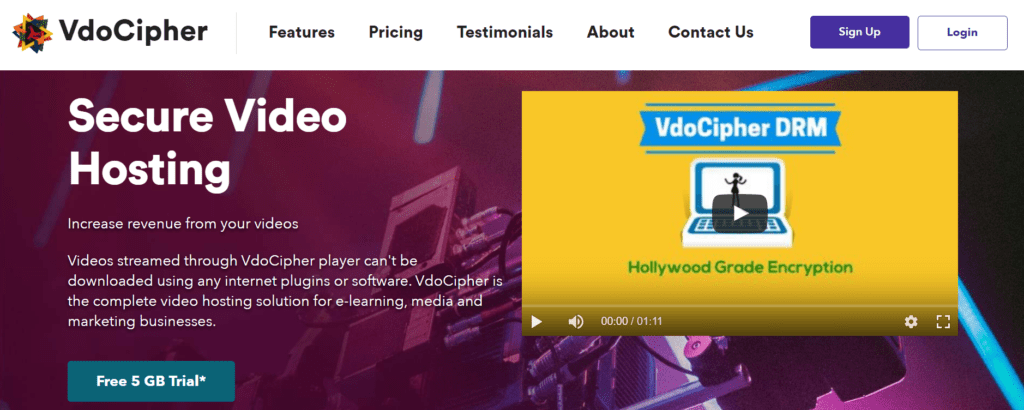 Vdocipher is a secure video hosting platform that helps businesses to protect their content and make sure their video is streamed seamlessly. It provides Hollywood-grade encryption along with other security features such as dynamic watermarking, screen recording prevention, and others. In addition, you also get other standard security features such as domain restriction, geo-restriction, and dynamic URLs.
These combined security features contribute a vital role to boost your business revenue, which you would have lost to video piracy.
Features
Vdocipher offers 

Google Widevine

DRM Encryption, advanced security technology for both Desktop and Android devices. This minimizes the chance of unauthorized downloads of video content.

Also,

Apple Fairplay DRM Encryption

is available for IOS devices. 

Dynamic URL generation for every playback session to provide a robust level of security 

Vdocipher offers a watermark feature to discourage screen capture and you can easily customize the color, speed of movement, and size of the

watermark.

Geo-Blocking feature to restrict specific countries from unauthorized access

VdoCipher offers adaptive video quality to ensure video quality can be adjusted based on the internet connection of the user. 

The dashboard is designed to ensure easy video management.

Forward/Rewind option to users while watching the videos.

Easy interface and guides are available to upload videos and generate embed code.

Multilingual subtitles options are present in vtt format.

Developers can utilize APIs and SDKs to integrate and automate workflow
Pricing
Vdocipher offers different pricing options to meet the requirements of different businesses.
Starter: $129/year; 300 GB of bandwidth and 50 GB of storage

Value: $429/year; 1.5 TB of bandwidth and 200 GB of storage

Express: $699/year; 3 TB of bandwidth and 400 GB of storage

Pro: $1549/year; 8 TB of bandwidth and 800 GB of storage

Plus: $2999/year; 25 TB of bandwidth and 1 TB of storage

Premium: $5499/year; 50 TB of bandwidth and 2 TB of storage 

Enterprise: Enterprise plans are custom-priced and custom-built. Please contact VdoCipher for a quote.
2. IBM Cloud Video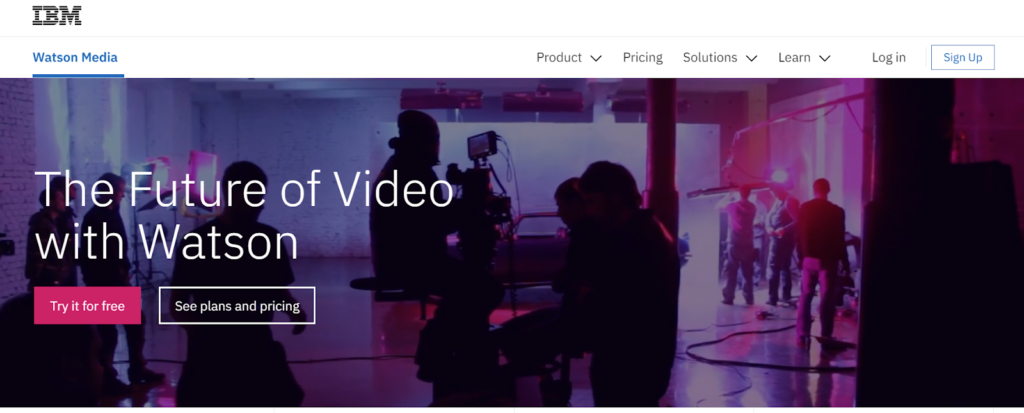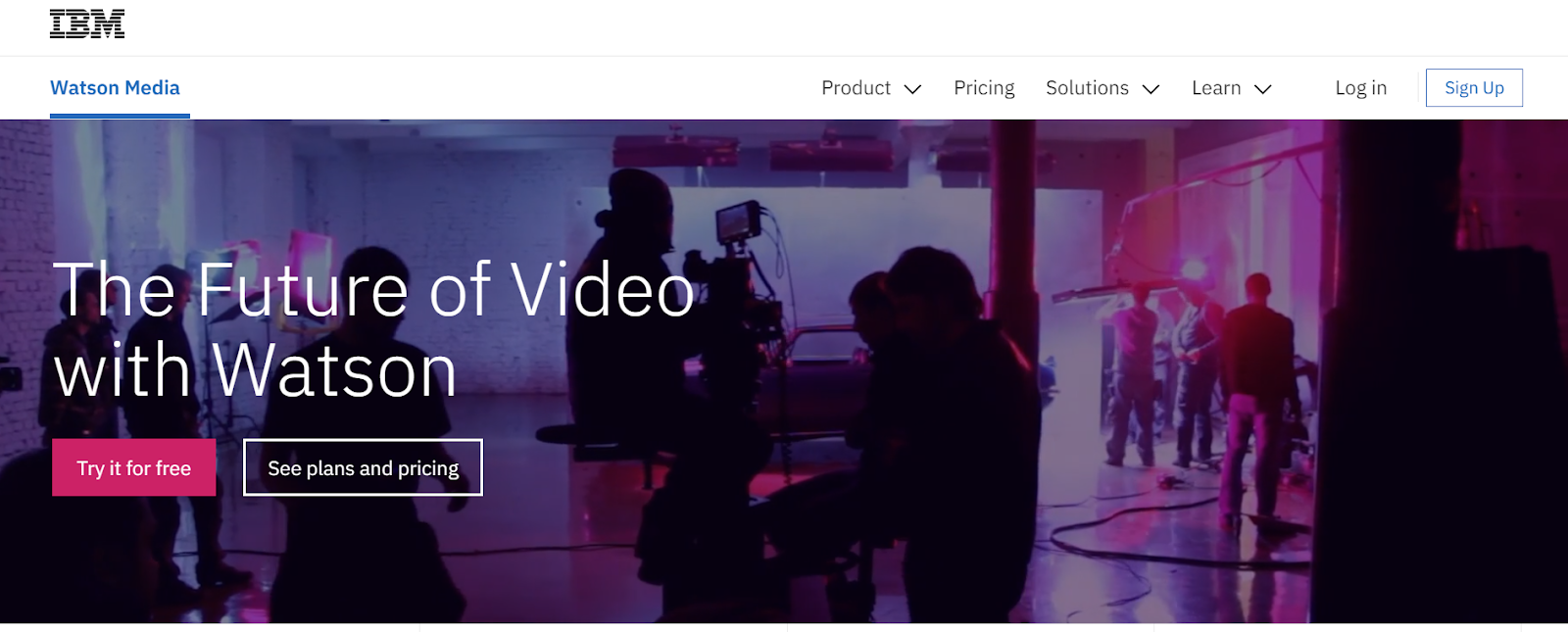 IBM Watson Media is one of the video streaming sites. IBM Cloud Video offers Businesses to host private videos, and manage and broadcast live and recorded videos. IBM Cloud Video provides a comprehensive solution for all businesses to enhance video capabilities.
Features
Video players have features such as Player customization, Mobile compatibility, and video editing

Video engagement features are present such as Audience polling, Audience Q&A, and comments

Other features include Enterprise Content Delivery Network (eCDN), Cloud-based Transcoding, Integrated Content Management
Pricing

3.Kaltura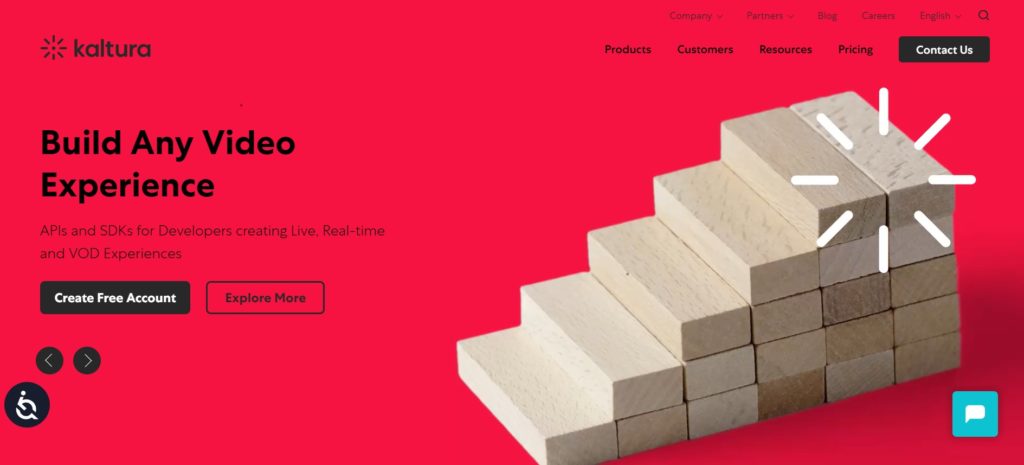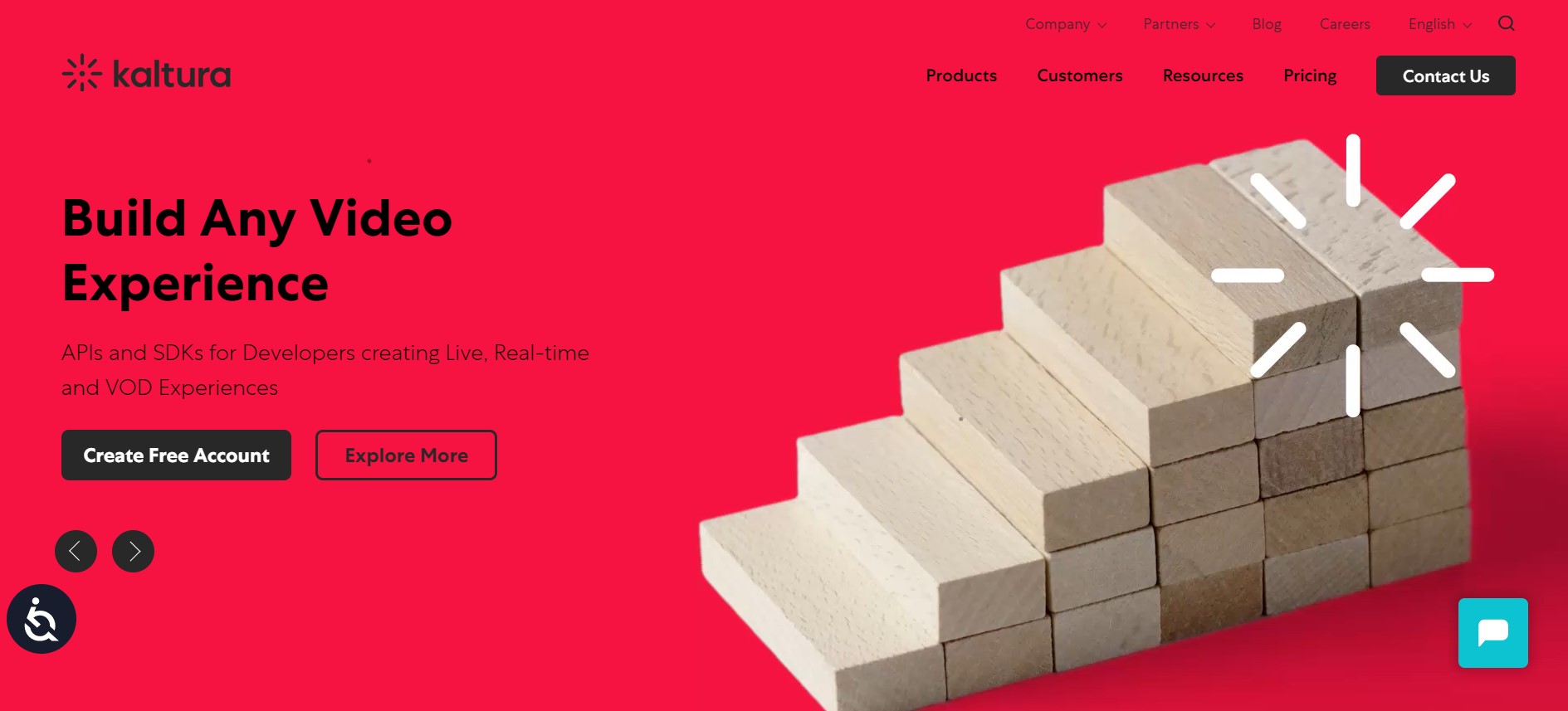 Kaltura is a solution that allows users to engage and create content, it is best for marketing teams who are interested in high-level engagement. As a private video streaming platform, Kaltura allows you to brand your videos, add annotations, call-to-actions (CTAs), chapters, and forms that appear on your video, and increase lead generation and engagement with your audience.
Kaltura can be used to create private videos. It has security features such as domain lock, right-click protection, password protection, email gate, or paygate.
Features
You can easily

organize your content, search media, edit, moderate, create playlists, and much more – all in one intuitive interface

Video Player customization options include built-in templates, trim videos to create clips, add subtitles, chaptering

Supports Full HD live streaming 

Protects video content with end-to-end security
4. Vimeo

Vimeo was launched in 2004. It is one of the private streaming platforms that allows creative professionals, and companies to upload, record, edit, customize market and share videos. Vimeo has more than 200 million users, and 1.5 million paid subscribers.
Features
Video can be accessed through an SSL-encrypted URL with a self-expiring token/signature

Adaptive streaming to ensure videos are played for any connection speed

Provides the option for Private link sharing

Ad-free streaming – Users can watch videos hassle-free without ads interrupting

Live streaming – Vimeo's Premium and Enterprise plans allow you to stream videos in 1080p HD

Domain level piracy for paid users where you can specify what website to allow your video to be embedded on
Pricing
5. Wistia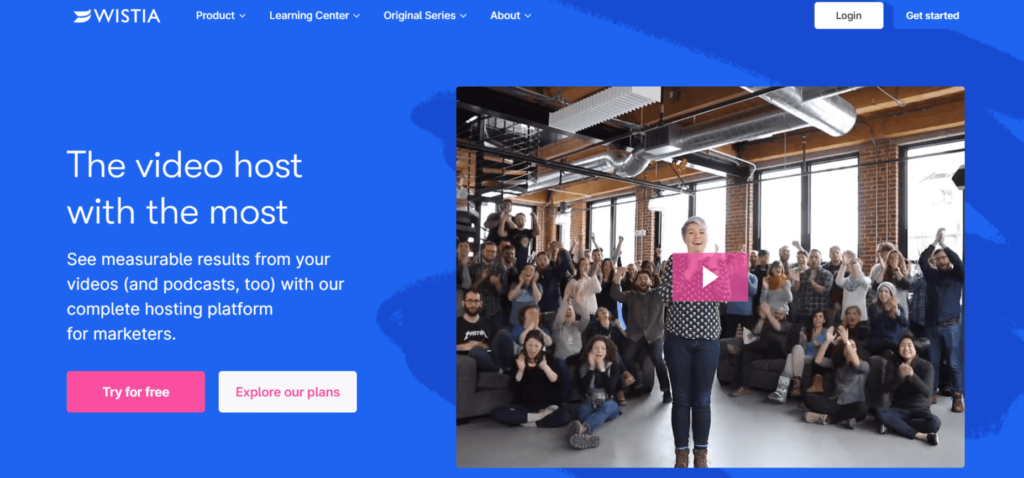 Wistia is one of the most popular private streaming site started in 2006. Wistia video hosting is recognized as a leader in the marketing software space. It helps businesses to use their video content to help brand marketing. It serves more than a half-million businesses across 50 countries.
Features
The web video analysis tool from Wistia can help you analyze your video performance, and the heat map shows which part of your video viewers watched, skipped and replayed

When designing, you can upload a logo, customize the controls and change the appearance of the player as per your brand style

Wistia is ad-free, meaning you can enjoy your videos without seeing any annoying advertisements

SEO-friendly videos where users can optimize your title, description, and tags with relevant keywords. This will help your video appear in the right search results.

The turnstile feature allows you to capture emails right from the video
Pricing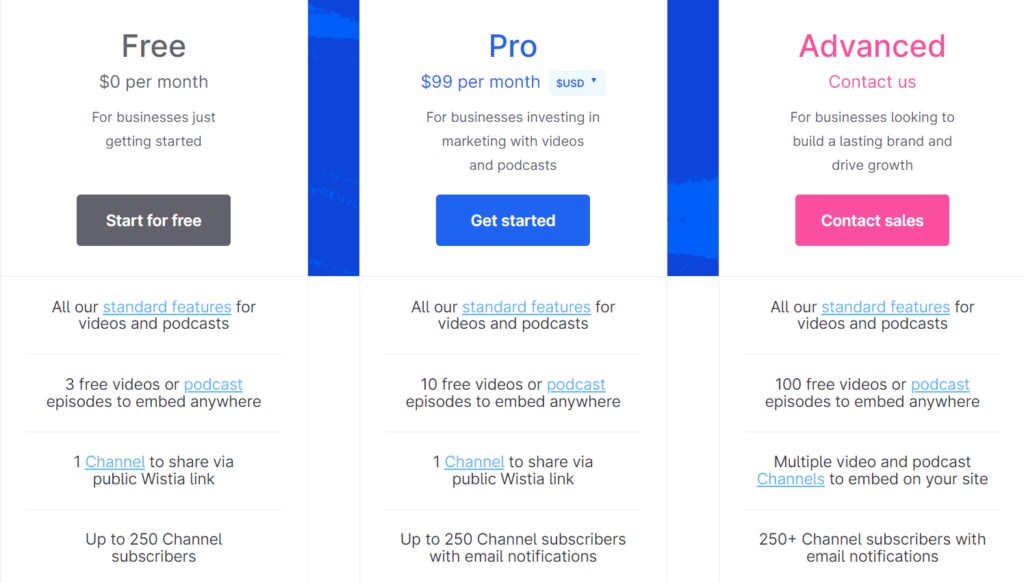 Conclusion
Content-control features are essential if you're going to secure and keep your content private. You should think about security and privacy features when you upload or publish your content to video platforms. These features let you control who can access your content and what they can do with it.
If you want to opt for a private streaming platform that gives you the highest level of security and dozens of other top features, you can sign up for our 30 days free trial at Vdocipher.
Supercharge Your Business with Videos
At VdoCipher we maintain the strongest content protection for videos. We also work extremely hard to deliver the best viewer experience. We'd love to hear from you, and help boost your video streaming business.
Free 30-day trial →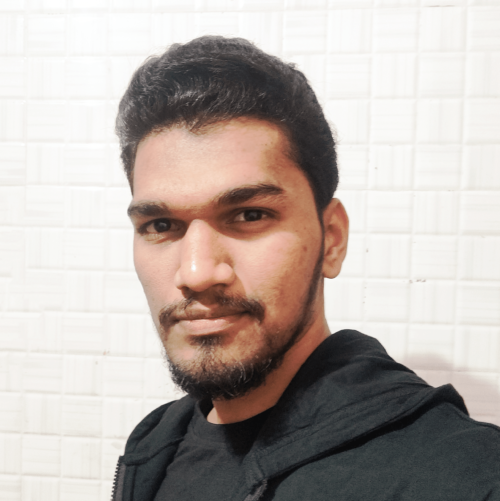 A Digital Marketing pioneer who loves to innovate strategies to effectively market a product through consumer research and data analysis. In addition to this I'm a sports and fitness enthusiast with love for travelling and photography.