At Vdocipher, our endeavour has always been to make it easy for content creators to make money from their online videos. We get regular requests from individual teachers and small e-learning companies to guide them on making e-learning portals to sell online courses. While websites to sell online courses can be built either using coding from scratch using PHP/JS/Java etc or using CMS like WordPress/Moodle or using ready to use e-learning portals like Teachable, Thinkific, Learnworlds etc. The first allows maximum customisation and requires maximum hard work while the other two subsequently reduce your efforts to build site.
We generally recommend WordPress based sites as they offer a mid way between efforts and customisability options. Our integrations with WordPress are also quite good and we have written few WordPress related blogs on explaining how to use LMS themes + plugins to build good course WordPress sites. One more detailed video blog will be released soon to make it very clear.
But in certain cases, course creators like popular ready to use course selling sites, as it is quick and easy to launch. So, this article is intended for those people and explains our iframe integration with popular ready to use e-learning websites.The 6 ready to use , course video selling sites which we explain integration here are –
Teachable
Learnworlds
Thinkific
Uscreen
Webanywhere
TotaraLMS.
Disclaimer – We are not reviewing this businesses, nor do we suggest using any particular of them, neither we have any partnerships with them. We picked these 6 because either we had experience with our customers asking for these or they were popular. The article is to help our customers who are already looking to sell vides online on these sites. We explain in detailed steps with screenshots, how to have VdoCipher secure video streaming integrated with all these portals.
Overview: The general idea to integrate VdoCipher in these sites is to search for where to embed iframe option. Which is generally mentioned as these words or icons – 'html embed, iframe embed , <> , </> ' . And iframe is generated from our dashboard for each video with whitelisting option. The domains provided to you by these sites should be in https for html5 secure player to work, else it will ask for flash. So, please ask these companies for a https domain, most of them do provide that.
Details for step by step integration on each particular website is mentioned below, so that it is clear and quick to use. Screen shots for all the steps are included.
Go to Dashboard> Courses> EMBED URL (Do Not Select Video option)> Iframe. Don't choose video option while integrating, always choose embed url and use iframe.
 Go to Course > Curriculum > Add text > Choose < > iframe sign.
Detailed IFrame security settings & Teachable Embed tutorial.
Go to Add content > Add Text > </> icon for iframe embed
Detailed IFrame security settings & Thinkific Embed tutorial.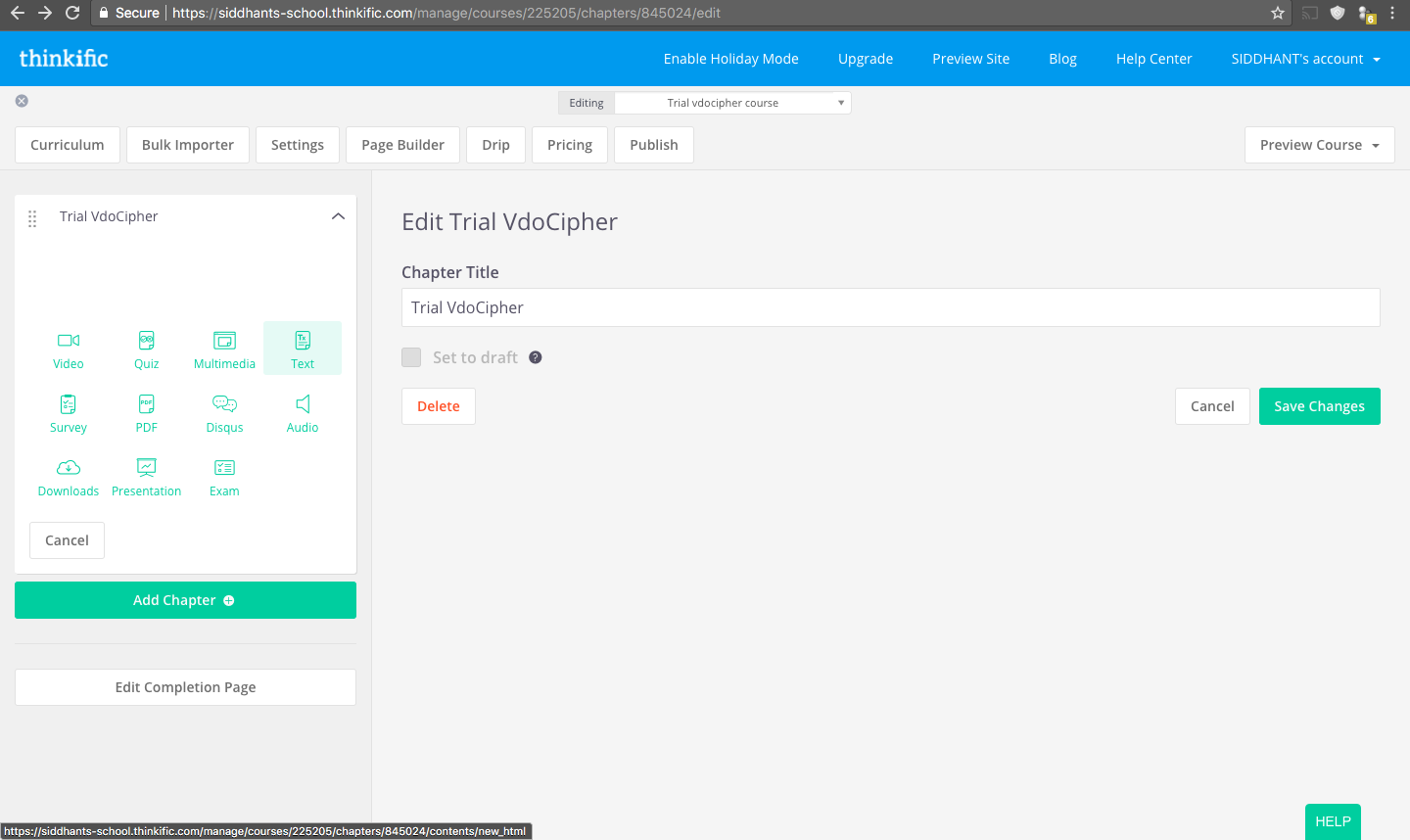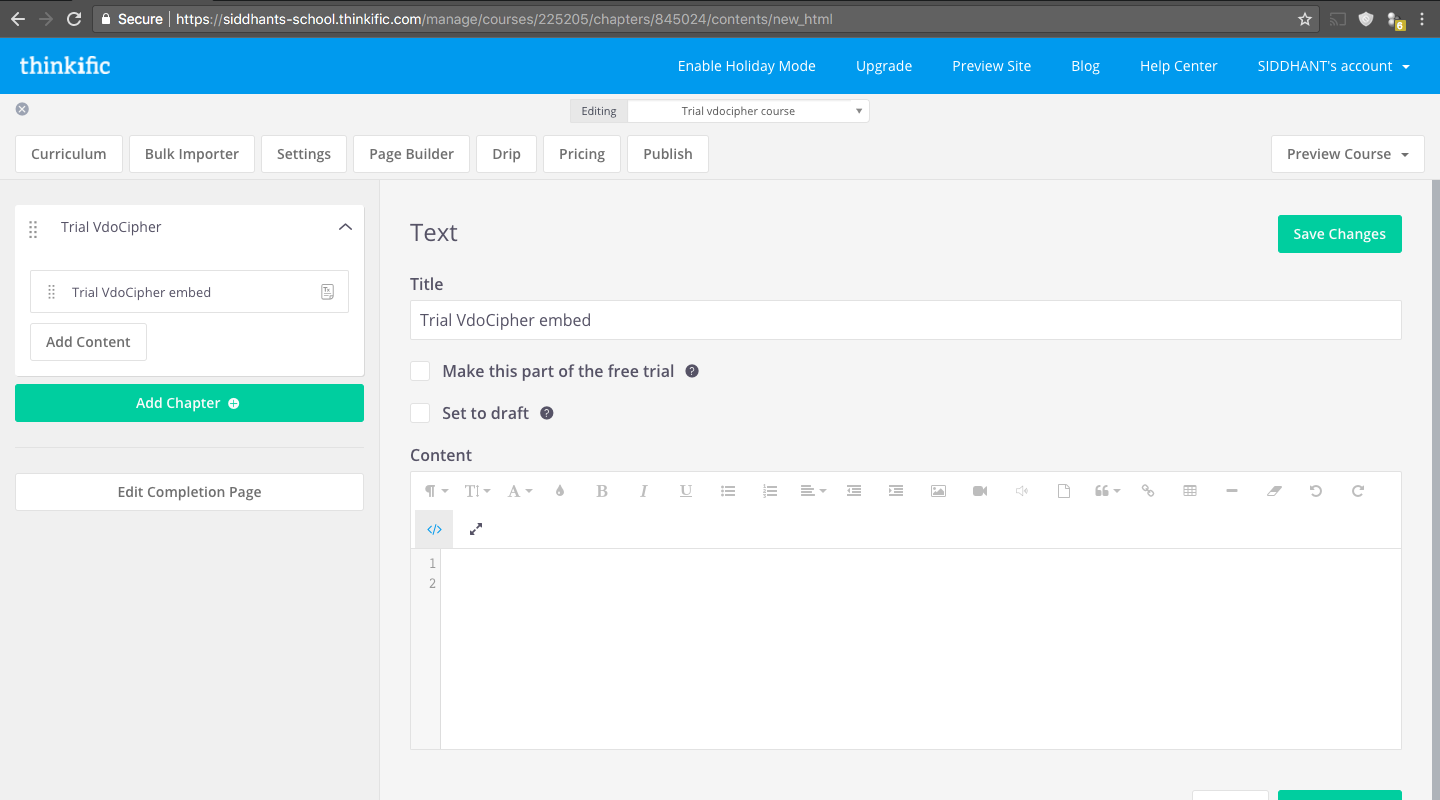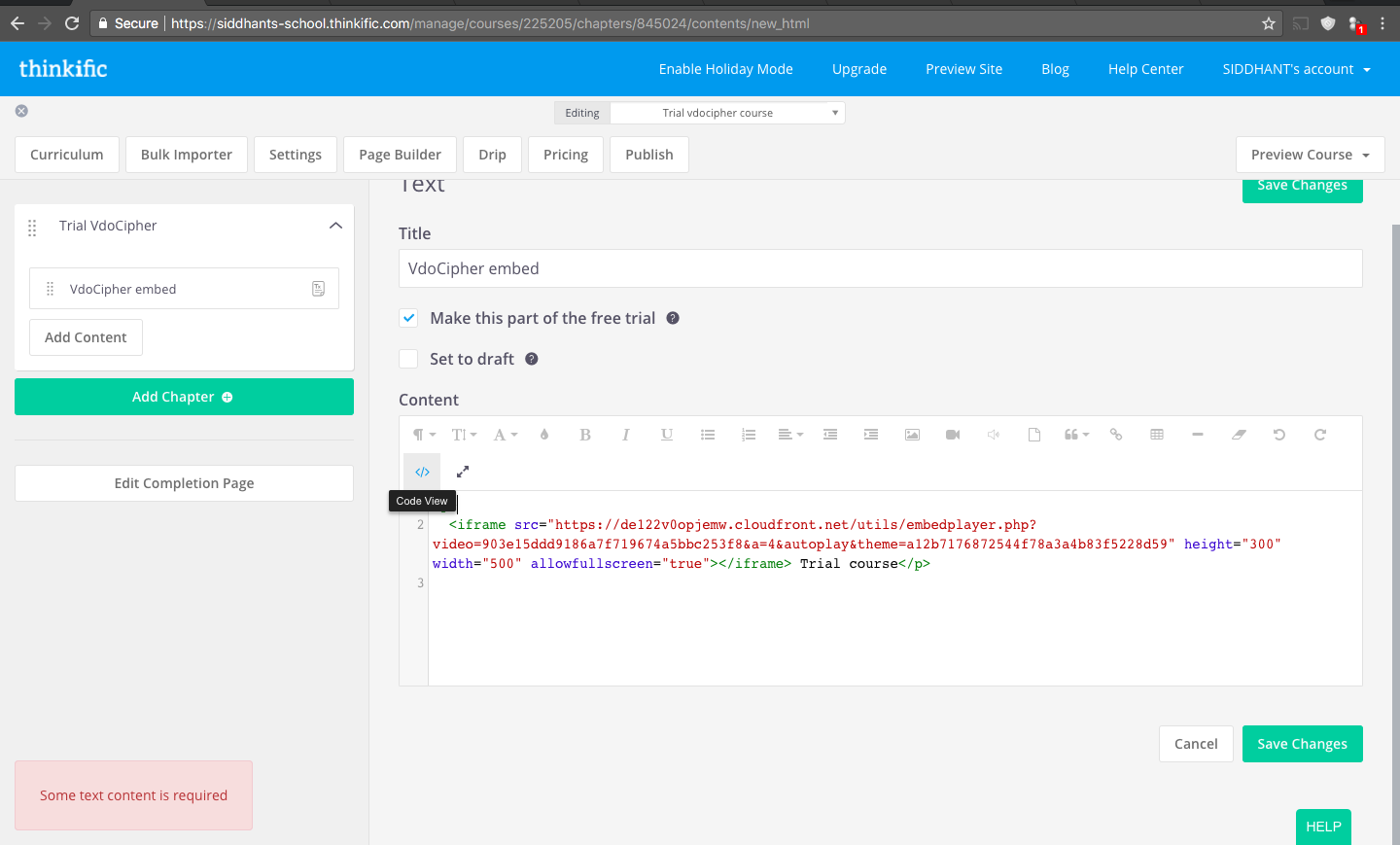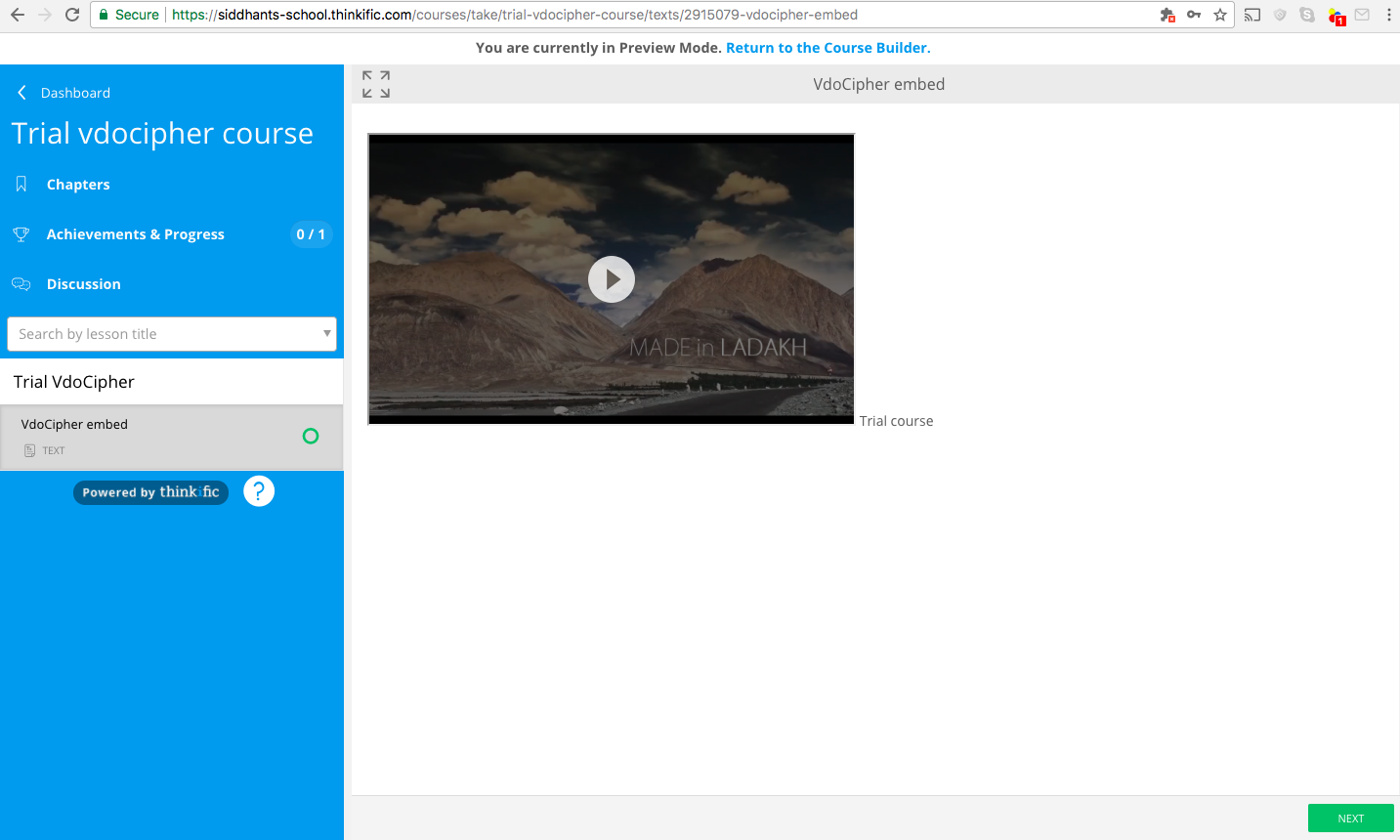 Go to – Create Course  > Add activity or resource> Add Topic > Go to Link icon

+ URL to external page

Go to – Content > Programs > Content > Embed

It is Moodle based web portal specially suited for schools and colleges.. Our moodle plugin with player version 1.4.5 fits in there.
Ask the Webanywhere support team to integrate our Moodle plugin with 1.4.5 version and use short code as documented.

Go to – Landing page >  <> HTML sign > edit
Find more details about VdoCipher's DRM infrastructure and our integration of Widevine DRM for Hollywood-grade security, which helps us protect your premium content.
Supercharge Your Business with Videos
At VdoCipher we maintain the strongest content protection for videos. We also work extremely hard to deliver the best viewer experience. We'd love to hear from you, and help boost your video streaming business.
Free 30-day trial →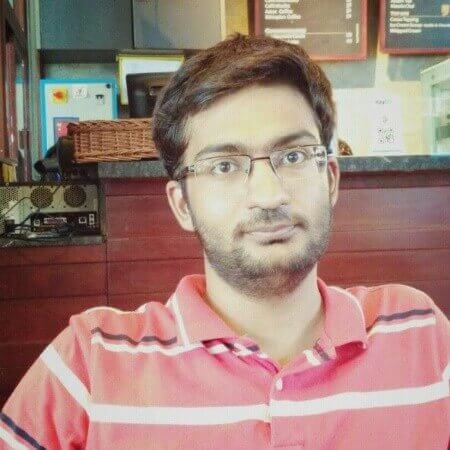 CEO, VdoCipher. Writes about video tech, ed tech and media tech.