There has been a rise in the number of video hosting platform from the past few years and the use cases for online video in the professional field are endless. People are staying in their homes and are consuming more content online than they were ever before. There are several video hosting platforms catering to these needs be it entertainment or education.
According to a study, the global video streaming software market size is expected to grow from USD 6,144 million in 2020 to USD 15,092 million by 2025. As per the industry forecasts, and going by the current market trends, video alone will make up over 82% of all internet traffic by 2021.
Due to the pandemic, broadcasters are hosting and streaming events virtually to generate their revenues. Professional broadcasters also are now replying on video hosting platforms only to host and deliver the content to their audiences. Businesses these days too are opting for online video hosting for marketing, sales, and internal training.
However, the real challenge comes when choosing the right professional video hosting provider that caters to all your needs. Here in this space, we will provide you with a detailed overview of Online video hosting platforms. By the end of this read, we will provide the options for the best video hosting platforms for businesses and help you find the right solution for your needs.
What is a video hosting platform?
A video hosting platform is a video solution that allows users to upload, convert, store and play video content on the internet. The users can upload their video content using the hosting service's platform or APIs. Few of the common use-cases of video hosting platforms include communication, teaching, or entertaining, and allow for the quick recording, control, and display of video content. Video hosting platforms can also be used for playing pre-recorded or live-stream content on a website/app.
There's a range of online video hosting platforms available to choose to depend upon the business needs. The video content can contain anything from short to full-length TV shows, movies, lectures, etc. It is stored on the servers and provides users with the functionality to enable different types of embedded codes or links that allow others to view the video content.
Why would you need a professional video hosting platform?
You must be wondering why there is a need for a professional video hosting platform when there are lots of free hosting platforms available. In the previous section, we learnt how using a free hosting platform like youtube might end up hurting your business and revenues. And here's how a professional and private video hosting platform can make things easier for you.
Following are the reasons for how a video hosting platform can boost user experience and protect unauthorized use of your videos
More secure DRM based video protection
Allows customization of the video player and other related features.
Provides detailed user insights, allows you to track every user and their behaviour
You can choose a monetization model based on your requirements i.e. SVOD, TVOD or AVOD
Better Website/App engagement due to the absence of unwanted ads and suggestions.
Helps you boost your revenue by protecting piracy.
What kind of businesses need Video hosting platforms?
If you're just looking to host videos publicly, you can choose from the video platforms like Youtube, Dailymotion, Vimeo, etc… However, if you're looking to monetize your videos, you need to consider a video hosting service with some key features and security. Here's an overview of what all kinds of businesses are using online video hosting platforms:
There has been massive growth in the field of e-learning businesses and the companies are growing at a rapid pace. A large volume of video content is created by them which includes pre-recorded or live videos. It is then processed and stored by the video hosting provider. The video content used by education companies and businesses can be webinars, demo videos, case-study videos, etc…
Educational Institutes and corporate training:
Loads of content is created by colleges, educational institutions, and organizations in the form of lectures and other study materials. This content then needs to be uploaded on their respective servers. As a result, the server becomes heavy and the response time increases gradually. Therefore, it is advisable to host all the content on 3rd-party sites which is much easier to manage and causes no harm to the server.
Entertainment Businesses:
Movies, web series directors and producers use videos like teasers & trailers as well as full-fledged video content to make big revenues. Although short videos like trailers can do well on the platforms like YouTube, Dailymotion the whole movie or the series has to be hosted via a video hosting platform. This is done to eliminate the piracy risk as the major revenue revolves around it. However, it is still recommended to use a secure video hosting solution whether it hosts large video content or a trailer/teaser.
Product Marketing Videos:
Product marketing video content includes videos like product showcase videos, demo & explainer videos, etc. This gives users a better understanding of the product and hikes marketing possibilities. Personal or Individual videos are one of the most popular and widely accepted videos these days where a certain individual explains or discusses a specific product or topic. YouTube is the most preferred video platform for sharing personal video content in the form of channels.
Reasons to choose a video hosting platform?
While looking out for a video hosting platform, there must have been a moment when you would have thought to host your videos yourself. However, that is not a wise thing to do as it requires a lot of time, effort, and manpower along with several challenges. Below are a few of the reasons why you should be opting for a video hosting platform instead of hosting videos by yourself:
A secure video hosting platform must have DRM encryptions (Google Widevine DRM & Apple FairPlay DRM). This ensures the security of both the content and the viewers from prying eyes. And the content isn't illegally accessed or downloaded. Also, personal details are secured as well from illegal breaches.
With a video hosting platform, you can allow video playbacks on multiple devices. For instance: The content can be streamed by a user on smartphones, smart TVs, laptops, tablets, etc. This further widens the reach of your content and you get more views and viewers as users are able to access and stream your content on multiple devices without having to depend on a single device.
Integrates with your existing Apps & Services
You can easily integrate or connect various services being used by your business with the help of APIs (Application Programming Interface). This enables you to make your business more powerful with automation and seamless workflows. This is the reason businesses these days are migrating to API-based workflows for online video integrations.
Video Hosting platforms offer in-built high-quality video players. These players have the ability to stream video content in high definition as per the viewer's bandwidth. With this users can stream video content seamlessly without having to depend on any other external video player.
Multiple monetization models
With a video hosting platform, you get multiple ways to earn revenue as they provide various models to monetize your content. They ensure that user experience remains good, thus, making it more worthwhile for content creators and distributors. Below are the various models used to monetize your video content:
SVOD: A flat monthly/annual fee is charged and then users can consume as much content as they want
TVOD: Users subscribe to the plan on a pay-per-view basis depending upon what they choose to watch.
AVOD: Users can stream without paying but they have to watch ads placed by the company to access the content.
Online video hosting platforms allow you to know your audience even better with the help of certain key metrics. You can know the viewing patterns of your audience such as what and when they are watching, where they drop, device details, session duration, etc. With these key metrics, you can look for any gaps and modify your content accordingly. You can also create segments to target any specific audience as well and keep them engaged.
The videos hosted via a video hosting platform can be accessed and streamed on multiple devices. All a viewer needs is a healthy internet connection, thus making the content more accessible. This plays equally in favour of both – the content creators or the platform owners and the viewers.
No Geographical boundaries
Along with multi-device accessibility, a video hosting platform also allows viewers to access content without geographical boundaries. With this, you can get into larger networks and build your audience base globally.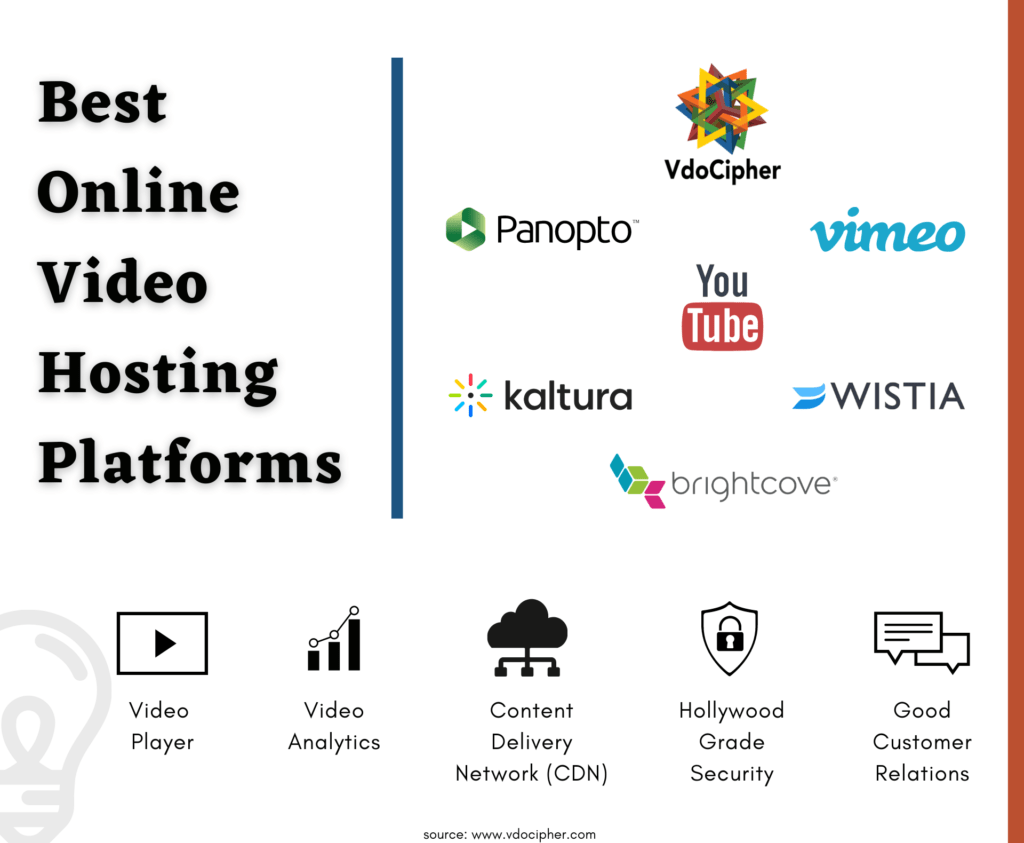 Top online video hosting platforms in 2021
We have seen a huge spike in video content consumption in recent years. And hence, the need for video hosting platforms is also growing. One of the ways to keep users engaged on your website is to have videos embedded. But the question arises, which video hosting platform to opt for with hundreds of platforms available nowadays.
Here we've listed a few options we found most interesting and might suffice all your business needs as well. Let's check out:
VdoCipher with its video hosting platform helps e-learning & media businesses to host and stream their content on the website/app in the most secure and smooth manner. If you are a business owner looking to monetize your video content, VdoCipher is the ideal video hosting solution for you. VdoCipher aims to protect revenue losses against video piracy with its video hosting solution.
Key offerings include Hollywood grade DRM (Digital Rights Management) encryption security, screen capture blocking in mobile apps, user-specific dynamic watermarking and domain restriction feature ensures that videos can't be downloaded or shared illegally from their video platform.
The users can use VdoCipher on their website or app by embedding VdoCipher hosted videos. The complete package offering includes Global CDN server hosting, Smart video player, Video Analytics, User-friendly dashboard, and APIs to manage videos.
The pricing starts from just $99 and includes Hollywood Grade DRM security from piracy. A free 30 Day trial is available with no card details required.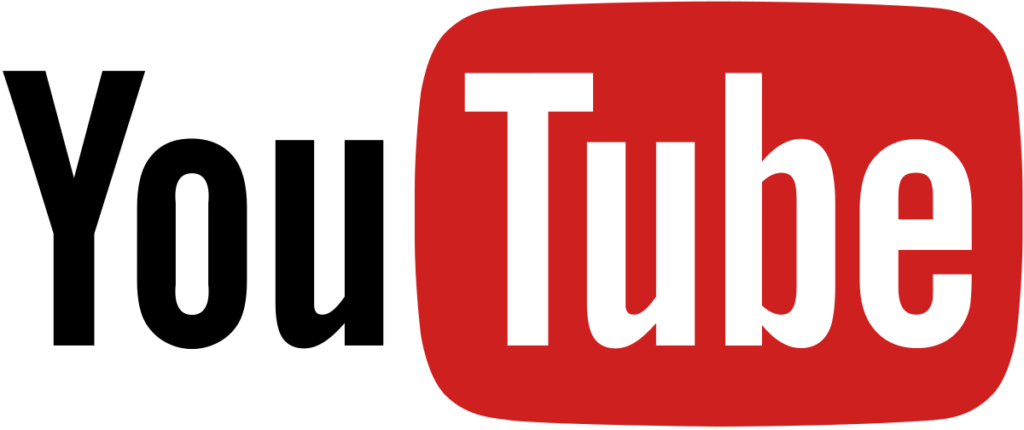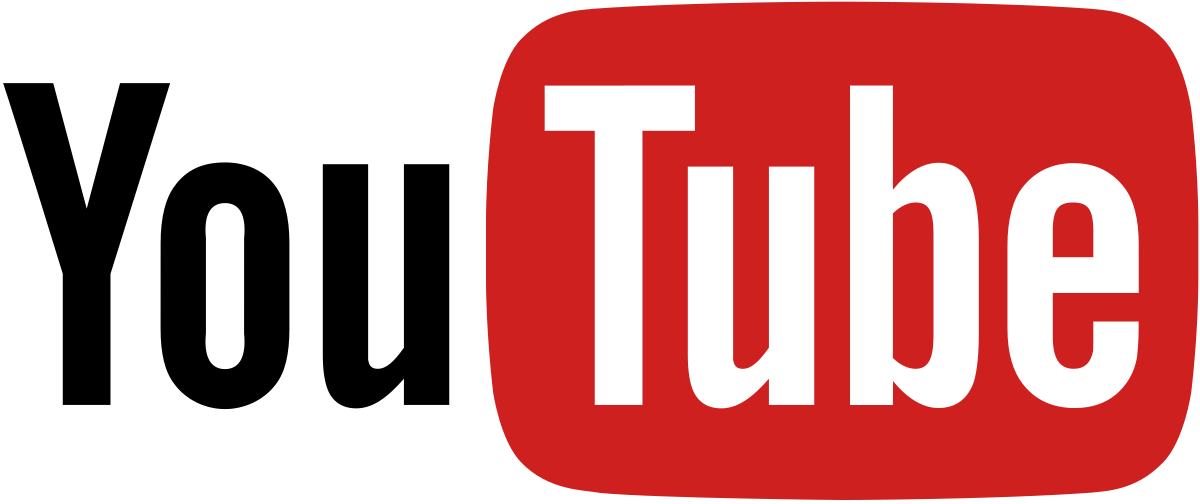 YouTube is the most popular and widely used of all video hosting platforms. It is used for promotional videos and entertainment content and is the first choice for new content creators. If you aren't worried about piracy and revenue losses then it should be a go-to platform for you. YouTube is completely free of cost and a scalable solution for market outreach.
It has more than 2 billion active users and also allows you to create playlists so you can make a playlist to build your substance's utilization. It also offers an inbuilt subscription and warning framework. Also, it's the second-largest internet searcher after google.
Anyone with an internet connection can search for your videos. You can keep your content private, or can unlist it which can then only be viewed or accessed via a link. YouTube also allows live streaming to the audience and later saves the videos to the user's channel.
With YouTube, you don't have to worry about limits of data storage or bandwidth. It allows you to upload a single video of up to 128GB. You can also earn via ad revenues generated by your videos.
If you are a business owner, YouTube can be an essential part of your content marketing strategy. However, it's not an ideal choice for hosting course videos or testimonials. If you want to have ad-free videos on your website or want to share longer videos, you can look out for some other video hosting solutions like Vimeo or Dailymotion.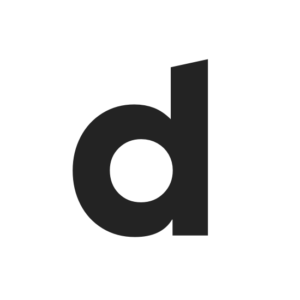 Dailymotion
Dailymotion is another video hosting platform just like youtube. However, with Google's massive growth and innovation in video infrastructure, Dailymotion couldn't stand as a competition with youtube. It is still one of the major video platforms when it comes to promoting your content. Sometimes with YouTube content creators finding its policies and restrictions too harsh, Dailymotion is a good alternative for them.
After YouTube, Dailymotion is the second-largest video platform in the world. It offers both free and paid accounts. It also offers a partner program offering ad revenue and increased exposure. Storage and bandwidth are unlimited, but the max file size can only be 2GB, and videos can't be longer than 60 minutes.
Dailymotion video platform doesn't offer many features for your website and lacks in certain areas. Like the players cannot be customised and you can't put your branding on it. Also, the video analytics aren't available which surely is a big miss.
Videos on Dailymotion aren't ad-free as well, but unlike youtube, they don't appear in between, but they play at the end of the video by default. You can embed videos on any other website as well.
However, Dailymotion can only be used to host free content only and you can hardly drive any traffic due to lack of CTAs. Also, in terms of security Dailymotion does not offer DRM encryption and user-based watermark features.
Vimeo
Vimeo's video hosting platform allows you to host videos on your website as well as promote content on a global platform. It provides a decent level of customizations over youtube and plans are also very affordable and within reach of most businesses. Vimeo offers a good looking interface for promoting and distributing your online video courses.
Uploading videos is very simple and takes much less time for transcoding as well. For video embedding, the only option is via iframe code which can be made responsive or fixed as per your needs.
Vimeo also provides a live streaming service. Live events can be hosted easily with customizations at the backend such as adding visuals and audio. You also get to know and understand your audience better with the detailed analytics feature it offers. Monitor the performance of your videos on social media or anywhere you've embedded them on their dashboard.
Vimeo is purely designed for professionals. It's a perfect choice for website owners who are looking to embed their videos on their landing page or somewhere as it does not include any ads as well. The video player is also smooth and fast and does not include any ads or forced recommendations. You can even look out for good Vimeo alternative which gives you better security as well.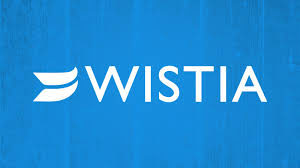 Wistia
Wistia with its video streaming platform comes with advanced tools to help content creators and marketers make the most of their videos. The player can be customised depending on how you want a user to see it. Such as uploading a logo, customize controls and change the overall look of your player as per your brand theme. And provides detailed insights to help you make the most of your marketing campaigns.
Wistia focuses more on video marketing. Their video hosting platform also makes it easy for you to engage with your audience. You get access to their interactive video tool, which can be used to drive customer engagement, using CTAs, quizzes etc. Wistia is quite popular and used by many brands to host & promote their marketing videos.
You can also make your videos private and give access to the users selectively as per your needs. When it comes to video analytics, you get data for some key metrics like what is the average engagement rate, total playtime, and also it gives you a heatmap for the video. Wistia's got a decent video hosting platform considering detailed analytics and is recommended for content marketers and promoters.

Kaltura
Kaltura has got much more to offer when it comes to video and rich media. It allows you to create videos and publish them directly to your post. You can manage and track all your video content centrally. Kaltura's online video hosting platform offers key features like – superb video playback, video management, video monetization, social sharing, multi-device access and much more…
Kaltura is a well-known private streaming platform. It caters to both internal and external audiences as well. However, Kaltura is a bit different from other platforms as it is open-source software that requires IT expertise. Also, its deployment is much more complex compared to all other platforms.
Kaltura is right at the top when it comes to serving educational institutions and big enterprises. Users without much hassle can make, transfer, alter, oversee, distribute, find and convey their video content to any gadget, live, or on interest.
Kaltura's video streaming platform provides a great viewing experience anytime and anywhere and on any device. It offers – automatic transcoding of uploaded videos, adaptive streaming, and delivery via leading CDNs.
A few of the key features from Kaltura's video hosting platform includes – domain restriction, right-click disable, password protection, etc. Although, Kaltura is more suited for Marketers, publishers, sales, and education personnel looking at higher levels of engagement and brand awareness. You can also use it for hosting private videos.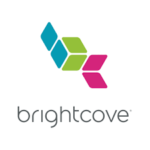 Brightcove
Brightcove is a video hosting platform that is enthusiastic about online courses and video content. Its offerings include modular products such as – cloud video hosting, video player, live video streaming, OTT flow for internet TV, Zencoder for cloud transcoding, video monetization tools, etc. It provides detailed video analytics and marketing tools. These tools are much valuable for businesses aiming to capture leads and understand their audience.
Brightcove's major audience covers large enterprises. Their flagship product is Video Cloud, which allows them to create and monetize their user's experience. It's a scalable solution being used by major publications and 50% of all Fortune 500 companies.
Businesses who are just getting started or in the early stages might not able to afford it and find it hard to use. Those businesses can opt from other options on the list. However, enterprises in search of business video hosting platforms have Brightcove on their radars.
When it comes to security, Brightcove offers DRM encryption via partners and is not an in-built part of the product. Also, it doesn't to provide the user-based watermarking feature. In terms of online video player customization, there aren't many options as well. You can just change the aspect ratios and height/width of the player.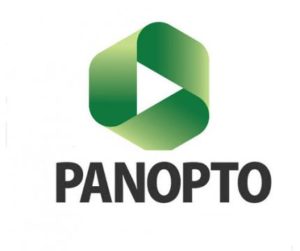 Panopto
Panopto's video hosting platform is used by businesses and colleges across the world. Panopto call itself a one-stop solution for recording, live-streaming and sharing video content. It's a simple and dependable solution for all those looking to stream and record videos.
It's an ideal video hosting platform for colleges, universities and businesses alike around the globe. With a little technical knowledge, you can host videos seamlessly for better engagement.
Colleges & Universities use Panopto for capturing and recording lectures and managing their video content. And businesses use Panopto to share internal learning videos with their teams such as demos, training & presentations.
You can also trim videos on their platform to make any changes at the last minute. You can also add slides and quizzes that can be great for an online learning platform as it allows you to interact with the audience and keep them engaged.
It provides video analytics in terms of view data such as the number of views, downloads and engagements with users. Security features include IP protection, Password protection and SSO login.
Conclusion:
With this, we come to the end of our detailed guide on video hosting platforms. You must now be having a fair understanding of video hosting platforms, their features and why should you opt for one instead of building your own.
Whether you are a business owner or an individual, the power of video creation and sharing is freely available to all. Especially, in these covid times where we are seeing such a rise in online video hosting platforms.
A secure video hosting platform is a great way to connect with your audiences and monetise your content. The platforms are very much affordable, highly globalised ad comes with many other benefits as we explained above. We had also compared a few of the best video hosting platforms available in the market as of now. We hope the comparison was helpful for you to choose the right platform for your business. Let us know which of these platforms you have tried or will like to try!
FAQs on Online Video Hosting Platforms:
What is a video hosting platform?
A video hosting Platform is a video solution where users can upload content, convert it into various bitrates, store the files and then play video content on the internet. An online video hosting platform can play pre-recorded and even live stream content on a website.
How does a video hosting Platform work?
How do I make my own online video hosting platform?
It is not advised to make your own video hosting platform as it involves multiple challenges. We've listed here a few reasons that why you should not self-host videos. However, you can choose any online video hosting platform that suffices your needs.
What are the features of a good online video hosting platform?
With hundreds of online video hosting platforms available to choose from, it really gets tough to try and choose one. Here are 57 video hosting features that VdoCipher provides for securing videos from piracy, ensuring smooth playback of videos, and managing videos in bulk via dashboard and APIs.
What Kind Of Businesses Need Online video hosting platforms?
Any content creator who is looking to earn or monetize their videos by hosting them online needs a video hosting platform. It can be any individual, e-learning organisation, education or corporate training institutes or entertainment businesses that are willing to host and monetize their video content.
What are the best e-learning video hosting platforms?
If you deal with online teaching or courses and looking to monetize them, you must be confused about where to start from with google throwing millions of search results to choose from. Here we list 12 video hosting platforms & LMS you can consider for hosting and selling your courses.
What are some other online video hosting platforms like Youtube?
YouTube certainly is one of the best free video hosting platforms in the world with over 2 billion active users. However, rising users give rise to a number of issues & complaints with some strict policies. So here are the 12 top video hosting platforms like youtube that offer free video hosting.
Supercharge Your Business with Videos
At VdoCipher we maintain the strongest content protection for videos. We also work extremely hard to deliver the best viewer experience. We'd love to hear from you, and help boost your video streaming business.
Free 30-day trial →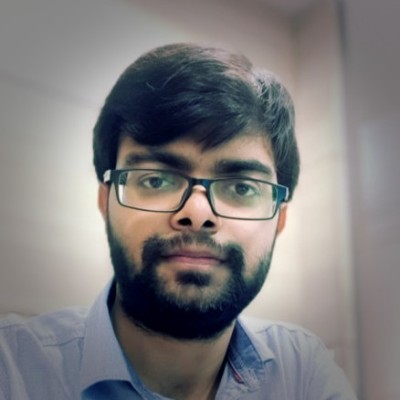 Product Marketing Specialist, VdoCipher.