Video has been at the forefront for any business in recent years. Whether it is for explaining your product, creating advertisements, corporate training, entertainment, or even learning, video is at the heart of all these activities. They play a major role in driving consumer action, developing new skills, and education.
According to an eLearning study conducted by VdoCipher, about 80% of online learning content is videos. Also, there has been about on average 53% increase in revenue as learning platforms moved to online learning
As per the Hubspot report, Almost 86% of businesses use video in their marketing strategy, and 84% of those that do report that video has helped them generate leads. In response to customer complaints, 43% of marketers report that video reduces the number of help requests they receive.
Online training videos have a consistently positive impact on learners' ability to learn from all age groups. In fact, 91% of educational institutions agree that video increases student satisfaction. [Source]
Several businesses opt for Video hosting sites to get their video online. You will learn why video hosting services can be beneficial for your business and website in this guide. In this article, we'll be explaining the best platforms for hosting video online.
Why Should You Host Video Online?
Faster load times:
Hosting video online using a video hosting service can be great for your website, as it would be much faster in comparison to self-hosted videos. This is due to the fact that, when you host videos on static pages, videos also load every single time. Thus increasing your overall page load times.
Video Protection :
Video hosting services provide video protection from unauthorized video downloads and piracy. In order to deliver content for various network speeds, devices, and browsers, you need to encode your videos to different video quality and formats. VIdeo
Video encoding for multiple devices & bitrates:
In order to play your videos in multiple browsers and devices, you'd have to perform video encoding. You'd have to make sure that videos are transcoded to all these different formats. This is due to the fact that the video codecs segment is very fragmented. Web browsers like Safari and Internet Explorer only support H.264 encoding. Firefox doesn't support H.264 codec, while chrome supports all the major video codecs.
You would have to transcode your videos, in each of these codecs. A different video file would be required to watch videos on android, iOS, Mac, Windows, and other devices. On top of you'll have to encode them to different video bitrate so that users can watch videos irrespective of their network speed.
Video Player – Controls, Adaptive, Customization:
Video.js is a popular javascript and CSS library which is used as an HTML5 video player. This library requires a good level of coding effort.
Unless you have ample technical resources and people, it is always better to go for a video hosting service. As with a video hosting service, you get a customizable HTML5 video player, with features such as speed change, subtitles, video analytics, muti device support, and more.
Costs of Large development team & Time to launch Video business:
Setting up your own video infrastructure can be challenging, as it takes a lot of time for development and the costs can be high. You'll have to realize how much human resources you are putting into the development. Also, all the salary and other miscellaneous costs are associated with it.
Furthermore, after you've finalized the team, the whole development process, might take up to months. Even after the development process is completed, you'll need a dedicated team to troubleshoot these problems.
This is why you can always opt to host video online with video hosting services like VdoCipher. You can get started hosting your videos online in about 10 minutes. All you have to do is upload the videos on your VdoCipher account and embed it in your website.
How To Host A Video Online?
The most simple way to host video online is by opting for a video hosting service. All you would need to do is upload the video on their platform and use the video embed code they provide to stream the video on your website.
You can also use Amazon Web Service, Microsoft Azure Cloud, or Akamai Services to host videos for on-demand viewing in a secure and scalable way. In this case, you have to build your own video infrastructure.
Another way is to self-host your videos, the same as your website server. This method is not advisable as it can put more load on the website and slows it down a lot. Also, you'd have to build your own video infrastructure, which can take a lot of time and prove to be costlier in longer-term
There are two basic ways of delivering videos online. Embedding allows you to add a video player to your own website, and self-hosting means that the videos are hosted on your own server.
Web embedding is when videos are stored on an external site and the code for inserting the video into the web page is stored on your site. It's an efficient way to deliver videos.
When you self-host videos, they live on your server and you'll write the code directly into your website.
Self Video Hosting Vs Video Hosting Service
Self-hosting is an option that is considered by startups and small businesses due to numerous reasons. Self video hosting allows you to run your own video hosting service, without depending on a third party to host the video for you. With self-video hosting, you gain more flexibility over features and data. Self-hosting is a great choice if you have an excellent technical team to handle video infrastructure and video content security.
Drawbacks of Self Hosting Video Online:
Slower website load time while loading the page every time video loads as well. If you embed your video content on your website pages, each individual page with a video will take longer to load. The videos that you deliver from your self-hosted video server can send more data and pages load slowly if there's a slow internet connection. when web pages load too slowly, so this impacts the user experience and bounce rate causing the traffic and sales
No protection from video download and piracy.
Have to manually encode videos to all the different bitrates and different formats to ensure that video can be streamed on all the major browsers and devices.
Higher cost and time to build your own video infrastructure. The development process might take up to a few months. You'll have to get a dedicated team to develop and then later maintain it. To build an efficient video infrastructure in-house you should be aware of the bottom line of costs and time of development which takes months to launch. Besides the one-time setup costs, you would need a dedicated team to troubleshoot any problems, such as server crashes or network connectivity issues. Building your own video player takes considerable coding efforts.
Video hosting services these days go beyond the old standard of a video-sharing platform and include a wide variety of features to help users manage their videos. In the frontend, they allow users to upload videos to each other, and in the backend, they can do some complex tasks such as compression, encoding, encryption, and more.
There are different types of hosting services, and each type of service offers its own unique set of features.
There are various benefits of hosting online videos with service providers.
They offer scalability, video hosting services support you as your video consumption grows
Video Hosting service offers video protection with DRM technology, to ensure that your content is protected from video piracy.
Video hosting platform ensure that your videos are encoded and encrypted to all the different video formats and quality
Why Not Host Video Online With Youtube?
Whether you're new to video content creation or you've been a video producer for a long time, at some point you'll wonder whether you should host your videos on a site like YouTube or your own website.
YouTube is incredible for anyone who wants to create content or grow their channel. For a business that wants to make a conversion or is looking to promote its products, YouTube may not be the best platform for business video content. The best location for hosting video online is their own website. Businesses can completely rely on professional cloud video/video streaming platforms for maintaining video infrastructure and data security.
Data Security:
If you're running a site with premium video content (like selling online courses), you'll need to ensure that the video files cannot be downloaded by shady individuals, redistributed, and then re-hosted on file sharing sites. Online video hosting platform like Vdocipher advanced video security technologies like DRM technology which prevent the unauthorized download of your video content and also provide the option to password-protect videos, and restrict videos from specific domains or geographic locations. YouTube does not offer advanced security and privacy options. This is the major reason why businesses are opting for professional video platforms.
Technical Support:
Video Hosting platforms like Vdocipher offer several levels of technical support for businesses that could be a game-changer for those with little video expertise. Whereas YouTube provides plenty of free help documentation and access to a support community.
Customization Options:
Hosting online videos with hosting providers lets you avail customization options that YouTube cannot match, the ability to include a custom player logo (on Business Videos), and the option to add a personalized watermark gives more control over the video content.
Video & Audio Quality:
When it comes to video and audio quality professional video hosting platforms like Vimeo provide better video quality when compared with Youtube.
Best Options to Host Video Online
1. Vdocipher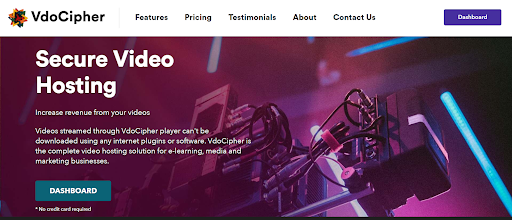 Vdocipher offers a platform to host video online specifically for businesses like e-Learning and Media Websites & Apps that are concerned about video content security. The platform is very easy to use and its user-friendly interface makes it easier to encrypt and decrypt data
Vdocipher protects your video files from being downloaded illegally, prevents them from being shared illegally, and ensures they're never stored or uploaded online for illegal distribution. You can sign up for a free trial of 30 days.
Advantages
This is an excellent video security solution – Google Widevine & Apple Fairplay are present to ensure content is not downloaded outside of the authorized environment.
The Smart HTML5 player supports all popular formats and includes the following features: forwarding/rewind, multi-quality adaptive, and multilingual subtitles.
You can use analytics tools to see users' interaction with the video which helps to optimize the video in a better way.
Technical support will be provided by the Vdocipher team Incase of any issues.
Dynamic watermarking function to prevent video download and screen capture.
You can avail a free one month trial to test out the functionality and the process
Vdocipher Pricing Plan
VdoCipher has 7 different pricing plans for users:
Starter: $129/year; 300 GB of bandwidth and 50 GB of storage
Value: $429/year; 1.5 TB of bandwidth and 200 GB of storage
Express: $699/year; 3 TB of bandwidth and 400 GB of storage
Pro: $1549/year; 8 TB of bandwidth and 800 GB of storage
Plus: $2999/year; 25 TB of bandwidth and 1 TB of storage
Premium: $5499/year; 50 TB of bandwidth and 2 TB of storage
Enterprise: Enterprise plans are custom-priced and custom-built. Please contact VdoCipher for a quote.
2. YouTube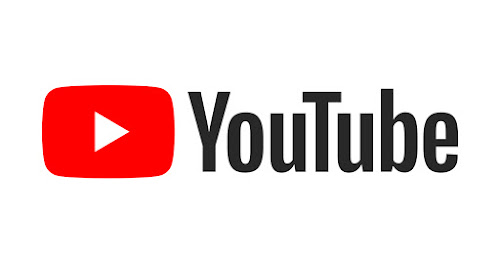 With YouTube, you can host videos online for free, and there is a huge selection of videos to choose from. YouTube is mostly known for user-generated content, but it also has a growing selection of original content. Youtube premium allows you to watch videos without ads, play videos in the background, and play videos offline.
Advantages
YouTube is an easy-to-use, user-friendly website that makes searching for content and channels simple and straightforward.
YouTube has a built-in function that allows you to stream videos in high definition.
YouTube is free to use and offers a wide variety of content
YouTube Pricing Plan
Youtube offers prepaid plans and subscription plans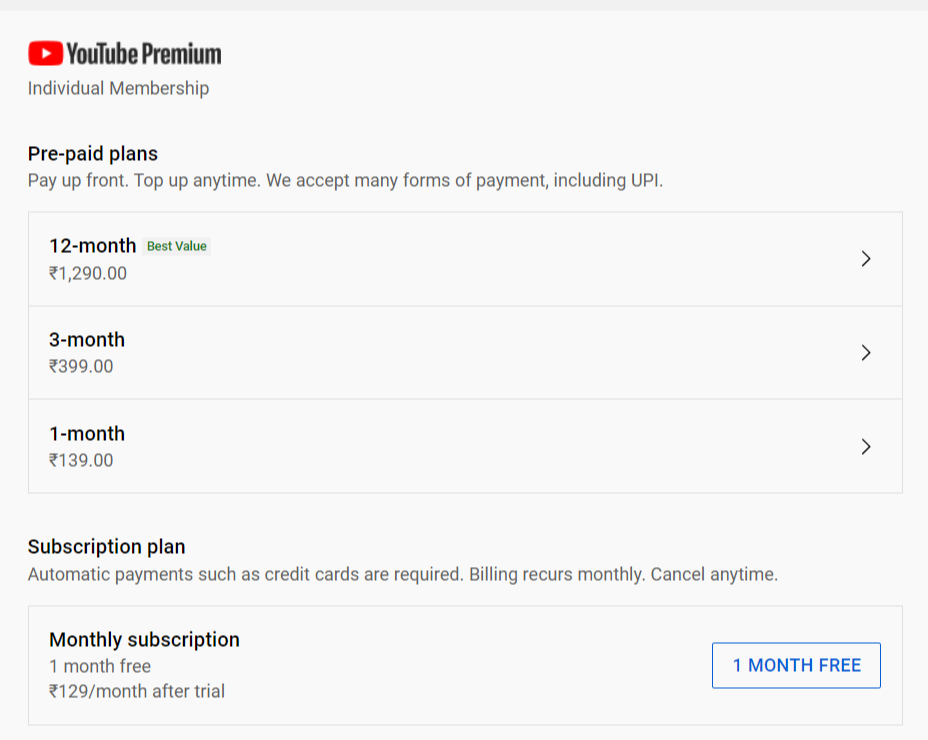 3. Vimeo

Vimeo is a great option for businesses and individuals who want to host videos or post content to a larger audience. It offers both a free version as well as paid options.
It allows you to embed videos into your websites in three different formats. It also comes with many other features including analytics. Vimeo Business enables you to set up lead generation campaigns such as email capture and custom call to action. Vimeo offers good pricing plans, which are mainly designed for creative professionals and small businesses.
Advantages
Great features like password protection, dynamic watermarking, and quality levels.
Ad-free video platform
The best features of Vimeo are password protection, dynamic watermarking, quality levels, and business plans with increased video resolution and storage.
A better set of customization options for their users. Ability to add a logo, change the play bar color, optimize videos with interactive tools, and much more.
Vimeo Pricing Plan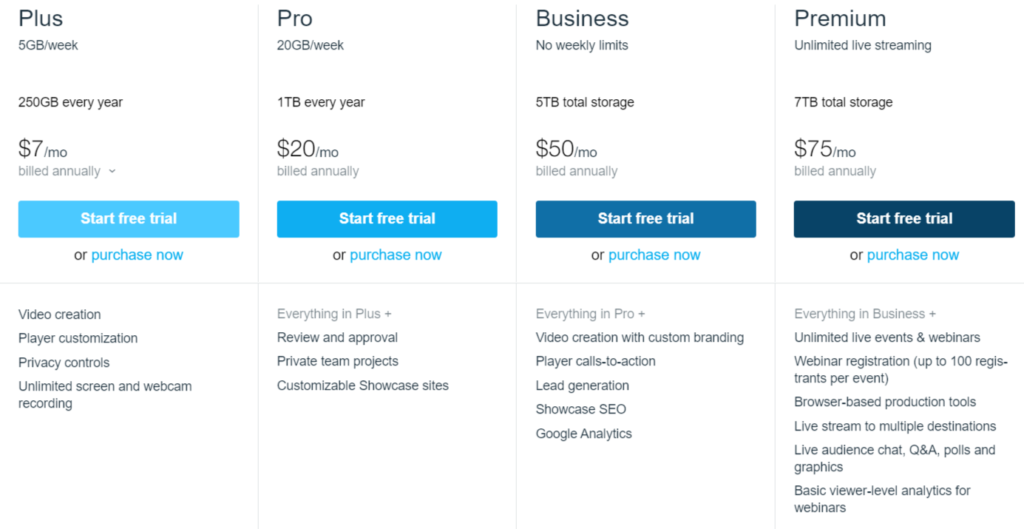 4. Wistia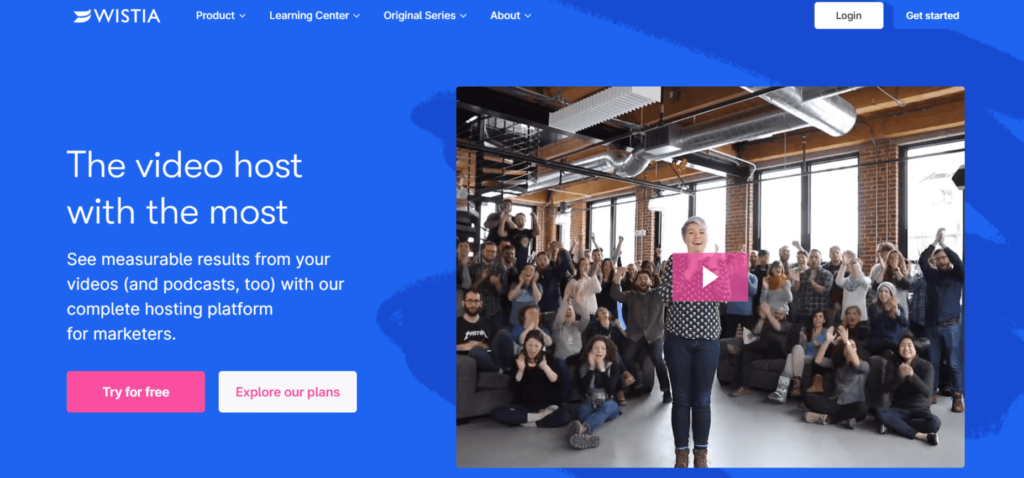 Wistia is a business video hosting and marketing platform that helps businesses to host video online. Wistia provides the option to add lead capture forms and integrate videos with email marketing. If you consider security as one of your top features, you can prefer platforms like Vdocipher that provide robust security. Wistia is a good option if you want to improve your conversion rates and increase user engagement across your websites.
Advantages
Video chapters are available to enhance the video viewing experience.
They also offer analytics that shows how many views a video has, where your viewers are dropping off, and how much of the video was watched. This information can be used to improve future videos.
You can customize many aspects of the player, including colors, adding buttons, and much more.
Wistia Pricing Plan
Wistia paid plan (Pro) starts at $99 per month, including 10 free videos or podcast episodes further each additional video costs 25 cents. Wistia Advanced Plan costs $399 a month.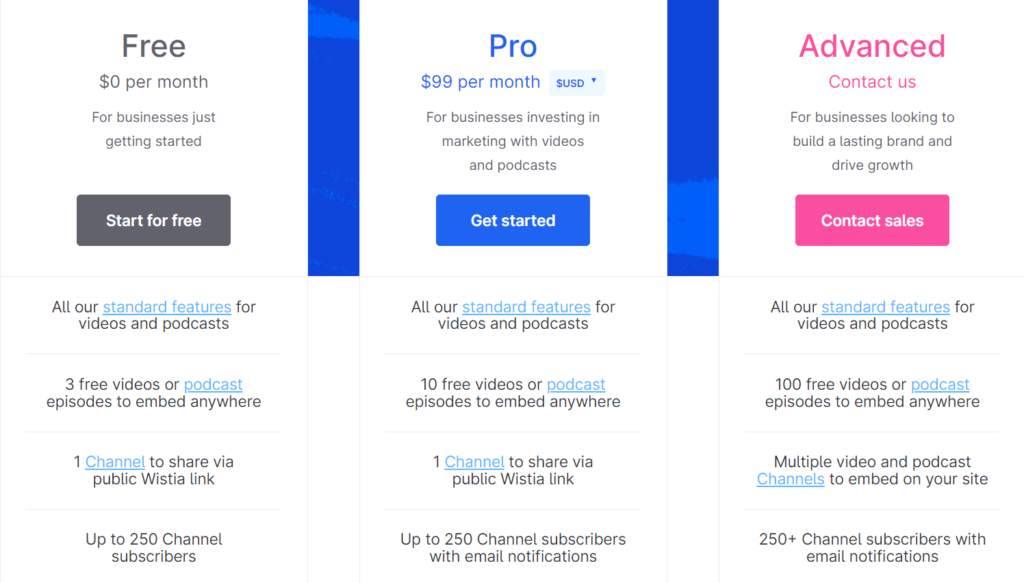 5. Dailymotion
DailyMotion is the world's leading video-sharing website after YouTube. Dailymotion is a video streaming website that makes it easier for content creators to upload their video content. Video content providers can upload their content to this site, making it easier for viewers to find the video. Users can upload 60-minute videos of 2 GB limit and the quality of upload is limited to 1280 720p.
You can choose between public, private, and password-protected videos. If you want to share your videos, go with the public. If you're sharing with friends and family, set them up to be password-protected videos. The best thing about this platform is that it provides a geo-blocking option to block users from accessing your video in different countries.
Advantages
It has a large and growing community of users. A lot of new content is added every week
It offers a great streaming experience (adaptive HLS streaming)
6. VideosHub
VideosHub previously known as Metacafe is a short video hosting site. A simple platform facilitating both the browsing and uploading of content, this platform is a great option for anyone interested in short-form content. You don't have to pay a penny to use Metacafe. It's a small-scale YouTube alternative in which the length of the videos is 90 to 180 seconds.
If you ask me, "What is the difference between Metacafe and Instagram?
The difference between the regular version and the upgraded version is that the regular version expires after 24 hours, but the upgraded version stays up for 48 hours. The target audience for this video-sharing website is people looking for quick product reviews, short product videos, and funny product videos.
Advantages
A strength of VideosHub is its simplicity. It's fairly straightforward to browse through the video catalog, with a menu bar that links to Most Viewed videos.
7. Vidyard

Vidyard is a powerful video marketing and sales platform. It helps businesses of all sizes to host videos online, create, share and track videos. It lets you fully customize the look and feel of the video player. With A/B testing you can also test different design elements
Advantages
It is an ideal platform for professional broadcasting
Supports Integrations with tools like Salesforce, HubSpot
Great analytics tool
Vidyard Pricing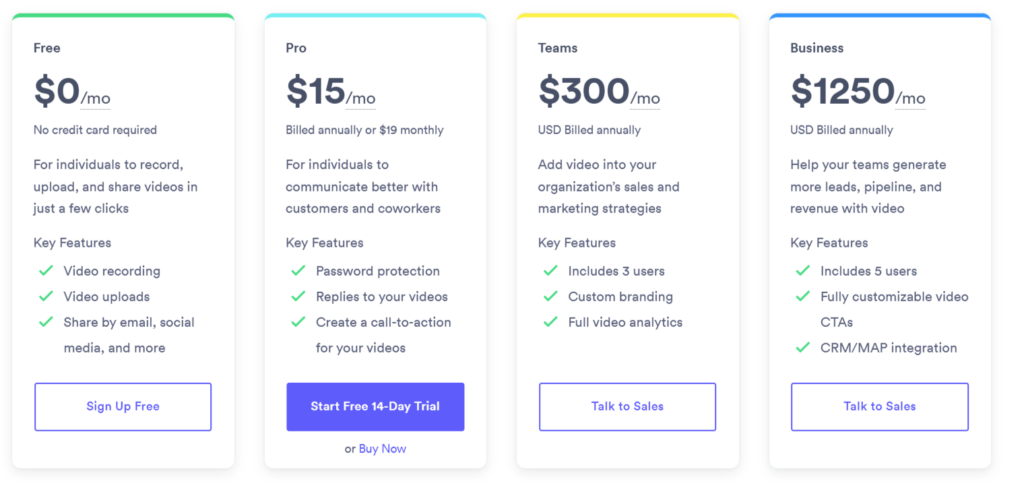 8. Facebook
Facebook has a massive user base with more than 2.9 billion monthly active users, perfect for anyone looking for an audience. Facebook is becoming a huge video distributor, primarily because it's promoting video content through Facebook Watch, and is transforming itself into one of the internet's leading video distributors. The platform is ideal for brands that have an ad budget who want to grow their audience.
Advantages
The biggest advantage Facebook has over its competitors is the length of video it can upload – a whopping 240 minutes.
This is free and unlimited video hosting online. No file storage limit
How to host videos online with Vdocipher?
If you're looking to host a video online with Vdociopher here are the steps to execute
1. Visit vdocipher.com and create/login your account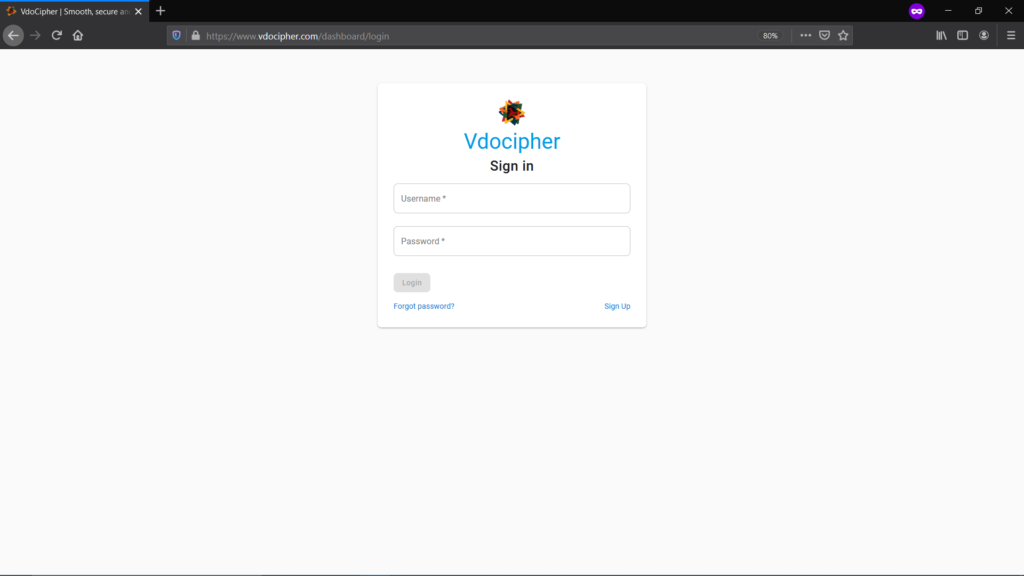 2. Once you enter the dashboard upload videos or import options will be provided.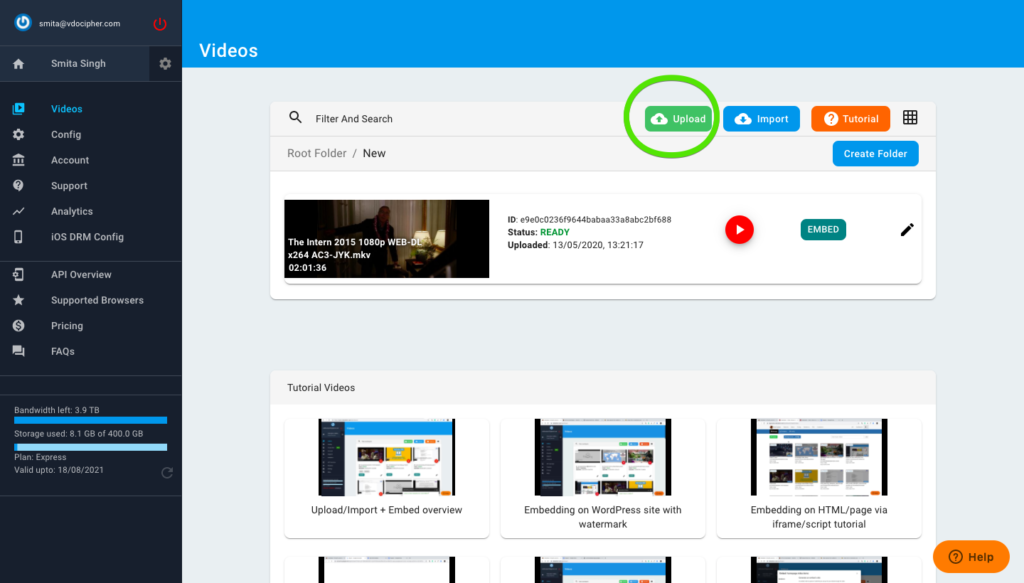 3. On the Embed button click, a popup window will appear where you will be able to choose between web or mobile apps. If you choose to embed this video using iFrame, we recommend you use the "Quick Embed" option. There are other options for embedding products. You could use a WordPress plugin or an API integration. You could even use an SDK to integrate with a mobile application.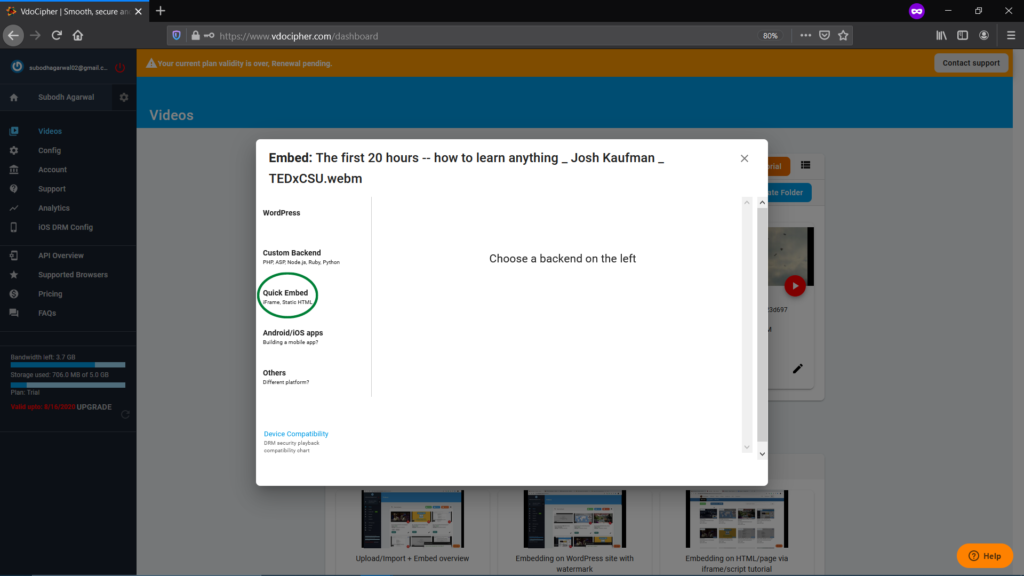 4. After selecting the quick embed code option for the site you'll go through the options to generate the embed code. You can choose settings like embed expiration, watermarking, etc to generate the embed code.
The video embed code has three unique features:
You can set the embed code to expire for a period of time. By default, the embed code expires after 30 years.
IP and Geo – You can restrict access to specific IP addresses or to specific geographical regions only.
URL Whitelisting – Video will play only if the video player is embedded to the main website.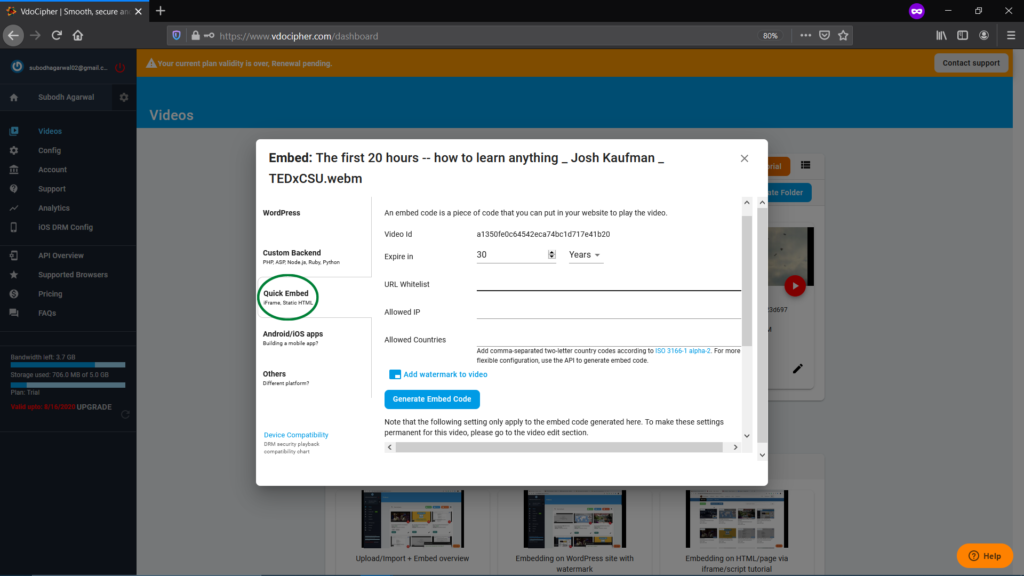 5. When you have added all the custom parameters and generated the embed code, you'll see the "Copy to clipboard. You can either copy the entire code or paste it into your HTML document. Code is available in 2 formats. i.e. via iframe & script. you can select any embed option as per your need.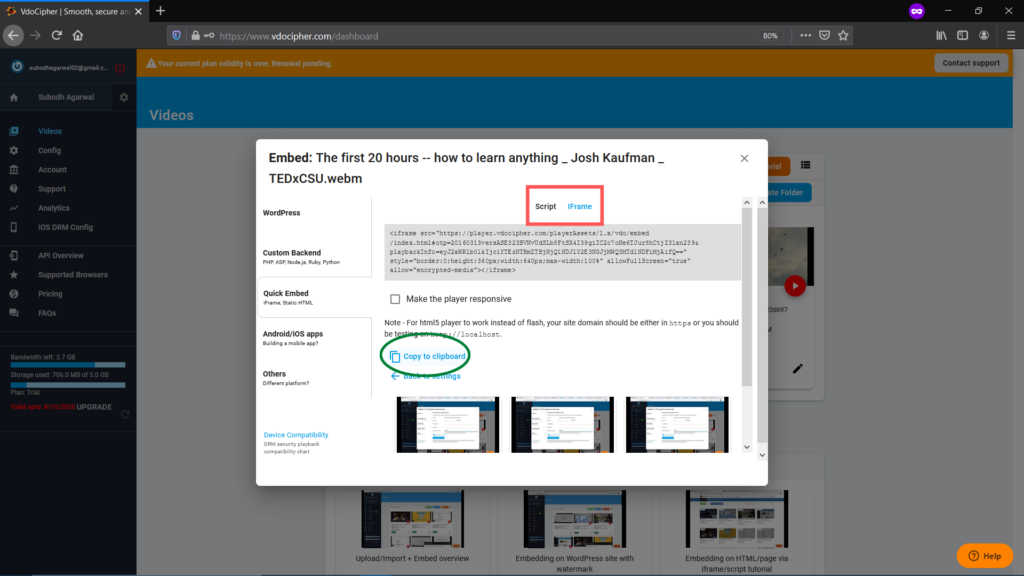 Embedding Videos on the website offer numerous benefits
A video embedded on your site could encourage visitors to stay on your site longer
When you embed a video into your article, readers will also see your video thumbnails. This can help improve your brand recognition and indirectly promote your channel
Embed codes optimize the video for streaming online on your landing page.
You can refer detailed Video guide here
Conclusion
The biggest advantage to using video hosting is being able to see, share, and control your videos from a single dashboard. Hosting videos on your own is not a good idea because a large file size could negatively impact your website's performance. If you only need to host your videos somewhere online, grow your social media audience, and don't need many other features in terms of privacy and customization, you can host videos online on free video platforms like Youtube, Dailymotion, Vimeo. But businesses that prioritize Content protection and security can opt for video platforms like Vdocipher. A smart approach would be to identify your priorities and platform features and then opt for a free trial to test out the functionality of the platform.
Supercharge Your Business with Videos
At VdoCipher we maintain the strongest content protection for videos. We also work extremely hard to deliver the best viewer experience. We'd love to hear from you, and help boost your video streaming business.
Free 30-day trial →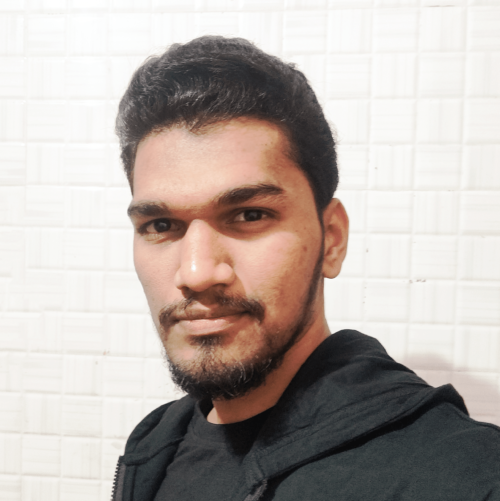 A Digital Marketing pioneer who loves to innovate strategies to effectively market a product through consumer research and data analysis. In addition to this I'm a sports and fitness enthusiast with love for travelling and photography.