What is a Video CMS?
A video CMS provides simplified workflows for enterprises to store, organize and share their videos.
Top online CMS today are WordPress, Drupal, Joomla and Moodle. These CMS are designed largely to publish dynamic web pages. Because of its ease-of-use, WordPress powers over 25% of websites on the internet today.
These CMS are however unable to host videos by themselves. This is because videos add complex workflows that these minimalist CMS frameworks do not handle on their own.
VdoCipher augments these CMS with its video plugin. VdoCipher provides the video storage and organization features that complement the publishing options that WordPress and other CMS provide.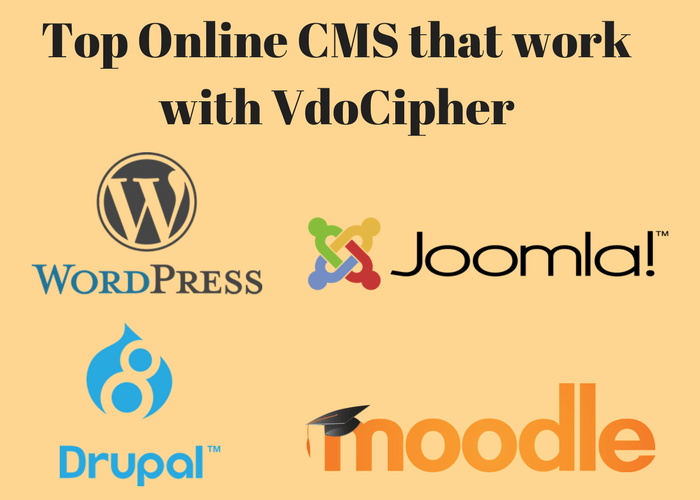 Why You Need an Enterprise-level Video CMS?
VdoCipher provides video hosting infrastructure which when combined with a CMS such as WordPress enables businesses to effectively share internal videos.
Lets unpack the definition for video CMS:
Storing

– A video CMS provides a centralized location on the cloud where you upload your video repository. You can upload videos directly to VdoCipher's cloud servers.

Organizing

– Video CMS should enable multiple users to share videos in an organized manner. Tagging videos enables you to classify/ categorize your videos. This makes videos hosted on VdoCipher easily searchable.

Sharing – Authors should be able to upload the videos, and share it when ready. VdoCipher leverages the powerful publishing capabilities of WordPress and other top CMS for private video sharing. VdoCipher's security features also ensure that only the right people get to see your videos.
Simple Worklows– Steps required in uploading and sharing should be made simple, and should be automated as much as possible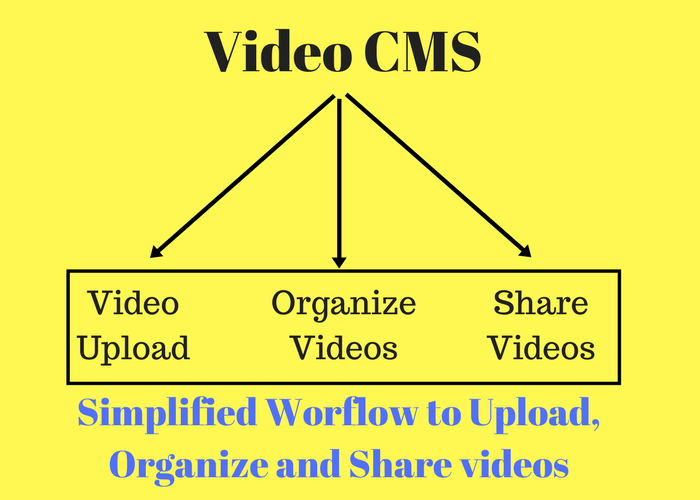 How is VdoCipher's Enterprise Video CMS distinct from YouTube or Vimeo?
YouTube is a free platform that makes money by showing ads inside videos. For YouTube, ensuring that viewers stay on its website is a higher priority than the videos themselves. YouTube simply does not offer any customizations to the video player theme. Besides, ads and video recommendations are major distractions that make YouTube unsuitable for enterprises.
Vimeo on the other hand is YouTube with a more civilized comments section. Designed for independent creators who wish to showcase their video content, Vimeo too offers very little in the way of branding and personalization.
Neither of YouTube or Vimeo encrypt the video on storage. Anybody who gets the link to the cloud URL can download the video. This poses a grave security risk for organizations that need to share internal training videos confidentially.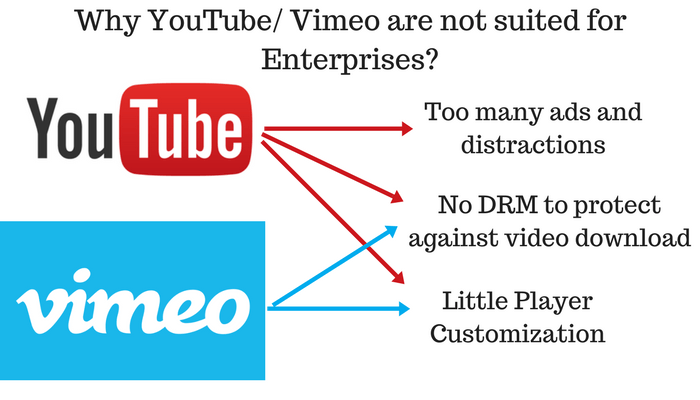 VdoCipher prioritizes security for your videos. VdoCipher also enables you to customize the video theme for your video CMS, so that the video player remains in sync with your CMS.
VdoCipher's Video CMS is your one-stop solution for videos on the cloud
Breakdown of VdoCipher CMS
Cloud Storage – VdoCipher gives 100GB storage for the starter plan. There is no file size limit for video upload. We recommend that you use offline encoders such as ffmpeg to pre-encode the video. This ensures that the video file size is not huge at the time of upload. Pre-encoding videos ensures that your videos are ready to share within minutes of upload.
Import Videos from anywhere on the Cloud – Import videos from other online video providers and cloud services. Also enable any authorized user to upload videos to the CMS.
Automatic Video Upload using VdoCipher API – Individual users can directly upload videos to the video dashboard. Your IT team does not have to share the secret API key with each user.
Personalize the video player – VdoCipher's theme library can be used to overlay custom skins from popular video players. You can tinker with the video player color and settings to personalize the video player.
Security – VdoCipher guarantees the single biggest organizational requirement from video hosting – data security and privacy. With VdoCipher's cloud security solution you can share your videos with a Hollywood-grade DRM.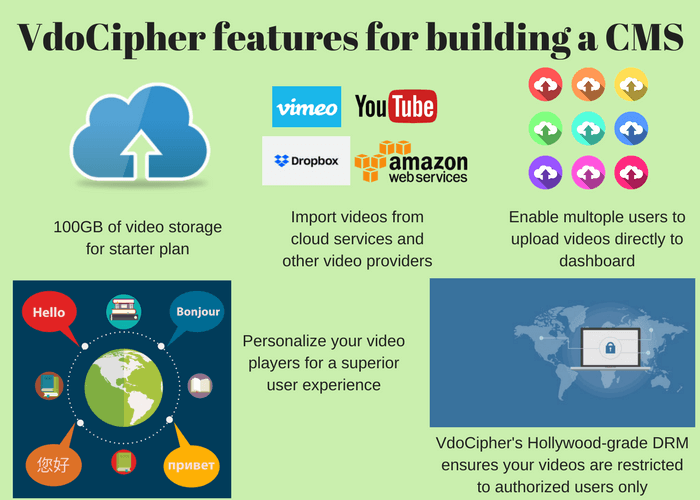 Import videos from all Cloud Servers
VdoCipher enables users to migrate directly from cloud hosting providers (Dropbox, Box, Google Drive and Amazon S3), and online video providers (YouTube, Vimeo Pro, Wistia). With VdoCipher you can import videos directly to the VdoCipher dashboard without having to download them first. Check out our blogs on how to import videos:
Your Video CMS should be Customized, for You
The video player is the centre of user's attention on any web page it is on. We understand that, and have enabled users to implement their own video player theme using simple HTML and CSS. The video player no longer stands out from the bespoke designer theme you made for your website.
For the non-technical folks player themes include editable custom fields. These fields can be used for the simple stuff – changing colors, and adding new buttons on the video player.
You can also add custom events. With custom events the video player can become a crucial element to engage viewers further with your content.
Top Video CMS Platforms
Here are the top video CMS platform available.
Brightcove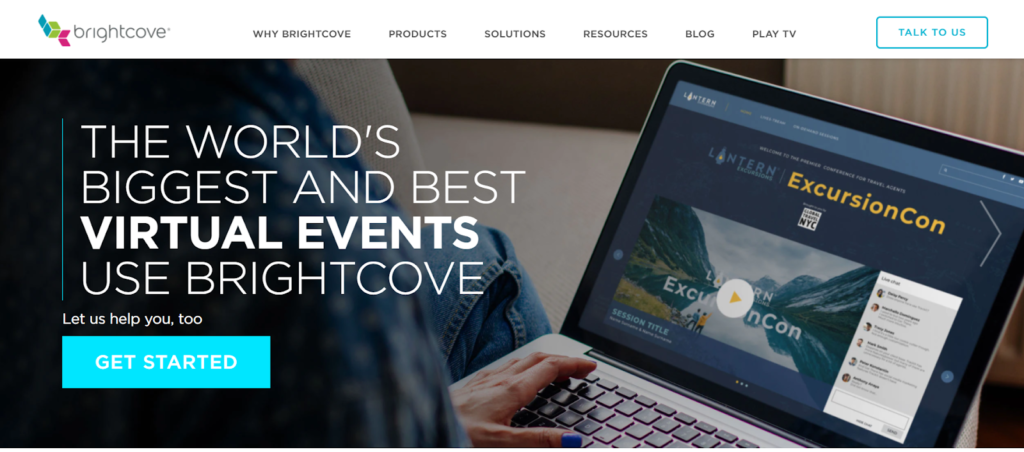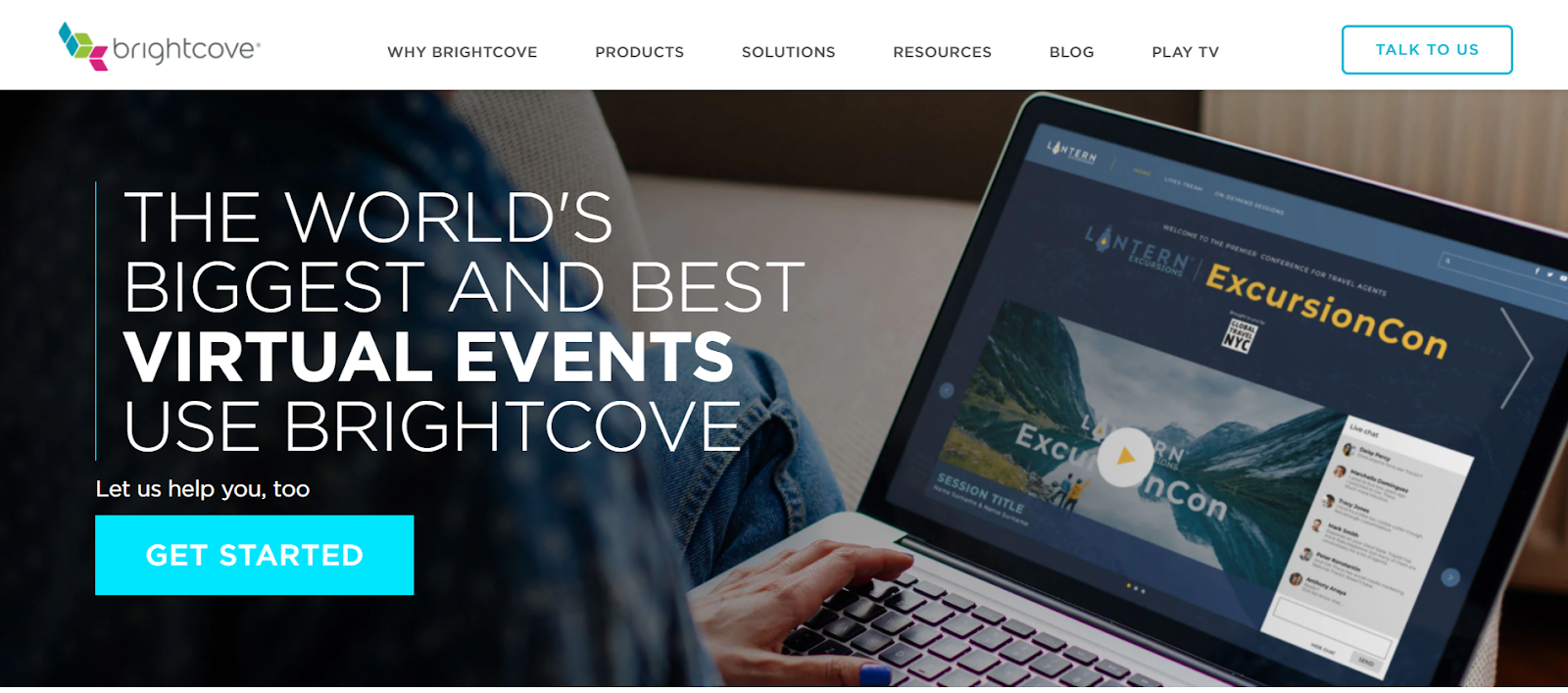 Brightcove is a well know video CMS platform and is used widely by organizations as a video solution. Their user interface is pretty intuitive and makes it easy to streamline workflows. Their video CMS platform is used for internal video communication, employee video training and as an enterprise video solution. 
Brightcove offers a playlist feature to group related videos manually or automatically by tags, custom metadata options for labeling and searching for content. Also, noteworthy is Brightcove's quick publish feature, which lets users publish video clips straight to their website and other online channels by just pasting a snippet of embed code. However, for in-depth analytics in embedded videos, additional integrations are necessary.
Vdocipher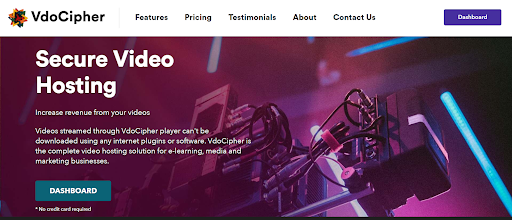 If you rely on video content for revenue, then VdoCipher is the safest bet for you. With the DRM based encryption, you can rest assured that your content is not getting in the hands of a pirate. Even if it does somehow, there are fallbacks such as dynamic watermarking which makes it easier to identify the source of the piracy. With Vdocipher you don't have to worry about anything related to a video. All you need to do is upload your video on our platform, we take care of the encryption, all you need to do is embed the video on your website. 
Vdocipher doesn't offer a CMS but many of our users use WordPress CMS. VdoCipher has plugins for all major content management systems – WordPress, Drupal, Joomla, and Moodle. Our easy-to-use plugin only requires a one-line shortcode to embed videos. Check out our intro blog on protecting videos on WordPress.
Kaltura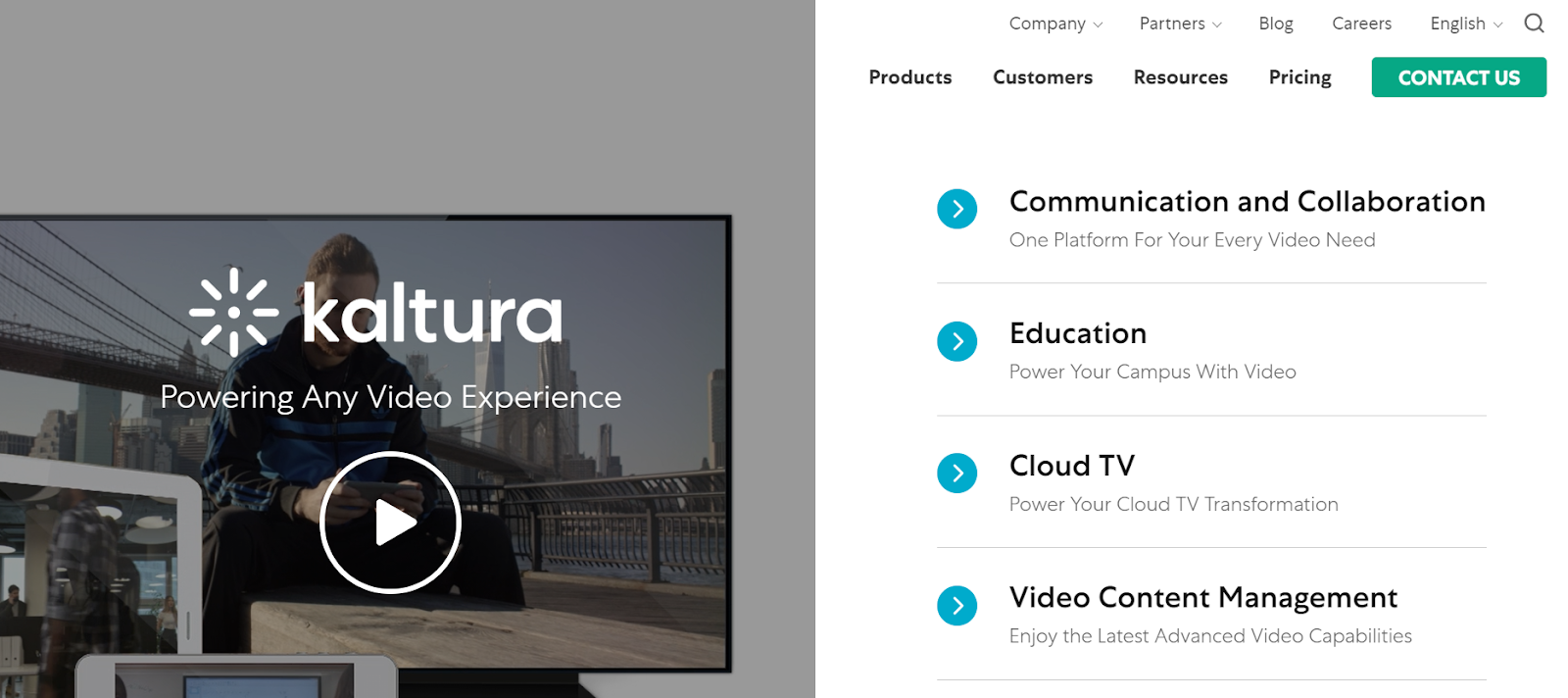 Kaltura provides an open-source video platform, which allows developers to create their own video CMS for their organization. This version is self-hosted and can be used to make custom video CMS. However, they also provide a cloud solution for the same which can be used for a wide range of video applications.
For business communications, you can use their, "meetings" tool, which is an interactive collaboration area, with live video at the center. For marketing, Kaltura's on-demand video and Livestream capabilities function across many different online platforms and devices. It also provides a  virtual classroom feature, which is an excellent fit for online teaching by an ed-tech company or educational institution.
IBM(Ustream)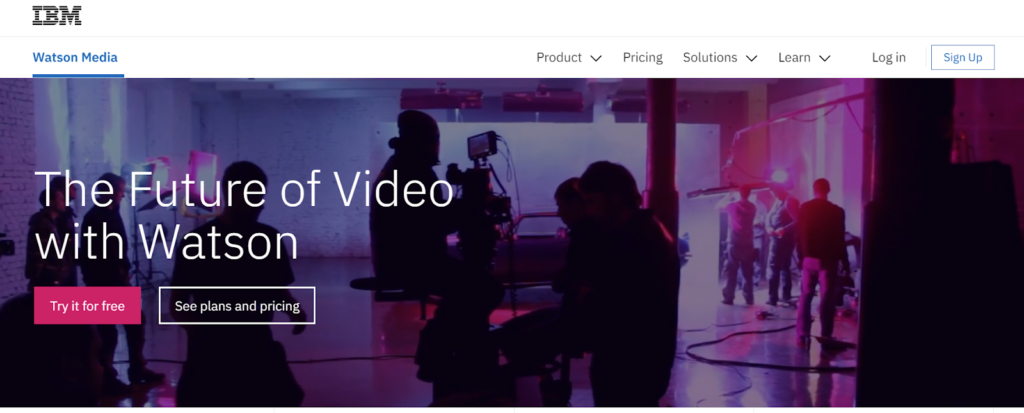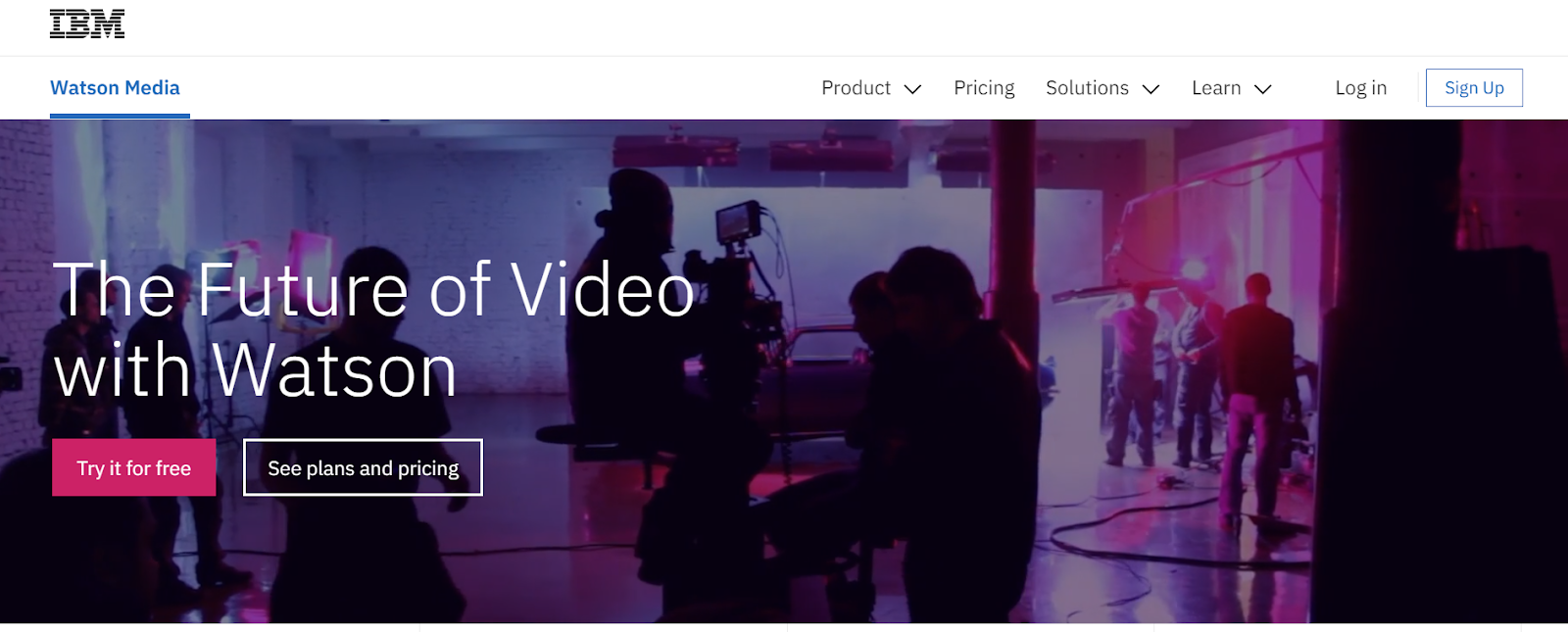 IBM's video CMS solution is widely used for both live and pre recorder video streaming for external distribution. You can use the video CMS platform for large-scale video campaigns and events for your visitors, leads, and customers. IBM's video streaming is quite secure and you can track analytics in real-time during live events. Its adaptable setup and interface can accommodate novice and experienced administrators alike.
Its Watson Captioning feature introduces the ability to convert video speech to text. The Watson Captioning feature can transcribe video speech accurately through analyzing the composition of the audio signal and applying knowledge of grammar and language structure.
Panopto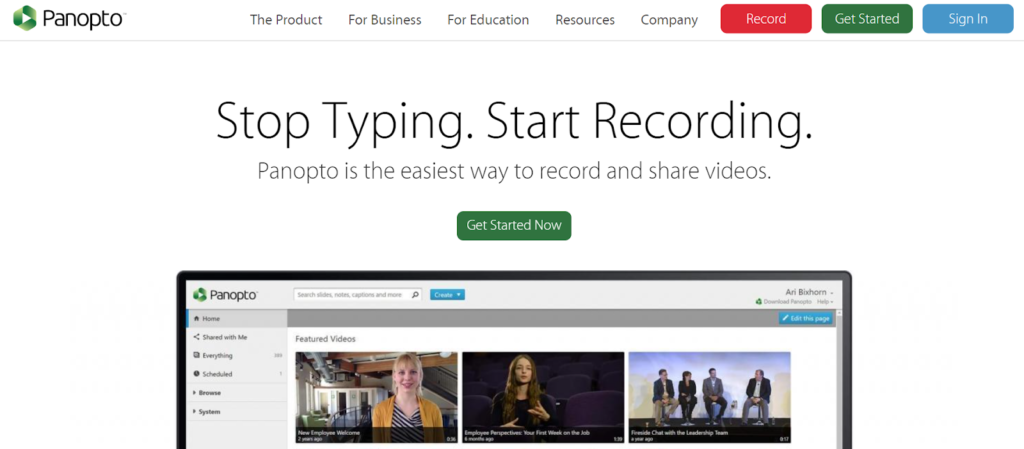 Panopto is a video platform with a focus on certain needs of both businesses and universities. 
It takes care of the process of recording, sharing, and managing videos. It is often used by eLearning organizations for lecture recording, screencasting, video streaming, and managing videos.  Organisations use Panapato's video CMS to manage and create their own content platform.
Zype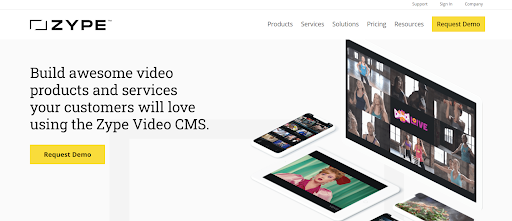 Zype VideoMeta CMS is an easy to use video CMS platform. You can use Zype to stream both live and on-demand videos. It enables you to automate video uploads, manage subscriptions, and monetize your video content. Zype provides analytics to keep track of engagement so that you can optimize user engagement.m
This video CMS gives users easy access to media imports, metadata control, playlist structuring, backups, distribution rules, and transcoding, all of which can be handled with automated workflows. 
Vidizmo


As a Microsoft partner, Vidizmo's video CMS platform is interoperable with all Microsoft enterprise products and platforms, Microsoft Azure and Azure Government cloud. It provides a flexible pricing plan that is based on actual video use. Also, the Vidizmo video platform is highly customizable to meet specific industry or business needs.
Why Video Security is important for enterprise video hosting?
Sharing content effectively is what every CMS is about. This comes down to making sure that:
The right users get to view the content conveniently
Non-authorized users do not get to see the content at all
VdoCipher has been designed to meet these sacred requirement. We provide solutions for one of the biggest challenge organisations face – data security and privacy.
Video CMS with VdoCipher – Securely share your private videos
VdoCipher's security comprises of:
Security during upload – 

Even though users can upload to VdoCipher's cloud server, the API key used for authentication is only available to centrally designated authority

Videos are encrypted while they are being encoded online – Beyond adding to the encoding workflow, video decryption does not cause any lag during video playback. Secure video hosting is compatible with providing the best user experience.
Backend Authentication for Video Playback – VdoCipher API enables communication between the video player and VdoCipher's servers, ensuring that only authorized users see the video. This authorization happens each time the video is played back.
Watermarking for effective deterrence – Dynamic watermark are screen overlays, marking uniquely identifiable user information. This info may be anything – user ID, time of playback, user login. Because use of screen capture technology would still reveal the user who shared the video, watermarking curbs video piracy very significantly.

Video CMS with VdoCipher – Organize your online videos
Make your Videos Searchable – Inside and Out
Efficient video search keeps videos accessible when they are part of a large library. Video metadata is the information that search engines use to deliver video results. Accurately storing this video metadata makes finding videos easier for humans and for search engine bots. The more accurate and descriptive the metadata, the better you will be able to search your videos. This metadata comprises of:
Video title

Video description

Video tags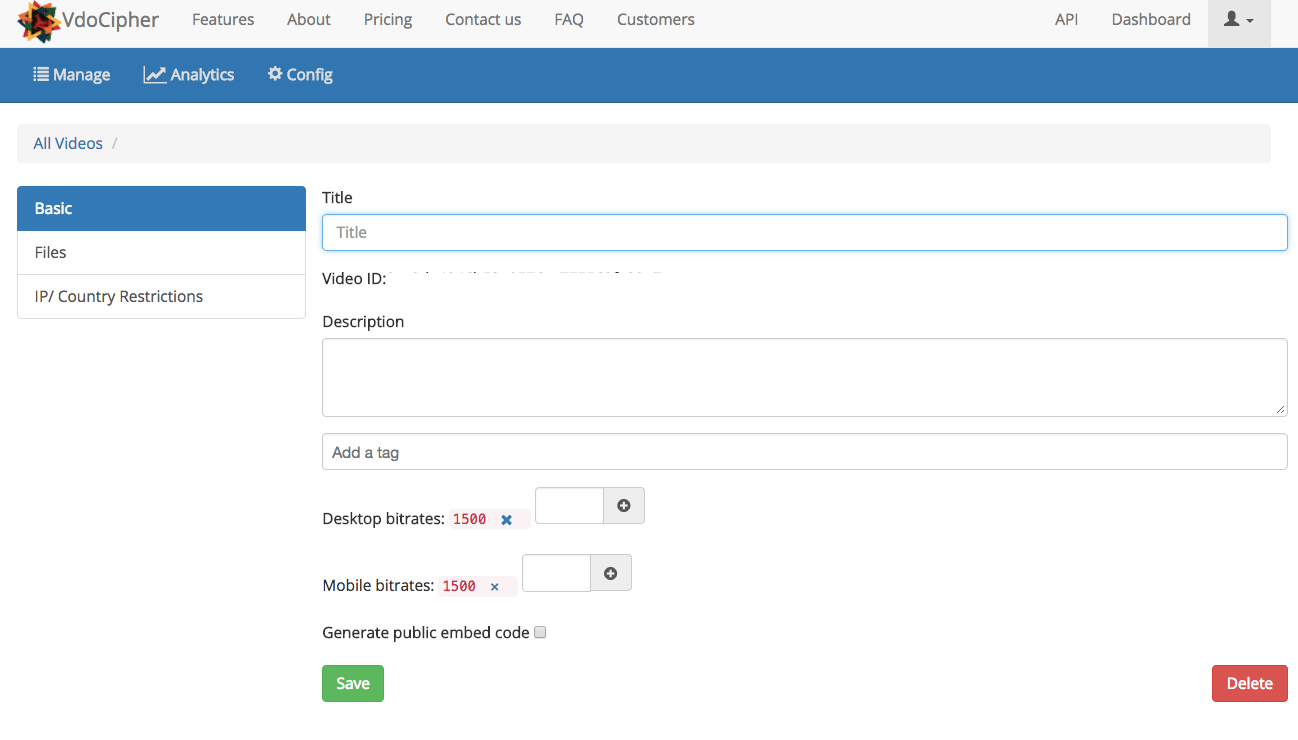 VdoCipher + WordPress – the Perfect Video CMS
Many of our users use WordPress CMS. VdoCipher has plugins for all major content management systems – WordPress, Drupal, Joomla, and Moodle. Our easy-to-use plugin only requires a one-line shortcode to embed videos. Check out our intro blog on protecting videos on WordPress.
Membership plugin in a CMS interface such as WordPress gives you ability to fine-tune who you wish to share videos with. With Membership plugins you can create different tier of users, and allow differential access to different kinds of users. The content restriction abilities of WP membership plugins complement the video security features that VdoCipher provides.
VdoCipher is compatible with all major Learning Management Systems
VdoCipher integrates with top learning management systems such as Wiziq, Teachable, Uscreen and Webanywhere.
Most of these platforms offer a one-stop solution for creating and selling online course. However, our extensive survey of these platforms has shown that many users found their videos pirated online. This is because these LMS solutions do not implement fool-proof security standards for video hosting. The most commonly used hosting technologies are RTMPE and HLS encryption. These streaming protocols are not completely secure, and are nowhere close to the DRM systems that VdoCipher provides.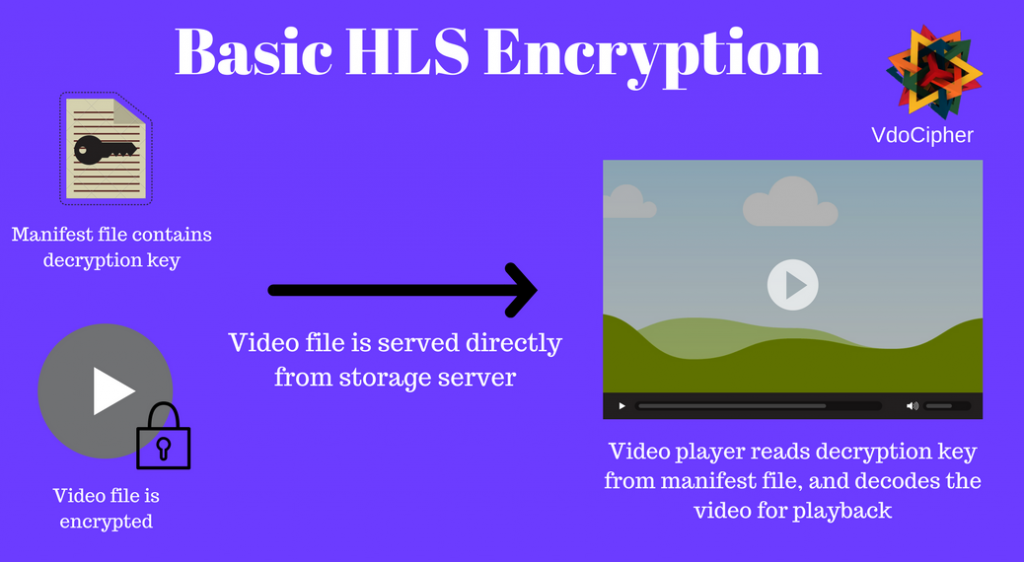 To effectively protect their video content, users can use these learning management systems in combination with VdoCipher's video hosting. Please get in touch with our support at info@vdocipher.com for queries on integrating VdoCipher with LMS.
Supercharge Your Business with Videos
At VdoCipher we maintain the strongest content protection for videos. We also work extremely hard to deliver the best viewer experience. We'd love to hear from you, and help boost your video streaming business.
Free 30-day trial →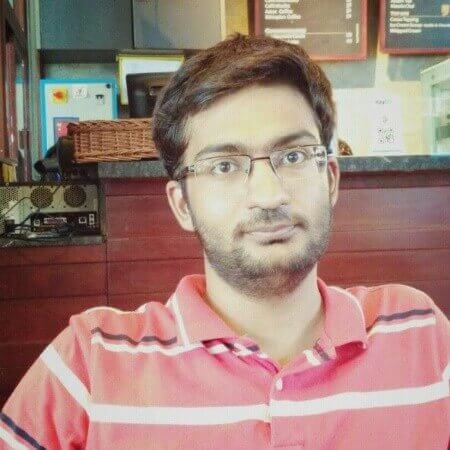 CEO, VdoCipher. Writes about video tech, ed tech and media tech.