In the year 1997, my friend's father bought their first television set with a wider screen. When I watched an old Charlie Chaplin movie on the new television, I noticed a black band on each side of the screened video. Now, we called the technician assuming it to be a technical glitch. When the technician saw that, he was the first who brought the term "Video Aspect Ratio" to my knowledge. That television set was intelligent enough to place the black bands on each side of the video so as to avoid any distortion of the video.
What is Video Aspect Ratio?
The video aspect ratio is the relation between the width of the video and its height. Therefore, we write the video aspect ratio as follows: width: height. When the width is larger, we are dealing with a horizontal video. Whereas if the height is larger, we would be dealing with a vertical video.
The device used to shot the Charlie Chapline movie supported a display aspect ratio of 4:3. So that, when played on my friend's new television set, having an aspect ratio of 16:9, would have distorted the video unless the device itself introduced the black borders on each side.
This brings us to a significant point: The term video aspect ratio is relevant to the screen that displays the video and the device used to shoot the video. Therefore, the aspect ratio used while shooting the video and while displaying it on the screen should be the same so that the video encompasses the whole display screen and does not distort the video.
What is the relation between Aspect Ratio and Resolution?
The video quality not only depends on the aspect ratio but also on the resolution. To make it easier to understand, we can separate the resolution into two categories.
One is your video resolution which depends on the device from which you shot the video. For example, we see mobile and camera devices with specifications of their camera sensor's total number of recorded pixels or megapixels like 16MP, 48 MP, etc. The total number of recorded pixels is adjusted with an aspect ratio to achieve a convention of writing a video resolution in the form of width x height. A video shot with a high megapixel camera sensor will result in a high-resolution video. Also, we can use software applications to alter the video resolutions.
The other is one of your screen resolution or display resolution. When you go to buy a monitor or television set, you see the following terms in their specifications: SD (Standard Definition), HD (High Definition), HD Ready, Full HD, 2K, UHD ( Ultra HD)- sometimes referred to as 4K & 8K UHD.
Screen resolution is a measurement of the total number of pixels and a pixel is the smallest unit of a digital graphic. We combine large amounts of pixels to form a digital video frame. When you buy a monitor or television set, you will see that there are three important specifications – display aspect ratio, display resolution, and video signal support.
In today's times, most of the content you see on television and online is in the aspect ratio of 16:9.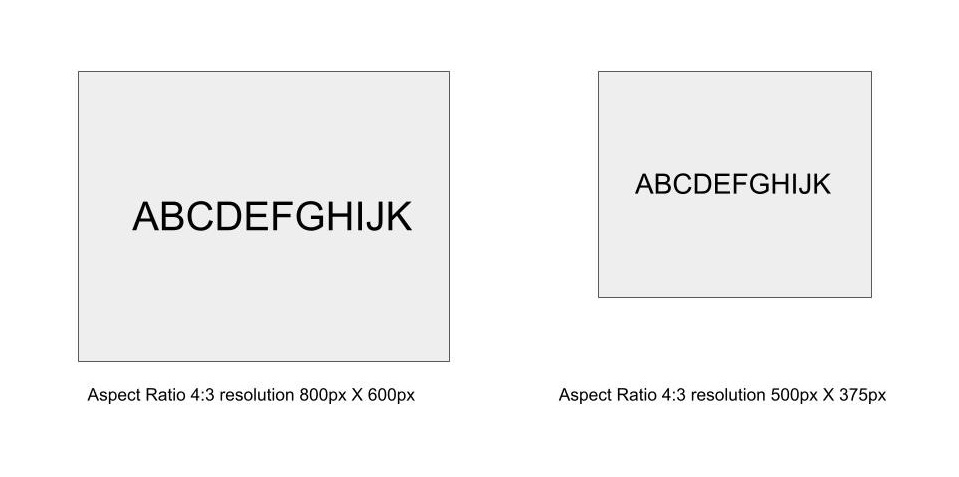 Depicted above is a difference between watching a video on a screen having an aspect ratio of 4:3 with a display resolution of 800px X 600px and a screen having the same aspect ratio but a different resolution of 500px X 375px. The file size of the first one is larger than the second one. Also, we can see that by only changing the screen's resolution, we could see the complete image, albeit with a little less clear image.
Example: A screen with an aspect ratio of 16:9 and having a resolution of 1920px X 1080px supports multiple video signals. If you divide 1920 by 1080, you arrive at 16/9. So if you have a video signal of 1080p, then the video will completely occupy the screen and will show it clearly.
This also means that a video shot with a high-resolution camera also requires a higher or similar resolution screen to give you the best output quality.
Popular display resolutions with associated Video Aspect Ratio charts
| | | | |
| --- | --- | --- | --- |
| Resolution | Pixel Size | Aspect Ratio | Known as |
| SD ( Standard Definition) | 640 x 480 | 4:3 | 480p – Number of rows of pixels |
| HD ( High Definition) | 1280 x 720 | 16:9 | 720p – Number of rows of pixels |
| Full HD | 1920 x 1080 | 16:9 | 1080p- Number of rows of pixels |
| 2K | 2048 x 1152 | 1.78 | 2048p or the number pixel columns |
| Ultra HD | 3840 x 2160 | 16:9 | Called 4K by marketers. Here it represents the approx. columns of pixels |
| 8K UHD | 7,680×4,320 | 16:9 | Called 8K by marketers. Here it represents the approx. columns of pixels |
This means a single aspect ratio supports many resolutions.
| | |
| --- | --- |
| Aspect Ratio | Popular Display Resolution Ratios |
| 21:9 | 3440 x 1440 and 2560 x 1080 |
| 16:9 | 1920 x 1080, 1280 x 720, 1024 x 576, 960 x 540, 2560 x 1440, 3840 x 2160 and 7680 x 4320 |
The above set of video resolution shows that the more the number of pixels, the clearer and sharper the video. For the best quality, you need good resolution matching with your aspect ratio and also a higher video bitrate.
What is Video Bitrate?
In video streaming, video bitrate is the number of bits of data transmitted over a network (like the internet) over a certain unit of time. A high video bitrate is one of the most vital factors in the quality of a video. A good quality video consists of a high video bitrate along with a high resolution and framerate.
Relation between Bitrate and Resolution?
There is no direct correlation between bitrate and resolution but usually for movie content, the video producers and developers associate higher resolution with a higher bitrate, and a lower resolution with comparatively a lower bitrate. Both bitrate and display resolution are important for ensuring good quality video streaming as pixels define the resolution of the video, while bitrate is the average data size for a video file expressed per second of video.
Though they are different, they form two characteristics of a video file. The video is never transferred from the source to the device for playback as a raw analog file. A video codec compresses a raw video file so that we can easily stream it online.
At Vdocipher , we transcode the video for optimization at multiple bitrates so that viewers on any device and networks of any quality can conveniently view videos.
So even in places like Africa, where the internet speed is slow, users can see videos at good resolutions without buffering issues or lagging.
So video aspect ratio helps us determine the shooting equipment and the screen area for exposing the video. In addition, a better display resolution and encoding at multiple bitrates further enhance the quality of the video during online streaming.
What are the most common Video Aspect Ratios
4:3
This 4:3 aspect ratio was popular in the 1940s and 1950s with the older monitors and television sets. The width of the screen is 30% larger than the height. This is the oldest aspect ratio and even the Academy of Motion Pictures Arts and Sciences adopted it. Though it has been completely phased out now, certain cinematographers use this aspect ratio to create a nostalgic effect for a certain audience.
21:9
This 21:9 aspect ratio is the newer motion picture aspect ratio. If you use your television set to watch movies and want a cinematic experience, you need a screen with a 21:9 aspect ratio. Also, in case you are a gaming buff, you would use a computer with this aspect ratio. Cinematic widescreen projectors also have an aspect ratio of 21:9. Computer programmers/ designers/ other power users of computers usually use multiple 21:9 aspect ratio screens to enhance their productivity. In addition, we can use the aspect ratio of 21:9 for custom screens content creation like that of planetarium and theme park screens, giving viewers a 360-degree optical illusion.
16:9
This 16:9 aspect ratio is the most popular video aspect ratio associated with widescreen viewing – the latest movies and online video platforms. Here the width of the screen is 77% larger than its height. The majority of HD TVs have this aspect ratio. Hence, videography equipment with an aspect ratio set to 16:9 is used to shot most of the video content.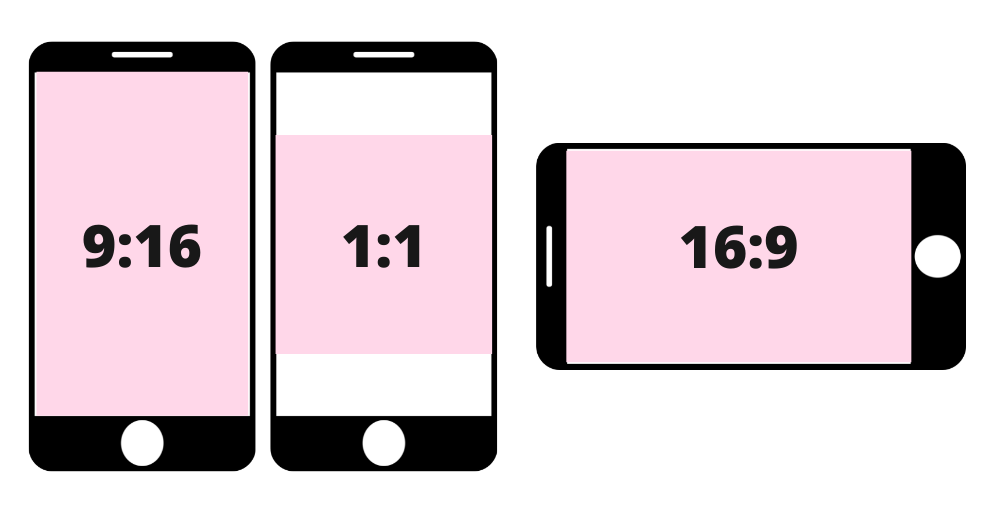 9:16
This aspect ratio of 9:16 clearly states that the video content or image is vertical. This aspect ratio is prevalent in mobile phones where the viewing area is vertical. For example, Instagram and Facebook stories have a viewing area with an aspect ratio of 9:16.
1:1
We mostly view the 1:1 aspect ratio on social media where the viewing area is square-shaped. Popular social media platforms that show video/image content in this 1:1 aspect ratio are Facebook and Instagram.
How To Change Aspect Ratio Of Video?
We have shown Image X on a screen having an aspect ratio with a larger width (16:9). Image Y is the same image displayed on a screen with an aspect ratio of height the same as that of width (1:1). Here we can see that the image is distorted as the screen tries to fit in the entire image in that screen. So now we have to crop the image to suit the aspect ratio of the new screen as per Image Z (1:1).

We can do such cropping using video editing software either online or offline. Also, most platforms/ screens do the cropping automatically. The downside is that they may crop your relevant content, and the video might not be helpful to your viewers.
If you developed your content for a narrower screen and the display is in a broader screen, then the wider display adds black bands on the sides. But this nullifies the effect that a widescreen would bring to your content.
What is the best aspect ratio for video streaming?
Most E-learning platforms like LinkedIn Learning, Udemy, Skillshare, Coursera and OTT platforms like Amazon Prime, Hotstar, Netflix, Youtube use the 16:9 aspect ratio.
The popularity of the 16:9 aspect ratio is based purely on the fact that this ratio allows the video recording in the highest possible resolution. However, opting for another aspect ratio will affect your stream with black bars around it.
The 16:9 aspect ratio creates a frame width that is 78% more than the length. This aspect ratio fits modern displays like TV's, tablets, phones, and computer screens. Using 16:9, we can display the entire video without cropping.
It is a preferred ratio, but this may vary with the platform you are using as it may have its own set of compatible aspect ratio and recommended resolutions for uploading the content. For example, the recommended set of ratios for popular social media & video streaming platforms have been listed below.
Instagram Video Aspect Ratio
There was a time when the most common aspect ratio on Instagram was the classic 1:1. By uploading videos and posts with such ratio, companies could even embed Instagram feed into email and share their social media profile aesthetic via email too. With more and more consumption of Instagram on mobile phone, the popular video aspect ratio for mobiles are:
square video: 1:1
portrait video: 4:5
vertical video: 9:16
Instagram Feed Videos; 1:1 or 4:5
Instagram Stories: 9:16
IGTV: 9:16
Instagram Live: 9:16
YouTube Video Aspect Ratio and Resolution
YouTube's standard video aspect ratio is 16:9. Irrespective of what aspect ratio you record your video in, the YouTube video player will automatically play it in a 16:9 aspect ratio. It's recommended to record YouTube video in 16:9 aspect ratio, that means in one of the below resolutions or dimensions:
3840 x 2160 px
2560 x 1440 px
1920 x 1080 px
1280 x 720 px
854 x 480 px
640 x 360 px
426 x 240 px
Twitter Video Aspect Ratio & Recommended Resolution
Recommended Aspect Ratio: 16:9 (landscape or portrait), 1:1 (square). You can select an aspect ratio between 1:3 and 3:1
Recommended Video Resolution: 1280×720 (landscape), 720×1280 (portrait), 720×720 (square)
In the below table, each row represents upload recommendation by Twitter,
| | | | | |
| --- | --- | --- | --- | --- |
| Orientation | Width | Height | Video Bitrate | Audio Bitrate |
| Landscape | 1280 | 720 | 2048K | 128K |
| Landscape | 640 | 360 | 768K | 64K |
| Landscape | 320 | 180 | 256K | 64K |
| Portrait | 720 | 1280 | 2048K | 128K |
| Portrait | 360 | 640 | 768K | 64K |
| Portrait | 180 | 320 | 256K | 64K |
| Square | 720 | 720 | 2048K | 128K |
| Square | 480 | 480 | 768K | 64K |
| Square | 240 | 240 | 256K | 32K |
Facebook Video Aspect Ratio
Facebook recommends uploading videos that should be of at least 1280 x 720 pixels.
Facebook Feed Videos: 1:1 or 4:5
Facebook Stories: 9:16
Facebook Live: 16:9
Pinterest Video Aspect Ratio
Currently, video upload on Pinterest is only available for Business accounts. Video Pins appear in your home feed, following tab, and search results. Advertisers on Pinterest can also create video ads.
Required for standard Video: Taller than 1.91:1 and shorter than 1:2
Recommended for standard video: 1:1 (square) or 2:3, 4:5 or 9:16 (vertical)
Required for max-width video: 1:1 (square) or 16.9 (widescreen)
LinkedIn Video Aspect Ratio
LinkedIn Native Video
Aspect Ratio: 1:2.4 to 2.4:1
Resolution: 256×144 to 4096×2304 px
LinkedIn Video Ads
Aspect ratio: between 1.778 and 0.5652
Width: Between 640 and 1920 pixels
Height: Between 360 and 1920 pixels.
Aspect Ratio While Video Content Creation
We have covered the importance of the Video Aspect Ratio and the need to change it for different platforms, but what we do while recording the video content in the first place? This will save you a lot of trouble editing/cropping the video file. Also, we can repeat the same settings any number of times.
Setting up the aspect ratio for an image is easy as most mobile devices with a camera allow you to set that by going into your frame/camera settings, but for Video Aspect Ratio, they have a standard default of 9:16 or 16:9 (as per tilt). Even some advanced mobile camera devices in 2021 allow you to adjust the video frame rate and resolution for the video, but there are no options to adjust your video aspect ratio in the default camera app. The solution to this problem is to use an advanced camera app from your native app store, with which you can preset the aspect ratio for videos.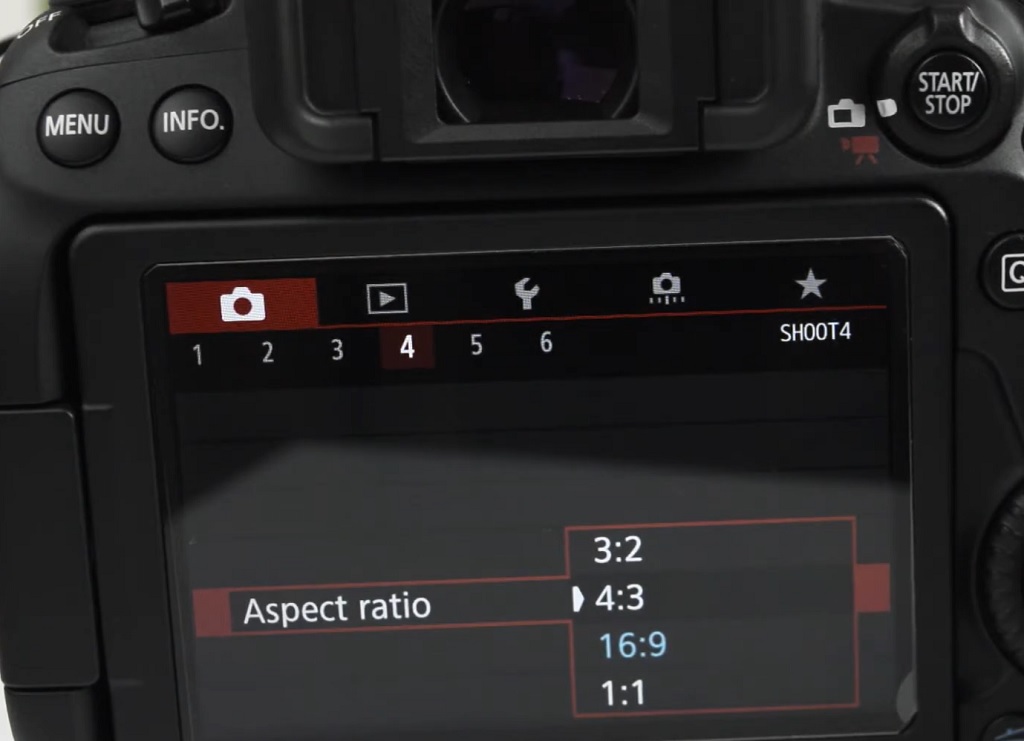 However, if you use a DSLR or similar camera device, you can browse through camera settings to find 'Aspect Ratio' and adjust it accordingly. This will ensure a pre-cropped or adjusted video setting as per your need. We must note that the availability of these settings also depends on the brand, make, and model of the device.
FAQs:
Best Video Aspect Ratio for multi-purpose use?
For multi-platform support it is recommended to use 16:9 video aspect ratio. Most popular platforms like YouTube supports this aspect ratio. Also, the popularity of the 16:9 aspect ratio is based on the fact that opting for another aspect ratio will affect your stream with black bars around it.
What is meant by an anamorphic aspect ratio?
Anamorphic (2.40:1) is similar to the 16:9 aspect ratio with the top and bottom cropped. It's a wide widescreen often used in movies, giving a cinematic feel.
What is video letterboxing and pillarboxing?
Video clips shot in one aspect ratio need reconciliation when projected on another frame aspect ratio. For example, when a movie shot at 16:9 displays on a 4:3 standard television, the video is padded with black bands at the top and bottom. This is known as 'letterboxing'. Less common and similar padding that happens to the left and right of the video is known as 'pillarboxing'.
What is the difference between Full HD (FHD) and Ultra HD (UHD)?
A Full HD resolution has a width of 1920 pixels and height of 1080 pixels (2.07 megapixels resolution). On the other hand, Ultra HD content has an 3840×2160 pixels resolution (8.3 megapixels). Video shown in Ultra HD have 4 times as many pixels as Full HD. The images in UHD appear sharper.
Supercharge Your Business with Videos
At VdoCipher we maintain the strongest content protection for videos. We also work extremely hard to deliver the best viewer experience. We'd love to hear from you, and help boost your video streaming business.
Free 30-day trial →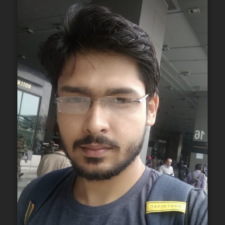 I have traversed through the digital wilderness, honing my skills in technology and marketing including the latest trends, tools, and techniques. My passion for innovation has driven me to experiment with tech-based marketing in the eLearning, Media, and Security sectors.