A Digital Rights Management System is a system to enforce the rights of owners of digital media, software, or devices. The system controls the use of protected material by limiting the number of times a song can be played or limiting the number of copies made. Digital Rights Management or DRM content protection identifies the source or owner of the material or prevents the material transfer from one device to another.
In other words, Digital Rights Management (DRM) refers to the technological protection measures used to prevent unauthorized access, copying, use and distribution of copyrighted digital media and information. Various products and services employ DRM to protect copyright and related rights. It is in the video, audio, E-books, digital software, video games, and digital television applications.
DRM Content Protection and DRM Encryption Meaning
The term DRM Content Protection refers to several different processes used to control the use of digital media, software, or devices designed to prevent unauthorized duplication or use of the protected material. Some of the included processes are:
Digital Rights Management (DRM): Refers to a range of technologies used to enforce the rights of digital media owners, particularly concerning the use of copyrighted material. For example, DRM content protection ensures that the protected material is only played on specific devices or controls the transfer of protected material from one device to another. The way DRM works usually depends on the content type and the distribution platform. Still, even when those things are the same, two content providers can use different methods based on the level of restrictions they want to apply.
DRM Encryption: Process of encoding the protected material in a way that makes it unreadable without the correct key. For example, material encrypted using the Digital Rights Management (DRM) process may require a computer or device to be registered to receive the decryption key. The main reason DRM creation was to protect the copyright holder's interests. When you purchase a copy-protected file, you aren't actually purchasing the file itself, you're purchasing a license to use the file. This license is held in a database on a DRM server, and this database is what DRM Encryption protects.
What is DRM Protected Video Content and Streaming?
DRM Protected video content is only available to people who have the right to access it. A video file protected by DRM encryption will no longer be accessible by just anyone. DRM protects the video file by ensuring the content is stored and transmitted in an encrypted format so that only authorized users and devices can access it. Multi-DRM schemes encrypt and package the video content before streaming for improved and more excellent device compatibility. When a user attempts a video playback, the video player requests a key from the license server. Before issuing a license response with a decryption key, the server checks for the authorization of the user and device. Finally, the player decrypts and plays the content for the user.
How to DRM Protect a Video File?
When we upload video content on websites or release premium content on online platforms, a major concern is content security. There are chances that someone may download and misuse the video content if it is not protected or secured. Also, there are various methods available to protect digital content so that no one can copy or download the content unauthorizedly and misuse it. One such way is implementing DRM or Digital Rights Management to protect a video file. Below is a DRM Workflow mechanism.
Source: Input video files upload or transfer to cloud storage such as AWS S3.
Encoding: The input video file is packaged and encoded into Adaptive Bitrate Streaming (ABR) formats like HLS or MPEG-DASH.
Encryption: The video file encrypts with digital keys provided by the DRM License provider during the encryption process.
Storage: The video files transfer to a Content Delivery Network (CDN) such as Amazon CloudFront.
Authentication: The video player makes an authentication request from the DRM server to ensure the license validity.
Playback: Once authenticated, the video player unlocks the video and allows for video playback.
Why need VdoCipher for DRM Content Protection?
Setting up the whole previously described workflow is a tedious task. That is why only a few technology-equipped media houses like VdoCipher provide the complete package to end-users. The package adheres to all your uploading requirements through FTP or even via direct links from Vimeo etc. Well, uploading is easy but what goes parallelly like Encoding, Encryption, Global Distribution and Storage, Authenticating via License Provider are difficult to implement. For the same, VdoCipher has done all for you, even playback and integration with Google Widevine & Apple FairPlay for the widest support of devices and browsers.
So whether you are an eLearning solution provider or anyone whose videos are precious and piracy cannot be afforded, VdoCipher is the best choice for you. You can go through their pricing to find the affordable plan as per your need. As a rule of thumb, the more you go high in consumption, the lesser will be per unit charges.
FAQs
---
What is a DRM Server?
A DRM server is a database that stores information on the files licensed to you. A DRM server hosts on a server on the Internet or a local database on your computer. The DRM server is encrypted by DRM Encryption.
What is the difference between DRM and copyright enforcement?
Copyright restricts who can distribute media, while DRM software restricts how users access protected media. Copyright provides leverage against illegal distribution. It means the largest distribution platforms must already adhere to the demands of large publishers, studios and software companies.
How do web browsers support DRM-protected video streaming?
DRM-protected video streaming consumption is by using Smart HTML5 media player. The player uses the Encrypted Media Extensions (EME) API to enable the playback of the protected content.
Supercharge Your Business with Videos
At VdoCipher we maintain the strongest content protection for videos. We also work extremely hard to deliver the best viewer experience. We'd love to hear from you, and help boost your video streaming business.
Free 30-day trial →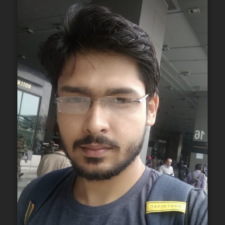 I love exploring the nexus between tech, marketing, culture, space, and politics by lying awake at night pondering over the myriad facets of life. In my spare time, I enjoy watching nature documentaries, sci-fi and drama series.