In video or digital photography, the resolution is the ability of a video or digital camera to record details, such as the number of pixels and their size. The video resolution is one of the few technical aspects of video quality that you can easily understand. You can think of resolution as a long string of numbers. The more numbers, the more detail, and the clearer the video will appear. When comparing SD vs HD, a higher resolution means that each pixel is smaller. (The pixel is the basic building block of a digital picture.)
Pixels define the video resolution. Pixels are the dots that make up the picture and the smallest individual element of an image. They are single points of color on your screen, and when combined, form an image. The higher the pixel number, the more detail and the sharper the picture.The higher the resolution of the video you shoot, the more detail you can see. And the better the detail, the more you can do with it. A high-resolution image with lots of detail is much easier to edit and manipulate into something new.
Video Bitrate is the number of bits per second that are needed to store and transmit video data. The higher the video bitrate, the more space it takes on your hard drive and more bandwidth usage. That is why a Video Hosting Solution provider like VdoCipher encodes video in multiple bitrates for various devices. For example, the 720p version of a video that has a bitrate of 1500 kbps is larger than the 480p version of the same video, which has a bitrate of 600 kbps.
What is the Standard Definition or SD resolution? (SD vs HD)
As the name suggests, the resolution refers to 480-pixel height in a single image. The SD resolution has been in use for many years now. You will find that most digital cameras, camcorders, and even some TVs use this resolution. SD is considered the base resolution level for broadcasting and streaming. In the American NTSC system, only 480i is available, having a video aspect ratio of 4:3. In PAL and SECAM systems, SDTV signal types have 576 interlaced lines of resolution.
The typical Standard Definition TV refresh rates are 25, 29.97, and 30 fps. The SD video quality is low with lower bitrates and file size. Compared to higher video resolutions, SD quality tends to be less defined and blurry. In slow internet connectivity, SD may come with an advantage. SD requires less bandwidth for streaming which means a slower internet speed. SD videos will stream smoothly with less buffering compared to higher-quality videos.
What is the High Definition or HD resolution? (SD vs HD)
HD or High Definition is pretty much the industry resolution streaming standard. The resolution refers to a pixel height of either 720 or 1080 pixels. HD is further categorized into HD-ready or standard HD resolution of 720p and 1080p or 1080i full HD resolution. You can use VideoProc Converter to upscale 720p to 1080p or downscale 4K/1080p to 720p, convert video/audio/DVD formats, compress videos, record, and download media content.
720p
720p format has a resolution of 1280×720 pixels and has a progressive HDTV signal format of 720 horizontal lines/1080 columns and a 16:9 aspect ratio. It has a total of 921,600 pixels of information, compared to 2 million pixels in 1080i or 1080p images. Comparatively, it requires less bandwidth and is transmitted in the progressive scan, which is an advantage over an interlaced image. Tv companies commonly use it to send HD images.
1080p
1080p resolution is also known as 'Full-HD' and has a native resolution of 1920×1080 pixels. Recorded using a progressive scan, it has over 2 million pixels of detail. A progressive scan produces a better quality of an image as it is created by drawing each frame in one pass down the screen. True 1080p images are available in Xbox/PlayStation games and Blu-ray players. 1080p offers a greater video quality over 720p video resolution.
1080i
1080i is still considered high-definition and has the exact resolution as 1080p and a widescreen aspect ratio. The only difference is in the letter' i'. This means a 1080i image is transmitted as interlaces scan image, with each frame of 1080 lines drawn in two passes. In an interlaces image, our eyes take a slightly longer time in seeing a complete frame than in a progressive scan. TV companies mainly use 1080i video resolution to transmit HD images as the interlaced image takes less bandwidth to transmit than a progressive one.
360p
The majority of YouTube videos are marked as 360p, and it's the least basic resolution in which the video does not blur out. 360p videos are suited for smartphones because they consume fewer data and look blurry on larger screens.

Difference between SD (480p), HD (720p & 1080p) and 360p video resolution quality
| | | |
| --- | --- | --- |
| | 🌟 Resolution | 🎬 Suited for |
| 📱 360p | 480×360 | Small screens like mobile phones |
| 💻 480p (SD) | 720×480 | Medium screens like smartphones, laptops, desktops, tablets |
| 📺 720p (HD Ready or Standard HD) | 1080×720 | Clear watching on TV, laptops, desktops |
| 🎥 1080p (Full HD) | 1920×1080 | Crystal clear viewing experience |
SD and HD both are video resolutions, which essentially means the number of pixels in a given video frame. The difference between the two is their respective video quality and the bandwidth consumption for streaming these videos. The number of pixels for the frame is different for SD and HD. 
HD videos have a higher number of pixels in a video frame in comparison to SD videos. In simpler terms, HD has a better video quality, the frames are more crip and clear.
Even though HD seems to be the better choice in terms of video quality, SD has its own advantages as well. SD videos are of lower size and consume less bandwidth. This makes it faster to stream SD videos with a lower network speed. I hope this clears the doubt of SD vs HD in your mind. If you feel like you still have any questions do ask in the comment section down below. 
Difference between interlaced (i) and progressive (p) video
Interlaced video: Interlaced videos have been the standard for television broadcasts since the 1950s. It works by dividing a single frame of video into two fields displayed separately. Each field contains the odd-numbered or even-numbered lines of the image. The two fields are shown on the screen, one right after the other. The result is a video image that appears to flicker because the entire picture is updated every other frame.
Progressive video: The opposite of interlaced video is the progressive video. Instead of dividing a frame into two fields, progressive video displays the entire frame at once. Progressive video doesn't flicker because it updates the whole screen at a faster rate than interlaced video.
Though there are several video resolution standards, the most commonly encountered are 480, 720, 1080, and 4K.
Adaptive Bitrate Video Streaming, its Benefits & Providers
In the past, video streaming services were all about quality. The more money you pay for a subscription, the better quality video you get. That has changed with the introduction of adaptive bitrate streaming. Now, the video quality can vary based on the bandwidth available. Netflix is an excellent example of this. If you are on a slow connection, the video streaming service will choose a lower bitrate, resulting in lower video quality.
Adaptive Bitrate Streaming is the most effective way to stream your video content to viewers across all devices. Adaptive Bitrate Streaming allows you to stream high-quality video optimized for the viewer's network conditions, ensuring the best possible experience for your viewers. ABR streaming works by detecting the available bandwidth and then delivering video at the correct bitrate. It is accurate to say that this is "on-the-fly" video transcoding. If you are on a fast internet connection, you will get a higher bitrate and higher video quality.
Smooth Playback and less buffering
Optimized for various devices
Uninterrupted video stream delivery
Video stability
Adaptive streaming is now a necessity for delivering videos on the internet. You have to find an appropriate video player that supports adaptive bitrate streaming. VdoCipher smart HTML5 video player provides smooth ABR streams irrespective of the internet connectivity speed. The HTML5 player offers the best user experience through streaming HD content at low bitrates, Adaptive Multi-bitrate Playback, Playback Speed Change, video analytics, and much more.
FAQs
---
What does an interlaced scan mean?
An interlaced scan means that a single frame gets split into two fields. This doubles the video frame rate and allows the TV to display 25 frames per second (in the US).
Which video scan is better for gaming?
Progressive video is the best video for gaming. It's the only video that updates the display at a rate of 60 frames per second (fps). The human eye can detect flicker at around 60 fps. So, progressive video eliminates flicker and is the best choice for a smooth, seamless gaming experience.
Which is better SD or HD?
HD is much better than SD. HD or High definition has better video quality and has a pixel height of 1080 or 720p. SD or standard definition is lower quality and has a pixel height of 480p. If you want to watch a video in the better quality you should go for HD. If you have a poor internet connection and you want to stream your video online, then SD would be better. In the battle of SD vs HD, HD always trumps for video quality and SD for lower bandwidth consumption.
The picture quality will be much better on HD. However, if you don't want to consume much data and are okay with slightly lower quality SD would be good in that case. In SD vs HD, HD wins the battle for video quality and SD for lower data consumption.
Yes, you can watch SD on an HD TV. HD TV supports all resolutions below it.
Supercharge Your Business with Videos
At VdoCipher we maintain the strongest content protection for videos. We also work extremely hard to deliver the best viewer experience. We'd love to hear from you, and help boost your video streaming business.
Free 30-day trial →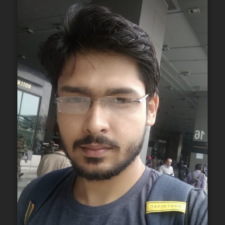 I love exploring the nexus between tech, marketing, culture, space, and politics by lying awake at night pondering over the myriad facets of life. In my spare time, I enjoy watching nature documentaries, sci-fi and drama series.