YouTube is undoubtedly the biggest video platform out there. There are about 2.1 billion YouTube users worldwide, out of 5 billion people who access the internet. So, in short, it's a pretty big deal. For most of us, it's our daily source of entertainment, and for some their source of income. It has truly become a big part of our life, recent years has seen a rise in the number of millionaires only due to the platform. So, stay tuned for this brief history of YouTube.
In this article, I'll explore how it all began for YouTube and how it ultimately rose to the behemoth it is now.
What was the Original Use Case of Youtube?
On February 14, 2005, Chad Hurley, Steve Chen, and Jawed Karim founded YouTube as an online video-sharing platform. YouTube's creators aimed to make it simple for individuals to publish and distribute videos globally. Before the introduction of YouTube, there were no viable online video-sharing platforms. Therefore, Chad Hurley, Steve Chen, and Jawed Karim devised a plan to create a website where individuals could share online recordings of their lovely experiences.
Despite its humble beginnings, YouTube has become the most popular website for uploading videos and the second most viewed website after Google. On April 23, 2005, they launched the first video, "Me at the Zoo," with Jawed Karim. However, these services needed several steps before video posting and were pricey for users, who had to pay to share films.
The three founders began their work in Mellon Park, California, with a vision of creating a platform that would enable users to share videos easily online. This website allows users to publish, view, comment, like, and share videos with fewer restrictions than its predecessors. Unlike prior video-uploading platforms, YouTube eventually became an excellent video-sharing website in the world.
Who Founded YouTube & How Was It Created?
It all started when Steve Chen's flat hosted the other YouTube founders for supper. Chen and his buddy Chad Hurley spent the party taking photographs and videos of each other. All of them were ex-workers of the American e-commerce firm PayPal- Steve Chen, Chad Hurley, and Jawed Karim.
The pals created a video-sharing service after seeing a desire to distribute videos online. They realized that new websites like Flickr made sharing digital photos simpler, thus, a platform for sharing videos was viable. Chen was a great coder, while Hurley's design skills could make a new Web site appealing.
First, the three creators resolved to create simple software for everyone, including non-technical people. They also intended to create a video upload and viewing app that didn't need any special software. They also sought to avoid requiring site users to register to see shared footage. Finally, the creators needed a fast search capability to discover video archives.
To start planning, the crew moved to a larger workspace above a pizza and Japanese restaurant in San Mateo, California. Their first video – Me at the zoo was published on April 23, 2005; they shared most of the site's activity in May 2005. YouTube began six months later, in November 2005. YouTube received US$11.5 million in the same month.
Around 65000 new videos were posted on a daily basis and had 100 million views, dazzling the digital industry. Google bought YouTube for US$1.65 billion the same year. YouTube added video adverts. In August 2007, YouTube introduced pre-roll ads after Chad Hurley first rejected them because they would be bothersome to users. In January 2009, it had a 43% market share and 6 billion video views. Since then, YouTube has become the ideal cinematic platform for artists to show their talents.
First YouTube Video
One of the three co-founders of YouTube, Jawed Karim, uploaded the first video to YouTube, an 18-second movie taken in the San Diego Zoo and named "Me at the Zoo." The video, uploaded on April 24, 2005, has over 240 million views.
First Million Views Video
The viral video that contributed to YouTube breaking this record was a Nike advertisement depicting Brazilian soccer star Ronaldinho collecting his Golden Boots. In September 2005, the video received its first million views. This attracted not just many views but also Nike's understanding of YouTube's advertising potential.
YouTube's Growth Phase (Pre-Google)
YouTube's trademark, logo, and domain were registered on February 14, 2005.
Former PayPal workers Chad Hurley, Steve Chen, and Jawed Karim hatched the concept a year before YouTube's formal start while attending a dinner party in San Francisco. Karim said in a 2006 interview that the driving force was the impediment to obtaining internet recordings of Janet Jackson's wardrobe malfunction at the 2004 Super Bowl and of that winter's terrible tsunami.
On April 24, 2005, the site's first video was uploaded (18 seconds long)
Considering the videos that often go popular on YouTube, one could assume that the first video ever uploaded to the platform was bizarre. Also, it's a short film of co-founder Jawed Karim praising the elephants' "very, really big trunks" as he stands near them at the zoo. 
Its beta website became up in May 2005.
To illustrate how far YouTube has progressed since this occasion, here is a screenshot of its original homepage.
In September 2005, the video received its first million views
The viral video that contributed to YouTube breaking this record was a Nike advertisement depicting Brazilian soccer star Ronaldinho collecting his Golden Boots. This attracted not just many views but also Nike's understanding of YouTube's advertising potential.
On December 15, 2005, the site officially emerged from beta.
Due to Sequoia Capital's $3.5 million investment, YouTube launched its website by strengthening its servers and expanding its bandwidth.
In June 2006, a deal with NBC ushers in a new digital age for the conventional media corporation.
In February 2006, NBC demanded that YouTube remove one of their televised SNL video ("Lazy Sunday"), claiming copyright violations. Not only did the video-sharing website comply with the request, but it also started its Content Verification Program, assisting other content owners in preventing future infringements (by locating and removing videos that infringe their copyrights). Later, NBC recommended that YouTube advertise its fall television program. This agreement made successful relationships with other content producers possible.
October 2006: Google's acquisition
Google purchased the fast-expanding video-sharing network for $1.65 billion after seeing its potential as "the next phase in the development of the Internet."
YouTube's Early Success- A Quick Look at the Growth of YouTube 
May 2007: Partner Program launch
This enables YouTube to pay ordinary individuals for viral content. Therefore, some individuals have made six-figure salaries via YouTube by converting their interests into companies.
April 2011: Launching YouTube Live
Thus, YouTube began broadcasting concerts, royal weddings, news, and the Olympics.
December 2012: First billion-hit video
"Gangnam Style" was YouTube's most-watched video until June 2020, when "Despacito" topped it with 6.8 billion views. Also, YouTube "broke" from "Gangnam Style" views. The view counter was modified to a 64-bit integer to record values more significant than 32 bits. In August 2012, the video-sharing platform covered the presidential election.
November 2014: Music Key is introduced.
This service streamed music videos without ads. YouTube Red replaced Music Key (2015).
November 2015: YouTube Red launch
This YouTube subscription removes ads. 2018 saw YouTube Premium.
September 2016: YouTube Go debuts
Google launches YouTube Go, a low-end software for offline watching in places with poor internet. Also, YouTube Go lets users download videos.
April 2018: YouTube headquarters shooting
38-year-old Nasim Najafi Aghdam was the shooter. She killed herself after injuring three people, one seriously. Also, he claimed YouTube discriminated against her channels.
May 2018: YouTube Red becomes YouTube Premium.
On May 17, 2018, YouTube rebranded YouTube Red to YouTube Premium. YouTube also relaunched its YouTube Music subscription service.
November 2018: YouTube ad pod testing.
Google began testing ad pods, "two commercials stacked back-to-back, so viewers can go straight to the content if it's not the correct ad for them," on November 21, 2018. Why? "When viewers watch two commercials in a break, they're less likely to be disturbed by advertising later," they say. Result? To boost ad views and monetization. Ad pods are unpopular with viewers, and a petition has been filed.
September 2019: YouTube launches Video Reach.
YouTube introduces AI-powered ads. At Advertising Week in New York, its new Video Reach marketing platform employs machine learning to find the best ad combinations. Advertisers will stop controlling categories: better outcomes, ad format flexibility, audience engagement and reach, and cheaper advertising expenditures.
June 2020: YouTube eliminates categories.
YouTube categories become less relevant as algorithms get more complicated and understandable. YouTube relied on people to categorize videos back then. The system classifies videos and shows them to the most probable viewers.
January 2022: YouTube is the second-most popular social network globally.
YouTube rules video social media with 2.2 billion monthly active users, according to statista.com.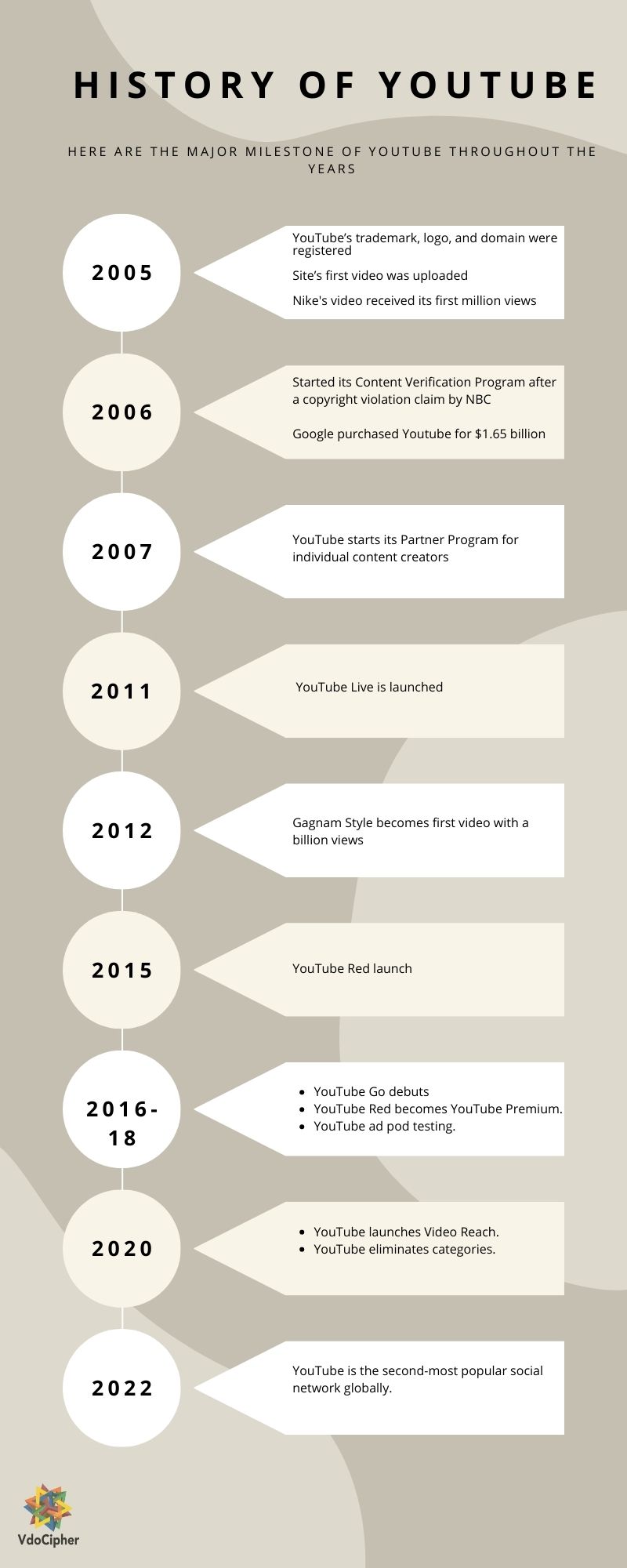 YouTube's Google Acquisition
The existence of YouTube in 2022 is counting 17 years. In the recent history of YouTube, YouTube has evolved as a friendly video-sharing platform. It is now even a very big market for under 1 min short videos. Eventually, it is a place where you can find anything you want and get it under your comfortable watch time. Whatever you want to watch, or answers to questions you are looking for, YouTube will be pleased to solve your problem. YouTube has now become the real monopolist of the online video world, having the biggest video content storage and growth.
In October 2006, Google acquired the consumer media company YouTube for a hefty amount of $1.65 billion. At that time, YouTube dominated the video market for user-generated content (UGC). Foreigner Google Chief Executive Officer Eric Schmidt saw the deal as the next big step in the evolution of the Internet. Under the deal, YouTube will continue to retain its brand, its new headquarters in San Bruno, and all 67 employees, including co-founders Chad Hurley and Steve Chen.
The all-stock deal was seen as the most expensive deal made by Google in its eight-year history. Google's strategy was to tap into the promising video and social network market, explore the revenue increments in the video-sharing space and utilize network effects massively by targeting kids, youths, and artists.
Along with YouTube, Google integrated with other purchases like Episodic – an online video platform startup (2010),  Rights Flow – music rights management (2011), Vidmaker – video editing provider (2014), Launchpad Toys (2015), child-friendly apps production integrated into YouTube for kids. In 2005, Google spent nearly $130.5 million to buy 15 companies.
YouTube's Ad and Subscription based business model
Adwords/Adsense
Most of Google's revenue is from its proprietary advertising service, Google AdWords. Whenever a visitor clicks on an advertisement, advertisers may earn between a few cents to more than $5, especially for highly competitive searches like insurance, houses and loans. It is to be noted that Adwords is the platform through which advertisers place Ads on YouTube and pay for them to google. These Ads get displayed via Adsense, through which creators earn a share.
YouTube Premium
YouTube Premium offers uninterrupted ad-free YouTube and YouTube Music starting at $11.99/month. YouTube shares a part of your premium monthly membership fee with creators. Best of all, the more videos you watch from your favorite creators, the more money they make. Currently, YouTube 'Premium Lite' is being piloted in some regions of Europe, offering more affordable premium subscriptions. The model will lack some of the YouTube Premium features like offline downloads and background playback.
Channel membership
YouTube Channel Membership is a paid monthly subscription to a channel. The subscribers pay a monthly fee to access extra benefits, exclusive content, and support for their favorite creators. The membership offerings may include exclusive live streams, live chat, badges, and custom emojis. Prices will vary by creator and country, but in the United States, pricing options range from $0.99 to $99.99 per month. YouTube takes a 30% share of the channel's membership profits. 
Pay per View
A lot of YouTube content is available on a pay-per-view basis. These include movies, shows, and other video content that can be purchased or rented for viewing at a low cost.
YouTube TV
YouTube TV is a TV streaming service in the United States that lets paid subscribers watch live TV from 100+ broadcast, cable, and regional sports networks. The base plan costs $64.99 per month. As of April 2022, YouTube TV has surpassed 5 million paid subscribers in just five years.
YouTube Partner Program and ad-based revenue for channels
YouTube Partner Program or YPP mainly provides creators access to YouTube monetization features. This way, a revenue-sharing model gets followed, and the video creator gets entitled to share in ads getting flashed or based on premium users' watch time. For YouTube Shorts monetization, Google distributed a separate budget of $100 million among the creators according to the watch time. Later, there are speculations of YouTube shorts becoming part of YPP for revenue sharing.
Current YPP Minimum Requirements
With YouTube gaining more popularity, rules to become a part of the YouTube Partner Program are also getting stringent. Current policy states to have some minimum eligibility requirements before joining. Such as,
Adhere to all Community guidelines and YouTube channel monetization guidelines. They are the rules to be followed during the creation and for any monetization activity. If these compliance are not met per the stated agreement, you will be rejected after the YPP review process. Also, there are chances of an active strike on your channel, and your earnings are in potential danger.

You must be a resident of a country where the YouTube Partner Program is still available.

It is required to have more than 4000 public watch hours in the preceding 12 months and at least 1000 channel subscribers.

Finally, you need to sign up and link a Google AdSense account.
Once you meet the above conditions, Sign YPP terms by signing into YouTube and going to YouTube Studio. After that, click on the Monetization option given in the left menu. Now, click Start on the window with "Review Partner Program terms" to acknowledge and sign the terms. This will start a YPP review process, and after completion, you will be notified of acceptance or rejection.
Note: If the minimum requirements of 1000 subscribers and 4000 watch hours are unmet, a  Notify button will appear in the Monetization Review section. This can be opted for getting an email notification if you meet the threshold.
How can a Channel Earn other than YPP or Adsense?
There are multiple ways of earning, even if your channel has been rejected for YPP due to non-compliance. These include promoting other products via your channel or videos. The most used ways have been discussed below.
Sponsored videos
YouTube Sponsored videos are paid for by a sponsor to promote their product or service. Companies and brands reach out to YouTube channels with huge subscriber bases to make a video that can promote their sales. 
Embedded advertisements
Embedded videos show In-stream and InVideo overlay ads.
YouTubers with active advertisement agreements can embed the Ad within the video stream directly when creating the video.
Affiliate Advertisement
YouTubers can leverage the affiliate programs offered by brands with one-time or even recurring commissions on sales. For example, if a creator decides to promote an editing tool like canva, then they can first create an affiliate account with them. After that, they will get an affiliate link with tracking parameters that need to be placed in your video or channel text description. Conversion through clicks on the link will earn your affiliate income.
YouTube Features over the years
Major updates have been added to YouTube in the starting years. They range from feature updates like embedding to partnership program launch. So let us look at the rollout timeline wrt the year it became public.
2005
YouTube's Beta site launches.

Video HTML embedding added.

5-star rating system

YouTube's playlist function was added.
2006
Added "Groups" feature,  user viewing history, and user profile personalization.

adds a ten-minute limit to all uploaded videos

Video responses are allowed. Cellphone video uploading function included
2007
Partner's Program launches.

Allows other languages to be used on YouTube

Ads enabled for the first time
2008
Support of 480p videos on the platform.

Video analytics added.
2009
1080p videos are allowed on the platform.

YouTubes automatic speech recognition service
2010
YouTube's feature film rental service launches

The now ubiquitous "Thumbs" rating system is added to YouTube.

YouTube enables 4K videos to be uploaded.
2011
YouTube Live is launched.

YouTube launches its first original channels after acquiring Next New Networks (an original video programming company)

YouTube launches its "Youtube Analytics" tool. 
2012
YouTube merges with Google Video. 
2014
Music Key is added to the site, a subscription-based service to stream music videos ads free from participating labels on YouTube and Google Play Music. Later superseded by YouTube Red. 
2015
YouTube Red launches, now YouTube Premium
2016
YouTube launches its general subscription service. This replaces YouTube Red. 
2018
Channel Membership launches
2019
YouTube launches its "Two Ads" feature for the first time.

Begin to phase out the classic version of YouTube Studio to all content creators by the spring of 2020. 
2020
Suggested actions to rotate your phone or play a video in VR for a better experience. 

Bedtime reminders

Video Chapters feature that will make it easier for users to jump to a specific section of a video, rewatch a part, and more
2021
Launch of a new Permission Support for Live Control Room, the new ability to add and personalize text within Auto Chapters in Studio, and a new way to visually link to Places Mentioned in videos.
YouTube Studio
The YouTube Studio is the tool that YouTube provides for managing your channel. It contains all the information required to examine a vast quantity of data. Moreover, if the site considers you a partner, you may begin monetizing your channel, evaluating your revenue, and getting free music to use in your movies. 
How YouTube Studio can Help You?
This tool can help you improve the video marketing. To maximize its benefits, you must understand its features. YouTube Studio has these key features.
Manage Channels
You may swap accounts in YouTube Studio by signing in and clicking on your picture in the top right corner. The account change menu will appear.
View Analytics
Monitoring analytics is crucial for strategy development, whether you're a brand or a content provider. YouTube Studio is known for analytics. It will show your channel's viewers, views, impressions, interactions, subscriptions, and video playback time. Click "statistics" on the dashboard's left side to see analytics.
Edit, Program, and Upload Videos
You can edit, post, and schedule your videos using this tool.
It does not have complex editing features, but you may make cuts, combine frames, add a final screen, blurs, video components, or audio.
Allow Access for Multiple Users
YouTube Studio's business functionality is handy. The left menu's "Settings" panel's "Permissions" section enables it. Click "Manage permissions" there. After logging in, click "+" to invite others.
Design Your Playlists
Playlists structure your channel for viewers. They help users find videos they like on your channel. Click "Lists" and "New playlist" to create your playlists.
Manage Comments
YouTube Studio lets you filter user comments. Allow, moderate, or disable comments.
Subtitle Videos
Add subtitles in the languages of the countries where your brand is present and the markets you intend to enter to strengthen your video marketing plan and attract international consumers.
Hide Channel
It takes time to build a following if you just started your channel with a few videos. Therefore, conceal your channel till there is good content. Use the menu's "Settings" panel. Click "Channel" and "Advanced options." Finally, click "Remove material from your channel" to remove or conceal your channel.
Get the Latest News on New Features
YouTube Studio news can be checked using Creator Insider. Check it often to make sure to get everything. Find the newest YouTube Studio, and YouTube features here.
YouTube Premium Subscription
YouTube Premium (previously YouTube Red) is a premium membership service that enables users to watch YouTube videos without advertisements and save material for offline viewing.
A YouTube Premium membership provides ad-free, offline, and even screen-locked access to YouTube Music, the company's music streaming service.
The Advantages of Premium
If you're considering subscribing to YouTube Premium, there are several things to consider. 
YouTube originals: You get access to original material, mainly from prominent creators, as well as specific television programs, documentaries, and films.

Background play: If you're watching a video on a mobile device, the audio will continue to play even if you leave the app or shut your phone's display. You may watch films in picture-in-picture mode while using other applications on Android.

Download videos: Videos and playlists may be downloaded and viewed offline on a smartphone or tablet.
In the future, Google may introduce new features to Premium, so stay tuned!
Major Issues YouTube Faced
Although YouTube popularized the concept of online video, most of its videos are of "user-generated material" that does not earn income from users or advertising. People visit Netflix, Hulu, or iTunes to watch premium material such as movies and television shows. YouTube needs help to identify its primary business. The great majority of its material cannot be monetized.
Future of YouTube
Therefore, YouTube has yet to learn from its past errors since it continues to fall short in several areas. It is simple to foresee YouTube in the future, including low-quality content, since this will be the only material that fits inside their rigorous criteria. Consider YouTube an artist who creates a sculpture by removing the elements they dislike. YouTube continues to 'chip away' at its platform by demonetizing channels that do not share the company's ideals or produce 'inappropriate' material.
We hope this YouTube downturn slows and the firm returns to a more 'common-sense' platform strategy. Hence, we are still waiting for a well-funded alternative to generate advertising money for producers who prioritize free expression on their platforms.
As technology progresses, it will be intriguing to see how YouTube interfaces with the metaverse and if more VR content will become accessible. YouTube's future is still unknown, and the next several years will be crucial for the company.
I hope you enjoyed this brief history of Youtube, do let us know what's your view on it. Meanwhile do take a look at our blog in Youtube for Enterprise.
FAQs
When was YouTube released to the public and when did YouTube get popular?
YouTube was officially launched to the public on December 15, 2005. It quickly gained traction and became popular over the next year. In November 2006, just a year after its public debut, YouTube was acquired by Google for $1.65 billion in stock, which was a testament to its rapid rise in popularity.
Is YouTube an American company and who is the founder of YouTube?
Yes, YouTube is an American company. It was founded by three former PayPal employees: Chad Hurley, Steve Chen, and Jawed Karim. They registered the domain name on February 14, 2005.
What was YouTube originally made for?
YouTube was originally conceived as a video dating website called "Tune In Hook Up." The idea was for users to upload videos introducing themselves and describing what they were looking for in a partner. However, the founders soon realized that the platform had broader potential and decided to shift the focus, transforming it into a more general video-sharing website. The first video ever uploaded, titled "Me at the Zoo" by co-founder Jawed Karim, was not related to dating and demonstrated the platform's potential for diverse content.
Supercharge Your Business with Videos
At VdoCipher we maintain the strongest content protection for videos. We also work extremely hard to deliver the best viewer experience. We'd love to hear from you, and help boost your video streaming business.
Free 30-day trial →
Head of Digital Marketing at Vdocipher. I love the art of connecting the right product to their users. When i'm not doing that i love getting lost in books.