When planning your video strategy, the first thing you want to explore is a commercial video hosting service for your business. It can be difficult to build a video infrastructure of your own. Video hosting service helps businesses to get their videos uploaded, embedded, and shared.
Businesses can choose the commercial video hosting platform based on their goals and objectives. Each video solution has its pros and cons, so you need to make sure your marketing strategies align with hosting services.
Here is the list of corporate video hosting platforms. Let us go through each hosting provider to know more about the platforms.
Best Commercial Video Hosting Solutions
1. Vdocipher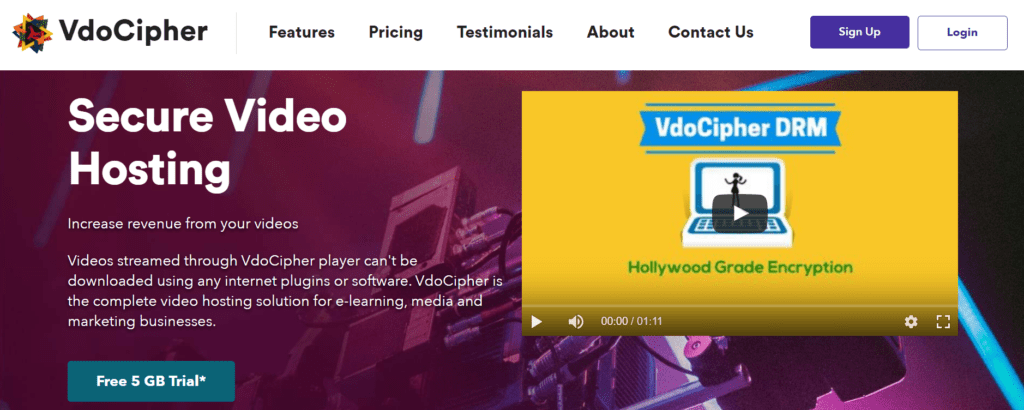 Several solutions are available to host videos. Vdocipher provides corporate video hosting services for businesses specifically who are concerned about video content security. Vdocipher allows you to protect your video files from being downloaded illegally and also prevents illegal distribution of your video files. Other security measures like watermarking and blocking screen capture are present in the platform.
Pros
Excellent video security – Google Widevine & Apple Fairplay DRM Encryption are present to secure content from unauthorized downloads
Smart HTML5 player – Supports features like forwarding/rewind, Multi-quality adaptive & Multilingual subtitles
One-month free trial – Vdocipher offers a free one month trial for businesses
Customer Support – Technical and General Queries will be addressed by the Vdocipher team within a short period
Cons
Vdocipher doesn't support Live streaming
Vdocipher Pricing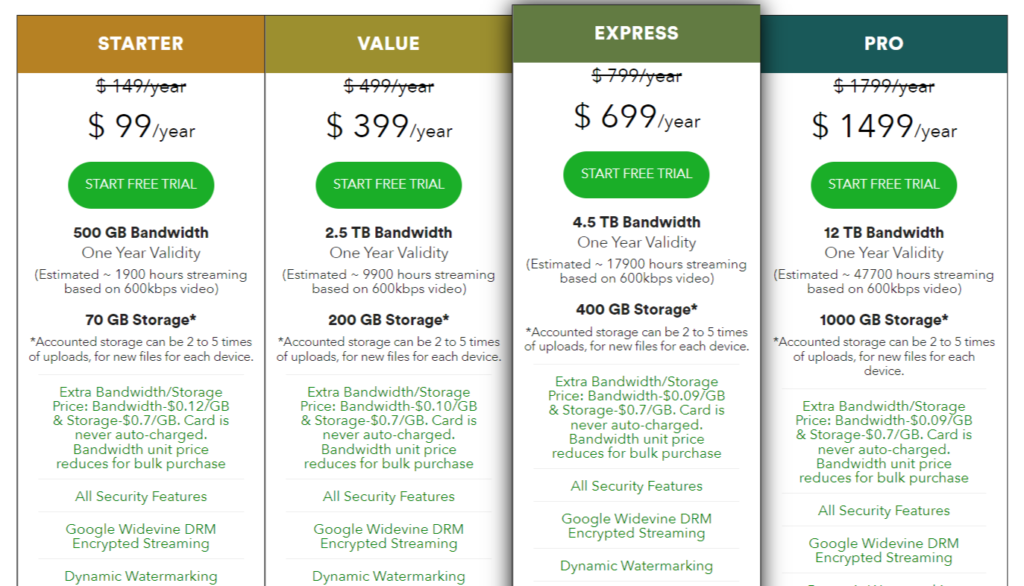 2. Wistia
Wistia is a video streaming service provider that offers businesses to leverage their video content to build a connection between a brand and its customers. Wistia can be a good option if you are looking to improve your conversions, increase user engagement across the websites.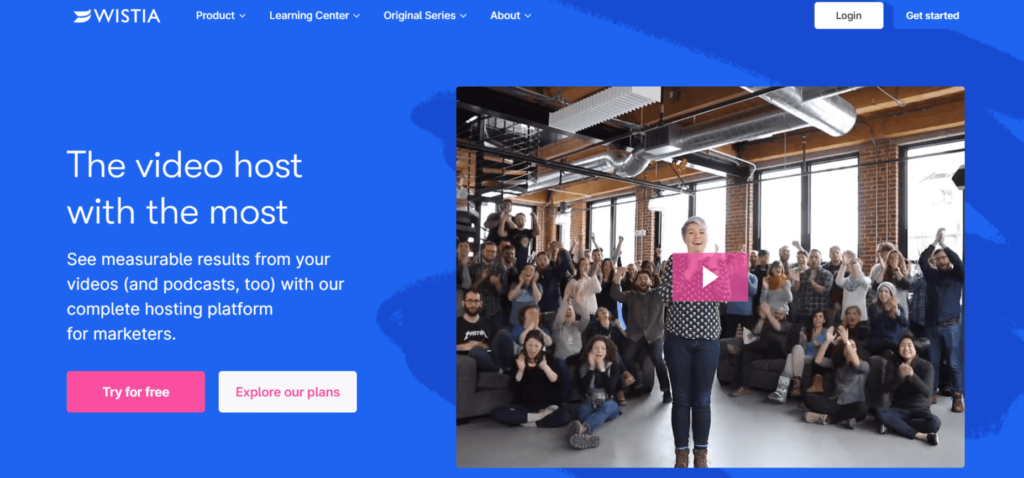 Some of the features include in-depth analytics of videos where you can understand how users interact with the video. It offers a Turnstile feature to collect email directly from videos. Video chapters are present to enhance the video viewing experience. There are some risks involved with this platform, but if you consider security as a key feature, you can prefer platforms like Vdocipher that provide robust security.
Pros
No advertisements – Wistia is an ad-free service that offers a better experience for viewers.
Video heat-maps are present – You can see which viewer is watching your video and you can even attribute specific viewing activity to a viewer's email address.
Video player customization – Player features include player color change, option to add or remove button, the styling of thumbnail, video autoplay, and other interactive elements are provided.
Cons
Charges are on the higher side for smaller users and businesses.
Wistia Pricing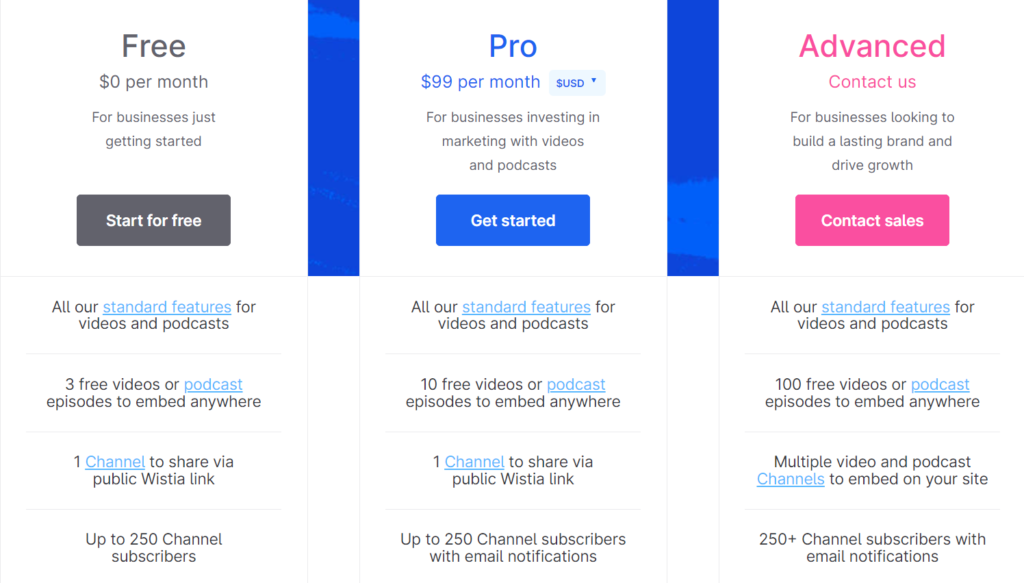 3. Vimeo
Vimeo is a video hosting site that allows users to upload and share videos. There are no ads on the platform. Vimeo allows hosting and enables its clients to distribute the uploaded video. Vimeo has a very reasonable set of plans that primarily benefits creative professionals and businesses. The videos can be easily customized to match the platform.
It allows you to create different permissions levels for each reviewer or collaborator, which you can change depending on the project.
Pros
Best option for small businesses and individuals
Video Management – The process of uploading, managing, and using is very simple.
Video Privacy – The privacy options on Vimeo Pro are quite comprehensive, including Password protection, Domain-level privacy, Private link sharing, and Private Unlisted.
Cons
No HLS encryption for high-level anti-piracy
Vimeo Pricing
4. IBM (Ustream)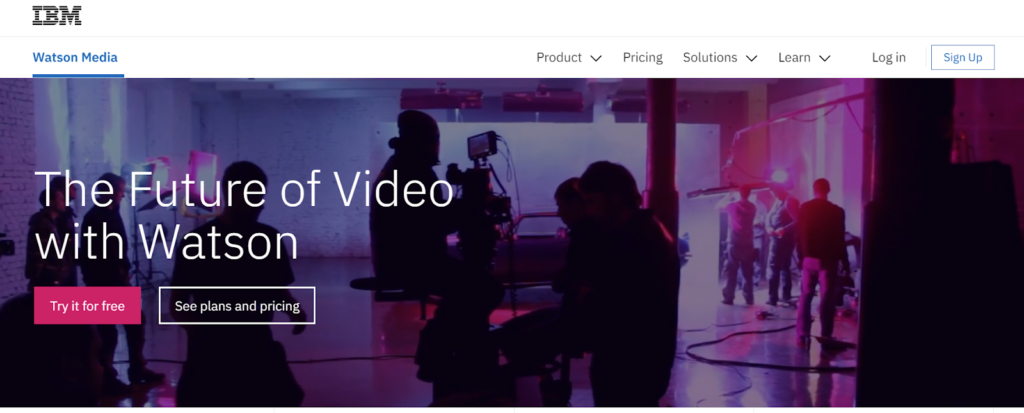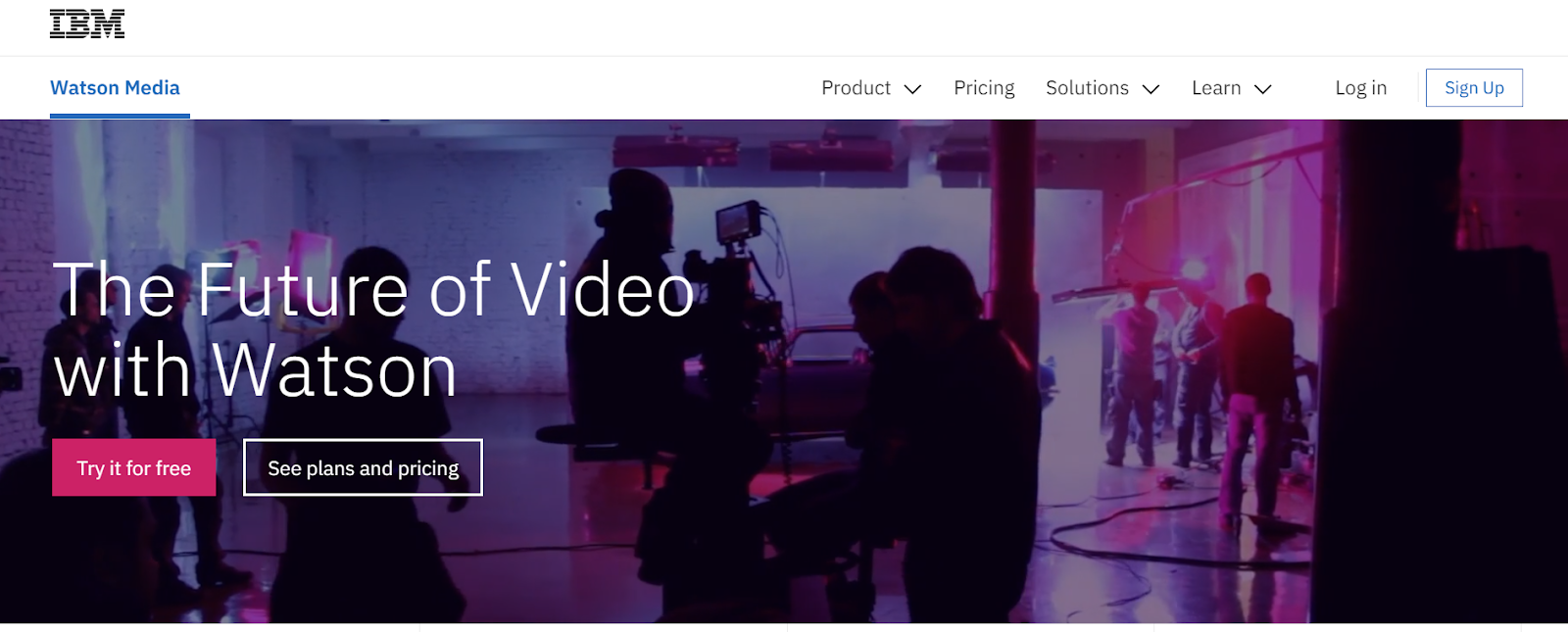 IBM Cloud Video is a cloud-based video hosting service that allows users to publish and manage videos via desktop or mobile. It also provides a range of APIs and plugins to allow developers to integrate the CMS into their solutions. IBM Cloud Video offers user authentication (single sign-on) and password protection of your videos to keep your content secure.
Pros
It offers easy configuration, setup, and integration.
Recording is another useful feature. The company provides 1000 hours of recorded content per month
The ability to provide the users with detailed analytics is invaluable to measure the performance of videos.
Cons
Lack of flexible billing options – There are companies offering streaming services for lesser cost and more options
IBM (Ustream) Pricing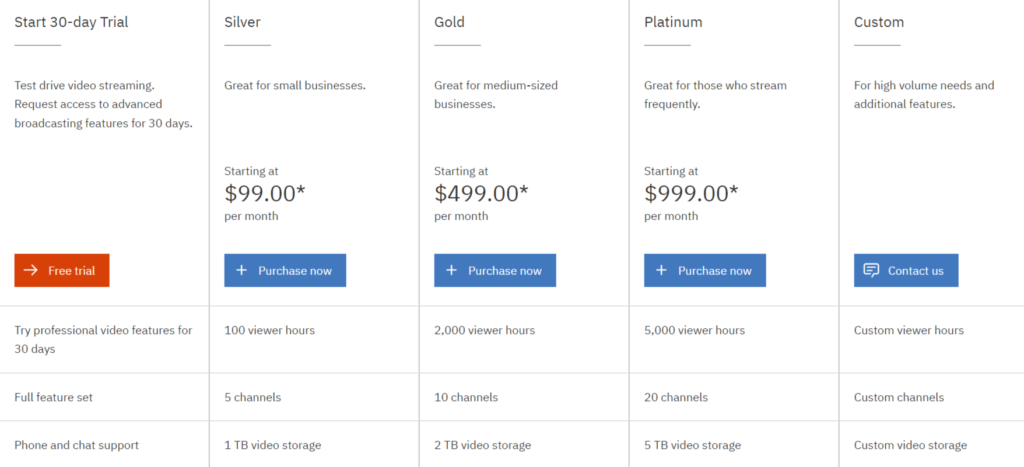 5. Vidyard

Vidyard is one of the corporate video hosting platforms that cater solutions to marketing, sales, and corporate communication. It gives you full control over the look & feel of the video player. You can also do A/B testing for multiple thumbnails, use pop-out CTAs.
Pros
In-Depth Analytics include streaming quality reports, Per view & video tracking
Customization features in Video Player & great compatibility with different devices
Provides Video Platform Integrations with tools like Salesforce, HubSpot
Cons
Limited functions with the free version – advanced analytics and editing features are limited
Some of the high end paid plans are a little expensive
Vidyard Pricing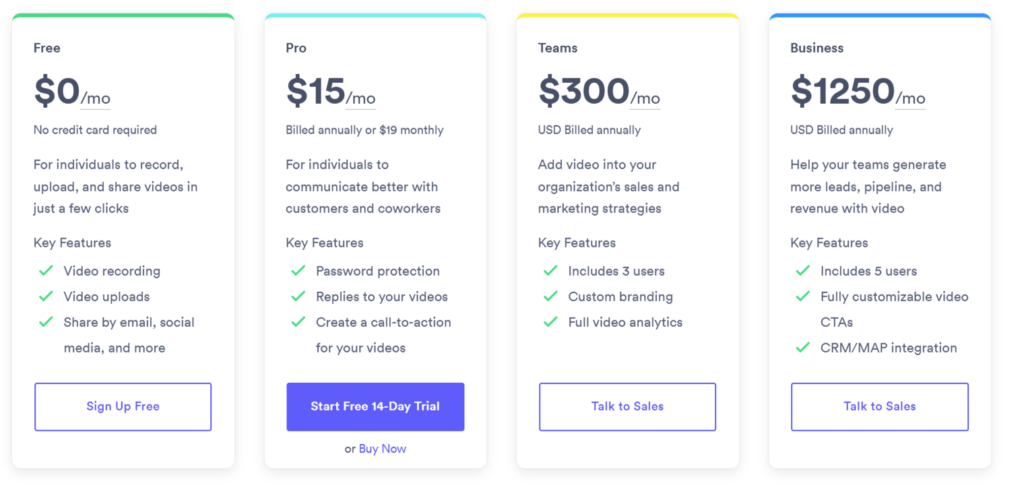 Why Should You Consider Video Hosting Service?
A video hosting service is a third-party service provider that allows you to upload your video to their servers. The host then distributes the video to various third-party sites that are chosen by the host. If you don't have the technical skills to self-host your video, this is a great choice.
These days, video hosting services can provide much more than just a video-sharing platform. On the frontend, they can allow users to share videos and on the backend, they can provide complex technical tasks like compression, and protect video content from piracy.
Businesses that are looking to get started on the web can opt for Self-Hosting provided they have a technical team to manage complexity, security, and functionalities. With video hosting platforms you can simplify the hosting process at an affordable price.
Low server bandwidth costs and storage space
The Video file size is quite large. Opting for video hosting platforms reduces website bandwidth and storage costs as video file compression and storage happen on the hosting provider's servers. This way, the website does not have to host the video files, which would otherwise take up a lot of space and consume a lot of bandwidth.
Multi-device optimization
Based on browsers and devices, the file format varies. A video hosting platform is capable of converting the file format as and when required.
Minimal to no coding skills are required.
Compared to third-party hosting, self-hosted videos require little coding knowledge. Obviously, the skill varies with the video software you use. When you host videos on a hosting platform, you can simply embed the video on your site using a single-line code.
Faster loading time
A CDN-based video hosting platform reduces page load time. Too much data loading at peak traffic can affect your website performance. Slow page loading is something your visitor never likes and eventually leaves the webpage. A web hosting platform can efficiently manage traffic surges while your users continue to consume the content.
Reduced Piracy Risks
For video creators and productions, video is an asset. Any vulnerability on your video page may open a potential threat to your content. Chances are of video piracy or some illegal downloads. To secure your videos from online piracy and unauthorized access, hosting videos on a secure platform like VdoCipher that provides DRM encryption, domain restrictions, OTP-based authentications, and other security measures is necessary.
Better video quality
We often see a video played at a low quality on one device and comparatively better on another device or platform. Converting raw video files into multiple formats can make them look grainy or lower their quality. When your videos are hosted on a hosting provider, the best video quality delivery for every device is done by them.
Easy video upload and embeds
When you upload videos on a hosting platform, you can easily embed the video on your website, blog, or landing page. VdoCipher WordPress Plugin enables hosting premium content on your WordPress website with the highest security protection from video piracy. You can easily upload from your desktop, server, URL, Dropbox, and more. There are even APIs to upload from your app or website effortlessly.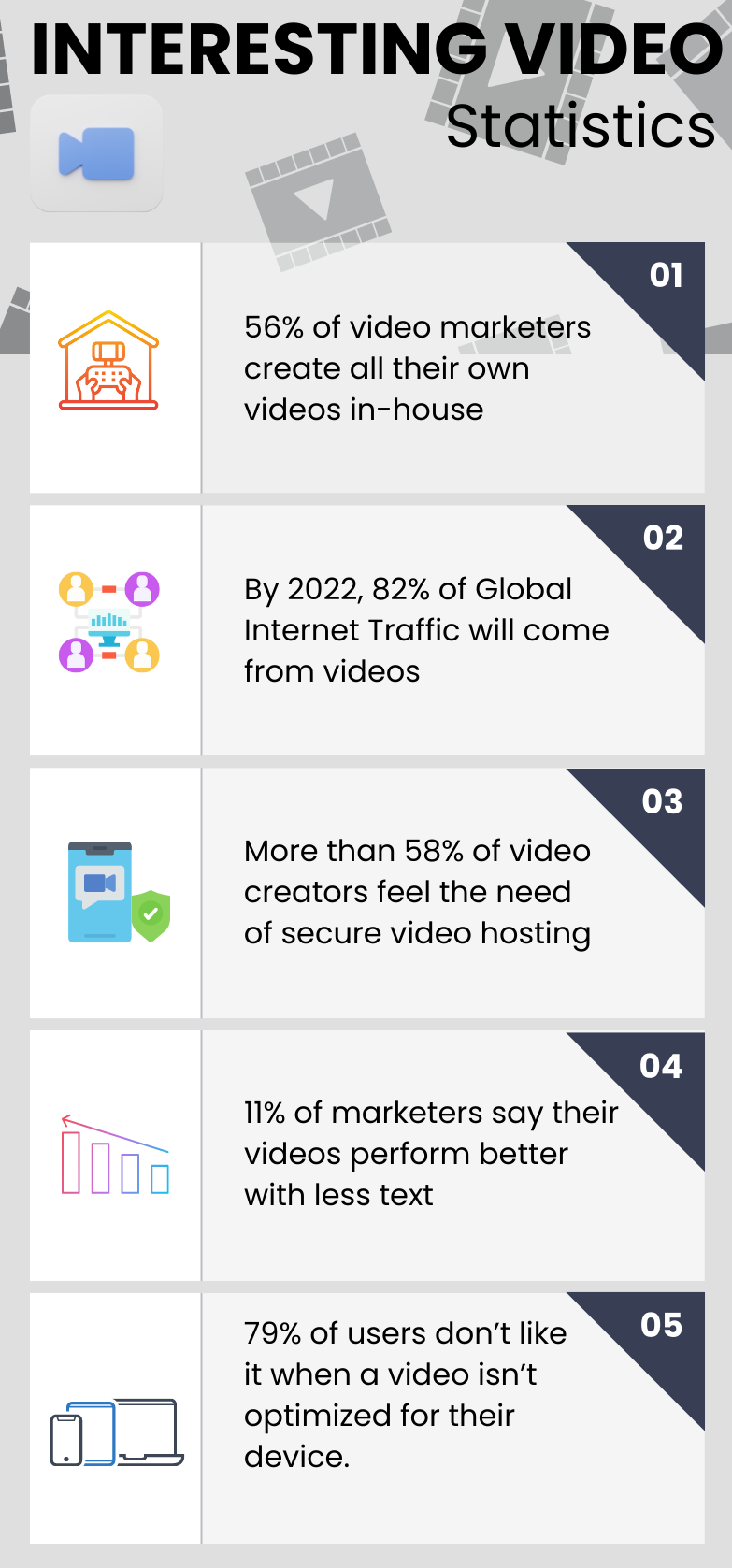 Factors to Consider When Selecting a Commercial Video Hosting Solution?
Video Content Security – Make sure your video content is secure from piracy. Standard security encryption technologies like Google Widevine & Apple Fairplay DRM Encryption can help you to Protect video content.
Video Player Customization – What features does the video player offer? Features like Adaptive Video Quality, forward/rewind of videos, support for Multilingual subtitles, Buttons/Form over the video, Chapter Segmentation will help you to enhance the video experience.
Dashboard & Integration – Platforms should provide an easy-to-navigate simple dashboard that offers users to upload videos, edit video settings, generate embed code, view usage. Also, check out the options on how videos can be embedded on the website.
Pricing – The more premium the features you get, the higher the price. Based on your needs, some hosting solutions offer additional services like live customer support, unlimited storage, Video content security, and different analytical tools. Make sure to check each platform's features, pros, cons, and pricing model.
Video Management – A professional video hosting service offers a wide range of features, including custom playlists, easy embedding, batch editing, and better video content management.
CDN-based Delivery – Videos use a lot of data, and a CDN ensures uninterrupted delivery of video content. CDN shortens the distance between the video transmitted from the origin server to the viewer's device by serving cached content via geographically located servers. It not only reduces latency and buffering but also adds a security layer.
Conclusion
Video hosting solutions for your business will depend on your goals and objectives. If promoting your premium video content is your main goal, you might look for a service with robust security, functionality, and analytics tools. If you are someone looking to earn money from your videos, you can choose a service that supports ads.
Taking Free trials is an ideal way to understand more about the platform. You can check out the Vdocipher platform which provides robust security and different features like Watermark, DRM Encryption, Smart HTML5 Player free trial of 30 days.
FAQs
How does a commercial video hosting platform affect the viewer experience?
Working with a commercial video hosting platform delivers a consistent and seamless viewing experience. No matter how you distribute your video content, the end user, irrespective of low internet connectivity and device/browser type, enjoys a latency and buffering-free video viewing experience. Commercial video hosting platforms work to display videos at the best possible quality on any device and time.
How is video bandwidth usage calculated?
The video bandwidth consumption depends on various factors. It includes the average video length, duration, average video size, and the number of users viewing the video simultaneously. Business Video hosting platforms like VdoCipher offer pricing plans based on different bandwidth options. The plans are flexible for individuals to enterprises based on video consumption and bandwidth requirements.
Supercharge Your Business with Videos
At VdoCipher we maintain the strongest content protection for videos. We also work extremely hard to deliver the best viewer experience. We'd love to hear from you, and help boost your video streaming business.
Free 30-day trial →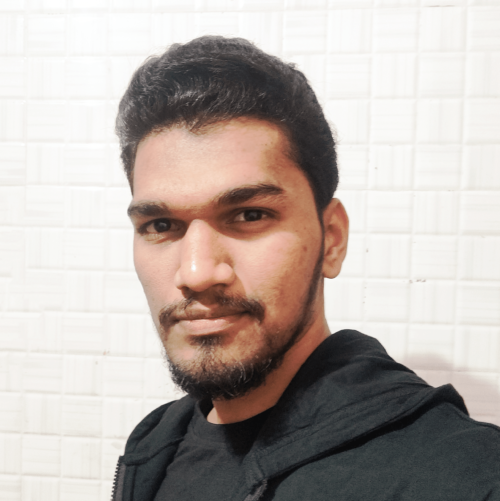 A Digital Marketing pioneer who loves to innovate strategies to effectively market a product through consumer research and data analysis. In addition to this I'm a sports and fitness enthusiast with love for travelling and photography.