As per a study by Cisco, by the year 2022, 82% of global internet traffic will comprise of video streaming and downloads.  Businesses are putting more effort into creating more video content to effectively communicate their product or services to the audience.
In recent years several OTT or eLearning platforms have also emerged, catering to the need of their respective audience. This has led to rapid demand for a service that provides Video platforms to these businesses. Rather than building their video platforms, businesses are opting for Video Platform as a service( vPaas).
It is important to meet the requirements of the customers where they expect high-quality 4K video streaming and HD. Organizations rely on stable service and prefer a high level of security. 
What is Video Platform as a Service (VPaaS)?
VPaaS s a cloud-based video solution that allows users to host, stream and manage their videos seamlessly. Video platform provides quick and reliable video solutions for your website/applications.  This allows you to put more effort towards building quality content, as all your needs related to video infrastructure are taken care of by VPaas companies. 
Video Platform as a Service (VPaaS) enables businesses to customize and enhance video workflow & experiences. 
How Does VPaaS Compares To SaaS and PaaS(SaaS vs PaaS vs VPaaS)?
SaaS
SaaS (software as a service) solutions are utilized by businesses in the cloud market. Its applications are managed by third party vendors to its users. The majority of the applications run through web browsers; it does not require installation on the client-side. It eliminates the need for a technical team.
Vendors will manage all the technical aspects. It is beneficial for small businesses who have time limitations or short-term projects which require easy and affordable collaboration. Lack of customization, integration support and data security are a few of the limitations when it comes to SaaS.
PaaS 
Platform as a Service provides cloud components to certain software or applications. It offers a framework for developers to customize applications. Storage, network, security can be managed by an enterprise or third-party providers while developers can manage the applications. It is beneficial for businesses that require scalability, cost-effective development, and customization.
VPaaS
Video Platform as a Service offers video solutions where users can upload video content via hosting services. The service allows you to stream video content on a website. The videos uploaded can be in the short format (video tutorials) or long format (movies) The platform provides embedded codes or links which help the users to view the video content.
What Key Features Do You Need To Look In VPaaS (Video Platform as a Service)?
 Here are some of the crucial features you need to have in a VPaas before you opt for them. These features ensure that your users can have a seamless viewing experience and you can deliver it to them without too many hassles.
Security
If your videos earn you revenue or are confidential, then video protection is a must-have feature for you. VPaas companies usually offer video DRM which protects your video from downloads.  Also, VPaas offers other features such as geo-restrictions, watermarking features, and screen recording protection. 
Video APIs
Users can easily manage content via video platforms. It provides the option to upload videos in bulk and offers easy navigation.
The platforms provide various embed options, APIs, and documentation to help the integration process.
Video CDN
CDN is provided to ensure smooth video playback with minimal buffering and loading, regardless of where you lie in a particular geographical location. 
CTAs
Special features like buttons, chapters, and forms are present to enhance the video experience. 
Video Analytics
Detailed Analytics are provided to measure video performance. Details like Total views, watch time, the country will help you to optimize video campaigns.
Why Should You Consider Video Platform as a Service?
Video as a platform offers both technical and business benefits.
As it is based on cloud technology resources can be easily managed as per your business requirements

The platform provides customer support to resolve technical issues. 

With the help of an integrated platform it offers an opportunity to improve workflow and reporting.

VPaaS solutions manage infrastructure by offering data privacy and regulatory compliance.

No development cost, server cost

No maintenance and internal support and dependencies

Access to advanced features and further developments.

Solutions are scalable as the business grows
What Are The Main Advantages Of VPaaS?
Let's look at the important reasons why you should consider using Video Platform as a Service (VPaaS)
VPaaS offers flexibility in terms of customization. Organizations can choose any specific feature that suits their requirement

Video platforms like Vdocipher provide an affordable and quality service where the platforms are responsible for all the maintenance of the service, security and its infrastructure. This can save a lot of cost and time

VPaaS enables easy one-click functionality which makes it easier to operate

You can integrate different features easily with the pre-built plugins. 

With video as a service platform you can adapt quickly to the latest technologies which offer robust security and also help digital transformation

Video as a service platform provides support for video playbacks on multiple devices like smartphones, smart TVs, and laptops. It allows your content to reach larger audiences without depending on a single devices

It offers multiple ways to earn revenue through different monetization models

Video Platform as a Service provides video analytics to understand how users interact with the content
Top Video Platform as a Service (VPaaS) Solutions
Vdocipher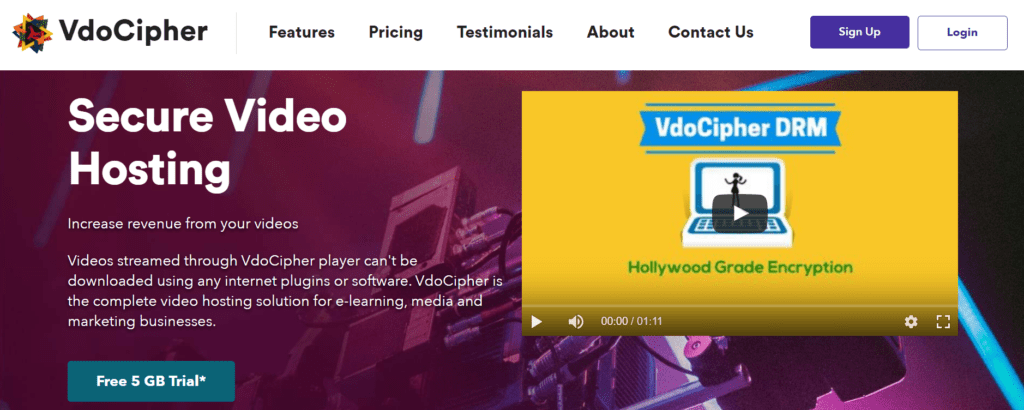 Vdocipher as a video platform offers a solid video hosting experience. The platform provides a wide range of features like DRM encryption to prevent illegal download, screen capture blocking in mobile apps, Video API, powerful content delivery network (CDN), and Dynamic watermarking.
Security Features of Vdocipher
Vdocipher offers video DRM which includes

Google Widevine

DRM  and Apple Fairplay DRM which provides robust security for Desktop and Android devices. This restricts the video downloads if tried through different tools such as IDM, Video Download Helper. 

You can add Text Watermark over the videos with your Copyright. Watermarks can be customized by changing the color, speed of movement, transparency, size of the watermark. 

Watermark feature is present to discourage screen capture in Desktop and Android devices

Geo-Blocking option to restrict specific countries from accessing the content

Screen Capture Block option in Android and Apple Native app. Capture is blocked at the hardware level.

Dynamic URL generation for each playback session to provide a high level of security via API's 

Proprietary Encryption for specific android devices like Redmi and old Android devices
Video Player Features
VdoCipher offers adaptive bitrate streaming to ensure video quality can be adjusted based on the internet connection of the user. 

Users can Forward/Rewind while watching the videos.

Player comes with a simple dashboard to upload videos, edit and generate embed code.

Supports Multilingual subtitles in vtt format.

Ready to use codes to embed buttons/forms over the video.

Chapter Segmentation via Script code to help the content creators segment their long lectures into different segments.

Video Analytics are provided to understand users' interaction with the content. 
APIs, SDKs, and Dashboard Features
Video APIs and SDKs are available to developers to integrate and automate your workflow.

Easily manage videos with a simple dashboard where you can upload videos, edit video settings, generate embed code.

Option to import videos from Google Drive, Vimeo Pro, Drop box, AWS S3/Server.

Webhooks are present to get the video data automatically if APIs are used to upload videos.

VdoCipher supports plugin integration with WordPress LMS

APIs are available to automate the embed process

Videos can be downloaded offline in Android App. Time validity can be entered for downloading.

Supports multiple users to your dashboard with different permission levels.
Wistia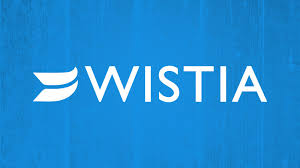 Wistia is one of the video platforms that help businesses to grow their brands. Wistia offers video hosting services and built-in marketing tools to enhance video marketing. You can customize your video by using CTAs, quizzes, etc other features include video analytics to track users' behavior.
Security Features of Wistia
It offers SSH key-based authentication

Backup and recovery procedures are automated. In some cases, human intervention is required.

Domain restriction feature is present to ensure videos are played on specific domains

Communication between service and customers done through HTTPS
Video Player Features
Turnstile feature allows you to collect emails right from your video 

It provides in-depth video analytics details like which part of the video users have watched, skipped, or rewatched any videos, total time watched, CTAs clicked, and more metrics.

Player customizations include thumbnail optimization, adding CTA, and changing player color.

High-quality video playback 

Easy file management of videos. Users can create a folder to access a collection of videos.
Vimeo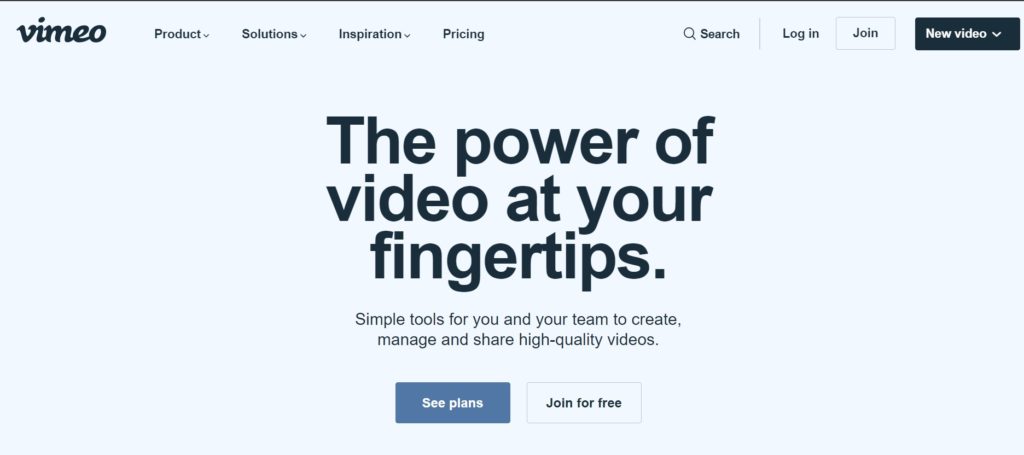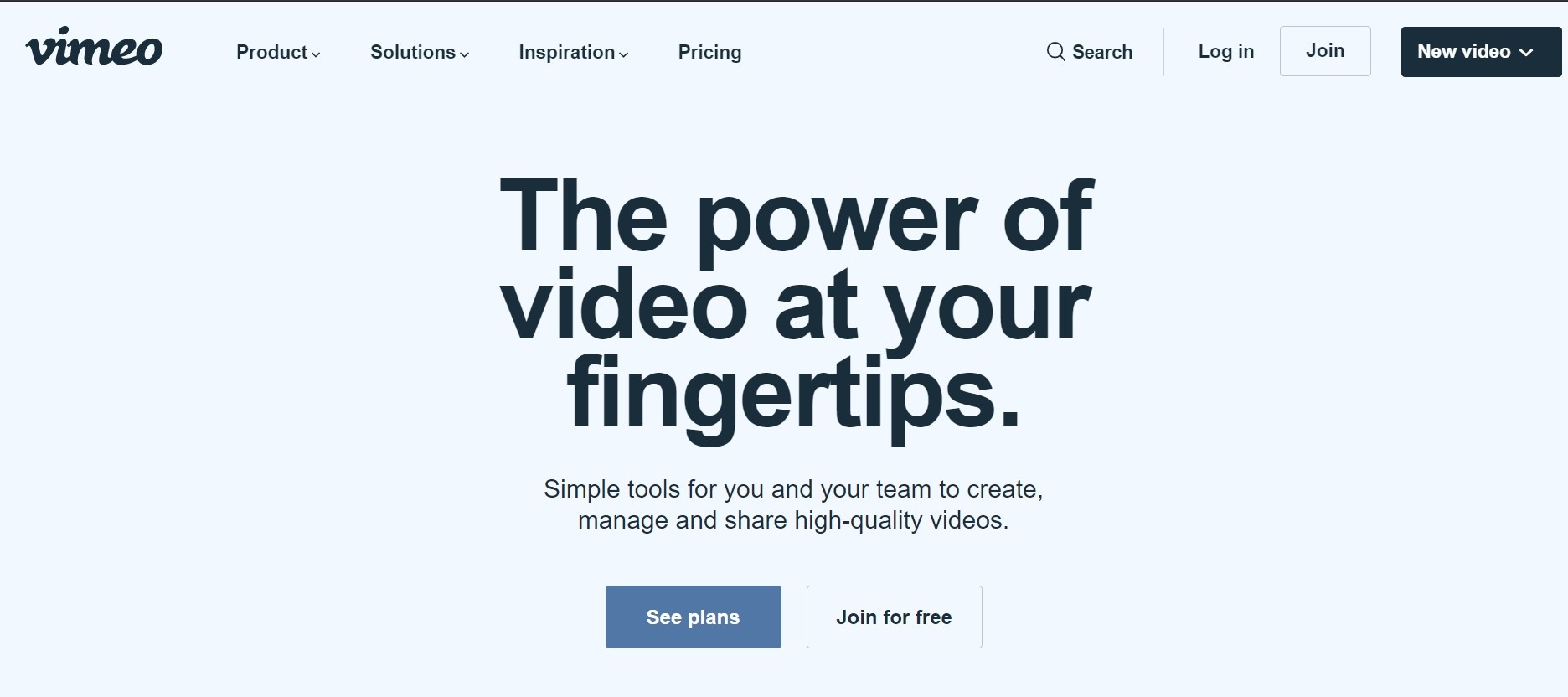 Vimeo is one of the popular video service platforms that offer solutions to various business categories like Enterprise, Small business, and professionals. The platform provides video hosting and streaming services and also offers various tools to help your marketing campaign. 
Security Features of Vimeo
Vimeo provides the option to keep your videos private with password protection.

Video Access can be restricted with a private link.

Domain and Geo-level restrictions are available.
Video Player Features
Flexible storage options to upload videos.

Videos are hosted with high quality which supports 4K Ultra HD

Videos are automatically saved. You can compare different versions of the video.

Video Player supports speed

up or slow down feature.

Team collaboration feature that allows you to add 10 team members to collaborate on private projects.

Video performance can be tracked with in-depth stats.

Vimeo allows video sellers to sell videos in a global marketplace.

It helps in lead generation by adding email capture to videos  
Conclusion
Video content will be the key factor for many businesses going ahead. With video as a service, businesses can take advantage of these benefits to stay ahead of their competitors. Choosing the right VPaaS solutions can be overwhelming, we have tried to convey the best VPaaS platforms and the benefits of using them.
Based on your goals and priorities you can try free trials with these platforms to make sure that fits best as per your need. We hope this post has helped you to understand VPaaS solutions.
Vdocipher offers a video solution with robust security with other features such as video hosting, CDN, Video Player. You can create an account with Vdocipher to start your free 30 days trial
Supercharge Your Business with Videos
At VdoCipher we maintain the strongest content protection for videos. We also work extremely hard to deliver the best viewer experience. We'd love to hear from you, and help boost your video streaming business.
Free 30-day trial →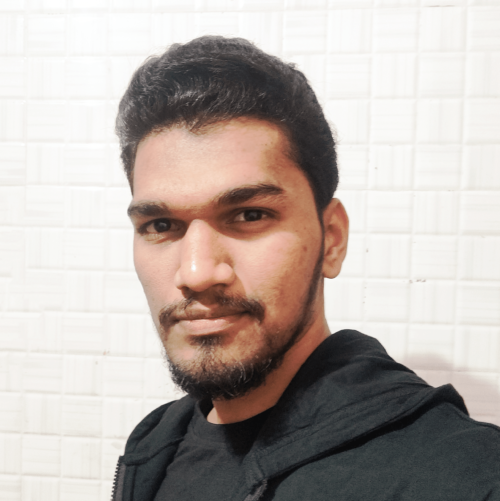 A Digital Marketing pioneer who loves to innovate strategies to effectively market a product through consumer research and data analysis. In addition to this I'm a sports and fitness enthusiast with love for travelling and photography.