Staying in contact with your team might be difficult as more individuals work remotely. Fortunately, there is a solution to avoid lengthy email chains and phone tags: video conferencing. Video conferencing is excellent for internal meetings, but we may also communicate with clients or suppliers.
Once you have your webcam, microphone, and internet connection, you may begin using video calling. That is, once you have determined which application to use. Several video conferencing options are available, and deciding which one is best for your business can be challenging. This post will look at what video conferencing platforms is, what features to look for, and the main benefits for businesses using video meetings.
Of course, we may be prejudiced as a firm in the field. We certainly believe we are the best, but we will not expect you to take our word for it. In this tutorial, we'll take a close look at all of your video conferencing software alternatives.
We'll go through what features you might want and how certain options may fit some firms better than others. To make things easier for you, we'll highlight which software alternatives perform well in various situations.
Finally, we want to demonstrate how we can take your organization to the next level by providing an honest side-by-side assessment of the video conferencing options available. Also, real reasons why we may hold the key to the success of your corporate communication.
So, What exactly Is Video Conferencing Software?
To better understand what video conferencing platforms can offer, it is necessary to understand what it is. Please bear with us; this isn't as simple or easy as it seems.
The fundamental function of the video conferencing platform is obvious from the name: they enable you to host meetings or chats via video chat. Face-to-face engagement is required, even if you are situated in separate regions. Additionally, you may opt to join the community entirely by voice, which is advantageous if you have an unstable internet connection or prefer not to engage on camera.
It alone makes it a good piece of company software, but several alternatives provide considerably more intriguing advantages. Screen sharing, texting, and even digital annotations are examples.
A decent video conferencing system should allow you to manage an efficient meeting rather than simply talking to someone.
In many situations, then, the term "video conferencing software" is a misnomer. It's not just about the video! Many of the solutions we'll go through are more comprehensive tools for working together and cooperating.
Video Conferencing Software Features You Need To Look Out For:
Voice and HD video
Any program you choose should have high-quality audio and video capabilities. It is critical to be able to see and hear other guests well while holding a video conference. It is especially crucial for divergent teams who may be phoning from one conference room to another as a group. Having HD video and audio can prevent individuals from clipping in and out and screen sharing from stalling.
Screen sharing
Screen sharing is ideal for teams doing virtual presentations because it allows you to exchange data and insights in real-time. It enables you to observe the issues that a customer or client brings up rather than simply listening to their explanation. Screen sharing may also be beneficial for remote tech assistance since it allows you to show them the answer, decreasing the possibility of errors or confusion.
Multi-device compatibility
Everyone will not have access to the same gadget. Some will use a Mac, while others will use a Windows PC, while others will use an Android smartphone. A decent video conferencing solution should support a wide range of devices and operating systems, ensuring that anybody you organize a conference can use it.
Analytic
You might think of analytics as a tool for external communication, but it can also use it for internal communication. Meeting analytics are included in many software packages, allowing you to analyze service quality in real-time. Later, you can always look for and find a better communication tool for your company.
You may also monitor the software's adoption and use across various departments and overall system performance.
Call recording and transcription
One of the most frequent features of online meetings is call recording and transcription. Call recording allows you to swiftly and share the material, bringing everyone up to date. Transcription offers comparable advantages, especially when combined with artificial intelligence, which enables real-time transcribing. You don't need to take meeting notes and may instead wait for an automatic recap email.
Access to a web browser
If you're simply interested in internal communication, having a solution that involves downloading software is OK. Many video conferencing software packages include in-browser alternatives. These often contain fewer features and are more likely to be utilized by the same individual. If you wish to connect with clients, suppliers, or consumers, you need a method that does not necessitate any more work on their part.
Integrations with third-party applications
You don't want to manually copy details each time you phone your customers if you have customer relationship management (CRM) software. It's worthwhile to keep a lookout for solutions that work with your current software. That's why many businesses opt for an online CRM software. Many conferencing systems will feature a library of connectors or app galleries that offer pre-built plugins for specific video platforms.
Scheduling
It is related to the previous feature, but it is worth mentioning on its own. Meetings should be able to be scheduled on any video conferencing platform. Ideally, you should be able to send such invitations using your existing tools. Microsoft Outlook or Google Calendar are two options.
Tools for moderators
Moderator capabilities enable the host to silence others (such a relief!), control who has access to whiteboards and screen sharing, and even put guests on wait.
Admins can also grant and revoke access to the following features:
Private conversations

Meeting rooms

Questionnaires for feedback

Captioning (closed)

Virtual backgrounds

Tracking of attention
 In general, if your chosen program includes sophisticated features, it should also have moderator or admin tools to govern such functions.
Stringent security
Nobody likes their meetings to be disrupted by outsiders. This security can take various forms, such as requiring guests to provide a meeting ID or PIN, enabling single sign-on, giving attendees passwords, or simply having the host authorize join requests.
Of course, security extends beyond video meeting access to include how those sessions are delivered. If you can't discover information about a software provider's data and privacy practices, it's time to look elsewhere.
Top Video Conferencing Platforms
We've broken down the top business video conferencing software solutions for 2021 to help you decide which one is ideal for your business.

Zoom is an on-demand, cloud-based video and web conferencing solution that is very scalable. Web conferencing, file sharing, webinars, and group conferencing are all features of it. It is great for all small businesses, whether they're big or little. Users may connect to several conference rooms, add more people remotely, and hold face-to-face meetings with a single mouse click. We also covered Google Meet vs Zoom vs Microsoft Teams in detail recently, you can read the article linked if you want an in-depth comparison between these three video confrencing platforms.
Pros
Provides unlimited one-on-one meetings with the free plan

Free plan allows you to host video conferences of up to 40 minutes and 100 users. Whereas in the paid plan 500 users are allowed

Easy to use platform with good user experience

Audio and video recording options are available
Cons
Zoom does not work without downloading an app for your browser

Limited Features and Usability on Free Plan

Time is restricted to (45 minutes) in one session for non-premium members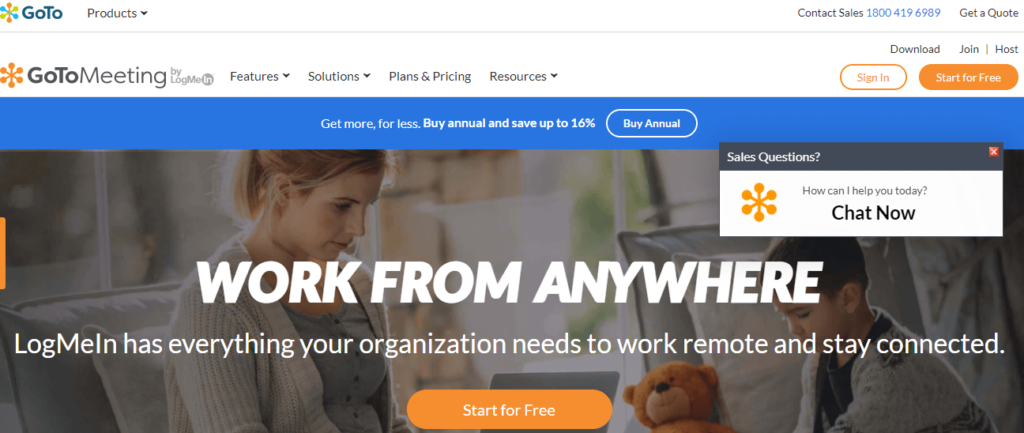 GoToMeeting is a web conferencing service that is hosted in the cloud. It is jam-packed with features and functions that make it the ideal solution for businesses that operate in several locations, have employees all over the world, and have contracts with foreign partners and consumers. The program features an easy-to-use interface and allows users to start a meeting in only a few minutes.
Pros
Provides optional toll-free numbers for more than 50 countries

HD quality video conferencing

Smart Meeting Assistant will transcribe the conversation automatically
Cons
Additional Costs For Premium Features

The platform requires highly stable internet connection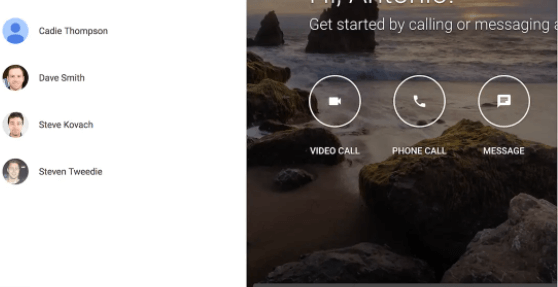 Google Meet has two advantages: it provides a great free plan, and it leverages accounts that most people already have (a Google account, for instance). It is a Google Workspace feature that replaces Google Hangouts. No software is required to use this service, and it comes with a dedicated phone number for you to dial in.
 The free plan includes conferencing for up to 100 people, live captioning, and various options for meeting hosts. There is also screen sharing, text chat, and interaction with other Google apps. It makes it an excellent choice for organizations who want a low-cost solution but do not require more complex capabilities.
Google Hangouts is one of the video meeting platforms that are available. You can easily connect with colleagues, clients, or friends in the form of chat, video or voice calls.
Pros
Conversations are synchronized across all devices automatically. It provides the option to switch from PC to mobile while having conversations
Cons
Limitation with online status customization

Lack of third-party integrations/API

Upto 25 person limit on video calls

Microsoft Teams replaces emails in the workflow and serves as the primary communication center. Without leaving the app, you may communicate, exchange files, host, or accept conference calls with MS Teams. The basic version of Microsoft Teams is free, while more comprehensive versions that interact with Microsoft 365 for Business and MS Office are accessible through monthly subscriptions.
Pros
Supports wide range of 3rd party integrations

High Quality of Video and Audio

Robust messaging features
Cons
No unified search feature to find file or conversation

Limitation in the number of channels. Number of channels that can be created to 100
 Microsoft Skype for Business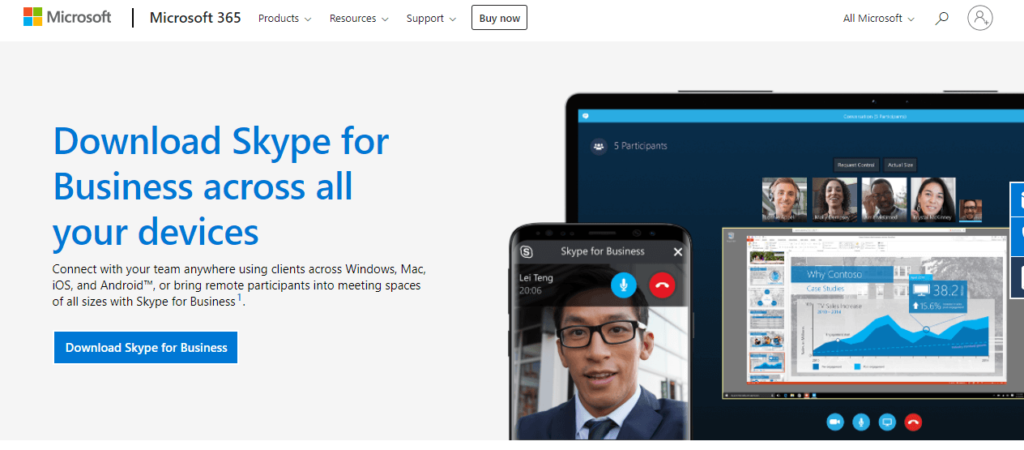 Skype is a famous online communication tool widely regarded as one of the best VoIP options available today. For companies, it costs only $2 per month per user and may host online conferences for up to 250 people. It combines third-party apps, utilizes encryption, and incorporates authentication mechanisms.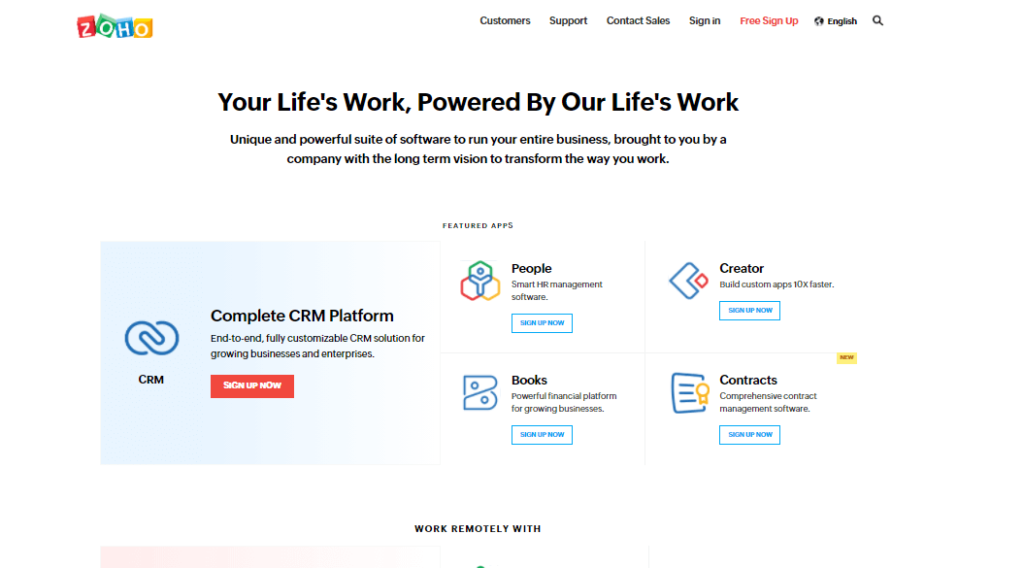 Zoho Meeting is an Indian IT behemoth that has been delivering cutting-edge business products since 1996. It launched Zoho Meeting in 2007 to bridge communication barriers by offering online conferencing and screen-sharing capabilities. Zoho Meeting has webinar features, including camera sharing, polling, and analytics. It has a locking tool for extra security, privacy and includes upgrades for improved audio calls and storage.
Pros
Comprehensive and detailed reporting

Simple to add and configure third party integrations
Cons
Limited customer support

They're lacking proper HD video support for meetings and webinars

BlueJeans is a cloud-based video conferencing platform that enables organizations to hold video conferences successfully. The system may connect to various platforms, including Cisco Jabber, Google Hangouts, Microsoft Lync, and Avaya Scopia. BlueJeans attempts to break through the technological barriers between apps, computers, and conference room systems, allowing people to interact more efficiently.
Pros
Support for unlimited cloud recording

Provides a simple, interactive, secure and high-quality video conferencing experience
Cons
Lack of Integration with project management tools 

Minimal setting options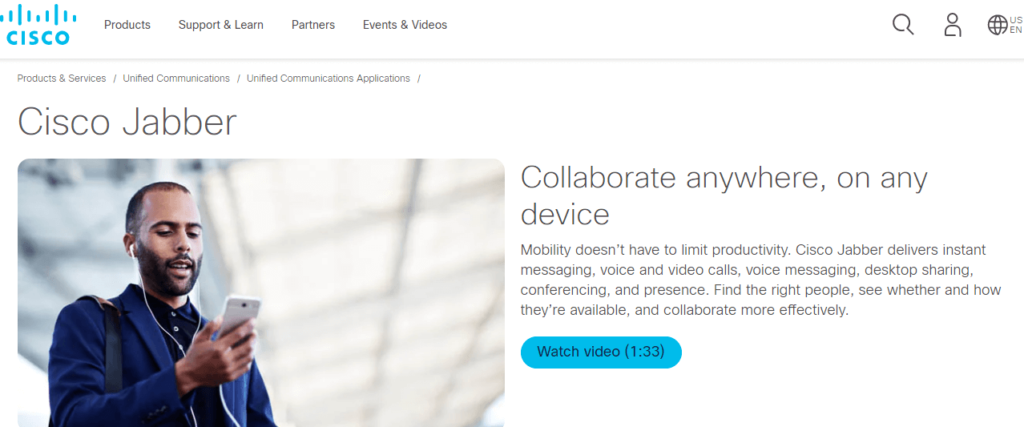 Jabber is a Cisco product aimed at medium-to-large-sized enterprises. Jabber offers instant messaging, voice messaging, audio calling, video conferencing, and other forms of communication. Users become more efficient when they utilize Jabber since it is a unified video conferencing platform. It implies that users may use their desktops or mobile devices to access and use their Jabber accounts.
Pros
High-quality video and audio calls

Easy interface to setup and host new meetings

Offers Internal chat option, scheduling 
Cons
Lack of analytical features

User interface can be improved

Historic chat functionality is missing

Cisco WebEx is a video conferencing platform targeted at small and medium-sized enterprises. It is a video-based technology that lets users hold web-based meetings utilizing voice, video, and other data. Users may also create a team workspace, which can facilitate better brainstorming and collaboration. The program is offered in a variety of plans from which consumers may choose.
Pros
Cisco Webex provides an option to share all types of content during the meeting

Multiple and reasonable subscription plans are available

Provides high definition visual and sound quality
Cons
Webex platform requires minimum of 25 attendees to start a meeting and provides maximum attendees up to 3000

Integration with 3rd-party apps can be improved
Video Conferencing Platforms Vs Video Platforms
Video streaming is not restricted to live streaming. In the current pandemic situation along with an increase in usage of video conferencing platforms, we've seen a plethora of online video platforms. These video platforms are related to OTT, VOD streaming, Elearning, and Upskilling. These platforms play a crucial part in our lives as they take care of learning as well as entertainment.
Although the purpose of these two platforms might be very difficult, they can be used together to support each other. Many times a lot of live streaming sessions can be pretty informative, and you'd want to use these videos again. Let's say you did a great session on financial literacy for your employees, you'd want to record such streams and make sure that they are available to your future employees as well. You can host these streams along with any other training session. You can easily download the videos, host them and create your own training platform for your users.
This is where Vdocipher comes in, with us you can securely host your videos which can be further streamed by your users/employees several times. Vdocipher provides DRM-based encryption with Widevine DRM and Fairplay DRM. On top of it, you get various other video hosting features such as Video API, Powerful CDN, Video Analytics, Dynamic watermarking, Screen recording protection on iOS and Android.
To Conclude
It would help if you also considered your company's operations at a more detailed level. For example, does your team generally utilize Chrome? Or do many virtual meetings take place on iOS devices? Certain tools will be ruled out, while we will recommend others.
FAQ
1. What is the most secure online video conferencing platform? 
Some of the best secure video conferencing solutions are Zoom, Microsoft Teams, Cisco Webex, Zoho Meeting, GoToMeeting
2. What should I look for in a video conferencing app?
Before choosing a video conferencing app, it's important to look for features such as user experience, Security, Third-party integrations and other features like screen sharing, webinar recording.
3. What are the benefits of web conferencing platforms?
A few of the advantages of web video conferencing platforms are time-saving tools, increased efficiency and productivity, and remote working can be hassle free
4. What are the types of video conferencing?
Different types of video conferencing are 1:1 conversations, Internal team meetings, Large Conferences
Host Your Video Streams With VdoCipher's Secure Video Hosting Platform
At VdoCipher we maintain the strongest content protection for videos. We also work extremely hard to deliver the best viewer experience. We'd love to hear from you, and help boost your video streaming business.
Free 30 Day Trial
Head of Digital Marketing at Vdocipher. I love the art of connecting the right product to their users. When i'm not doing that i love getting lost in books.