As a student getting the best out of our studies can be a really major challenge. Keeping up with your studies, assignments, and projects can be really taxing at times. With too much on your plate, it is easy to get lost in the chaos and ultimately get behind your studies. A lot of students face challenges such as remaining productive throughout the year, keeping up with our schedules, memorizing key information, meeting crucial deadlines, and even managing their time better. All these challenges can be easily overcome with the help of study apps for students. 
Let's say, you have trouble being productive, you can use apps like Pomodoro timer, you can set up all your tasks and set the timer. This way you can work in a focused manner, manage your time to study, and ensure you take quick breaks in between to ensure that there's no exhaustion. Similarly, there are other study apps for students, which can help you with other challenges and help you remove any bottlenecks in your studying. 
In this article on study apps for students, I'd guide you through several apps which can help you manage your time better, boost your productivity, and write and manage your meeting notes, and lastly some major elearning apps which can help you.
Why Do We Need Study Apps?
Study apps can play a major role in improving the effectiveness of your study time. Whether it is time management, improving productivity, and more. In short, study apps can help you overcome these challenges:
Being Productive

Time Management

Keeping and Maintaining Notes

Challenges with some key concepts
These apps help you be more productive by allocating time to your tasks and being consistent. A lot of times our study sessions are all over the place where we start by studying one thing and moving on to another in between. This ultimately leads to inefficient use of time. 
Also, at times with notebooks and physical notes, one challenge is that you don't have acess to them all the time. In case you want to visit a friend or the library for group study, you might forget your notebook. With an app, you can get access to it all the time.  
In order to cater to these problems, there are several apps available. These apps can be used to cater to these issues.
What Different Type Of Study App Should A Student Look For?
Every serious student wants to be at the top of their studies. So in order to keep them at the top of their game, there are apps that can help you progress further in your studies. Whether it is to take notes, or being productive, manage time, memorize key concepts or learn new ones, there is an app for everything. These are some of the major types of study apps for students.
Note Taking Apps

Productivity Apps( time management and organizing tasks)

Flashcard Apps

Online Learning App
Note Taking Apps
Note-taking can help you organize all your lectures, and reading in one place. You can jot down any important pieces of information, whether you found it on the internet or in a book. Taking notes down can help you remember them.
Everyone has their own way of note-taking, some of us just scribble stuff down in our notebooks. While some are very meticulous, everything is color-coded and separated into different folders with elaborate diagrams.
There are several apps that just lets you take note and organize them. In apps like google keep, you can just jot down any piece of information. Since they support all the devices you can easily access these notes later.
But for elaborate note-taking, apps like Goodnotes are really great. It works great on the iPad, you can write your notes on it just like you do on paper. You can easily organize your notes in terms of topics, and subjects and even take pictures and insert them into your notes as well.
Productivity Apps
Being productive can be a real struggle at times and being constantly productive can be an even bigger challenge.
Some students like to study for 5-6 hours in a go and then just relax for the next couple of days. It might seem like we accomplished a lot in those long hours but eventually, it becomes counterproductive. As you get exhausted with such long hours and end up needing a lot of rest. Taking long rest also distracts you from your goals.
So, the best way to go about this is to work for short amounts of time with intermittent breaks. Several time-tracking apps allow you to set a timer with some time for a break. They have a built-in Pomodoro timer, with which you can set time for work and breaks.
But when it comes to studying you can't just study at the last minute and hope to be okay. The key to good study habits is to be consistent and study regularly.
A lot of issues here come down from the fact that we don't make a plan and don't stick to it. There are several apps available that help you manage your study timelines for a month. You can even use study apps for students like Google calendar to fix the different times of the day for studies, assignment schedule, group studies, and even more. 
Flashcard Apps
To make memorization easier, people have come up with all kinds of systems and techniques. And one of the most powerful systems is flashcards.
There are a lot of simple techniques and systems you can use to memorize information. Flashcard is one such effective method.
There are several study apps for students available right now which can help you make flashcards for different topics and subjects and organize them too.
Online Learning Apps
In the past few years, ever since the pandemic broke out, we've seen students move from offline education to online. This period saw a surge in demand for online education and a lot of learning platforms rose. 
There is a wide range of learning apps available, catering to different niches. You can read more about different education apps in india.  
Even though things are starting to get a bit better now and offline classes have resumed, online learning can still play a big role in students' life. There can be times when a student is stuck with certain concepts while studying, these learning apps can help you get clarity and they often provide community discussion where you can discuss your problems with other students and mentors.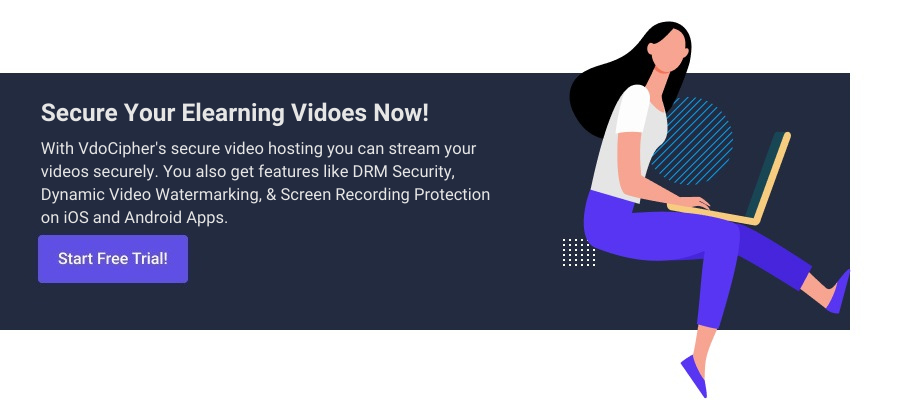 Best Study Apps For Students
Now that you know all apps you require to get the job done. You can find all the popular study apps for the students below.

Note Taking Apps
Goodnotes(iPadOS, macOS, iOS)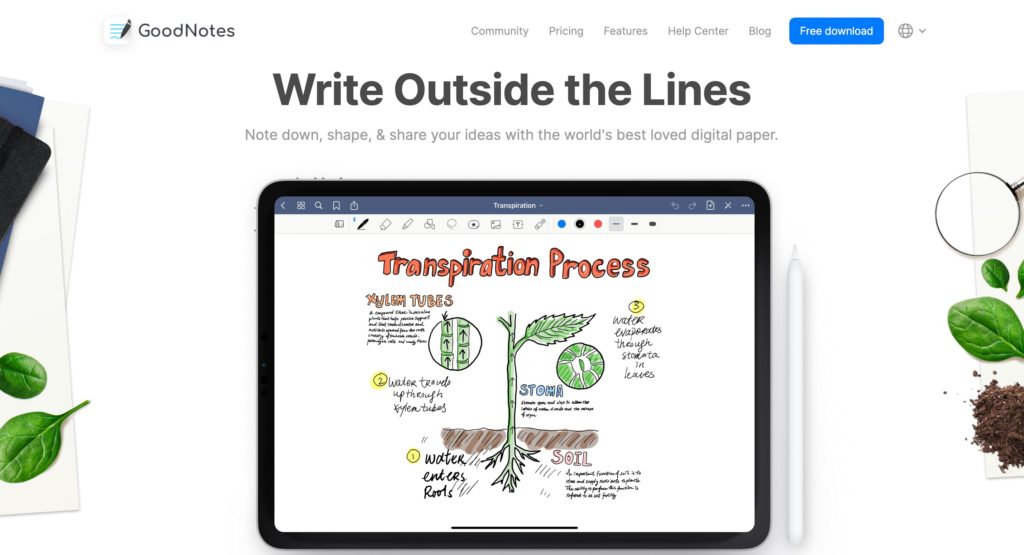 GoodNotes 5 is a great app for note-taking. It's a must-have for anyone who likes taking notes on their Apple devices. Goodnotes5 supports palm rejection, you can easily write with a stylus. Apart from this you can type, annotate pdf and even convert handwriting into words and this tool help eliminate the need to convert a PDF file into Word. It also has compatibility with a wide variety of stylus, in case anyone doesn't want to use an apple pencil.
In this study apps for students, you can organize your notebooks in different categories and subcategories as well. You can use different templates or paper backgrounds for your notebook. It also has a good shape tool, which you can use to draw perfect share. There are a lot of pen options, which lets you create custom colors and line width for the stylus. You can also use the lasso tool to select text or even images, you can then change the color of text, resize and relocate it as well
With GoodNotes, you can open multiple notebooks and switch between them. Also, you can have your browser open on split-screen simultaneously with the app. 
It also allows you to export your notes to Google drive and you can email it as well. Goodnotes has amole features to organize and customize the looks of your notes.
Evernote (Android, iOS, macOS, Windows, Web)
Evernote is another great study app for students for note-taking. It is supported by almost all devices and you can handwrite notes in it and clip articles, books, and pictures into the note.
One of the great things about it supports word files, PDF, and powerpoints as well. Any google doc link also converts automatically to the name of the doc. You can also use Evernote as a scanner and take photos of books and other notes as well. 
Google Keep(Android, iOS, macOS, Windows, Web)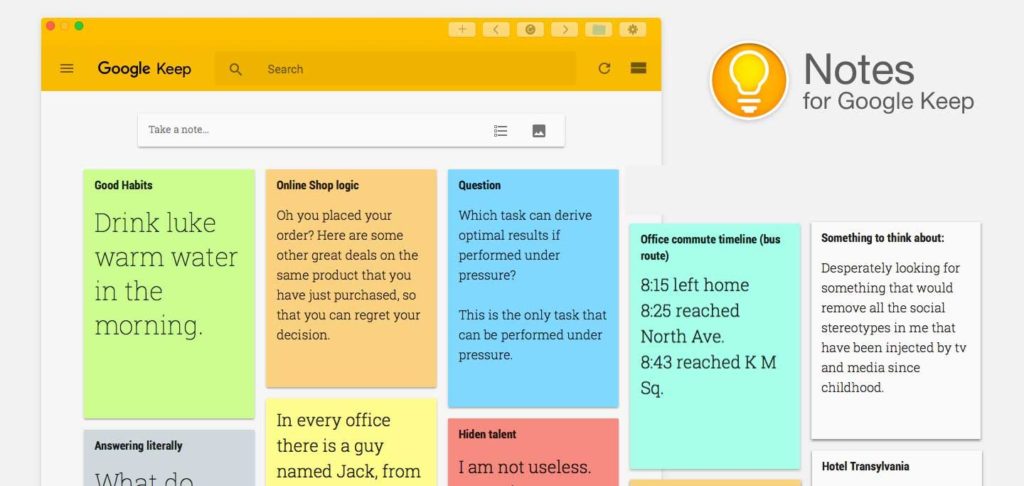 Google keep is google's own note-taking app, supported on all the platforms. Which works well with other Google tools such as word.
You don't get many organization features such as folders subfolders. But you can color-code your notes and even add tags as well.
Google keep is best for taking quick notes and having them accessible to you all the time. Plus even in you are on a new device, all you need to do is to log in to your Google account and you can easily access all your notes. 
If you work in Google's ecosystem, you should really use Google keep, even though you use other study apps for students as well.
One Note(Android, iOS, macOS, Windows, Web)

OneNote is Microsoft's note-taking app, it is free to use and is compatible with almost all the platforms. Since it's free, you get all the features right away, unlike Evernote you can use unlimited devices with One Note and other premium features as well. 
You get access to other features like draw support, where you can write with a stylus or draw shapes as well. You can even change the background to a ruled notebook.
Productivity Apps
Clockify (Android and iOS)
Clockify is a great time-keeping app, you can build your whole schedule in advance on the app. You can allocate time for different tasks and use clockify to manage them.  They have a simple, sleek, and intuitive interface regardless of what supported device or browser you decide to use it on.
If you like to analyze your own time consumption, you can see how much time you spend on different tasks, and subjects. It can help you identify which subjects are you least paying attention to or are spending too much time on. This can further help you allocate future study hours in a better way.
Be Focused(iOS)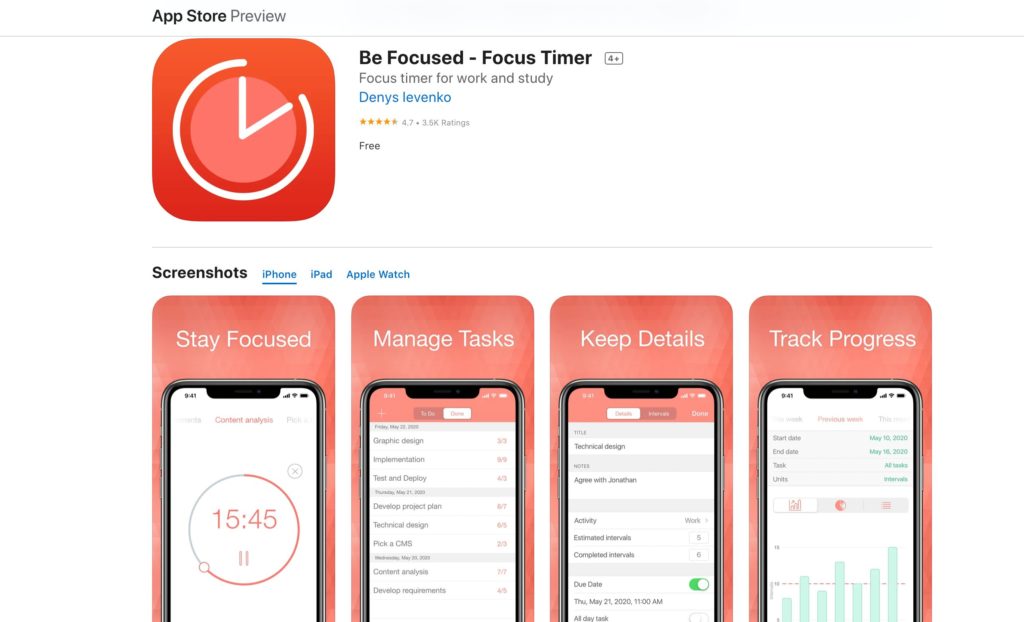 If you are looking for an app for a Pomodoro timer, look no further. Be Focused app works with the Pomodoro technique and allows you to work with intermittent breaks. You can break your work time into 25 or 50 minutes focused study sessions along with 5 or 10 minutes breaks respectively. You can manage your tasks in the app and set your work and break durations. Along with setting up goals and looking at the progress throughout the week.
Trello(Android or IOS)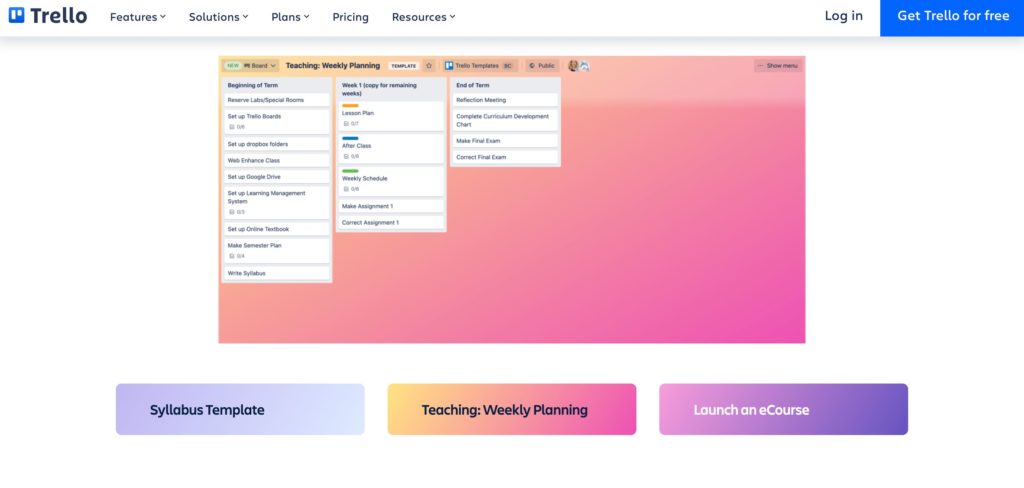 Trello is a great productivity tool, that lets you organize your to-do lists. You can create a visual board of your homework and assignment, including the various activities for an assignment, or any other school activity. You can even split a subject into different parts and move the cards into done and doing as you finish those topics.
Google Calendar(Android or IOS)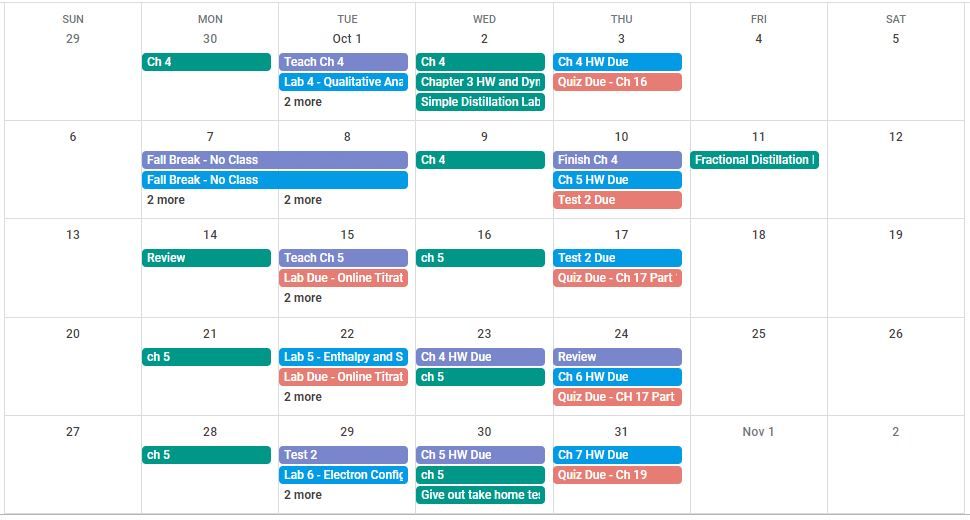 You might already be using Google calendar already. You can easily create your study schedules on the app, and if the schedule is similar you can stretch it for weeks. It is a great way to keep up with your study efforts and assignments. If you have a study date with your friends you can send them an invite and add a link too. 
Todoist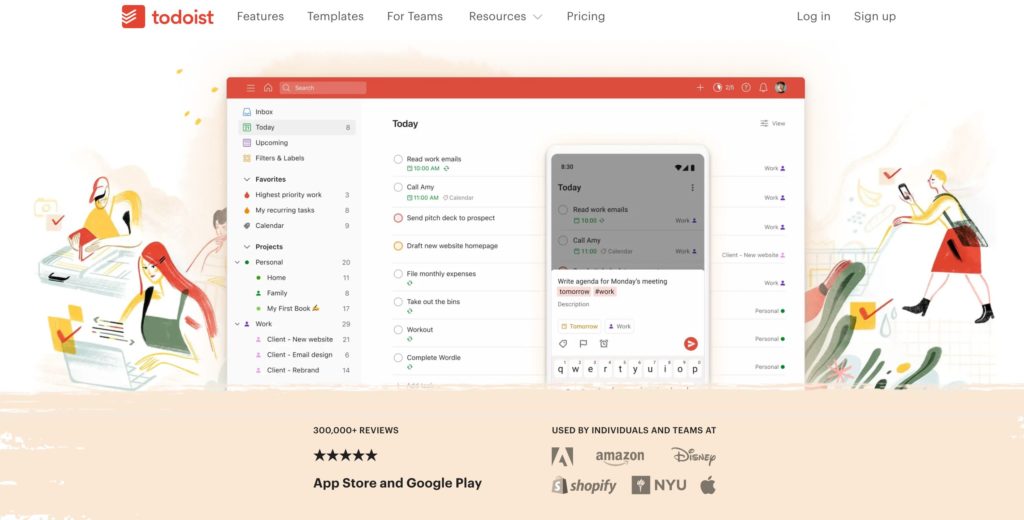 If you're looking for a simple way to organize and keep track of your daily to-do list, Todoist is a great task management app to use. It allows you to organize and sort tasks, set due dates and reminders, and even track your progress and collaborate on projects with others. Other useful features include location-based reminders as well as options to sort tasks according to priority and tags!
Flashcard Apps
Quizlet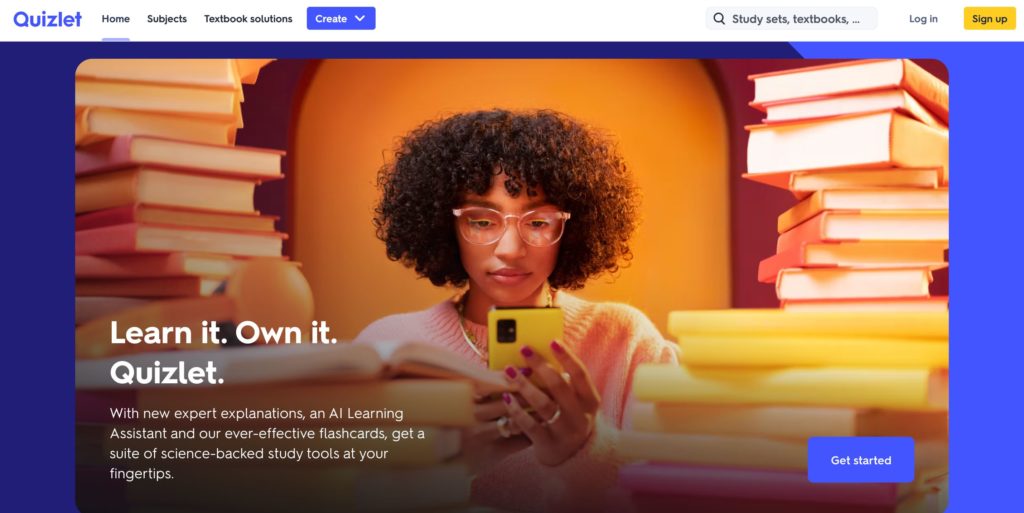 Quizlet is a flashcard app that works in a similar way to paper flashcards You can create cards for your topic and write all your important information. Which you can use on a later date to revise them. You can even add images to your flashcards. It is a great app if you want to improve your vocabulary and learn new words.
Ankiapp flashcards(Android, iOS, Linux, Mac, Windows, Web)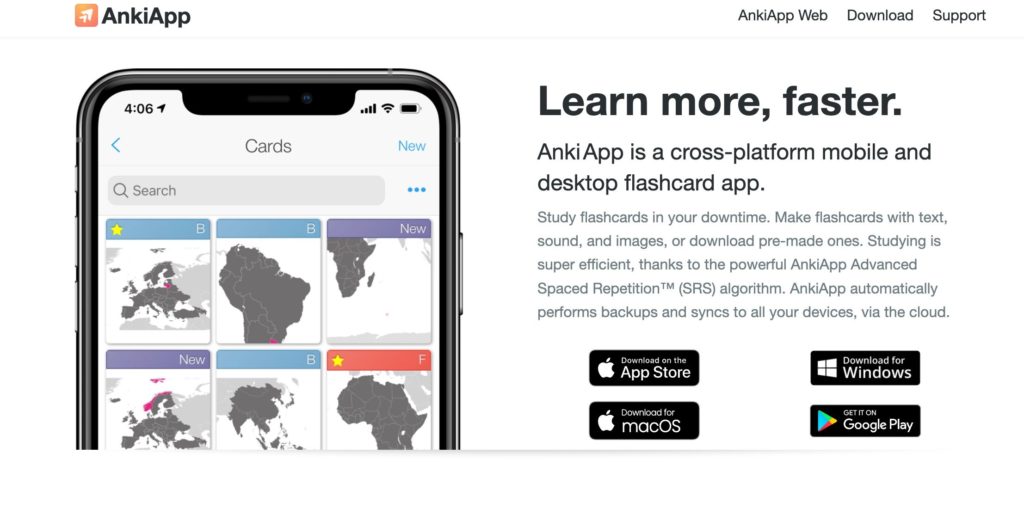 Ankiapp is a great flashcard app that uses spaced repetition methodology. This in torn makes sure that your studies much more effective and efficient. It is one of the best flashcards apps around, making it easier for your to learn, revise and retain key concepts. You can even set the difficulty level of cards, based on how difficult or easy was it for you to recall information. Based on the difficulty level, Anki will show you the card again.
Cram( Android, iOS, Web)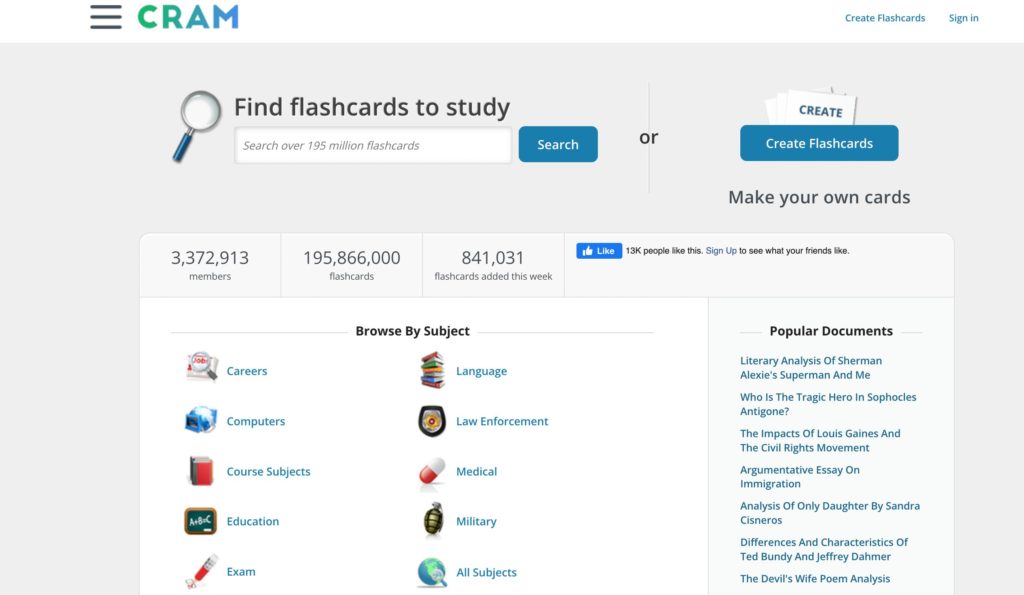 Cram is a flashcard app that offers several different ways to study your flashcards. It is fairly straightforward and has a few features which makes reviewing flashcards and studying them more interesting. It works pretty much the same as other flashcards study apps for students, where you add information on the front and back of cards. One interesting feature is 'hint', which allows you to add hints to every question on your flashcards before you try to answer the. You can quiz yourself using the app too, the cards which you get right won't show up again, but the cards which you get right will come up again.
Online Learning App
Byju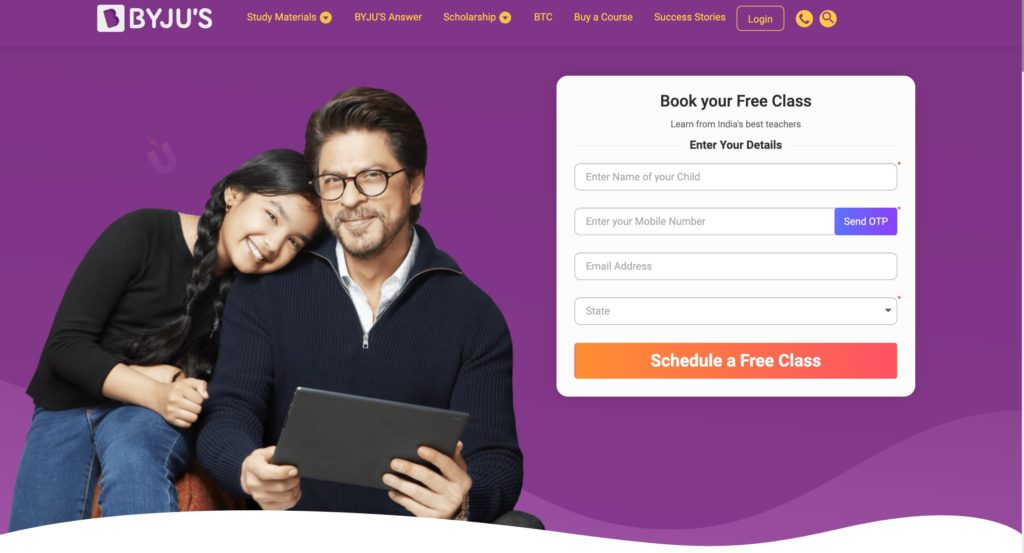 Byju is one of the biggest eLearning video platforms in India right now. They cater to K-12 education and competitive exams for IIT JEE, CAT, and NEET to name a few more. They've grown exponentially in recent years. They provide good and engaging video lessons which can help you get clarity in clearing your concepts.  Their offering includes online courses and even recorded lectures on tablets. Apart from the video lectures you also get practice tests, assignments, feedback, and depth analysis of your performances.
Vedantu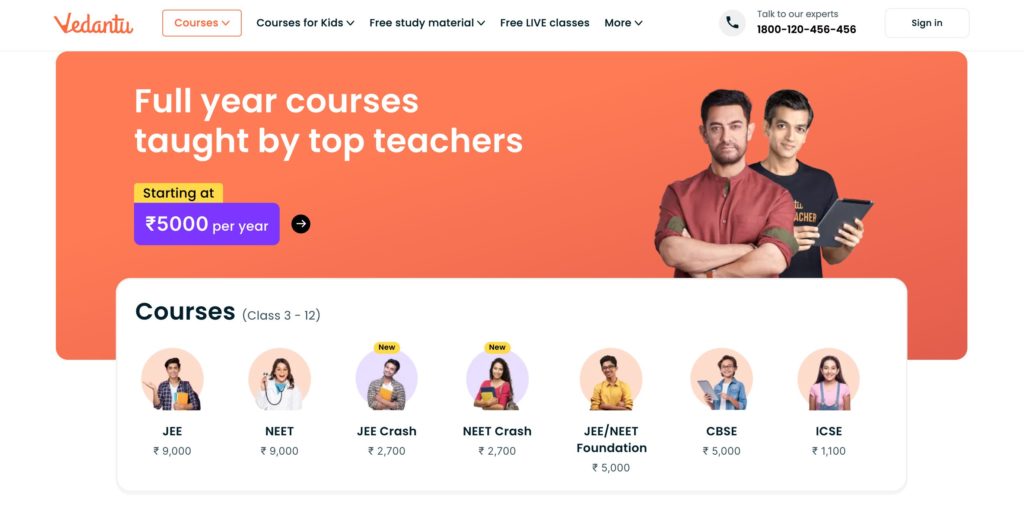 Vedantu is another edtech platform that has grown exponentially in recent years. It is said to be one of the largest online tutoring platforms. They majorly cater to the Indian K-12 tutoring space and claim to get about 35 million students every month through web and apps. Vedauntu teaches majorly science, English, and mathematics to students from KG up to 12th in the ICSE, CBSE, and even Maharashtra board. You can opt for either Live classes, Interactive videos and even one on one live classes. They also provide preparation for competitive examinations like JEE, NEET, and CUET.
Toppr
Toppr is another study app for students catering to online learning for school, homework help, and even coding. One of their strengths is that they have a wide syllabus cover, including about 22 school boards and 58 exams. They claim to customize the learning experience based on the student. They have a good bunch of mock tests for any exam, this can be really helpful in revisiting and testing your concepts. 
Khan Academy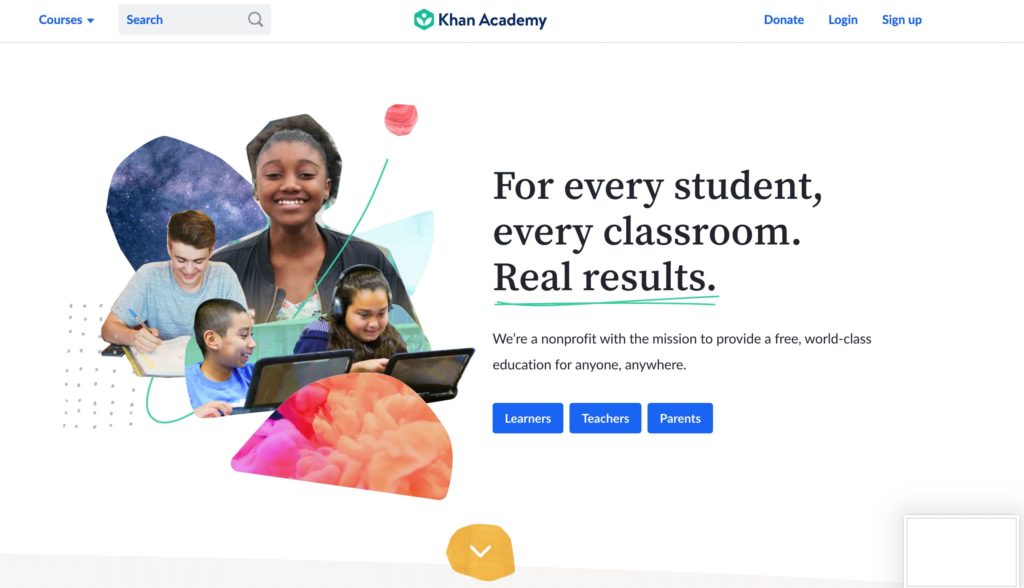 Khan academy is a nonprofit study app for students. It is known worldwide for its online free courses and lessons. They provide quality courses in maths and sciences. If you are someone who doesn't want to pay up for online courses and have trouble with maths, this is the best platform out there for you. Their content is of good quality and the lectures go into depth about the concept making sure that you get clarity. In recent times, they've come up with special courses catering to Indian students as well in math and science. You can even learn computer programming and economics as well.
Unacademy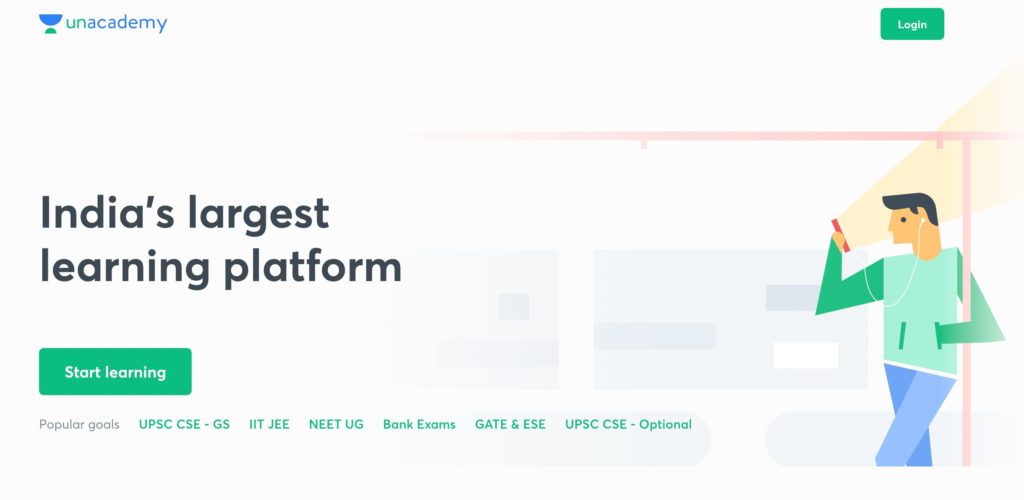 Unacademy is another behemoth in the Indian edtech platform. It was started by Roman Saini, a former IAS officer along with Gaurav Munjal and Hemesh Singh, who started this platform catering to UPSC preparation in India. Slowly it has branched out to other exams as well, covering other exams such as IIT JEE, SSC, NEET, UGC NET, and more. They provide both free lectures and paid courses as well. You can explore different educators and see how their teaching methodology suits you, based on that you can opt for their premium courses and other free courses too. 
FAQs
Can study apps replace traditional learning methodology?
Study apps are a helping hand or supplement to classroom learning, improving students' overall learning experience.
Are study apps for students free?
Study apps that are free have basic functionalities and features. Paid versions come with additional content, resources, or an ad-free experience. Many apps require a one-time payment or monthly subscription to avail of their premium features.
How to choose the number one study app for my needs?
To choose the best app for studying, consider factors like your learning goals, learning style, device compatibility, and more. Look for apps from reputed sources and read user reviews before making a choice.
Supercharge Your Business with Videos
At VdoCipher we maintain the strongest content protection for videos. We also work extremely hard to deliver the best viewer experience. We'd love to hear from you, and help boost your video streaming business.
Free 30-day trial →
Head of Digital Marketing at Vdocipher. I love the art of connecting the right product to their users. When i'm not doing that i love getting lost in books.