NEET result 2023 is already out and candidates have geared up to prepare for NEET 2024 exam. The National Eligibility Entrance Test, more commonly known as NEET, is a standardized exam conducted annually by the National Testing Agency (NTA) in India. It serves as a gateway for students seeking to pursue undergraduate medical and dental courses like MBBS, BDS, and Ayush courses in Indian medical or dental colleges. The test is structured to assess a candidate's knowledge in three main subjects – Physics, Chemistry, and Biology (Botany and Zoology). With a highly competitive nature and the extensive syllabus it covers, NEET stands as a challenging hurdle that medical aspirants need to cross. In this blog we have given an overview of best apps for NEET preparation along with their key features, ratings and user reviews.
In this digital era, mobile applications have emerged as a powerful tool, redefining the conventional methods of exam preparation. When it comes to NEET, these apps play a significant role in helping students prepare more effectively and efficiently. They offer a plethora of features, including comprehensive study materials, interactive video lectures, practice tests, and much more. The accessibility, adaptability, and the variety of resources these apps provide, cater to the diverse needs of students, making them an indispensable part of NEET preparation.
These apps also allow aspirants to study at their own pace, irrespective of their geographical location. Moreover, many of these apps use advanced technologies to create personalized learning paths for students, thus ensuring an improved and targeted learning experience. In the upcoming sections, we will delve deeper into the structure of the NEET exam, various strategies for preparation, and how mobile apps are shaping the future of NEET preparation.
The Breakdown of NEET Exam Structure
The NEET exam is divided into three main sections – Physics, Chemistry, and Biology, with the latter being further divided into Botany and Zoology. The paper comprises a total of 180 questions, each carrying four marks. Physics and Chemistry sections include 45 questions each, while the Biology section comprises 90 questions. Thus, the maximum possible score in the exam is 720 points.
Seeking a unique viewing experience? Try VdoCipher's customizable video player and set a new standard in content presentation.
For each correct answer, the candidate is awarded four points, while one point is deducted for every wrong answer. As the exam has a negative marking scheme, it's vital for students to answer cautiously. Understanding the structure of the exam is the first step towards crafting an effective study plan.
Essential Elements for Effective NEET Preparation
Preparation for NEET should ideally start at least a year before the exam. An effective study plan for NEET should consider the following elements:
Understanding the syllabus: A comprehensive understanding of the NEET syllabus is crucial. The syllabus is extensive, covering class 11 and 12 Physics, Chemistry, and Biology curricula.
Time Management: With a vast syllabus to cover, managing time effectively becomes essential. Creating a balanced timetable, dividing time equally among all the subjects, and including regular intervals for revision can enhance productivity.
Practice and Revision: Regular practice of questions and timely revision of topics is crucial for retaining information. Solving previous years' question papers and taking mock tests can help understand the exam pattern and improve speed and accuracy.
Healthy Lifestyle: Maintaining a healthy lifestyle, including a balanced diet, regular exercise, and adequate sleep, can contribute significantly to a student's overall performance.
Importance of Mobile Apps in NEET Preparation
Personalized Learning: Apps can adapt to individual learning styles and pace, providing personalized study plans for effective learning.
Interactive Study Material: Apps often feature multimedia content like video lectures, interactive quizzes, flashcards etc. to make studying more engaging and effective.
Instant Feedback & Progress Tracking: These apps provide immediate feedback on practice tests and quizzes, helping students identify their weak areas. Progress can be tracked over time to see improvements.
24/7 Accessibility: Learning is not confined to a particular time or place. Users can study anytime, anywhere as per their convenience.
Cost-Effective: Compared to traditional coaching classes, these apps are often more affordable and offer a good return on investment.
Large Question Banks: Apps provide vast question banks and previous years' papers which help in better preparation for the exam.
Regular Updates & Notifications: Important notifications like exam dates, syllabus changes, etc. are regularly updated on these apps.
Peer Interaction & Community Support: Many apps have built-in community forums for students to interact, discuss and solve doubts together.
Time Management Practice: Mock tests on apps help in practicing time management skills, crucial for competitive exams.
Integrated Doubt Solving: Some apps come with doubt solving features where students can get their queries answered by experts quickly.
Up-to-date Content: Content on apps is regularly updated to keep pace with changes in exam patterns, syllabi, etc.
Learning Tools & Techniques: Features like mind maps, summary notes, formula flashcards etc. aid in better retention of information.
Preparation Analysis: Apps provide detailed analysis of preparation levels using AI-driven insights, helping students focus on weaker sections more effectively.
Motivational Tools: Many apps include motivational tools such as achievement badges, daily goals, streaks, etc. to keep students motivated throughout their preparation journey.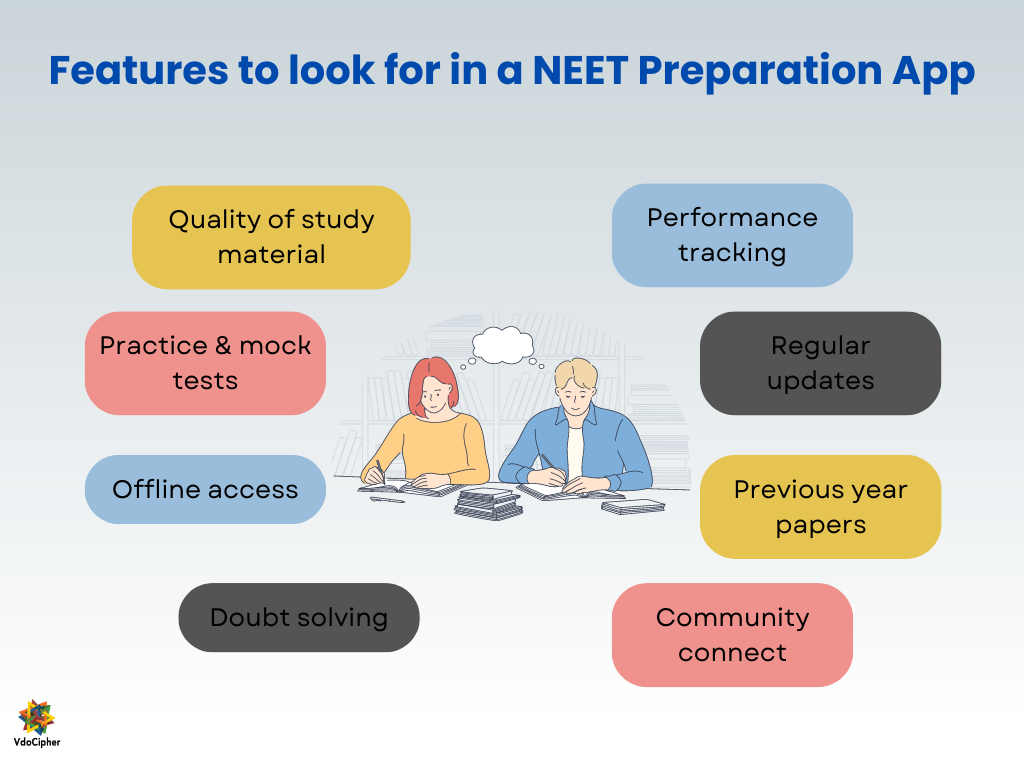 How to choose the right app for NEET preparation
Choosing the right app for NEET (National Eligibility cum Entrance Test) success requires careful consideration of a few key factors. Firstly, ensure the app has a comprehensive curriculum that aligns with the NEET syllabus, covering all relevant subjects such as Physics, Chemistry, and Biology. It should also offer in-depth concept explanations and plenty of practice questions for thorough understanding and revision. Secondly, the app should have a robust evaluation system to track your progress and identify areas of improvement.
Look for features like mock tests, performance analytics, and personalized feedback. User-friendliness is another crucial aspect; the app should be easy to navigate and have a clean, intuitive interface for a smooth learning experience. Lastly, check out user reviews and ratings to gain insight into the app's effectiveness and reliability.
Some popular apps for NEET preparation include BYJU'S, Unacademy, and Vedantu, but remember to find the one that best suits your individual learning style and needs.
Best Apps for NEET Preparation available on Google Play Store
BYJU'S Aakash App for JEE & NEET
BYJU'S acquired Aakash offers a comprehensive learning solution with a large repository of educational content tailored for NEET. The app's personalized learning paths make it easier for students to focus on their weak areas. However, some content is behind a paywall, making it less accessible for students on a tight budget.
The app's personalized learning paths make it easier for students to focus on their weak areas. However, some content is behind a paywall, making it less accessible for students on a tight budget.
Comprehensive NEET study material including videos, practice tests, and quizzes.
Adaptive learning and personalized recommendations.
Access to detailed solutions and explanations.
Interactive live classes.
1-on-1 guidance from a counsellor
Rating – 4.1
Reviews – 30.2K
Downloads – 10M+
User Reviews – 'This app is very helpful to us.I am preparing for Jee 2025 with the help of Aakash app, as I am from a very poor family so that I can't afford the tuition fees so I decided to learn from Aakash app. The quality is also good 👍. Please give me the Hindi language of lectures not English if you can please help me..This app is really helping me a lot.'
Doubtnut
Doubtnut is a versatile education app that is popular for its comprehensive, yet straightforward approach to learning. It is widely used by students preparing for various competitive exams, including the National Eligibility cum Entrance Test (NEET) in India.
Doubtnut's unique selling point is its doubt-solving feature, which provides step-by-step video solutions. However, the quality of explanations may vary, and there may be limitations to the types of questions that can be solved through the app.
Extensive Study Material
Mock Tests and Practice Questions
Performance Tracking
Interactive Learning
50 lakh free instant Conceptual Video Solutions
Rating – 4
Reviews – 807K
Downloads – 50M+
User Reviews – 'Very good app for learning. But sometimes, it takes too much time to play a video that is irritating. Otherwise, it's so helpful. You can solve math, physics, chemistry problems at home yourself with the help of this app'
PrepLadder – Medical Exam Prep
PrepLadder is an online platform providing comprehensive preparation materials and resources for various medical examinations, including NEET PG (National Eligibility cum Entrance Test for Post Graduation). It's available both as a web platform and a mobile app, offering flexibility to learners.
Conceptual Video Lectures
Study Notes and Question Bank
Full length mock tests
Pre-recorded video lectures
Queries resolved by the Best Faculty
Rating – 4.4
Reviews – 12k
Downloads – 1M+
User Reviews – 'It is good. The interface, teachers and content is pretty great. The notes are also nice. Prepladder has one of the best rapid revision videos.'
PW – JEE/NEET, UPSC, GATE, Bank
Physics Wallah is an online education platform in India, started by Alakh Pandey. It initially began as a YouTube channel providing free educational content primarily focusing on Physics, but gradually expanded to cover more subjects, including Chemistry, Biology, and Mathematics. It offers preparation app for various competitive exams, including NEET.
Need help getting your premium videos protected? VdoCipher offers Hollywood Grade DRM encryption and much more. Try out our secure video hosting platform now.
Physics Wallah, while not exclusively for NEET, offers excellent resources for Physics, Chemistry, and Biology, which form the core of the NEET exam. However, some users have reported issues with content downloading.
Comprehensive coverage of Physics, Chemistry, and Biology topics
Live classes, recorded lectures, and doubt clearing sessions.
Personalized exam strategies and time management tips.
Previous years' question papers and mock tests.
PW SAARTHI, a personal Coach for every subject
Rating – 4.6
Reviews – 809k
Downloads – 10M+
User Reviews – 'Very good experience. If you are in search of the best course for JEE , NEET, NDA, UPSC, SSC etc at the cheapest price, then you should go with PW rather than any other platform!! Be confident, if you are choosing PW. Moreover you can also get free batches too with best teachers'
Unacademy Learner App
Unacademy is a renowned learning platform that caters to the educational needs of students preparing for various competitive exams, including NEET. The platform offers a mobile application known as the Unacademy Learning App, which is designed with a plethora of features to facilitate smooth and efficient preparation for NEET.
Unacademy stands out for its interactive live classes and active learning community. Its doubt-clearing sessions are a significant asset. However, the app can be overwhelming due to the high volume of content, and important features may require a subscription.
Interactive live classes
Double solving by top educators
Weekly competition between group members
Performance statistics
Offline lecture notes
Rating – 4.3
Reviews – 1.08M
Downloads – 50M+
User Reviews – 'I have used many learning apps. And this is one of the best. Features are great. The live classes are very beneficial. We can ask doubts in the middle of the class, as well as later. "ask a doubt" feature is awesome as they give you a complete video related to the particular question.'
EduRev Exam Preparation App
EduRev is a widely recognized educational platform known for its Exam Preparation App, which provides a dynamic learning environment for students appearing for various competitive exams, including NEET.
EduRev provides a variety of learning resources and a user-friendly interface. Its community-driven doubt resolution can be a great way to learn from peers. However, like other apps, some premium features require a subscription.
Highly Focused Learning
Discussions within community of teachers and students
Mock Tests & Practice Questions
500+ Tests, Notes, Video Lectures for Biology, Physics, Chemistry
Performance Analysis and Tracking
Rating – 4.6
Reviews – 60k
Downloads – 1M+
User Reviews – 'Been using this app since like, 11th standard days. Benifited me during my coaching days and now during college days. User friendly interface and wide variety of subjects and topics are available and that too at affordable pricing.'
NEETprep: NCERT Based NEET Pre
NEETprep is a specialized app dedicated to helping students prepare for the National Eligibility cum Entrance Test (NEET) in India. The app is designed with a host of features to create a comprehensive and effective study platform for NEET aspirants.
NEETprep App is a specialized app for NEET preparation. It offers an extensive library of video lectures covering all subjects of NEET. The downside is that some users have reported issues with the app's interface and functionality, and access to some resources is limited to premium subscribers.
Comprehensive coverage of NEET syllabus with chapter-wise videos
Thousands of NEET questions for practice
Regular live classes and doubt clearing sessions
Mind Maps for Selected chapters in physics & chemistry by leading faculty
Performance tracking
Rating – 4.6
Reviews – 28.6K
Downloads – 1M+
User Reviews – 'Really a very useful app for all the NEET aspirants. The DPP generator feature is the star, it has helped me a lot to practice questions regularly after completing the chapter and also if I find a topic difficult I can just choose the topic and start practicing. Definitely one of the best apps to prepare for the exam.'
Toppr – Learning App for Class
Toppr is a popular online education platform that provides a holistic learning environment for students. With its application, Toppr – Learning App, it serves students preparing for various competitive exams, including NEET.
Toppr offers a vast repository of study resources with a 24/7 doubt-clearing facility which is extremely beneficial for NEET aspirants. But, the app's interface may seem complex for first-time users, and like other apps, some advanced features are locked behind a subscription
Rating – 4.3
Reviews – 190K
Downloads – 10M+
User Reviews – 'The concepts are understanding very well.Also easy to remember. But the only disappointment for me is that the video concepts in every lesson are not arranged in order. Please arrange each and every topics of the lessons continuously'
Vedantu | JEE-NEET, Class 1-12
Vedantu is a live interactive teaching platform designed to help students with their preparations for various competitive examinations, including NEET. Its unique approach to learning involves real-time instruction and interactive engagement, which makes it stand out in the e-learning industry.
Vedantu is a comprehensive platform that enables personalized learning paths and interactive sessions, which can be beneficial for NEET aspirants. However, it's worth mentioning that users have reported occasional technical glitches with the live classes. Moreover, while the app does offer some free content, many of its resources require a subscription, which could be a limiting factor for some students. Despite these limitations, many students find the platform helpful due to its blend of live interaction, quality study materials, and personalized learning.
Comprehensive and Interactive live classes
Unlimited In-Class Doubt Solving
LIVE Interactive VQuiz
Crash course along with long term courses
Rating – 4.2
Reviews – 380K
Downloads – 10M+
User Reviews – 'This app gives all the study material that a student needs. The free classes are very useful for everybody and the doubt solving is amazing. The teachers are awesome and I love the way they teach. The quizzes help the students to understand the topic clearly and it helps the students to know that where are they getting stuck'
Successful Strategies for NEET Preparation
In this section, we will share an inspiring story of a NEET topper from a previous year, focusing on their preparation strategy. We will discuss the student's study schedule, the resources they used, and the techniques they followed to tackle the pressure of the exam. The aim is to provide aspirants with practical insights and helpful tips to implement in their own preparation journey.
Remember, the journey of NEET preparation is challenging but with the right strategy and resources, achieving success becomes significantly easier. In the following sections, we will explore the role of technology in NEET preparation, particularly focusing on mobile apps and how they are transforming the way students prepare for this competitive exam.
FAQs
Are NEET preparation apps free or paid?
Most apps for NEET preparation are free to use and have trial periods or introductory courses. Some have subscriptions or paid features to access restricted content.
Are apps for NEET preparation comparable to traditional learning style?
This depends largely on an individual learner's style. For some, interactive, self-paced style of app learning works more effectively, while others prefer a classroom setting. The best apps for NEET preparation include video lectures, practice questions, and mock tests, providing a comprehensive study tool.
How to track progress in NEET preparation apps?
Most NEET preparation apps have progress tracking features. They provide analytics and progress reports about your strengths and weaknesses, which can help you focus on areas that need more attention.
Supercharge Your Business with Videos
At VdoCipher we maintain the strongest content protection for videos. We also work extremely hard to deliver the best viewer experience. We'd love to hear from you, and help boost your video streaming business.
Free 30-day trial →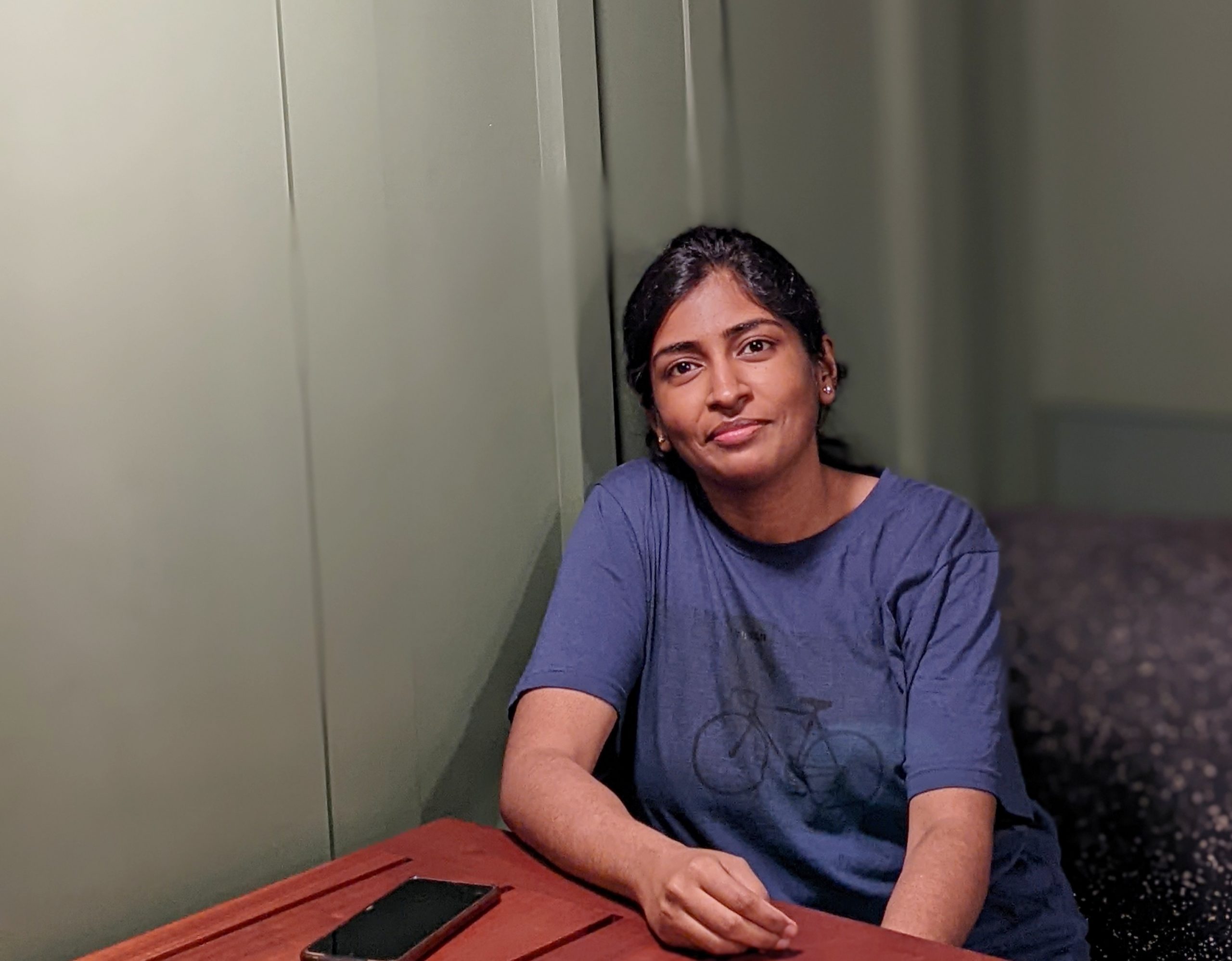 Jyoti began her career as a software engineer in HCL with UNHCR as a client. She started evolving her technical and documentation writing skills to become a full-time Content Marketer at VdoCipher.