Educational Streaming of Videos is the storage and delivery mechanism through which educational video content is transferred to learners' mobile apps and browsers over the internet. The students get the convenience and accessibility to learning from anywhere and at any time. There are different types of educational video streaming platforms, including Massive Open Online Courses (MOOC), Learning Management Systems (LMS), Learner Experience Platforms (LXP), and custom-built educational platforms. These platforms possess many advantages over traditional learning including Cost-effectiveness, flexibility, personalized learning, and instant feedback mechanisms.
With the rise of educational video streaming platforms, there is a growing need for advanced video storage, delivery, and security to protect against illegal downloads. Also, features like multi-DRM, dynamic watermarking, CDN, video analytics, high-quality content delivery, adaptive bitrate streaming, multi-device compatibility, and multi-language video captioning are must-have in your video infrastructure.
What is Educational Streaming of Videos?
With the technological advancements and penetration of internet connectivity, the delivery of content through the internet has rapidly increased. Within a span of seconds, information is transferred from one part of the globe to another. The delivery of educational video content over the internet in real-time or pre-recorded video sessions is known as educational streaming. Educational video content is usually delivered via mobile apps, and browsers and all you need is an internet connection and a connected device. The purpose of educational streaming is to provide students with a highly convenient and accessible way to learn, irrespective of the geographical location or schedule.
'During the period 2018-2023, The Middle East Online Education market is expected to grow at a CAGR of 9.7%. The likely driving factors are rapid adoption of eLearning by colleges and organizations and governmental investments.'
Types of Educational Streaming Platforms
Massive Open Online Course (MOOC) platforms
MOOC platforms are open online courses and often free, aimed at unlimited participation and geographically dispersed learners. These platforms are widely used in distance learning and do not always offer academic credits. Most courses are certificate-based and include filmed lectures, course material, and problem sets.
The first even MOOC course was MIT's circuit and electronic course which is still available. 2012 was declared as the year of MOOC. Edx, Coursera, and Khan Academy are some of the most popular MOOC platforms. SWAYAM MOOC platform is India's largest free eLearning portal.
LMS
LMS stands for Learning Management System. These are software applications that facilitate the creation, management, and delivery of educational content. Although focused on online learning delivery, LMSs may offer instructor-led training, asynchronous and synchronous learning, online assessments, managing users, courses, and learning management. During the covid-19 pandemic, there has been a massive demand and growth for LMS platforms. Moddle, TalentLMS, and LearnDash are popular LMS platforms.
Learner Experience Platform – LXP
A Learner Experience Platform (LXP) is a software solution that is designed to help organizations and individuals improve their learning. It provides learners with personalized learning paths, content recommendations, curated content libraries, and tools to track progress and measure results as per their role, future job growth, stream change, etc. The most popular features of an LXP are content curation, personalized learning pathways, and tracking learner progress. Many organizations are turning to LXPs to increase engagement and productivity, as well as to reduce costs and improve human resource learning outcomes.
Examples of LXP include LinkedIn Learning, EdCast, Internshala Courses, and many others. They provide a cloud-based learning platform that enables learners to manage learning through video classes, course material, assignments, and final certification exams. It provides personalized learning paths tailored to individual learning needs and preferences, which even includes skipping parts to pay more attention to other interesting topics.
Custom Built Educational platforms
Custom-built educational platforms are built to cater to specific educational needs. It can be an Offline coaching institute trying to provide a means of online education to their students. It can be a highly subscribed YouTube channel trying to monetize premium content. Even a custom platform built to create separate branding and security for its educational video asset suffices as a need.
These platforms use video hosting services, web development, app development, and many other in-house and third-party services to completely set up the whole infrastructure. Custom video hosting setup is also a possibility but requires setting up additional technical plugs like Video CDN, Custom Player, Video security from illegal downloads, etc.
Advantages of Educational Video Streaming Services
Flexibility – These services allow students to access learning content from any device, geo-location, and at any point, making it easier for students to manage their time more efficiently. They provide an interactive learning environment through tools that allow students to take part in live lectures and ask questions, resulting in greater engagement and higher retention rates. Cloud-based video streaming also allows for videos to be watched multiple times, enabling students to go back and review specific material.
Cost-effectiveness – By streaming videos rather than purchasing physical copies of videos, students can save money on materials and the cost of storage. From an educator's perspective, streaming video eliminates the need to invest in expensive video equipment or hire technical staff to maintain the equipment. They can also use secure video hosting services to protect videos from getting illegally downloaded.
Personalized learning – students can access educational videos that are specifically tailored to their individual learning needs of the job, career growth, exams, certifications, etc. They get their own profile, own progress report, and completion certificate. This is beneficial for students who have specific learning requirements and sometimes, also do not want to attend a traditional classroom.
Instant feedback – Allowing students to receive feedback on their learning progress through questions and answers or other interactive elements can help them quickly assess and adjust their learning strategies. This can improve their learning outcomes and make the learning process more efficient. It also allows teachers to better monitor student progress and provide timely guidance and support.
Need of Security in Educational Video Streaming
In the planning phase, it is best to start looking for video security options. This will help you save the migration cost when you switch to secure video hosting. Switching at a later stage might become a necessity due to the threat of your premium video content being leaked. Hosting provider usage statistics show that the use of educational video streaming has increased significantly in recent years, especially after COVID-19. Many schools and universities rely on LMS, CMS, and video hosting platforms for remote learning. This has led to an increased need for video security to ensure the confidentiality and privacy of their curated video content.
In addition to the threat of premium content being leaked, educational videos often contain sensitive information such as teachers' identities, grades, test scores, and students' personal information. Ensuring security protocols is a must so that this information remains confidential and secure to protect the privacy of students and teachers. Even a security breach of non-encrypted data through hacking reveals everything before the unauthorized person.
Video security is becoming increasingly important in the realm of educational streaming as more and more students and educators rely on online platforms for learning and teaching. If a video gets downloaded by tools like IDM, it is fairly easy to distribute via platforms like telegram and torrent. These tools have become so advanced that video needs to have a highly secure encryption and dynamic key exchange mechanism during the playback. The solution for establishing such a secure connection is only possible if the hardware or environment also provides a black box for key protection. That is the reason this technology is limited to the likes of Google and Apple who control the environment of video playback. As public access to the technology (DRM), they provide partnership options to security service providers like VdoCipher. Using a multi-DRM security solution like VdoCipher also takes care of bug-free integrations, APIs, SDKs, plugins, dynamic watermarking, protection on rooted devices and much more.
Role of Tracking Students and Teachers Education Video Playback
It is essential to monitor and analyze usage patterns and engagement levels of video viewers. This information can then be used to improve the overall effectiveness of online learning. Some key tracking parameters have been listed below:
Evaluation of Cost: It is always advised to keep a track of costs associated with your educational video platform. A major chunk goes into video hosting only. Even if you plan to have your own data servers, the starting cost to set up a bug-free cloud infrastructure is huge. Using the video hosting cost calculator at the initial stage gives you the idea and later helps you specifically calculate your per-student cost, etc.
Frequency of Views: This helps you get insights into how well students are retaining information and progressing through the video course material. If a video is too hard to understand, it might have higher multiple playbacks by the majority of students. Similarly, views can help figure out which course is in demand and much more.
Mapping Viewership with results: An educational platform can also try to customize its analysis and can even draw some interesting conclusions. With the availability of clustering, segmentation, and analytics algorithms based on neural networks, it is a fairly good analytics to have. These results showing relationships between the group of video viewership and students' final results can also help create more of such content.
Tracing the need for Content improvement: browning through your video analytics will also show you skips and viewership gaps on part of videos or even full videos. This may indicate that the teacher has made the video or part a bit boring, confusing, lengthy, and much more.
Compliance Monitoring: It is always important to keep a track of certain bandwidth usage spikes to ensure that your content is not getting illegally downloaded. A reputed secure video hosting provider places automated checks to curb such cases in addition to multi-DRM protection.
Features of educational streaming services for teachers and students
DRM protection – At no cost, no course creator or platform wants their videos to get pirated. Securing videos from illegal downloads, sharing, and unauthorized access is a big concern. DRM protection uses the latest available technology to protect videos from piracy and unauthorized access and sharing. Multi-DRM platforms like VdoCipher are trusted by educators to host and deliver their premium video content.
Video analytics – Video analytics presents the data of all the parameters that affect your videos and helps in better understanding and managing the videos. The parameters include the number of visitors, traffic source, view time, and other key engagement metrics. Based on the video analytics, you can tailor and improve the video performance.
Monetization options – Educational streaming services often have the feature of monetizing your video content. There are also subscription-based monthly and yearly plans which students opt for. Also, there are pay-per-course models, advertisements, and affiliate marketing choices.
High-quality content delivery – Educational streaming services store video files in various formats and deliver the best quality resolution videos. They have sufficient infrastructure like high-performing servers, CDNs, and bandwidth to seamlessly deliver HD content.
Adaptive video streaming – Also known as ABR streaming, it's a technology that automatically adjusts the video quality based on the viewer's internet speed. Irrespective of low connectivity or remote locations, videos are delivered at the best possible resolution
Multi-device compatibility – Videos hosted on educational streaming services are compatible with a range of devices and browsers. There is a choice of multi-screen view wherein, the same content when watched on a smartphone is later continued on a laptop.
Multi-user access – In multi-user access, multiple users access a service account at the same time. It is very important in cases where a number of persons work on the same account with different levels of access. Some may have an editor or complete access while some may only have a view or upload access.
Video captioning – Proper captioning makes video accessibility much wider, covering those who are deaf or hard of hearing. As captions have written transcripts of the video, the level of comprehension is further improved. This leads to better engagement and availability of content to a global audience and non-native speakers.
VdoCipher – Best Educational Streaming service for videos
A Video hosting platform is an online service or platform to store, manage and deliver video content in security. Users can upload videos on the hosting platform and the service will provide the complete infrastructure from video upload to seamless content delivery across the globe and on all compatible devices.
It has been observed after visiting multiple Edtech conferences and events, that educational videos are at a greater risk of getting illegally downloaded. This is the reason, many popular online learning providers like BYJU are interested in technologies like DRM for their video protection. They even know about Netflix and Amazon Prime also using the same technology. But setting up an in-house team to set up the whole DRM and video hosting infrastructure is itself a very capital and time-consuming job. Also, it is required to be a license partner with Google and Apple for their Widevine and Fairplay DRM respectively.
VdoCipher is not only a Google Widevine partner providing multi-DRM protection, but also it provides a highly scalable video infrastructure based on AWS for the highest uptime. It offers the most affordable pricing even if you compare that with a non-secure video streaming option. Apart from DRM to protect your videos from illegal downloads and screen captures, it offers many other additional security features and very easy integration options like,
Dynamic Watermarking
Secure offline download in SDK
Screen capture block in Android & iOS Native app
Multi-level user access
Geo-Restrictions
App-based security by Google Play Integrity
APIs, SDKs, and Plugins
Smart and Secure HTML5 Video Player
Role of Educational Streaming and Survey Points
Educational streaming is likely to spread more and become highly affordable and accessible. As technology continues to improve and internet access gets cheaper and more widespread, it is not far that rural areas that used to have very low connectivity to adopt online education. Such a trend can be inferred from the growth of massive open online courses (MOOCs), which provide free or low-cost access to educational content from top universities and institutions. This could make education more accessible to people around the world, regardless of their financial situation.
It's possible that more schools and universities will adopt online streaming as a primary method of delivering educational content. Even the top institutes are looking at one potential development which is the use of virtual and augmented reality in online education. This would allow students to not only watch videos but also immerse themselves in interactive simulations and experiences that can help to bring the content to life. Additionally, the use of machine learning and artificial intelligence could lead to personalized educational content. This can also be understood as there won't be an unbiased teacher available at every point but a machine can adapt to the needs and learning style of each individual student.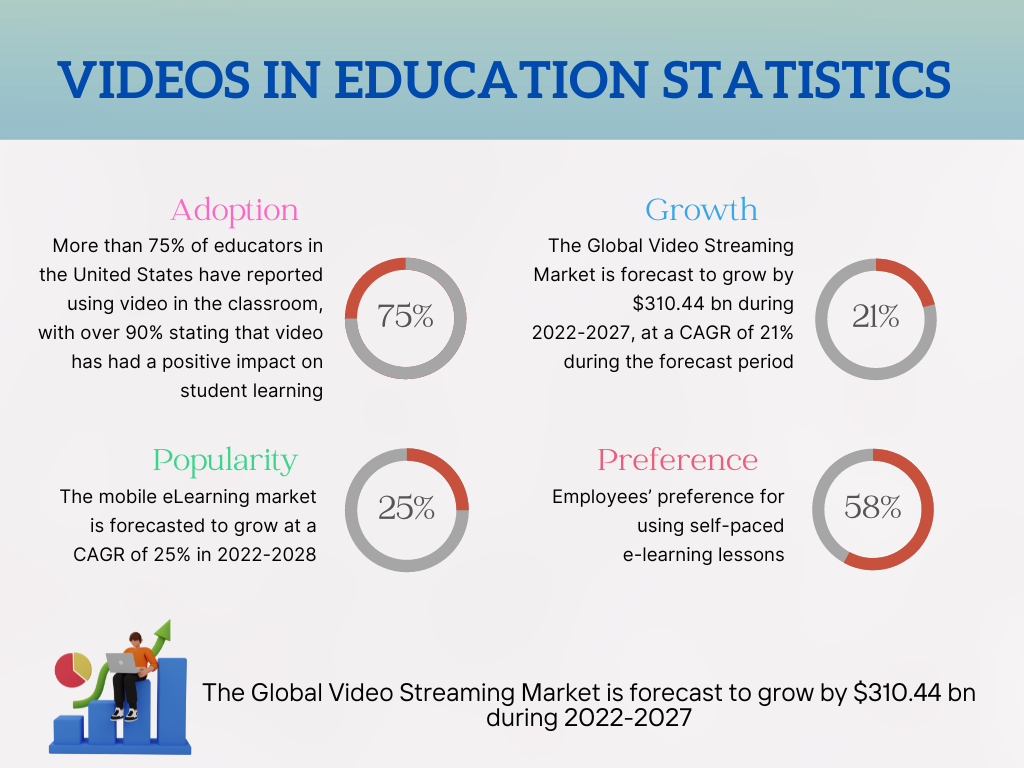 FAQs
Requirements for Streaming Teachers and Students?
The minimum requirements start with camera and editing tools before publishing to YouTube which later can be monetized. Advanced requirements of an online education platform include video hosting, streaming, CDN, DRM, transcoding, and integration with web or app platforms.
Do Educational video hosting platforms support app playback?
Not all but educational video streaming platforms like VdoCipher support secure playback on all devices, browsers, and apps including that of Android and iOS.
What are educational apps?
Language learning apps like Duolingo, Math and science apps like Wolfram Alpha and Photomath, and Flashcard apps like Quizlet are all examples of educational apps. They help people of all ages learn new skills, improve existing ones, or simply engage with video content or other interactive elements in a fun way.
What are some educational video creators?
There are many in every field, some have even created their own platforms like PW. In general science, Creator channels like Veritasium, and Be Smart exist and the list keeps on adding in every such educational topic of interest.
Supercharge Your Business with Videos
At VdoCipher we maintain the strongest content protection for videos. We also work extremely hard to deliver the best viewer experience. We'd love to hear from you, and help boost your video streaming business.
Free 30-day trial →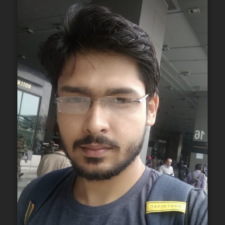 My expertise focuses on DRM encryption, CDN technologies, and streamlining marketing campaigns to drive engagement and growth. At VdoCipher, I've significantly enhanced digital experiences and contributed to in-depth technical discussions in the eLearning, Media, and Security sectors, showcasing a commitment to innovation and excellence in the digital landscape.