Error message on Android phone/tablet – Device/Browser does not support premium content
Kindly follow below checks one by one. All checks may not be required, one should go to next check if the previous check did not work.
Check 1– Video should be tried to play in recommended browsers (in Android – updated Chrome or Edge). The browser should be updated. Detailed browser recommendations – https://www.vdocipher.com/blog/drm-compatibility-explanation/
Check 2 – Option 1 for resolution:
If the device and browser are updated and from the recommended browsers, then either of the below 2 things can work.
1- Go to chrome and click on the 3 button toggle at the top right> Go to 'Settings' > Go to 'Site settings'
Go to the 'Media' section

Go to 'Protected content'

Make sure that it is ticked as 'allowed'.
Screenshot attached.
2-If the above doesn't work, then the user can try switching off and switching on the device.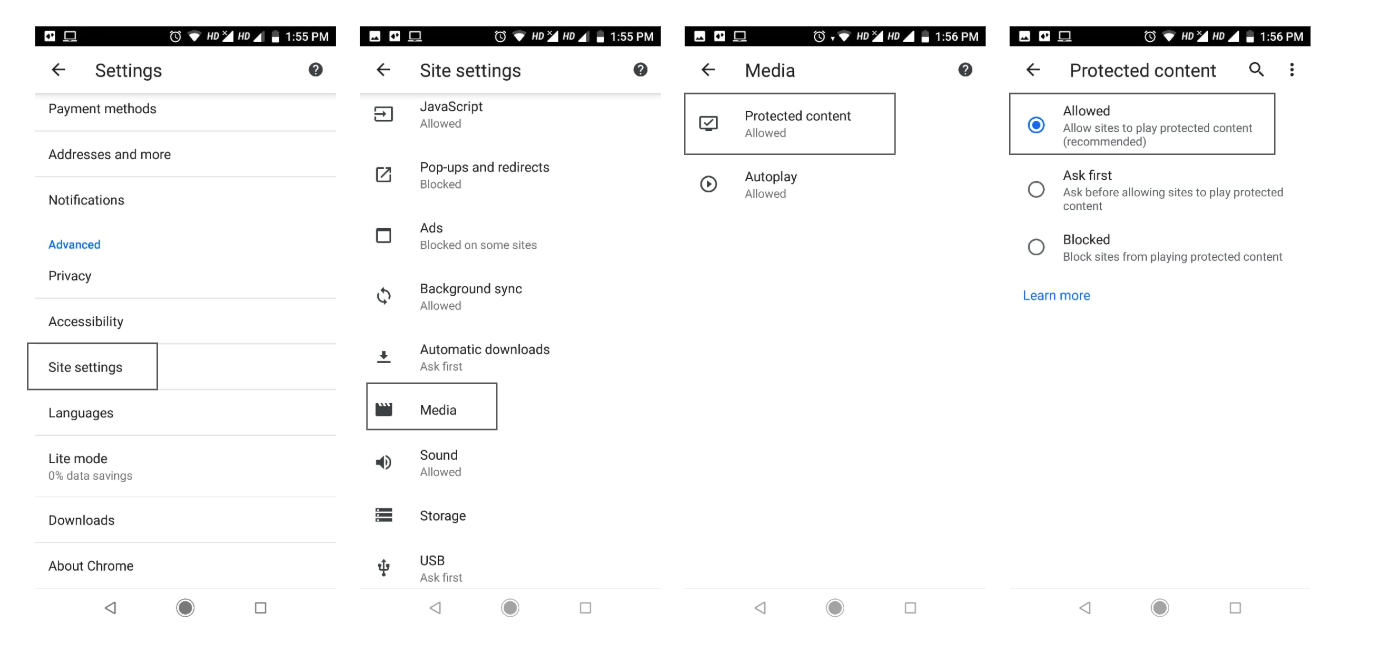 Check 3 – 
2 other popular browsers which may support Widevine HTML playback on android and can be tried are updated 'Firefox' & 'Edge'. User can try them. 
Check 4 -Only After following the above 3 checks,  If the issue is still observed then please contact our team at support@vdocipher.com with the below details.
Please send us the following details-
1. Video ID
2. Device, OS, and browser details where the issue is observed.
3. Page access of the embedded video
4. IP address – check the issue again and immediately after that check the IP in google by searching – My IP on google, We will check that IP in logs.
Supercharge Your Business with Videos
At VdoCipher we maintain the strongest content protection for videos. We also work extremely hard to deliver the best viewer experience. We'd love to hear from you, and help boost your video streaming business.
Free 30-day trial →