There is no doubt that open source video players are in need nowadays. The market for video players is multiplying, and the users are looking for better options with more features. Most commercial video players are not open source, which is why users are looking for open-source video player alternatives.
Open-source video players are software programs that allow users to playback video content on their devices. Many of these players are available for free download or use, and they often include features such as support for a variety of file formats, subtitles, and playback speed control.
There is a need for open-source video players because they are free and customizable. Open source video players can be modified to suit the needs of each user, which is not possible with commercial video players. Additionally, open-source video players often have more features than commercial players. These programs are open source, meaning that their source code is available for anyone to view and modify. This allows users to customize the players to their own needs and fix any bugs they may encounter.
Benefits of Open Source Video Players
There are many open-source video player benefits. Some of the most notable benefits include:
Increased flexibility – Open source video players are often more flexible than proprietary players. They are customizable to fit the specific needs of a given user or organization.
Greater control – Open source video players give users and organizations greater control over their media, as they can be modified and adapted to suit individual needs.
Increased security – Open source video players are often more secure than proprietary players, as they are typically more transparent and have fewer hidden code vulnerabilities.
Learning from the Best – Open source video players are an excellent way to learn from the best. For example, if you want to help your business grow, you can learn from the best business in that niche. You can apply what you have learned from the best business to your own business and grow.
Reduced costs – Open source video players are often more affordable than proprietary players, as they are often available at no cost or for a lower price.
Features of Open Source Video Players
Open-source video players have a lot of features that are not available in other video players. These features include:
Ability to play a wide range of video formats
Ability to play videos from online sources
Availability of a large number of plugins that add additional functionality
Ability to customize the player's appearance and functionality
Support for subtitle files
Free and open-source software
Online open-source video players can be easily enhanced and made interactive via javascript
Things To Consider When Selecting Open Source Video Players
When it comes to choosing a custom video player for your website, you have to consider some things. We have mentioned some things that you should consider before selecting an open-source video player for your website.
Mobile-Friendly – You should ensure that the player you select is mobile-friendly. This is important because people are watching videos from their mobile phones. So it would be best if you made sure that the player you select is mobile-friendly. This will ensure that your viewers can watch videos from their mobile phones.
Fast Loading – The next thing you should consider is that the video player you select should be fast loading. Most people will abandon a video if they have to wait too long. Most viewers will only wait a few seconds before they get bored and move on to the next video.
Accessible to Use – You should also ensure that the video player you select is easy to use. If you make it difficult for your viewers to use your video player, you will lose them.
Upgrades – The open-source video player software that you use can be updated regularly. The software developers will constantly fix bugs and update their software with new features. This ensures that you get the latest and greatest in the software.
Features – The last thing that you should consider is the video player's features. The more features that the video player has, the better. You should pick a video player that has the features that you need.
Best HTML5 & Web Open Source Video Players
HTML5 video player is an HTML5-based video player that enables websites to embed video content using the < video > element. An HTML5 video player is a web video player that uses HTML5 video playback capabilities to play videos. HTML5 video playback capabilities include playing videos without needing a plugin such as Flash.
The HTML5 video player is the future of video on the web. These videos play in the browser without plugins such as Flash or Java. The HTML5 video player is native to the web and gives you full control over the video player.
Anyone who wants to use an HTML5 player should know that it is a simple video player developed using the latest technologies. The videos which are played on this video player are viewed in a web browser. The HTML5 video player is integrated into the page and allows the video content to be played directly from the web page without needing a flash player.
If you want to know how an HTML5 video player works, you must be aware that it is actually simple and relatively easy to maintain. You can easily embed the video player into your web page. This video player can also play videos directly from a website or a video directly from a storage device.
VdoCipher Smart HTML5 Video Player
VdoCipher offers a powerful, smart HTML5 video player to deliver the best viewing experience. Along with the customizable HTML5 video player, VdoCipher provides Hollywood-grade DRM encryption to secure videos and restrict video piracy. VdoCipher offers secure video hosting to stream videos safely and smoothly.
Illegal Download Prevention
Dynamic Watermarking
Adaptive Multi-bitrate Playback
Playback Speed Change (Dynamic controls to change playback speed and skip/rewind)
Multi-Language Subtitles
Multi-device HTML5 Player (for Desktops, and SDKs for iOS and Android)
HD Streaming at low bitrates
Secure Android App downloads to watch videos even when offline
Pre-available 9 player themes
Easy embed options using iFrame, plugins, and API
Add CTAs with simple Script code
Custom overlay and tracking
Video analytics
A free 30-day trial
Projeckktor
The Projeckktor video player is an open-source media player for the web. Projeckktor is an easy-to-use video player to embed into any website. It can play videos of any format, even videos that other media players do not usually support. This can be extremely useful for websites that run on flash or do not have their own media player. Projeckktor is a powerful, easy-to-use web video player that delivers video content to your website or blog.
control all aspects of your video playback
fully responsive and Automatic video playback
built-in social media sharing tools
Fullscreen video player
Video quality selection
Video playlist
Subtitles support
Loop videos
JPlayer
The jPlayer Plugin is a media player that allows you to play audio and video files on your website. It is a free and open-source plugin that is available for download on the jPlayer website. jPlayer is a media library for jQuery which takes advantage of HTML5 audio/video and Adobe® Flash® media capabilities. It can be easily customized via CSS and HTML and provides an extensive standard API for implementing web-based media regardless of platform.
Customizable and skinnable using HTML and CSS
Lightweight – only 14KB minified and Gzipped
No licensing restrictions
Free plugins available for popular platforms
Extensive platform support – multi-codec, cross-browser and cross-platform
Comprehensive documentation
Consistent API and interface in all browsers, HTML5 or Adobe Flash
FFmpeg
FFmpeg is a complete, cross-platform solution to record, convert and stream audio and video. It includes libavcodec, the leading audio and video codec library. FFmpeg provides both a command-line interface and an API to manipulate multimedia files. It supports many common audio and video formats. Its main uses are transcoding, basic editing (trimming and concatenation), video scaling, video post-production effects, and standards compliance. FFmpeg is also a video player. FFmpeg also includes other tools: "ffplay," a simple media player, and "ffprobe," a command-line tool to display media information. There are two ways to play a video with FFmpeg. One through the command-line or via a GUI app that can run commands through it.
Broadcast live stream a video feed
Crop, scale or rotate a video file
Adjust volume, remove audio and merge an audio file with a video file
Adjust video bitrate
Convert between different file formats and codecs
Best Open Source Javascript and Web Media Players
Video.js
Video.js is a free and open-source project which allows you to create HTML5 video players. This video player is written in JavaScript and built on the HTML5 video tag. It supports playback on various devices, including desktop computers, mobile devices, and televisions. When available, it uses native HTML5 elements and falls back to Flash or Silverlight as needed.
Allows you to create a responsive video player.
Compatible with all browsers and platforms.
Lightweight plugin
Multiple video formats supported, including MP4, WebM, and Ogg
Automatic video playback when the page loads
Customizable controls and interface
A large community of developers. If you have any questions, you can find the answers quickly.
It has YouTube, Vimeo, and Daily Motion support.
Various themes and skin
OpenPlayerJS
OpenPlayerJS is an open-source HTML5 video player library that provides a consistent interface for all HTML5 video players. It is designed to be easy to use, lightweight, and flexible. It is open-source and available under the MIT license.
Easy configuration via video/audio tags or Javascript
Smart algorithm to detect autoplay capabilities
Cross-Browser and Cross-Device Support
Supports IE11+ (Win8) and all modern browsers
Media Advertising support with integrated Google IMA SDK
Local and remote captions for both video and audio
Play ads in an infinite loop
Plyr
Plyr is a free, open-source HTML5 media player that supports video and audio playback in all major browsers. It is built on top of the HTML5 Media Element API. It has a comprehensive set of features, including support for playback of multiple video and audio formats, captions, subtitles, chapter navigation, etc.
Written in "vanilla" ES6 JavaScript, no jQuery required
Support for hls.js, Shaka, and dash.js streaming playback
Picture-in-picture mode
Native fullscreen with fallback to "full window" modes support
Monetization option
Multiple caption tracks and previous thumbnails display support
Standardized API for volume, toggle playback, and more
Easy customization and responsive for any screen size
ArtPlayer.js
ArtPlayer.js is a library for creating custom audio players with minimal code. It is a feature-rich HTML5 video player with customizable functional controls. ArtPlayer.js provides a simple API for controlling playback, volume, and seeking and a range of features for customizing the player's appearance and behavior.
Supports vtt and srt subtitles
Video quality switching
Rich custom event monitoring support
Native picture-in-picture mode
Playback rate, aspect ratio, flip, window fullscreen, or web fullscreen adjustment
Support for custom plugins
Subtitle time offset
Screenshot support
Top Open Source Video Players for Windows Linux Ubuntu Android iOS
VLC Media Player
VLC Media Player is an open-source, cross-platform multimedia player. It is a framework that plays most multimedia files and DVDs, Audio CDs, VCDs, and various streaming protocols. It is available for desktop operating systems and mobile platforms, such as Android, iOS, Windows, Mac OS X, Linux, Ubuntu, and Windows Phone. VLC supports a wide range of audio and video formats and streaming protocols. We've also written a blog on how to stream videos on iOS using AVPlayer, do check it out to know more about video streaming in iOS.
Features:
Supports a wide range of audio and video file formats.
The VLC media player is available in over 50 languages.
Play Internet Radio and Podcasts and Stream Media over Network or Internet
Play and safely Download YouTube Videos
Convert videos to any other format
Loop a Section of a Video or media file
Add a logo or watermark while playing videos in VLC Media Player
The VLC media player supports various streaming protocols like HTTP, RTSP, RTMP, UDP, RTP, TCP, etc.
SMPlayer
SMPlayer is a free media player for Windows and Linux with built-in codecs to virtually play all video and audio formats. It doesn't need any external codecs. SMPlayer is based on MPlayer, a powerful media player with built-in codecs. But SMPlayer is better than MPlayer because it has many features like playing YouTube videos, streaming music from Grooveshark, and Subtitles support.
Features:
Supports multiple media formats and codecs: avi, mp4, Mkv, Mpeg, MOV, DivX, h.264, etc
Can play YouTube videos
can search and download subtitles
video and audio filters
change of the playback speed
adjustment of audio and subtitles delay
video equalizer
Available in over 30 languages
GOM Player
GOM Player is a free desktop media player from South Korea, which offers more than just the usual playback function. It was the first free software of its kind to support a usable number of subtitle formats and codecs, making it a favorite among users of the South Korean Internet. GOM Player can play a variety of audio and video formats, AVI, MP4, MKV, FLV, WMV, MOV, etc. It also supports streaming content and can play some incomplete or damaged media files. It has support for many platforms like Android, iOS, Windows, Mac OS X, Linux, and Ubuntu.
Features:
VR and 360-degree playback environment of multiple file format
Play incomplete, damaged, or not completely downloaded video files
The GOM Player Subtitle Library auto searches and syncs subtitles
GOM Remote to link your smartphone to GOM Player
GOM Player Plus plays high resolution, 4K UHD movies without buffering.
Custom configuration
Kodi Media Player
Kodi is a media player that lets you stream content from the internet or your local network. You can use Kodi to watch movies, TV shows, live sports, and more. Kodi is free and open-source software available on a wide range of devices. It plays local media files and streams content from a variety of sources. Kodi has a user-friendly interface that enables users to search for content by title, actor, or genre. Kodi also can integrate with a variety of add-ons that allows users to access content from all over the internet.
Plays media files online or locally
high customizability
Supports almost all the latest video codecs
Scalability with a mega list of add-on browsers
Configurable plugin during playback
Subtitle add-ons and program add-ons
AirPlay feature to access iOS devices and stream media directly
UPnP and Digital Living Network Alliance (DLNA) support
Live TV and personal video recorder
MPV Player
MPV is a free, open-source, and cross-platform media player based on MPlayer and mplayer2. It supports most video formats, audio and video codecs, and subtitle types. It also supports video playback while downloading.
Support for a wide variety of media formats, file-formats, and codecs
Support for the most popular audio, video, and subtitle formats
High quality, OpenGL-accelerated video output
Support for a wide variety of input devices
On-Screen Controller
GPU video decoding
Support for a wide variety of display sizes, from small mobile devices to huge TV-screens
Fully usable on the remote control (using LIRC)
Highly customizable via config files
Fully serviceable with libmpv's API
GNOME for Linux and Ubuntu
GNOME Media Player is an open-source media player for the GNOME desktop environment. It can play video and audio files and supports subtitles. It supports a wide variety of audio and video formats and allows for easy playback and management of media files. GNOME Videos is the official movie player of the GNOME desktop environment.
Play any xine or GStreamer supported file.
4.0, 4.1, 5.0, 5.1, stereo, and AC3 Passthrough audio output.
Full-screen mode with Xinerama, dual-head, and Viewport support.
Remote operation mode
Playlist with Repeat and Shuffle modes
Visualisation plugin when playing audio-only files.
Automatic external subtitle load
PotPlayer
PotPlayer is a multimedia player developed by a Korean company, Kakao (formerly Daum Communications). It is available for Microsoft Windows and macOS. PotPlayer is a free multi-format media player and a universal media engine that plays almost all video, audio, and picture formats. PotPlayer supports a wide range of audio and video formats, and it offers extensive features such as streaming, skins, subtitles, and chapter management.
Based on the latest media engine under the xy-VS Filter
Supports all popular media formats, such as MKV, MP4, AVI, WMV, MPG, MPEG, DAT,
Multi-audio output and advanced subtitles support
Supports multiple language packs
Skins, logos, colour themes.
Digital TV devices support. Live broadcasting
Hi-Quality playback and low resources usage
FAQs
How can I view HTML5 videos on my device?
To view HTML5 videos on your device, you need a browser that supports HTML5 video playback. Most modern browsers support HTML5 video, including Chrome, Firefox, Safari, and Internet Explorer 10.
How do I implement HTML5 videos on my website?
To implement HTML5 video on your website, you need an HTML5 video player. There are several video players available on the market today. Some players are free, and some paid. The best HTML5 video player plays the video you need with the features you want.
What are the benefits of using HTML5 video?
One of the benefits of using HTML5 video is that all major browsers support it without plugins. This means that you can reach a larger audience with your videos. Additionally, HTML5 video is a more efficient way of delivering video content than using plugins.
What is the difference between HTML5 and Flash?
HTML5 is a new web standard that provides a more powerful and versatile way to create and view multimedia content on the web. Unlike Flash, HTML5 doesn't require a plugin, so it works on more devices and browsers.
Supercharge Your Business with Videos
At VdoCipher we maintain the strongest content protection for videos. We also work extremely hard to deliver the best viewer experience. We'd love to hear from you, and help boost your video streaming business.
Free 30-day trial →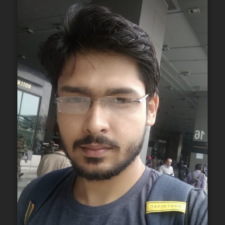 I have traversed through the digital wilderness, honing my skills in technology and marketing including the latest trends, tools, and techniques. My passion for innovation has driven me to experiment with tech-based marketing in the eLearning, Media, and Security sectors.