Video Hosting & Streaming for premium use cases require a robust, scalable and secure infrastructure. I will give a brief overview of the tech stack deployed by VdoCipher in terms of Server, CDN, Encoding infrastructure to effectively ensure smoothest delivery of video content.
Here are the details explained with the help of an infrastructure diagram.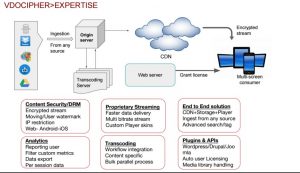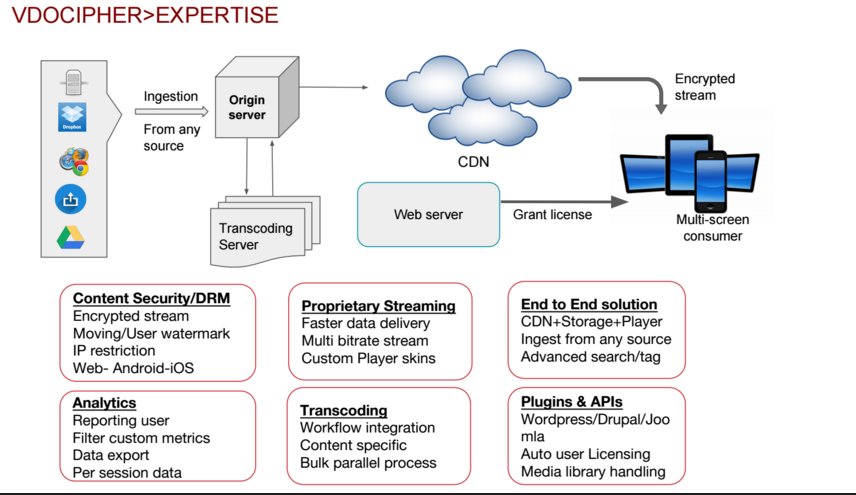 Upload & Storage

The videos on VdoCipher can be uploaded from devices, server, video url, ftp, dropbox, already existing vimeo pro account. The uploaded videos direct go to Amazon (AWS) S3 servers. We have S3 storage locations across Asia (Singapore, Mumbai), Europe (Frankfurt), USA (North Virgina), to ensure faster upload speeds and closer access of content possible during first time when streamed. For regular access of same content, CDN starts playing a major role rather then the storage. We also have AWS acceleration enabled for the accounts to ensure speedy uploads and reduced error rates.
VdoCipher accepts videos in more than 15 standard video formats. The storage security protocols as followed by AWS are at place ensuring highest content protection from the server side. Further more, VdoCipher stores the videos in encrypted format , more details come below.

Transcoding & Encryption

VdoCipher has its own AWS EC2 on the spot instance setup systems for transcoding. As we have a lot of already existing customers, a lot of the CPUs are already running for encoding. VdoCipher converts video to multiple bitrates and in case of quite high sized camera recorded videos , vdocipher automatically converts them to decent bitrate, keeping the same quality. The conversion for encryption and various devices is also done at this point.

CDN & Streaming

This is the major tech part of the whole system which has to be optimized and take care of to ensure best viewer experience. Content Distribution Network (CDN) are geographically diverse located small pops which help in caching popular video content. VdoCipher uses a combination of AWS CDN CloudFront + Akamai to distribute content. These are the top two international tier CDNs helping video industries to make billions of revenues. Here is an example – Say the video is stored in North Virgina Region of AWS S3. Now some viewer in New york tries to access the content through VdoCipher embedded video on customer site. Now, for the first time in a day , the content will directly reach him from Virgina. Suppose, some body else or the same person again tries to access the content from New york on the same day. This time the video will be served from the cached part at New york Pop. The science behind is not so simple and involves lot of optimizations, if – else & caching algorithms, video chunks being monitored. It is taken care of by VdoCipher, AWS, Akamai objectively and our customers need not worry of any of these. VdoCipher has customers across all 6 continents and has great tech experience and skills to oversee this.

It is worthy to note that VdoCipher uses its own proprietary  streaming technology that allows it to transfer fully encrypted content + watermarking. Other then the server + CDN from the partner companies (AWS, Akamai), VdoCipher has put a lot of efforts in optimizing the quality of streaming to ensure faster load speeds & buffer retention. Buffer retention means that on seeking back or forth during a video playback, the video already loaded is not flushed out. The buffer remains conserved, this ensures smooth streaming even at poor net connections. Also, it minimizes bandwidth costs for you and your viewers.

Licensing or Authentication of Stream

Most of the video hosting companies who provide a fixed url from server to access the video, results in url based video sharing and piracy. VdoCipher through its APIs & plugins provide a custom embed code , which invokes a different video url which is generated uniquely for each playback. There is a one time password (OTP) based authentication , ensuring each video url plays only one time.  Custom licensing like ip restriction, time restriction can be done by VdoCipher on enterprise demands.

To start streaming with a full version free trial with us, Register at VdoCipher.
Supercharge Your Business with Videos
At VdoCipher we maintain the strongest content protection for videos. We also work extremely hard to deliver the best viewer experience. We'd love to hear from you, and help boost your video streaming business.
Free 30-day trial →