Video chapters are a feature used in video content, such as those found on platforms like YouTube, to divide the video into segmented sections, each with its own mini title. YouTube launched video chapters in 2020. The feature uses timestamps that creators apply to their videos so that viewers can easily jump to a specific part of the video or rewatch a particular section.
What are video chapters?
Video chapters greatly enhance the user experience by allowing viewers to navigate the video more efficiently, especially in longer content. They function similar to a book's table of contents but for video content. When used, thumbnails and titles appear along the video's progress bar, indicating the start of a new chapter.
"Platforms like YouTube have algorithms that favor user-friendly content. Videos with chapters may receive a boost in recommendations and visibility due to their enhanced user experience."
Video chapters have evolved significantly with digital media. Initially, they were a feature of DVDs, allowing viewers to skip to particular scenes. With the rise of online video platforms like YouTube, video chapters have gained more importance. They enhance user experience, especially in longer videos, by allowing viewers to jump directly to the sections they're interested in. This feature is not only user-friendly but also aids in content discoverability and engagement. Video chapters also aid persons with disabilities such as visual and hearing impairments.
Why are video chapters gaining popularity among video creators?
Video chapters are based on the practical need for viewers to quickly find and revisit specific parts of a video. This is particularly useful in tutorials, long-form content, or videos covering multiple topics. For creators, this feature reflects an understanding of their audience's viewing habits and preferences.
It's especially useful for longer videos, such as tutorials or documentaries, where viewers may be looking for specific information.
Creating effective video chapters requires a good understanding of the content and how viewers might interact with it. Creators need to identify key segments and assign relevant titles that accurately describe each chapter. This demands both content expertise and a good grasp of audience engagement strategies.
Improved User Experience – Viewers can easily skip to the parts they're interested in.
Better Engagement – Keeps the audience engaged by organizing content.
SEO Benefits – Chapters can improve video SEO, making it more discoverable.
Video chapters can improve the authority of a video by showcasing a well-structured, viewer-centric approach. This not only makes the content more accessible but also demonstrates the creator's commitment to providing a quality viewing experience.
Well-defined chapters indicate a level of professionalism and attention to detail, which can increase the trustworthiness of the video and its creator. Accurate and helpful chapters assure the viewer that the content is reliable and thoughtfully produced.
Video chapters have evolved significantly since their inception. Let's look at their history.
| | | |
| --- | --- | --- |
| Year | Development | Impact |
| 2000s | DVD Chapters | Enhanced physical media navigation |
| 2010s | Online Experimentation | Pioneering digital video chapters |
| 2020 | YouTube Auto Chapters | Revolutionized online video consumption |
Video chapters markers & video timestamp
Video chapters function like bookmarks within a video, dividing it into segmented, titled parts. This segmentation allows viewers to navigate and access specific portions of a video quickly.
Timestamps and Titles
Each chapter is defined by a start timestamp and an associated title. For instance, a chapter might start at 00:01:30 with the title "Introduction."
User Interface
On platforms supporting chapters, these are usually displayed on the progress bar. Hovering over or clicking on a chapter marker will show the title of that chapter.
Chapter Markers
Chapter markers are not just about timestamps but also involve metadata embedded within the video file or described in an accompanying file or description.
Understanding Metadata
Metadata Integration – Metadata for chapters includes the timestamp, title, and sometimes a brief description. This metadata can be embedded directly into the video file (like in MP4s) or provided separately (like in a YouTube video description).
Software Support – The effectiveness of chapter markers depends on the playback software. Some players can read and display this metadata, while others cannot.
File Formats and Compatibility – Different video file formats support chapter markers in various ways.
Popular Formats – MP4, MKV, and MOV are common formats that support chapter markers. Each format has its method of storing this data.
Compatibility – Not all video players support all formats equally. For instance, some players might read chapter markers from an MP4 file but not from an MKV file.
"From a technical perspective, YouTube Video Chapters enhance user engagement by providing a better user experience. Viewers can easily find the content they're interested in, which often leads to longer watch times and increased satisfaction. For creators, it's a tool to structure their content more effectively and potentially improve the video's discoverability on the platform."
Creating Video Chapters
Creating video chapters involves both technical and creative considerations.
Technical Process
Editing Software – Use video editing software that allows chapter markers to be added. Software like Adobe Premiere Pro, Final Cut Pro, or even free tools like Shotcut can be used.
Embedding Chapters – Chapters can be embedded directly into the video file during the editing or exporting process.
External Chapters – For platforms like YouTube, chapters can be added in the video description using timestamps and titles.
Creative Considerations
Relevance – Each chapter should correspond to a meaningful and distinct section of the video.
Titling – Titles should be concise yet descriptive to give viewers a clear idea of the chapter's content.
Testing and Compatibility – After creating chapters, it's essential to test the video in different players to ensure the chapters appear and function correctly.
YouTube video chapters
YouTube video chapters allow creators to add specific markers or timestamps within their video, dividing it into distinct, labeled sections. This feature enhances the user experience by making the content more navigable and accessible. Here's a detailed overview of YouTube video chapters.
Functionality
Timestamps and Titles – Chapters are created by adding timestamps and corresponding titles in the video's description. Each chapter starts with a timestamp (e.g., 0:00, 2:30, 5:00) followed by a title describing that section.
Automatic Creation – If a video has at least three timestamps with 10 seconds or more between them, YouTube can automatically create chapters based on those timestamps.
Interactive Progress Bar – On the YouTube player, chapters appear as segments on the progress bar. Hovering over these segments shows the title of the chapter, allowing viewers to skip to specific parts of the video easily.
How to Create YouTube video chapters & YouTube timestamp mobile
Adding Timestamps
In your video's description, start with a timestamp of 00:00, followed by the title of the first chapter. Continue listing timestamps and titles for each subsequent chapter.
Example:
00:00 – Introduction
01:30 – Features Overview
03:00 – User Guide
Minimum Requirement
There must be at least three timestamps listed in ascending order, and the first timestamp must start at 00:00.
Length of Chapters
Each chapter must be at least 10 seconds long.
YouTube video chapters offer a significant advantage in making videos more accessible and easier to navigate. By adhering to the guidelines and best practices, creators can enhance viewer experience and potentially increase their video's visibility and engagement.
"Not all videos are eligible for automatic chapters, and not all eligible videos will have automatic chapters. If the channel has any active strikes, or if the content may be inappropriate to some viewers, the video chapters feature won't be available." – Google
Best Practices & limitations for YouTube video chapters
Accurate Timing – Ensure that each chapter starts at the exact moment a new segment or topic begins.
Descriptive Titles – Use clear, concise titles that accurately describe the content of each chapter.
Relevance – Chapters should be relevant and add value to the viewer's experience.
Consistent Formatting – Use a consistent format for timestamps and titles for professionalism and clarity.
Spacing Out Chapters – While there's no upper limit to how many chapters you can have, it's important to balance between too many (which can clutter the progress bar) and too few (which reduces navigability).
SEO Optimization– Chapters can also serve as SEO tools. Including keywords in your chapter titles might help your video become more discoverable.
Automatic Chapters – YouTube has introduced automatic chapters for some videos. These are generated using machine learning to identify chapter points. However, creators can opt out or customize these.
Editing Chapters – If you need to adjust chapters after your video has been published, you can simply edit the video description. Changes in the timestamps will be reflected in the video chapters.
Consider Length – Avoid creating too many chapters in a short video or very long chapters in a longer video.
Limitations and Considerations
Minimum Length – Videos must be at least 33 seconds long to have chapters.
First Chapter – The first chapter starts at 0:00 by default and usually represents an introduction or title segment.
User Control – Viewers have the option to turn off automatic chapters in their settings if they prefer a traditional, uninterrupted progress bar.
Recent Updates and Features
YouTube continually updates its features, including video chapters, to enhance user experience and creator tools. Recent updates might include more refined controls, improved algorithms for automatic chapter creation, or enhanced integration with YouTube's video analytics and SEO tools.
YouTube video chapters are a valuable feature for both creators and viewers, offering improved navigation, better organization of content, and potentially aiding in search engine optimization. They represent a significant step in enhancing the video consumption experience on the platform.
Video Chapters in Educational and Corporate Videos
In educational videos, chapters can break down lessons into digestible segments, aiding in better comprehension and retention. For corporate videos, chapters can organize presentations or training materials, making them more efficient and user-friendly.
In these contexts, video chapters facilitate a more focused and efficient learning or working experience. They allow viewers to jump directly to relevant sections, review material as needed, and manage their time more effectively.
From a production standpoint, incorporating chapters into educational and corporate videos requires careful planning. Each chapter should represent a clear, distinct segment of information, ensuring that the audience can follow along and understand the content's structure. This approach not only improves the viewer's experience but also reflects positively on the educational or corporate brand's commitment to effective communication.
How to add chapters to mp4 on VdoCipher dashboard
1. Click on the edit button over any video for which you want to configure chapters.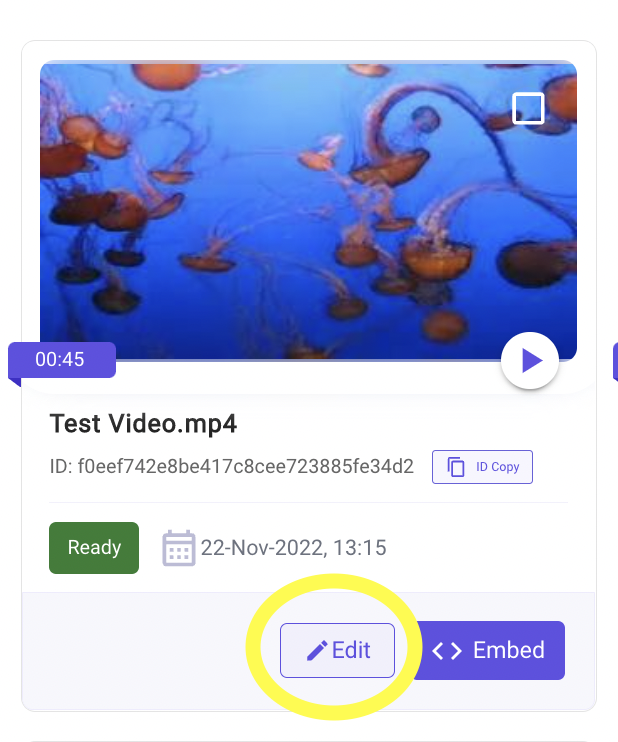 2. Navigate to the chapters section , and click on Add chapters.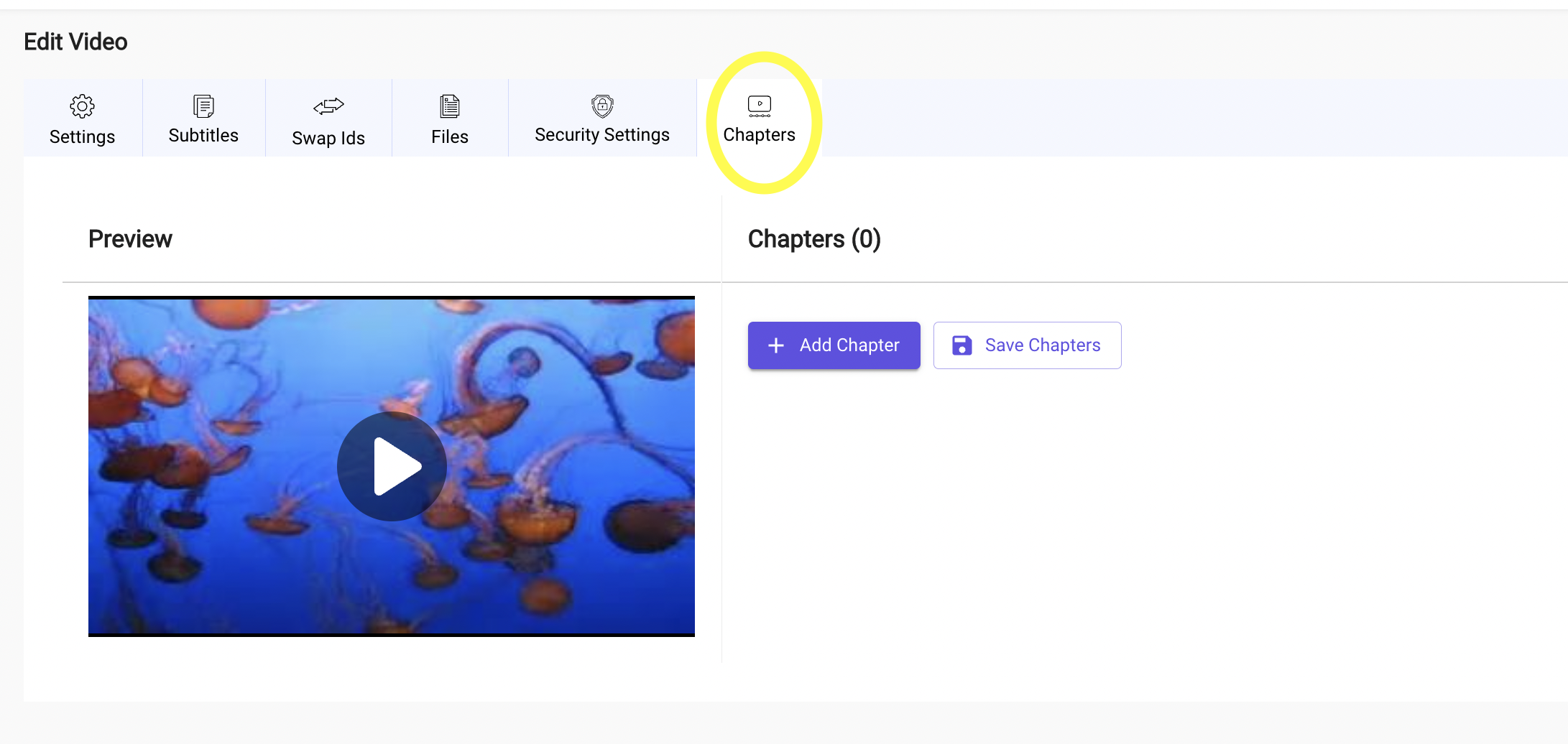 3. Configure the start time and titles for the chapters.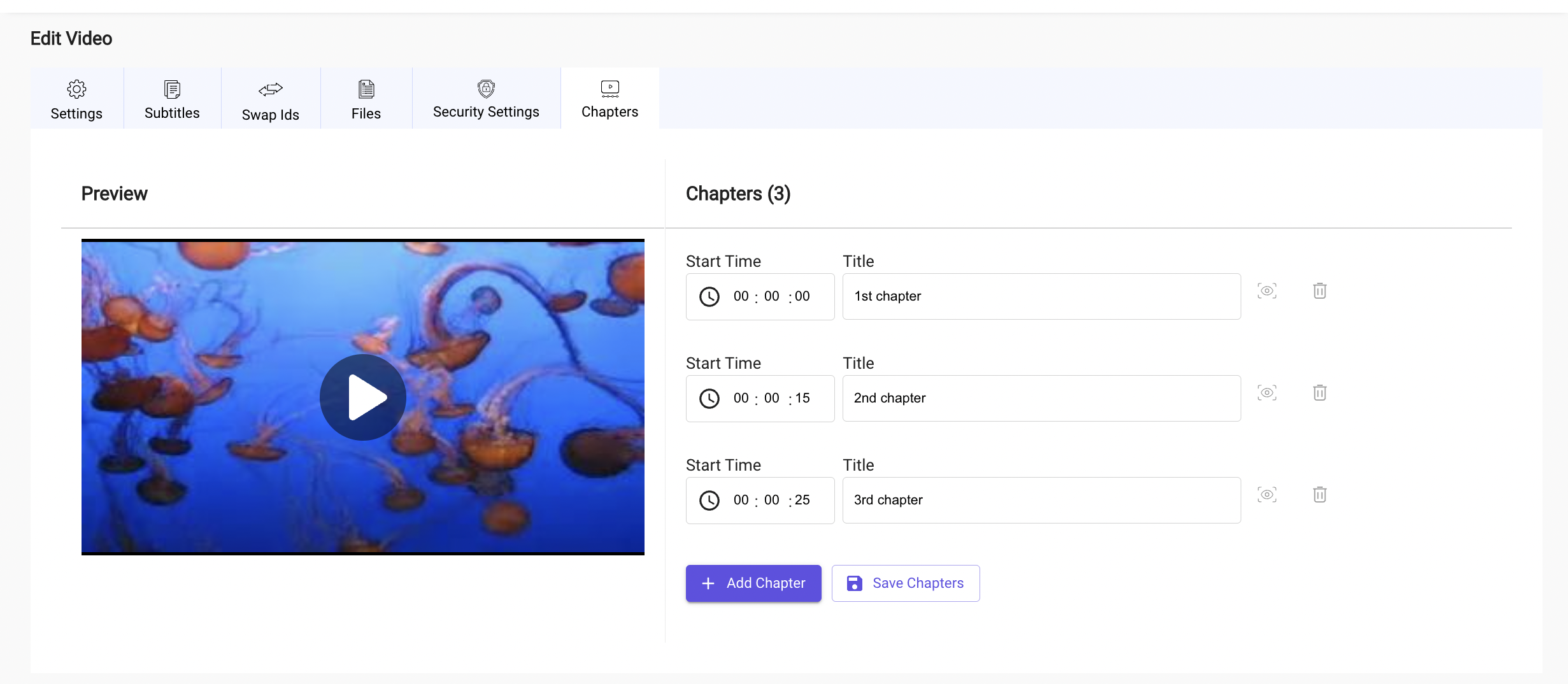 4. Click Save Chapters
Now on playback of the videos, the chapters will appear on the seek bar and all the configured chapters can be seen on the player by clicking on the button highlighted in the below screenshot.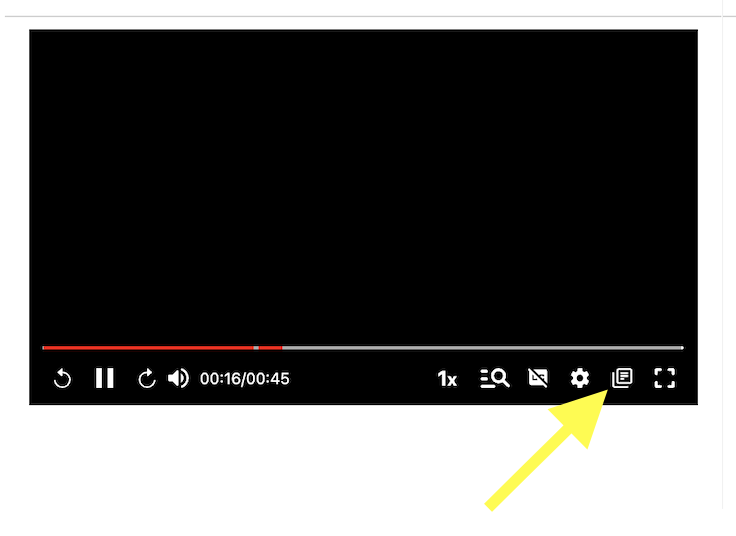 FAQs
Do video chapters help with Search Engine Optimization (SEO)?
Yes, video chapters can improve SEO by making your content more searchable and allowing search engines to index different sections of your video.
Can video chapters increase viewer engagement?
Yes, video chapters can increase viewer engagement by making videos easier to navigate and allowing viewers to jump directly to the parts they are most interested in.
Are video chapters available on all video platforms?
While popular on platforms like YouTube, not all video hosting platforms support video chapters. It depends on the specific platform and its features. On Video hosting platforms like VdoCipher, one can easily add video chapters within minutes (explained in below section).
Can viewers skip chapters if they want to?
Yes, viewers have complete control to skip chapters, watch them in any order, or view the entire video without using chapters.
How do viewers interact with video chapters?
Viewers can click on chapter titles (if provided) or navigate through the video's progress bar, where chapters are typically marked.
Do video chapters work on mobile devices?
Yes, video chapters are generally supported on both desktop and mobile versions of video platforms like YouTube.
Is there a limit to how many chapters I can have in a video?
There's no strict limit, but each chapter must be at least 10 seconds long, and the timestamps need to be accurate for them to work properly.
Supercharge Your Business with Videos
At VdoCipher we maintain the strongest content protection for videos. We also work extremely hard to deliver the best viewer experience. We'd love to hear from you, and help boost your video streaming business.
Free 30-day trial →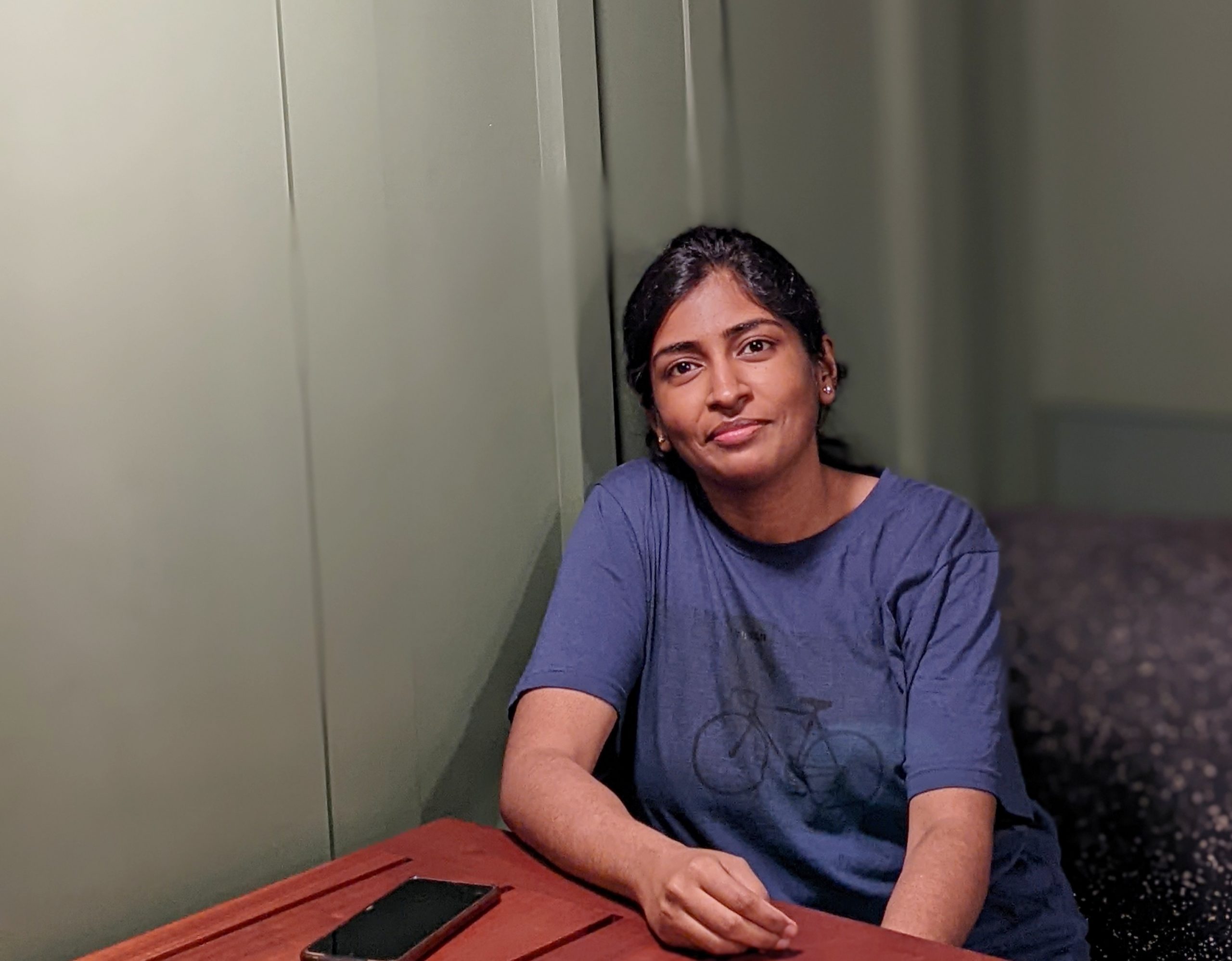 Jyoti began her career as a software engineer in HCL with UNHCR as a client. She started evolving her technical and documentation writing skills to become a full-time Content Marketer at VdoCipher.