Video service is a cloud-based platform that enables businesses to host and stream video content easily. Businesses can use video services to create and manage their video content libraries and deliver video content to their customers and employees. Video service provides a cost-effective and scalable solution for businesses that need to host and stream video content. Video service is a type of communication service that offers the ability to send and receive video transmissions. This can include video hosting, conferencing, video calling, and video streaming services. In the blog, we will discuss video hosting and video streaming services and the ways of securing your digital video assets.
Even when we talk about video production, let us look at some stats about production being in-house or outsourced. Nearly 76% of video production companies started investing in video production in the past few years. Out Of that 76%, nearly 45% handle production internally, whereas 28% hire a video production company, and 23% hire freelance for the same. This means that more than the majority depends on the external production of videos. This is when video production is not considered a technical or coding task.  When we talk about video delivery, i.e., about hosting and playback, it gets more skewed. Most of the creators looking to scale up need to go through various video service providers' feature lists. This is because of the difficulty and bandwidth consumption during future migration. As a rule of thumb, go with the advanced security and integration-providing options.
Need for Video Service Providers
Video service providers are important because they offer a platform for hosting and streaming videos. This can be a great way to promote your business or brand, and it can also be a great way to connect with potential customers or clients. They also provide you with a way to reach a larger audience with your video content.
Video service providers are increasingly important for hosting and streaming video content. As the demand for video content continues to grow, so does the need for efficient and reliable video hosting and streaming services. Video service providers offer a variety of benefits that make them an essential part of the video content ecosystem.
Video service providers can offer scalable and reliable hosting solutions to accommodate the ever-growing demand for video content. They can also provide efficient streaming solutions that can help deliver video content to viewers without interruptions or delays. They can offer various benefits that can help improve the quality of video content and make it more accessible to viewers.
There are a lot of video service providers out there, and it can be hard to know which one to choose. Here are a few things to keep in mind when choosing a hosting and streaming provider for your videos:
Ensure the provider has a good reputation and is known for providing high-quality service.
Find out what kind of support the provider offers if you have any video problems.
Ensure the provider offers the features you need, such as video transcoding, hosting, encryption, watermarking, and streaming.
Make sure the provider offers a competitive price.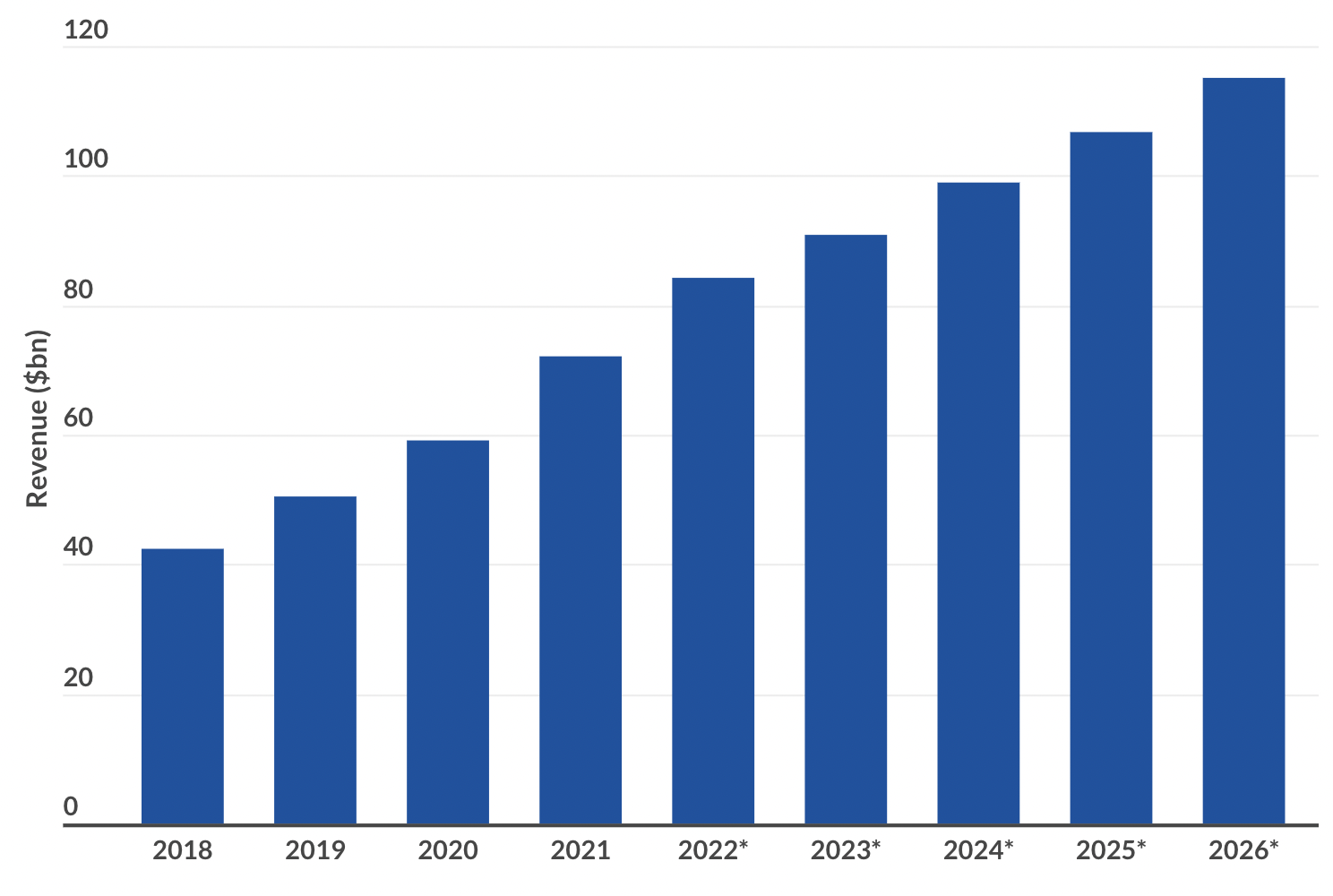 Global streaming market size year-wise projection – Source (Statista)
Types of Video Services
Hosting Video Service
There are a lot of different options for hosting video services. One can use a traditional web hosting service, a cloud-based service, or even a dedicated server. Each option has its own advantages and disadvantages, so you'll need to decide which one is right for you.
Traditional web hosting services and Cloud-based services are typically the most affordable option with scalable storage, bandwidth and more cloud features like transcoding and encryption. Dedicated servers are the most expensive option, but they offer the best performance and support.
Streaming Video Service
Video streaming services are becoming more and more popular as Internet speeds and data caps continue to increase. This is especially true for live video streaming, which allows users to watch events as they happen in real-time. There are a number of different video streaming services available, each with its own strengths and weaknesses.
Netflix is one of the most popular video streaming services. It offers a huge selection of movies and TV shows, including many exclusive original titles. Netflix is available on a wide variety of devices, including TVs, game consoles, and mobile devices. Hulu is another popular video streaming service. It offers a smaller selection of movies and TV shows than Netflix, but it does have some exclusive original content.
Secure Video Service
There are a number of reasons to consider using a secure video service. In today's world, data security is more important than ever. With the increase in cyberattacks, it's crucial to make sure that your video content is protected. A secure video service will encrypt your video content, making it much more difficult for hackers to access. Additionally, secure video services will often offer additional features such as password protection and watermarking. This can further protect your video content and ensure that only authorized users can view it.
Best Video Service Providers
VdoCipher
VdoCipher, a secure video hosting platform, offers Hollywood grade DRM protection to protect your premium video content from online video piracy. Digital Rights Management (DRM) is a technology that helps content creators and distributors protect their copyrighted works from unauthorized use. When applied to video streaming, DRM can help prevent piracy and ensure that only authorized users can view the content. DRM can also help content providers control who can view their content and when. For example, a content provider could allow only users in a specific geographic region to view a particular video.
Using Google Widevine and Apple FairPlay DRM encryption, VdoCipher secures your videos from unauthorized access, illegal downloads or sharing. Internet plugins or software cannot bypass the security layer to download the videos streamed through VdoCipher.
DRM Encrypted video streaming
Dynamic watermarking with logo/image/viewer details
Offline secure playback for app
AWS powered server and CDN infrastructure
Smart HTML5 video player (adaptive bitrate playback and multi-language subtitles support)
OTP-based playback
Easy to integrate APIs and SDKs
VdoCipher WordPress plugin
YouTube
There are many video sharing websites on the Internet, but YouTube is the most popular. People watch billions of videos on YouTube every day and upload hundreds of thousands of new videos. YouTube is a great way to watch videos on any topic you can imagine. Whether you're interested in music, news, sports, or gaming, you'll find videos to watch on YouTube. You can also find helpful how-to videos, product reviews, etc.
YouTube is more than just a video sharing website – it's a community. You can interact with other users by liking, commenting, and subscribing to their channels. You can also start your own channel and build up a following. Whether you're just looking to watch a few videos or you want to become a YouTube star, YouTube is the place to be.
There are a few different ways that YouTube monetizes its content. The first is through advertising. YouTube sells advertising space on its platform to companies who want to reach the site's vast audience. These ads can appear in several different forms, including pre-roll ads that play before a video, mid-roll ads that appear in the middle of a video, or overlay ads that appear on the bottom of the screen.
YouTube also allows content creators to join its Partner Program, which gives them a share of the revenue generated from ads that run on their videos. To be eligible for the Partner Program, creators must have a certain number of subscribers and watch hours.
Finally, YouTube allows content creators to sell merchandise through its Merchandise shelf feature. This will enable creators to promote and sell products directly to their fans through their YouTube channels.
Dailymotion
If you're interested in video blogging or "vlogging," you should check out Dailymotion. It's one of the most popular video sharing websites globally and offers an excellent platform to share video content. Primarily owned by Vivendi, Dailymotion is a video-sharing technology platform.
Dailymotion is available in 18 languages and 35 localized versions featuring local home pages and local content. It offers several tools to help you promote your videos and grow your audience. For example, you can use the "Featured Videos" section to showcase your best content and the "Suggested Videos" section to promote your videos to a broader audience.
On Dailymotion, most videos are served with in-stream advertisements – ads that appear before, during, or after videos. Enabling video monetization allows you to share in the revenue these advertisements generate when served on your videos. The more views your videos get, the more income you earn.
Wix Video
Wix video is a cloud-based video platform that enables users to create and share videos. It offers a variety of features, including the ability to create and share videos, embed videos on websites, and share videos on social media. Wix Video lets you upload or stream videos of the highest quality from YouTube, Facebook, DailyMotion, etc. You can create your video channels like films, courses, portfolios and more and display them in a beautiful video gallery. Individual videos are available for purchase or rent, and whole channels can be made accessible to subscribers only.
SproutVideo
SproutVideo is a hosting and video sharing platform that makes it easy to upload, embed, and manage your videos. You can use SproutVideo to create and share video blogs or vlogs with your audience. SproutVideo is a powerful yet easy to use online video platform that helps businesses and individuals alike to showcase their videos in the best light.
First, sign up for a free account. Then, upload your video files to your account. Once the videos are uploaded, you can share them on your blog or website by embedding them in your posts.SproutVideo provides a simple, user-friendly interface that makes it easy to manage your videos.
You can track your video views, share videos with social media, etc. Plus, SproutVideo offers valuable features like video analytics and password protection to help you get the most out of your video. You can customize your video player, embed your videos on your website or blog, and even use SproutVideo to create and manage your own video channel.
Ways to secure digital video assets
As video becomes increasingly digitized, it becomes more vulnerable to security threats. Digital video assets can be subject to unauthorized access, alteration, or destruction. Thus, it is important to implement security measures to protect digital video assets. Security measures can include encryption, access control, and dynamic watermarking.
There are many ways to secure online video assets:
Use a secure hosting platform
Many secure hosting platforms are available that can help you protect your video assets. When choosing a secure hosting platform, there are several factors, such as the type of data being stored, the level of security required, and the budget. However, the most important thing to remember is that no matter what security measures are in place, there is always a risk that video data can be breached. The best way to protect against this is to back up premium data regularly and keep confidential information safe. Be sure to choose a platform that offers robust security features and can meet your specific needs.
Encrypt your videos
Video encryption is a process of encoding a video signal so that it cannot be decoded without a key. This key is typically only known to the sender and receiver of the encrypted video. Video encryption can be used to protect both streaming and downloaded video content. Digital Rights Management (DRM) encryption is a security measure that is often used to protect video content. When a video is encrypted with DRM, it can only be played back on authorized devices with the necessary decryption key. This prevents unauthorized users from accessing and copying the video content. Encrypting your videos is a great way to protect them from being accessed by unauthorized individuals.
Use a watermark
Watermarking your videos is a great way to deter unauthorized individuals from using or sharing your videos. Video watermarking is the process of adding a watermark to a video to protect it from unauthorized use. The watermark can be a logo, a company name, or any other image or text. The watermark is usually added to the video during the encoding process, and it is typically embedded in the video in such a way that it is difficult to remove.
There are many reasons why a company might want to watermark its videos. Watermarks can deter copyright infringement since they show that the video is copyrighted material. They can also help to track down unauthorized copies of the video since the watermark can be used to identify the source. Watermarks can also be used to prevent tampering or modification of the video since any changes to the watermark will be immediately apparent.
Several different methods can be used to watermark a video. The most common way is to embed the watermark in the video itself. This can be done by adding the watermark to the video's metadata or adding it to the video's pixels. Another method is to add the watermark to the video's audio track. This is usually done by adding a short, silent audio section to the beginning or end of the video, which contains the watermark.
Use access controls
Setting up access controls is a great way to ensure that only authorized individuals have access to your videos. There are many different ways to set up access controls, so be sure to choose the method that best meets your needs. For example, access can be limited to certain people at certain times, or access can be denied altogether to certain areas. Additionally, video footage can be password protected so that only authorized personnel can view it.
Keep your videos private
One of the best ways to protect your videos is to keep them private. If you do not want your videos to be seen by the general public, set them to private when uploading them to your secure hosting platform.
FAQs
Why is a Secure Video Streaming Platform Important?
A secure video streaming platform is important for many reasons. It helps protect user data from being accessed by unauthorized parties, ensures that only authorized users can access the video content, and helps prevent video content from being tampered with or altered. A secure video streaming platform also helps to ensure that video content is delivered in a timely and reliable manner.
What are the benefits of DRM in Video Streaming?
DRM can provide many benefits to content creators and distributors. It can help prevent piracy, ensure that only authorized users can view the content, and track how it is used. These benefits can help content providers improve the customer experience and better understand the content they provide.
What are the benefits of video streaming?
Video streaming has many benefits, including watching videos without having to download them first, watching videos on a variety of devices, and watching videos in real-time.
Supercharge Your Business with Videos
At VdoCipher we maintain the strongest content protection for videos. We also work extremely hard to deliver the best viewer experience. We'd love to hear from you, and help boost your video streaming business.
Free 30-day trial →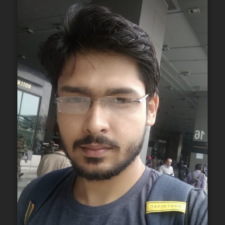 My expertise focuses on DRM encryption, CDN technologies, and streamlining marketing campaigns to drive engagement and growth. At VdoCipher, I've significantly enhanced digital experiences and contributed to in-depth technical discussions in the eLearning, Media, and Security sectors, showcasing a commitment to innovation and excellence in the digital landscape.