With every passing day, the popularity of video content has been steadily rising. Whether it is learning, training, marketing, or just entertainment, videos have taken over the internet space. Moreover, with the widespread use of social media, social video platforms have been gaining a lot of traction lately.
Most businesses have been leveraging the power of these mass-reaching channels to post a call-to-action at the end of their video snippets. This urges users to check out further details about their products or services.
The video has evolved as one of the best storytelling mediums for a wide array of publishers and brands. Since the majority of online traffic arrives via social video platforms, they have been on the rage.
In this post, I'll take a look at the top 11 social video platforms, that has been creating a massive influence with versatile content. Let's dig in.
Explore More ✅
Build Your Own Social Video Platform With VdoCipher
VdoCipher can help you build your short video platform. You can host your videos securely, and you get various features such as Video API, CDN, Analytics and Dashboard to manage your videos easily.
What are social media video platforms and apps?
Social media video platforms and apps are where users create/upload, share, and view video content. Examples include Instagram, TikTok, Facebook, and Twitter. Earlier long-form and now short videos are increasingly becoming popular to entertain, educate and connect with more and more people globally. These platforms have given a place for creators to create and share new video content and for viewers to discover their favorite content.
Most businesses have realized the power of social media video platforms to reach, target, and connect with potential audiences. Within a few seconds of the event's occurrence, social media gets flooded with all the latest updates. Social video platforms are continuously evolving to shape the way video content is consumed.
Features of a social video platform
Video editing tools

– Most social media video platforms have built-in tools and functionalities to create and edit videos, and apply various effects, filters, and audio files.

Video analytics

– Analyzing the performance of your videos is very important. Video analytics include user engagement metrics like views, likes, and comments. Other parameters are audience demographics, device type, average view time and more.

Monetization options

– Each platform has different ways to monetize video content, such as subscriptions, advertisements, and sponsorships. 

Easy integration with other platforms

– There are social video platforms that have integration with other social platforms so that content is shareable across multiple social channels.

Accessibility

– Features like closed captions, audio description, and multilingual subtitle support make the video content much more accessible and open to global audiences.
Top 11 Social Video Platform
Instagram
Gone are the days when the common masses check doubt Instagram just for keeping up with celebrity pictures. The platform has witnessed an exceptional rise in the ad business, thanks to the concept of video on social media. This automatically means more monetization options for creators and a constant flow of a wide variety of content. f you use the right Instagram feed planner, you can create a more appealing page and engage more visitors. Yet, by utilising the best Instagram growth services, you will reach your targeted audience and multiply sales conversion.
Whether someone gets their message out there using live video or short reels, Instagram has got it all. Not to mention, the provision of IGTV series has given long-form video content the necessary boost it always craved. Since around 200 million users visit a minimum of one business profile in a day, Instagram has given businesses an unexpected advantage. Without a doubt, it's the most popular social video platform out there in 2021 and beyond.
Facebook Watch
The brainchild of Mark Zuckerberg has been proving its relevance since it started. With Facebook Watch, the platform has made it clear that it's one of the evergreen gems in the social video platform arena.
Facebook Watch quickly enhanced its viewership soon after this video on social media option came into existence. Facebook partnering with major networks such as MTV has contributed to its progress as a social video platform.
Facebook Watch has also launched watch parties where a group of friends can enjoy watching a video together. This increases engagement and since a large number of people can indulge themselves in watch parties, they can have real-time meaningful discussions that are subject-oriented.
Short videos have become the top trend on almost every social video platform for a while now. It was obvious that Facebook was going to tap into their potential for some more engagement. Recently, the social video app has also introduced short videos like those on Tiktok that has been serving as a great source of entertainment for a massive audience base.
Snapchat
Were you under the impression that Snapchat is all about making goofy faces and showing off those short videos to your friends? If yes, you've been living under a rock. According to statistics by Bloomberg, the per-day video watch count on Snapchat is 10 billion. Doesn't that make Snapchat one of the leading videos on social media platforms?
Popular and interesting features such as Geofilters, Stickers, Lenses, Discover, and Snapmap has further contributed to its wide user base. The video on social media app further rose to power by adding shows. During the second half of 2020, the total valuation was at $50 billion.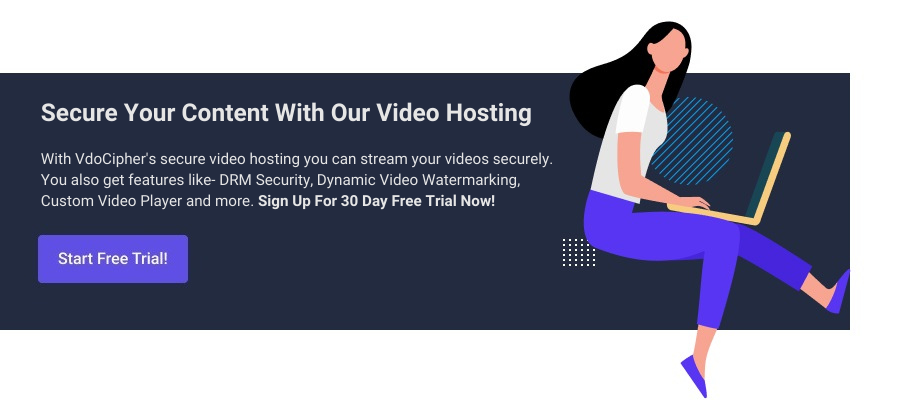 TikTok
This Gen-Z social video platform has got it all to get creators their few moments of extravagant fame. That automatically means more viewers for businesses which makes Tiktok a great target for marketing and advertising. Millions of users all over the world are indulging themselves in hardcore entertainment with their famous 15-second music videos. 
With common creators using it for entertainment and businesses using it to enhance their brand reach, Tiktok seems to have a firm grip on the top social video platform game. When the first wave of the coronavirus pandemic was in full swing, the global reach of Tiktok further increased. The craze attracted brands in the look for more visibility among the Gen-z, which also contributed in boosting incomes for the creators. 
In fact, it's one of the most frequently downloaded apps across the globe. The social video app partners with Modern Sky which further contributes to its skyrocketing reach. Not to mention, the social video platform has its strategic brand partnerships to credit for its booming success.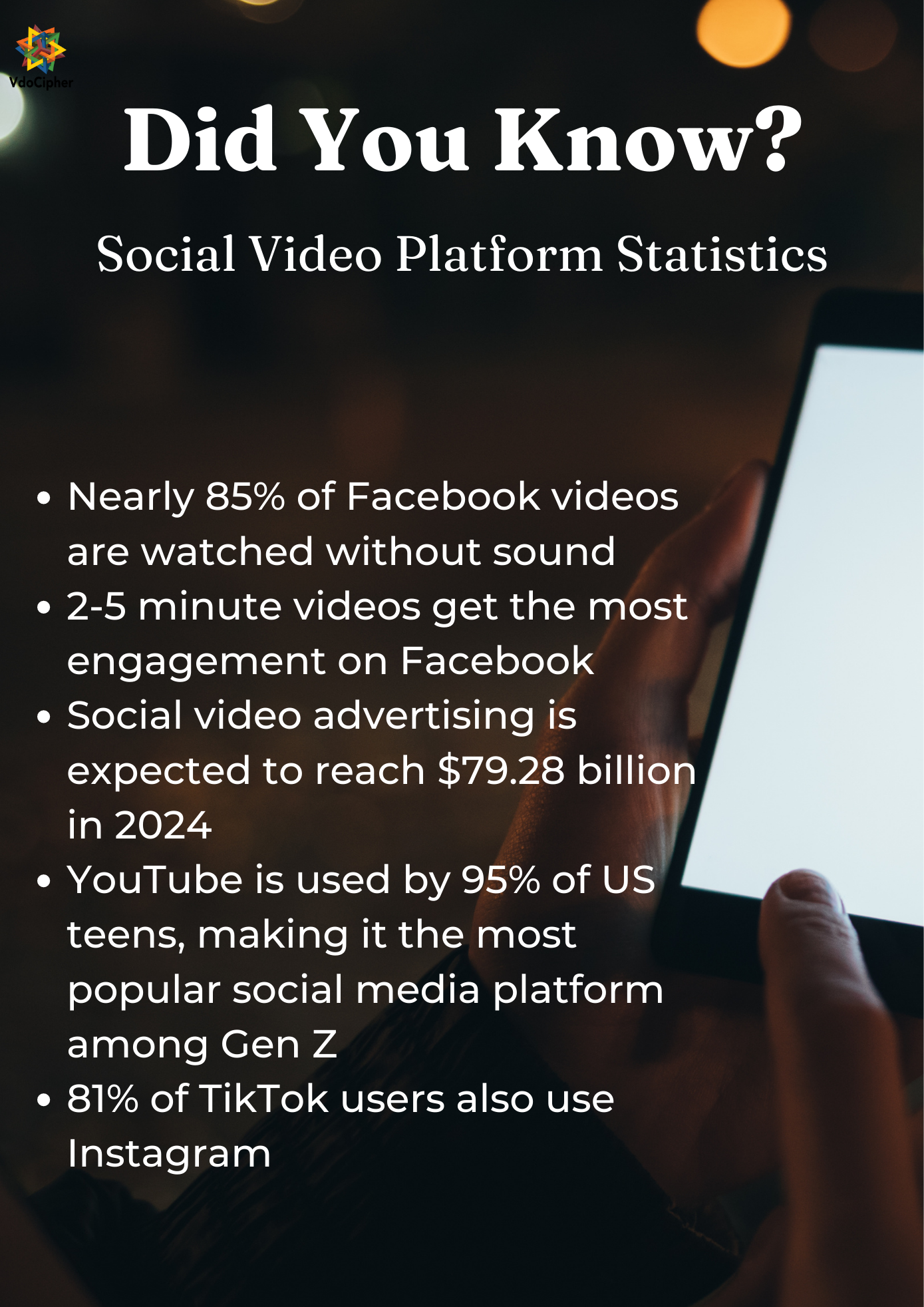 YouTube
Without a doubt, YouTube is an extremely popular social video platform on the internet. In fact, we can credit YouTube for or making the concept of video streaming online popular. Most businesses across the globe have been using this social video app as an online video platform, for dipping their toes in the video creation arena.
The biggest advantage is that it's completely free of cost for the users. However, if you want to go ad-free with YouTube, you'll have to purchase the premium version. Ad-based monetization offers content creators a chance to earn on the basis of their views. The user-friendly interface makes it easier to browse videos on YouTube.
Vimeo
Vimeo is a social video platform popular among businesses, videographers, filmmakers, animators, editors, and so on. It's a leading network that facilitates the free sharing of videos. The social video app also launched a subscription service in the later half of 2016. The platform has also been making sincere efforts towards Vimeo Original and the hopes to transform their consumer experience.
Twitter
Twitter has emerged as a social video platform after its first live-streaming partnership with NFL. The audience has been tuning in for watching high definition and live sports on Twitter. Witnessing the sharp growth in live video views, Twitter decided to add Periscope as one of its in-app features in 2016. It also introduced 360-degree capabilities for live videos.
Vine
Vine is a famous social video app for bite-sized videos. It's a low-cost and low effort social video platform that features highly sharable and interesting content. Since the duration of videos has to be short, marketers are challenged to be more creative. 
While on-the-go users are unlikely to cease their scrolling spree for a lengthy video, short Vines can go viral within seconds. Users can also easily share Vine videos on Pinterest, Tumblr, Facebook, and Twitter.
Periscope
Periscope enables creators to either broadcast their content to the public or invite chosen users, thanks to the provision of private broadcast. Viewers can also save and share a broadcast. It also offers live streaming options for real-time engagement with the audience. 
Since Twitter owns Periscope, it's easy for users to share videos on Twitter. Thanks to easy integration, you don't need to build a separate follower base for Periscope if you have a massive Twitter following.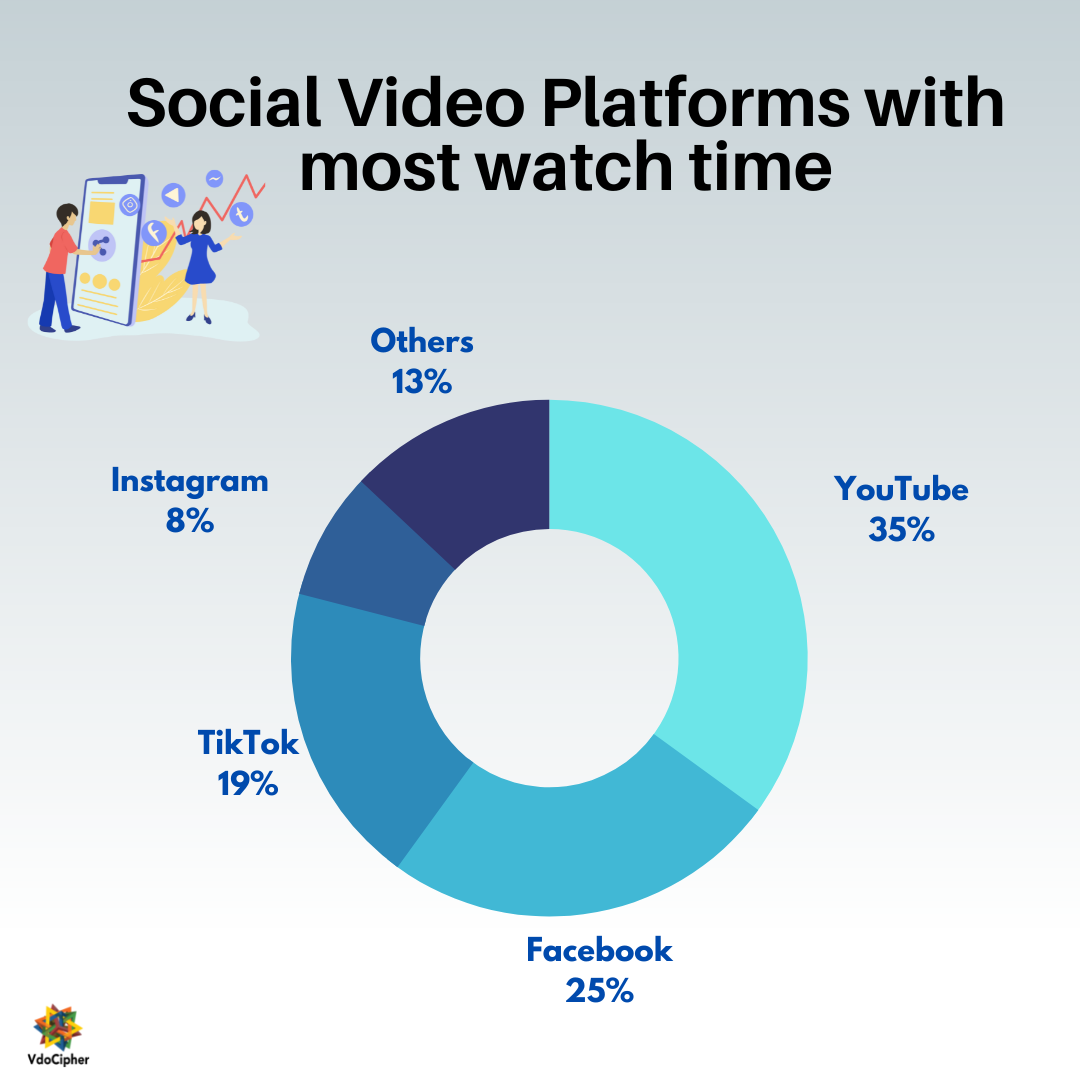 Pinterest
Even though Pinterest is not particularly known for video on social media, it has been making some strides in this area. They launched a mobile video platform for publishers and marketers. Brands can reach out to consumers with promoted videos on this social video app. 
Lately, the video uploader for creators and businesses allows them to directly upload video content on Pinterest. Users can easily engage with their respective target audience and check out the latest metrics. Business profiles even have a new video tab that allows hassle-free featuring of videos in a single place. This addresses their audience to discover some more relevant content.
The best thing about using Pinterest as a social video platform is its evergreen nature. Unlike Instagram and Facebook, videos on Pinterest keep on surfacing and resurfacing with time. In other words, they don't disappear at the bottom as content creators add new videos to their feed.
Popular brands such as L'Oréal, Tastemade, Giada De Laurentiis' Giadzy, and PureWow have already leveraged the power of Pinterest as a social video app via motivational storytelling on this video on social media platforms.
Flipgrid (Vidku)
Vidku started out as a video messaging app meant for private groups. However, since the market was already congested, (thanks to Snapchat) in 2015, it had to partner with Flipgrid, its flagship platform for educational videos. In 2020, it rolled out automatic closed captioning to address translation issues. 
During the pandemic, Flipgrid had an interesting addition to its Discovery library. It featured California State parks that help students indulge in virtual trips and witness the beauty of reservoirs, lighthouses, and seashores in California.
Final Words
It's no secret that video as a medium of content is only going to get more widespread and popular in the coming years. Of course, trends might keep changing but the core will remain the same. Since it's the most convenient form of content for consumers, the importance of creating video marketing strategies is immense.
The best way to narrow down a social video platform is by trial and error. However, if you wish to stream videos through a player where people can't download your content or screen capture it, consider giving Vdoocipher a try. 
It houses a complete video hosting solution for LMS, media, and e-Learning platforms. You can check out its free 5 GB trial to determine whether it's a fit for your requirement. Adding to the convenience, there is no credit card required for the trial version. If you think we missed something, sound off in the comments below.
FAQs
What can be an easy way to leverage the power of Video Ending?
Post a call-to-action at the end of your video snippets.
What type of video content has taken over the internet?
Learning, training, marketing, or just entertainment videos are rising in the market.
Are Social Media Video Apps free to use?
Nothing is free. Users will be paying via monetization of their views and that makes the brand lose a bit.
Supercharge Your Business with Videos
At VdoCipher we maintain the strongest content protection for videos. We also work extremely hard to deliver the best viewer experience. We'd love to hear from you, and help boost your video streaming business.
Free 30-day trial →
Head of Digital Marketing at Vdocipher. I love the art of connecting the right product to their users. When i'm not doing that i love getting lost in books.