As the saying goes, a picture says a thousand words holds true in this context as moving images or videos convey much more information than a piece of text. Videos help visualize a process and easily analyze how something works. Furthermore, videos are more appealing and evoke emotional reactions from learners and boost motivation. More and more educators are looking for the next perfect approach to creating educational video content. With advanced video streaming in elearning technologies in place, online video streaming in education allows one to create and deliver videos throughout the internet.
With increasing internet bandwidth, and improved hardware and software, delivering video content to viewers has drastically improved. Educational streaming materials like lectures, assignments, tutorials, how-to-dos and visual graphics are now readily available over the internet.
Video streaming in education is the technological approach to deliver educational content, such as live and pre-recorded lectures, interactive classes, webinars, and multimedia sessions over the internet. Learners on the other hand access video content anytime and anywhere on their connected devices including smartphones, tablets, and laptops. Video files when downloaded take up a considerable amount of storage space. A streaming media file is played as it is received and does not remain on the viewer's device storage.
Importance and Benefits of Videos in Education
In the last few years, videos have increasingly become a replacement for traditional classroom learning. Videos have proven to be a strong medium to deliver lectures and education of all forms to students learning remotely.
One of the main reasons why video education is benefitting both educators and students is the power of demonstrating complex concepts in an easy-to-learn environment of video learning. Video content is interactive and the most engaging mode of conveying information. It helps increase the retention and engagement rate.
Highly engaging and interactive – The use of images, audio, and animations gives an auditory and visual viewing experience which helps to capture the attention of students. Often educational videos have polls, quizzes, and interactive elements which keep the students engaged and motivated.
Video content is personalizable – Videos can be easily personalized based on the specific needs of a student and learning styles. For example, some educational videos have animations while some include narrations.
Great assistant in learning – Especially for students, video adds a diversity of learning experiences such as virtual tours, lab simulations, real-world problem solving, and more.
Cognitive Theory of Multimedia Learning
Humans have a deeper understanding of pictures and words compared to words alone. We ourselves choose books and study materials that are filled with charts, graphs, diagrams, and maps. In educational lectures and work organizations, we rely on PowerPoint presentations and videos to efficiently learn and grasp concepts.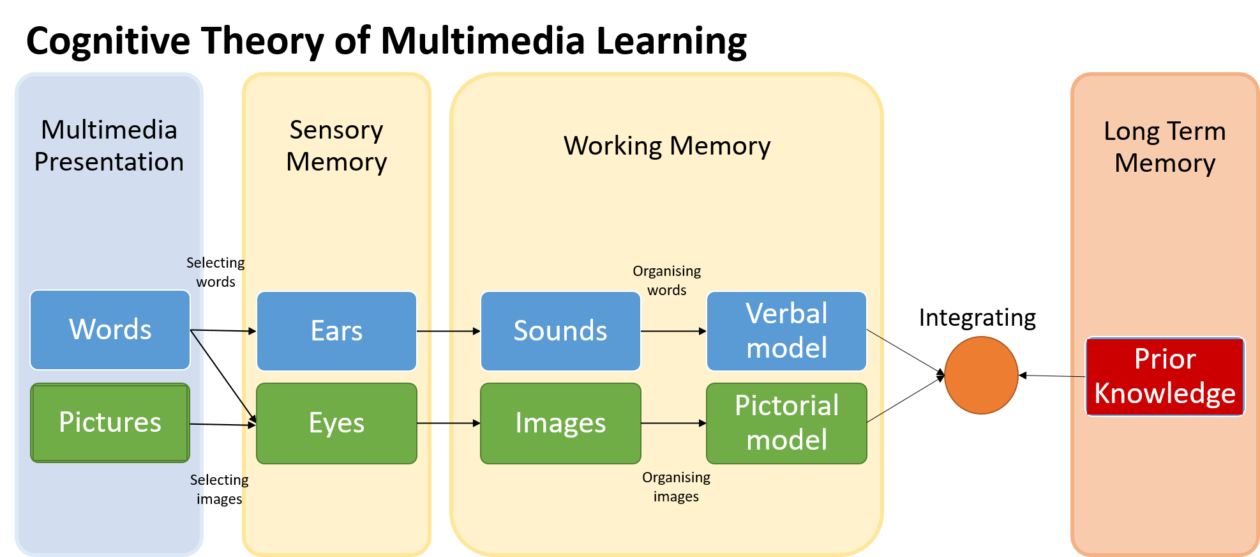 According to Mayer's cognitive theory of multimedia learning, "humans learn more from pictures and words than from words alone. Moreover, just adding words to pictures is not an effective way to achieve multimedia learning."
Types of Video for E-learning
Interactive videos
Interactive videos allow the viewer to perform some actions such as clicking on the image, and taking quizzes or polls between the videos. The participatory actions may include hovering, dragging, gesturing, and scrolling.
360-degree and Virtual Reality (VR) videos
360 videos are like personal field trips. Learners can have an immersive, concrete learning experience that is otherwise not possible in a classroom. VR video simulations take learners to a whole new level of experience. From exploring a planet to walking alongside an animal, VR simplifies understanding and provides a more active learning environment.
Micro-learning videos
Microlearning is a way of delivering video content in which the information is broken down into short videos, with each tackling a single learning objective. The videos are short, usually 2-4 minutes, and require little understanding effort from the learner. Examples include employee training videos.
Webinar videos
Web seminars or webinars are online-hosted video presentations, lectures, or workshops. Usually, an expert takes a webinar and participants can interact in real-time discussion and ask questions. Webinars don't require a big venue and virtually you can meet and learn from people across the globe.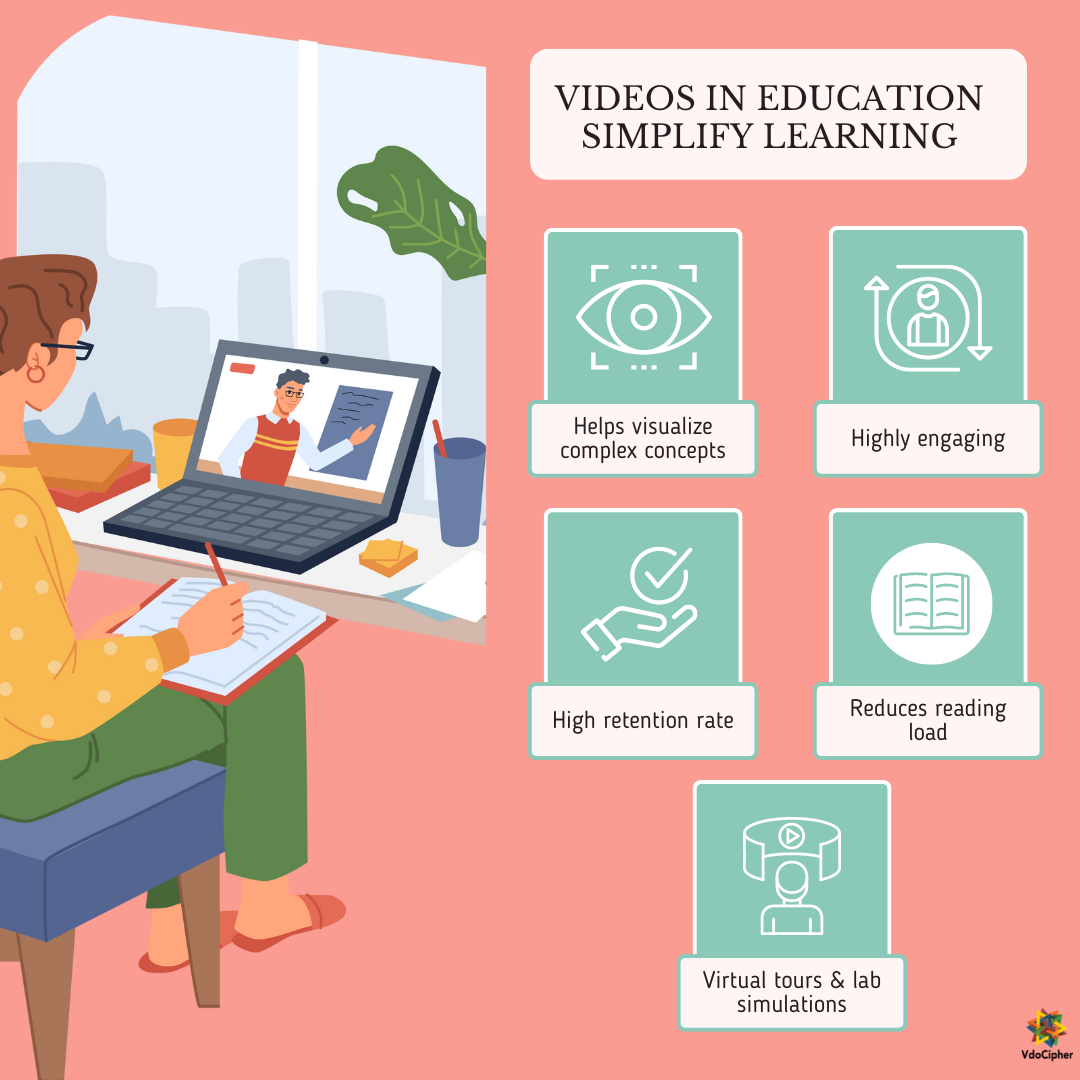 Animated explainer videos
Animated explainer videos open fun and exciting ways to learn. They create a sense of visual learning and are most beneficial to achieve great outcomes for slow learners. Animated explainer videos combine eye-catching graphics and simple voiceovers and music.
Screencast videos
It's a digital technique where everything that happens on a computer screen is recorded as well as the narration. Basically, it's a screen capture and covers images, text, images, and mouse movements. Screencast videos are usually instructional videos where the instructor performs some action on the computer screen to educate learners.
Real-life teaching videos
Real-life teaching videos are similar to actual classroom teaching scenarios. There is a typical educational setup and teaching is completely virtual.
Best Practices for Creating Engaging Video Content in Education
Create videos that last less than 6-7 minutes – Short videos have proven to be beneficial in conveying information compared to long-duration videos. Videos limited to 10 minutes have high retention rates and often educators chunk down a long concept into shorter videos.
Add quizzes and polls to make videos more interactive – Interactive activities like polls and quizzes increase viewers' engagement and test their grasping capabilities. Quizzes and polls are displayed alongside the video in real-time at designated points.
Provide captions or text scripts – Captions are the written- form of the audio content and help viewers who are deaf or hard of hearing. Text scripts include written dialogues and narration helps non-native speakers and those having difficulty understanding the audio. Both captions and text scripts open accessibility to a wider range of audiences.
Set up a proper environment – The key considerations include proper lighting, camera quality, audio clarity, uncluttered background, high-speed internet connection, and preparation for technical glitches in advance.
Choose a hosting platform for your videos – A video hosting platform is where teachers and educators upload their videos and the service provider manages all the aspects related to your videos such as seamless delivery, CDN-based serving, encryption, and more. Secure video hosting services like VdoCipher offer Hollywood Grade DRM encryption to fight piracy and unauthorized access.
Features of an Online Video Streaming Platform for Education
Security & privacy
The hosting platform must have robust security measures in place. It ensures the videos hosted on the platform are protected from unauthorized access and downloads. Also, various information like personal data and confidential data must be kept secure.
Video analytics
Video analytics allows for collecting and analyzing the video parameters like view count, traffic source, and watch time. It helps in understanding the viewer's behaviors, preferences, and overall performance of your videos. Some platforms even provide heatmaps to determine which part of the video was skipped or played for a long.
Scalability
A video hosting platform must be scalable enough to handle growing users and videos without any interruptions or performance issues. The platform must be able to accommodate the increased bandwidth and storage demand in able to serve the video content efficiently. Even when a large number of simultaneous users access the platform, there should not be minimum delays or downtime.
Accessibility
The platform must be accessible by low-spec devices as well as by those having limited internet access. Features such as multilingual subtitle support, adaptive streaming, and closed captions make the platform much more accessible. Overall, more accessibility makes the hosting platform reach a wider audience and boosts engagement and revenue.
Integrations
While hosting videos on a platform, you require integrations with third-party tools and platforms. The integrations include anything from embedding videos, social sharing, integrating video editing tools, or collaborating with other services. The hosting platform must be capable of offering easy integrations with other platforms.
Pricing
The pricing of every video hosting platform varies with the features and services they offer. Some are pay-per-use, subscription-based, or free with limitations. The choice completely depends on your business requirements and budget. Some platforms even offer discounted pricing on long-term commitments.
Customer support
While using any platform, there arise technical issues or queries that need to be addressed on priority. Good customer support is available through support channels like email, phone, chat, and nowadays, WhatsApp too.
Online Video Education is the Future
The way people now access and learn new skills has evolved. With the flexibility of growing learning options and accessibility, online video education is definitely the future of learning. Its major importance stems from the major advantages of accessibility, affordability, convenience, and retention rates.
This new form of learning is more interactive, engaging, and most importantly, accessible to those with tight schedules or remote learners. Today, a student sitting in one corner of the world can gain knowledge of any topic of interest from anywhere and anytime. It's true that there are still regions where people don't have access to smartphones or the internet, but things are slowly digitizing.
Irrespective of age and location, online streaming in education videos are accessible to everyone as long as they have internet access. During the pandemic, we have seen how quickly things moved toward digital learning. It saved time and effort and students could study at their own pace and at ease.
Compared to traditional class setups, online videos are always affordable. From trainers to offline training institutes, nearly everyone has moved towards online classes. To learn a new skill, you don't have to go to a physical setup and rather opt for online classes from a reputed educator. Those who cannot afford classroom studies, maybe due to financial issues or time dependency, can easily study at the home, workplace, or even while commuting.
As discussed in the above sections, streaming in education videos give learners a better understanding of the subject better than text. The whole online learning experience is more personalized and customizable as per the learner's preference. Slow learners often face difficulties in classroom learning and while through online video learning, they can study at their own pace, pause, rewind, and again play content in a loop.
VdoCipher – Best online video streaming platform
When uploading videos on a hosting platform especially paid one, the security of the videos is a necessary requirement. At no cost, you can afford to have your videos illegally downloaded or shared. There is also the risk of unauthorized access and compromise to premium and sensitive media files. The extent of piracy can be easily analyzed by the fact that up to 24% of the global bandwidth is taken by illegal downloads of copyright content.
'In 2022, online movie and TV piracy accounted for nearly $52 billion economic losses.'
To fight video piracy and secure your premium videos, VdoCipher, a secure video hosting platform with a complete infrastructure setup is helping elearning and media platforms. VdoCipher offers Hollywood Grade DRM Encryption using Google Widevine and Apple FairPlay DRM which protects videos from illegal downloads and unauthorized access.
How DRM protects video content?
Digital Rights Management (DRM) technology controls the access and usage of video content by restricting unauthorized copying, distribution, and access. DRM is implemented at the hardware and software level and it is by far the highest available level of video security. The chunks of video are converted into an encrypted format and decrypted at the player's end with a private decryption key. The raw video file is not available to the viewer for downloading or pirating.
Common encryption technologies like AES128 and RTMPe have a partial key exchange mechanism that exposes the key for hacking and unauthorized video downloads using plugins. So, in order to have complete video security with the latest technological advancement, DRM is the only choice as provided by VdoCipher at an affordable price.
'Covering more than 120 countries, over 3000 customers trust VdoCipher to secure their premium videos.'
Why choose VdoCipher to host videos?
Video security with DRM encryption – Highest video security using Google Widevine and AppleFairPlay DRM
Secure offline downloads in apps- iOS native SDK to enable secure video download on device. Restrict offline download availability and apply time validity for downloaded videos.
Dynamic watermarking – a customizable watermark that is dynamically placed over the video. Customizable for transparency, color, and size.
Screen capture block in Android and iOS native apps – VdoCipher native SDK integration restricts screen capture at the hardware level and discourages screen capture.
Geo-restrictions – Restricting users based on their IP group helps control access in a particular geographic location.
WordPress plugin – VdoCipher WordPress video player plugin works with popular WP membership plugins such as MemberPress, Restrict Content Pro, and WP eMember. The plugin also supports LMSs like LearnDash, Sensei, and WP CourseWare.
HTML5 video player – VdoCipher HTML5 video player comes with dynamic controls and supports multilingual subtitles and adaptive bitrate streaming. Script code easily enables CTAs like forms and buttons
Adaptive video streaming – Adaptive bitrate streaming (ABR) allows automatic adjustment of the video quality as per the viewer's internet connection speed. This is very beneficial for students having poor internet connectivity or those living in remote locations.
FAQs
What are the benefits of video applications in education?
Video applications in education make the learning process more engaging, personalized, accessible, and cost-effective.
What equipment and tools are required for online elearning video streaming?
For recording video lectures, you require a camera, an editing tool, and a stable internet connection. For live streaming to your students, you need a good quality webcam, microphone, and a device like a smartphone connected to the internet.
Name some of the free video platforms for education.
YouTube, TED-Ed, and Khan Academy are some platforms that offer free video lessons.
What is the biggest challenge while streaming elearning videos?
The major challenge is video security. Anyone can easily access and download your video content if there is no robust security in place like DRM encryption. Platforms like VdoCipher not only secure your videos with DRM encryption but also prevent illegal downloads and piracy with features like dynamic watermarking, screen capture prevention, secure offline downloads, and more.
Supercharge Your Business with Videos
At VdoCipher we maintain the strongest content protection for videos. We also work extremely hard to deliver the best viewer experience. We'd love to hear from you, and help boost your video streaming business.
Free 30-day trial →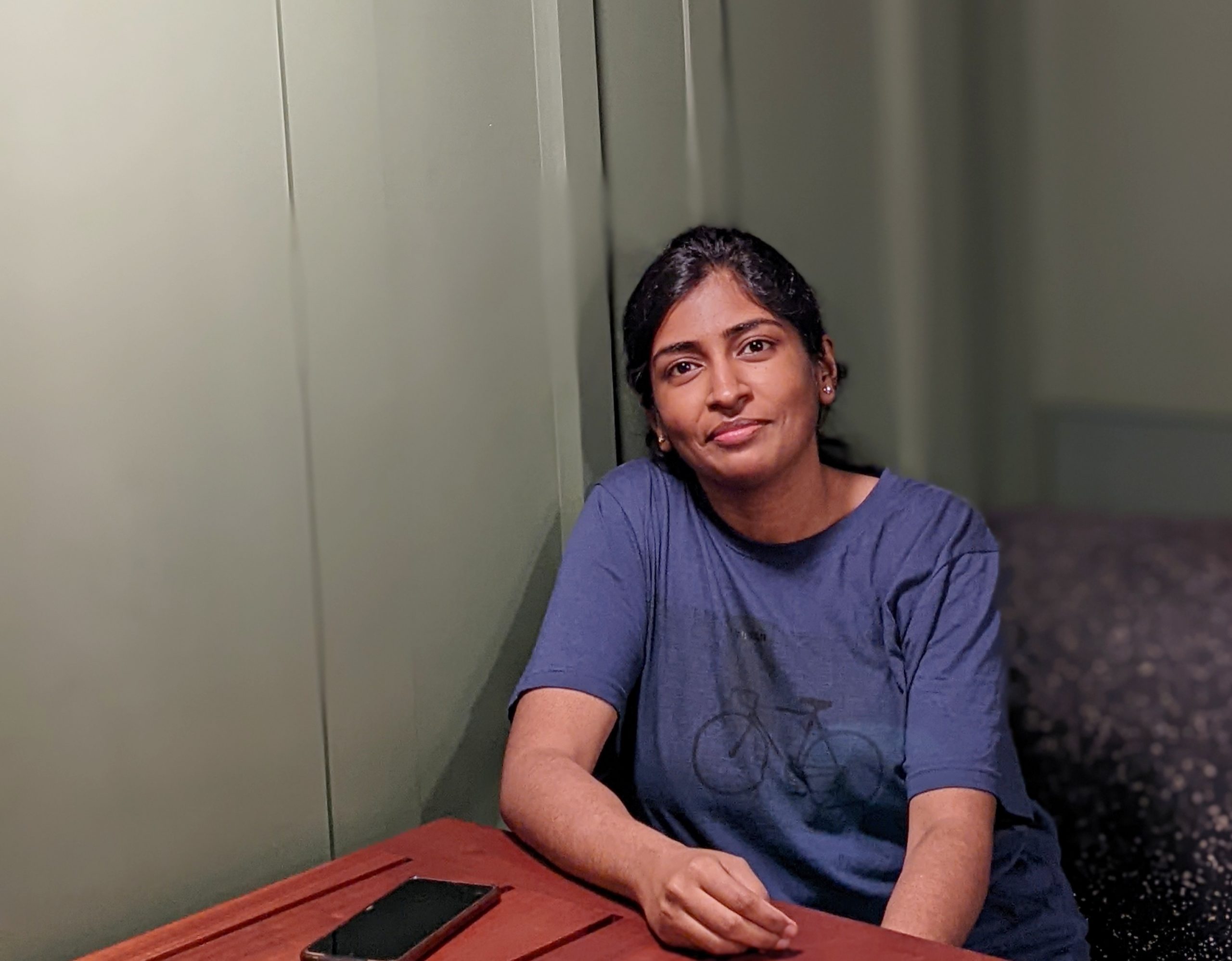 Jyoti began her career as a software engineer in HCL with UNHCR as a client. She started evolving her technical and documentation writing skills to become a full-time Content Marketer at VdoCipher.